Prince Harry Is Releasing a Memoir About His Life and Marriage
Meghan once described their love story as "greater than any fairy tale."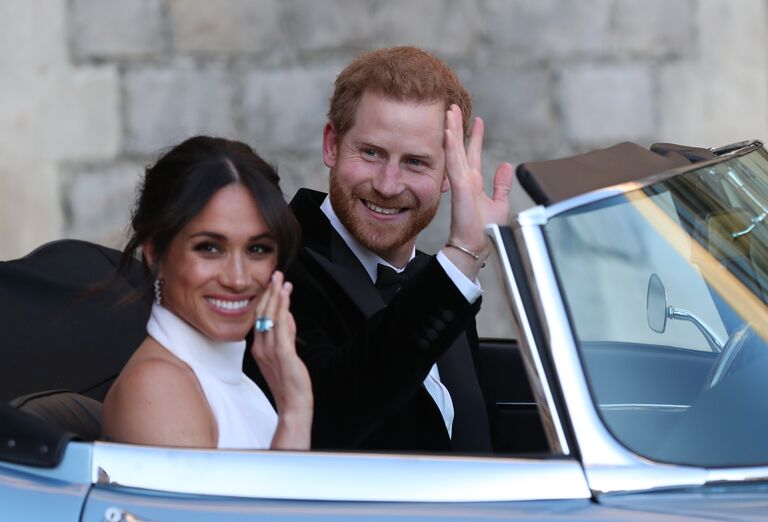 Steve Parsons - WPA Pool/Getty Images
There's so much more to Prince Harry and Meghan Markle's love story and the Duke of Sussex will now take readers into their marriage and his life in a 2022 memoir.
Penguin Random House, which will publish his memoir, revealed the news on Monday. "I'm writing this not as the prince I was born but as the man I have become," Harry expressed in an accompanying statement. "I've worn many hats over the years, both literally and figuratively, and my hope is that in telling my story—the highs and lows, the mistakes, the lessons learned—I can help show that no matter where we come from, we have more in common than we think."
He added, "I'm deeply grateful for the opportunity to share what I've learned over the course of my life so far and excited for people to read a firsthand account of my life that's accurate and wholly truthful."
Multiple books have been published, some covering Prince Harry and Meghan Markle's love story (and complex relationships with the family) in great detail. Public interest in the couple's story reached fever pitch especially when the pair decided to depart the royal household in early 2020. A flattering account of the pair and their love story beginnings was found in 2020's Finding Freedom, whereas the more recently published Battle of the Brothers detailed the friction between William and Harry and the contested source of the overall dispute.
Proceeds from both Prince Harry's memoir and the audiobook will go to charity. In the meantime, Harry and Meghan have been busy with their various endeavors, including Archewell, their Spotify podcast, children's books and, of course, parenting their two kids. Read up on their marriage and more below.
They Welcomed Lili in June
The Duke and Duchess of Sussex welcomed their second child, a beautiful baby girl, on June 4. "It is with great joy that Prince Harry and Meghan, The Duke and Duchess of Sussex, welcome their daughter, Lilibet "Lili" Diana Mountbatten-Windsor, to the world," the power couple shared in a statement Sunday. "Lili was born on Friday, June 4 at 11:40 a.m. in the trusted care of the doctors and staff at Santa Barbara Cottage Hospital in Santa Barbara, CA. She weighed 7 lbs 11 oz. Both mother and child are healthy and well, and settling in at home."
The Sussexes also revealed the sentimental meaning behind their daughter's name. "Lili is named after her great-grandmother, Her Majesty The Queen, whose family nickname is Lilibet. Her middle name, Diana, was chosen to honor her beloved late grandmother, The Princess of Wales," they revealed. "This is the second child for the couple, who also have a two-year-old son named Archie Harrison Mountbatten-Windsor. The Duke and Duchess thank you for your warm wishes and prayers as they enjoy this special time as a family."
The arrival of their second bundle of joy comes weeks after the couple marked three years of marriage on May 19, 2021. The Duke and the Duchess of Sussex have certainly enjoyed an eventful first few years as husband and wife, beginning with their beloved royal wedding, followed by the arrival of their son, Archie, a year later. However, it was the couple's declaration of independence from the royal family in 2020 that stunned the world.
As recalled, the couple expressed their desire in early 2020, to step down as full-time members of the royal family. The decision was supposedly met with internal animosity, ultimately resulting in a move for the couple to California, where Markle was raised. Since their departure from the U.K., the couple has revealed they're now expecting their second child and provided even more insight into their marriage and rift from the royal family in a high-profile interview with Oprah Winfrey. Read on to learn more about Prince Harry and Meghan Markle's marriage and their new beginnings in the US.
Buckingham Palace released a statement on behalf of family members upon the news becoming public. "The Queen, The Prince of Wales and The Duchess of Cornwall, and The Duke and Duchess of Cambridge have been informed and are delighted with the news of the birth of a daughter for The Duke and Duchess of Sussex," a Buckingham Palace spokesperson said Sunday.
The Couple Is Still in Frequent Touch With the Queen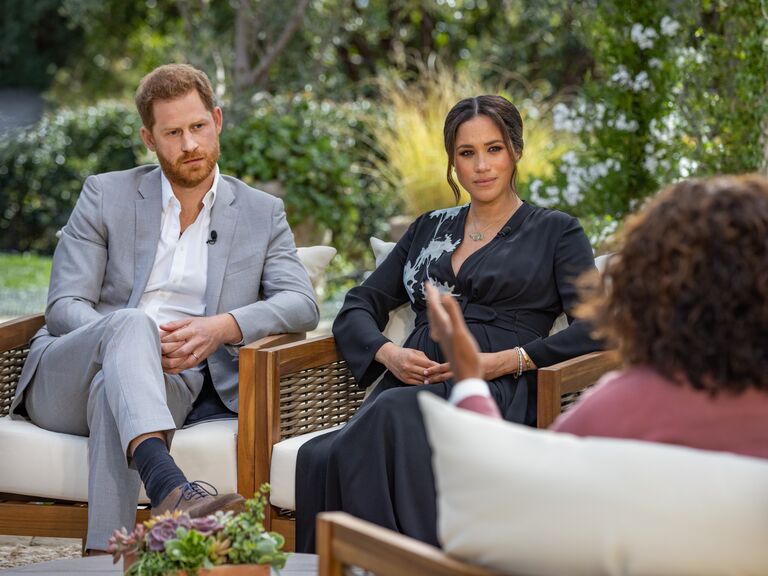 Reports previously stated that the Sussexes blindsided the monarch with their decision to leave. Those reports, however, were false. Harry revealed in his interview with Oprah Winfrey in March 2021, that he had spoken, at length and across multiple conversations, with the queen about his decision to step down. So much so that the numerous conversations on the topic prompted Prince Charles to stop answering his son's calls.

Nevertheless, the couple still shares a solid relationship with Queen Elizabeth II and they're salvaging what they can with Charles. "I've spoken more to my grandmother in the last year [than ever before]," Harry noted. "My grandmother and I have a really good relationship and understanding. I have a deep respect for her. My colonel in chief. She always will be."

In a separate interview, Harry previously shared he was in frequent touch with the queen and Prince Philip. "Both my grandparents do Zoom," he noted to James Corden. "They've seen Archie running around."
The Sussexes revealed their second expectancy news in March with a relaxed, outdoor maternity photoshoot, which was conducted remotely during COVID-19. Markle chose an airy garden dress designed by Carolina Herrera for the occasion. The piece was first designed for the Duchess of Sussex several years ago when she was expecting Archie. Their maternity photographer, Misan Harriman, also posted a second image of the couple and their growing family on International Women's Day.
What wonderful news to celebrate on International Women's Day! Congratulations my friends, and welcome to the #girldad club H ❤️#internationalwomensday #womenshistorymonth #remoteshoot #shotonipad #shotbymisan #itsagirl pic.twitter.com/OONzZrBBYK
— Misan Harriman (@misanharriman) March 8, 2021
Harry and Meghan memorably exchanged vows in May 2018 in a lavish, globally broadcast wedding held at Windsor Castle.
They Have Since Mourned Prince Philip
On April 9, Buckingham Palace revealed that Prince Philip had passed away. "It is with deep sorrow that Her Majesty The Queen has announced the death of her beloved husband, His Royal Highness The Prince Philip, Duke of Edinburgh," the palace disclosed. "His Royal Highness passed away peacefully this morning at Windsor Castle." (Windsor Castle is the part-time home of Queen Elizabeth II and Prince Philip. It is also where Prince Harry and Meghan Markle, as well as Princess Eugenie and Jack Brooksbank, among other royal family members, have married.)
Harry was particularly fond of his grandfather as the two shared a close bond, especially with the death of Princess Diana in 1997. At the time of their mother's death, Prince William was just 15 and Prince Harry was 12. In Tina Brown's book, The Diana Chronicles, it was revealed: "A member of the Balmoral staff noted that Prince Philip, who had effectively lost his own mother at the age of ten when she was committed for three years to an asylum in Switzerland, was brilliantly effective with his grandsons, offering them gruff tenderness and outdoor activities like stalking and hiking to tire them out."
The Duke of Sussex returned to the U.K. for Prince Philip's funeral, one of his first visits back home after moving stateside in 2020. There, he was spotted chatting with his brother and his sister-in-law, despite reports of a big chill between the two couples. Since Markle is currently pregnant with the couple's second child, the Duchess of Sussex wasn't cleared to fly back for the ceremony.
Harry and Meghan Had a Commitment Ceremony Before the Wedding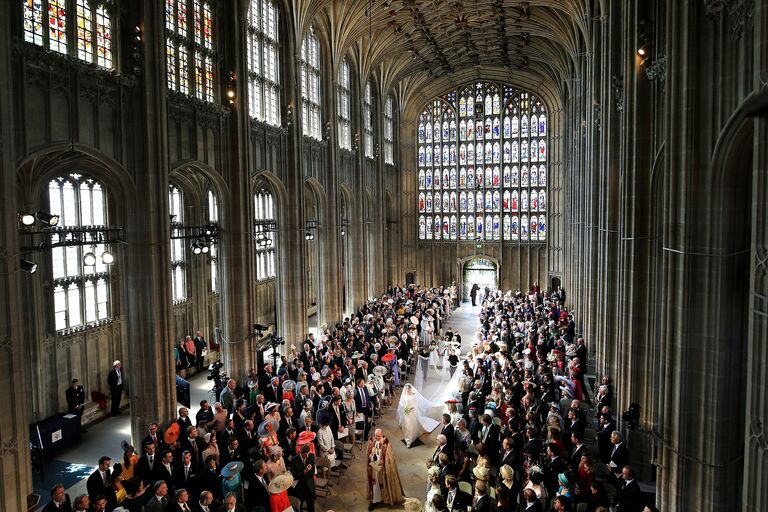 The pair wanted a private moment for themselves before the fanfare of the 2018 Royal Wedding. "Three days before the wedding, we got married," Markle shared with Winfrey. "The vows that we had… [were] with the Archbishop of Canterbury."

Then, days later, the world witnessed the spectacle of the pair's public-facing wedding at Windsor Castle. In retrospect, while the commitment ceremony wasn't legal, it was still a special and lowkey moment for the couple to exchange vows on their own before the public tuned into their actual wedding day.
There Was Friction With Kate Middleton the Week of the Wedding
It was previously reported that Markle made her sister-in-law cry the week of her wedding, but in reality: the reverse had occurred. In a confession cautiously navigated by Markle, it was revealed that Middleton was the one who made her cry over a fitting, and the reports were inaccurate. Nevertheless, despite all parties internally knowing what had occurred, six months later, it was erroneously reported that Markle had made Middleton cry.
"They would go on the record and negate the most ridiculous story for anyone… things that are super artificial and inconsequential," Markle said. "But the narrative of making Kate cry was a real character assassination."
Harry and Meghan Suffered Immensely In Private

Getty Images
Together, Harry and Meghan felt deep agony as their lives were dissected and attacked by the public. In one portion of the interview, Markle revealed she had lost her will to live due to the scrutiny and the unfair treatment both privately by the firm and publicly by the media. "I just didn't want to be alive anymore. That was a very clear and real and frightening constant thought," she told Oprah as she recalled sharing this emotional confession with her husband one morning.

That same evening, the couple attended a formal event together. It was one minor detail from photos that indicated all that was happening behind closed doors. While the pair seemingly looked happy and polished, inside they were suffering, and that was clear from how Prince Harry held his wife's hand. "You can see how he's gripping my hand," she recalled.
Markle ended up pleading for help and went to human resources and senior officials. However, she was told it wouldn't be good for optics if she sought support for her mental health. Ultimately, she sought help and noted to all that she was relieved to sit with Oprah. "My biggest concern was history repeating itself," Prince Harry told Winfrey. "You know, for me, I'm just really relieved and happy to be sitting here, talking to you with my wife by my side because I can't begin to imagine what it must've been like for [my mother] going through this process by herself all those years ago."
Meghan and Harry Were Expected to Stay "Silent"
As Markle further addressed her experiences with "the firm," otherwise known to insiders as the institution of the British Royal Family, she spoke candidly about how the inability to protect the couple from lies created the ultimate rift. "I don't know how they could expect that after all of this time, we would still just be silent if there is an active role that the firm is playing in perpetuating falsehoods about us," said the former actress. "And if that comes with the risk of losing things, I mean I—there's a lot that's been lost already."
The interview with Oprah, itself, was largely planned and taped prior to the late Prince Philip's final hospitalization. Two days after the interview aired, Buckingham Palace released a statement on behalf of the queen. "The whole family is saddened to learn the extent of how challenging the last few years have been for Harry and Meghan," it read. "The issues raised, particularly that of race, are concerning. Whilst some recollections may vary, they are taken very seriously and will be addressed by the family privately."
It ended with, "Harry, Meghan and Archie will always be much-loved family members."
They're Constantly Remembering the Late Princess Diana
The Duchess, in an Armani dress, chose a sentimental piece of jewelry that belonged to her late mother-in-law. The pearl bracelet was also used to construct Markle's engagement ring. According to People, Markle wore the piece so they could have Diana with them, symbolically, during the sit-down.
Princess Diana left Harry enough funds to provide an even greater gift: security. It was revealed during the interview that the firm had retracted all forms of security, leaving the pair vulnerable to death threats and other incendiary comments rooted in racist beliefs. "I've got what my mum left me," Prince Harry said of funding. "I felt her presence throughout this whole process. I'm just really happy to be here, talking to you, with my wife by my side."
Meghan Has a Nickname for Harry
In late February, Prince Harry appeared on the Late Late Show With James Corden to clear the air before his tell-all interview. "It was never walking away—it was stepping back rather than stepping down. It was a difficult environment, as I think a lot of people saw," he said while riding a double-decker bus. "We all know what the British press can be like, and it was destroying my mental health… I did what any husband and any father would do. [I said,] 'I need to get my family out of here.' We never walked away. And as far as I'm concerned, whatever decisions I made on that side—I will never walk away. I'll always be contributing. My life is about public service: wherever I'm in the world, it's going to be the same thing." (As recalled, Prince Harry has long been at odds with the British media, even issuing a strongly-worded statement when he first started dating Markle to defend her from the scrutiny.)

Along with his musings on the treatment from the press, the future dad of two also unveiled his son Archie's first word wasn't related to either parent. In fact, it was "crocodile." (The Oprah interview also revealed Archie's adorable penchant for words lately like "hydrate" and "drive safe.") That wasn't the only revelation from the double-decker experience. Markle's nickname for her husband also made its global debut. "Haz, how's your tour of L.A. going?" she asked on Facetime. The nickname is likely correlated to Prince Harry's birth name of Henry Charles Albert David.
Harry and Meghan Are Healing In Multiple Ways
While the two have been busy stateside, they've grappled with their fair share of challenges during COVID. In early December, Markle wrote in a New York Times op-ed that she and Harry had endured a miscarriage. "I knew, as I clutched my firstborn child, that I was losing my second," she wrote in a raw and powerful piece. "Hours later, I lay in a hospital bed, holding my husband's hand. I felt the clamminess of his palm and kissed his knuckles, wet from both our tears. Staring at the cold white walls, my eyes glazed over. I tried to imagine how we'd heal."
For the couple, a podcast was perhaps one potential avenue for healing. "We're talking to some amazing people," Meghan previously shared of her latest endeavor with her husband. "They're going to share their memories that really shape this past year, which has been, as we know, a difficult one for everyone." Harry added, "So many people have been through so much pain this year, experiencing loss, a huge amount of uncertainty—but it feels worth acknowledging that 2020 has connected us in ways we have never imagined through endless acts of compassion and kindness."
In addition to their personal updates, they've also purchased a home located near Santa Barbara. The couple continues to work towards the goal of achieving financial independence following their departure as working royals. It was only in January 2020 that they made the initial announcement that created a flurry of internal strife within the royal household.
The Couple Is Growing Their Professional Endeavors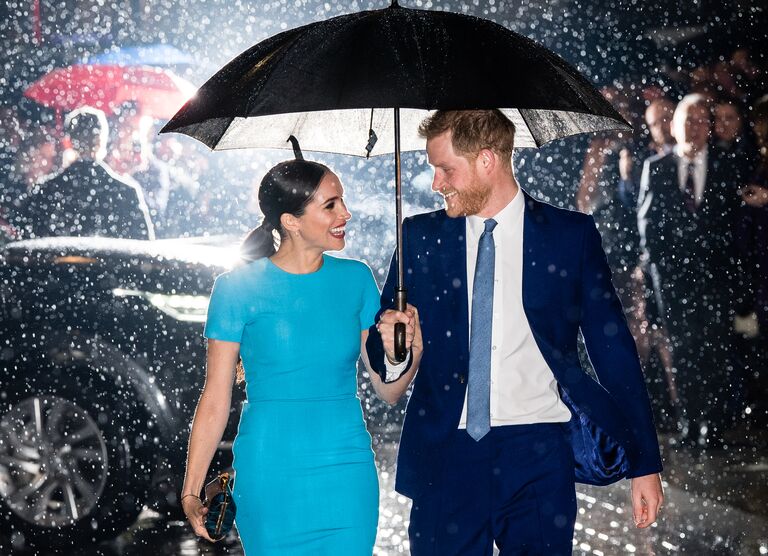 In December 2020, the couple revealed they've officially joined the podcast realm through Archewell Audio, a podcast production company created by Prince Harry and Duchess of Sussex Markle, exclusively partnered with Spotify. It was the latest development in a string of announcements made by the high-profile couple, after they stepped down from duties on behalf of the British royal family in early 2020. The multi-year partnership with Spotify involved podcasts hosted by both Harry and Meghan, along with original programming produced by the couple. The intent, they shared, was to "build community through shared experience, narratives, and values."
"What we love about podcasting is that it reminds all of us to take a moment and to really listen, to connect to one another without distraction," Harry and Meghan said at the time. "With the challenges of 2020, there has never been a more important time to do so, because when we hear each other, and hear each other's stories, we are reminded of how interconnected we all are."
After moving from England to the West Coast, the couple started venturing out with new business proposals and prospects. In additional business pursuits, the pair also signed up for a production deal with Netflix in mid-2020. Markle also narrated the Disney+ documentary Elephants. In April 2021, the couple's first Netflix documentary series was unveiled: the storyline will focus on the Invictus Games, which was founded by Prince Harry.
They've Stepped Down Entirely From Their Royal Roles
In January 2020, Harry and Meghan stepped down from their roles as senior members of the royal family, initially with the hopes to remain on board part-time. However, their departure was somewhat bittersweet as they've since stepped down entirely from their positions within the British Royal Family.
In mid-February, the palace shared the couple's official involvement with their respective charities would be redistributed to other members of the British Royal Family. "The Duke and Duchess of Sussex have confirmed to Her Majesty The Queen that they will not be returning as working members of The Royal Family," it reads in the Buckingham Palace statement. "Following conversations with The Duke, The Queen has written confirming that in stepping away from the work of The Royal Family it is not possible to continue with the responsibilities and duties that come with a life of public service."
Markle had once previously turned down Oprah for an interview opportunity: it was while she was in the palace. "That we're on the other side of a lot of life experience that's happened," Markle explained. "And also that we have the ability to make our own choices in a way that I couldn't have said 'yes' to you then. That wasn't my choice to make. So, as an adult who lived a really independent life to then go into this construct that is different than I think what people imagine it to be. It's really liberating to be able to have the right and the privilege in some ways to be able to say 'yes.'"

Their Relationship Is "Greater Than Any Fairy Tale"
Despite the excruciating pain they've endured as members of the firm, Prince Harry and Meghan Markle both commented on how their lives transformed since they chose freedom stateside. "Our life is beautiful now, I've got a beautiful family," Harry mused. "From my perspective, all I needed was enough money to pay for security to keep my family safe."
Meghan added, "We're thriving… We've been through a lot. It's felt like a lifetime." Despite the struggles, the triumphs they've felt lately with their endeavors and relationship have been an uplifting ending for their story. "It's greater than any fairy tale you've ever read," Markle told Oprah with a smile.