16 Facts About Prince Harry & Meghan Markle's Wedding You Didn't Know
Like that time Harry hand-picked flowers for Meghan's bouquet.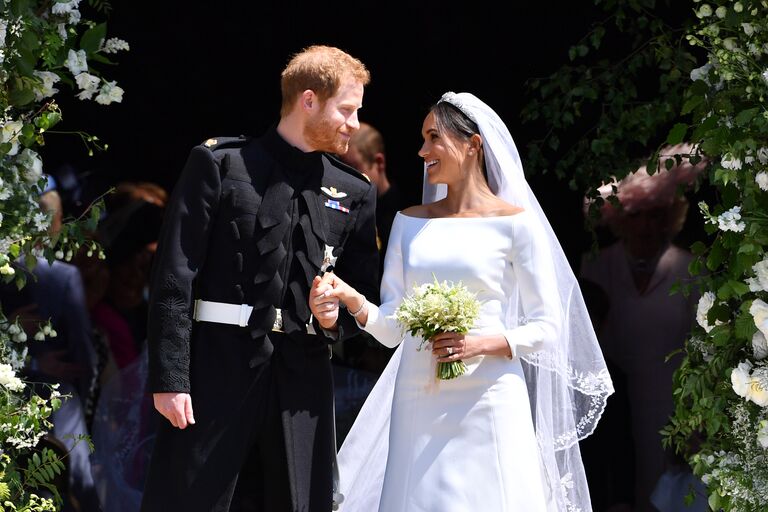 Ben STANSALL - WPA Pool/Getty Images
The wedding of Prince Harry and Meghan Markle was unforgettable in so many ways, but you may have since forgotten smaller details from the nuptials, all still rather thoughtful and relevant. The 2018 royal wedding, held at St. George's Chapel in Windsor Castle, was witnessed by an estimated 2 billion people minimum worldwide. On a beautifully sunny day, the Duke and the Duchess of Sussex exchanged vows in a storybook, fairytale wedding, complete with a gospel choir, numerous twists on royal wedding tradition (particularly the cake), and a day that ended with a star-studded evening reception where Idris Elba served as a DJ.
Here, The Knot rounds up sweet facts about the wedding of Prince Harry and Meghan Markle in honor of their May 19 anniversary.
Meghan Markle Made History With Her Walk Down the Aisle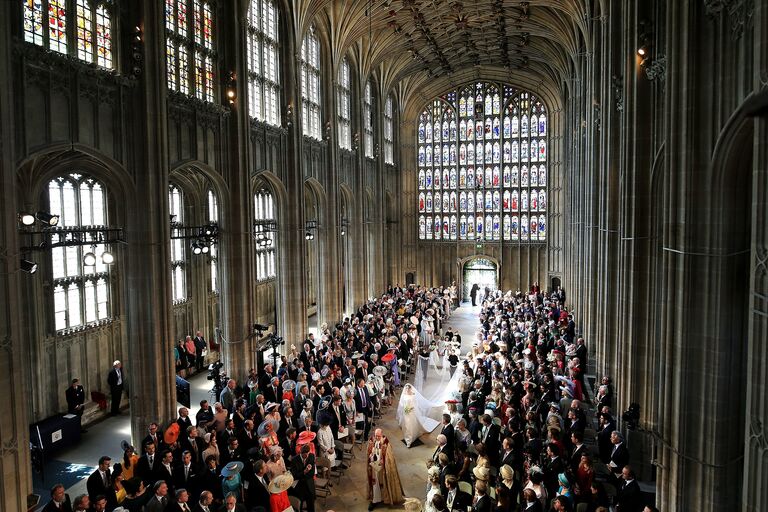 Days before the wedding, Markle dealt with a fallout with her father, Thomas Markle, who was supposed to walk her down the aisle. Due to a rather heartbreaking situation, she made the call ultimately to begin her wedding procession solo. Clad in her custom Givenchy gown by Clare Waight Keller, Markle radiated confidence as the world witnessed her walk down the aisle. Halfway to Prince Harry, the bride was joined by Prince Charles.
At the altar, viewers cried as the groom turned and whispered to his father, "Thank you, Pa."
Prince Harry Hand-Picked Flowers for Meghan's Bouquet
Meghan Markle's bouquet was a mix of traditional with the modern. Her cocktail included sprigs of myrtle, a royal bridal bouquet tradition that dates back to the wedding of Victoria. Harry personally handpicked flowers from Kensington Palace's private garden, for a bespoke cocktail that included Forget-Me-Nots, scented sweet peas, astilbe, jasmine, lily of the valley, astrantia, and the myrtle (which represents love and hope) of course. The completed bouquet was tied together by a silk ribbon by royal wedding florist Philippa Craddock. The morning after the nuptials, Meghan's bouquet was laid on the Grave of the Unknown Warrior.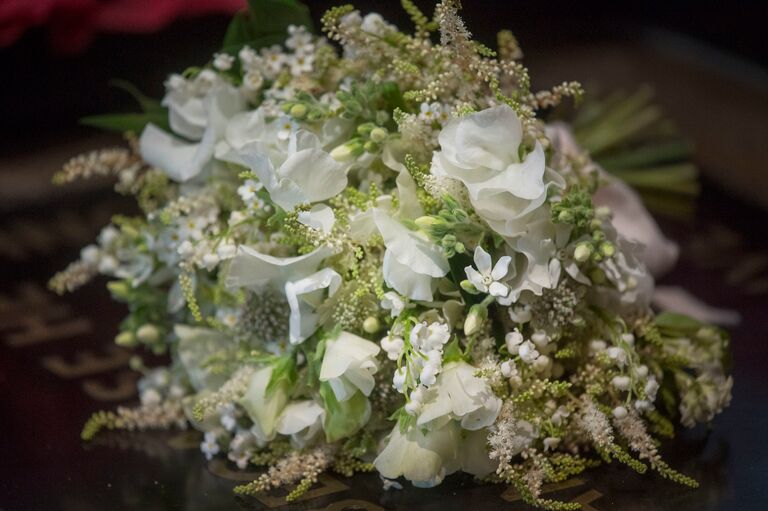 The Couple Donated Their Wedding Flowers
The patients of St. Joseph's Hospice, a facility based in London, received a plethora of flowers as the couple's wedding day floral designs and arrangements were donated the following day. The florals were, as recalled, designed by high fashion florist Craddock, who procured flora from various royal estates.
The Wedding Cake Broke Tradition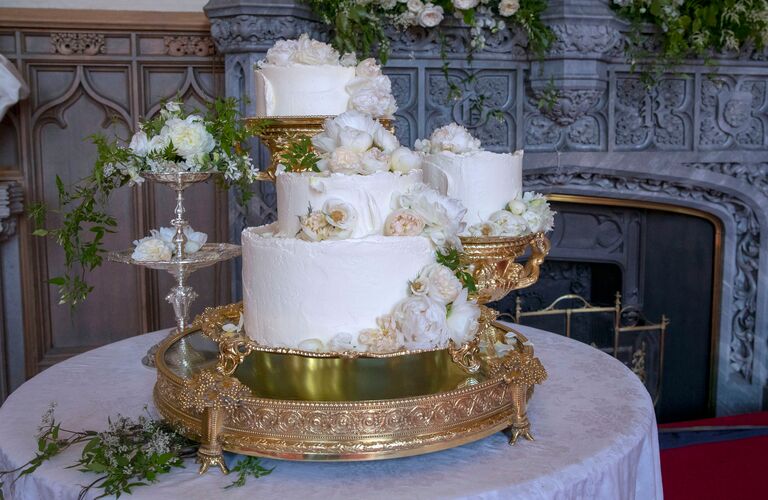 Claire Ptak of Violet Cakes, an American-born pastry chef, was the designated name tapped to craft the couple's wedding cake. The wedding of Prince Harry and Meghan Markle differed in that they chose to forego the usual fruit cake served at previous royal weddings. Instead, they requested a lemon elderflower cake topped by fresh buttercream and flowers all to "incorporate the bright flavors of spring."
"Knowing that they really share the same values as I do about food provenance, sustainability, seasonality and most importantly flavor, makes this the most exciting event to be a part of," Ptak said at the time.
Meghan Markle Did Not Have a Makeup Trial
The former Suits actress hired makeup artist Daniel Martin to pull off her look, but with busy schedules, the pair wasn't able to meet for a customary makeup trial before the wedding day. "I was in New York and she was in London and there was no time because of my crazy schedule to be able to go there," he told Harper's Bazaar. "I knew exactly what she wanted and the day of the wedding was just us getting together and doing her makeup like usual. I knew she just wanted to be radiant, glowy, and polished with nothing too done."
"If you look at pictures sequentially from her riding in the car with her mother, getting to the church, to outside in the precession, her makeup looks completely different because of several different lighting situations, which is something I had to think about," Martin added. "I also had to think about precise pictures and it being televised. You get to a point where you have to create makeup that fits in those lighting situations without compromising one or the other. If I started heavier and she got into the church, her makeup would've looked a lot darker than when you see her in natural light. It was also noon, when the light is at its highest."
Markle Was Very Calm the Morning of the Wedding
Despite a rather dramatic week leading up to her nuptials, the bride was as cool as a cucumber the morning of her wedding. "We had breakfast," Martin told Good Morning America. "Guy, her dog, was with us. We were playing around with him."
"It was a very chill morning," he added. "Her mom was there, which was amazing."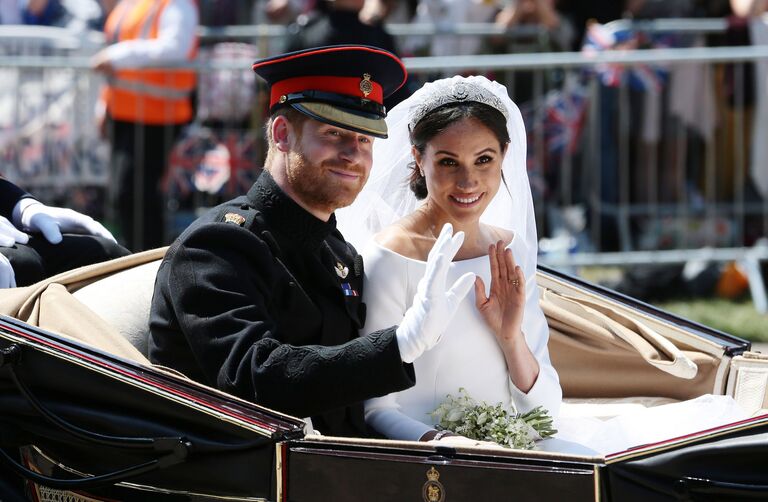 Elton John Performed at the Reception
The chosen performer was none other than Sir Elton John himself, who performed during the couple's wider luncheon reception. As recalled, John was very close friends with the late Princess Diana, and had performed "Candle in the Wind" at her funeral.
"Prince Harry asked Sir Elton to perform at the reception, which was hosted by Her Majesty The Queen at St George's Hall, Windsor Castle," the official Palace statement read. "Sir Elton performed for the newly married couple in recognition of the close connection he has with Prince Harry and his family."
A Page Boy Grinned for This Cute Reason
Upon the bride's arrival, both Kate Middleton and Jessica Mulroney helped usher the junior bridesmaids and page boys (including Princess Charlotte and Prince George) up the steps into St. George's Chapel to join the rest of the British Royal Family.
When one of the Mulroney twins, who both served as page boys in Markle's wedding party, walked into St. George's Chapel, his wide grin lit up the internet. Later, his father Ben Mulroney revealed his child's adorable reaction at the wedding. "I asked him and he said he'd never heard a trumpet before," the talk show host said of his son's gap-toothed grin. "And I think when he walked in, I think he saw all the people there and the flowers—none of that was there during the rehearsal."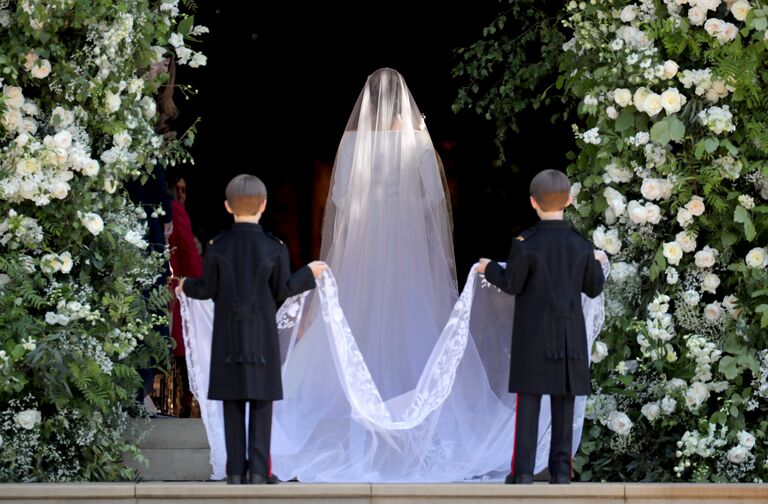 James Corden Suffered From Allergies
The wedding of Prince Harry and Meghan Markle took place in mid-May, what many consider peak allergy season. One of the A-list guests, James Corden, certainly felt its effects considering the sheer amount of florals transported to the venue.
"There were flowers everywhere," the Carpool Karaoke host told Kelly Ripa and Ryan Seacrest of the wedding ceremony. "I mean, imagine you could cover this entire place [the live studio] in flowers. And where we sat, there was a particularly huge thing of flowers, and throughout the wedding, I was just doing this." (It was an understandable reaction given that the entire space was decorated with gorgeous flowers and greenery.)
"So at first you're like, you're aware that at any point you could be on television," continued Corden. "So that's why, if it looks like I was in a bit of a mood, or completely grumpy, it was because I was just trying to [hold it together]. Then, it gets to the point in the wedding where they say, 'If anyone knows of any reason why these two should not be married, speak now,' and all I'm thinking in my head is they could go, 'Speak now or forever hold your peace.' …And Julie, my wife, was looking at me like, 'What are you doing with your face?' And I'm like, 'I can't even talk, my eyes are running…' And then you just hope that that moment isn't on television. That was my experience of being at the wedding."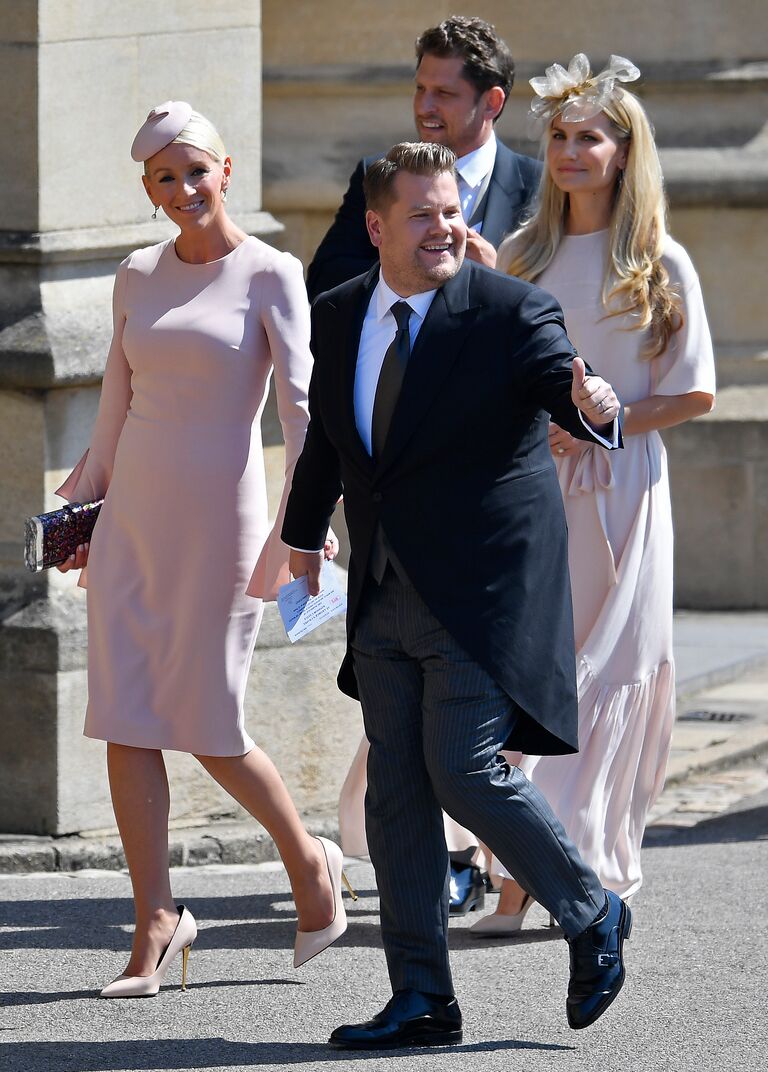 Corden Still Performed at the Evening Reception
James Corden thankfully made it through the day to the evening reception, which was held for the couple's closet friends at Frogmore House. "In the evening, there was… a smaller dinner, close friends and family," Corden told People of the event. "And Harry asked if I would do, like, a performance of some kind. And so I did it, yeah. I wasn't really dressed as Henry VIII, it was just dressed in a kind of Tudor outfit. But I guess I look a bit like Henry VIII, so that's probably why."
Idris Elba DJ'd at the Evening Reception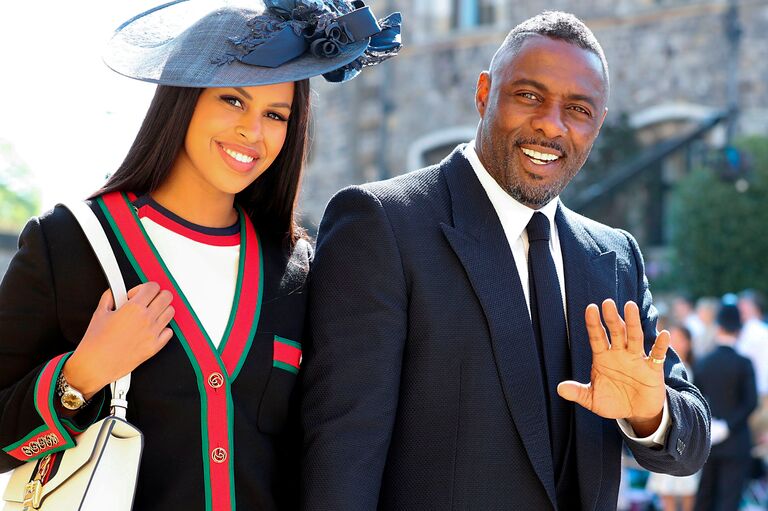 Prior to the royal wedding, Elba had gotten to know Prince Harry and Prince Charles through a charity known as The Prince's Trust. (The organization helped the actor out when he was new to the industry.) Along with leading roles in films, Elba also developed quite the knack for taking over the music at events.
"Harry came to a couple of parties that I DJ'ed, and he was like, 'Hey man, what are you doing on the date [May 19],' and I was like, 'Nothing,'" he recalled in an interview. "He goes, 'Hmm, would you DJ at my wedding?' I was like, 'Is this a joke? Are you joking?' And he's like, 'Serious.'"
Those who enjoyed Corden and Elba's contributions (aside from the newlyweds) included fellow stars like George Clooney, the Beckhams, Serena Williams and more.
The Mother of the Bride Had One Additional Highlight From the Wedding
Doria Ragland quickly became one of the standout faces present at the royal wedding. While she has yet to go on the record about her experience, one insider revealed her favorite parts of the wedding weekend.
"Doria is saying the biggest highlight of the wedding, of course after watching her daughter say 'I do' to the man she loves, was meeting the queen," a source told Us Weekly. "It would have been extremely intimidating for anyone, but Meghan and Harry really did a marvelous job of preparing her [with] what to expect."
Prince Harry Went With a Unique Wedding Ring
The groom broke tradition and chose to wear his wedding ring, unlike his brother Prince William. Rather than opting for a piece comprised of Welsh gold, Harry's band was made of platinum. Both Meghan and Harry's rings were made by Cleave and Company.
The Bishop Got a Strong Sense of Harry and Meghan's Love
Bishop Michael Curry delivered a passionate message during the wedding, captivating the royal family and sparking interest in his background globally. However, it was his words about the couple that landed the most later after the nuptials. "It was a real blessing to be a part of that," he told Us Weekly of the biggest. "Because what they did, you could see it. They actually love each other. They really do. They look at each other like they love each other."
Bishop Curry took time to reflect on the magnitude of the wedding of Prince Harry and Meghan Markle and thought back to their relationship at its core. "I remember thinking after the sermon, once I preached the sermon, I said, 'These two people love each other,'" he recalled of the newlyweds. "They look at each other, and their love brought the rest of us together." Indeed, at one point during the ceremony, Prince Harry looked over to his bride and said, "You look amazing."
The Pair Donated Money From the Broadcast
With $112,000 remaining profits (90,000 pounds to be exact) from the BBC broadcast of their royal wedding, the couple decided to donate the money specifically to Feeding Britain, which is focused on eliminating hunger in the U.K. The organization has been especially focused on feeding families during COVID-19, as schools remain closed.
They Had a Charity Registry
This isn't the only time the wedding of Prince Harry and Meghan Markle has helped others indirectly. In lieu of physical gifts for their 2018 wedding registry, the couple arranged a charitable component for their wedding registry, asking all fans and loved ones to direct donations to seven chosen charities.
While their charitable contributions continue, the couple's lives have changed dramatically in the last six months. The spouses, who went from full-time members of the British Royal Family, stepped down officially from the Commonwealth in March from their royal duties in support of a more private life with their son, Archie, in North America. They are now living in Los Angeles, where Markle's mother also resides.