9 Secret Celebrity Weddings We Hardly Know Anything About
The words "surprise" and "secret" are popping up more and more when it comes to celebrity weddings—so much so, in fact, that we had to take a look at nine A-list nuptials and their details, which are still a little fuzzy.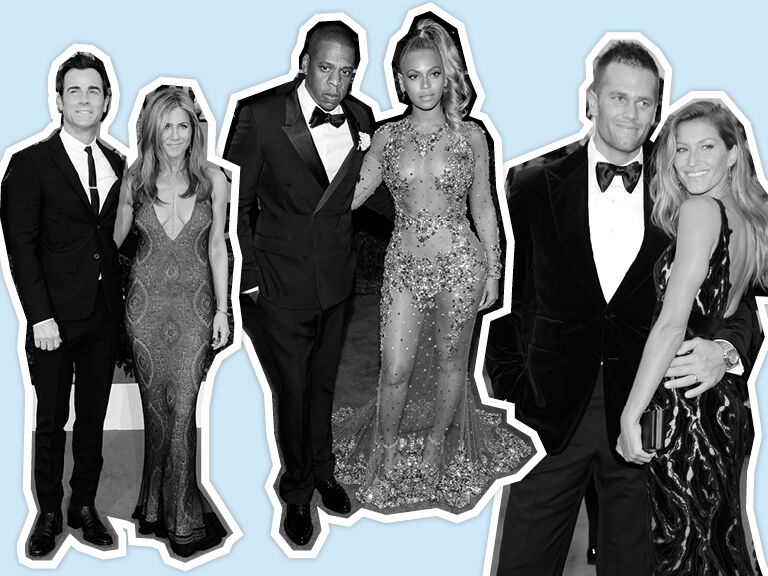 Getty Images
Remember how gorgeous Jennifer Aniston looked in her dress when she wed Justin Theroux? Or how much fun Anne Hathaway's reception looked? Yeah—neither do we! As a recent slew of celebrity weddings have been so private and hush-hush that we haven't even seen a blurry paparazzi shot of the couple, celebrity event and wedding planner extraordinaire Jes Gordon of jesGordon/properFUN tells The Knot the simple reason why.
"They want their privacy now more than ever," Gordon says. "There's a difference between the idea of a new celebrity wedding and the old style where wedding photos are all over magazine covers. With high profile marriages sometimes ending in divorce, plus wanting to protect any children they might have, they just don't want to be public about it. Plus, celebrities don't always want to spend a ton of money on an over-the-top wedding."
And yes, even though a low-key celebrity wedding is still likely to cost more than $31,213, the average cost of a wedding in America in 2014, lots of A-list couples have opted for a secretive affair instead of a three-day wedding extravaganza in Italy (ahem, George Clooney). From at-home ceremonies to courthouse celebrations, here are nine celebrity weddings that took us by surprise.
Jennifer Aniston and Justin Theroux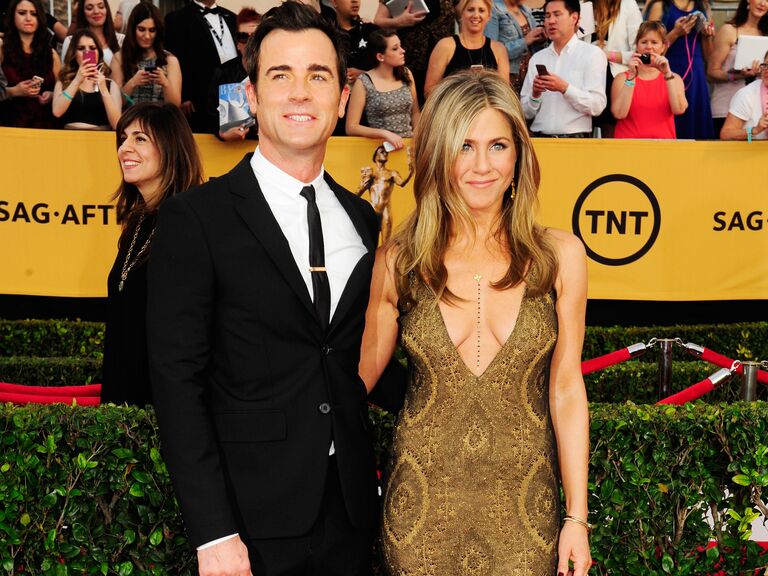 Wedding Date and Location: August 5, 2015, at their home in Los Angeles
What We Know: There are grainy aerial photos of Aniston and Theroux's backyard decked out for their reception, plus a Muppet wedding cake (that we have lots of questions about), but no photos of the bride and groom. The guest list was A-list all the way, with Chelsea Handler, Howard Stern, Sia, Jimmy Kimmel, Lisa Kudrow, Courteney Cox, Emily Blunt and John Krasinski reportedly in tow, among others. Some of them even joined the couple on their honeymoon in Bora Bora!
Will we ever know more? Nope. When Entertainment Tonight asked Aniston about her wedding, she replied, "I'm not telling you about any of that stuff. We had the beautiful luxury of having a beautiful, private moment. And I'm going to be selfish and keep it that way."
Kerry Washington and Nnamdi Asomugha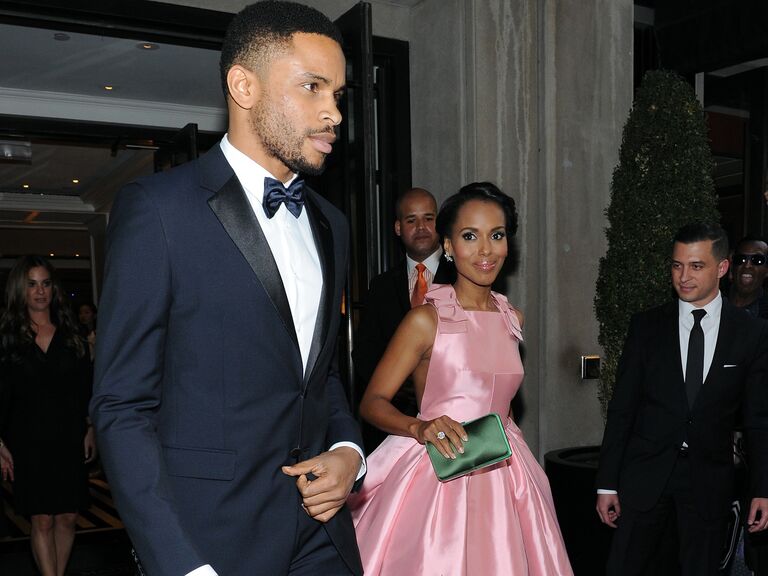 Wedding Date and Location: June 24, 2013, in Hailey, Idaho
What We Know: "It has been recorded in the Blaine County clerk's office that Nnamdi Asomugha and Kerry Washington have been married on the 24th of June in the town of Hailey, Idaho," the clerk's office told Us Weekly. The couple, who started dating a year earlier, reportedly obtained their marriage license the same day they got married and only invited a few family members and close friends.
Will we ever know more? Not likely. "I hate keeping secrets; that is the worst thing for me, because I always want to talk about it," says Washington, when asked about her wedding. "I am really private about my personal life... I try to be really naked emotionally in my work, and I am not holding back at all when it comes to my work. I am giving all that I can in my work.... So my work belongs to everyone—because that's the choice I made—and my life belongs to me."
Anne Hathaway and Adam Shulman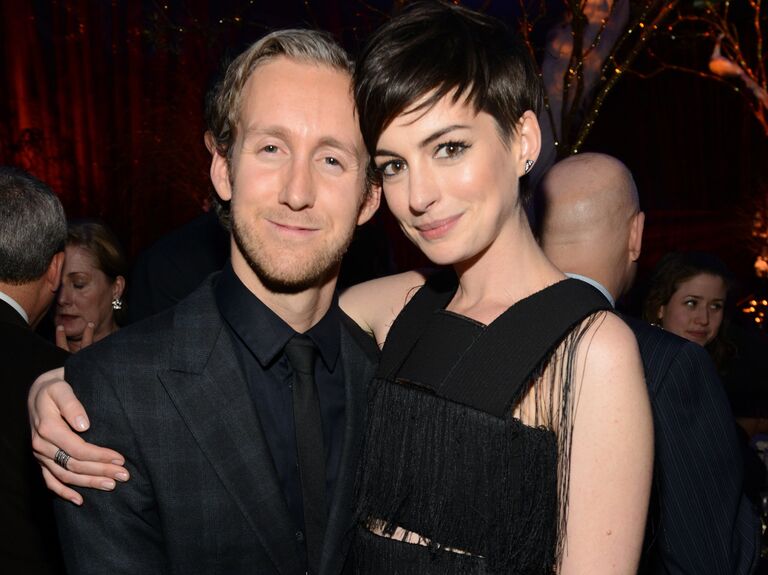 Wedding Date and Location: September 29, 2012, at a private estate in Big Sur, California
What We Know: Although we've seen an aerial shot of Hathaway kissing Shulman in her gorgeous custom blush Valentino wedding dress and matching headband, we don't know much about the reported 150-guest nature-inspired affair—other than she had fun at her reception. "When we got married, I thought it was a great party," Hathaway told The Telegraph. "I honestly thought we were doing it more for tradition. I wasn't prepared for the radical shift my heart was going to have."
Will we ever know more? Not unless the Instagram newbie decides to grace us with a #tbt.
Cameron Diaz and Benji Madden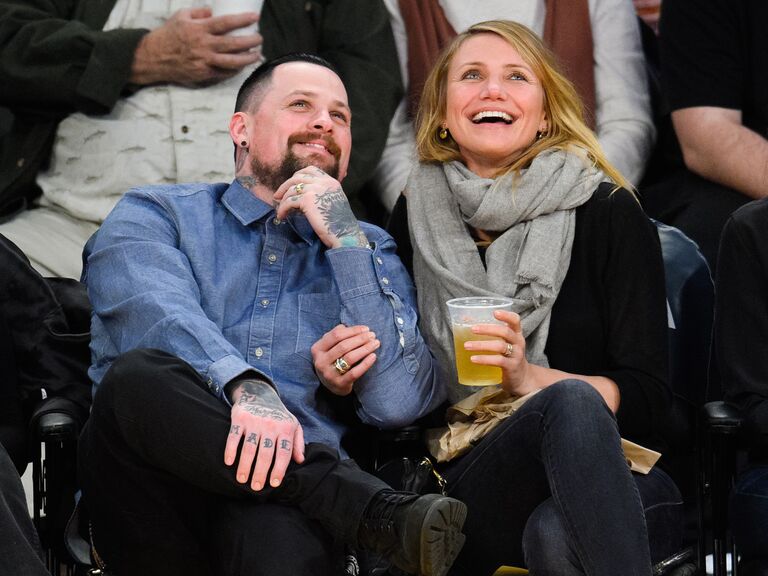 Wedding Date and Location: January 5, 2015, at their home in Los Angeles
What We Know: After they started dating last May and got engaged in December, the couple swapped vows only a month later, surprising pretty much everyone. The only aerial photos we could sneak a peek of showed an elaborately constructed white tent nestled in Diaz and Madden's romantically lit backyard. The reportedly Jewish ceremony was attended by 100 mostly A-list guests, including Drew Barrymore, Reese Witherspoon, Gwyneth Paltrow and Nicole Richie. While there are no other firm details, all the couple offered to People was, "We couldn't be happier to begin our new journey together surrounded by our closest family and friends."
Will we ever know more? Probably not, since the uber-private couple haven't even made a red carpet appearance together.
Jessica Alba and Cash Warren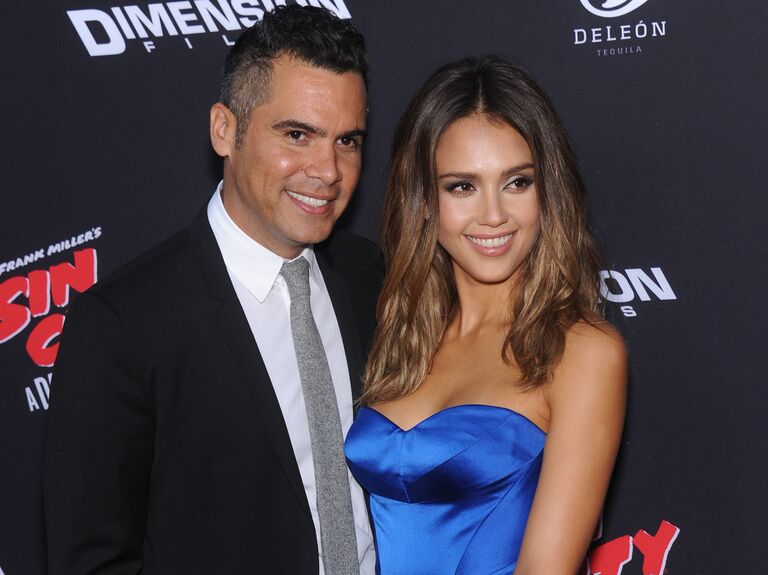 Wedding Date and Location: May 19, 2008, at the Beverly Hills Courthouse in California
What We Know: You might not remember this, but Alba warned us from the start that she wasn't planning a big affair. "I am probably going to get my certificate at the City Council, throw a big party for the family and that's about it," the Daily Mail reported the actress as saying. "Everyone I know hates weddings. I've been to very big, beautiful and romantic weddings but I would rather just throw a big party." So off to the courthouse they went and "quietly wed," Alba's rep confirmed to People, without any family members or friends present. A source says she wore a long blue dress with her hair in a ponytail.
Will we ever know more? Never say never. The Honest Company founder and her husband love to make appearances together and have talked about their marriage before—so maybe a wedding #tbt is in the cards for their anniversary next year.
Mila Kunis and Ashton Kutcher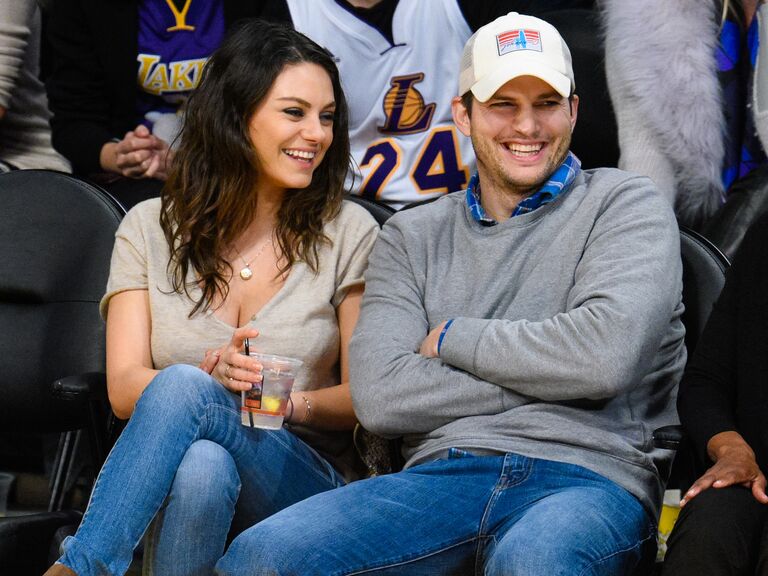 Wedding Date and Location: The couple were legally (and secretly) married before their wedding celebration over the 2015 Fourth of July weekend in Oak Glen, California.
What We Know: Tight-lipped Kunis and Kutcher said "I do" prior to their low-key wedding celebration with family and friends at The Secret Garden at Parrish Ranch in Oak Glen, California. They set up "Camp KuKu," an outdoor tented area with activities for guests—very kid-friendly, since their nearly one-year-old daughter, Wyatt, was present. But Kunis warned us from the start about what her stance on weddings was. "I never wanted to get married. From the age of 12, I prepared my parents for no marriage," she told W in July of 2014. "Then things changed—I found the love of my life. Now my theory on weddings is: Don't invite anyone. Do it privately and secretly. My parents are okay with that."

Will we ever know more? We're guessing not. Although they're good sports when asked about their relationship, they love their privacy more than talking about their vows.
Beyonce and Jay Z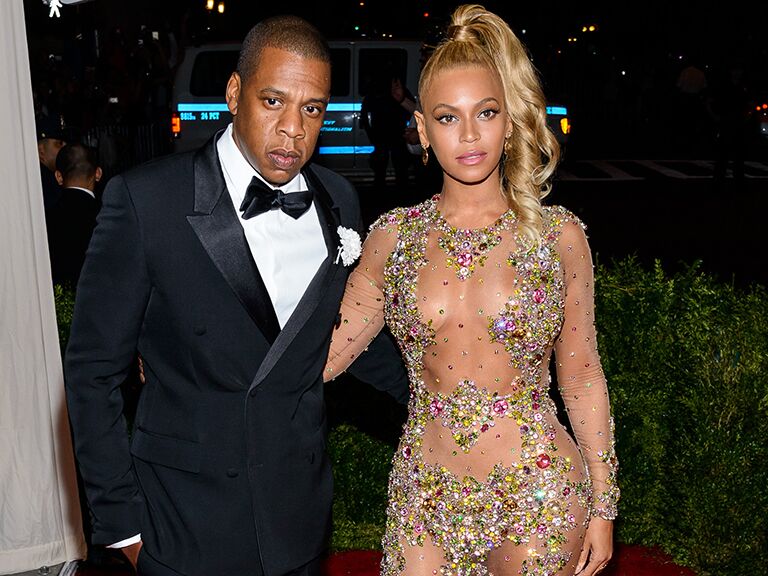 Wedding Date and Location: April 4, 2008, at Jay Z's penthouse in New York City
What We Know: The security was airtight at Bey and Jay's super-private wedding at his newly renovated apartment in TriBeCa. Seventy thousand white orchids were flown in from Thailand for the luxe nuptials and only 40 guests were invited. The power couple opted to not have a wedding party, and the ceremony was very "spiritual," a source told People.

Will we ever know more? We're guessing so, since they showed a few grainy images of their lavish ceremony as background visuals during their On the Run Tour together. Jay Z also showed the shortest video clip of their ceremony on Instagram for their seventh wedding anniversary. Hopefully the best photos are yet to come!
Scarlett Johansson and Romain Dauriac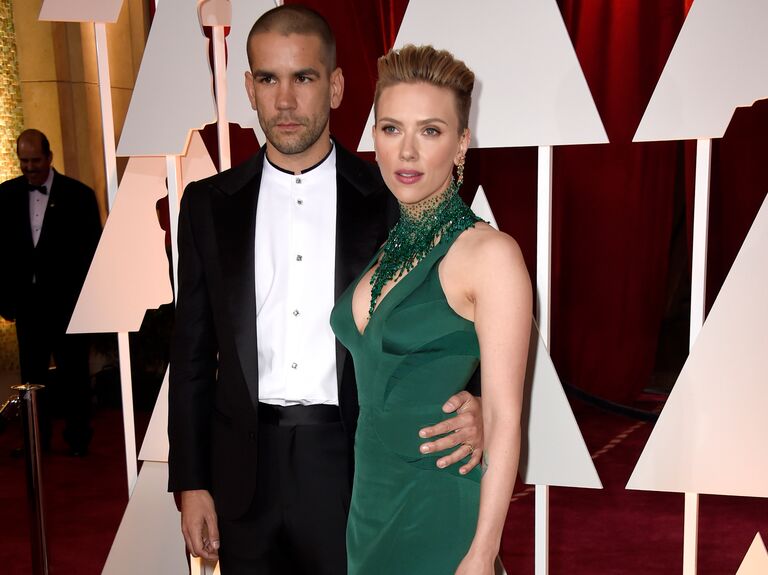 Wedding Date and Location: October 1, 2014, in Philipsburg, Montana
What We Know: When Johansson wed Ryan Reynolds in 2008, it was a super-secret affair—and her second marriage to French journalist Dauriac was just as private. After welcoming their daughter, Rose Dorothy, the couple quietly exchanged vows in an intimate ceremony at The Ranch at Rock Creek in Montana with very few family members and friends present.

Will we ever know more? Likely not. "Scarlett and Romain were married in a very intimate ceremony after the birth of their daughter," Page Six reported. "They kept the wedding a big secret because they both wanted privacy."
Gisele Bundchen and Tom Brady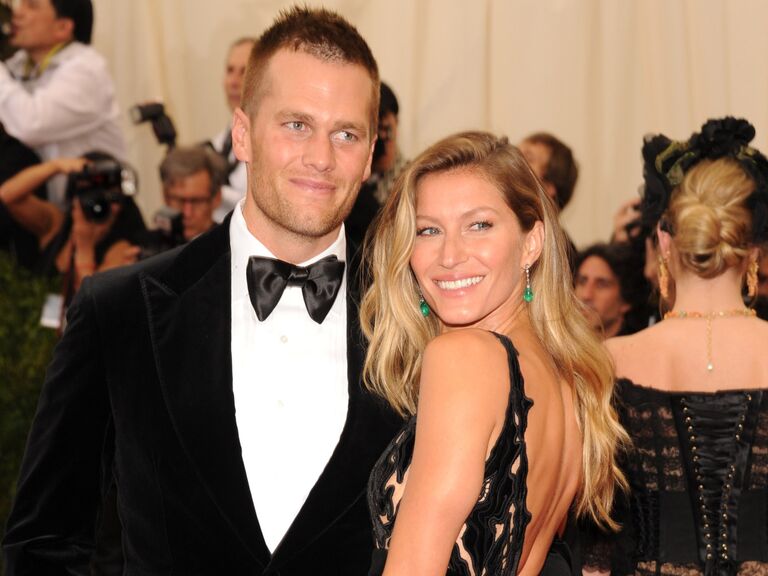 Wedding Date and Location: February 26, 2009, in Santa Monica, California
What We Know: The genetically blessed duo said "I do" in front of immediate family members and Brady's son from a previous relationship at Santa Monica's Catholic Church. Later on, Brady told GQ all about their reception—and how he cooked for it! "We went back to the house and I barbecued aged New York strips," the New England Patriots quarterback says. "We had champagne, a cake, some ice cream. It was a great night." He added: "I think you always have this idea that weddings need to be 200 people and you invite everybody, and I'm all for it if people want to do that, but I think there was really something special about just having our parents there."

Well, he did have that intimate experience for his first ceremony, since he and Bundchen tied the knot again in April in a larger ceremony at her Costa Rican estate for a multiday affair with more friends and family.
Will we ever know more? Hopefully! If Bundchen keeps sharing wedding photos on Instagram (she's given a sneak peek of two so far, wearing a shimmery gown), we might have the full wedding album in about 50 years or so!