21 Celebrity Couples Who Had Top-Secret Weddings
Here's what we know about these elusive A-list nuptials.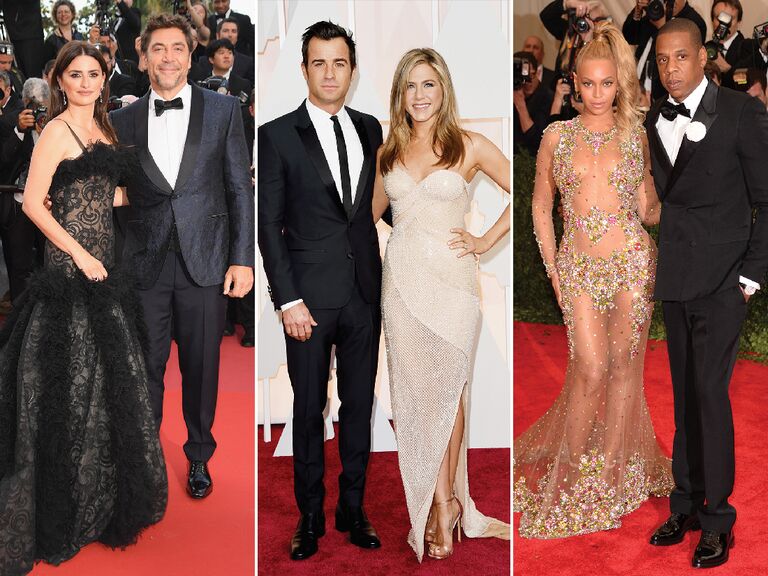 Pascal Le Segretain/Getty Images for Swarovski,Jason Merritt/Getty Images,Kevin Mazur/WireImage
Remember how gorgeous Jennifer Aniston looked in her wedding dress when she wed Justin Theroux? Or how much fun Blake Lively and Ryan Reynolds' reception looked? Yeah—neither do we! While many A-listers give us a front-row seat to their lavish nuptials, not all do. In fact, some secret celebrity weddings have been so private and hush-hush that we haven't even seen blurry paparazzi shots from the celebrations.
If you, like us, can't help but wonder what even the most secret celebrity weddings were like, you're in luck. We've done the Instagram digging research to uncover as many details as possible about the private, exclusive nuptials among Hollywood's elite. From Mila and Ashton to Beyoncé and Jay-Z, here's what we know about 21 secret celebrity weddings.
Joe Jonas and Sophie Turner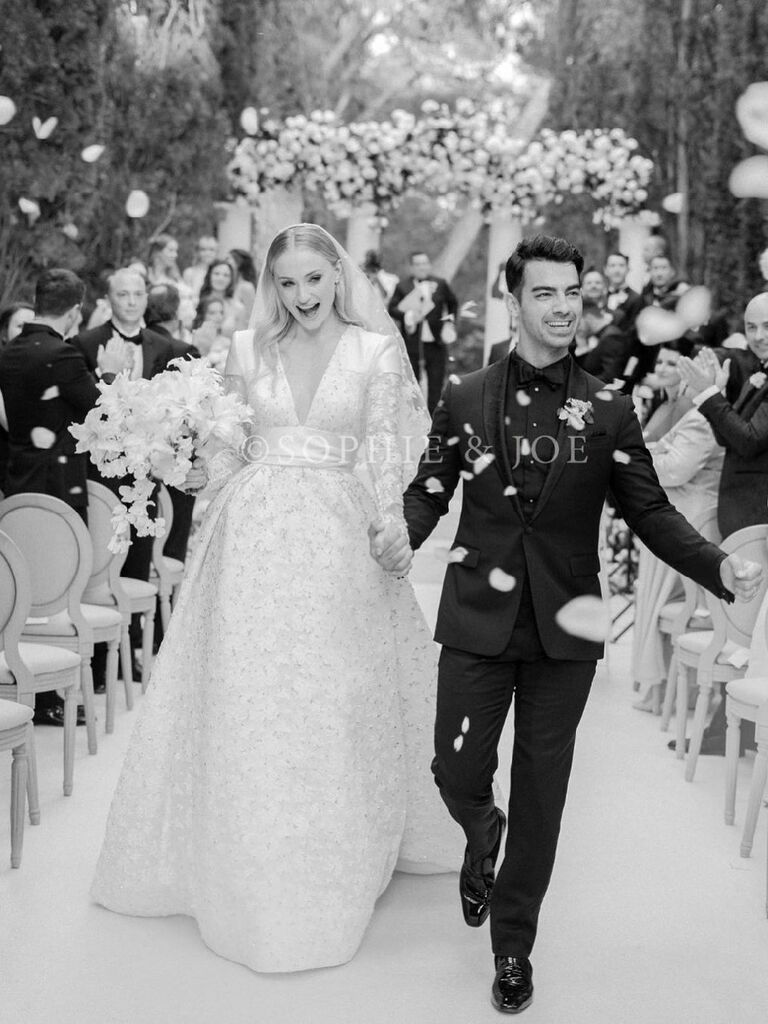 Unlike his brother Nick's highly publicized wedding, Joe Jonas opted for a secret ceremony to marry Sophie Turner—in Las Vegas, that is. The famous duo invited select guests to watch them elope in 2019. Joe's brothers Kevin and Nick served as witnesses, while Nick's wife Priyanka Chopra stood in as the maid of honor. Although the quiet nuptials were supposed to remain under wraps, celeb guest Diplo documented the experience, which included an Elvis impersonator, on Instagram. A few months later, the newly-minted spouses hosted a sequel ceremony in Paris. In the years following their wedding, the couple has since shared more behind-the-scenes photos from their secret celebrity weddings, which included custom beer bottles, a pink limo, and a late-night pool party.
Kourtney Kardashian and Travis Barker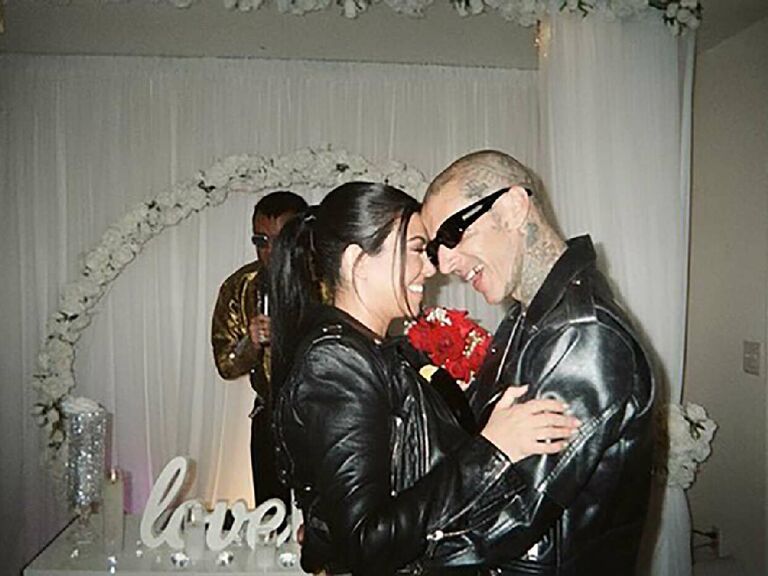 It's true that not all of Kourtney Kardashian and Travis Barker's wedding ceremonies were secret, especially their most recent multi-day extravaganza in Portofino, Italy. But before their European festivities, they did pull off one of the most recent secret celebrity weddings. Following the Grammy Awards in April 2022, the A-list couple discreetly swapped vows during a secret ceremony led by an Elvis impersonator at a chapel around 2 a.m.—and when news of the late-night nuptials leaked, fans simply lost their minds. It was later revealed that this wasn't an official wedding, as they didn't have a marriage license. Luckily for Kardashian fans, the couple heavily documented their subsequent (legal) marriage proceedings.
Blake Lively and Ryan Reynolds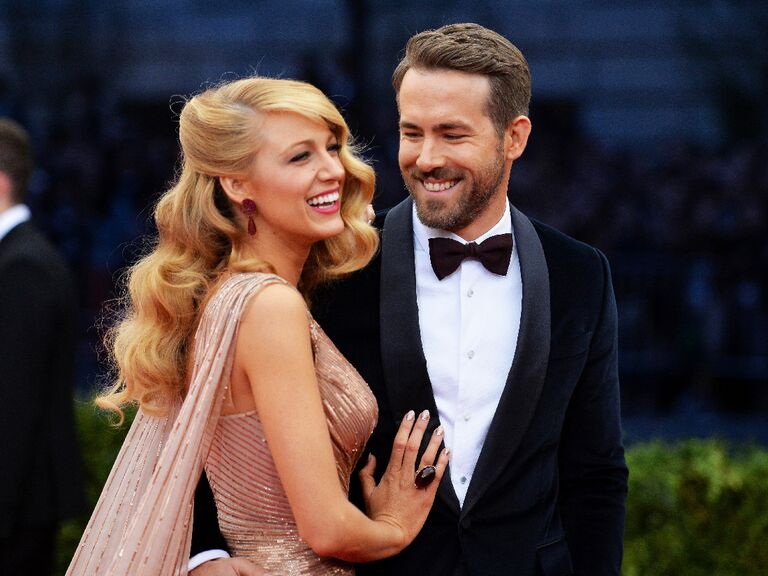 Back in 2012, actors Blake Lively and Ryan Reynolds got married in one of Hollywood's most elusive secret celebrity weddings. Not many details have been released about the Southern wedding, which later sparked controversy due to its plantation setting. (The couple since apologized for the decision, and have been open about their efforts to support the NAACP Legal Defense Fund, as well as Reynolds' own self-funded diversity and inclusion program The Group Effort Initiative.)
One thing we do know, though, is that Lively burned a hole in her wedding dress. "I get really frustrated when something goes wrong," she told Vogue. "For example, my wedding dress. Florence Welch was singing at the reception, and they brought out these sparklers, and I'm watching her sing. I look down and my wedding dress has a big burn mark from one of the sparklers. Right on the front! And it was just so heartbreaking to me." Despite the wardrobe malfunction, Reynolds told his wife that it was his favorite aspect of the gown: "He said, 'You'll always remember that moment with Florence singing and the sparklers. You have that forever, right there, preserved.' Now that's my favorite part of the dress."
Emma Stone and Dave McCary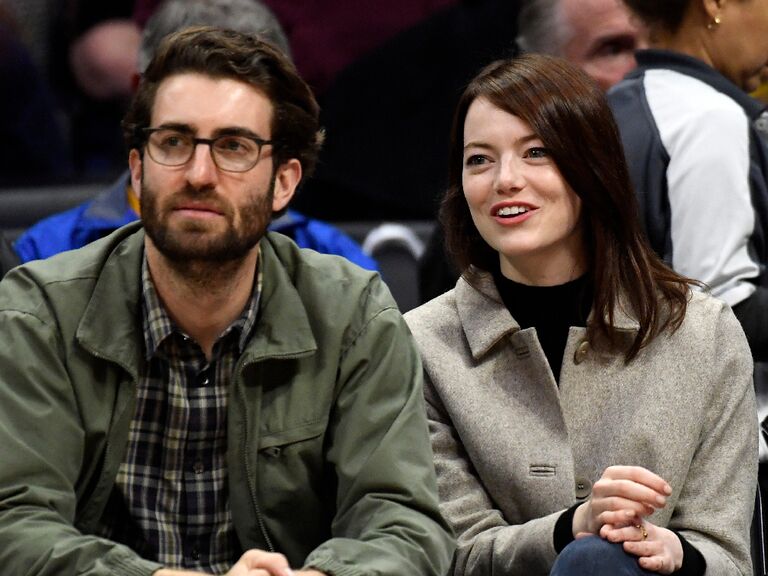 Emma Stone met her future husband, Saturday Night Live writer Dave McCary, when she hosted NBC's beloved sketch comedy show in December 2016. They've largely kept their relationship out of the public eye, though McCary did confirm their engagement by posting a ring selfie three years later. Like many other couples around the world, their nuptials were impacted by the coronavirus pandemic. Page Six reported they postponed their plans, but after the pair were spotted wearing wedding bands in September a source confirmed to People that they did, indeed, secretly tie the knot. Although we still don't know much about this secret celebrity wedding, Stone gave fans a brief glimpse into the celebration by re-wearing her feathered mini Louis Vuitton reception dress to the 2022 Met Gala.
Jennifer Lawrence and Cooke Maroney
Emma Stone's close friend Jennifer Lawrence also had an uber-private wedding to art curator Cooke Maroney in October 2019. They invited their guests, including Stone, Kris Jenner, Amy Schumer, and Adele, to Rhode Island's swanky Belcourt of Newport, a historic ocean-front estate. Lawrence's Kentucky roots were on full display, as the bride reportedly treated loved ones to Southern staples like barbeque, beignets, and Old Fashioned cocktails.
Colin Jost and Scarlett Johansson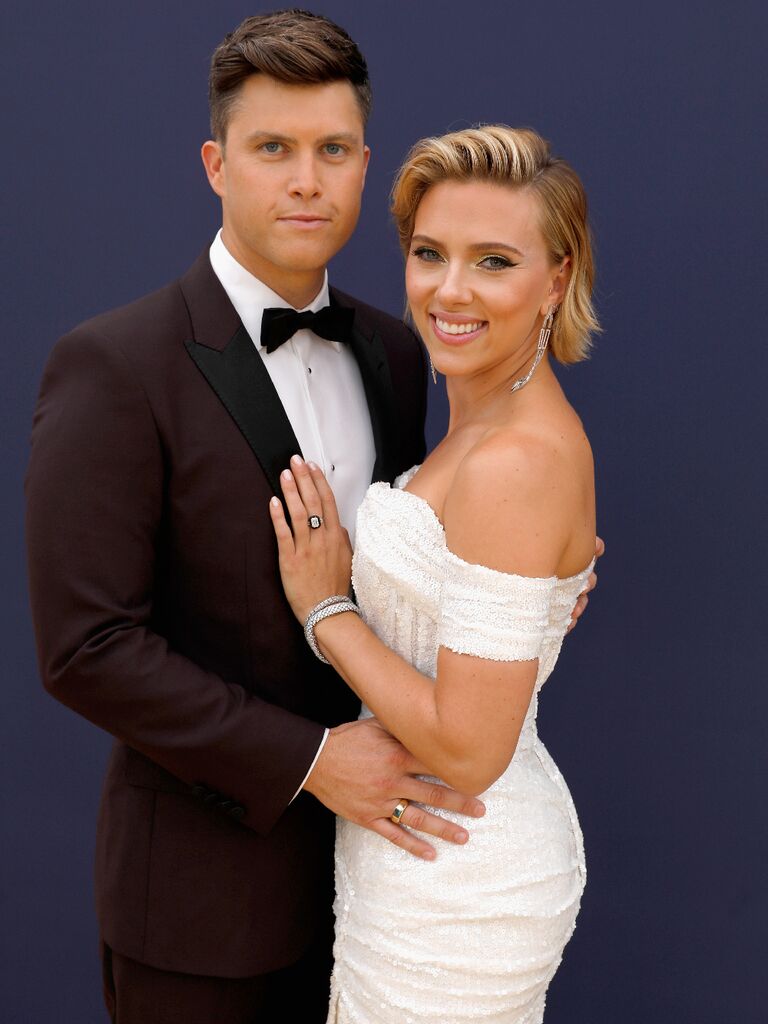 Yet another famous couple who met on the set of SNL, Colin Jost and Scarlett Johansson hosted a secret wedding at their Palisades, NY home in October 2020. Using their amplified platform, the newlyweds partnered with Meals on Wheels America to reveal the news themselves—and to support a good cause. "We're thrilled to break the news that Scarlett Johansson and Colin Jost were married over the weekend in an intimate ceremony with their immediate family and loved ones, following COVID-19 safety precautions as directed by the CDC," the company shared on Instagram. "Their wedding wish is to help make a difference for vulnerable older adults during this difficult time by supporting @mealsonwheelsamerica. Please consider donating to celebrate the happy couple by clicking the link in our bio."
Johansson later elaborated on their COVID minimony in an interview with People. "I think just keeping it intimate and small made it feel intentional," the actress told the outlet. "We wanted it to feel like it had an intentional intimacy as opposed to being something that felt like we were restricted by all these things."
Ed Sheeran and Cherry Seaborn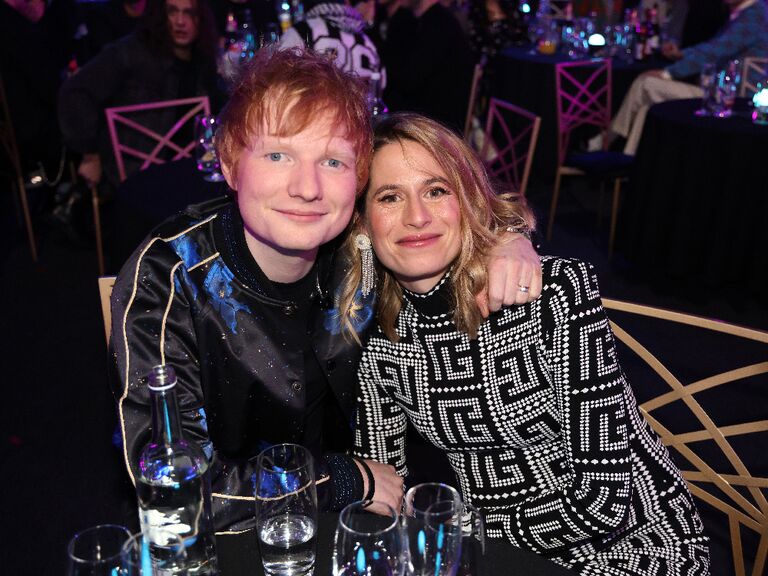 Ed Sheeran is certainly a wedding staple in the US—according to our data, his love ballad "Perfect" is the most popular first dance song, and has been for the last five years. Despite his star status, the British crooner kept a low profile for his own wedding to childhood sweetheart Cherry Seaborn. The two got married in January 2019, and it wasn't until August 2021 that the groom opened up about the big day. "Me and Cherry's actual wedding was a tiny affair, with hardly anyone there," he revealed on the podcast Table Manners. "We did it at night, at a random day in the middle of January, in the middle of nowhere. No one knew, no one came to it, we lit candles and we got married, went back and had a curry." A few months later, they hosted a second secret ceremony with A-list friends—and all cell phones were banned. "The wedding party was more a celebration of us and our friends," he added. "I didn't want pictures getting out and I'm surprised they didn't. Everyone was very present."
Amanda Seyfried and Thomas Sadoski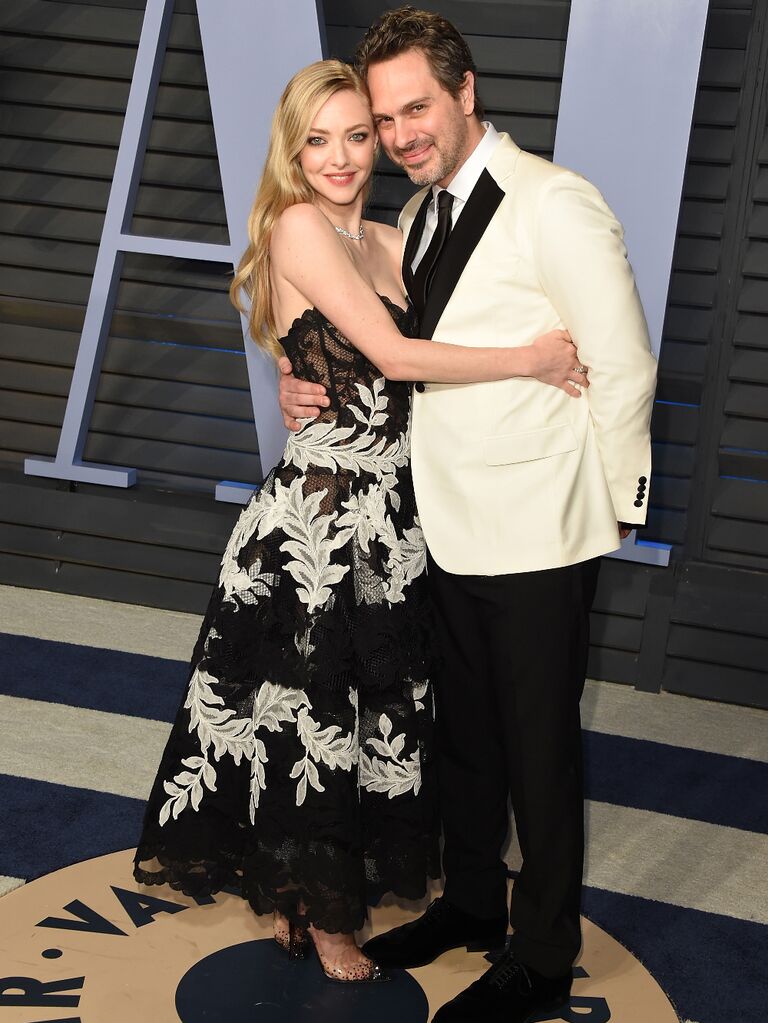 Notorious for keeping her private life out of the public eye, Amanda Seyfried's wedding was no different. The famed actress quietly married fellow actor Thomas Sadoski within the Santa Monica mountains in March 2017. Over a year later, she confirmed the wedding news to Net-A-Porter's digital magazine PorterEdit: "We got married in Topanga, March last year. Just the two of us," she shared, adding that they opted for brunch instead of a traditional reception on Sunset Boulevard in LA. "Afterward, I was like, 'Can we just go to Cheebo?' It was awesome."
Leighton Meester and Adam Brody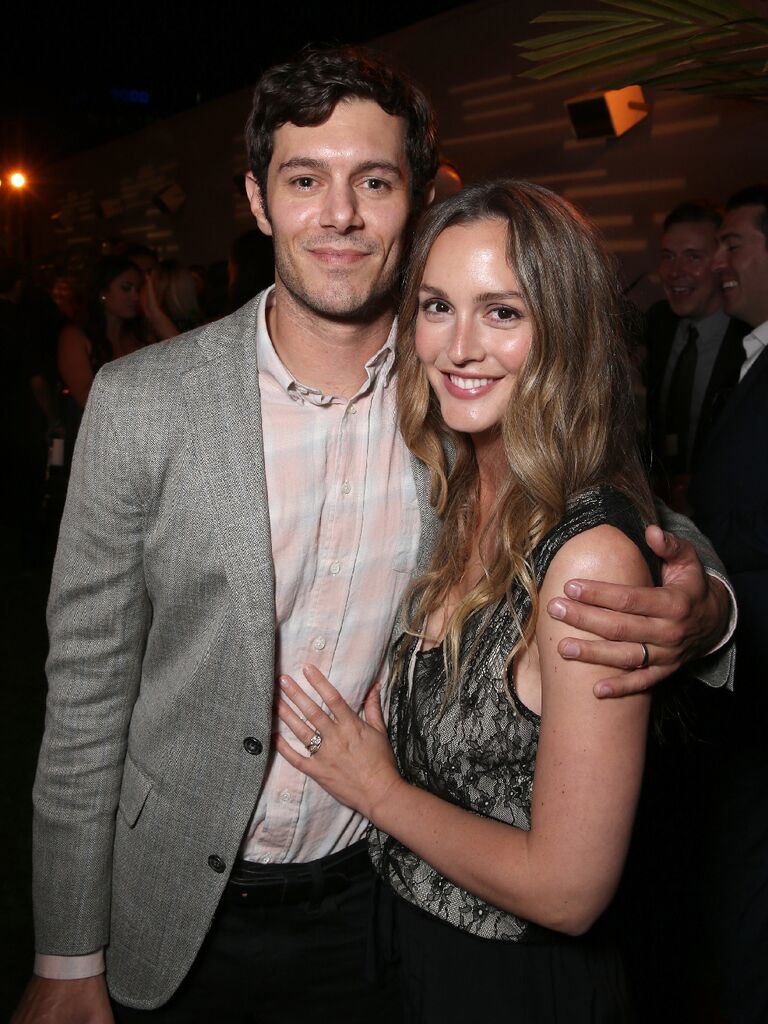 Not even Gossip Girl could leak the private details of Leighton Meester's secret celebrity wedding. The actress, best known for her role as the iconic Upper East Sider Blair Waldorf, wed fellow actor Adam Brody in 2014. In fact, information about the wedding is so sparse that fans have had to piece together details from various reports. US Weekly confirmed in February 2014 that the couple had tied the knot; One day later, E! News interviewed a source who shared that the wedding was low-key and intimate. "Leighton and Adam got married in Northern California by the ocean a couple of weeks ago," they told the outlet. "It was a very small and intimate wedding with close family and friends. It was beautiful."
Despite fan curiosity, that's likely all the details that will be publicized. "We're homebodies," Brody told GQ in 2019. "We don't go to a lot of things that perhaps we could and don't seek out promotion in that way. We've found this great balance so far that really works for us. We're also not very active on social media."
Penelope Cruz and Javier Bardem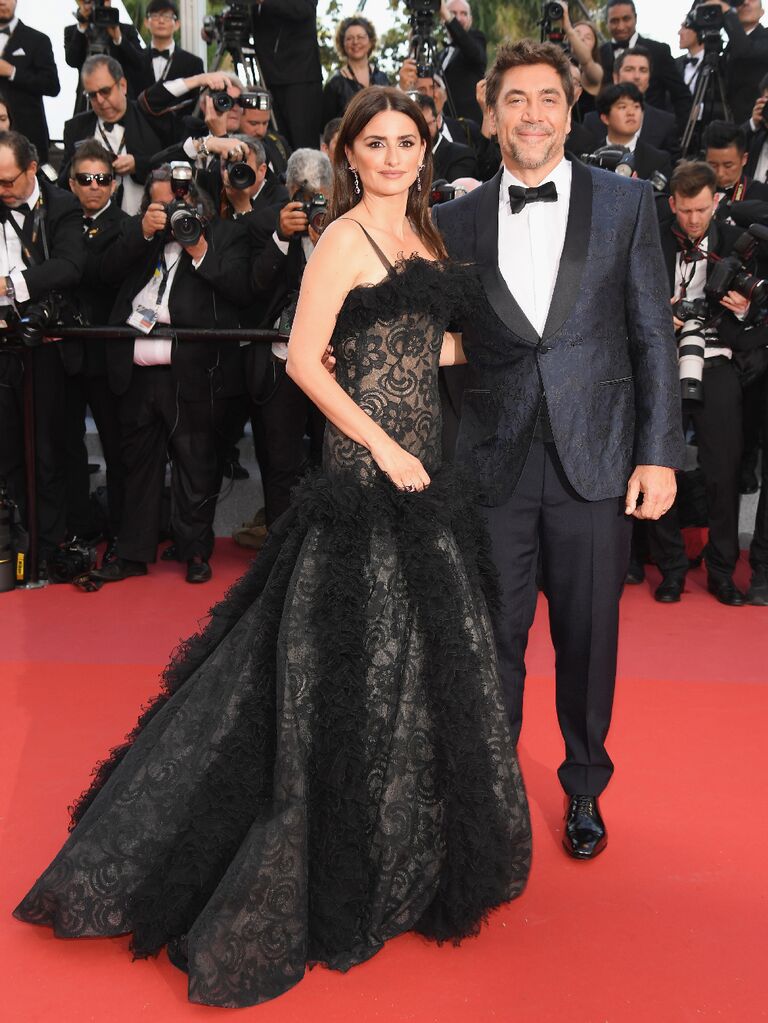 Spanish power couple Penelope Cruz and Javier Bardem have one of Hollywood's most enduring relationships—not to mention, one of the most elusive weddings too. Despite meeting on the set of a movie in 1992, it took 15 years for the couple to become romantically involved. They got married in July 2010, which Cruz's agent confirmed to The Guardian. According to the statement, the couple swapped vows at a friend's home in the Bahamas, and the event was only attended by family members. Although we still don't know what the bride's wedding dress looked like, she opted for a gown by John Galliano.
Dave Franco and Alison Brie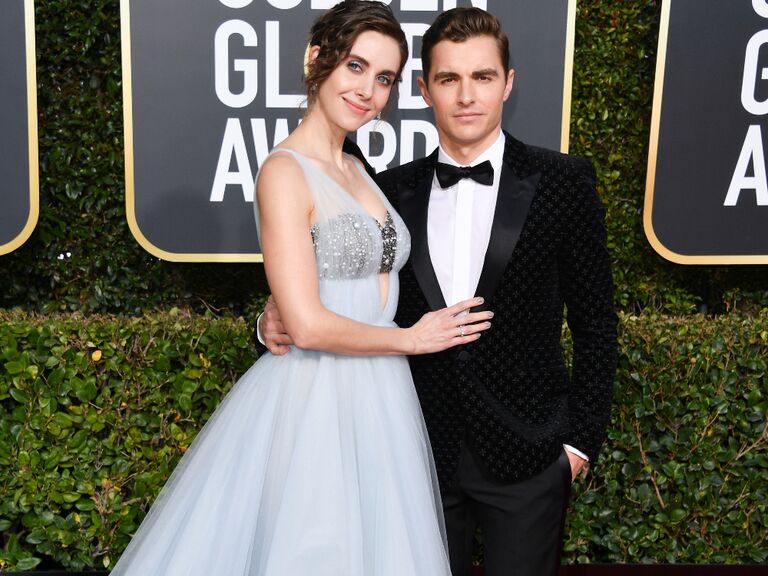 After meeting at the New Orleans Mardi Gras parade in 2011, actors Dave Franco and Alison Brie quickly hit it off. They weren't spotted together until 2012, and it took another three years for them to make their first public appearance at a fashion show in 2015. Franco proposed in August of that year, and in March 2017 People confirmed that they were officially married. To this day, next to nothing is known about the couple's private nuptials. Though they rarely speak about their relationship, Brie did open up to the magazine about how married life was treating her. "Something about being married made me feel so settled, almost more free, I guess, rather than like trapped," she said. "It's great. So now, let's go do whatever we want. Onward and upward."
Nikki Reed and Ian Somerhalder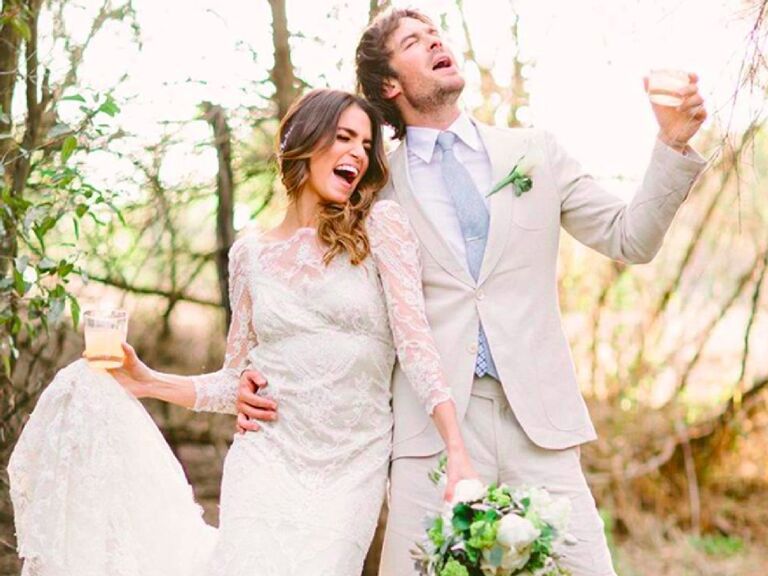 Four months after getting engaged, Nikki Reed and Ian Somerhalder got married—but they tricked their guests into thinking they were simply attending a housewarming party. Their April 2015 nuptials took place in Topanga Canyon in California. When guests arrived to their house, shuttles whisked them away to the secluded wedding venue instead. The couple later shared they wanted the wedding to feel like a cross between a music festival and a Louisiana cookout. More details about the private soirée have since been revealed: The guest list included plenty of Somerhalder's Vampire Diaries castmates; The bride wore a custom lace Claire Pettibone dress, while the groom opted for a bespoke white suit; and they crafted signature cocktails for guests. In keeping with the Southern theme, a blues band played during the reception, and the menu was heavily influenced by Somerhalder's Louisiana upbringing.
Faith Hill and Tim McGraw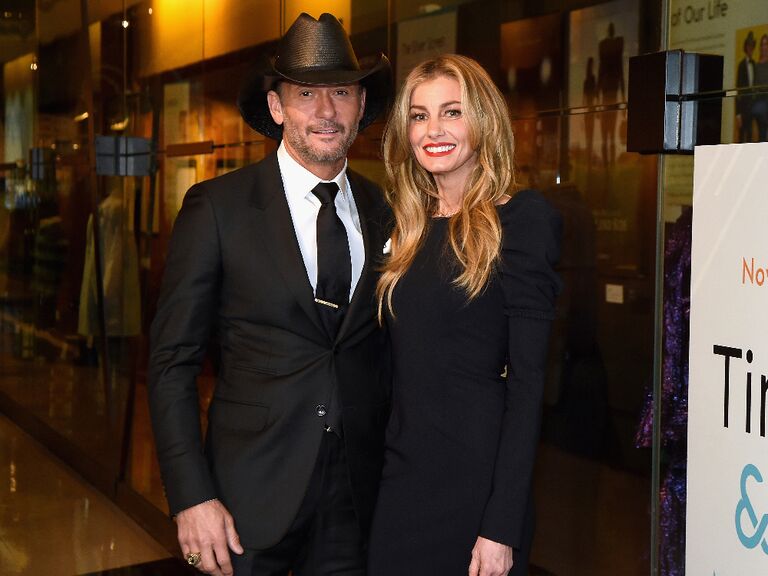 Just like Reed and Somerhalder, country music icons Faith Hill and Tim McGraw also pulled off a surprise wedding. Despite meeting at a Nashville music gig in 1994, the singers were seeing other people at the time. It wasn't until Hill joined McGraw's tour in 1996 that their romantic relationship began. McGraw ultimately proposed on that tour, and their whirlwind courtship culminated in a wedding the same year. The couple invited loved ones to McGraw's aunt's backyard in Louisiana for what was supposed to be a charity softball game. Much to their surprise, though, the couple appeared wearing a wedding dress and a tuxedo and sealed their union.
Decades later, McGraw opened up about their nuptials on an episode of LIVE! With Regis and Kelly in 2011. "We got off the bus and all my family was there and they were prepared to play softball and we get out in wedding clothes and got married under a locust tree in my aunt's backyard," he reminisced, adding that his family members were completely unsuspecting. "My sisters were a little upset because they wanted to dress up."
Jennifer Aniston and Justin Theroux
Although there are grainy aerial photos of Jennifer Aniston and Justin Theroux's backyard decked out for their August 2015 wedding, we have yet to see photos of the bride and groom. The secret celebrity wedding was attended by stars like Chelsea Handler, Howard Stern, Sia, Jimmy Kimmel, Emily Blunt and John Krasinski, along with Aniston's Friends co-stars Lisa Kudrow and Courteney Cox. In fact, a few lucky guests even joined the couple on their honeymoon in Bora Bora—but that's all the information that will be shared about the nuptials. When Entertainment Tonight asked Aniston about the wedding, she replied, "I'm not telling you about any of that stuff. We had the beautiful luxury of having a beautiful, private moment. And I'm going to be selfish and keep it that way."
Kerry Washington and Nnamdi Asomugha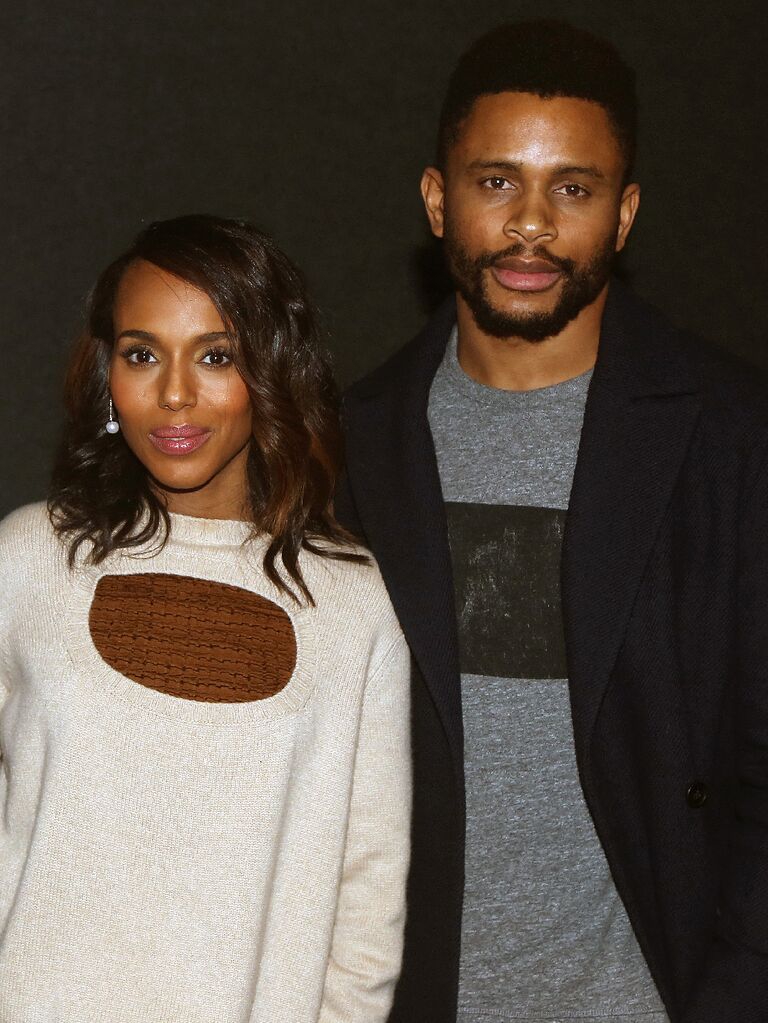 Wedding preparations moved quickly for Scandal star Kerry Washington, who wed fellow actor and former NFL player Nnamdi Asomugha. The two chose Idado for their June 2013 nuptials, and according to reports, they obtained their marriage license the same day they got married. The couple only invited a few family members and close friends to watch the private vow swap, and Washington later said in an interview with E! News that she won't share further details. "I hate keeping secrets; that is the worst thing for me, because I always want to talk about it," she said when asked about her wedding. "I am really private about my personal life... I try to be really naked emotionally in my work, and I am not holding back at all when it comes to my work. I am giving all that I can in my work.... So my work belongs to everyone—because that's the choice I made—and my life belongs to me."
Anne Hathaway and Adam Shulman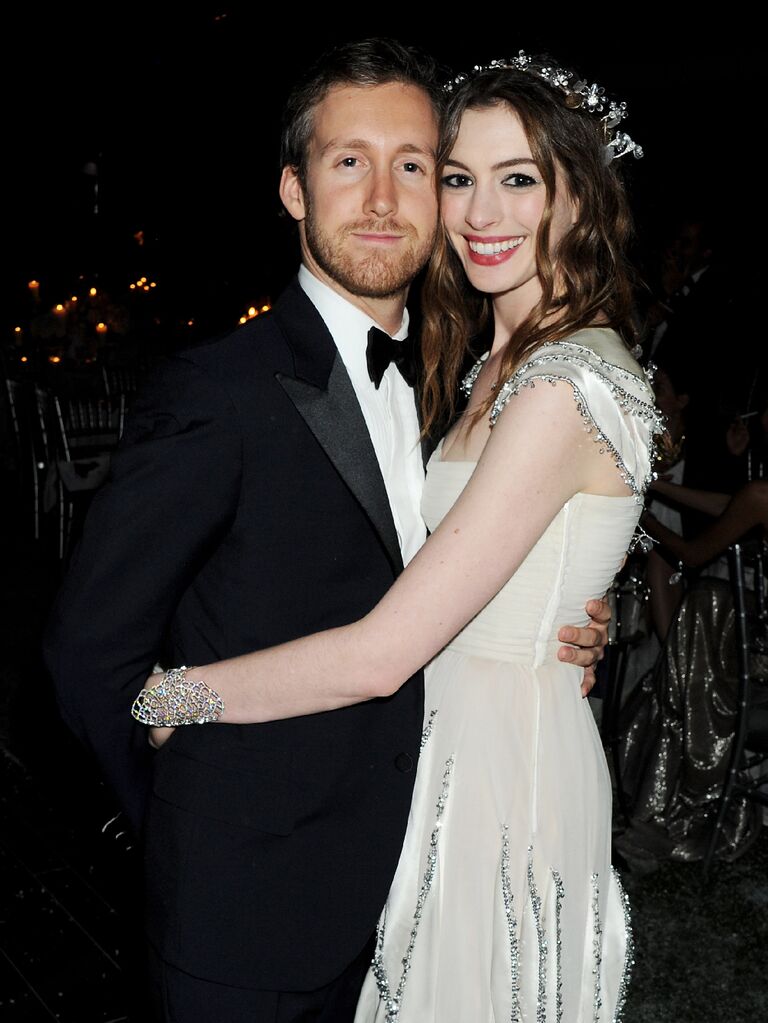 Despite starring in beloved blockbusters like The Devil Wears Prada and The Princess Diaries, Anne Hathaway continues to keep her private life under wraps. This was especially true of her September 2012 wedding to producer Adam Shulman at a private estate in Big Sur, California. Although an aerial shot was leaked, showing Hathaway kissing Shulman in a custom blush Valentino wedding dress and matching headband, we don't know much about the reported 150-guest nature-inspired affair—other than she had fun at her reception. "When we got married, I thought it was a great party," Hathaway told The Telegraph. "I honestly thought we were doing it more for tradition. I wasn't prepared for the radical shift my heart was going to have."
Cameron Diaz and Benji Madden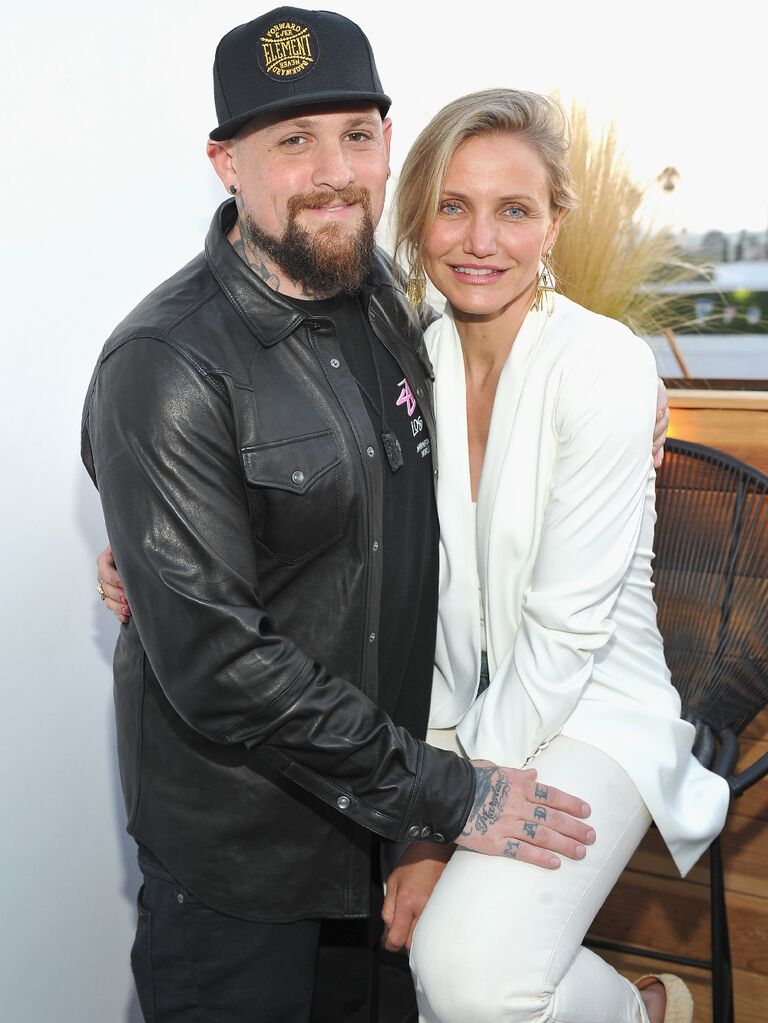 As one of the entertainment industry's most private couples, it's no surprise that Cameron Diaz and Benji Madden hosted a secret celebrity wedding. They wed at their Los Angeles home in January 2015, merely a month after getting engaged. Leaked photos showed an elaborately constructed white tent nestled in the newlyweds' romantically lit backyard. The alleged Jewish ceremony was said to be attended by 100 mostly A-list guests, including Drew Barrymore, Reese Witherspoon, Gwyneth Paltrow and Nicole Richie. While there are no other firm details, all the couple offered to People was, "We couldn't be happier to begin our new journey together surrounded by our closest family and friends."
Jessica Alba and Cash Warren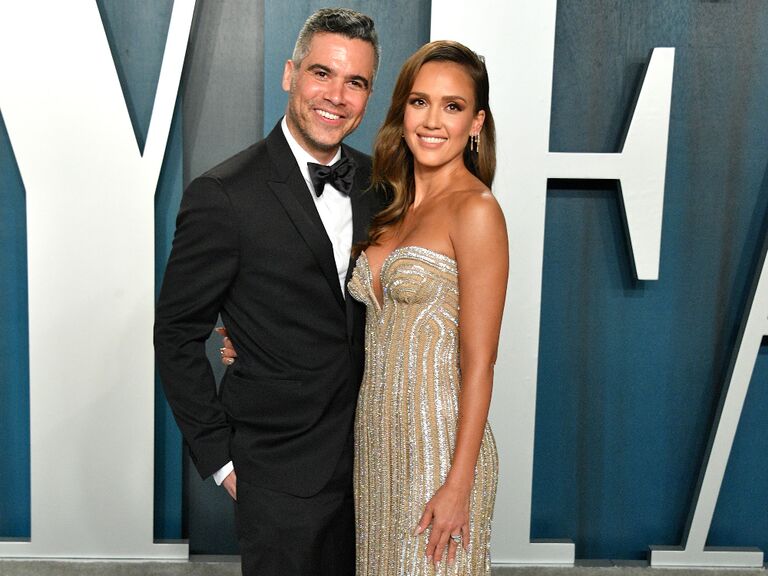 Jessica Alba warned fans from the start that she wasn't planning a big wedding affair. "I am probably going to get my certificate at the City Council, throw a big party for the family and that's about it," the Daily Mail reported the actress as saying. "I've been to very big, beautiful and romantic weddings but I would rather just throw a big party." This prediction ultimately came true. The actress and entrepreneur quietly married Cash Warren at a Beverly Hills courthouse in May 2008, without any family members or friends present. A source said she wore a long blue dress with her hair in a ponytail.
Mila Kunis and Ashton Kutcher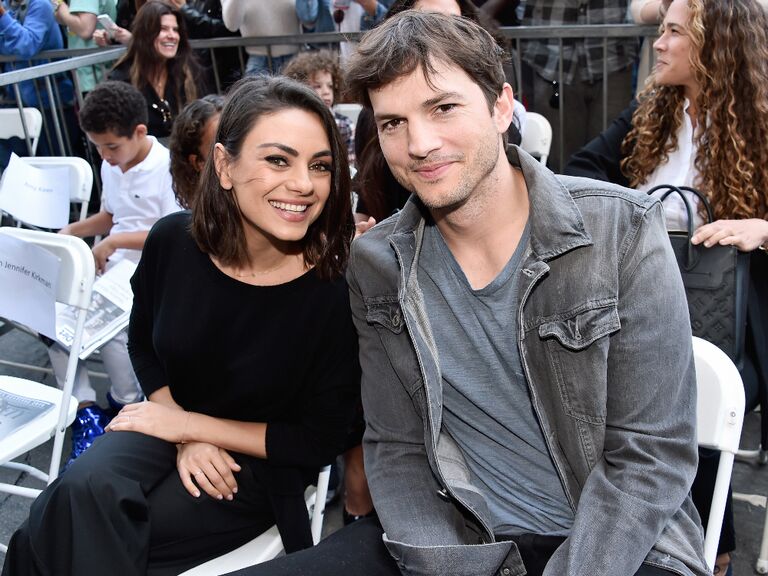 Although their love story is rom-com material, tight-lipped Mila Kunis and Ashton Kutcher kept mum about their 2015 wedding proceedings. The couple legally said "I do" prior to their low-key Fourth of July wedding celebration with family and friends at The Secret Garden at Parrish Ranch in Oak Glen, California. They set up "Camp KuKu," an outdoor tented area with activities for guests—very kid-friendly, since their nearly one-year-old daughter, Wyatt, was present. Prior to her wedding, Kunis had long been open about her stance on weddings. "I never wanted to get married. From the age of 12, I prepared my parents for no marriage," she told W in July 2014. "Then things changed—I found the love of my life. Now my theory on weddings is: Don't invite anyone. Do it privately and secretly. My parents are okay with that."
Beyoncé and Jay-Z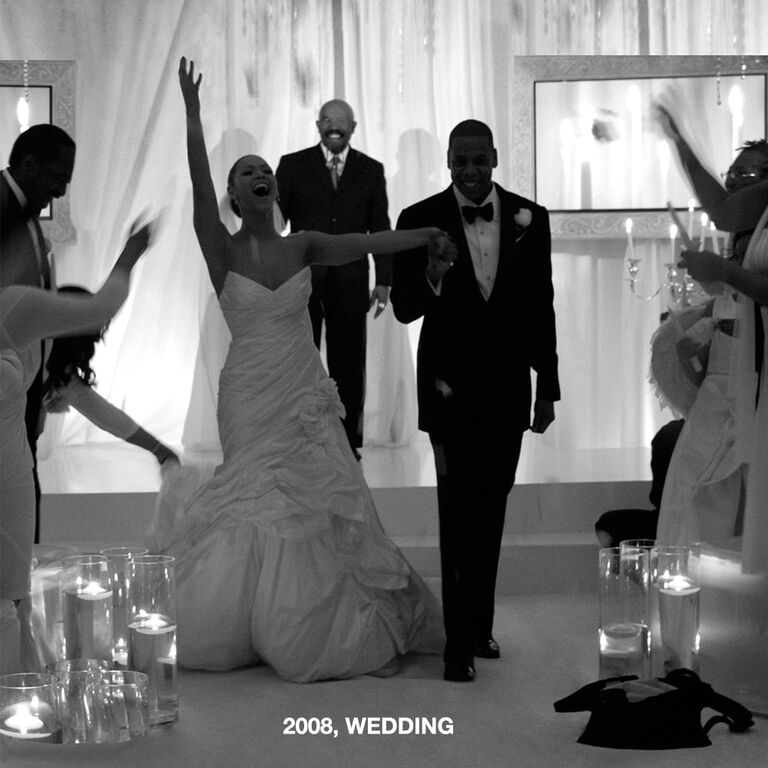 Security was airtight at Beyoncé and Jay-Z's super-private 2008 wedding at his newly renovated apartment in TriBeCa. Seventy thousand white orchids were flown in from Thailand for the luxe nuptials and only 40 guests (including Kelly Rowland, Michelle Williams, Gwyneth Paltrow, and Chris Martin) were invited. The power couple opted to not have a wedding party, and the unplugged ceremony was very "spiritual," per sources. Years later, the musical power duo indulged fans by sharing a few grainy images of their lavish ceremony as background visuals during their On the Run Tour together. Then, in 2020, mom Tina Knowles Lawson celebrated her daughter and son-in-law's ninth wedding anniversary by sharing a never-before-seen black-and-white portrait of the couple walking down the aisle.
Gisele Bündchen and Tom Brady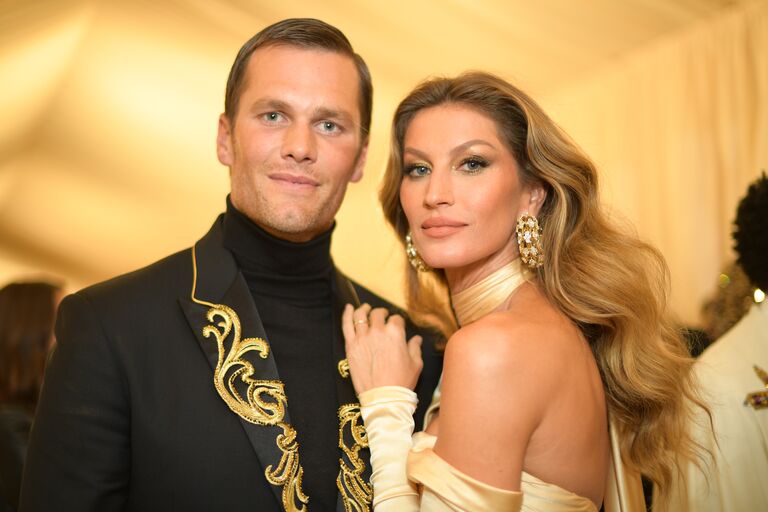 What happens when a supermodel marries an NFL star? We almost didn't know! Gisele Bündchen and Tom Brady wed in February 2009 in front of immediate family members, as well as Brady's son from a previous relationship, at Santa Monica's Catholic Church. Although their vow swap was incredibly private, Brady eventually told GQ all about their reception—and how he cooked for it. "We went back to the house and I barbecued aged New York strips," he shared. "We had champagne, a cake, some ice cream. It was a great night."
In the same interview, he also divulged his thoughts on the beauty of having a small, private wedding ceremony. "I think you always have this idea that weddings need to be 200 people and you invite everybody, and I'm all for it if people want to do that, but I think there was really something special about just having our parents there." Of course, that wasn't their only wedding. The couple tied the knot again a few months later in a larger ceremony at her Costa Rican estate for a multiday affair with more friends and family.