Jamie Crane-Mauzy on Healing and Returning to Her Accident Site to Wed
The athlete opens up about reclaiming her crash site as a spot of joy, rather than trauma.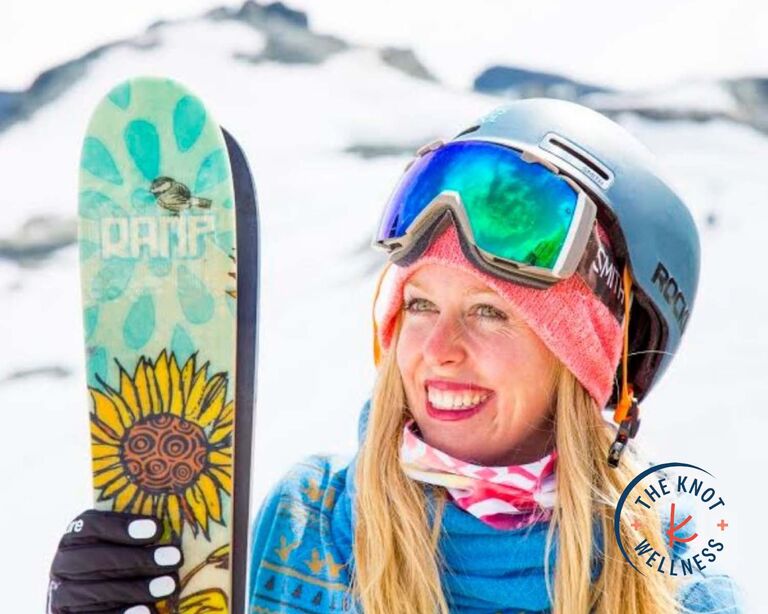 Gillian Hunter
For better and for worse, April 11th is a significant day for slopestyle freeskier Jamie "MoCrazy" Crane-Mauzy. It's the day she suffered a career-altering catastrophic skiing crash in Whistler, British Columbia, in 2015. But it's also the day she and her fiancé Reggie Clark will tie the knot, back at the accident site—bringing healing and joy to the spot where her life once changed in a split second.
From Jamie:
In the blink of an eye, I went from being a professional skier, competing on the World Cup freeski circuit, to waking up in the hospital after a coma and six weeks of amnesia, paralyzed on my right side, unable to walk and talk. My own personal best went from performing as a professional skier and breaking glass ceilings (like being the first woman in the world to double flip at the X Games) to challenging myself to walk up a simple flight of stairs. The two years following my TBI (traumatic brain injury) involved lots of recovery, like relearning all my gross motor skills.
During my recovery, my sister, Jeanee, and I went back to Whistler for my one-year "Alive to Thrive" birthday, the name I've given my accident anniversary. That trip changed my life as I didn't understand how critical my TBI had been prior to that visit. When she and I were at the lodge at the top of Whistler we said that if I ever got married, it would be at that very spot.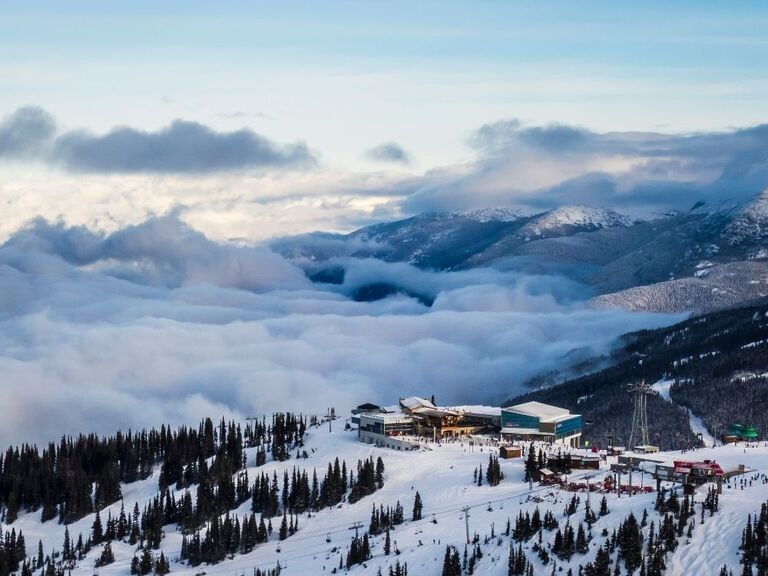 Fast-forward to meeting my now-fiancé Reggie Clark through a mutual friend. Upon initially meeting him I actually friend-zoned him pretty hard! Over time Reggie became my best friend and one morning, as we were getting ready to go skiing, I asked Reggie if he ever thought about kissing me. With a mouth full of cereal, he responded with a kiss!
On April 11th, 2021, I was ski touring up a mountain with Reggie for my "Alive to Thrive" birthday and Reggie's birthday, which is fatefully also on the 11th. Since the day was so important it made sense there was a photographer documenting our climb and I thought nothing of it. At the peak, Reggie and I posed for a picture when suddenly I looked next to me and he was kneeling in the snow. In his hands was the most beautiful ring and he asked me to marry him. After a few moments passed, Reggie asked if my crying meant "yes." I said "Yes! I will marry you!"
As soon as we began wedding planning, we knew two things with certainty—that Whistler was where we wanted to tie the knot and that April 11th would be our wedding date. There's so much symbolism tied to Whistler for me, beyond the fact that it's where my fatality report was drafted and I almost died. Most people don't know that I qualified for my first X Games during a competition in Whistler. It seems symbolic to close one chapter and start another at the site of some of the other most dramatic moments of my life. It's a dream come true for me that everything Jeanee and I talked about during our visit to Whistler all those years ago is actually happening—when I was in my twenties I never thought I would meet someone who had all the qualities I desired in a partner.
Bringing things full circle, I even hired Jeanee to be our wedding planner and she's been instrumental in helping me use the process of planning to reclaim Whistler as a spot of joy, rather than just a spot of trauma.
With Whistler as my wedding location, the most important people surrounding my World Skiing Invitational fall will be able to be there. And we're having a reception the day before that will be open to anyone in Whistler who wants to see the closure of the happy circle. I'm still in a little disbelief that this wedding to the perfect partner is happening at the top of Whistler on my "Alive to Thrive" birthday. I spend much of my time as a speaker inspiring others to have the passion needed to create a life full of joy and peace after trauma—it's beautiful that for me, part of that journey involves my wedding.