Olympian Tara Davis & Paralympic Medalist Hunter Woodhall Are Engaged
See the swoon-inducing proposal.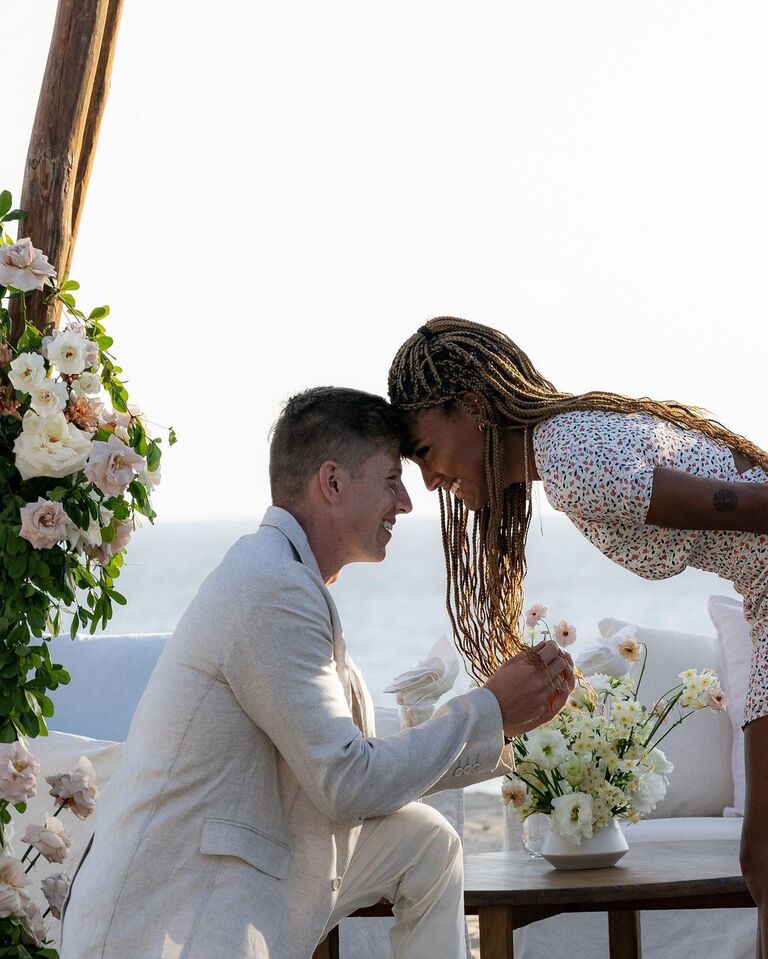 Rafa Rivero,Tara Davis / Instagram
Olympian Tara Davis and Paralympic medalist Hunter Woodhall are engaged. The couple, both track and field superstars, took to Instagram this weekend to reveal their updated relationship status.
Woodhall popped the question during a trip to Cabo San Lucas, Mexico, where he had hired a designer to build a gorgeous outdoor furniture lounge on the beach. The designer set up trendy, natural macrame pendants against a soft loveseat. An eye-catching floral installation of white and pink roses against greenery decorated the wooden panels of the outdoor setting. Of course, he had also hired professional photographer Rafa Rivero to document the once-in-a-lifetime moment.
"You've showed me the true meaning of life and now I get to spend the rest of my life with you," Davis expressed on Instagram. "Let me reintroduce myself as a FIANCÉ."
Woodhall also expressed his joy on Instagram, writing: "To my future wife, I promise to always be there for you, I promise to always provide for you, I promise to always love you. You make me a better person and I can't imagine a life without you. Thank you for trusting, supporting, and loving me the last 5 years. Here's to the rest of our lives."
With his post, the athlete revealed a series of photos including one of himself grinning shyly. "P.S. the last pic is my relief from getting a yes haha," he added.
The couple previously revealed to Insider that they had met fittingly during a track meet in their senior year of high school. Both are now 22, and have been dating (long-distance) for four years.