Jennifer Lopez Reveals Her Original Wedding Plans With Alex Rodriguez
Now, the couple is reconsidering everything.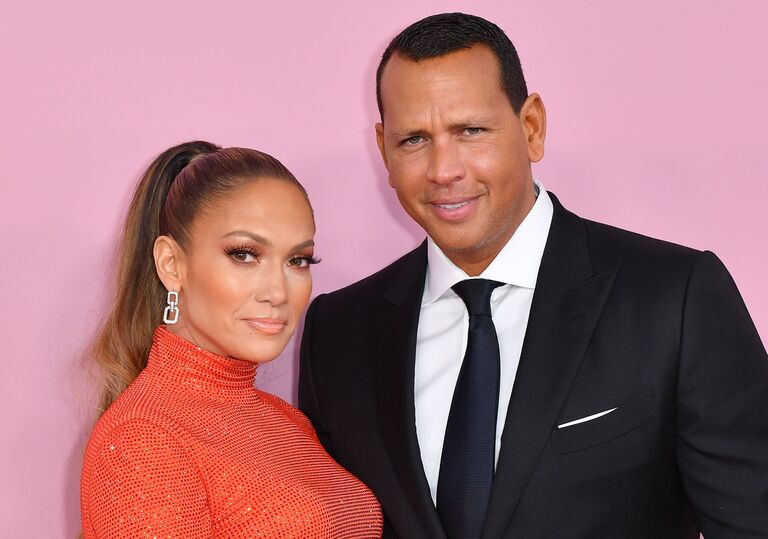 ANGELA WEISS/AFP via Getty Images
Those change-the-dates are still pending for Jennifer Lopez and Alex Rodriguez's upcoming wedding. Like so many engaged couples around the world, the high-profile pair's 2020 wedding was impacted by the coronavirus, and they've been in a holding pattern ever since landing the decision to postpone the nuptials.
In a recent interview with Andy Cohen, the singer-songwriter gave yet another wedding update and a rather unexpected one at that. "We've talked about [not getting married] for sure," Lopez said, as she discussed Goldie Hawn and Kurt Russell's relationship. "With like the Goldie thing and Kurt, you think, 'Do you have to? Should we?'" 
This wouldn't be the first marriage for Lopez or Rodriguez, who share children with their exes. Lopez is mom to 12-year-old twins Emme and Max, with her ex-husband, Marc Anthony. The former MLB player is dad to his two daughters, Natasha, 16, and Ella, 12, whom he shares with his ex-wife, Cynthia Scurtis. The couple speaks often about their blended family, with whom they've been social distancing since March 2020. 
"I mean at our age, we've both been married before, it's like, 'Do we get married? Do we not?'" Lopez added to Cohen. "What does it mean for us? And it's just, it comes down to like personal [conversations] like, 'What do you want to do?' There's definitely no rush though."
J.Lo and A-Rod's Original Wedding Plans
After a year of speculation, the mutli-hyphenate finally revealed her destination wedding plans to Cohen in the same interview. "It was really sad because we were supposed to get married in June and we had planned it all," she explained. "So in March or April, we're looking down the pipe and we're going, 'This is maybe not going to happen.' Italy's the worst place in the world. And we were going to get married in Italy. I was like, 'OK, we've got to cancel everything.'"
In May 2020, Lopez opened up to Hoda Kotb about the emotional impact of COVID disrupting life plans. "You just have to kind of wait and see how this all plays out," Lopez, 50, said on the Today show. "It's disappointing on one level. After the Super Bowl and after World of Dance, I planned to take time off, which is what we're doing right now. But, at the same time, we had a lot of plans for this summer and this year. Everything is on hold right now."
Kotb, who's also engaged to financier Joel Schiffman and had to deal with a pivot in her plans too, asked Lopez about possible updates in the same interview. "I'm a little heartbroken, because we did have some great plans," Lopez affirmed. "But I'm also like, 'You know what? God has a bigger plan, so we just have to wait and see.' Maybe it's going to be better. I have to believe that it will be."
The Zoom calls have involved, of course, many of their wedding vendors. "We had a meeting on Zoom with our core [team]," Rodriguez told Entertainment Tonight that same month. "Kind of just going over what the next 12 months look like and we have three or four different variations of how that can look." This touches everything from their exact wedding date to movie projects to Lopez possibly "going on tour next summer." The couple is proactively approaching the possibilities with multiple options. 
"It's such a fluid world," the former Yankees player stated. "Usually when you underwrite a year, whether [in terms of] scheduling or financially, you never think that it's going to just stop like this. So we're having to be very fluid, think on our feet and just think very proactively… At the same time, I think the most important thing for everybody is to practice great discipline and stay at home. We have to do this together and every person counts. The way we're going to beat this thing is together."
While the multi-hyphenate has said she and fiancé Alex Rodriguez are in no rush to get married, and with the ongoing coronavirus pandemic throwing a lot of folks' weddings for a loop, their original plans for their nuptials were likely put on hold. At least, that's what Ellen DeGeneres tried to get out of Lopez in a recent chat with the Hustlers star on an at-home episode of The Ellen DeGeneres Show in early April. "So I assume this whole quarantine and everything is affecting the wedding date, because I'm sure you were about to get married any day now," the talk show host teased during the pair's video chat. 
"Any day now?" Lopez laughed before admitting, "Actually, it did affect it a little bit… So, we will see what happens now. Honestly, I really don't know what's going to happen now as far as dates or anything like that. We're just kind of in a holding pattern like the rest of the world. So, again, it's something we're just going to have to wait and see in a few months how this all pans out."
Other celebrities who've had to postpone their weddings include Katy Perry and Orlando Bloom, and Princess Beatrice and Eduardo Mozzi, who ultimately married in a minimony with only a select few in attendance. 
J.Lo and A-Rod on Their Non-Traditional Family
"I'm actually thrilled to be home, because I'm never home, so I'm making the best out of it," Rodriguez said to ET in April. "We're playing wiffle ball, we're playing chess, we're playing checkers, we're playing Monopoly, and for us to have dinner with the kids every day is like a dream."
Until they do wed, however, Lopez said they're enjoying spending time with family. "Right now, it's kind of making lemonade out of lemons," she said in her interview on Ellen. "It's a terrible time for all of us and a weird time and a scary time, [an] anxious time. We don't know what's going to happen. But having a reconnection with the family and Alex and not having to run around so much is kind of nice, too. So, making the best of it."
Jennifer Lopez and Alex Rodriguez first started dating in 2017 and got engaged in 2019. During a chat with Winfrey in early 2020, J.Lo revealed that they're fine to take as long as they need. "I said, 'If we're going to be together for the rest of our lives, what is the rush?'" Lopez said at the time. "If that's what we're really going to do, if we're really going to be partners, if we're really going to try to build something together that we both never had or never felt like we had, which is a family with a husband and a wife, and a mother and father, and we embrace all our children. We show them it's something that we didn't have."