What Is a "Change-the-Date" and Why Is It Relevant Now?
Meet the sibling of the save-the-date.
by Esther Lee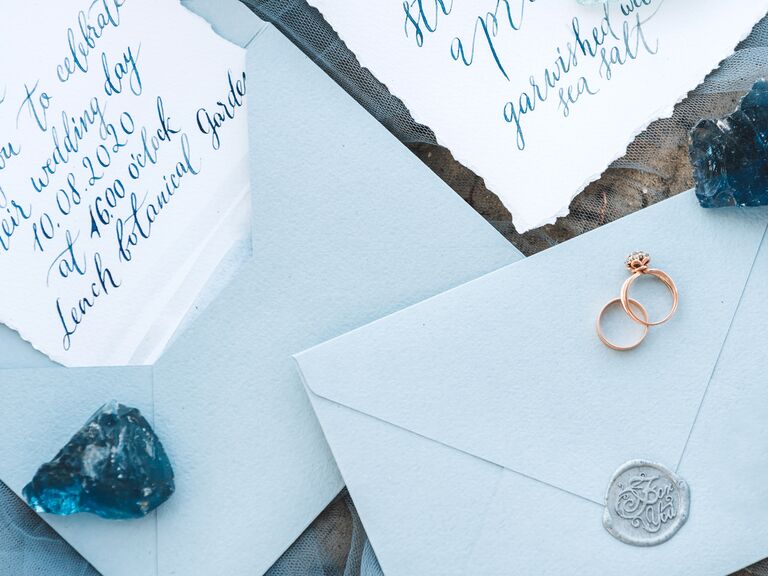 As many couples and vendors continue to navigate the coronavirus pandemic and wedding postponements, the question of how to properly communicate scheduling changes to guests may be top of mind. Know that wedding postponements happen, whether it's a result of a global pandemic, a natural disaster or a venue simply shuttering. Unforeseen circumstances will sprout while planning a wedding. What's within your control is how you respond, such as preemptively working through solutions with your team and effectively communicating any changes to your loved ones and your vendors.
"If you postpone your wedding, you have a few options pending the amount of time you have," says etiquette expert Myka Meier, author of Modern Etiquette Made Easy. "Due to the amount of people you may have to communicate with—and possibly within a short time frame—in an emergency situation, it's absolutely fine to send electronic communication to everyone at once."
Regardless of how you choose to promptly communicate a change to your wedding date, the act is now trending as the "change-the-date." Below is the etiquette for how to properly share your postponement details with your loved ones.
In this article:
Define a 'Change-the-Date'
While self-explanatory, a change-the-date applies to any wedding or event postponement after save-the-dates and/or invitations have gone out to guests. A change-the-date is typically sent in the form of a digital announcement and it's supplemented by stationery (either online or in paper form). One characteristic about the change-the-date is universal: it is simple. 
"The 'change-the-date' notice should include basic information, but excludes smaller details such as the dress code," says Meier. "You may, however, include your wedding website on it."
How Do I Alert My Guests?
Most couples postponing their weddings due to the coronavirus pandemic will have to communicate changes to their guests immediately. This includes updating your wedding website, picking up the phone, starting a text chain, emailing all guests, and ensuring every loved one is informed. It's important to stay ahead of any changes, even if plans have yet to be solidified.
"For the sake of timing, and to be as cost efficient as possible, you can send a simple email or create a digital announcement that is designed and customized to you," Meier notes. "It is okay to send out a notice even if you don't know your new date and time yet."
Consider mailing a follow-up "change-the-date" notice as a reminder to loved ones after you've secured a postponed wedding date and location. "The key is to let your guests know that your wedding is on hold and you will communicate the changes as soon as you are able," says stationer Alexa Pulitzer.
Suggested Copy for a 'Change-the-Date' Due to COVID-19
Suggested copy for both digital and print change-the-date notices if you have yet to secure an official postponement date:
Due to the current health emergency of COVID-19, the wedding of Christine Reynolds to Jack Smith will regrettably not take place on April 18th as originally planned.  
A new wedding date will be announced as soon as possible. We sincerely apologize for any inconvenience this may have caused.
www.yourweddingwebsitehere.com 
Suggested copy for both digital and print change-the-date notices if you have a new date: 
We regret to inform you that the wedding of Bonnie Lynne to Jack Parry will not take place as scheduled due to the COVID-19 health emergency. 
Please save the new date of November 7, 2020.
Formal invitation to follow. (Or for a more casual feel: Invitation and details to follow)
What About My Wedding Website?
If you've postponed your wedding, update all relevant information immediately on your wedding website. After that, continue to share updates as frequently as possible on the platform. We recommend starting an FAQ tab that includes answers to any COVID-19- questions. This includes hotel room block details, possible refund or postponement guidelines, helpful emails/phone numbers, and additional guidance. 
Remember: Most custom domains expire 12 or 24 months after purchase, depending on the option you selected up front. If you've secured a new date and you've registered for a custom URL on The Knot, reach out before your domain expires. Email [email protected] and request a domain renewal due to COVID-19 rescheduling. 
The frequency at which you communicate with guests is case-by-case, but typically, you should communicate weekly until you've finalized all postponement plans. Your guests will be grateful to hear from you especiall if their travel plans were impacted.
Where Can I Print My Change-the-Dates?
If you'd like to take the extra step in printing your change-the-date announcement, you have several options. Start with your original vendor if you have the budget, suggests Pulitzer. "When creating a change-the-date, it should be a continuation of the theme throughout," says the stationer. "Utilize the same iconography from a wedding invitation or save-the-date. I would also be as economical as possible in my spending at this stage, particularly for couples who opt to print and mail a second wedding invitation with new details."
Another option is to look to stationery brands, including Artifact Uprising, Elli and Minted. Companies like Elli are offering free reprints to couples who are now changing their wedding date. Minted has also launched an entire line of event change designs that are fully customizable. 
Regardless of how you choose to move forward with your change-the-date stationery, allow the suggested wording in the previous section to be a guideline for you. And finally, remember: a change-the-date gives you (and your guests) something to look forward to—when conditions change for the better.
Published March 19, 2020.
Disclosure: This post contains affiliate links, some of which may be sponsored by paying vendors.