Katie Couric Was the Ultimate Mother of the Bride at Her Daughter Ellie's Wedding
Plus, find out how the bride honored her late dad.
Katie Couric was one proud mother of the bride. Over the Fourth of July weekend, the journalist and former Today show co-host beamed with love and pride as she watched her daughter, Ellie Monahan, walk down the aisle in a gorgeous, upstate New York wedding. 
Couric has been eagerly unveiling photos from her daughter's mountaintop nuptials, which took place along the Hudson Valley at Cedar Lakes Estate on Independence Day. "Here's to the bride (and of course, the groom 😉)," she shared on social media. "I know I'm biased, but Ellie was absolutely radiant." 
Monahan, a screenwriter, exchanged vows with her fiance of two years, Mark Dobrosky, on a mountaintop. Their reception was held at the same venue in a rustic ballroom. The mother of the bride was radiant in a strapless, pink, mother of the bride dress with ornate detailing. In general, Couric has been so thrilled about the family occasion (and rightfully so) that she's unveiling photos across her social accounts and forewarning followers about future photo dumps on her end. "OK friends warning: I'm going to be insufferable for the next few days because I will be sharing wedding photos and videos like a crazy person," Couric shared. She also added separately, "More 'content' to come, I'm making my way through them all!!"
Couric also revealed details about why Cedar Lakes was the venue of choice. It was a perfectly sunny afternoon to exchange vows after a day of storms in the region. "Ellie went to @campfernwood in Poland, Maine and wanted a camp-like setting. It was perfect," Couric said. "The weather was perfect. (Thank you Jay.❤️)"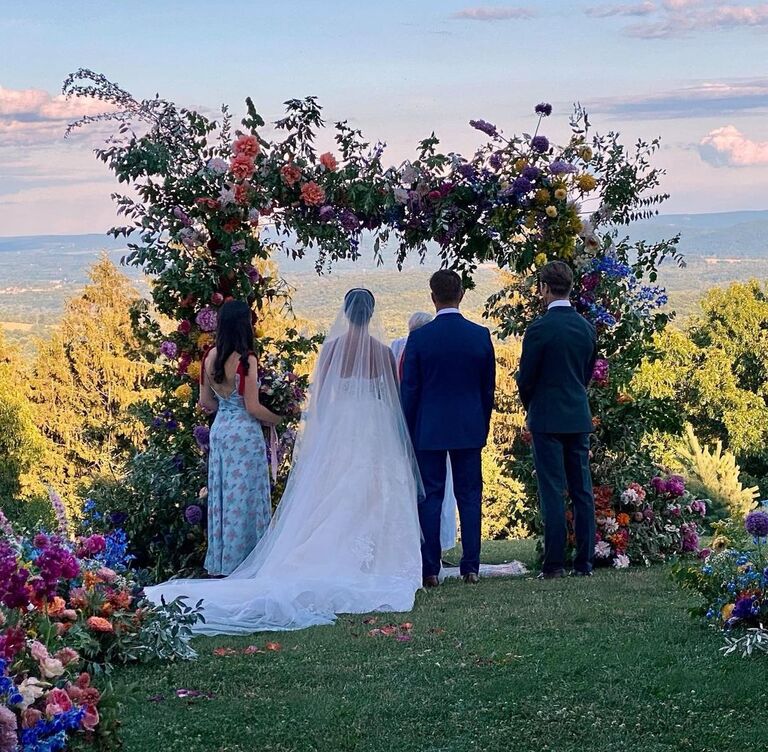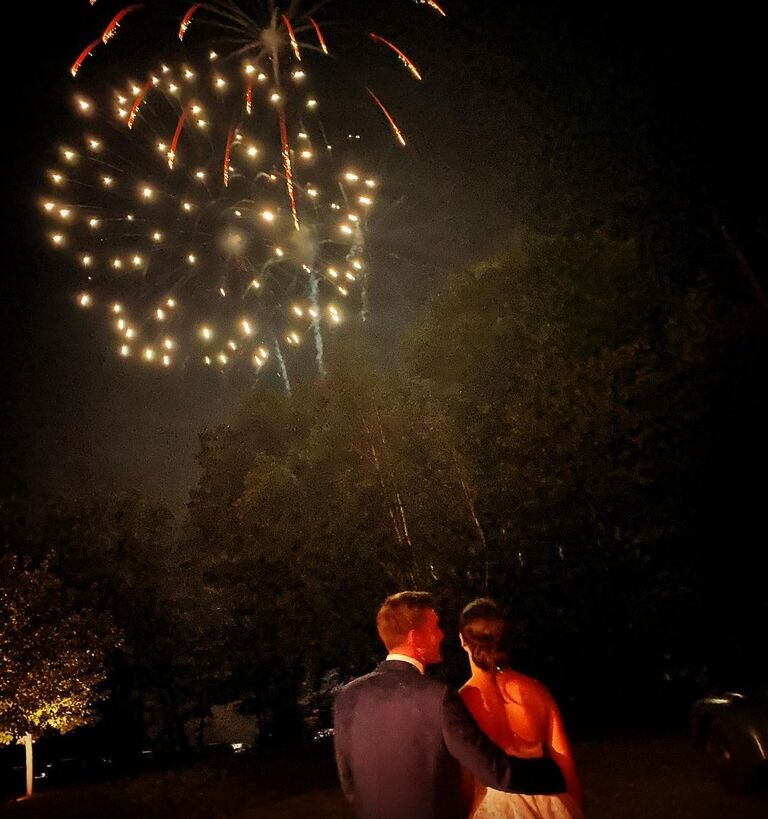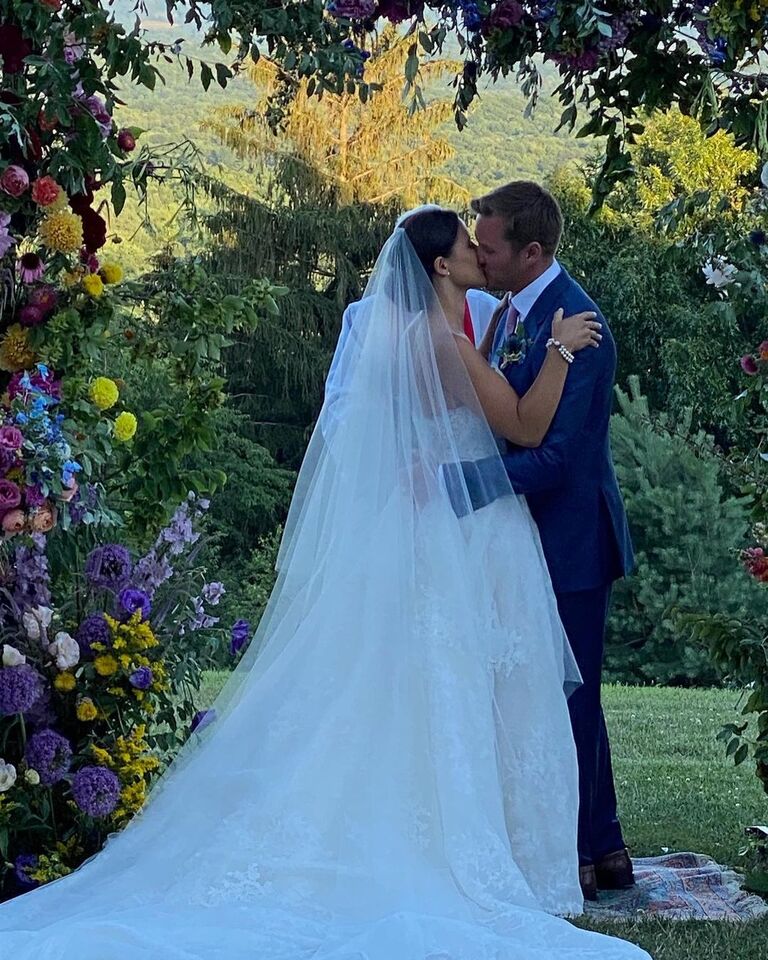 Of course, there were numerous nods to Couric's late husband (also the father of the bride), Jay Monahan, throughout the wedding weekend. Couric revealed how Ellie walked down the aisle to one of his favorite songs, "Ashokan Farewell." Another one of Monahan's favorite tunes, "Songbird" by Fleetwood Mac was later performed by the sister of the bride, Caroline, as a tribute. "Jay Monahan loved that song, which was used in Ken Burn's series on the Civil War," Couric said of the ceremony song choice. "So it was a way to honor him (Yes, I cried the whole time. Most of the people there did.) Carrie sang Songbird and CRUSHED it." 

That isn't the only sentimental portion of the wedding process, where the late father of the bride was involved. Ellie's husband popped the question with the very ring Monahan used to propose to Couric. "She's wearing the ring her Dad gave to me," Couric shared in 2019. "#happytears #heaskedmypermission #ikeptasecret #jaywouldbesoproud #mazelmazelgoodthings #takegoodcareofmybaby #ohjesusguessihavetothrowawedding #weloveyoumark #monster-in-law love you all!"
Katie Couric's Husband Jay
Couric, now 64, and Monahan married in a 1989 wedding. After eight years of marriage and welcoming two daughters, Monahan passed away at age 42 from stage four colon cancer. Couric has since advocated fervently for early screenings to detect cancer. 
"The bottom line is, early screening saves lives. Early detection saves lives," she told HealthDay in 2003. "Jay never really had any symptoms of colon cancer, other than being tired all of the time, which we chalked up to a busy lifestyle, having young children, and his coast-to-coast trips providing legal analysis for NBC."

On what would've been the couple's anniversary in June 2021, Couric shared a few wedding photos and snapshots from their time together. "Today is June 10th. It would have been our 32nd wedding anniversary. This is a sad day but also a day I feel grateful for the 8 years I was married to Jay and for the ways he lives on in our girls," Couric wrote. "For those of you who have loved and lost and loved again, you probably experience the same strange feelings on days like this. And while I am thinking about Jay today, I'm also appreciating John, who allows me to honor his memory and understands there is room in my heart to love them both."

"Jay would be so proud," Couric wrote on Instagram leading up to their daughter's wedding. "Here's to love, here's to joy, here's to the future."

Katie Couric's Marriage to John Molner
Couric found love and married her current husband, John Molner, in 2014. The ceremony took place at the couple's East Hampton home: a backyard ceremony before it became trendy again due to COVID. For the occasion, Couric chose a Chantilly-lace gown by Carmen Marc Valco, featuring intricate beading. The spouses ended up walking down the aisle together. 
"We didn't want to be too traditional," Couric later told People. "It was so nice to celebrate such a happy occasion because we've been through a lot in our lives."