30 Must-Have Oval Engagement Rings You Can Shop Right Now
There's a reason this style is dominating wishlists.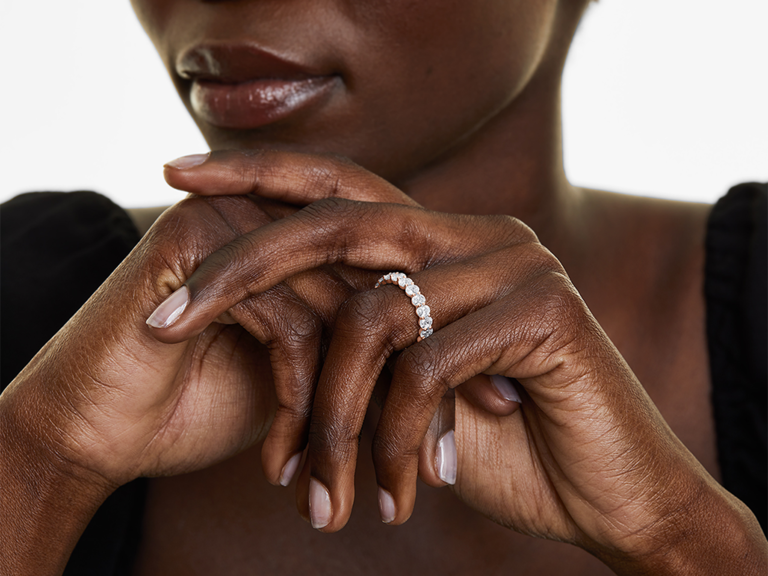 We have included third party products to help you navigate and enjoy life's biggest moments. Purchases made through links on this page may earn us a commission.
From princess and brilliant cut to marquise and emerald, there are many different types of diamond cuts with their own unique aesthetic. But for some, there's no need to compare all of the different options because there's a standout winner every time they see engagement rings: the oval-cut diamond.
Oval-cut engagement rings are currently so trendy that this style isn't just taking over social media feeds but also celebrity fingers—and the oval cut isn't limited to diamonds. Although Blake Lively tends to get credit for starting the oval diamond engagement ring trend with her iconic 12-carat oval blush diamond solitaire set with a pavé band in 14k rose gold, this style graces the fingers of countless celebrities. From Kate Middleton's iconic oval sapphire and Katy Perry's oval ruby with flower halo engagement ring to Hailey Baldwin and Ariana Grande, oval-cut engagement rings are dominating wishlists everywhere.
In this article:
How Much Does an Oval Engagement Ring Cost?
Although there's no one cost for an oval engagement ring, one thing to know is that it's current popularity is impacting the price, so you can expect to pay a jeweler slightly more for this cut. Due to the high demand, an oval-cut diamond of the same quality and carat weight can cost more currently than an equivalent stone with a different cut.
What Should You Look for in an Oval Stone Engagement Ring?
Just like any other type of engagement ring style, the cost and quality of an oval-cut diamond varies depending on multiple factors: the setting, the metal type, the total carat weight as well as the quality of those stones and the specifications of the center diamond or gemstone (including the 4Cs: cut, color weight, carat weight and clarity). Find a breakdown of how the 4Cs apply to oval diamonds below.
Cut
With this elongated cut, each stone looks slightly different. Look for an oval with rounded ends that is symmetrical and not overly pointy, squared off or uneven. Also, due to their elongated cut, oval diamonds will always have a "bow tie" across the middle, or a space where light is not refracted. For maximum sparkle, look for a stone with a more subtle bow tie.
Clarity
Due to the brilliance of this cut, inclusions (read: internal imperfections) are usually more difficult to see. An oval-cut diamond with a clarity grade of VS2, SI1 or in some cases SI2 will most likely appear clean to the naked eye. Avoid stones with dark inclusions near the center of the diamond, since these tend to be the most noticeable.
Color
While color is less noticeable in round diamonds, lower color grades in ovals stand out much more. If you're looking for a colorless stone, stick to color grades of H or better.
Can You Add a Halo to an Oval Engagement Ring?
Whether you go with an oval gemstone or diamond, you can dress it up with a halo (or two). From two-tone settings with an invisible halo to double halos with a mix of diamond shapes, if your perfect ring involves an oval and a halo—you're in luck.
Do Oval Engagement Rings Look Good on Every Finger?
One of the reasons oval engagement rings are so trendy (aside from the celebrity endorsements while also still feeling a tad different or nontraditional), is just how universally flattering they are. The oval-cut style features an elongated stone, which gives the illusion of a larger stone and longer, leaner finger. Plus, it pairs well with the equally trendy halo setting style, which also enhances the appearance of the center stone's size.
Oval Halo Engagement Rings You Can Buy Now
Vera Wang Love Collection Oval Diamond Frame Twist Engagement Ring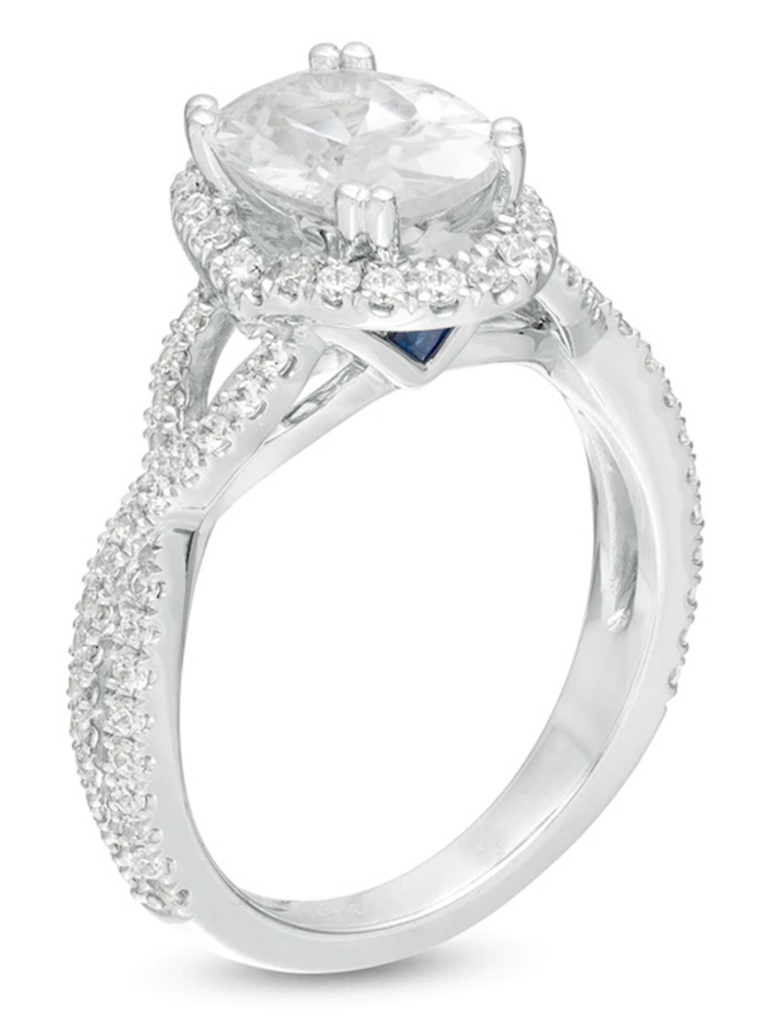 If you're looking for an oval-cut engagement ring that makes a statement, this twist setting in 14k white gold will likely top your wishlist. The center stone is a two-carat oval diamond set in a halo of diamonds that continue down the split shank. Plus, there's a surprise pair of princess-cut blue sapphires for a sentimental surprise.
Chic Joaillerie 14K Gold Morganite Black Diamonds Engagement Ring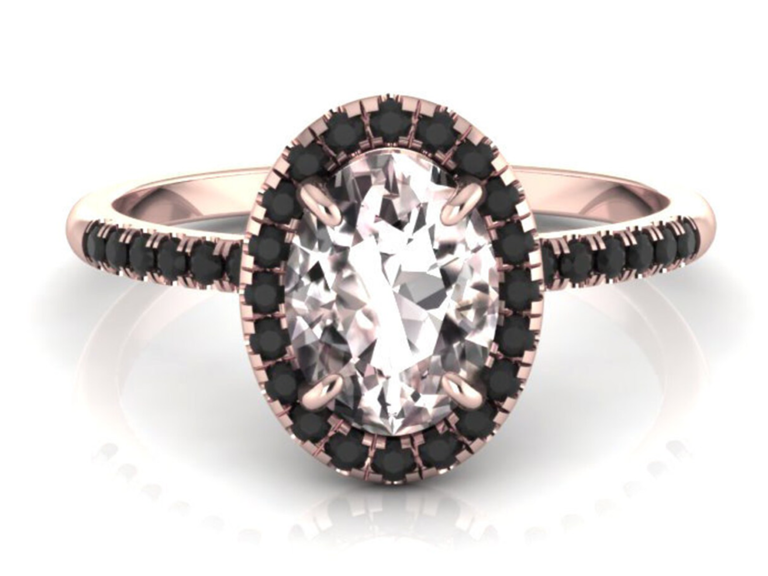 A black diamond halo brings a modern edge to this nontraditional morganite oval engagement ring. The handmade, rose gold setting features 0.25 carats of black diamonds U-set down the band and surrounding the peach pink gemstone and is made to order for a one-of-a-kind feel.
Jennie Kwon Oval Rose Cut Equilibrium Ring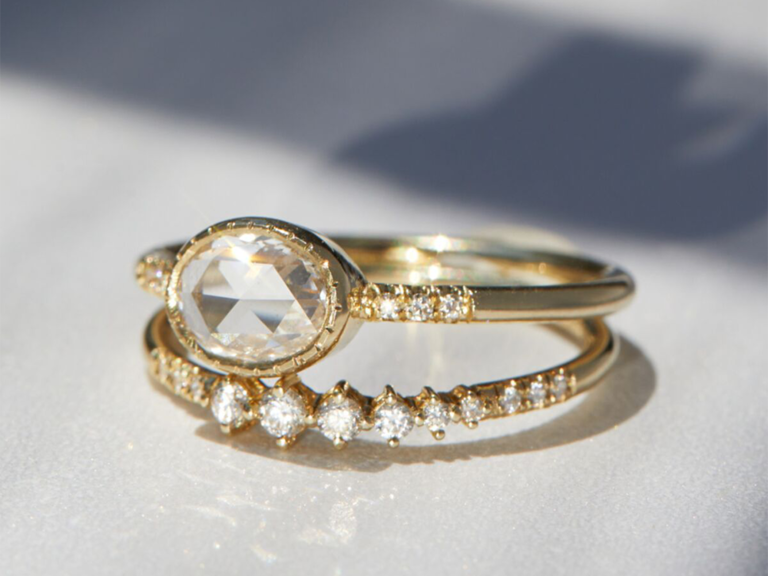 This unexpected yellow gold ring has a unique feel with three pavé diamonds flanking a 0.4-carat oval rose-cut diamond set east west with a milgrain detail halo. However, you can choose the metal and opt for rose gold or white gold when checking out.
Blue Nile Oval Ruby Ring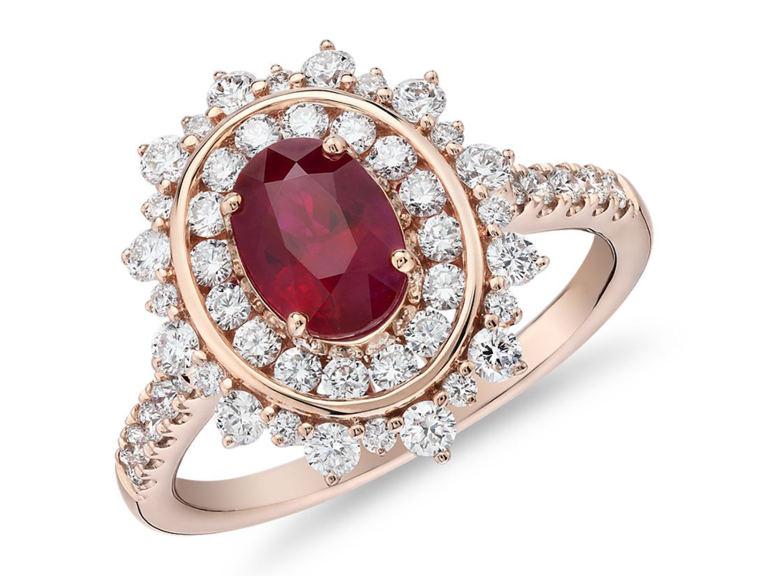 At the center of this impressive rose gold engagement ring sits an oval-cut red ruby surrounded by a a double halo of first pavé diamonds and then two sizes of prong-set round diamonds. Pavé diamonds down the band bring extra sparkle to this intricate ring.
Jared Black Diamond Engagement Ring 7/8 carat tw 14K Yellow Gold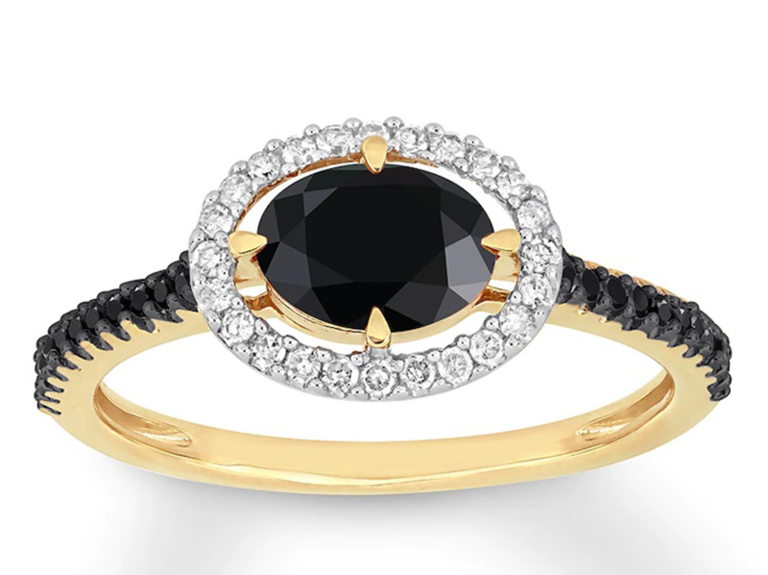 Every detail of this oval engagement ring is unique: from the black diamond center stone set east-west to the contrasting white gold and diamond halo separated by four yellow gold claw prongs. Black diamonds shine halfway down the yellow band, completing this bold ring's edgy feel.
Rose Gold Oval Engagement Rings You Can Buy Now
Neil Lane Engagement Ring 1-1/2 ct tw Diamonds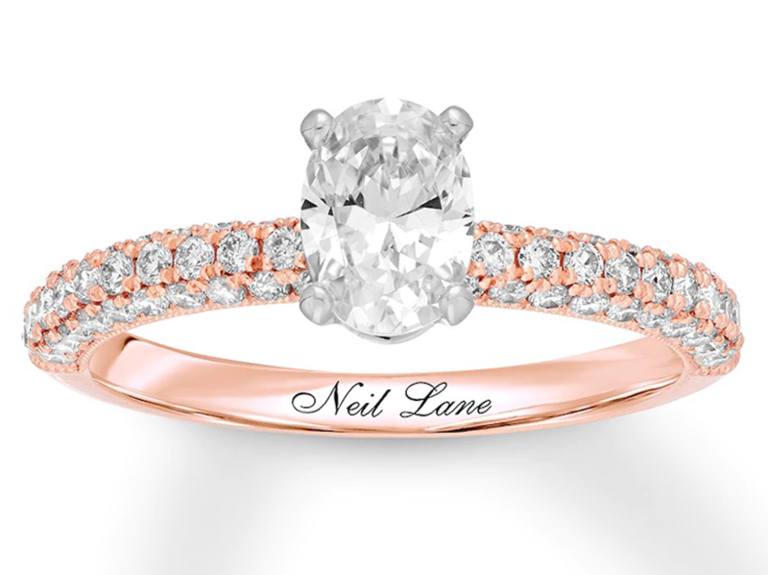 Rose gold lovers will swoon over this 14k band with round diamonds lining the top and profiles for maximum bling. The oval center stone is set with contrasting white gold prongs for a seamless look.
Brilliant Earth Morganite Esme Ring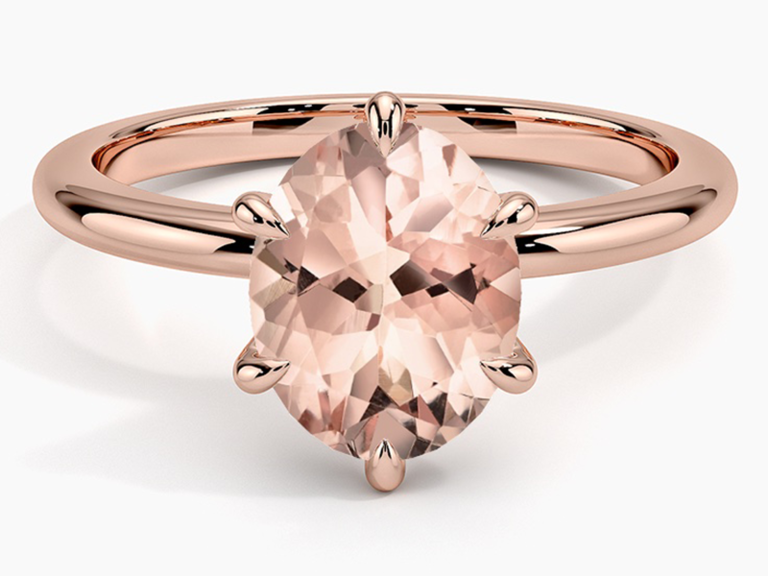 If you're looking for a sleek, nontraditional option that also has a modern-yet-timeless feel, the search is over. This rose gold and morganite solitaire engagement ring has a thin band and six claw prongs, keeping all eyes on the peach pink oval-cut gemstone.
Armante Design Oval Black Diamond Engagement Ring
Rose gold meets black diamond, taking this oval engagement ring's cool factor to the next level. French pavé set natural black diamonds fall halfway down the 18k rose gold split shank setting with a natural color-enhanced black diamond 2.40-carat center stone.
Brilliant Earth Alma Toi Et Moi Diamond Engagement Ring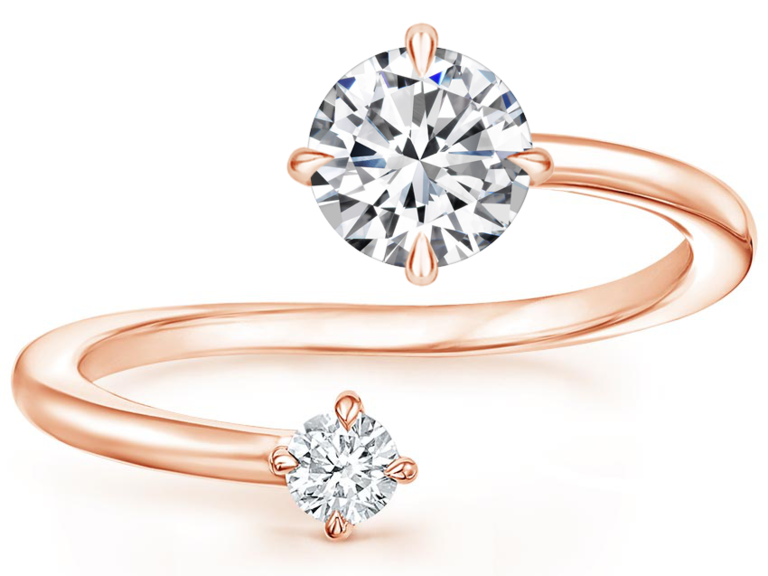 For an unexpected twist on the traditional diamond solitaire engagement ring, consider this unique wrap style. This delicate rose gold ring has a smaller round diamond as well as your choice of oval-cut main diamond on each end, creating a seriously chic feel.
James Allen 14K Rose Gold Oval Cut Diamond Eternity Ring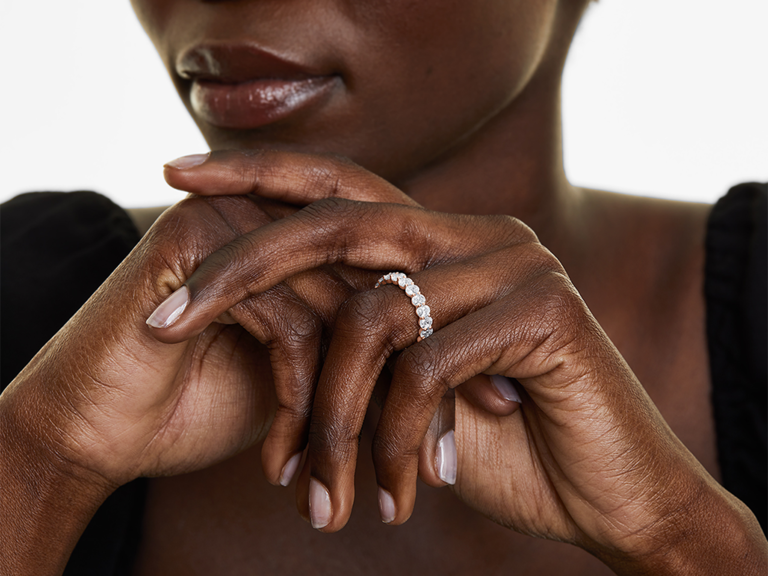 If you're looking for an oval-cut wedding band option, this 14k rose gold setting is a showstopper. With a 3 carat total weight, this infinity band has oval diamonds all the way around, set low in a shared prongs style.
Brilliant Earth Nouveau Diamond Engagement Ring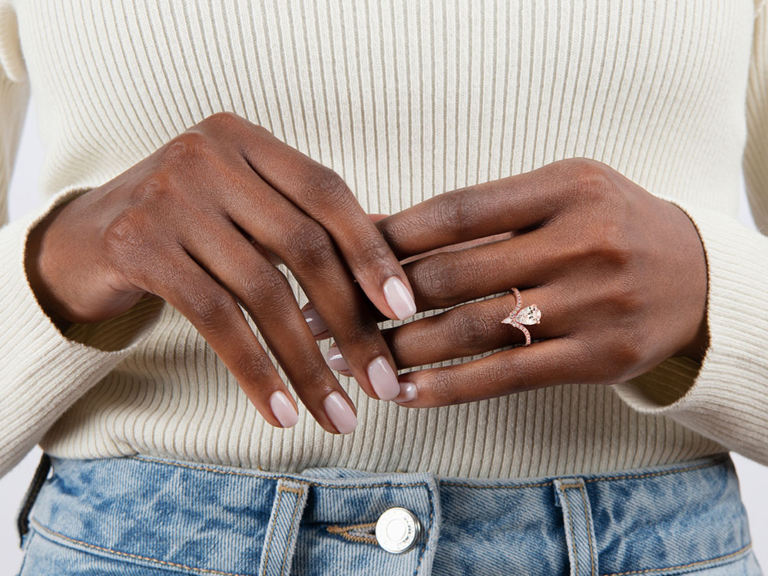 Instead of a traditional halo, this ring's pavé diamonds form a chevron or V-shaped band above the center oval diamond. Claw prongs set the main stone flush against the band for an Art Nouveau-inspired feel.
Oval Solitaire Engagement Rings You Can Buy Now
Brilliant Earth Morganite Caliana Ring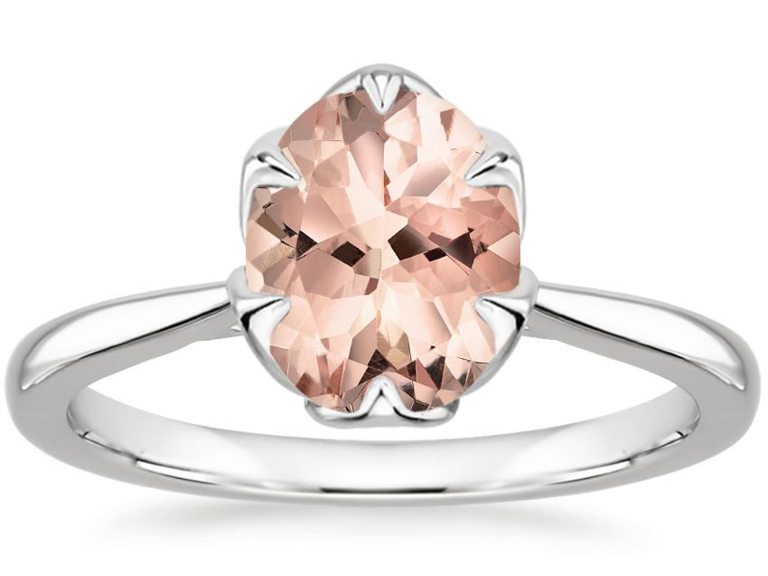 Without any side stones, this oval morganite is all about the center stone and unique prong setting. The open basket features six leaves that turn into claw prongs, cradling the oval peach gemstone's elongated shape.
Catbird Wedding The Swan Solitaire, Oval Supreme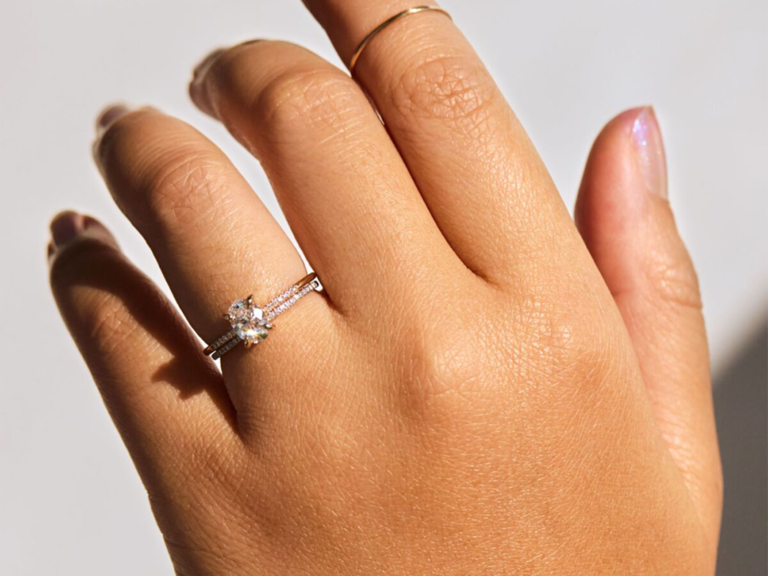 Set with a recycled, oval-cut diamond, this 14k rose gold solitaire engagement ring is handmade in Brooklyn, New York. Without any side stones or halo, this engagement ring is designed to be understated with all attention on your choice of oval-cut diamond which also means it can pair with a variety of wedding bands.
Brilliant Earth Reverie Engagement Ring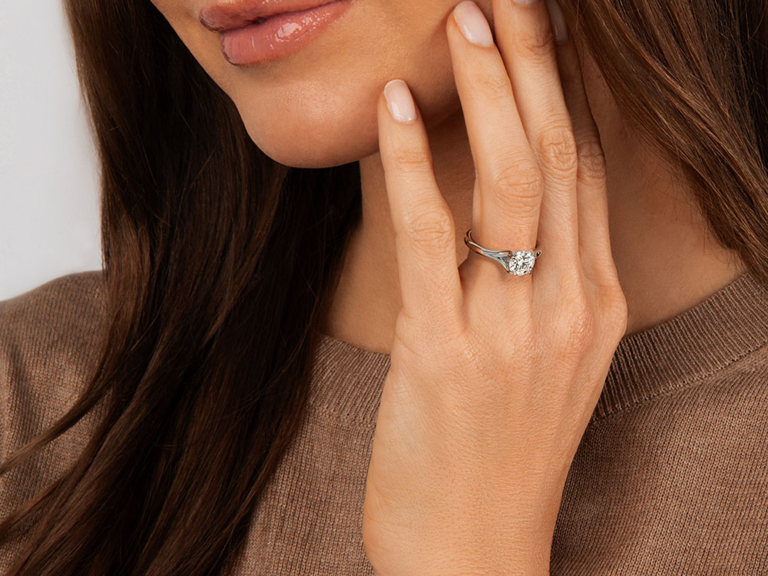 This split-shank oval diamond engagement ring has a contemporary feel with four intertwining shoulders around an oval diamond. The solitaire's claw prongs secure a GIA oval diamond in your choice of carat weight.
Blue Nile Petite Solitaire Engagement Ring
This understated oval-cut solitaire engagement ring is simply elegant with a surprise detail. Although the band is a polished 18k yellow gold, the oval diamond center stone is cradled in a discrete platinum four-prong basket.
Brilliant Earth Dakota Engagement Ring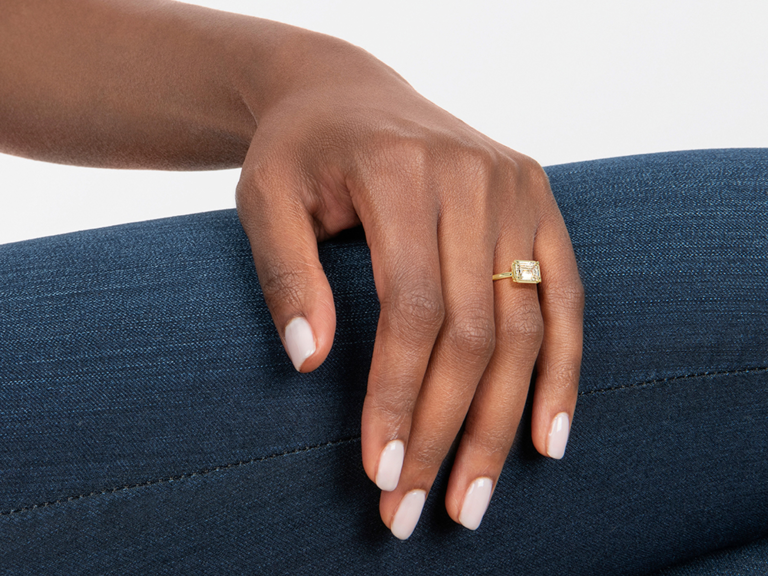 This modern-meets-classic 14k yellow gold engagement ring's design has a few unexpected touches that completely changes the solitaire setting's feel. The oval-cut diamond is set east to west, cradled in four-claw prongs with an exposed gallery wire and sleek thin band.
Simple Oval Halo Engagement Rings You Can Buy Now
Blue Nile East West Halo Engagement Ring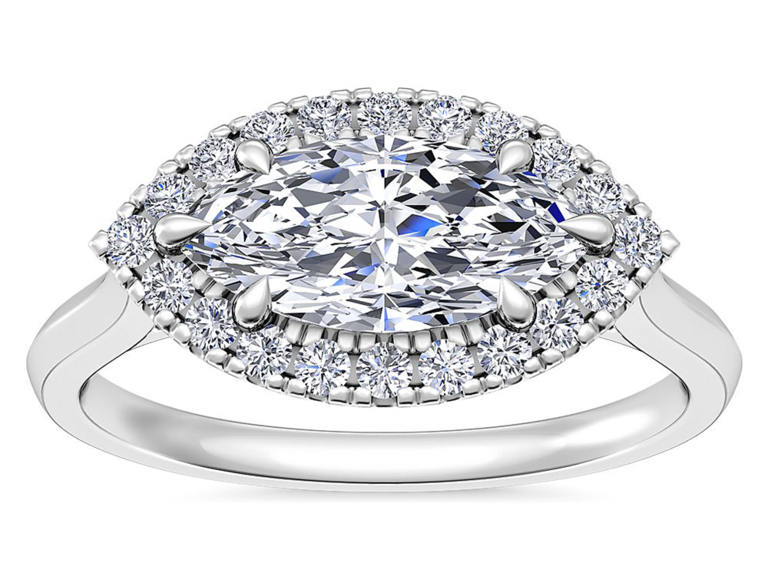 For a modern take on the halo engagement ring trend, an oval diamond center stone is set east-west with four-claw prongs and encircled by a halo of round diamonds. The setting is available in your choice of four materials from 14k rose gold to platinum.
ArmanteDesign Oval Black Diamond Engagement Rings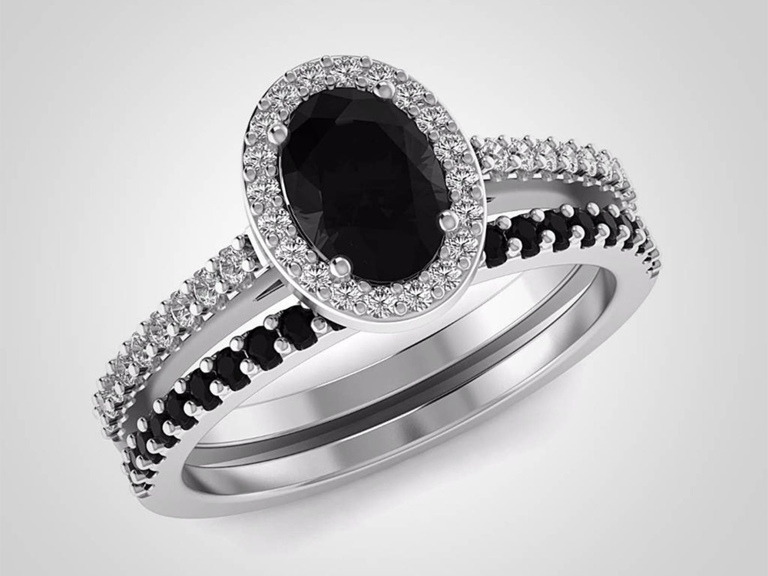 With an oval black diamond center stone, the contrasting diamond halo gives this engagement ring an edgy vibe. Pair it with the 14k white gold and black diamond wedding band for a chic bridal set.
Blue Nile Petite Micropavé and Hidden Diamond Halo Engagement Ring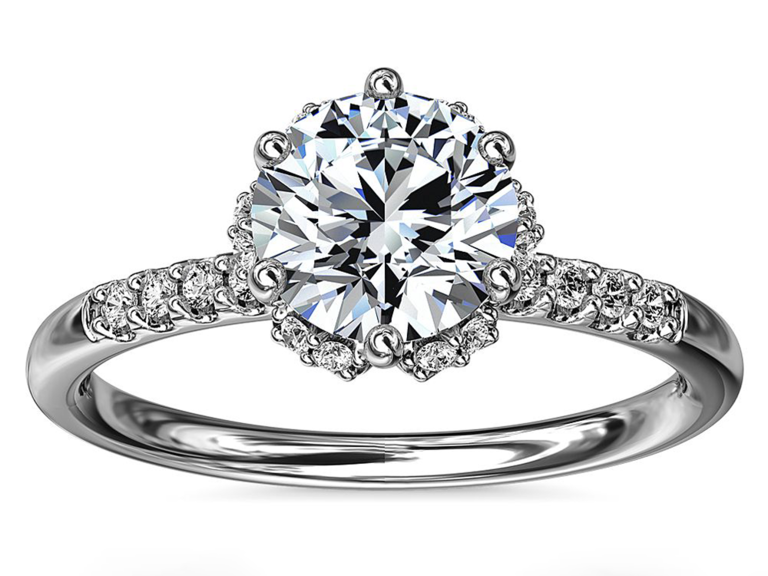 A delicate floral halo is recessed (read: hidden) behind the center oval diamond, creating a feminine feel. Five micropavé diamonds flank each side of the band, completing this unique setting's sparkle.
Verragio 14K White Gold Tradition Oval Hidden Halo Solitaire Engagement
For a traditional solitaire engagement ring with a surprise detail, this hidden halo setting has that wow factor. From beaded detailing along the band's side to the hidden diamond halo and prongs.
Brilliant Earth Morganite Waverly Diamond Ring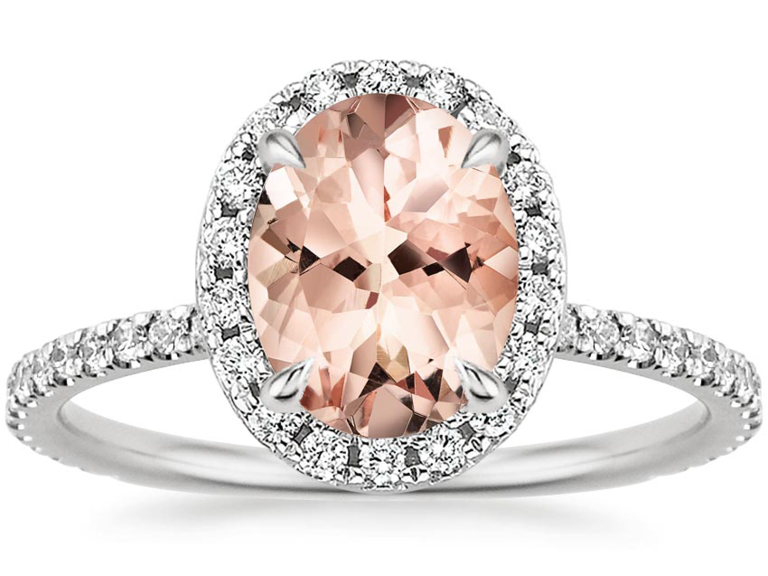 This morganite engagement ring's setting is all about pavé diamonds—from the delicate band to the claw prong setting's gallery, and of course the center oval gemstone's halo.
Unique Oval Halo Engagement Rings You Can Buy Now
Zales Oval Diamond Double Frame Bridal Set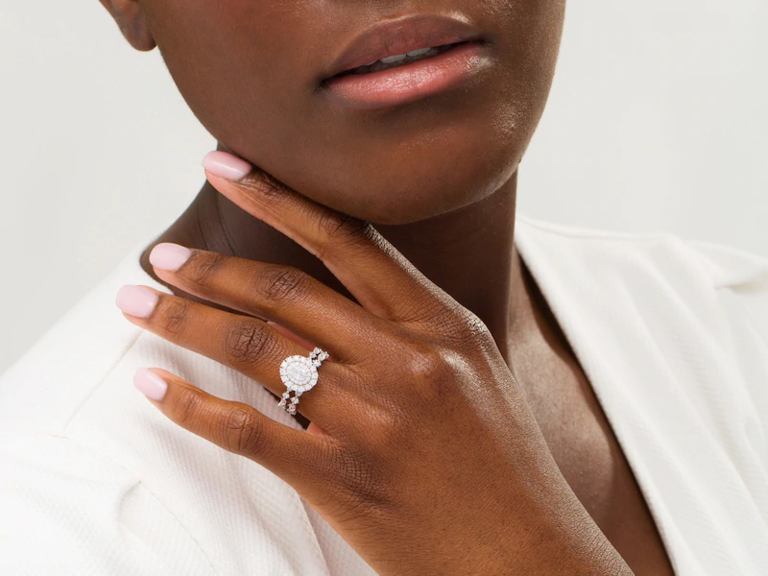 Not only does this oval engagement ring have a double halo but each ring features progressively larger prong set diamonds. To complete this bridal set's vintage feel, alternating marquise-cut and round diamonds sparkle halfway down the bands.
Brilliant Earth Arabesque Diamond Engagement Ring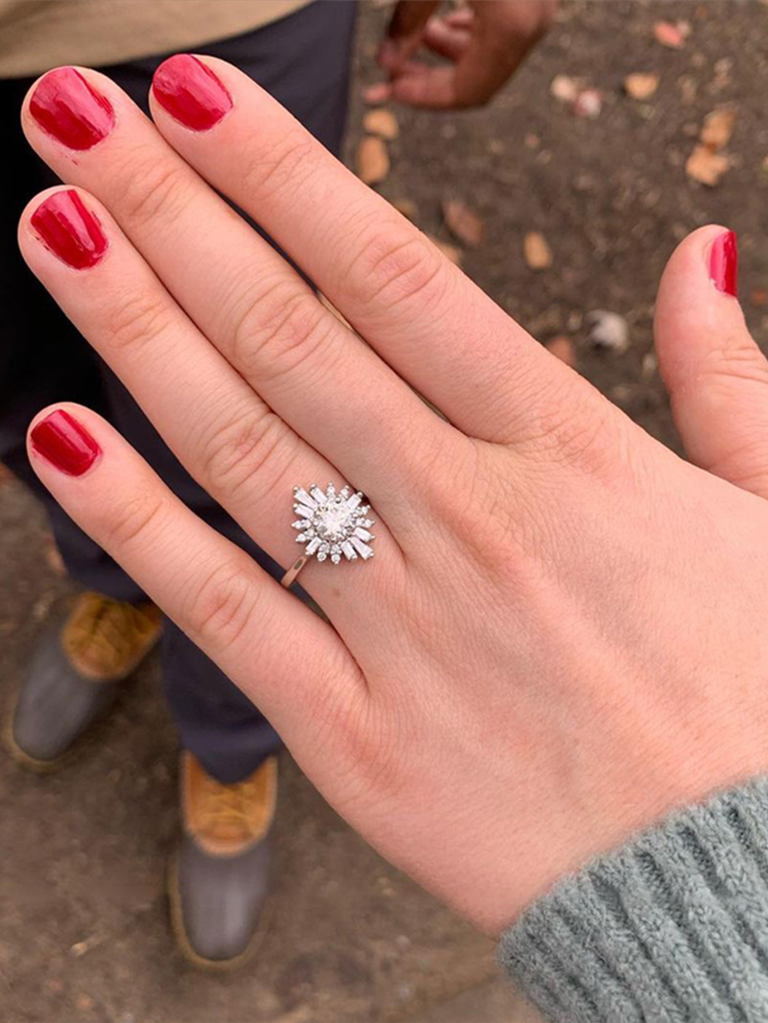 This distinct oval diamond engagement ring features a baguette and round diamond halo that invokes a vintage feel. Although pictured in 14k rose gold, the setting is also available in white or yellow gold as well as platinum.
Segal Jewelry Oval Black Diamond Halo Hidden Diamonds Ring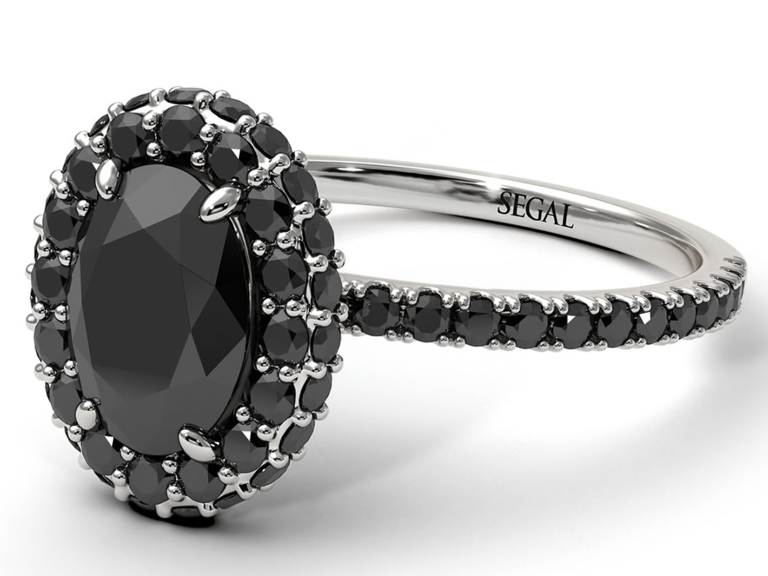 Due to this black diamond setting's hidden halo in addition to its micropavé halo, it creates a unique double halo feel that has black diamonds sparkling from every angle. Micropavé black diamonds also adorn the gallery as well as part of the thin band, making this oval black diamond engagement ring a must-have.
Blue Nile Three-Stone Oval Halo Diamond Engagement Ring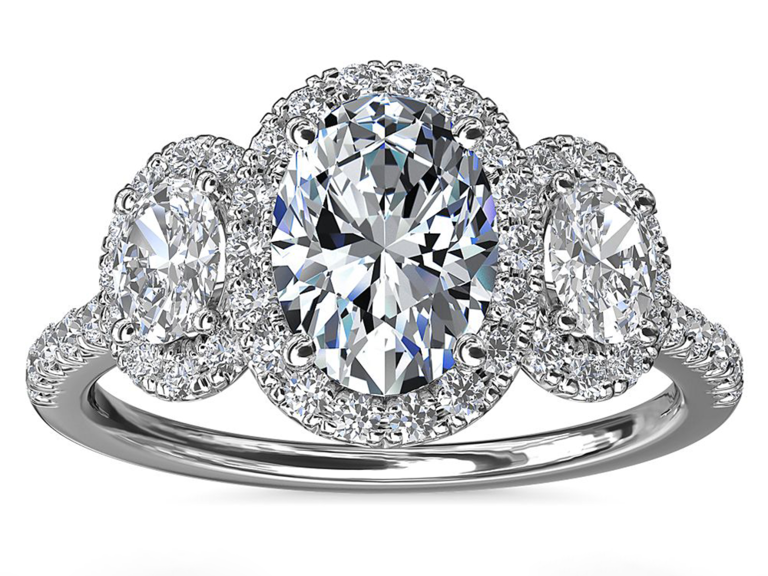 For those looking for a three-stone oval engagement ring, a diamond halo encasing all three stones makes this setting stand out from the other options. In addition to the micropavé band and halos, there's also a surprise detail: a diamond-encrusted under-bezel.
Brilliant Earth Nova Diamond Engagement Ring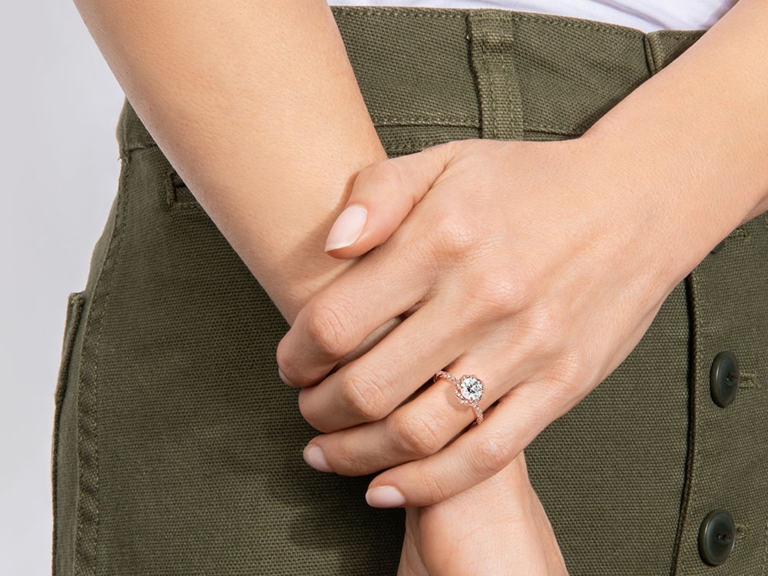 This intricate oval diamond engagement ring setting has a vintage feel thanks to the twisting way the pavé diamonds are set along the band and halo, creating a unique ribbon effect.
Other Oval Engagement Rings You Can Buy Now
Brilliant Earth Aria Engagement Ring with Black Diamond Accents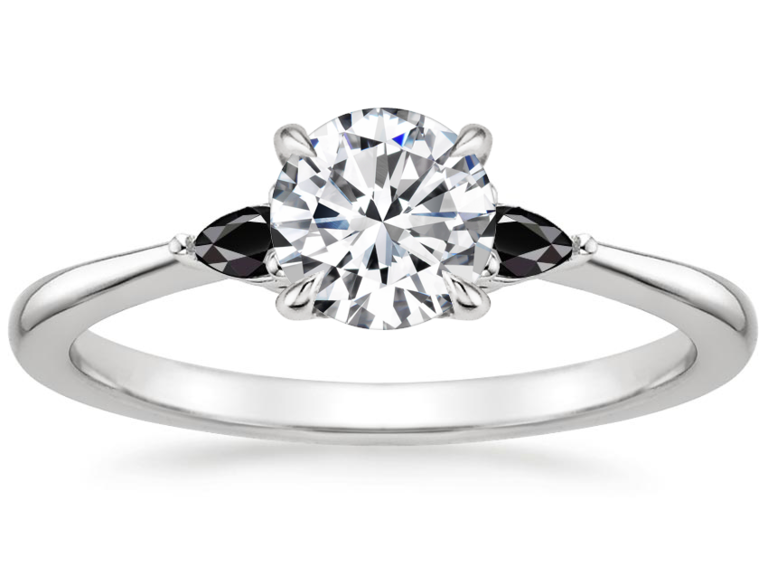 Two pear-shaped black diamonds flank an oval diamond center stone while a thin band and claw prongs complete the three-stone setting's sleek vibe. In addition from your choice of material (14k white, rose or yellow gold, or platinum) you can select the oval-cut diamond's carat weight depending on your budget.
Armante Design Moissanite Oval Engagement Ring in 14K Gold Diamond Free Ring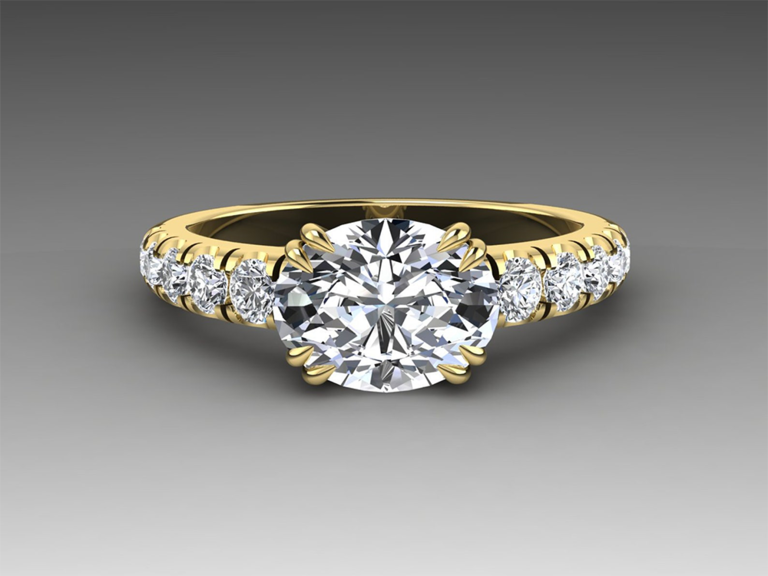 Designed in 14k yellow gold, this handmade engagement ring features an oval-cut moissanite set east-west with four-claw prong clusters. Round diamonds are French pavé set along the tapering band.
Blue Nile Petite Micropavé Trio Diamond Engagement Ring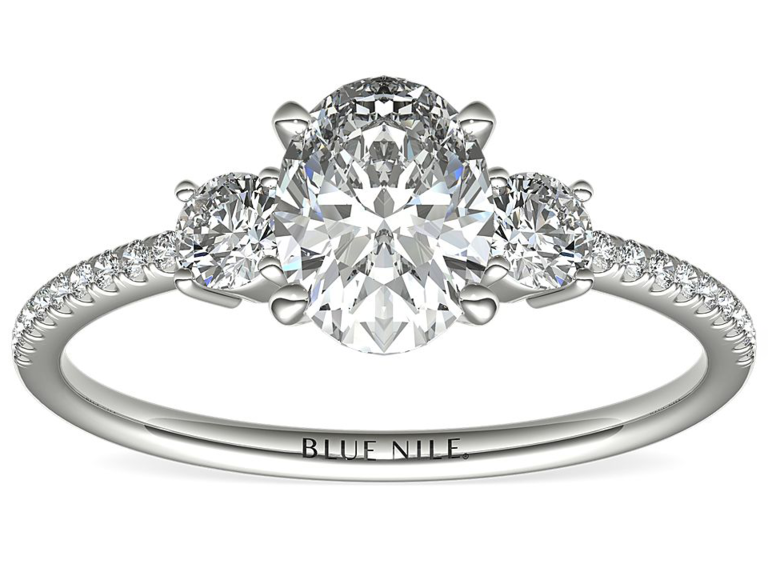 With micro-pavé diamonds shining halfway down the band, this three-stone, oval-cut diamond engagement ring style has a delicate feel. It's available in your choice of 14k white gold or platinum and two round diamonds flank an oval center stone set in four prongs.
Brilliant Earth Sapphire Sonata Diamond Ring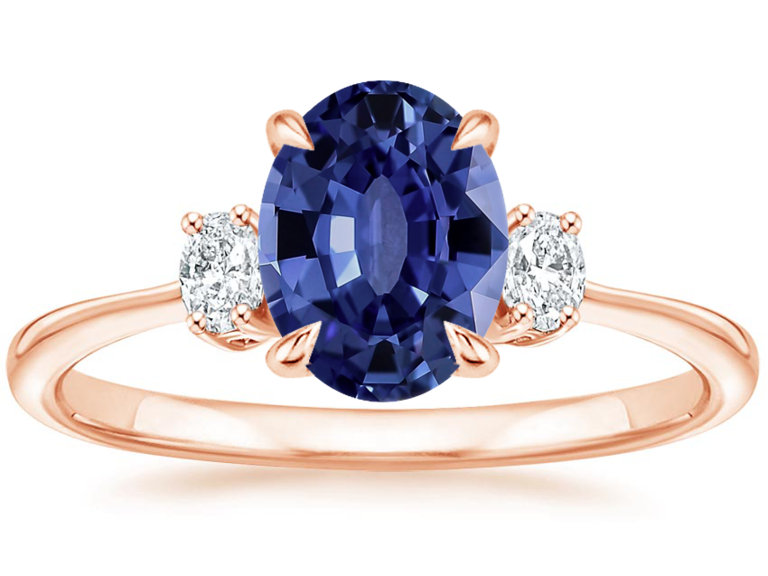 A thin rose gold band slightly tapers in, subtly drawing attention towards the contrasting center stones. Two oval-shape diamonds flank a statement oval-cut sapphire set with four-claw prongs that add an extra touch of drama to the gemstone.