Kim Kardashian and Kanye West's Marriage Is Over
We look back at their wedding and more.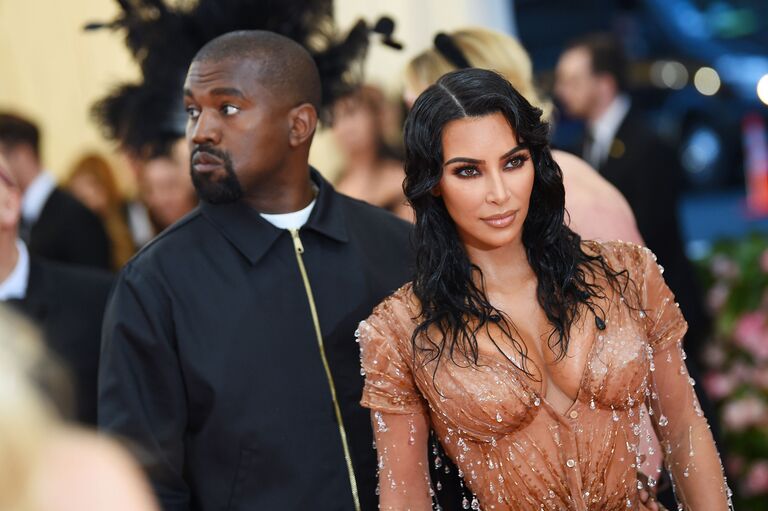 Dimitrios Kambouris/Getty Images for The Met Museum/Vogue
The era of Kim Kardashian-Kanye West is officially coming to an end. On Friday, February 19, TMZ reported the Keeping Up With the Kardashians standout has formally filed for divorce following weeks of speculation.
As expected, Kim filed her paperwork through top divorce lawyer Laura Wasser, who's helped numerous celebrities navigate their respective splits. According to the entertainment outlet, Kardashian has requested joint custody of the couple's four children. Both parties had agreed to a prenuptial agreement, which will likely be a guiding force throughout their dissolution of marriage.
Kardashian and West were married for seven years before the divorce filing. Together, they share North, Saint, Chicago and Psalm. The chatter of a split ruminated in early January after Page Six published an explosive report alleging Kardashian had hired Wasser, well known as the "Disso Queen" (short for "dissolution of marriage"), for proceedings. The Kardashians' home network of E! confirmed the reports with updates of a strained marriage. At the time, however, they were simply leading separate lives and Kardashian was shy of filing for divorce with hopes she would make the right choice for the kids. According to TMZ, the situation is "as amicable as a divorce can be."
The Knot looks back at their storybook engagement, their lavish destination wedding, and the couple's close to seven years of marriage.
The Relationship
Kanye West had long been interested in Kardashian even prior to her 72-day marriage to Kris Humphries. After an extended back-and-forth between the two, they made their relationship status official in 2012. Later that year, Kim K. revealed she's expecting her first child with the rapper.
"It's true!! Kanye and I are expecting a baby," she blogged at the time. "We feel so blessed and lucky and wish that in addition to both of our families, his mom and my dad could be here to celebrate this special time with us. Looking forward to great new beginnings in 2013 and to starting a family. Happy New Year!!!"
The couple welcomed their first child together, daughter North West, in 2013.
The Proposal
West proposed in October 2013 at AT&T Stadium in San Francisco. There was no sentimental reason for renting the venue. "I just thought it would be dope," he commented in an interview. He famously hired an orchestra, had all of her family members present for the private occasion, and flashed a JumboTron message that read, "PLEEEASE MARRY MEEE!!!"
He then got down on one knee and proposed to Kardashian with a 15-carat diamond ring designed by celebrity jeweler Lorraine Schwartz. The piece is valued at $3 million. "I worked with four different jewelers, three rings were made, only one, like, actually hit the finger with Lorraine," West added. "She came through."
Kim and Kanye's Wedding
The couple married in a lavish destination wedding in Florence, Italy. The lead-up to the wedding included a girls' trip to Paris, a tea date at the famed Valentino Mansion, a Parisian welcome party including a performance by Lana Del Rey at the Palace of Versailles, and multiple fittings at Givenchy with then creative director Riccardo Tisci.
The wedding party included the bride's sisters, Kourtney Kardashian, Khloe Kardashian, Kendall Jenner and Kylie Jenner. The family surprised the bride with a sweet bridal shower prior to the wedding day. "My mom and sisters surprised me," the E! star previously wrote on her website. "I thought I was going to a meeting with my mom and she told me to wear white. I guess I should have known something was up!"
Steph Shep, Kardashian's former assistant and close friend of the family, later detailed the ins and outs of the wedding day, including numerous snafus that weren't captured on camera. "I didn't even get to watch the ceremony because I was also filming," Shep recalled to Refinery29. "I often producer-cam the more personal moments for the show, when they don't want full-on cameras around—so I was filming everyone getting ready."
"And then Caitlyn lost her suit, so I had to locate it; all the girls are getting ready, we're getting Kim together, we're in this castle; Kanye is down rearranging the floral arrangements and all this stuff, all while I'm trying to film," Shep continued. "I was in Adidas sweatpants and a T-shirt and hadn't showered that day! And then I walked her down to the elevator so she could walk down that really long stone aisle, and then I ran back up and started filming her from the roof! That was the money shot for the show. Meanwhile, there was some security guy yelling at me, 'You can't film here!'"
Kim Kardashian, Kanye West's Marriage
While living in Calabasas, California, there were multiple highlights throughout the couple's relationship, including their growing family and other joint ventures. KimYe welcomed their second baby in 2015. Kardashian struggled with a condition called preeclampsia, so they went the route of hiring a surrogate to carry their third and fourth child.
Kardashian often served as a muse for West, whether it was starring in his music videos or serving as inspiration for specific lyrics. She also modeled for his Yeezy line, while he encouraged her to expand her beauty and lifestyle empires (brands include KKW Beauty and shapewear line SKIMS, which has its own bridal collection) under the direction of momager Kris Jenner.
Their interests, however, took a turn as Kardashian started to take note of her life cause for justice, especially in the area of prison reform. She started studying law independently and made multiple pleas on behalf of vulnerable prisoners incarcerated often under unjust circumstances.
West, meanwhile, began to show an interest in the presidency and even ran for President of the United States of America independently in 2020. The rapper also published a series of questionable tweets and comments throughout 2020, prompting Kardashian to defend him on numerous occasions and West having to apologize to his wife publicly.
"This divorce is happening because Kim has grown up a lot," an insider told Page Six. "She is serious about taking the bar exam and becoming a lawyer, she is serious about her prison reform campaign. Meanwhile Kanye is talking about running for president and saying other crazy s–t, and she's just had enough of it."