Exclusive: NFL Network Analyst MJ Acosta on Why She Eloped Amid COVID-19
Plus, she shares her wedding photos.
The last place where sportscaster MJ Acosta may have expected to meet her future husband was at a basketball game on Christmas Day. And seven years later, it was during Super Bowl Weekend at that same arena, where her boyfriend, security specialist and US Marine David Ruiz, proposed.
"As a sportscaster covering the NFL, Super Bowl Week is the biggest week of the year," says the NFL Network analyst, who joined in 2018. "It also marked a pivotal career marker since the Super Bowl was hosted in Miami (my hometown and the place where we met). David proposed the night before the Super Bowl in front of the place where we first met. It was the epitome of a full circle moment in so many ways."
While most couples have since had to pivot their 2020 wedding plans due to COVID-19, Acosta and Ruiz had originally intended to elope—and so much of their heart was set on a romantic, one-on-one ceremony. But the timing with coronavirus and wedding planning caused a series of setbacks for the pair, much like the million couples who will be impacted by 2020's end.
"The planning process was insane," explains Acosta, 35, who was born in New York to Dominican parents and raised in Miami. "We already had elopement in mind and started planning months ago to do it in Napa at some point this fall. Although we didn't have a date set, we had several NFL couples help us plan our elopement. They even picked details for us. As we were trying to find a few days to disconnect before the start of the NFL season, the very unique opportunity to elope in Cabo popped up."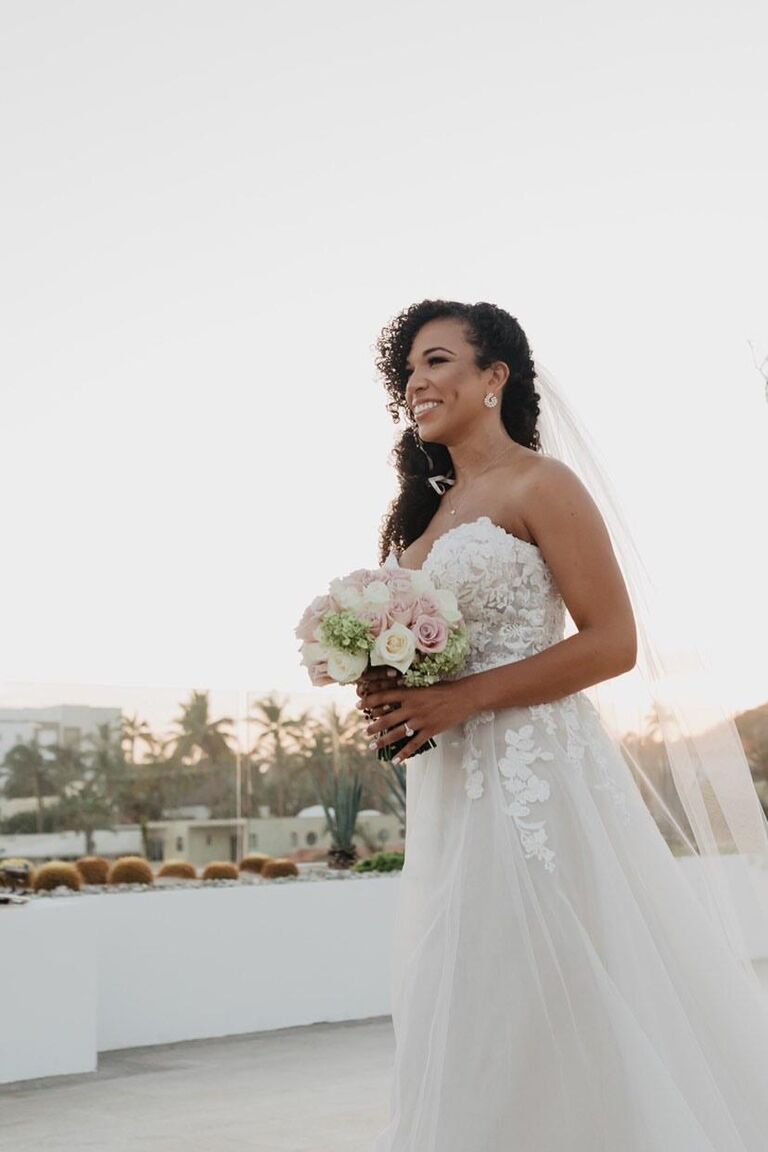 Suddenly, with only a time frame of two weeks, the couple planned their elopement and set off for the destination. "While we were in the middle of moving across the state," laughs Acosta. "We had a coordinator we worked with from the resort and the rest was done using social media searches and a lot of shuffling between two cities. In the end, it was absolutely worth it. Plus, the excessive stress helped me reach my wedding weight."
While the day was perfectly theirs, Acosta looks back at one hilarious, "major" snafu, she notes. "Our wedding cake toppled over on top of David," Acosta recalls of her husband, 29. "He caught it but subsequently got cake all over his hands. As he was wiping his hands clean, his wedding ring flew off and rolled away! It was 9pm at this point so it was quite dark, and we were dining outside. The amazing staff helped us search all over the terrace for it. Eventually, I found out over in a corner. Even the executive Chef was helping us search. They all had a good laugh and told him that's the only time he's allowed to take off his wedding ring ever again. I have it all on video."
Below, read up on all the wedding details as the newlyweds recall it exclusively to The Knot.
The Location
The pair exchanged vows in Los Cabos, Mexico, one of the few places where the couple was able to travel without large restrictions. "We've been to Cabo nearly every year since we moved to California and it's so special to us," says Acosta. "I can't picture having done it anywhere else."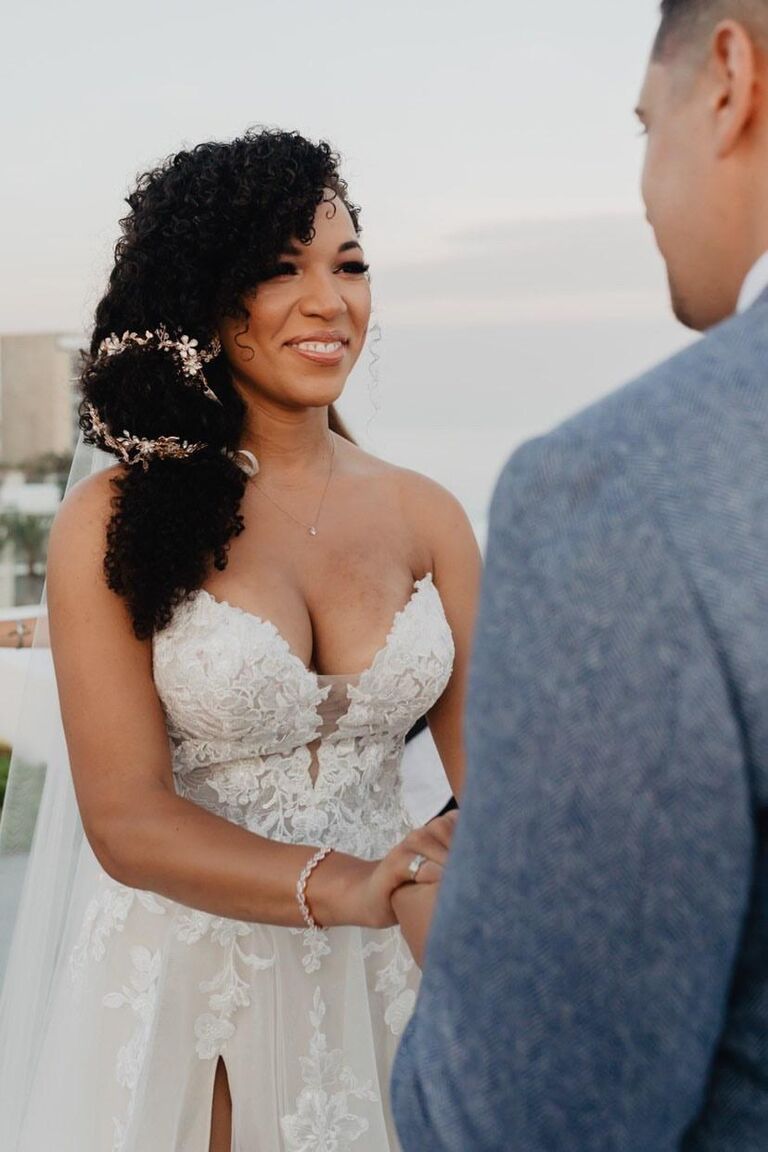 The Virtual Component
As the coronavirus has forced 2020 couples to reschedule and postpone their nuptials, virtual components have accompanied ongoing minimonies and micro weddings. "We each walked down the aisle alone," says the bride. "I thought I would be sad not having my dad there to walk down the aisle, he was watching along on Zoom. He later told me it was really special for him to be able to watch me walk down the aisle and fully take in the moment and how beautiful I looked in my wedding gown."
"As soon as the ceremony was over, we walked over to my laptop to say hello to close friends and family via Zoom," she continues. "It meant a lot to see all their faces on the screen and hear them cheer for us even if we couldn't hug them. These are the realities of a wedding in pandemic times."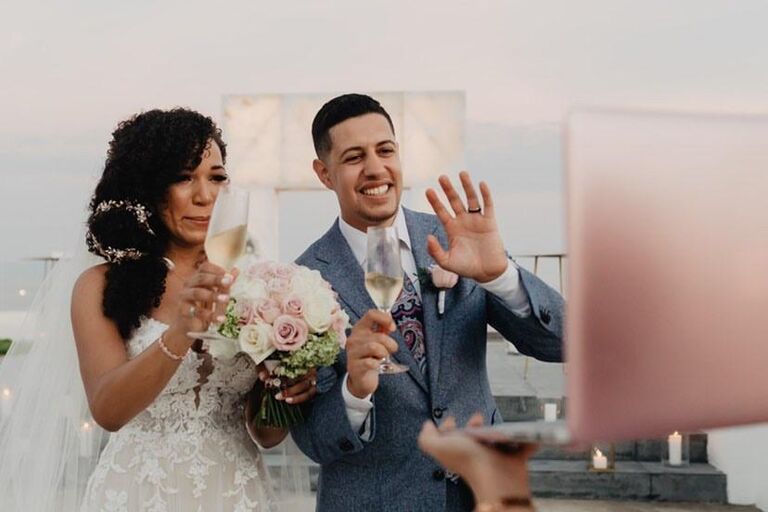 The Registry
The couple's heart for causes and charity has long remained a priority, so they applied that same philosophy to their wedding registry. "We did not register for items," says Acosta. "We are researching local organizations that help Black and Brown communities. We'll accept donations instead of gifts."