The Most Relatable Bridesmaids Movie Quotes Ever
'Bridesmaids' movie quotes aren't just hilarious -- they're a way of life for brides and bridesmaids alike.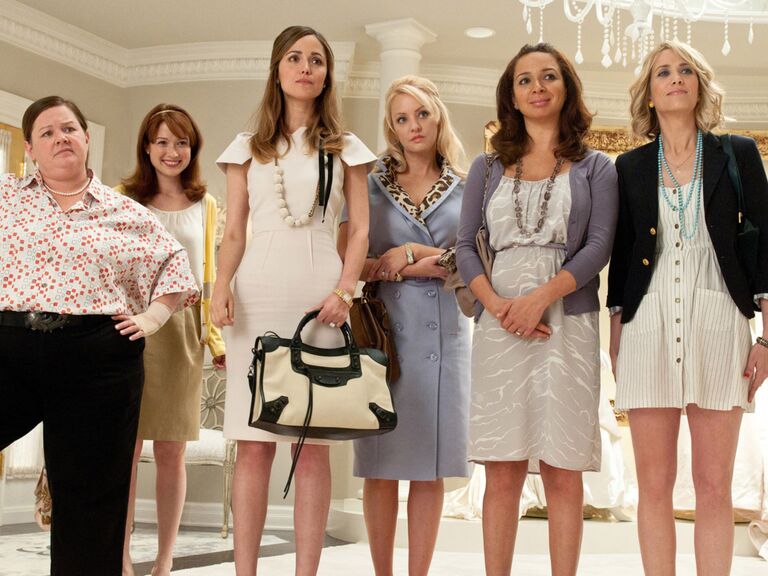 Suzanne Hanover/Universal Pictures/Everett Collection
Before you were engaged, you watched (and re-watched) Bridesmaids just for fun. But now that you're planning a wedding, everything that Kristen Wiig, Maya Rudolph and the rest of the Bridesmaids cast says carries so much more meaning. Suddenly, all the wild antics are so much more hilarious and relatable as you begin navigating the wedding world for yourself. The more you watch, the more you get the feeling that the best Bridesmaids quotes apply to what you're experiencing as you plan your special day -- and hopefully it's not the Brazilian steakhouse lunch you just ate before your bridal salon appointment! Check out our favorite Bridesmaids quotes from the flick and see which ones make you laugh--or cringe--the most.
1. Annie: "I feel like her life is going off and getting perfect, and mine is just like..."
Your best friend in the whole wide world is so happy for you and your fiance, but after looking at your door knocker of an engagement ring and hearing your perfect proposal story, she may need to have just a little moment for herself with another friend.
2. Annie: "You cannot trust anybody, ever."
Surprise! One of your bridesmaids is pregnant and just told you. Oh, and her dress literally came in yesterday and is without a doubt not going to fit by the time of the wedding.
3. Annie: "I'm totally topless!"
So things get a little out of hand at the bachelorette party! So what if you find yourself double-fisting pina coladas in the hotel room without proper clothing?
4. Lillian: "You are not telling me something."
That defining moment when you know your maid of honor is totally judging you for having a cash bar. But hey, you can't make everyone happy, right? This funny Bridesmaids quote reminds you that at the end of the day, it's your day and you get to call the shots.
5. Annie: "I'm ready to PAAAAAAAAARTY!"
You took the day off work, you're about to leave for the airport. You've three new white mini-dresses in your suitcase and your hair looks fabulous. IT'S BACHELORETTE PARTY TIME AND YOU DON'T CARE WHO KNOWS IT! This Bridesmaids quote about the bachelorette party will totally get you in the mood to celebrate.
6. Becca: "You're more beautiful than Cinderella. You smell like pine needles, and you have a face like sunshine."
Don't be surprised if your bridesmaids start saying you look like a Disney Princess/goddess/Beyonce when you start freaking out before the ceremony.
7. Annie: "Help me, I'm poor."
There's a good chance you'll say this Bridesmaids movie quote to yourself at least one time during your wedding planning process. Whether you have to decide between having a destination wedding and cutting back on guests, or choosing a custom wedding dress over your fiance's favorite band, budget issues are never easy.
8. Annie: "I'm not with anybody. I'm here so-lo.
This is maybe why you should have given your awkward cousin a plus one.
9. Annie: "I'm gonna be fine. So don't worry, ok? I'm going to be... I'm going to be fine. I am fine."
You're supposed to go to bed early the night before your wedding, right? You weren't supposed to have too many margaritas at your rehearsal dinner and end up dancing until midnight, right?
10. Annie: "What's wrong with me?"
Yeah, you didn't think you'd have an utter meltdown when your hair trial didn't go so well, but when that happens, sometimes a moment of soul-searching is necessary.
11. Rhodes: "Running a wedding should be fun! If I ever had a wedding, I'd want everybody to be stress-free."
Don't you just love hearing your little brother's idealistic take on wedding planning, right before you start blinking back gigantic stress tears? A rare serious moment in the film, this beautiful Bridesmaids quote reminds you that this whole experience is supposed to be fun.
12. Annie: "Oh, my god. I just got hurt. Yeah, my pits are sweating. My stomach hurts. Oh, my god!"
No matter how many fans you have going or how many times your face is spritzed with facial mist, sometimes you can't help feeling a little... flustered in the bridal room.
13. Annie: "You would know that if you got your beautifully haired head out of your asshole!"
Remember, it's wise to listen to your bridesmaids. Communicate with them. Ask how their life is going on a regular basis. Otherwise, you may have an Oscar-worthy outburst coming your way. After all, you certainly don't want a version of this funny Bridesmaids quote to happen at your own shindig.
14. Annie: "God damn it, that's good."
It's completely okay to express yourself at wedding cake tastings. Love that red velvet? Let it out! You've been working hard planning your special day and you deserve to get yourself credit.
15. Annie: "Oh, hey."
Just acting all casual and stuff when someone walks into the tiny bathroom that your bridesmaids are helping you pee in. Hey, you can't lift up seven layers yourself!
16. Annie: "I'll just say this..."
That moment of fear when you realize it's time for your dearest friend's toast and didn't know she's been hanging by the bar all night.
17. Annie: "I'm sure I'm a mess."
Even if you didn't wear waterproof mascara down the aisle, you just said your vows and cried and it was the most amazing moment ever. Touch ups are only moments away!
18. Lillian: "Why can't you just be happy for me and then go home and talk behind my back later like a NORMAL PERSON!?"
Between fittings, walk-throughs and appointments, ain't nobody got time for this. This Bridesmaids movie quote just goes to show that everyone is entitled to their feelings and even a meltdown or two.
19. Lillian: "Anybody else have anything they want to share today?"
You may come off a little scary, but hey, when your fiance lost his engraved cufflinks and your mom told your Aunt Judy that she could sing at the reception, it's time to cut to the chase. This Bridesmaids quote nails what every couple thinks at least once during their wedding planning.
20. Lillian and Annie: "Hold on for one more day..."
And no matter what happens leading up to your wedding, sing this loud and proud on the morning of your rehearsal dinner.
Our list of the best Bridesmaids quotes is just a reminder that there may be some hiccups along the way, from your bachelorette party to your bridal party. At the end of the day, you just have to laugh and enjoy yourself.