The Best Wedding Movies of All Time, According to The Knot's Entertainment Editor
Don't ask me how many times I've cried to Crazy Rich Asians.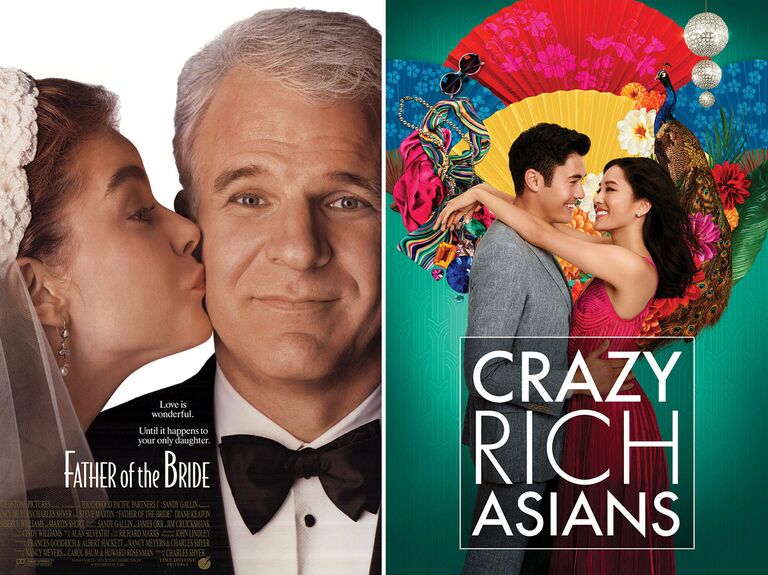 Photos: Amazon
We have included third party products to help you navigate and enjoy life's biggest moments. Purchases made through links on this page may earn us a commission.
As The Knot's Entertainment Editor, I consider myself to be an expert when it comes to wedding movies. Can you blame me? I've been watching fictional weddings since before I could even say "wedding" out loud. (Shoutout to my parents for putting up with The Little Mermaid and Cinderella on constant loop.) In the name of proper journalism, I've spent many Friday nights with a chilled glass of rosé in my hand and a wedding movie queued on my TV, which is why I'm qualified to present to you: The Knot's Ultimate Guide to the Best Wedding Movies of All Time.
Whether you're on the lookout for a new movie rec or a comfort film to watch, I've taken the liberty of curating the one, definitive guide to the best wedding movies ever made. From hilarious comedies to nostalgic '90s rom-coms, these wedding movies have everything: quotable one-liners, unforgettable dresses, love declarations that'll bring a tear to your eye, and lots of Julia Roberts.
The Best Wedding Movies of All Time
While it's true that movies are subjective, there are some universal truths, like the fact that Father of the Bride will never fail to make you tear up, or that it's scientifically impossible to not sing along with Meryl Streep when she's belting out ABBA. With that in mind, here's my definitive ranking of the best wedding movies ever made:
Bridesmaids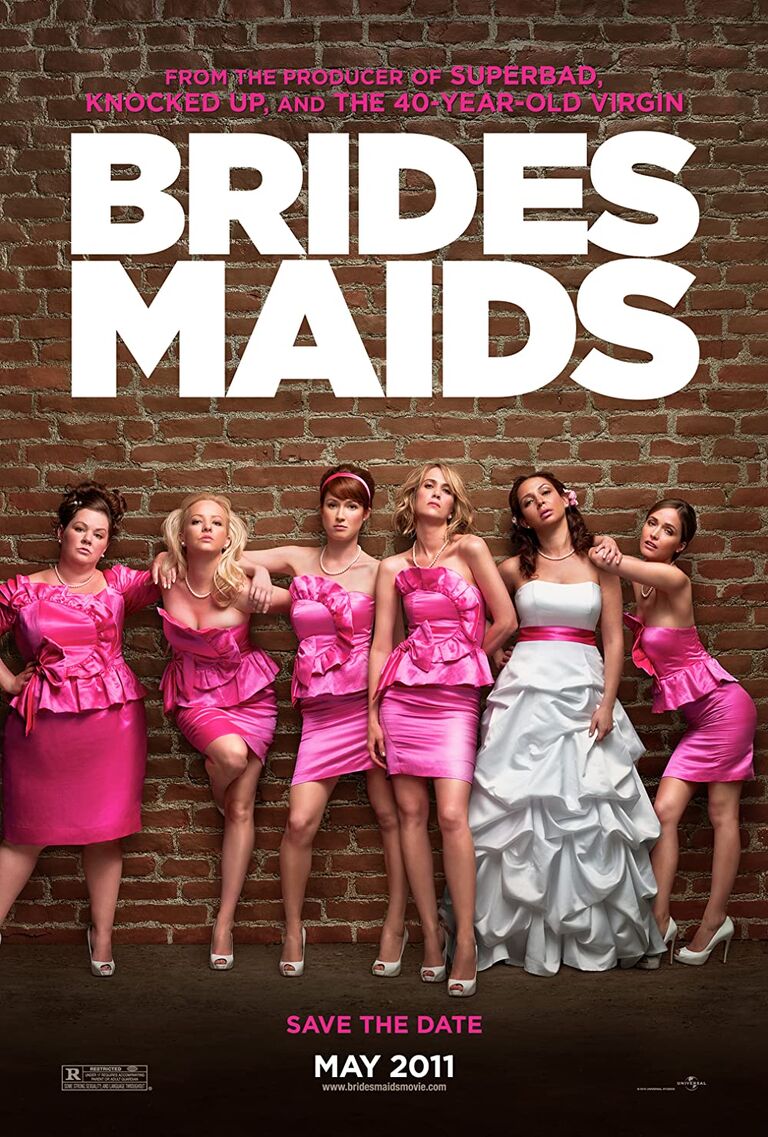 If you haven't quoted a line from Bridesmaids since its 2011 release, are you okay? With an all-star cast featuring some of the funniest women of our time, it should come as no surprise that Bridesmaids is one of the best wedding movies in existence. This hilarious flick will make you laugh so hard your stomach hurts (and there's a chance it'll make your stomach flip every time you see Jordan Almonds). This wedding movie is the perfect thing to watch during a night in on your bachelorette trip with your besties because, well, obviously. Plus, it'll give you some helpful pointers on what not to do at your wedding festivities. (Read: Don't overdo it on the airplane wine.)
Father of the Bride
The Nancy Meyers version, ofc. When it comes to nostalgic wedding movies, Father of the Bride takes the cake. After all, it has everything you could ever want in a comfort film: gorgeous Nancy Meyers interiors, humor and heart, and the dynamic duo that is Steve Martin and Martin Short. This wedding movie follows George and Nina Banks, the proud parents of prodigious daughter Annie. But when Annie returns from studying abroad and announces she's engaged, George and Nina are left grappling with the unexpected news—and the responsibility of planning the perfect wedding for their perfect daughter. At the very least, it'll make you want to have a backyard wedding stat. (Nancy, are you available for planning services?)
Father of the Bride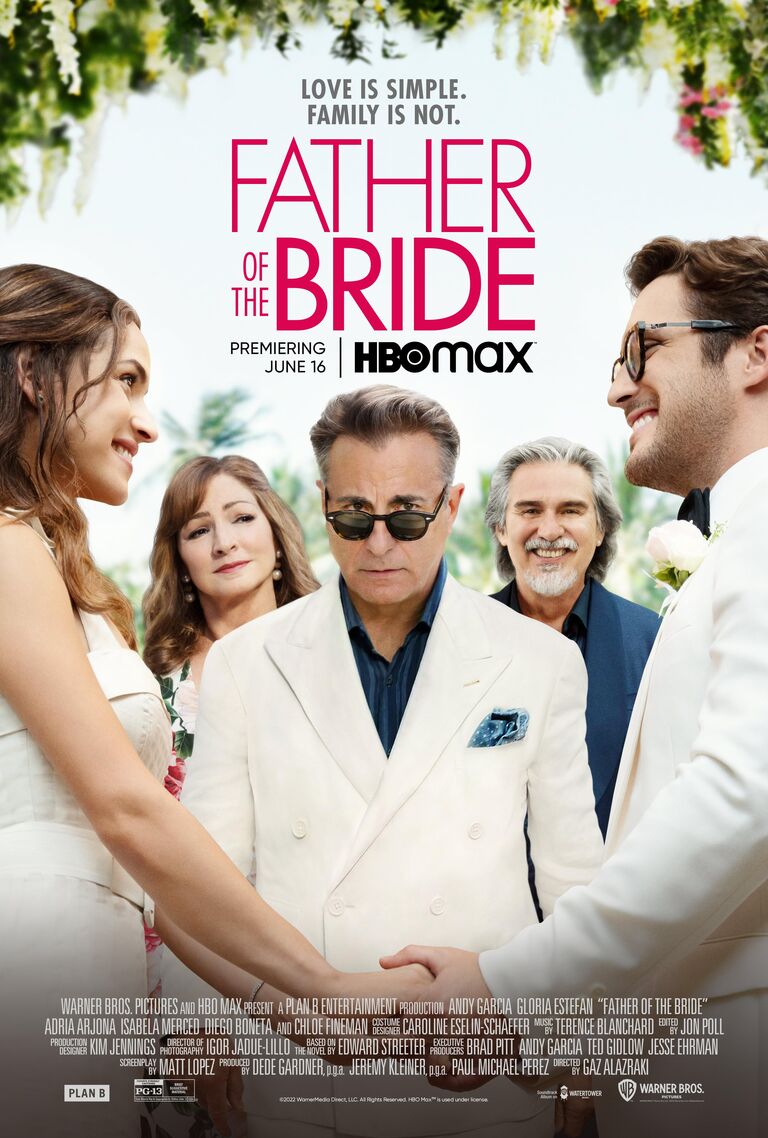 A movie so nice, I've included it twice. The 1991 Father of the Bride is a classic for obvious reasons, but we've got to talk about the 2022 version. Andy Garcia and Gloria Estefan star as estranged spouses in this refreshed rom-com, which takes place in Miami. Themes of feminism, independence and blended family dynamics are woven throughout the remake, which centers on Latin and Cuban families coming together in a hilarious (and, frankly, relatable) modern love story. It follows Billy (Garcia) and Ingrid (Estefan), who are grappling with their failing marriage and impending divorce. But when their daughter Sofia (Adria Arjona) announces her engagement unexpectedly, her parents have to put on a brave face and plan their daughter's dream wedding without letting on the big secret of their own. Oh, and Chloe Fineman (of SNL fame) stars as the wedding planner once made famous by Martin Short, so you know it's good.
Crazy Rich Asians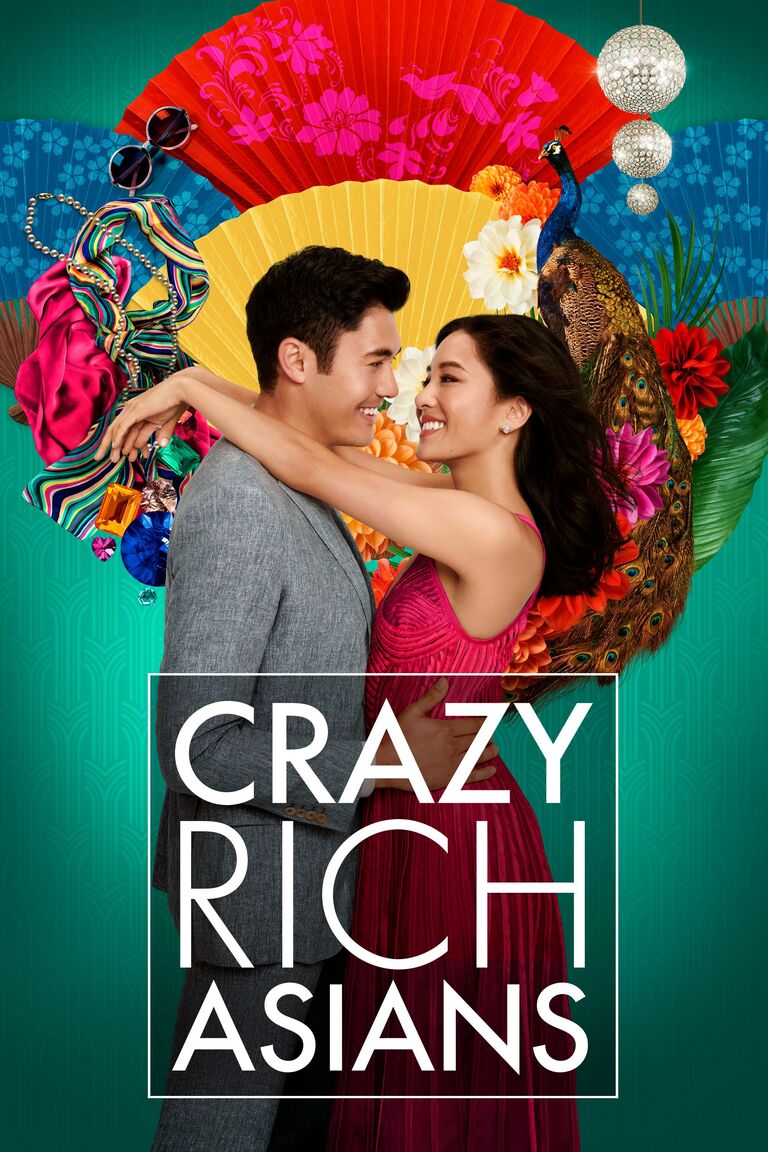 Crazy Rich Asians is criminally underrated in the best wedding movie discourse. But don't just take it from me—you can also take it from Kevin Kwan, who wrote the book that inspired the 2018 film adaptation. In an exclusive interview with The Knot, he said, "The wedding scene in the movie—and I'm not being biased—I'm speaking as someone who loves watching weddings on-camera and in movies… I love a good wedding. This was the most beautiful wedding scene ever shot in the history of cinema. How it emotionally wraps you up with the moment of nerves. And when [Araminta] steps onto the water and everything goes quiet… That's when I lost it."
Although the film itself isn't necessarily wedding-centric, the wedding that takes place is truly unlike anything I'd seen before. (Hi, water aisle.) Nuptials aside, Constance Wu and Henry Golding command the spotlight in this tale about a teacher thrust into the world of Singaporean high society when she finds out her boyfriend is one of the country's most eligible bachelors.
Princess Diaries 2: Royal Engagement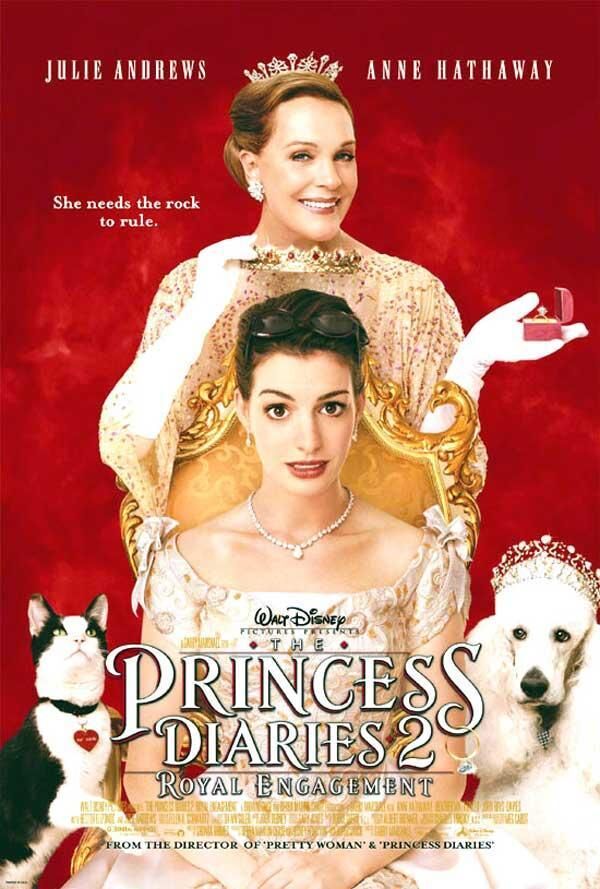 Before we had the royal weddings of Kate Middleton and Meghan Markle, the marriage of Amelia Mignonette Thermopolis Renaldi, Princess of Genovia, was my royal wedding. In The Princess Diaries 2: Royal Engagement, the sequel to Anne Hathaway's breakout film The Princess Diaries, Mia has finally come to terms with her newfound royal status. But when she arrives in Genovia immediately after graduating college, her world comes to a halt when Queen Clarice tells her she must get married in 30 days.
Rather than make her a Hinge account (remember: online dating wasn't exactly a thing in 2004!), Clarice puts together a presentation of the most eligible bachelors. Enter, Nicholas Devereaux—aka Chris Pine's greatest role to date. Although Nicholas is considered a top suitor, his twisted uncle is more concerned with getting his family on the throne than marrying off his nephew for true love. In true enemies-to-lovers fashion, though, sparks fly and the rest is history. Remember the fountain scene? There's a reason this is one of my favorite wedding movies.
Mamma Mia!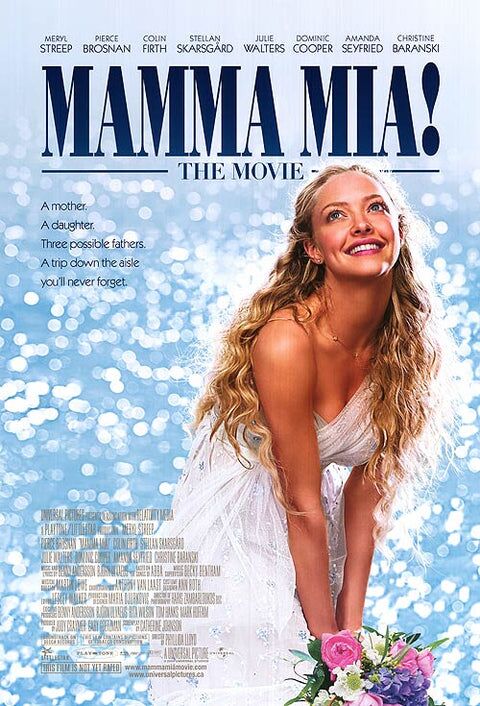 If you don't love Mamma Mia!, we can't be friends. (Kidding! We can totally be friends. But I'll need you to reevaluate your tastes in cinema.) With a stacked cast and a soundtrack that'll get stuck in your head for days, this is one of the best wedding movies ever made. For those unfamiliar with this timeless masterpiece, the film follows Donna Sheridan (Meryl Streep), a hardworking single mom who operates a crumbling hotel on a remote island in Greece. In honor of the upcoming nuptials between her daughter, Sophie (Amanda Seyfried), and her fiancé Sky, Donna has to fix up the resort for her impending guests with the help of her best friends (Christine Baranski and Julie Walters). Things take a turn when three of Donna's exes show up announced. Unbeknownst to her, it's because Sophie sent them all invitations to find out which one is her dad. Say "I do" (I do, I do, I do, I do) to watching this on your next movie night.
Book Club: The Next Chapter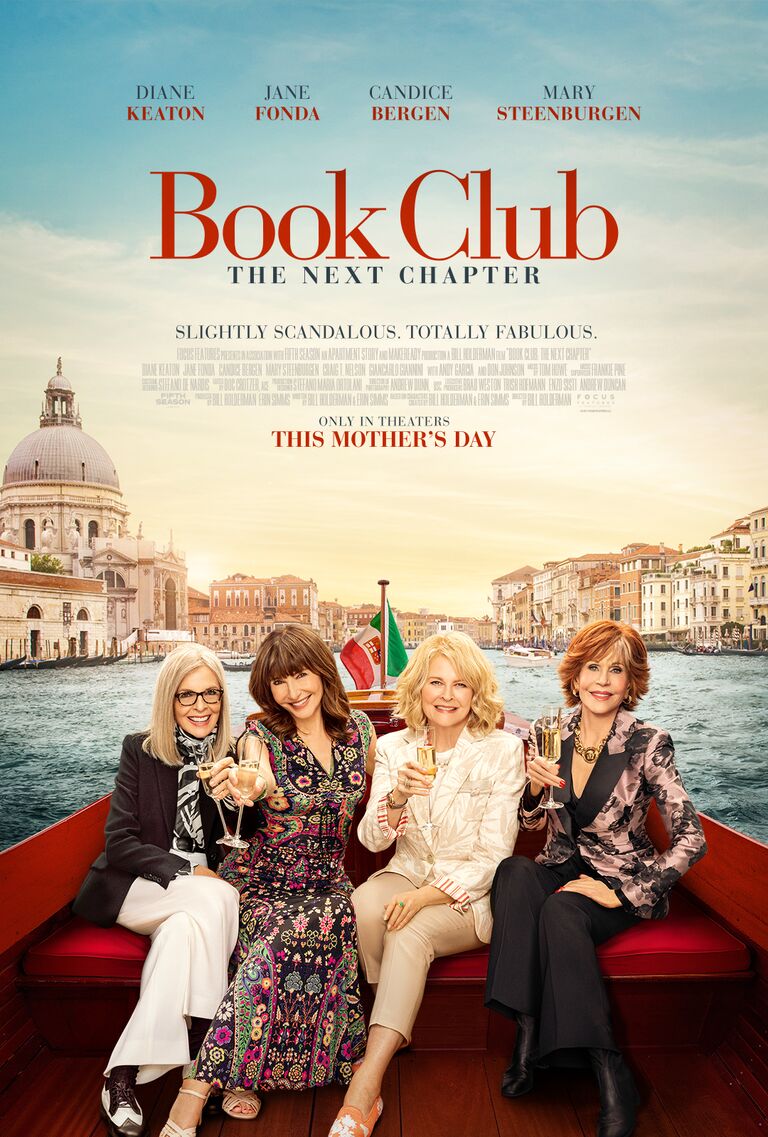 Jane Fonda going on a bachelorette trip in Italy? Say less. Fonda, along with Diane Keaton, Mary Steenburgen and Candice Bergen, have all starred in iconic wedding movies throughout their careers (many of which are on this list), but the tables turned with the 2023 release of Book Club: The Next Chapter. This feel-good flick is the sequel to their 2018 hit Book Club, and it follows the group of friends as they embark on an international bachelorette party for the newly-engaged Vivian (Fonda). In an exclusive interview with The Knot, Fonda spoke highly of the experience, telling me, "I got a kick out of it because I'm 85. The idea of stepping into the bride role at this age seemed cool to me. I liked it, it was fun."
Thanks to a little jet lag and a lot of prosecco, this hilarious foursome galavants around Europe, enjoying museums, eating pasta, and reconnecting with old flames, all in an effort to give Vivian one last fling before the ring. With a heartfelt message and a plot twist you won't see coming, this is one of the best new wedding movies in recent years.
Wedding Season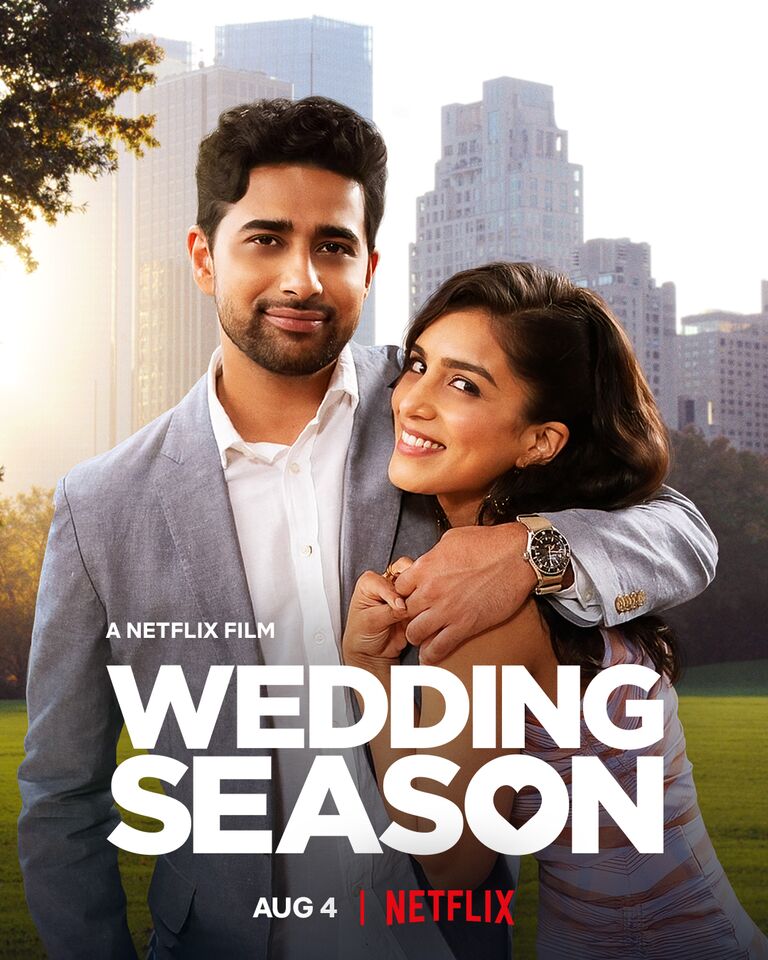 A lot of the wedding movies on this list are classics; in other words, they were made in the 1990s and early 2000s. (Read: They're old!) One of the best new wedding movies is a Netflix original, aptly named Wedding Season. This adorable rom-com follows Asha (Pallavi Sharda) and Ravi (Suraj Sharma), two young singles pressured by their parents to find love and settle down. In order to keep their well-meaning loved ones at bay, they pretend to date for a summer full of weddings… but find themselves falling in love as they struggle to balance who they are with who their parents want them to be.
Ahead of its release, The Knot exclusively interviewed Wedding Season's director Tom Dey about the significance of this feel-good flick. "One of the big draws for me to this project was the fact that it took place within this Indian-American community," he told us. "I got to learn so much about this culture, and bringing it to a largely American audience was a fun challenge." He added, "I hope people can see themselves in the movie. I want them to laugh and cry and be moved by it—and I hope they understand the basic message of the film, which is to let your love be greater than your fear."
Jumping the Broom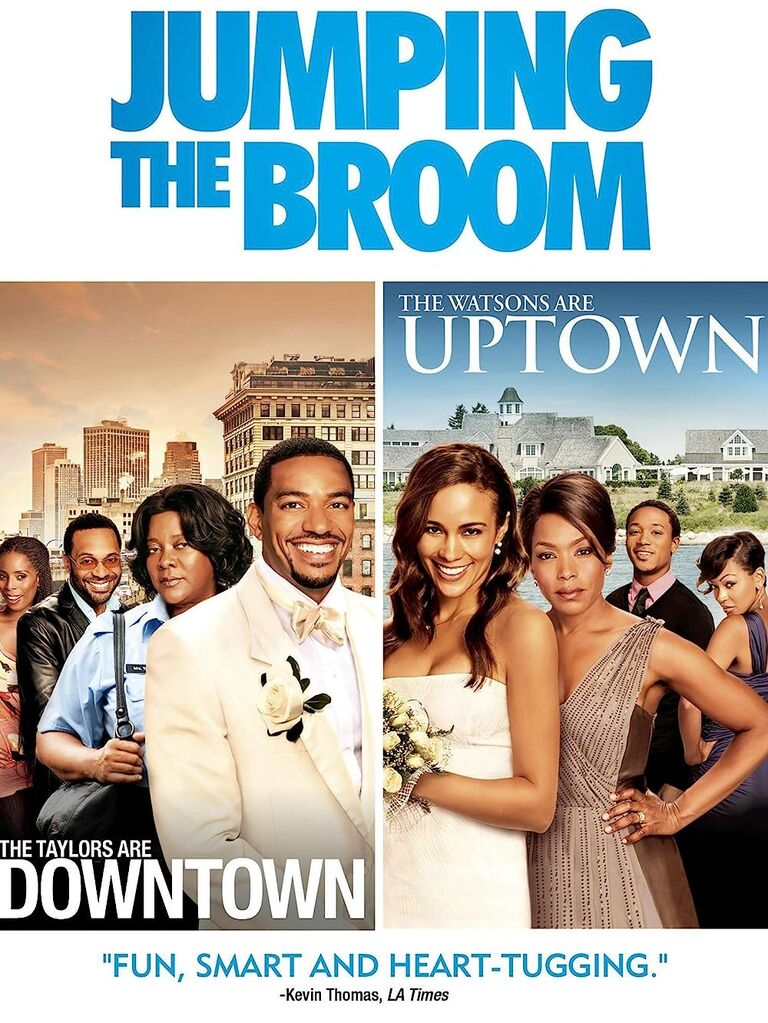 First things first, let's get this out of the way: Jumping the Broom is going to make you want to plan a Martha's Vineyard wedding, like, yesterday. This 2011 wedding movie finds Sabrina (Paula Patton) lamenting over her less-than-ideal dating life. After some desperate begging with a higher power, Sabrina's wishes for a real romance come true when she *literally* hits her dream man, Jason (Laz Alonso), with her car. Their whirlwind romance culminates with a quick marriage proposal—but when Sabrina's prosperous family meets Jason's postal-worker mom at their sprawling coastal estate, the differences in their lifestyles threaten the impending wedding. This movie explores the intersectionality of race and class, especially in regard to Black weddings—and it'll make you laugh until you cry.
My Best Friend's Wedding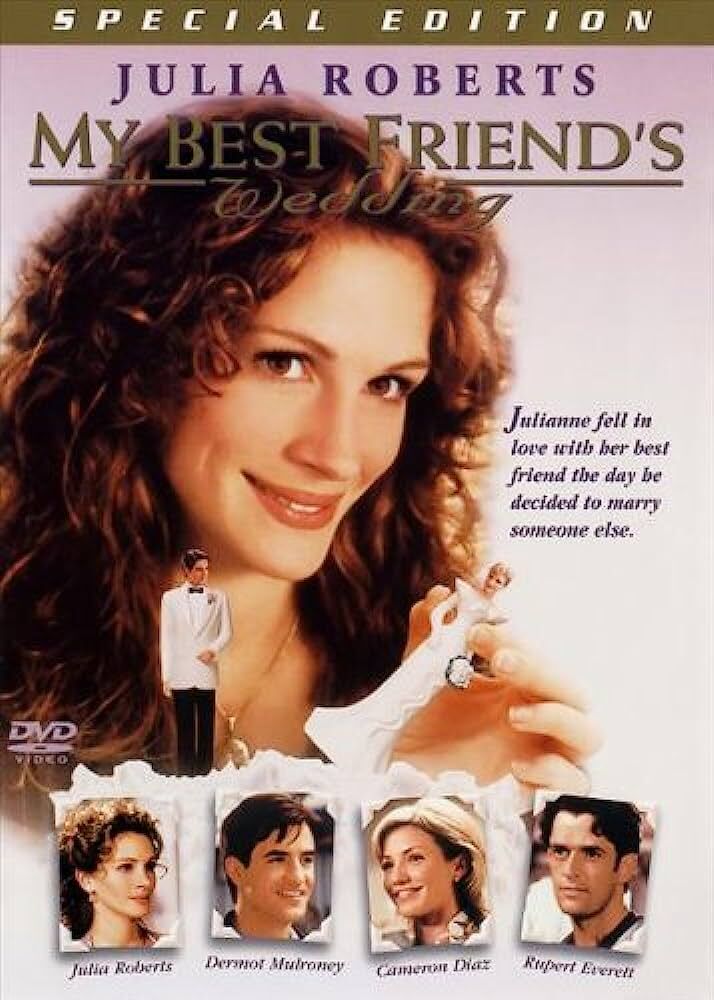 Fact: Some of the best wedding movies feature Julia Roberts and Dermot Mulroney. This dynamic duo led the all-star cast of My Best Friend's Wedding, a 1997 wedding rom-com that simply never gets old. The film follows lifelong besties Julianne (Roberts) and Michael (Mulroney) who made a pact to get married to each other if they were both single by 28. Days away from Julianne's birthday, the plan seemed to be ready to be put in motion until Michael surprisingly announced his engagement to perky 20-year-old Kimberly (Cameron Diaz). Despite having serious feelings for her friend, Julianne must come to terms with celebrating his upcoming wedding… that is, of course, until she's named Kimberly's maid of honor, and sh*t gets a little too real.
My Big Fat Greek Wedding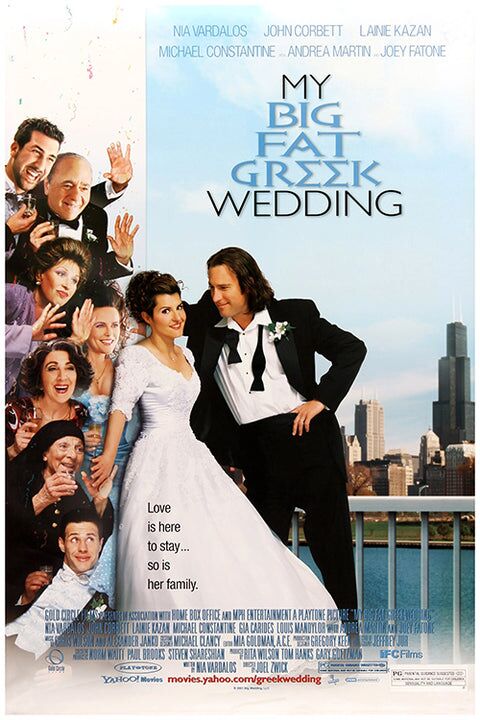 Didn't we all go through a My Big Fat Greek Wedding phase? This heart-warming wedding movie is so beloved that it inspired a sequel in 2016, along with a third installment released in September 2023 (P.S.: Read my review of My Big Fat Greek Wedding 3). It's for good reason, of course, because it's hard not to love the Portokalos family. The original film is set in Chicago, where Toula Portokalos (Nia Vardalos) works at her family's Greek restaurant while dreaming of a bigger life. After noticing school teacher Ian Miller (John Corbett) when he comes into the restaurant, Toula does everything in her power to make him notice her. When he asks her on a date, she happily agrees. But as they fall in love, one *big fat* obstacle stands in their way: Ian isn't Greek, much to the dismay of her family.
Bride Wars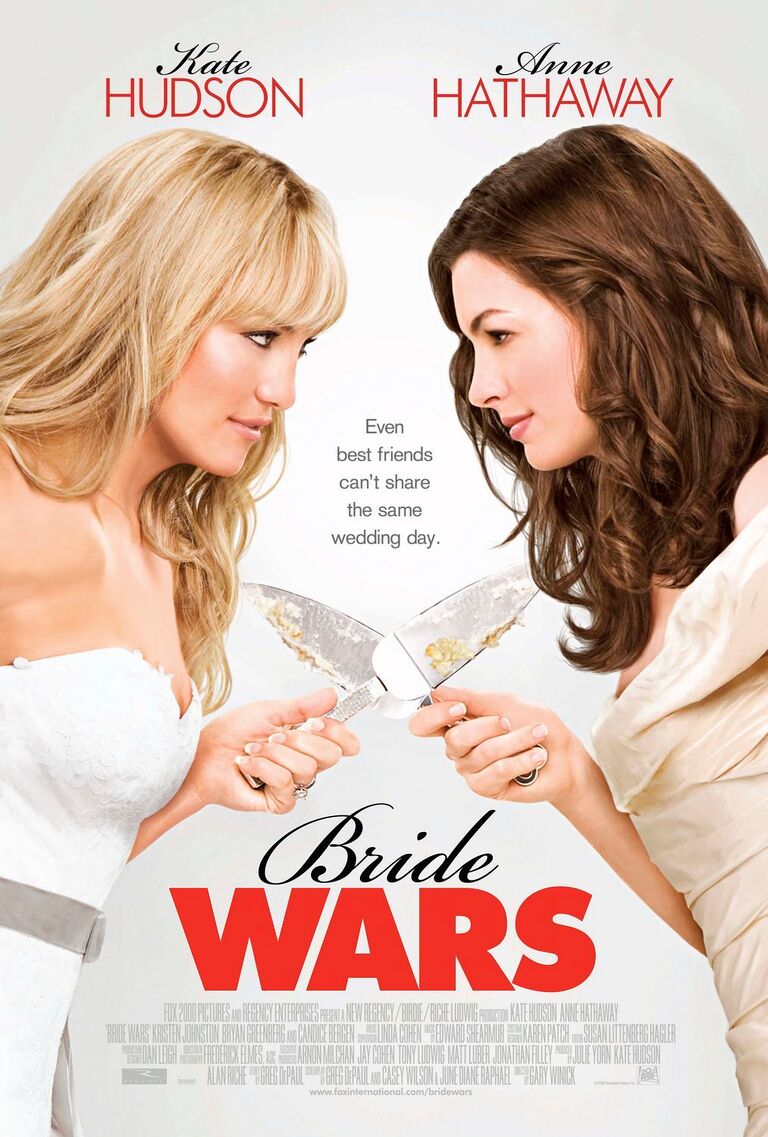 If you assumed you'd get married at The Plaza after watching Bride Wars, join the club. Anne Hathaway and Kate Hudson shined alongside each other in this 2009 rom-com that'll make you think twice about getting a spray tan before your big day. The flick follows lifelong friends Liv (Hudson) and Emma (Hathaway) who've grown up together imagining what their weddings might look like. When both conveniently get engaged to their respective beaus at the same time, they have the unique opportunity to plan their dream Plaza weddings alongside each other. But when a booking mistake results in their weddings getting reserved on the exact same date, chaos ensues.
27 Dresses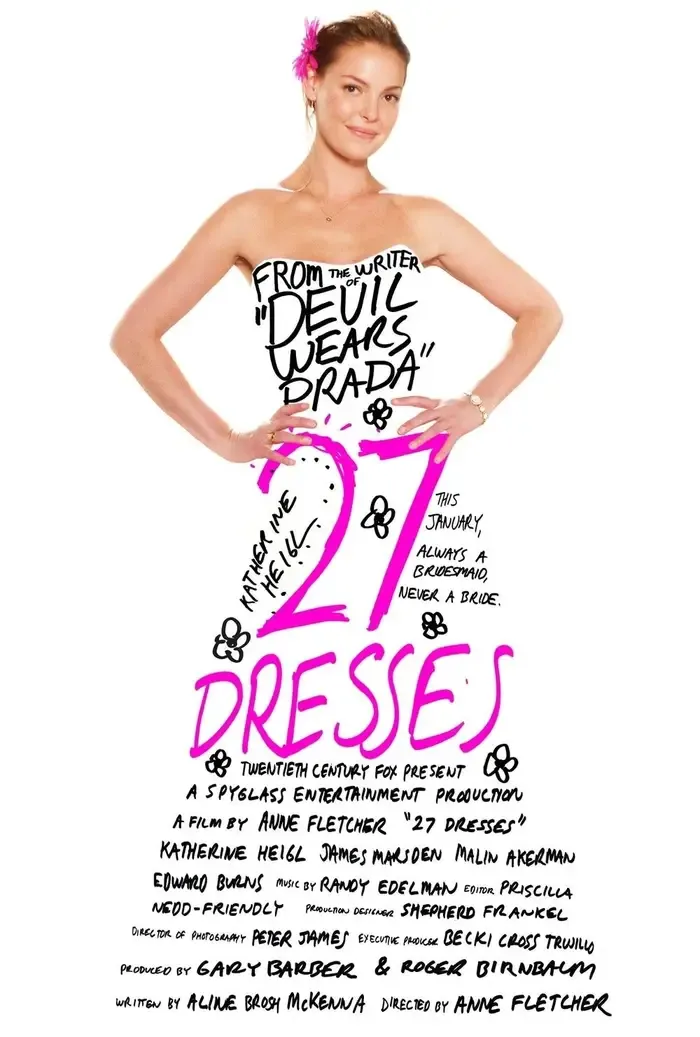 If I know one thing for sure, it's that this film will always get "Bennie and the Jets" stuck in your head. Those in their bridesmaid era will relate to Katherine Heigl all too well in the cult classic wedding rom-com 27 Dresses. Always the bridesmaid and never the bride, Jane (Heigl) finds herself in a sticky situation when her younger sister gets engaged to the man Jane secretly has a thing for. Everything changes with the arrival of Kevin (played by Hollywood hunk James Marsden), who makes Jane reevaluate all that she thinks she knows about friendship and love.
The Wedding Planner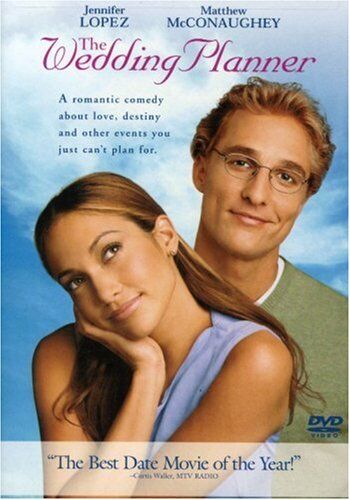 We can't talk about the best wedding movies without giving a shoutout to our girl Jennifer Lopez. The multi-hyphenate has been the leading lady in many wedding movies throughout her career, but The Wedding Planner easily tops them all. She stars as Mary, an ambitious wedding planner who lands her best gig yet when she's hired by Fran, a catering tycoon known throughout San Francisco. But while Mary is spreading the happy news on a phone call, her heel gets stuck in the road facing oncoming traffic. She's saved by a handsome passerby, Steve (Matthew McConaughey), before passing out, and they finally meet at the hospital when she wakes up.
After some sleuthing work from her best friend, Mary and Steve wind up alone together at an outdoor movie—but before either can make a move, the "date" is put to an end by a downpour. While Mary is grappling with her feelings for Steve, she continues to work on planning Fran's wedding… only to have her world come crashing down when she finds out Fran's fiancé is Steve. If you love mess, this classic wedding movie is right up your alley.
Notting Hill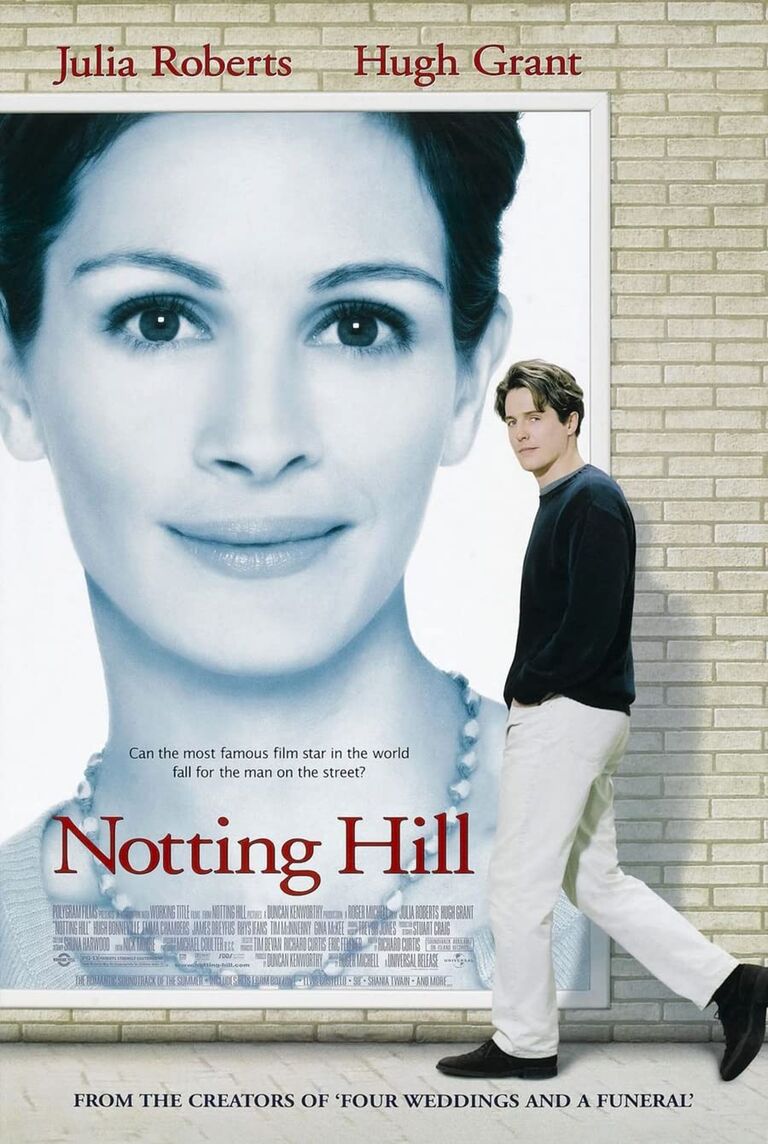 Can I hear a little commotion for young Hugh Grant? This wedding movie transports you to the charming Notting Hill neighborhood in London, where our leading man William Thacker (Grant) owns a quaint bookstore. His world is rocked when international movie star Anna Scott (Julia Roberts) waltzes inside and purchases a book. Just moments after she leaves, they quite literally bump into each other again on the street corner, where William unfortunately dumps juice all over the actress. Much to his surprise, Anna kisses him at that moment and invites him to visit her at the nearby hotel she's staying at. (It's the Ritz, of course). What ensues is a heartwarming tale of falling in love with the public eye—but that sort of spotlight may be too much for William to bare. When you need a wedding movie to make you believe in love again, let it be this.
The Wedding Date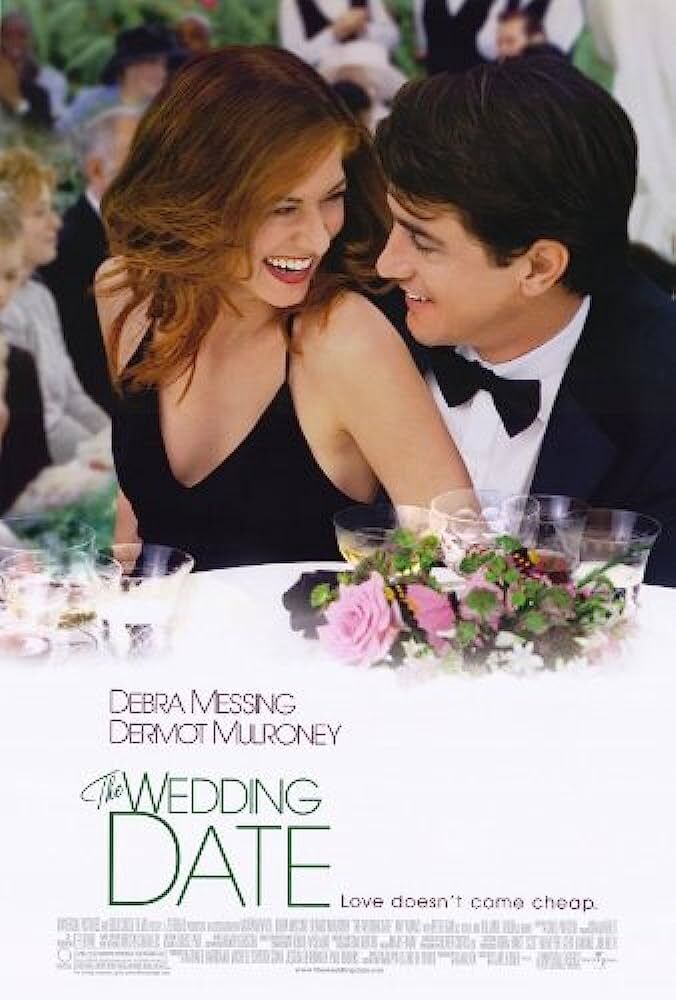 If forced proximity is one of your favorite book tropes, The Wedding Date will give you butterflies. This 2005 wedding movie finds our protagonist, Kat (Debra Messing) grappling with the fact that she has to be her half-sister's maid of honor for a wedding where her ex will be the best man. In order to make him jealous, Kat hires Nick (Dermot Mulroney), a male escort, to be her fake wedding date. As they travel to London to brave the ceremony together, they find themselves catching real feelings for each other. But when Kat discovers that her ex-boyfriend broke things off because he slept with her half-sister while they were still together, everything implodes.
The Twilight Saga: Breaking Dawn - Part 1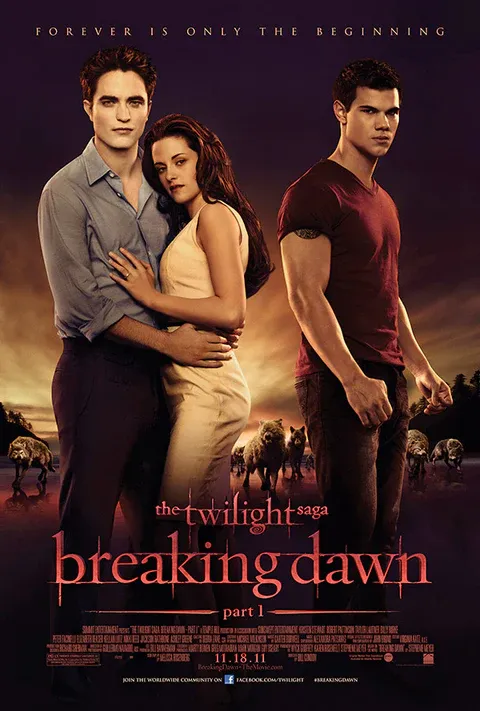 Don't come for me: Breaking Dawn Part 1 *is* a wedding movie, and I'll hear no other critiques. The fourt installment of the Twilight saga begins with Edward Cullen and Bella Swan finally getting married, and this whimsical forest wedding had everyone in a chokehold. (It still goes viral on TikTok every once in a while, a fact you'll know all too well if you're on #TwiTok.) Everything about this movie wedding was perfect, from Bella Swan's Carolina Herrera wedding dress to the lush florals to the Christina Perri song used during the ceremony. All in all, I have no notes, which is why this earned a spot on my roundup of the best wedding movies.