How Princess Beatrice's Engagement Ring Broke from Royal Tradition
Edoardo Mapelli Mozzi collaborated with jeweler Shaun Leane on the diamond engagement ring.
Princess Eugenie/Buckingham Palace via Getty Images
When Princess Beatrice and Edoardo Mapelli Mozzi got engaged during a trip to Italy in September 2019, they didn't know that so many of their wedding plans would be dashed or altered over the next few months due to the pandemic. Thankfully, their engagement did go according to plan, and Princess Beatrice's engagement ring became a symbol of British resilience during trying times.
The trendsetting bride-to-be continued that energy into planning a pared-down version of her nuptials that was still very much her own. She and Edoardo (known as "Edo" to his loved ones) had an intimate royal wedding on July 17, 2020, with just their nearest and dearest in attendance: her parents, Prince Andrew and Sarah, Duchess of York; her sister, Princess Eugenie; Mozzi's parents, Nikki Shales and Count Mapelli Mozzi; and her grandparents, Queen Elizabeth and the late Prince Philip.
The eco-conscious bride upcycled one of Queen Elizabeth II's vintage Norman Hartnell gowns and donned the Queen Mary diamond fringe tiara, the very one that the Queen wore on her own wedding day. Her fashion choices were a sweet nod to the Queen's influence and legacy. But both Princess Beatrice's engagement ring and her wedding band actually bucked British royal family tradition—read on to see how.
In this article:
The Design and Designer
Princess Beatrice has long been known for her bold fashion statements, and her engagement ring was no exception. Her fiancé collaborated with British jeweler Shaun Leane for several months to create a ring that paid homage to Beatrice's innovative, creative spirit, while still honoring the royal family. "He wanted the fusion of two elements in one ring, his love of Art Deco and Princess Beatrice's love of Victorian style, so it's a mix of both aesthetics," Leane told Women's Wear Daily, adding in a statement, "The bespoke experience was a beautiful journey; from imagining the design with Edoardo to the crafting of the finished rings."
The ring features a 2.5-carat round center stone with two smaller round diamonds and a 0.75-carat tapered baguette on either side. It's set in platinum with pavé diamonds extending halfway down the band.
In a departure from other royal engagement rings, Princess Beatrice opted for a dazzling diamond as the center stone as opposed to a gemstone; previously, Kate Middleton had received a sapphire engagement ring from Prince William, while Princess Eugenie had received an engagement ring with an exceptionally rare Padparadscha sapphire in the center from her fiancé Jack Brooksbank. What was also different from most other royal engagement rings was the fact that Mozzi worked with Leane, rather than tried-and-true traditional jewelers like Garrard, who had created rings and tiaras for the family dating back to the Queen Mother. Known for his edgy designs, Leane was perhaps best known for his work with Alexander McQueen in the '90s, not necessarily royal fare. But all the same, Leane managed to create a ring that fit Princess Beatrice's bold personality while still featuring a traditional design.
In fact, Beatrice's engagement ring rather closely resembles that of her grandmother, Queen Elizabeth II, which features an old-mine-cut center stone set in a platinum band with five pavé diamonds on either side. One small difference is Princess Beatrice's ring features six prongs that hold the center stone in place, with each one chiseled to a fine point (a nod to Leane's signature talon motif).
The Estimated Cost
Leane never confirmed the cost of the ring publicly, but many jewelry experts have offered speculations about the value of the bespoke engagement ring. "Princess Beatrice's ring is a beautiful 3.5-carat round diamond, of medium quality, set in a Deco design, with tapered baguettes on each side of the center side. I would value this ring at £60,000 [almost $80,000]," Tobia Kormind, managing director at 77Diamonds.com, told Insider. Other jewelers have estimated the total value of the ring at somewhere closer to $130,000.
The History and Meaning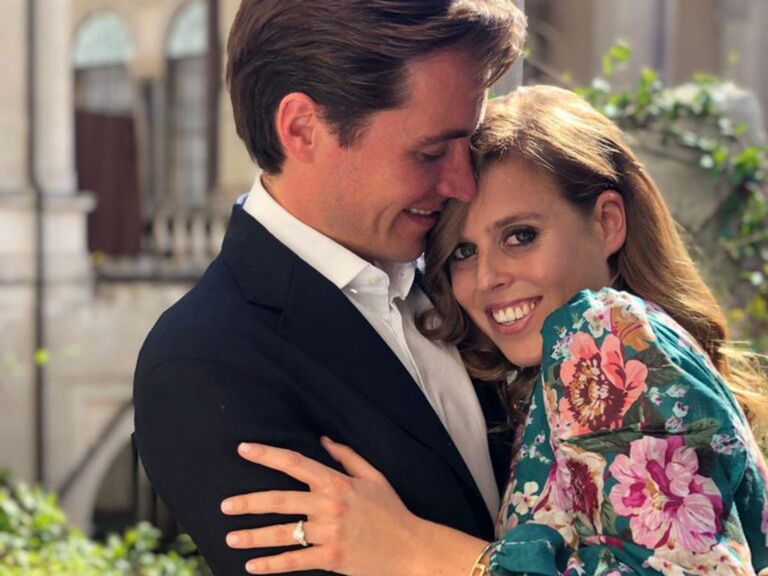 Though Princess Beatrice of York's engagement ring broke from royal tradition, it also arguably made history given the timing of its creation and what that symbolized for the royal family and Britain at large. As the world shut down due to the coronavirus pandemic, and Brexit loomed large for the country, Princess Beatrice and Edoardo's love remained a spark of hope and light amid dark times. "Being able to incorporate both Edoardo and Princess Beatrice's characters into the design has resulted in a unique ring that represents their love and lives entwining," jewelry designer Shaun Leane said in a statement at the time.
Meghan Markle, who got engaged to Prince Harry in late 2017, was another modern royal who received a diamond engagement ring, but according to Kormind, the managing director at 77Diamonds.com, the difference between the two rings still marks Princess Beatrice's as the more modern of the two.
Princess Beatrice further bucked tradition with her wedding ring, which was also designed by Leane. It's made of platinum and diamond in an Art Deco design that perfectly complements her engagement ring. (Traditionally, royal wedding bands are made of Welsh gold; Edoardo's ring was a vintage gold band designed by Josh Collins.) The pair exchanged vows at The Royal Chapel of All Saints in Windsor on July 17, 2020, and have since lived, as they say, happily ever after. In September 2021, the couple welcomed a baby girl.