Inside Details About Meghan Markle's Sentimental Engagement Ring
Plus, shop the three-stone look here.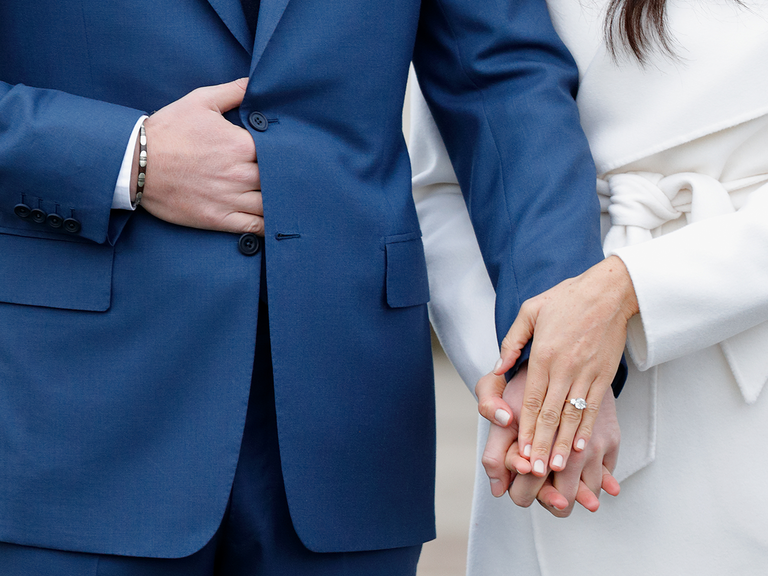 Max Mumby / Getty Images
We have included third party products to help you navigate and enjoy life's biggest moments. Purchases made through links on this page may earn us a commission.
When Prince Harry proposed to American actress Meghan Markle during a cozy night at home, he presented his future wife with a sentimental, custom-designed and timeless bauble to commemorate the occasion. Meghan Markle's engagement ring, a three-stone diamond engagement ring, set on a 14-karat yellow gold band, was accompanied, in fact, by an even better story.
The Duchess of Sussex's ring boasts a center stone sourced from Botswana—a place close to Prince Harry's heart (and also where the couple first vacationed together). The cushion-cut diamond is nestled between two smaller, round diamonds, pulled from the personal collection of his late mother, Princess Diana. The piece was designed by royal family jeweler Cleave and Company, court jewellers to Queen Elizabeth.
"Who it belongs to and where some of the diamonds came from makes the ring rare and valuable," notes jeweler Jean Dousset, great-great-grandson of Louis Cartier. The couple went on to marry less than a year later in a splendid May 2018 royal wedding at Windsor Castle. Since that fateful proposal, three-stone engagement rings have surged in demand. Read up on all the details below and shop the look too.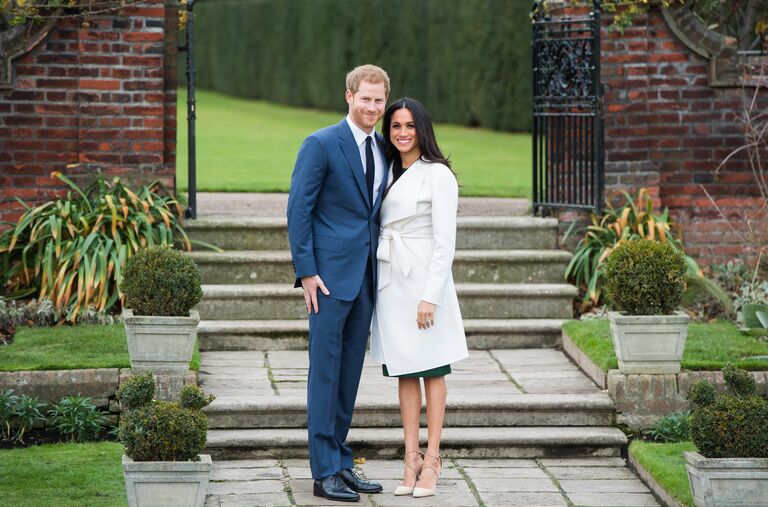 How Much Is Meghan Markle's Engagement Ring Worth?
The initial cost of Meghan Markle's ring from Prince Harry hovers somewhere around $100,000, according to experts. However, the recipient, the craftsmanship of the bauble and the backstory of the overall piece add tremendous value to the engagement ring—to the extent that it is already priceless.
The center stone is an approximately three-carat, cushion-cut diamond. Though diamonds are popular engagement ring stones stateside, Markle's family members Kate Middleton and Princess Eugenie received sapphire engagement rings—a Ceylon sapphire and a pink padparadscha sapphire, respectively. "It is impossible to know the color of [Meghan Markle's] stone without examining it, but I imagine the diamond is colorless D, E or F grading because it is a diamond that was recently mined and polished," muses Dousset. "The color of diamonds has become paramount, whereas they weren't as relevant at the turn of the century, until we started adopting modern grading and certificates." It wouldn't surprise the diamond expert if Harry purchased a colorless stone, however—he is British royalty and the brother of future King of England, Prince William, after all.
"The ring was made to have a vintage flair, probably because Prince Harry decided to use his mother's diamonds as side stones and wanted to give them a fitting 'period' setting," Dousset says of the royal engagement ring. "Using the royal jeweler probably added to the decision to move forward with the ring's style the way it is. The royal family jeweler is a very traditional jeweler. However, you can tell it is a contemporary setting because the prongs that cover the center stone are round. Vintage prongs would have been 'cat claw' looking."
How Meghan Markle Reacted to the Ring
The proposal, described as "low-key" by the pair, took place in the living room of Nottingham Cottage in Kensington Palace, where they lived at the time. During a photocall with reporters in November 2017, Markle memorably flashed her sparkly new bauble (one of the most well-recognized celebrity engagement rings today) with a megawatt grin. The press moment was further accompanied by a sit-down interview with BBC, where the public learned of the proposal details, which Harry said started as "just a standard, typical night for us."
The couple had decided to stay in and roast a chicken together. "And it was… just an amazing surprise, it was so sweet and natural and very romantic. He got on one knee," Markle recalled. She was so taken aback-yet-excited that Markle replied, "'Can I say yes now?'"
"It was a really nice moment, it was just the two of us," Harry said. "I think I managed to catch her by surprise as well."
Meghan Markle's Wedding Band and Eternity Ring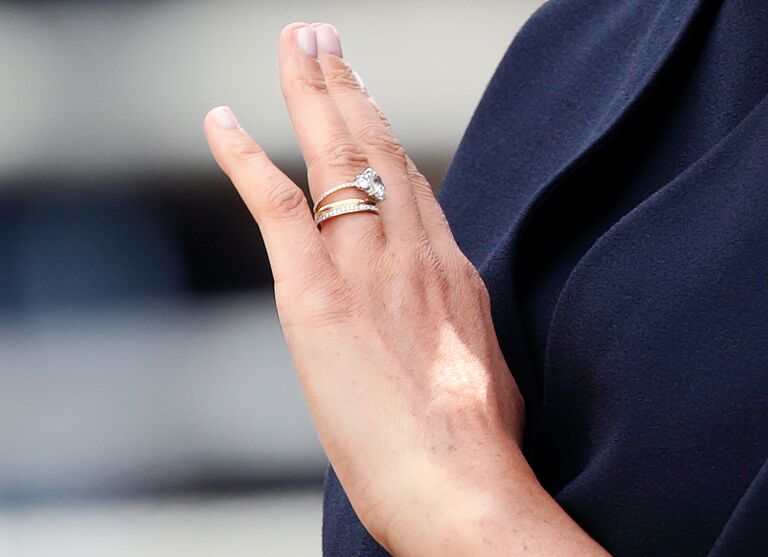 Markle landed on a simple and minimalist Welsh gold wedding band, steeply rooted in British Royal Family tradition for her 2018 wedding. (Both Queen Elizabeth and Kate Middleton also sport wedding rings from the same Welsh gold reserve.) However, at Trooping the Colour 2019, Markle debuted yet another piece to stack with her engagement ring. In time for her first wedding anniversary in 2019, the Duchess of Sussex debuted yet another ring. The diamond eternity band was another thoughtful gift from Prince Harry, ahead of the birth of their first child together, baby Archie Mountbatten-Windsor.
Celebrity jeweler Lorraine Schwartz worked closely with her client Prince Harry to add sentimental touches to the ring, including birthstones on the inside of the band (which represented Harry, Meghan and son Archie). While tasked with the white gold eternity band, Schwartz also resized Meghan Markle's engagement ring for a secure fit. (It's unknown whether Prince Harry returned again to Schwartz to add yet another gemstone for their baby girl. The royal couple's daughter, Lilibet Diana Mountbatten-Windsor, was born in June 2021 in Santa Barbara, California, where the couple now resides. The pair departed the royal family in early 2020.)
Shop Meghan Markle's Engagement Ring Style
Meghan Markle's engagement ring is unique because it mixes the modern with what will be timeless. "The original ring is for someone who likes the vintage-heirloom look. Generally, it's for someone who likes dainty-looking jewelry and accessories, as well as a nod to past fashion trends," says Dousset. "Three-stone rings are a staple of engagement ring designs. I have always had three-stone rings in my collection. This style was a bit overshadowed by the halo settings for the last few years but is now making a resurgence. The combined presence of the three diamonds creates a brilliant and more prominent looking ring, which clients gravitate towards."
Naturally, to ease the process for those in search of a Meghan Markle engagement ring replica, we rounded up several options below.
Ring Concierge Whisper thin three-stone oval ring, from $12,000, RingConcierge.com
Brilliant Earth Trellis three-stone diamond ring, from $2,590, BrilliantEarth.com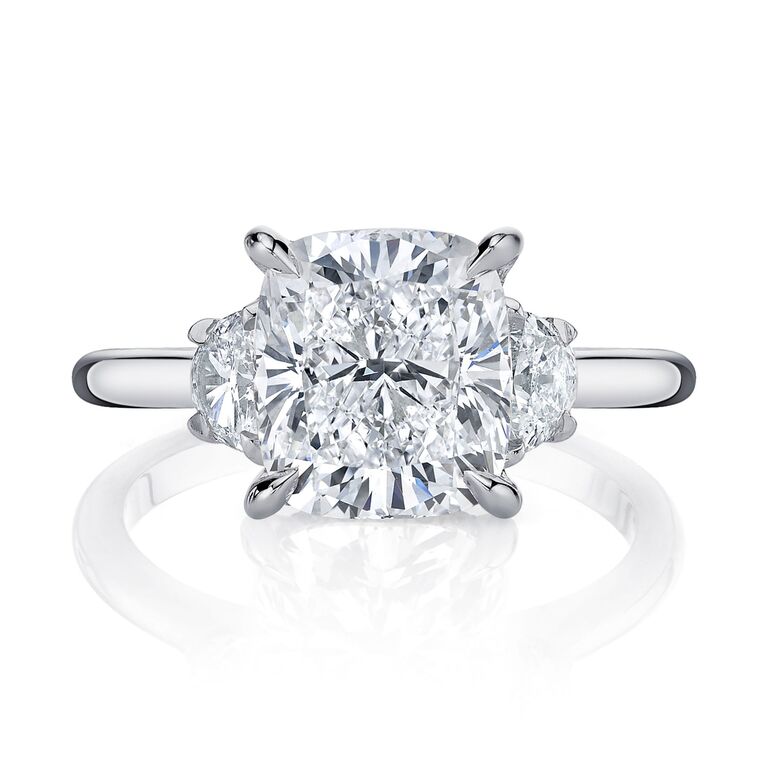 Jean Dousset Chelsea three-stone engagement ring, from $9,200, JeanDousset.com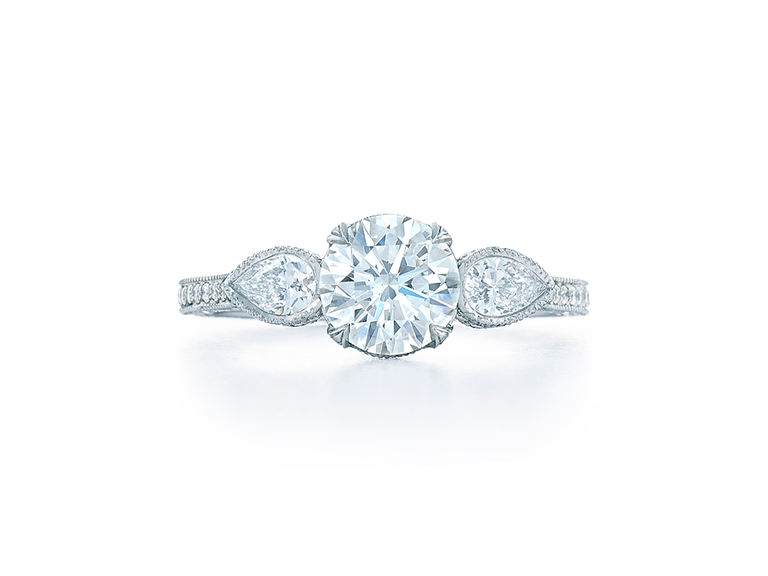 Kwiat round brilliant diamond engagement ring, price upon request, Kwiat.com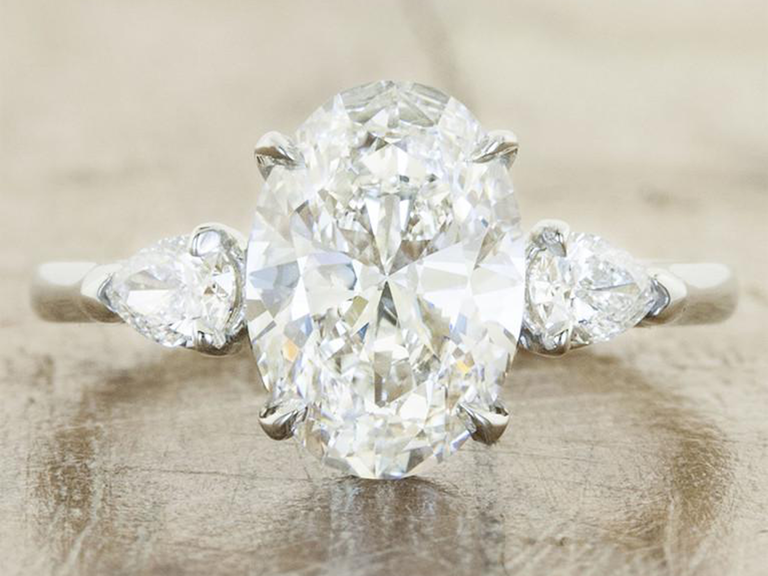 Ken and Dana Design Permelia classic three-stone engagement ring with side pears, from $7,100, KenandDanaDesign.com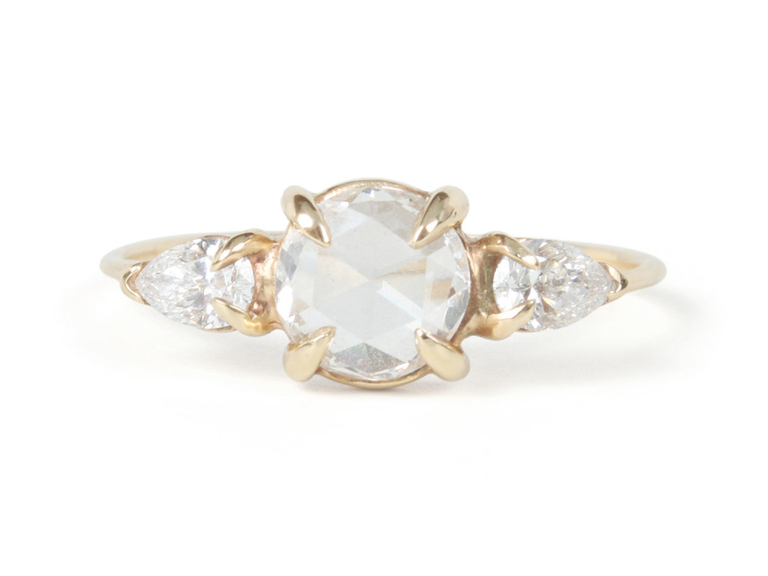 Catbird Serena the Swan engagement ring, $4,600, CatbirdNYC.com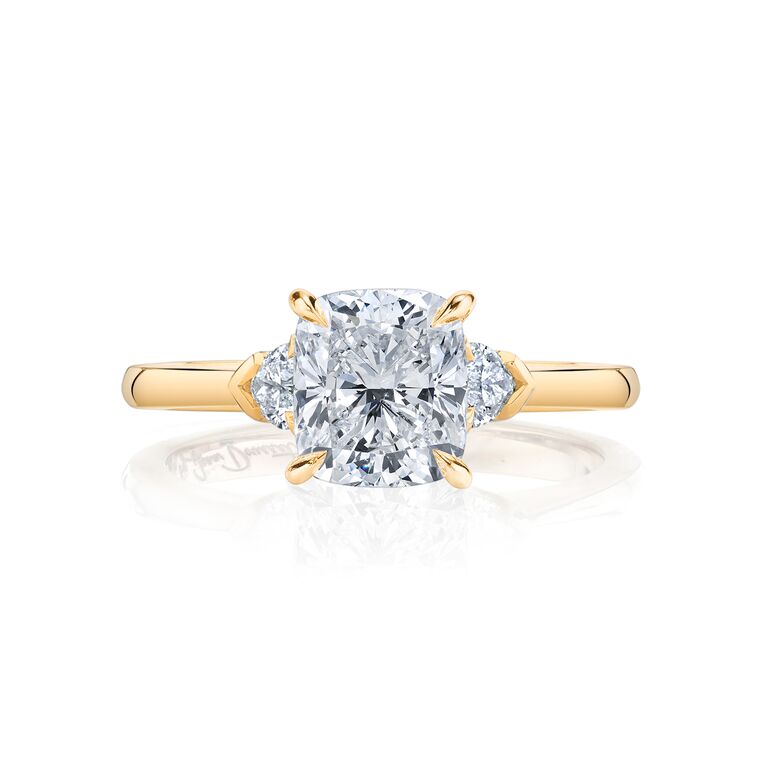 Oui by Jean Dousset Claire three-stone ring, from $5,500, Oui.JeanDousset.com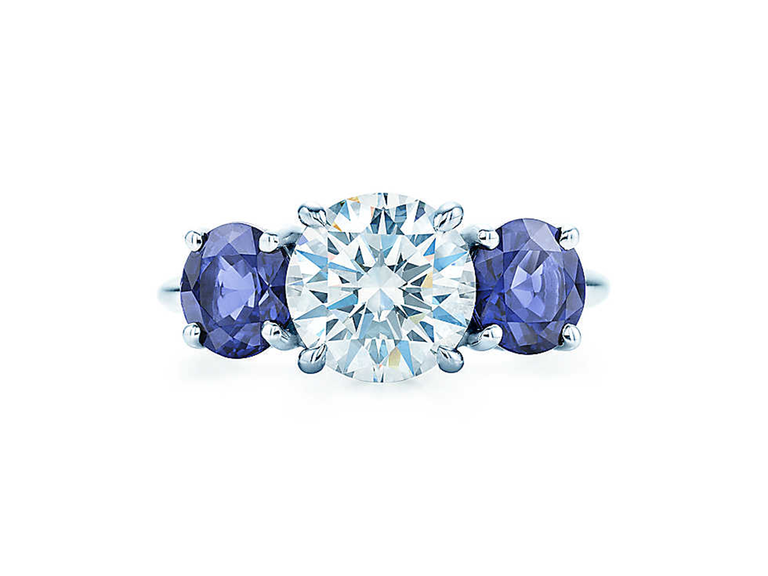 Tiffany & Co. three-stone engagement ring with sapphire side stones, price upon request, Tiffany.com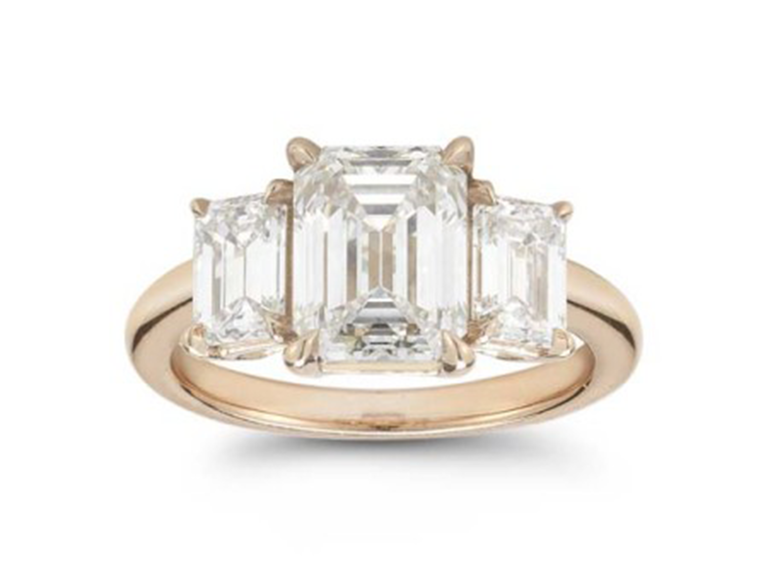 Marisa Perry rose gold emerald-cut diamond three-stone engagement ring, price upon request, MarisaPerry.com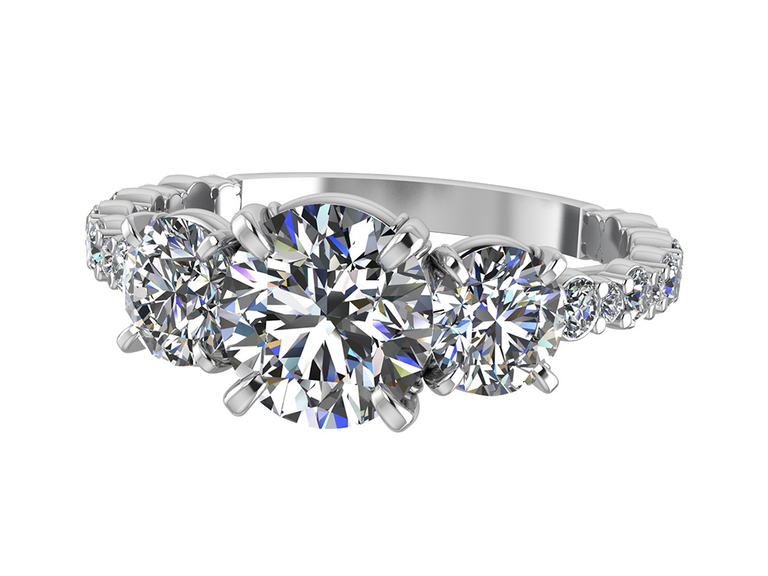 Forevermark Integre Perfect three-stone ring, from $10,999, Forevermark.com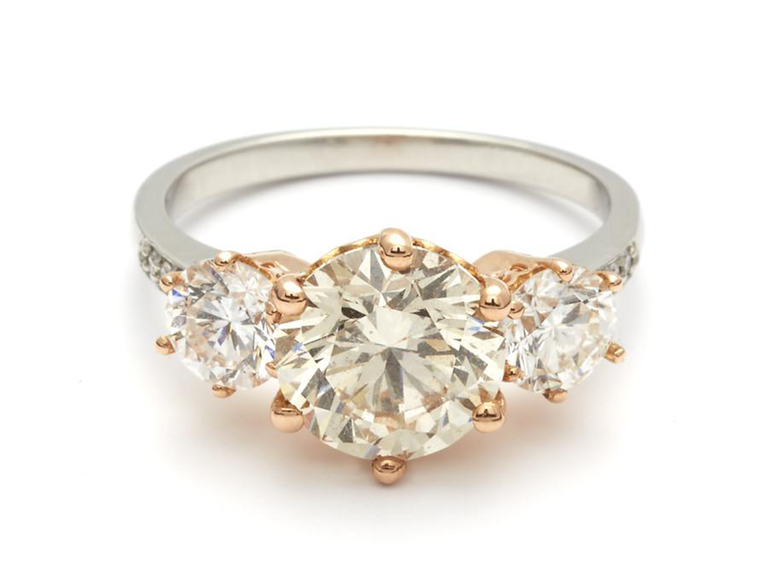 Anna Sheffield Hazeline three-stone platinum and champagne ring, $22,000, AnnaSheffield.com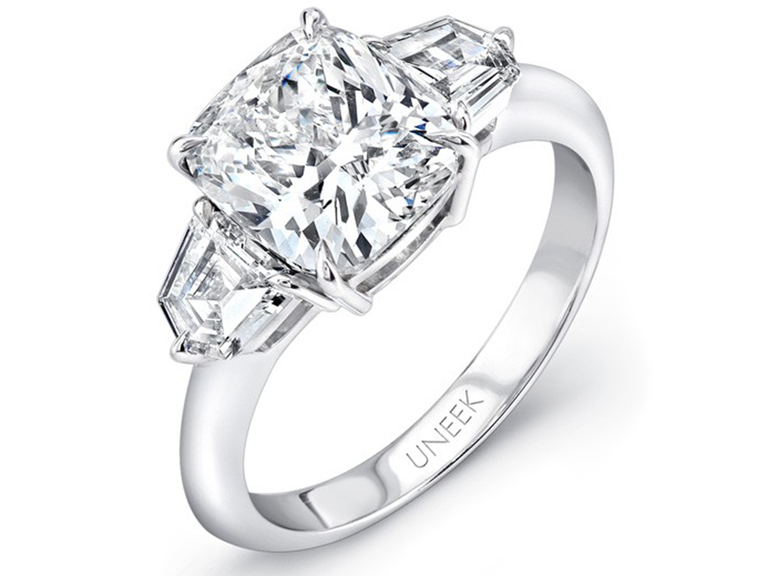 Uneek contemporary cushion-center three-stone engagement ring in platinum, price upon request, UneekJewelry.com