Wedding Proposals Gone Wrong!
Not everyone gets their dream proposal. Here, 16 proposals that didn't go exactly as planned.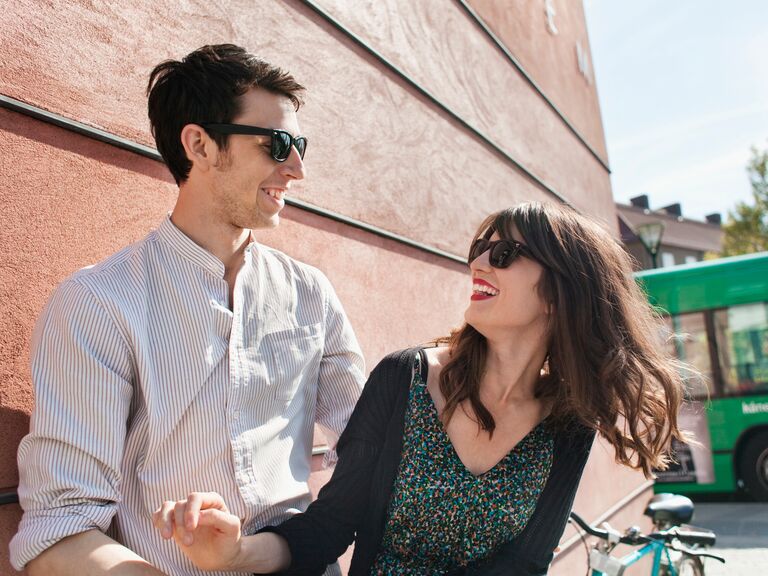 Getty Images
Nerves in Dubai
"My fiance flew me to Dubai to meet him with the plan that he would propose there. There were a million romantic times when I thought he was going to do it, but he waited three hours before I got on a plane to go home because he was so nervous! A hotel room was not exactly what I had in mind." – Roberta
Finger Food
"My husband planned on proposing to me on the beach when my family and I were visiting Nags Head. That night he cooked us all dinner at the beach house we were staying at and he ended up slicing off a little piece of his index finger. Talk about ruining the moment! He ended up proposing a few days later after we left the beach. My family still jokes about it to this day." –Kaitlynn
Love Sunk
"My fiancé tried to propose during our first ride on an old boat we had just bought. It was the end of October in South Dakota when it was very cold and windy and we were on a nearly deserted lake surrounded by fields. The boat's motor died about 15 minutes in, and eventually a rubber dingy had to try to pull us to shore. Two hours later we made it back to the dock. He decided not to propose that day after all!" –Leah Anne
Back Scratcher
"I didn't understand that my fiancé was proposing, so halfway through his romantic speech, I interrupted him and asked him to scratch my back. When he finally got on one knee, my first emotion was mortification that I had asked him that!" –Barbara
Pizza Party
My fiancé planned to propose to me on our anniversary at my favorite fancy restaurant, but we had an unexpected snow storm in October that left us snowed in. We ended up getting engaged at home over Domino's Pizza!" - Mary
Lost for Words
"My fiancé is an eloquent, experienced public speaker, DJ and radio personality. When he went to propose on stage though he got so choked up he couldn't finish the speech he prepared. It was priceless and so out of character! The dance crowd loved it of course and luckily I knew what he was trying to say." –Annie
Role Change
"My husband accidentally said 'will you be my husband'!" -Autumn
Oh Baby!
"My soon-to-be fiance was holding our 4-month-old as we walked along the river's edge at a quiet campground while on vacation. We were both feeling miserable due to very sore throats. I stooped down by the water's edge and when I turned around he had pulled out a ring. He professed his love and asked if I would marry him. As soon as I said yes, our baby vomited all over us. We ended up spending the night in the ER due us both having strep throats. Not the proposal I always dreamed up, but it was my dream come true!"
A Knock-Out Proposal
"My fiance had an entire day planned of reliving our best memories on the day of the anniversary of the day we met. Everything from getting donuts at the shop we always got breakfast from, to the theater where we saw our first movie together, to the Starbucks where we had our first date. After getting donuts from our favorite shop, we went to see a movie where we saw our first one together. In the middle of the movie, I got sick and ran to the bathroom. As it turns out, I had a minor concussion from an incident the night before, and I was feeling the effects. I spent the entire night in the hospital. The following night, he was taking me to my parents' house, but I fell asleep on the way. I woke up to him carrying me to the place where we always eat lunch together in a park, and he proposed to me -- despite all the medicine-induced loopiness and the late hour!"
In One Ear, Out The Other
"In the weeks before the proposal, my mom and I had been fighting over my my relationship with my soon-to-be fiance. We fought for weeks, and then one day I was on the phone with my mother and she forbid me to ever see him again. She was yelling loud enough for him to hear, and suddenly, he knelt down on both knees and whispered, 'Marry me.. now?' Of course I said yes. My mom loves him now, but i still think it was an interesting way to begin -- with my mom yelling in my left ear, and him proposing in my right ear!"
Rainy Day Romance
"While I was teaching English in Korea, my now-fiance came to visit for 10 days. We traveled to Gyeongju, Korea (Korea's center of culture and history) to spend a relaxing weekend of sightseeing and exploring. What we hadn't planned on was the torrential downpour the entire time. On Friday night, Chase insisted on taking a taxi downtown to eat at a formal, romantic restaurant. But after a misunderstanding, we accidentally agreed to a seafood BBQ meal. We found ourselves staring at a tray of raw, unrecognizable seafood at a picnic area in the pouring rain. But then he pulled out the most gorgeous ring I had ever seen, and the rest is history!"
Seasick Sweetheart
"We drove down to my favorite place, gorgeous Monterey, California, walked on the beach, and then went sunset sailing. The ocean was sparkling and as we watched the water, Stephen began talking about our future and how he wanted to be my rock, always there to support me, be there for me as my husband and proposed. We sat down to celebrate with others, but the swaying of the boat got to my stomach and I turned pale. At the same time, my new fiancé also got seasick and leaned over the side of the boat to vomit. Upon seeing him lose his lunch, I did the same thing!"
Sleepless Night
"He was so nervous about proposing that he got out of bed and drove around town to calm his nerves after I fell asleep. He finally came home at 3 a.m. and started saying loudly, 'Heather, you need to wake up something just happened, you need to wake up!' In the back of my mind, I am thinking someone broke in, someone died, something bad had happened. So I get out of bed still shaking, and he asks me if I'm awake. When I was fully awake and standing, he got down on one knee and asked me to marry him -- I was still so scared I couldn't even say yes! I finally took the ring and said, 'Of course.' Then I couldn't sleep, but I couldn't call anyone yet because it was 4 a.m.! I stayed up the rest of the night waiting to call someone."
Falling For Him
"My now-fiance had told me he was going to check out rings at Christmas time, so when we went on vacation in July I didn't suspect anything. After spending the day sightseeing, we were walking around to find a restaurant and I fell up these concrete steps and cut my arm. After our meal, he wanted to walk up this huge hill to see the sights and I was complaining and getting angry because I was so tired and sore. Finally he found the botanical gardens, and the next thing I knew he was on one knee. I forgot all about how sore I was!"
Impatience and Proposals
"It was our four-year anniversary, so we decided to stay in, drink martinis, and watch a movie. Around midnight, my now-fiance disappeared upstairs. After a while, he came back in a huff and said 'What are you doing? I've been calling for you for five minutes!' I said, 'I'm SORRY, I didn't hear you! I'll be up in a minute.' I went to the bathroom, and when I came out he was still calling my name! Annoyed, I headed upstairs calling, 'I'm coming! Why are you yelling?' He was just standing there, so I walked past him and said, 'Why you are being so impatient! I don't see what could possibly be so urgent you couldn't wait a few min...' I turned around, and he was on one knee with the ring in his hand."
Accidental Sabotage
"I almost missed my perfect proposal twice! On the Saturday of my proposal, I found myself overwhelmed with a lengthy to-do list. I was so busy, I decided to call my soon-to-be fiance and ask if we could cancel our dinner plans. Little did I know, he was planning to take me to dinner followed by a romantic carriage ride and to propose while ice skating. Not wanting to give away the surprise, he changed his plans. On our way to run errands, he pretended to have forgotten his wallet at his parents' house. When we got there, he told me to look under the tree for my Christmas present. I looked for so long that I finally gave up. As I stood up, Jake stayed on his knees in front of me. Not realizing he was going to propose, my phone rang and I answered it. All the while, Jake kept waiting on his knees and I'm playing with an ornament on the tree that is centimeters from my ring! After I hung up, Jake just reached into the tree for the ring and asked 'Will you marry me?'"