"Will You Marry Me?" Signs Sure to Surprise Your Partner
Say it with a sign for an unforgettable proposal.
We have included third party products to help you navigate and enjoy life's biggest moments. Purchases made through links on this page may earn us a commission.
As you plan your proposal, think about what props you want to include on the big day. This could include surprising your partner by getting down on one knee in front of a romantic sign. There are several options available for "will you marry me?" signs. Think about the atmosphere and vibe you want to create when you propose. You might choose a neon sign for a proposal under the stars or a personalized banner that includes a photo of you and your love. Set up your sign in an inconspicuous place so it doesn't stand out right away. Or blindfold your partner so they see the marry me signage once the blindfold is removed. Ready to purchase the perfect "will you marry me?" sign? Find out where to buy a sign, what options are available, and how to reuse your sign after your proposal.
In this story:
The Best Places To Buy "Will You Marry Me?" Signs
Not sure where to buy "will you marry me?" signs? These retailers offer a variety of choices including customizable signs and unique creations.
Etsy
At Etsy, you'll find unique and creative items you won't often see in other places. Many items are often handmade by small business owners. Custom wood signs, neon signs and personalized banners are just a few options available. Pricing for will you marry me signs has a wide range from simple designs for around $10 to elaborate pieces for more than $1,000.
Zazzle
Zazzle is all about creativity and personalization. They connect customers to creators for original designs that are also customizable. The cost for "will you marry me?" signs at Zazzle is anywhere from $30 to $120.
Amazon
Amazon has one of the largest selections of items of any retailer. Nearly 2 million businesses sell products on Amazon, meaning you can find just about any sign you need. Pricing for "will you marry me?" signs has a range of $10 to $400.
Personalization Mall
Personalization Mall sells unique items with the option for customization. Purchase an item with a premade layout or upload your own design. The cost ranges from $30 to $120.
NeonSignKingdom
NeonSignKingdom is dedicated to creating flex LED neon signs and is the only type of sign they carry. With most signs you can choose the color, font and size of your neon "will you marry me?" sign. Pricing is around $120.
Eight "Will You Marry Me?" Signs To Shop Now
From neon signs to personalized banners, here are a few of our favorite "will you marry me?" signs to shop for right now.
"Marry Me" Banner With Balloons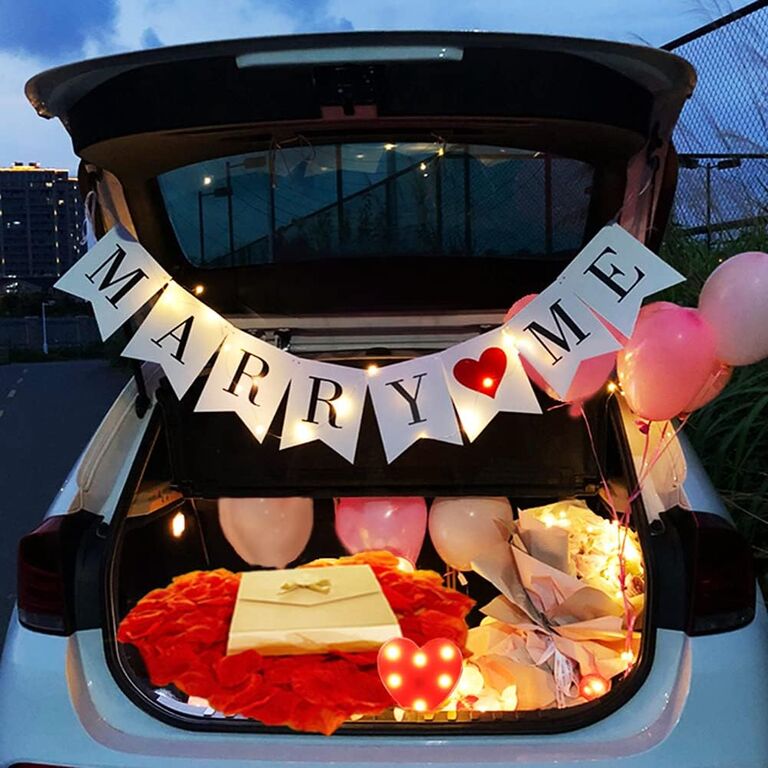 Create a romantic setup with this sweet set that includes a banner, balloons, rose petals and LED lights. It's perfect for an at-home proposal or while you're at a luxurious resort.
"Will You Marry Me?" Neon Sign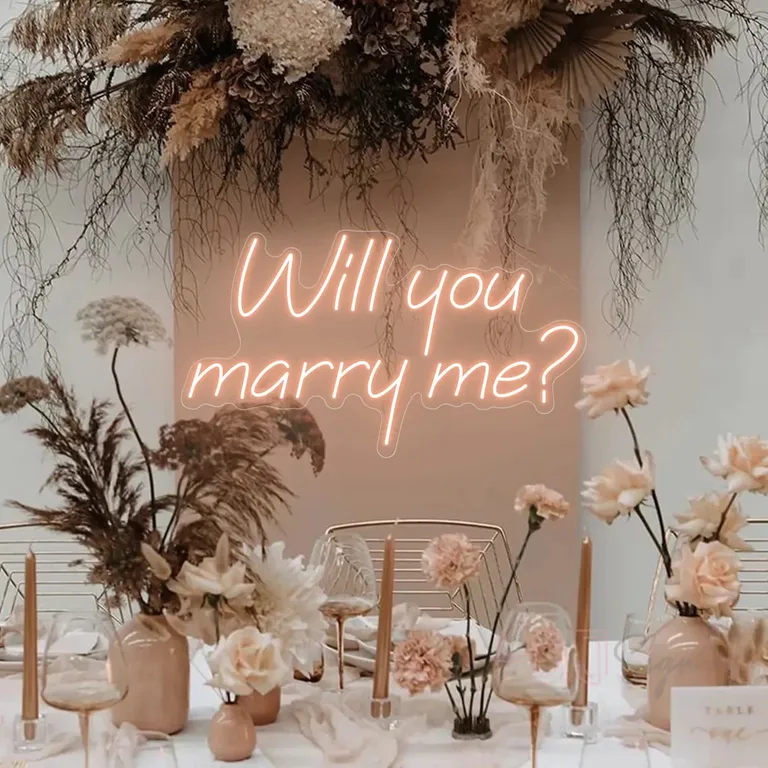 Illuminate your space with this stunning marry me neon sign. Choose from different sizes, colors and fonts for a custom look.
Custom "Will You Marry Me?" Blanket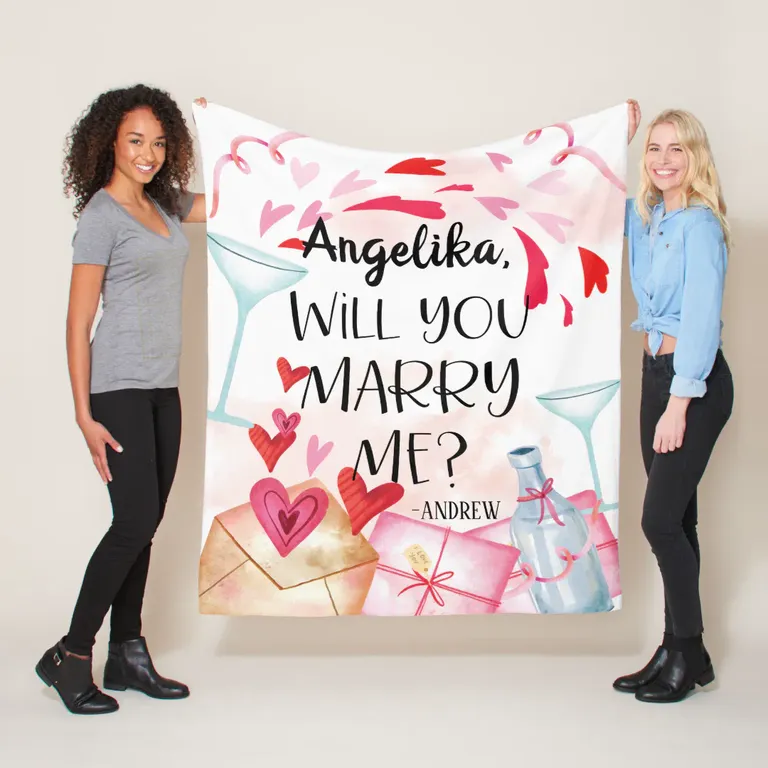 Lay this custom blanket on the sand for a beach proposal or hang it over a picnic spot to surprise your partner. Made of 100% fleece, this "will you marry me?" sign doubles as home decor perfect for snuggling with your sweetie.
"Will You Marry Me?" Wood Tile Sign
Use these adorable wood tiles to pop the question. This is a great option for an outdoor picnic or for a couple who loves to play Scrabble.
"Marry Me" Wood Sign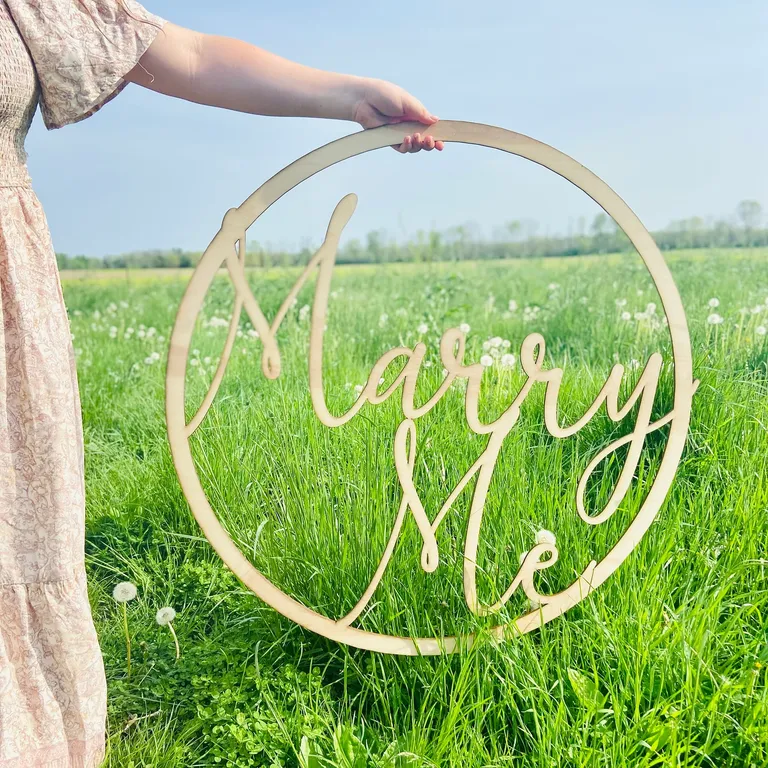 We love the simplicity of this will you marry me wooden sign. The laser-cut sign is made of birch wood and is ready to hang anywhere you want to get down on one knee.
Personalized "Marry Me" Banner With Photo
Ask your partner to marry you with a touch of country flair. This marry me banner features cowboy boots, a cowboy hat, sunflowers and a place for your photo.
"Marry Me" Light Up Sign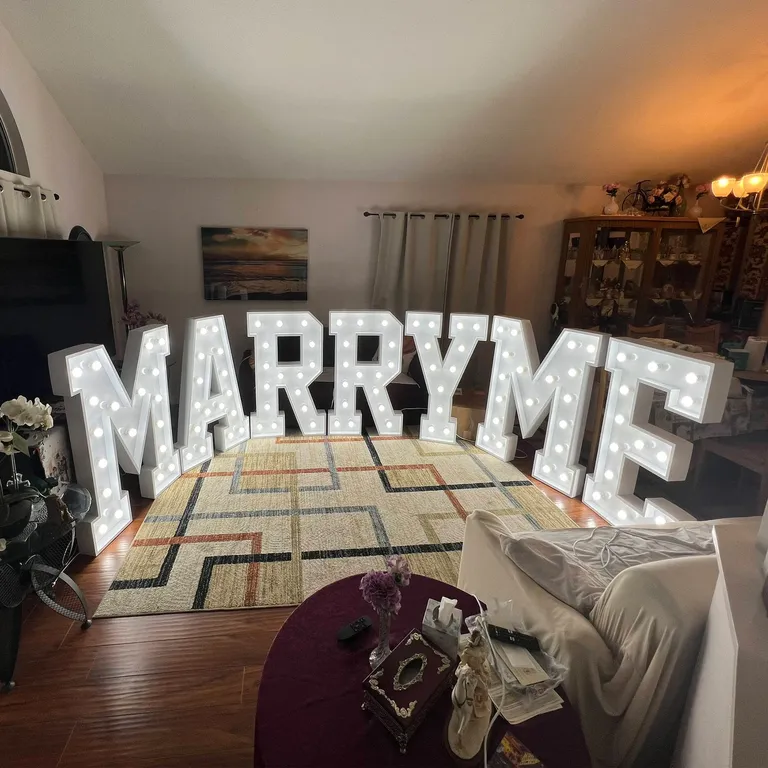 Make a statement with this light up "marry me" sign. Choose from 2-foot to 5-foot letters depending on how bold you want to go.
Customizable "Will You Marry Me?" Sign With Heart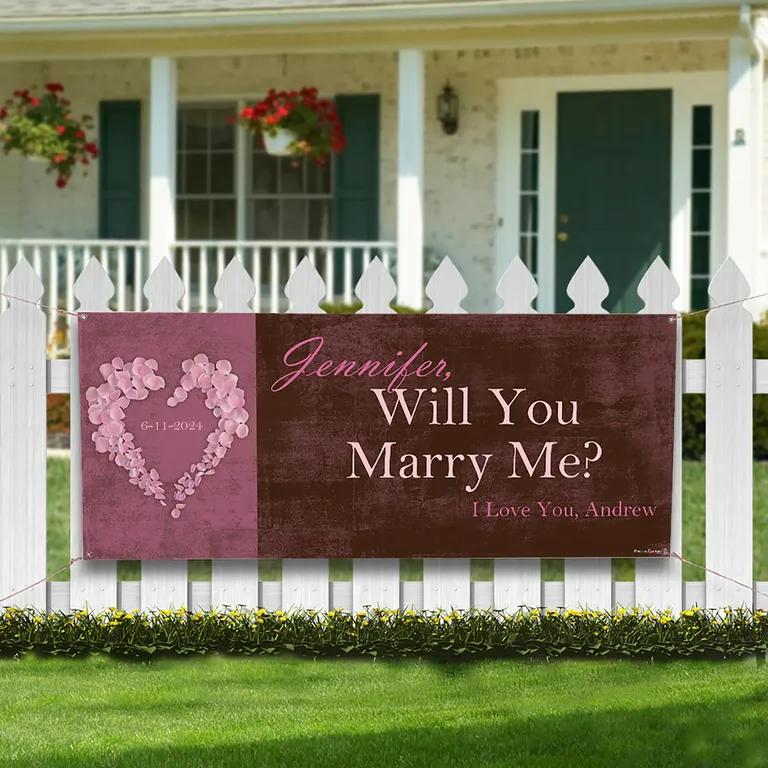 Pop the question with this adorable banner that includes rose petals shaped into a heart. Customize the banner with your names and the date of your proposal.
What To Do With Your "Will You Marry Me?" Sign After Your Proposal
"Will you marry me?" signs aren't just for your proposal day. Reuse your beautiful sign at your engagement party as a backdrop or focal point in your decorations. It also serves as a great conversation starter among guests of how you popped the question.
Depending on the size of your sign, hang it in your home circled by photos taken the day you got engaged. Neon signs are also a great fit as decor for your home bar. If you don't think you'll reuse your sign after you get engaged donate it, or gift it to a friend who might need it down the road (but only if it's not personalized).