91 Marriage Proposal Ideas for an Unforgettable Engagement Moment
Sweep your partner off their feet with one of these sweet gestures.
We have included third party products to help you navigate and enjoy life's biggest moments. Purchases made through links on this page may earn us a commission.
You've got the engagement ring, prepared your proposal speech and now you're ready to plan the perfect proposal. We know how nerve-wracking planning a wedding proposal can be. If all those jitters are making it hard to decide on how to propose, we've got your back.
Try putting your own spin on one of these creative and romantic proposal ideas. Whether you want to pop the question in a cute but simple way or you're ready to organize a super unique marriage proposal, we've got lots of romantic ways to propose along with the best places to get a definitive "Yes!".
Whatever the case, remember that the best proposal ideas are those that truly capture your love story and relationship. When you ask your partner to marry you, you'll want to create a memorable proposal story—one that you'll share with loved ones and reflect back on for the rest of your life.
Really want to go the extra mile? A growing marriage proposal trend is to document it on film to share on social media and have as a keepsake. Consider investing in a professional photographer to capture the big moment. You can even follow it up with an engagement photoshoot.
Marriage proposal ideas for every style:
Public | At Home | Cute | Outdoor | Vacation | Online | Restaurant | Photoshoot | Fun | Family | Fall | Winter | Spring | Summer
Public Marriage Proposal Ideas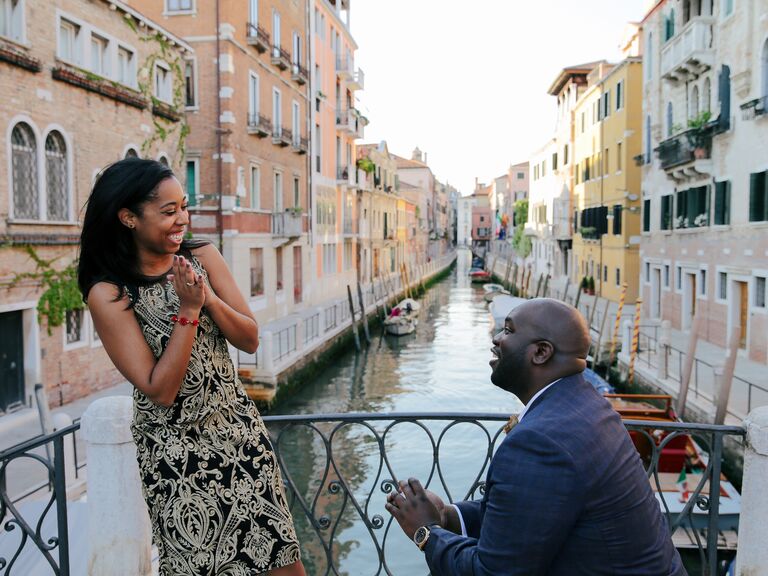 1. Choose a Favorite Landmark
Choose a favorite place—whether it's a fountain, hotel rooftop, monument or national park—that has personal significance to the two of you. Once you're there, ask someone nearby to take a picture of you together. Instead of posing, drop down on one knee. With this cute proposal idea, you'll get some unforgettable candid photos of your proposal, too!
2. Organize a Musical Performance
Have a choir, brass band or drum line show up for a surprise performance of your partner's favorite love song in a park or public location for your proposal. For a really personal touch, ask the performers if they can incorporate your love's name into the lyrics.
3. Flash Mob Proposal
Prefer dance? Hire a choreographer to help put together a flash mob dance routine to perform in a public location. Stop to watch it with your partner and after a couple of minutes, join in on the performance to strut your stuff before dropping to one knee.
4. Dance Night
Go out for a night of dancing and ask the DJ or bandleader to pass you the mic so you can dedicate a special song and propose on the dance floor.
5. Surprise Proposal at the Theatre
Get in touch with the stage manager of your favorite production and propose after the cast's curtain call. Call ahead and see if you can have a special note or ad placement added to the playbill so you have a keepsake of the proposal.
6. A Dozen Roses
Ask your partner to meet you in a public space. Along the route to meet up with you, have eleven people give them a single rose leading towards you to give the final rose and then propose.
7. Hire a Caricaturist
Arrange a surprise proposal with a street caricaturist. Have the caricaturist sketch a picture of you two with word bubbles that say, "Will you marry me?" and "Yes!".
8. Aquarium Proposal
Ask the divers at an aquarium to put on a proposal show inside their biggest fish tank. Give them a (waterproof) sign that says, "Will you marry me?" to hold up against the glass and then position yourselves for what will, at first, seem like feeding time.
9. Skywriter Message
This unique proposal idea is pretty extravagant. Hire a skywriter to spell out your proposal in the sky for everyone around to see.
10. The Morning News
Take out a full-page ad in a newspaper then pick the perfect spot to have a relaxed morning of catching up on current events.
11. Tune In
Call in to a radio station, make sure your partner is listening, then propose on the air.
12. Jumbotron
If you and your partner are sports fans, contact the stadium and see if they'll let you pop the question on the jumbotron.
Wedding Proposal Ideas At Home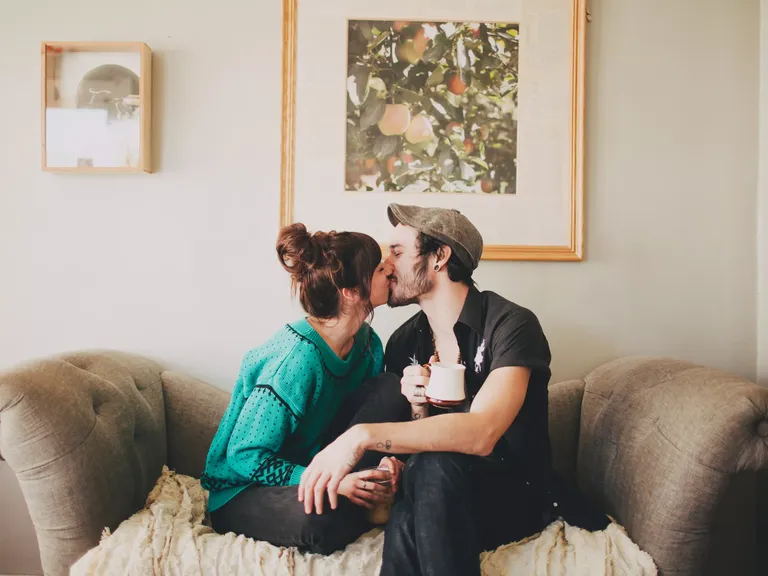 13. Backyard Proposal
While your partner is out, decorate your yard with twinkle lights, flowers and other items you think they'll love. Set up a picnic area with their favorite desserts, snacks and a bottle of wine. Once they return home, they'll venture out into the yard to find you waiting to propose.
14. Breakfast in Bed
If you're the early riser in the relationship, sneak out of bed one morning and prepare a special breakfast. Arrange everything on a serving tray (fresh flowers are a nice touch, too) and add the engagement ring or a handwritten note to give them an idea of what's about to happen.
Cute Proposal Ideas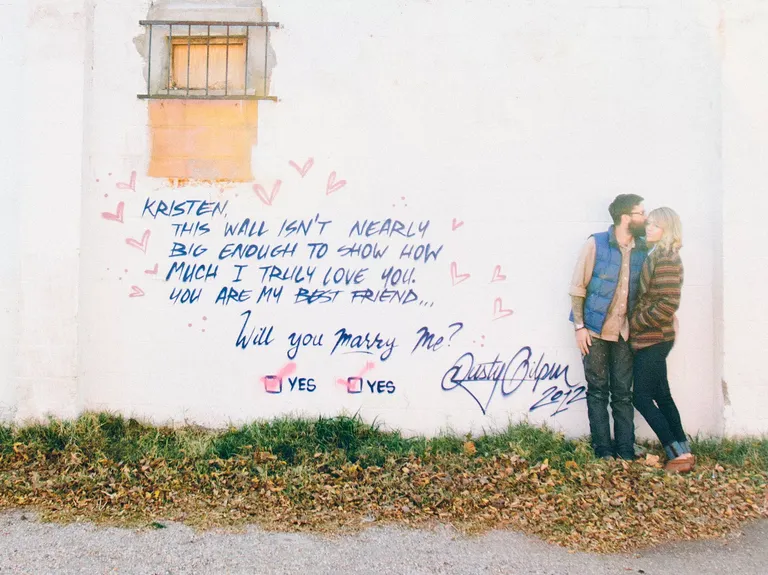 15. Make a Mural
Create makeshift letters that spell out, "Will you marry me?" using anything from colored duct tape (against a wall or a piece of poster board) to scrapbooking materials. Surprise your partner with your creation at work, home or the park. (Not crafty? Hire a graffiti artist to write out an artistic marriage proposal in huge letters. While you're at it, hire a proposal photographer to snap you two in front of the masterpiece.)
16. Re-enact Your First Date
Take your partner back to where it all started and relive your first date. Reflect on how far your relationship has come since that fateful encounter.
17. Spell it Out
Spell your proposal out in glow-in-the-dark star stickers on your ceiling. Get into bed, turn the lights off and wait for the gasp. Or, use refrigerator magnet letters to write out your marriage proposal. They'll never be so happy to have gone to grab a snack.
18. Marquee Letters
Scale up your message and set up a proposal scene with "Marry Me" spelled out in large marquee letters. This works well day or night, in outdoor spaces like a park or a rooftop patio, and indoor spaces like a private dining room or loft space. You can decorate it further with candles, balloons, flowers and strings of lights.
19. Sidewalk Chalk
Throwback to your childhood with a proposal written in sidewalk chalk on your street or driveway for a sweet and simple proposal idea.
20. Photo Montage
Fill a favorite room or outdoor location with a photo montage of memories from your relationship; you can hang them from trees, balloons or cover the walls with them for a jaw-dropping surprise.
21. Candlelit Path
Make a trail of candles in your home, a hotel room or along a garden path, that leads to a circle of votives positioned around you holding the ring.
22. Wake-Up Call
This romantic proposal idea doesn't require too much elaborate planning. Slip the ring on while your partner is sleeping, then start your day in bed with champagne and strawberries.
23. String of Messages
Tie a red velvet ribbon from one spot to another. Attach little notes recalling perfect moments in your relationship along the way. Wait for your partner at the end of the ribbon with the ring in hand.
24. Gourmet Dinner At Home
Cook a five-star-worthy meal of all your partner's favorite foods, or hire a personal chef for the night. Propose over dessert.
25. Custom Jigsaw Puzzle
Have a custom jigsaw puzzle made with your picture and the words "Marry me?" On a rainy day, suggest this activity. (Hint: This idea works well at home, a country inn, board game cafe or local pub—stash it among the other puzzles.) When you've finished enough that you can clearly see the photo and read the words, it's time for the marriage proposal.
26. Playlist or Podcast
Add a custom proposal "song" to his or her go-to playlist on Spotify, or record an unexpected proposal podcast.
27. Cast a Spell
For a Harry Potter fan, slip the engagement ring into a snitch-themed ring box. Or pick up a copy of Harry Potter and the Half-Blood Prince and instruct your partner to turn to chapter 15 ("The Unbreakable Vow"), where you can hide a handwritten note with your proposal message.
Outdoor Proposal Ideas
28. Beach Proposal
Searching for beach proposal ideas? Go for a stroll at sunrise or sunset for a romantic but simple proposal idea. Lead them to a picnic blanket or beach umbrella and say something sweet before asking them to marry you.
29. Message in a Bottle
Here's another cute beach proposal idea. On the night before a seaside day you've planned, write a love poem on a piece of parchment paper, roll it into an antique bottle with a cork and bury it in a well-marked spot in the sand near your towels. Be sure you "find" the bottle—and be ready with the ring.
30. Go On a Hike
Another tried and true outdoor proposal idea: Go on a hike and pop the question once you've reached the top of your climb. (But please be careful not to lose or damage the precious proposal piece in the wilderness.)
31. Hot Air Balloon
Take your relationship to new heights. Book a gentle and peaceful hot air balloon ride for breathtaking views and a magical proposal experience.
32. Helicopter Ride
Make the moment even more memorable by proposing 10,000 feet in the air during your very own private helicopter ride. Be sure to bring along a bottle of bubbly so you can toast to your new engagement.
33. Ferris Wheel
If they love amusement parks and county fairs, plan a day that includes a ride on a ferris wheel where you can pop the question while you whirl around.
34. Scavenger Hunt
Send your unsuspecting fiancé(e)-to-be on a treasure hunt that ends with your marriage proposal. Start with a clue at home (a handwritten note or text message) that leads to a tour of your favorite spots all over town.
35. Adrenaline Rush
Double down on the excitement of the moment and plan a roller coaster ride, ziplining excursion, whitewater rafting or bungee jump. When your partner's heart is racing, it's time to pop the question.
36. Leap of Faith
Dive into your engagement head-first by planning a skydiving adventure and proposing right before it's time to jump out of the plane. Alternatively, you can do the jump and propose as soon as you regroup with your partner on the ground.
37. Love Boat
Whether you're kayaking, cruising down a Venetian canal or sailing off into the Caribbean sunset, this engagement idea guarantees you'll have amazing scenery and unforgettable memories.
Vacation Proposal Ideas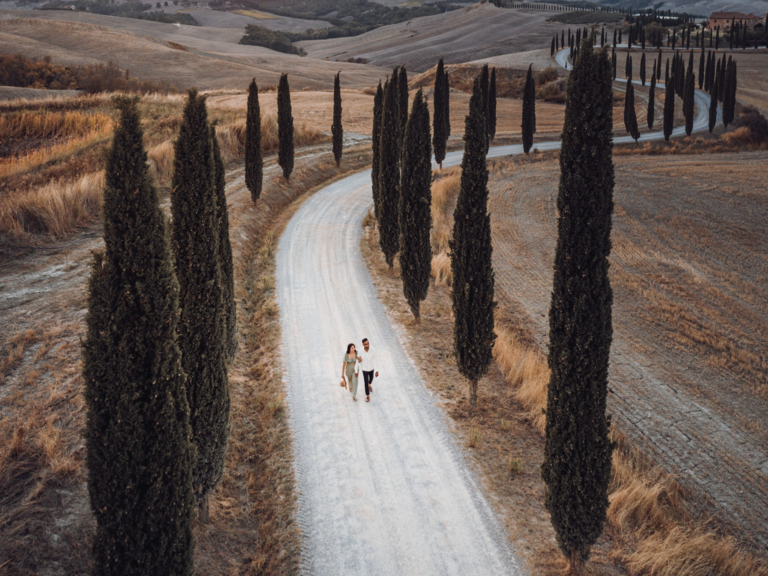 38. Tour Guide
Plan an excursion that includes a wow-worthy spot for your proposal (with the help of a tour guide if needed). This could be a picnic on a private beach, a hike with a spectacular view or an activity that gets the locals in on the action such as an artisan including your "will you marry me" message on a souvenir.
39. Airplane Announcement
Plan a romantic destination getaway for two. When you're on the plane, use the loudspeaker system (of course, run your plan by the flight attendants first) and propose at 35,000 feet.
40. Fairytale Disney Proposal
If your partner is a Disney fan, then treat them to a fairytale-worthy wedding proposal at their favorite park or during a character meet-and-greet.
41. Scoot Around
Rent a Vespa, scooter or bikes to tour the city and invite your soon-to-be fiancé(e) for a ride, but remind them to be safe and wear a helmet. Hand over the helmet (with the ring box already in it), then zip around town to celebrate.
42. Romantic Proposal at Your Hotel
While you're out sightseeing or for dinner, have the hotel staff stage your hotel room with rose petals (you could even spell out marry me on the bed), candles and champagne—everything for a perfect surprise proposal.
Online Proposal Ideas
43. Virtual Proposal
If you're in a long-distance relationship and you need to propose from afar, a Zoom or FaceTime call can be elevated for the big moment. This could be a private proposal where you declare your love or you could take over a group call to propose in the presence of loved ones. Present the engagement ring virtually or deliver it to your partner (along with flowers and champagne) and have them open it during your call.
44. Livestream
Set up a livestream channel and invite all your friends and family to watch the proposal in real-time from wherever you choose to pop the question.
45. Text a Slideshow
No, not just any old text. Have a friend take fun photos of you with posters that say, "will," "you," "marry" and "me?" Then make plans to meet up in a special spot and before they arrive, text the photos in order. When the last message goes through, show up and get down on one knee.
46. Video Game Placement
If you and your partner love playing video games together, figure out if there's a way to integrate your "will you marry me" message into the gameplay.
47. Relationship Status
Update a social media profile (like Instagram or Facebook) with "fiancé(e)" in your bio. Ask your partner what they think of your feed and savor the confusion on their face before they realize what's happening.
48. Make a TikTok
Take a TikTok challenge or plan a fun video to post. While you're filming, pivot the plan to your surprise proposal that you capture on film. Post it to TikTok to announce your big news and get lots of likes ;) Be sure to follow The Knot on TikTok and tag us!
49. Celebrity Appearance
Platforms like Cameo make it easier than ever to request a custom video message from a celebrity or public figure that your partner admires. When requesting the video, you can mention in the notes that the message is part of a proposal. Then, once you've shared the video with your partner, you can pop the question. Hint: If you can't make it happen, get tickets to the artist's next concert, movie or show instead and plan your proposal around that.
Restaurant Proposal Ideas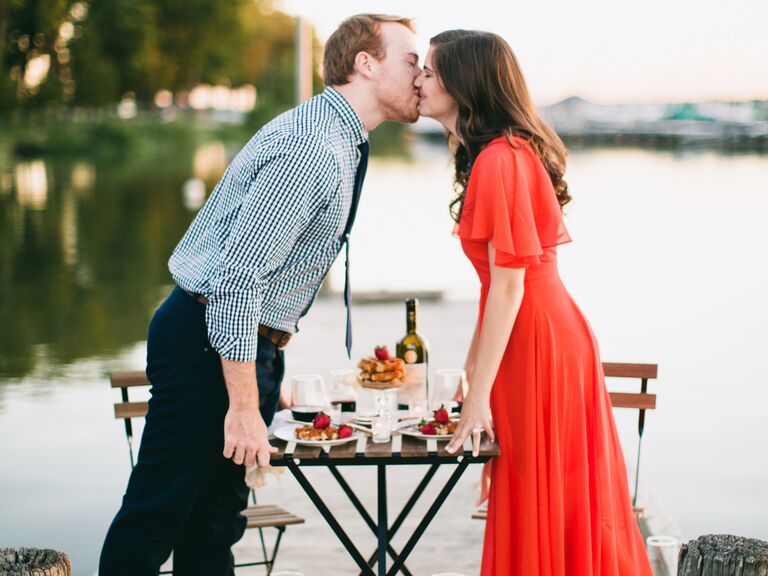 50. Daily Special
Go to a restaurant and ask for the "specials" menu. The waiter will come back with a sheet of paper you've planted that reads your marriage proposal message.
51. Custom Wine Label
Print a custom label with your engagement proposal written on it then place it on a fancy bottle of vino to toast with after they say "yes."
52. Just Desserts
Make the box holding the ring as a selection on the dessert tray at your favorite restaurant.
53. Sweet Message
Ask the pastry chef to write, "Will you marry me?" in chocolate sauce around the rim of a dessert plate.
54. Fortune Cookie
If you love Asian food, go to your favorite restaurant and after dinner, ask your server to bring some "special" fortune cookies to your table with your "Will you marry me?" message substituted inside. Or if you prefer takeout, you can secretly make the substitution yourself.
Proposal Photoshoot Ideas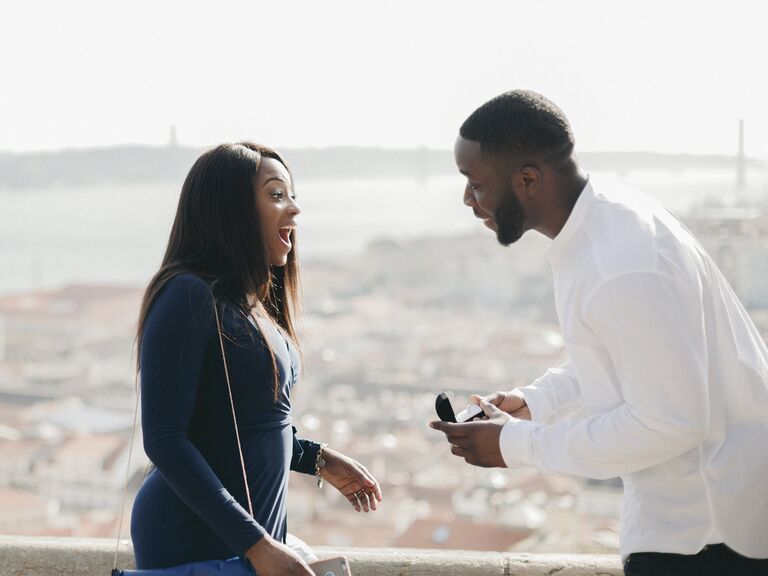 55. Flytographer
Hire a Flytographer to capture your proposal, but tell your partner you've won a romantic couple's photoshoot. Get dressed up then propose mid-shoot. Follow it up with a romantic engagement session.
56. Casting Call
This engagement idea works best if you've got friends or connections who work in the film or media industry. Tell your partner that you've been selected for a couple's "casting call" at a studio, then propose in front of the cameras.
57. Secret Photoshoot Proposal
Your proposal moment will be one-of-a-kind, so why not capture it on camera? Enlist the help of a professional engagement photographer to take pictures under the radar. If your partner doesn't already know them, the photographer will easily be able to stay incognito until the big reveal.
Fun Proposal Ideas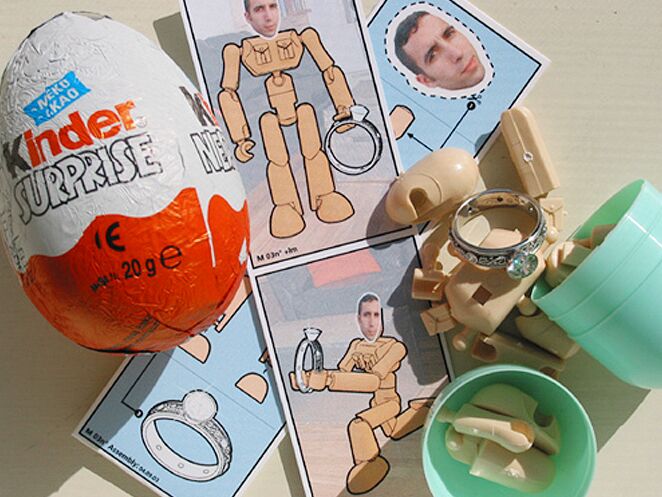 58. Special Treat
Put the ring inside of a Kinder Egg or Cracker Jacks box instead of the usual toy or trinket.
59. Ring Size Disguise
Looking for funny proposal ideas? Pull off a tiny fake-out by asking for your partner's ring size in obvious ways (bringing home a ring chart is one). When they accuse you of ruining the surprise that you're shopping for a ring, say, "Okay, try this one instead."
60. Gift Delivery
Cut out the bottom of a huge refrigerator box, wrap it with pretty paper and ribbon and attach a card that says, "What's inside the box is a gift to last a lifetime." Then "deliver" yourself to their doorstep.
61. Movie Scene Reenactment
Reenact the scene of their favorite romantic movie. If it's Pretty Woman, go for the ending of the movie: Rent a white limo and climb through the sunroof with flowers in hand to proclaim your love as you arrive at their place.
62. Escape Room
Get in touch with a local escape room and see if they'll work with you to integrate your wedding proposal into the experience.
63. Cake Display
Ask a baker to make a custom cake with the proposal written in frosting. Have the cake displayed in the storefront and take your partner window-shopping. Bring the cake home to share and celebrate afterward.
64. Date Night Fakeout
If you have a regular date night planned, act as though it's business as usual—try to avoid dropping any hints that will spoil the surprise. Instead of heading to your date as planned, take them to an unexpected location where you can pop the question. End the night with celebratory drinks or a surprise party.
Proposal Ideas with Family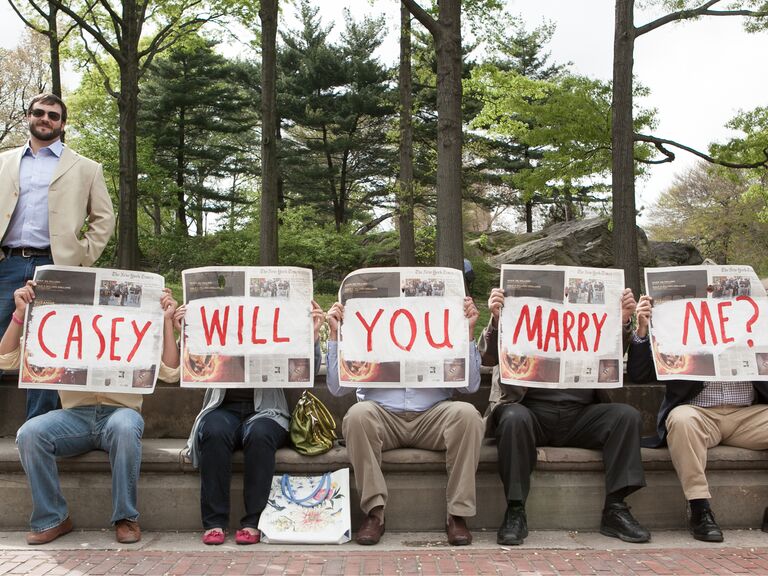 65. Group Message
Gather a bunch of your friends and family for a party and have everyone put on a T-shirt, hold a sign or carry balloons filled with helium (otherwise they won't float) bearing one of the letters or words in the phrase, "Will you marry me?" Then during the party suggest a group picture to reveal the message.
66. Birthday Party
On your partner's birthday, plan a "surprise party" then pretend to ruin the surprise by having them get there early. The real shock will be when you propose and all your friends and family show up afterward to celebrate.
67. Celebratory Drinks
Plan a party filled with friends and family at a bar near where you'll propose then suggest a celebratory drink after your partner says "yes."
68. View From Afar
Have your proposal in a park with loved ones at a safe distance away. Once you've proposed, have everyone show up for an impromptu celebration of the big moment.
Fall Proposal Ideas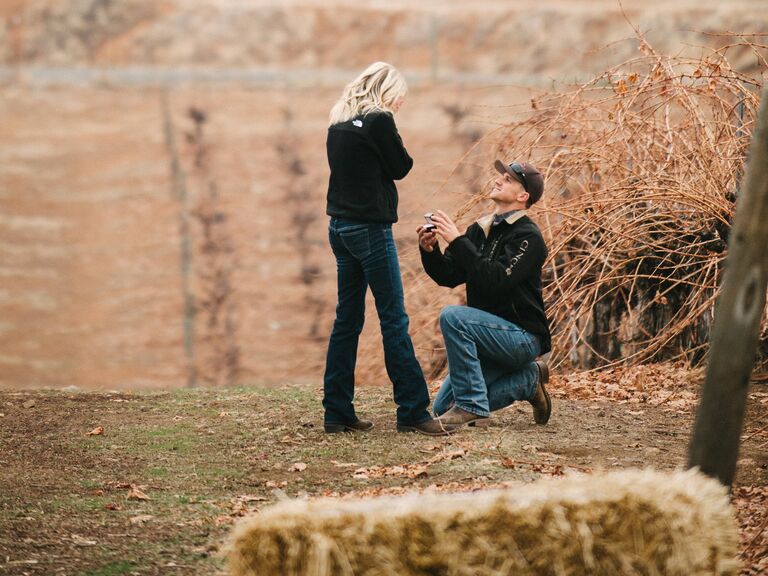 69. Piles of Leaves
Rake the leaves in their yard to spell out your outdoor proposal.
70. Pumpkin Carving
Throw a jack-o'-lantern carving contest for friends and family where everyone reveals their designs. Wait until the end to take your turn and unveil your pumpkin carved with your proposal.
71. Fly a Kite
Write, "Will you marry me?" on the underside of a kite and take flight on a breezy autumn afternoon.
72. Winery Tour
Plan a day of winery hopping and stroll among the vines for a romantic proposal location. Or, arrange a private tasting ahead of time and ask the winery to pour from a special bottle featuring a custom label and your proposal message.
73. Halloween Trick or Treat
Take inspiration from this classic childhood activity and trick your partner into thinking you're headed to a Halloween party, matching costumes and all. Instead, you'll be taking them to their very own proposal—you can even arrange for a group of friends to be waiting for you as a celebration.
Winter Proposal Ideas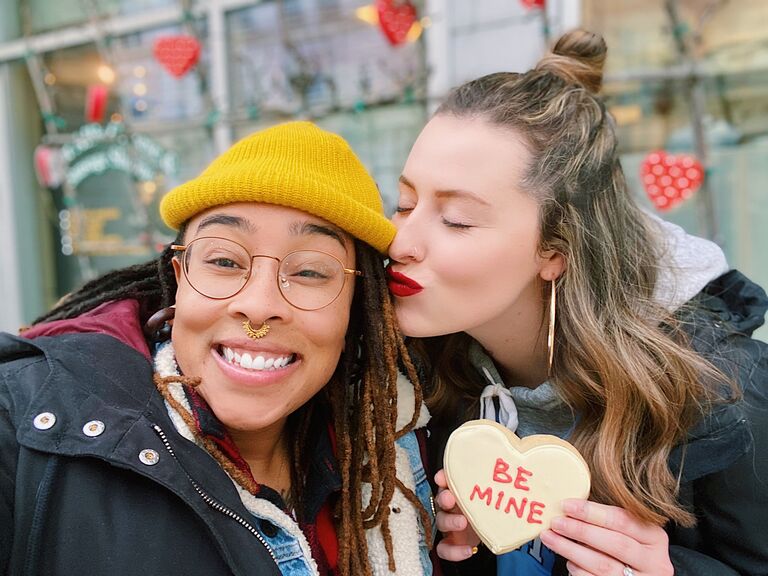 74. Ski Lift
If you love to ski, here's a unique proposal idea. Plan a ski trip with friends and have them lay in the snow to spell out "Marry Me?" with their bodies under the ski lift. Your partner will be amazed once they get a bird's eye view as you ride overhead. When you get to the top of the mountain, drop down on one knee.
75. Snowfall
After a fresh snowfall, trample your proposal message into a patch of fresh snow below a window or build a scene of a snowman proposing. Tell your soon-to-be-fiancé(e) to look outside and when they see it, get down on one knee.
76. Holiday Lights
During the holiday season, use outdoor string lights to write out, "Will you marry me?" on the front of your house, apartment or lawn. Station your friends and family secretly inside and come up with an excuse to linger out front. Then have someone flip the switch to reveal the message.
77. Get a Pet
Surprise your partner with a pet you've always wanted to get together (bunny, kitten, puppy) under the Christmas tree and tie the ring around its neck. Or substitute a stuffed animal—still cute, but less maintenance.
78. Hanukkah Hints
Build up anticipation for the last day of Hanukkah by dropping eight hints that you're about to propose.
79. Christmas Proposal
If you celebrate Christmas, this is a great holiday for a wedding proposal. Write your proposal message on a glass bulb ornament or slip the engagement ring box into your partner's stocking and wait for them to find it on Christmas morning.
80. New Year's Eve Proposal
On New Year's Eve, sneak away to a romantic spot just before midnight and propose for the perfect start to the new year. Then celebrate with a kiss and plenty of champagne.
81. Ice Hotel
Book a getaway at an ice hotel for a unique experience. Etch your proposal message into a block of ice, cozy up by a fire or whisk them away on a sleigh ride for the big moment.
82. Valentine's Day Proposal
On the days leading up to February 14, plant Valentine's Day cards (like the ones you used to give out to classmates in third grade) with sweet messages written inside around the house. Then on Valentine's Day, present them with a box of chocolates containing, you guessed it, the ring.
Spring Proposal Ideas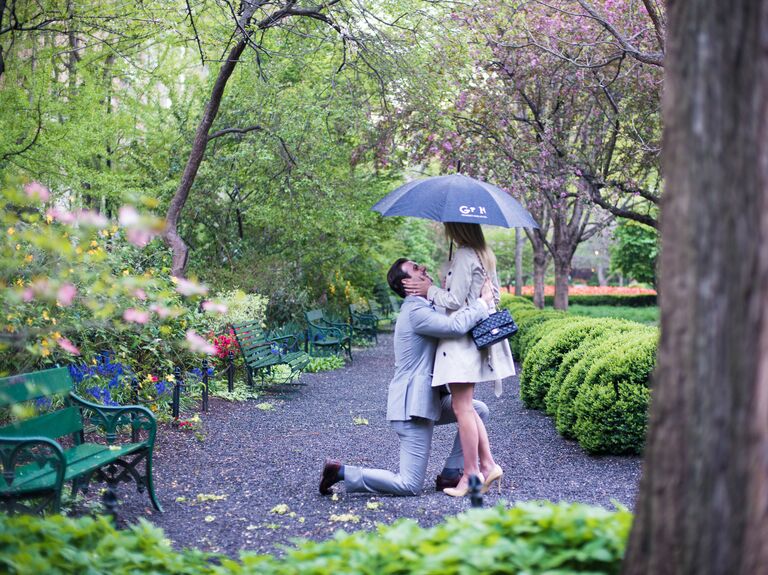 83. Spring Flowers
Propose in a flower or botanical garden when everything is beautifully in bloom. If it's a rainy day, don't let that discourage you. A stroll in the rain can be oh-so-romantic.
84. Maple Sugar Shack
As the snow melts, the sap begins to flow and the maple syrup festivals startup, head into the woods for your sweet surprise. Spell out "Will you marry me?" with maple syrup taffy drizzled over the snow.
85. Picnic in the Park
Have a friend or family member set up a picnic—complete with wine and cheese, of course—for you in a park. Then come up with an excuse for taking a trip there where you'll stumble upon this surprise proposal spot.
86. Easter Egg Hunt
Hide Easter eggs (somewhere they won't get lost or taken by kids) with notes that explain why you love your partner. Then, present them with a golden egg with your engagement ring inside.
Summer Proposal Ideas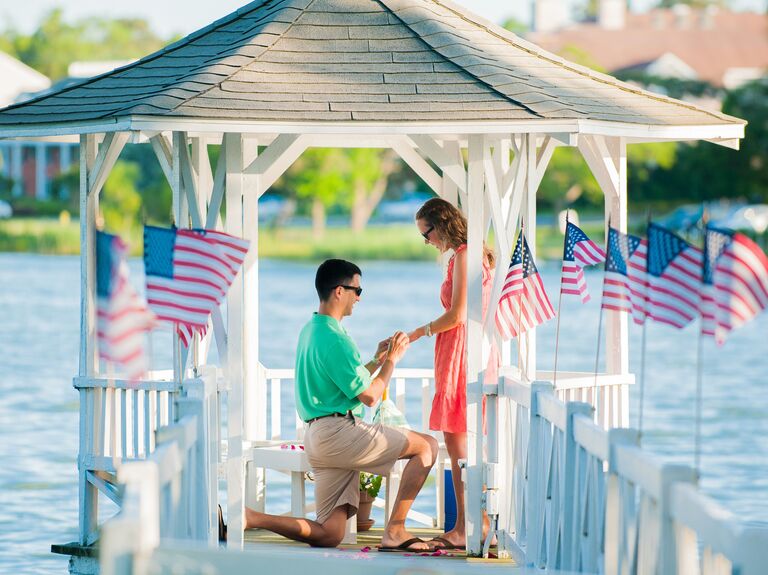 87. Stargazing
How's this for a dreamy outdoor proposal idea? Pick a spot for some summer stargazing (it's even more perfect if there's a meteor shower or lunar eclipse expected) and propose under the night sky.
88. Berry Picking
Suggest a berry-picking excursion to make some fresh summer pies. Once you're out there, tell your partner you've found the most perfect berry they have to see. Instead of ripe fruit, they'll find you and the ring. (This also works in the fall with apple or pumpkin picking.)
89. Music Festival or Concert
If you and your partner love live music, plan a proposal during the performance of a special song by your favorite artist. Bonus points if you can get a shout-out from the artist during the show.
90. Road Trip
Plan a scenic summer drive with a special destination for your proposal. On your way, put on a playlist with songs from your relationship journey and plan some stops to enjoy their favorite activities—antiquing, hiking, food trucks, country fairs, etc.—so that they're relaxed and happy when you pop the question.
91. Fireworks Display
Propose during your local fireworks show on the Fourth of July. Work with a professional to set up a private message in sparklers that spells out "Marry me?".
Samantha Iacia contributed to the reporting of this article.