The Politician's Rahne Jones Reveals Her First Wedding Photos
Read up on her relationship here.
We have included third party products to help you navigate and enjoy life's biggest moments. Purchases made through links on this page may earn us a commission.
Rahne Jones moved to New York City four years ago with the hopes of launching an acting career. What she gained within that time wasn't simply a role on Netflix's The Politician (as Skye Leighton opposite Ben Platt), but a lifetime of love ahead when she met Bridget Kelly. The story began in 2016 at a piano bar in the West Village. During COVID, the pair found they were more-than-surviving (if-not-thriving) while quarantining together in their NYC apartment.
Their original plan to marry on 10/10/2020 was upended by the pandemic, yet another issue became even more apparent at the height of Black Lives Matter. "People are recognizing where they stand and what it means to exist in this world," Jones said. "My fiancée is white, so we have an interracial relationship… Being in an interracial relationship is one of those things where you have to have communication and you have to have tough conversations. Or else, what are you doing? You can't live in the land of rainbows and sunshine thinking everything is hunky-dory because your lived experiences are different. And if you can't sit down with the person you say that you love, and have tough conversations, and they can't receive it on either end, then what are you doing?"
More tough conversations continued as they postponed their wedding a second time in 2021. Then, on Mischief Night, Jones and Kelly finally married in their perfect fall wedding right off Central Park. It was a momentous feat for the couple, who experienced three different wedding dates over the span of their engagement. They ended up exchanging vows at the Museum of the City of New York.
"We knew we wanted something classic with modern touches and was definitively New York," says Jones. "At first, we thought that meant a rooftop somewhere with a great view but after visiting the museum we knew it was the perfect spot… Our first look was a few hours before the ceremony at the Central Park Conservatory Gardens, just a few blocks away from the venue."
Rahne and Bridget's Wedding Photos
The date of October 30 meant they were getting married on Halloween weekend. "We had a few touches that were New York-themed and a few that were Halloween-themed," says Jones. "All the welcome bags featured maps of New York and directions for those new to the public transportation system. Plus, a New York City bakery staple: black and white cookies. We also included Halloween candy. By the time the wedding ended, it actually was Halloween, so Bridget's amazing mom made chocolate-covered Oreos (that looked like ghosts), which were our favors. They were packaged with a ribbon that read, 'Til Death Do Us Part.' We loved being able to add some spooky touches to our wedding because we love Halloween."
The couple's style was on full display with their choice of wedding attire. Jones, showcasing her sartorial style, in a custom suit from The Tailory with an elegant hat by Goorin Bros. Kelly, in a ballgown by Essence of Australia, procured during a trip to Kleinfeld Bridal; her accessories by Jennifer Behr. Both went casual and comfortable with their footwear in matching Kate Spade x Keds sneakers from the bridal collection.
"We both had the 'Something Old, Something New' provided by our mothers," adds Jones. "I borrowed my mother's watch. And Bridget surprised her mother by wearing a necklace that included a ring gifted by her mother. The ring was a gift from Bridget's father to her mother, then handed down to Bridget on her 30th birthday."
Throughout the couple's engagement, COVID precautions had been a primary concern for the couple. They were relieved to move forward with their venue in New York City, which required all vendors and entrants to be fully vaccinated. "All guests were required to show proof of vaccination to attend," Jones confirms. "We also provided masks and had hand sanitizer everywhere." After that, guests partied the night away with beats by Stylus, a primarily female DJ agency.
The Vendors
Venue: Museum of the City of New York | Photography: David Perlman Photography | Stationery: The Knot Invitations | Entertainment: Stylus DJ Entertainment | Ceremony Attire: The Tailory New York | Ceremony Dress: Essence of Australia, Kleinfeld Bridal | Sneakers: Kate Spade x Keds | Wedding Jewelry: Jennifer Behr | Florals: Dawn Melanie Designs | Registry: The Knot Registry
Rahne Jones and Bridget Kelly's Love Story
In 2016, Jones moved to New York City after wrapping another career. "After working for Homeland Security for years, I just wanted something different," Jones recalls. "I wanted something new and challenging and I discovered theater. I fell in love with acting."
One evening out at Marie's Crisis Café, a piano bar in the West Village, Jones's world collided with Kelly's in a place of mutual interest. "We love musical theater. Marie's Crisis is a piano bar and a pianist sings together as a group and you get drunk and it's amazing. I met her there when I first moved to New York and we hit it off," she recalls. "We were friends first and it evolved."
Jones realized Kelly was "the one" during a personal moment of reflection. "[It was when I realized] I can be my full complete, goofy, complete, flawed self with her," she says, "and she didn't judge me; in fact, she loved me not in spite of it, but because of it."
Jones and Kelly have long shared conversations about their respective backgrounds and how it ties into their overarching love story. "I mean, intersectionality is something I've been learning about as of late… that my Blackness and my gayness and my womanhood absolutely affects and impacts my daily lived experience in different ways and altogether," says Jones. "When I step out the door, I'm this person, but my Blackness will bring some sort of attention, my womanhood and my gayness will… and those are vulnerable things."
This has long served as a foundation within their relationship. "Something Bridget and I have prided ourselves on from the very beginning is being open and honest and having real conversations about our experiences and how that can affect a relationship and how people view the relationship," adds Jones. "If you have a solid foundation, you're doing yourself a disservice and your relationship a disservice if you're not having these real conversations… She's so aware and able to speak to anybody about anything. She's not afraid to do that. She says, 'I have this privilege as a white woman and I'm going to call you out.'"
Rahne and Bridget on Wedding Planning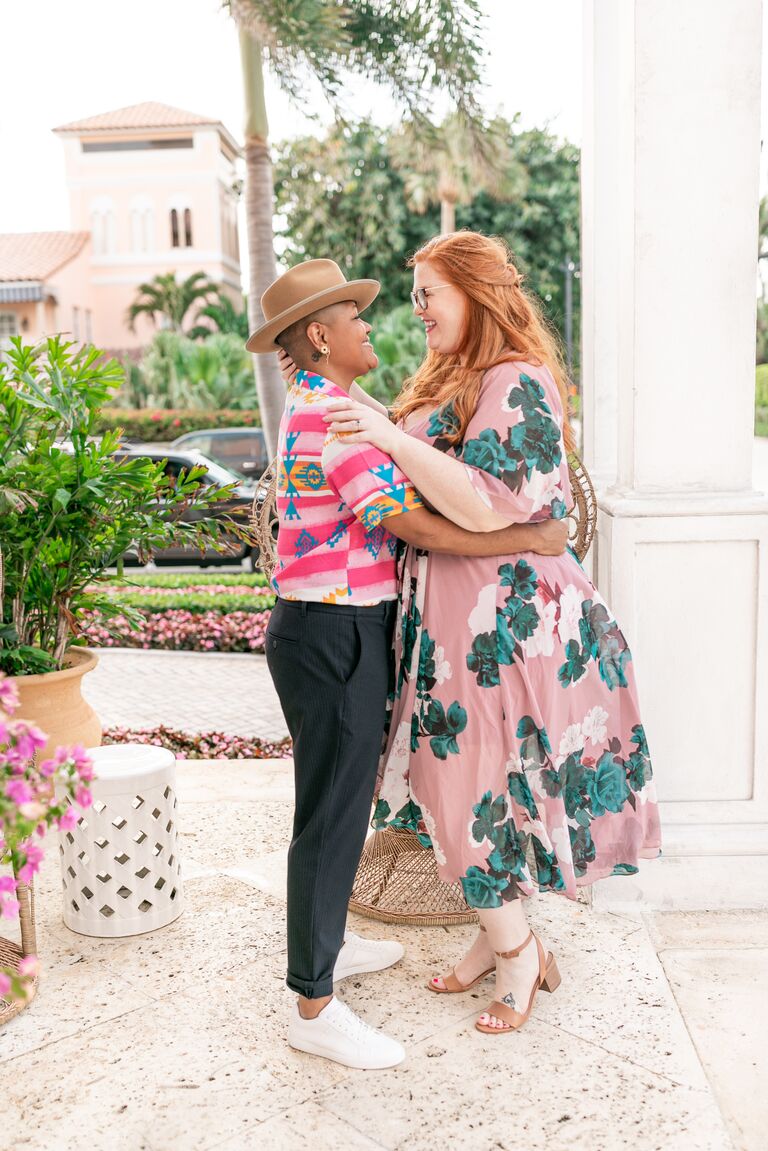 The pair had always intended for a wedding at a storied venue on the Upper East Side. ("Classic New York" was how Jones describes the wedding vision in June 2020.) "We don't really like flowers. We're trying to keep it as simple as possible while still having an elegance to it," she says. "As far as the guests are concerned, it'll be a decent size wedding. At the end of the day, we wanted it to feel like a celebration and feel like a party. We wanted the ceremony to be as quick as possible and then get to the drinking."
After postponing the 10/10/20 date, the couple landed on May 2021. Months after making the call, they decided five months before the second date to postpone again. "We knew May wouldn't be quite what we thought either so we pushed it again until October 30, 2021," Jones says. "The first postponement was actually a breeze, but postponing the second time to fall 2021 was a lot more difficult. Trying to find a date that worked for everyone was hard, but we made it work."
Still, the couple has grown together in the process. "She is a constant supporter and constant source of love. This journey is so uncertain and she's along for the ride and she supports the journey," reflects the actress. "She uses the privilege she has to make things better. She's doing her thing in this moment. As a white person, you realize it's not a Black person's job to educate you on racism. That's the work you have to do."