9 States Where You Can Officiate Your Own Wedding
Here's what you need to know about a having self-uniting marriage.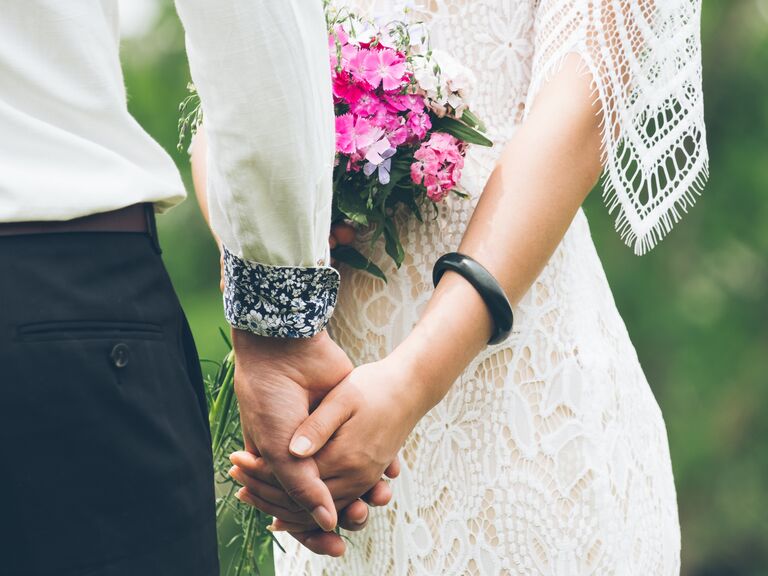 Wu Jianxiong on Unsplash
Your wedding ceremony is your wedding ceremony, and the officiant you choose can make all the difference when personalizing it. If you want an interfaith celebrant to lead your fusion service, we'll help you find one. If you want your college basketball coach to officiate your secular "I dos," ask them to get ordained. If you want to get married in your family's house of worship, you should.
But have you ever thought about being your own officiants? While the perks of hiring a professional wedding officiant are undeniable, a more traditional ceremony setup might not be your style. There are typically two types of ceremonies where you can marry without an officiant: a civil wedding and a self-uniting marriage. In a few US states, it's possible for some couples to have a self-uniting (or self-solemnizing) marriage. That means no third party is required for you two lovebirds to tie the knot officially.
Each of these states offer iterations of a self-uniting marriage:
Pennsylvania
Illinois
Wisconsin
Colorado
District of Columbia
California
Maine
Nevada
Kansas
Now, before you go telling everyone you're going to marry yourselves, research online or call your local city hall about its unique regulations. Each state (even certain cities within them) is different. A few caveats to note? In some cases, like in Wisconsin, it's not guaranteed your marriage will be recognized in all contexts, and you may be required to sign a form stating your consent to this stipulation. In other cases, as in Maine, only those of certain faiths can be exempt from needing an officiant. On the other hand, leading your own vows can be relatively easy to do in Colorado and Pennsylvania.
Why would you want to say "I do" without an officiant? It's all a matter of personal preference. While we can't overstate the value of being married by someone seasoned and officially ordained, you might envision a tiny, intimate ceremony featuring you two, your vows and few close loved ones to witness.