Sample Wedding Ceremony Scripts
Whether you need ideas for starting your own or you want to modify more traditional wordings to fit your style, follow these links to get ideas for what to say during your ceremony.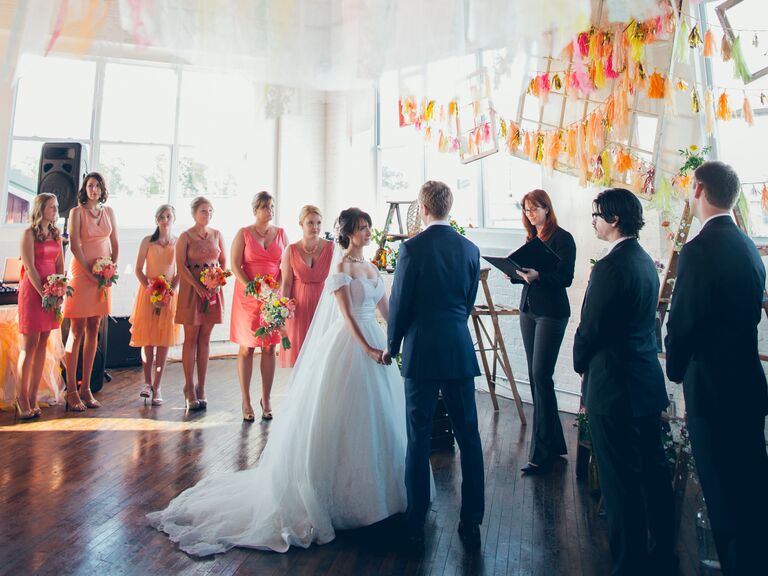 Lauren Fair Photography
Following a "script' doesn't exactly sound romantic. But on one of the most important days of your life - and maybe one of the most stressful - do you really want to play improv? Your wedding script doesn't have to be a Shakespearean play, but it gives your ceremony a framework to keep things from going off the rails.
Whether you want a modern wedding ceremony script or something more traditional, you need some structure. Lucky for you, there's a wealth of inspiration to draw from.
A good foundation for your wedding ceremony script is the nature of your ceremony: secular or religious.
Secular and Nondenominational
When it comes to your secular wedding you don't have to follow a particular format, and it can be as spiritual or non-spiritual as you prefer.
Not being tied to a particular tradition means that your ceremony is a blank slate.
Your script has two strict requirements, in order: a declaration of intent (yes, I want to marry this person) and a pronouncement (yes, these two people are married.) The rest is up to you. You can keep it as short or as long as you like, but some basic building blocks could include:
An introduction. How does the officiant know the couple? Is there something special that brought you together?
Readings. Is there a favorite book, movie, or even just a quote you both identify with? Is there a friend you'd like to include who could read or comment on it?
Vows. This is your opportunity to speak from the heart. But don't wing it; memorize or read them.
Other Rituals/Ceremonies. If you don't draw from a religious background, consider your cultural heritage or family. You could present a family heirloom, or draw from popular regional traditions. For instance, some Italian brides rip their veils for good luck.
Jewish
The Jewish tradition is a rich and diverse one, and standards for ceremonies differ by denomination. A rabbi or other qualified official can offer guidance for specific denominations, but there are some common elements for many denominations, as well as secular Jewish weddings. Here is a simple wedding ceremony script for a Jewish couple.
The signing of the Ketubah, a sort of marriage contract and ancient tradition.
The badeken. Based on Jacob's first marriage, the groom covers the bride's face with her veil.
The chuppah, a four-poled canopy symbolizing the shelter of the family home. The ceremony concludes under it, and both parties are typically escorted by their parents.
The kiddushin, blessings accompanied by wine.
The giving of the ring, as customary in Jewish law.
The reading of the ketubah in Aramaic.
The Sheva Brachot, or Seven Blessings, recited by the rabbi or an honored guest.
The Breaking of the Glass, smashed underfoot by the groom. Typically accompanied by a hearty "Mazel Tov!" and cheers.
For additional guidance, we've rounded up a selection of Jewish wedding ceremonies performed by rabbis and celebrants.
Protestant
As with Jewish weddings, the Protestant tradition encompasses many different denominations. As a result, your church's officiant, minister or pastor can also answer your questions about variation.
That said, most Protestant denominations share a similar wedding ceremony structure.
Entrance. Typically the groom and groomsmen enter first, followed by the bridesmaids. Next, the bride is escorted by her father or another trusted family member.
An introductory prayer, explaining the religious significance of marriage.
Interrogation, which serves as both a declaration of intent and the source of the famous "forever hold your peace" moment in many a romcom.
The presentation, where the bride is "given away" by either her family or herself. This is also where vows are read.
The blessing and exchange of rings to symbolize commitment.
A concluding prayer, followed by a kiss and pronouncement.
Each Christian denomination has different standards for ceremony and vows. We've included some links below to get you started.
Not sure where to begin with your wedding planning? Take our Style Quiz and we'll pull together a custom wedding vision and vendors to match, just for you. After that, create a free, personalized wedding website to keep your guests informed (and excited!) about your plans, and a time-saving Guest List Manager to organize your attendees. Even better? You can sync your Guest List Manager and wedding website to update everything at once.