A Complete Rundown of the Wedding Garter Tradition
Here's what you want to know.
We have included third party products to help you navigate and enjoy life's biggest moments. Purchases made through links on this page may earn us a commission.
You've heard of the wedding garter toss, but what about the history and meaning behind it? Some customs have been around for so long, we lose track of how they started! Curious about wedding garters and their origin story? Use this guide to help you decide if (and how) you want to partake in the age-old tradition on your big day. We've tackled all the most common questions about wedding garters below.
What is a garter?
Simply put, it's a band worn around the leg. In the olden days, they served a special purpose: Both men and women used them to hold up their stockings. But in the 21st century, people tend to wear them more for fashion than for function. As for why brides wear garters? Keep scrolling for the answer.
What is the wedding garter tradition?
The garter toss is a Western wedding tradition dating back centuries. But the version people are most familiar with goes something like this: During the reception, the bride sits in a chair while her groom removes a garter from around her leg. He uses his hands (or yes, in some cases, teeth) then tosses it at a crowd of all the bachelors in attendance.
The garter toss is basically seen as the male counterpart to the bouquet toss, in which unmarried ladies compete to catch the bride's bouquet. In fact, the person who nabs the garter sometimes puts it on the leg of whoever wins the floral arrangement. They might even share the next dance.
Of course, not all weddings have a bride and a groom, or a wedding dress to reach under for that matter! So feel free to adapt the activity to make it more your own. And while the modern version of this long-standing tradition is meant to be lighthearted, it's still not for everyone. If the whole thing sounds awkward or a little too raunchy, you're more than welcome to skip it altogether.
What is the symbolism of a wedding garter?
Nowadays, the winners of both the garter and the bouquet toss are said to find love—or more specifically, tie the knot—next. Some consider the rituals cute and funny forms of entertainment; others think they single out all the single guests, are unnecessarily gendered and imply that marriage is an end goal for everybody. And while the contemporary version of the garter toss is controversial in its own right, the extended history of the tradition is even more complicated.
Bridal garters have actually been considered tokens of good luck for quite some time—we're talking since the Middle Ages. But a garter prize has also problematically represented a bride's "deflowering"…. Way back when, married couples were expected to consummate their union immediately, and some wedding guests actually tried to watch to make sure the deed was done. Removing a garter and presenting it as "proof" was a ploy to get some privacy and appease hopeful onlookers. Seriously!
Why is there a garter toss at weddings?
Today, a garter toss should be all in good fun, with willing participants happy to get a giggle out of the activity. But it wasn't always that way.
In medieval times, pieces of the bride's ensemble were considered tokens of good luck…so much so that wedding guests would fight to rip her clothes right off her body. Things would get so rowdy, couples decided to throw a garter for guests to fight over instead. So the garter toss may have actually arisen as a protective measure—cringe.
But there are also other origin stories of the garter toss. For example, there was an 18th century English game called "flinging the stocking," which involved tossing garters at the couple on their wedding day. Friends and family would try to land one on a newlywed's head for—you guessed it—luck in love.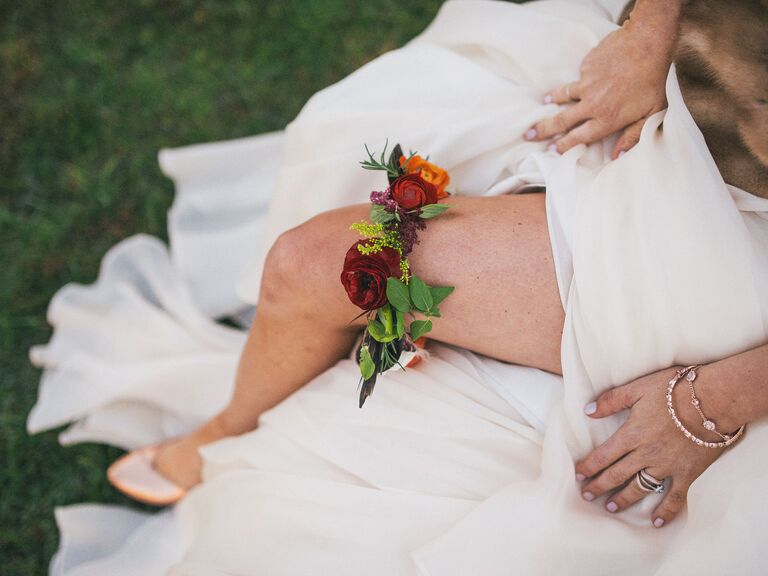 Who puts on the garter?
Plan to put your wedding garter on yourself, and if you need help (poofy skirts notoriously get in the way) enlist someone in your getting-ready suite. Keep reading to learn more about the etiquette of getting one on and off.
Which leg does the garter go on?
Way back before elastic was invented, garters served an important purpose: keeping stockings up. So, the bride wore one on each leg. Now though, you'll see garters worn on their own as fun accessories, not necessities. There's no rule about which leg to put yours on, so do what feels the most comfortable. You might also opt for a two-piece garter set and wear them stacked or on separate legs. One gets sacrificed to the toss, while the other is yours to keep.
Whatever the case, most brides choose to put theirs right above the knee. That way it's high enough to stay secure, but low enough that there's less of a chance of it chafing against the opposite thigh. Plus, even underneath fitted gowns, it's more likely to stay concealed.
All that said, it actually doesn't have to go on a leg at all. If you're just buying one for the garter toss, there's nothing wrong with stashing it in a pocket or clutch to throw when the time comes. Yes, we give you full permission to forgo a bigger show!
Who removes the garter?
Typically, one partner takes the other partner's garter off. Just remember that not everyone is comfortable with such an intimate act in front of their family and friends. Make sure you're both okay with the tradition before you plan it into your reception. And know that you have options.
If you'd prefer to remove your garter yourself, have at it! Or, try placing it around your arm if that's easier. (You don't have to leave it there all day—you can wear it just for the toss.) It's all about what works best for you, your future spouse and your event.
Do you have to wear a garter for your wedding?
Nope! You don't have to do anything for your wedding (well, except for maybe the legal stuff). If your crew is all about the laughs, it's the perfect chance to playfully make your S.O. and your buds blush. If you've been in countless wedding parties and you're sick of the tosses, omit them from your itinerary. Whether you love the garter toss or love to hate it, the choice is yours.
Do note that you can wear a garter without doing a toss. If the accessory makes you feel sexy, don one for a confidence boost—whether anyone else knows it's there or not. Plenty of newlyweds incorporate garters into their wedding night looks.
What are some garter toss alternatives?
There are lots of substitutes for the classic wedding garter toss—we have a whole roundup of ideas! At the end of the day, you can involve whoever (and whatever keepsake) you desire. Take one cat-loving bride's creative alternative: a stuffed animal toss in the name of kitty adoption.
Where do you buy a wedding garter?
If you're in the market for a wedding garter, check out our list of some of the cutest, sassiest and most personalized options you can buy online. Some of our go-to sources include Etsy, David's Bridal and our very own The Knot Shop.
Or, see if a local bridal salon has any options. For something super-sentimental, consider a garter that's custom-made. We've seen seamstresses craft heirloom accessories out of old family wedding dresses, which is a lovely idea if you plan to hold onto yours. Alternatively, a florist might be able to design a boho piece out of fresh blooms.
Who purchases the garter?
Generally speaking, the wearer buys their own garter. But a wedding garter can also be a unique bridal shower or bachelorette party gift. If you're the person shopping, go ahead and think outside the box. While many popular styles feature intricate lace, lush tulle and sparkly rhinestones, a sports- or pop culture-themed accessory is a wonderful, still-photo-ready surprise.
How much do garters cost?
Garters can cost anywhere from under $10 to over $100. Buying one for a quick toss and nothing more? A simple and inexpensive option is your best bet. Want to save yours as memorabilia or wear it as wow-worthy lingerie? You might want to spend a little extra.