'Vanderpump Rules' Star Scheana Marie's Planner Gave Us the Scoop on Her Pink-Themed Wedding!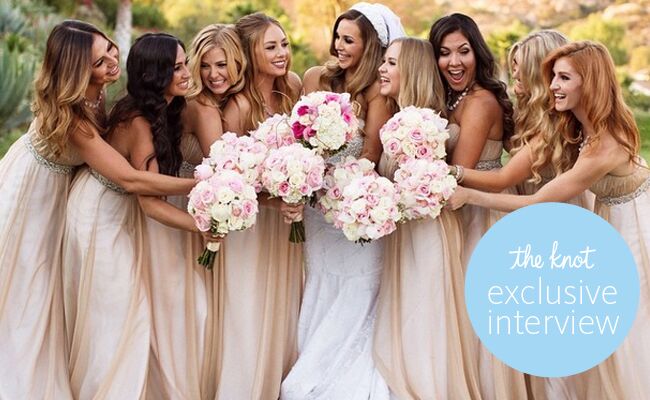 Scheana Shay via Instagram
When Vanderpump Rules star Scheana Marie married Mike Shay last July at the Hummingbird Nest Ranch in California (where Kaley Cuoco got married!), we knew it was going to be an event to remember. And with the help of planner Danielle Rothweiler of Rothweiler Event Design, all of Scheana's bright and whimsical ideas for her wedding came to life, from the table full of pink treats from Dylan's Candy Bar to working with two dozen vendors to truly personalize their day.
We got the scoop from Danielle, below:
The Knot: What vision did Scheana have for her wedding?
Danielle Rothweiler: Scheana wanted her wedding to be a fun party. While she did want to have all of the traditional elements, including the bouquet and garter toss, she wanted it to be during the beginning of the reception so her guests could spend the entire night on the dance floor dancing under the stars. Scheana is also a very sentimental person, and part of the reason she chose Hummingbird Nest Ranch was for her grandmother's love of hummingbirds.
Her grandmother had passed away, and Scheana and her mother Erika both have hummingbird tattoos. There were countless times I watched Scheana and Erika tear up anytime a hummingbird flew around the venue (which was a lot!). The keyword for her wedding was "fun" and she wanted to make sure her guests were having a great time at all times — which they did!
TK: Was there a certain color palette she loved?
DR: Scheana loves her pink! Pink was the base of everything we did for this wedding, but it was never overwhelming. There were creams, golds and various shades of pink worked through everything from the ceremony to the reception decor. Flowers were very important to her, and that meant a floral aisle set just for her, as well as flowers in the beautiful fountains at the ranch. Each table had a tall centerpiece that included orchids, lilies, hydrangea and roses. Even the linens were rosette.
TK: What unique elements did Scheana incorporate into her wedding?
DR: Her dress, without a doubt, was uniquely Scheana. She had no desire to be in a traditional wedding gown, and instead opted for a crop top gown. The gown was actually made by her aunt and it included removable straps. She kept the straps down for the ceremony and then pulled them up for the reception so that she could have fun without pulling her top up all night.
And of course, her grand choreographed entrance was also very Scheana! Hummingbird has an amazing double staircase where her wedding party entered, followed by Scheana and Shay, and then they did a dance together before inviting everyone onto the floor.
Scheana also used personalized shot glasses for her escort cards, which we filled up with candy and displayed for guests to pick up during the cocktail hour. This was a great way to incorporate favors into directing guests to their seats.
TK: Tell us about Scheana's choice to have cake pops instead of cake.
DR: Scheana was not a "cake" bride, but again, because she likes the traditional aspect of cutting the cake, a six-inch cake was there for the couple to use. This was on display the entire evening just like a traditional wedding cake. We had the cake cutting done after the bouquet and garter toss, and that signaled her guests to come up and take a cake pop and visit the candy bar. Scheana felt that her guests weren't going to like sitting down with a slice of cake, so this would be a better alternative. Instead of a cake topper, there were two cake pops: one for the bride and one for the groom.
TK: What was Scheana and Shay's menu inspired by?
DR: They actually picked a restaurant from Covina, California, that they love going to. In fact, Scheana's parents have been going there for years. Like most brides, food was really important to Scheana, and Hummingbird, being just the venue space, allows you to bring in your own caterer. Having this restaurant was a great way for Scheana and Shay to bring their favorite food to their guests. It was true authentic Mexican food and the guests raved about it.
See photos of Scheana and Shay's wedding below.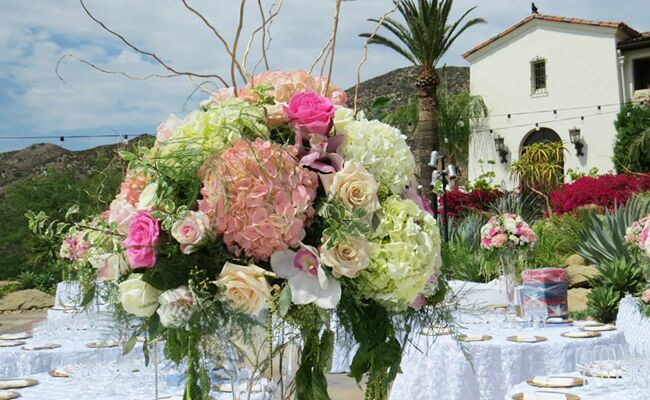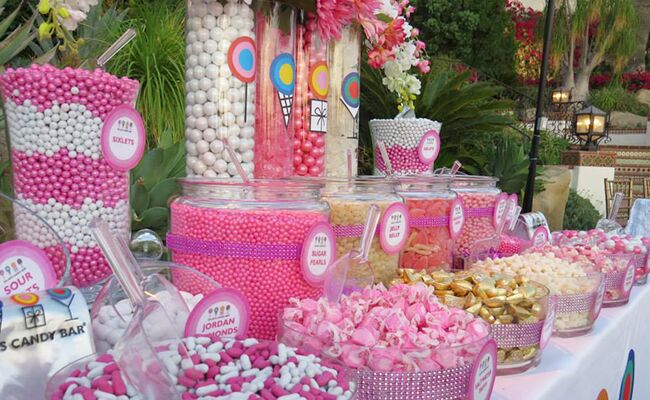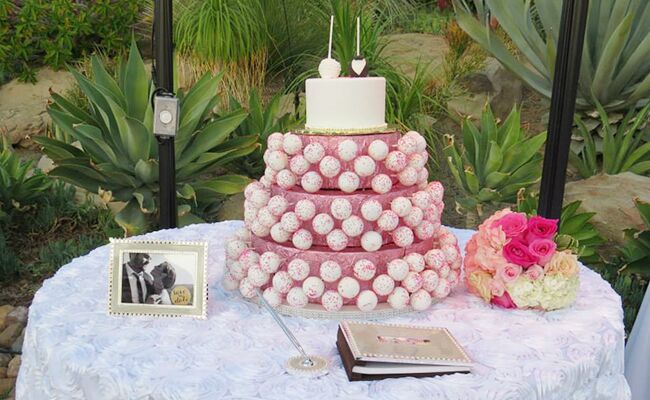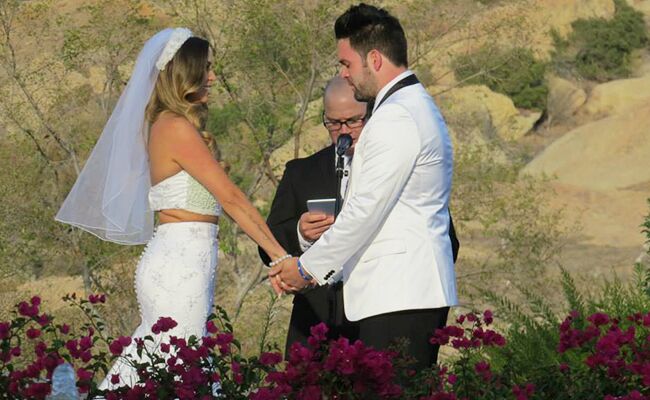 Want more? Right here!
> See 'Vanderpump Rules' star Scheana Marie's wedding pics (and crop top gown!)
> Hottest wedding dress trends