Home

Bella Fiori Couture Floral & Events Design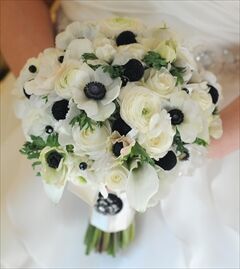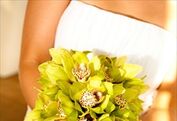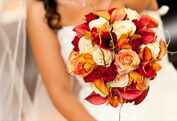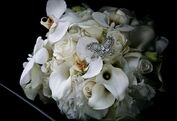 About this Vendor
Fresh, Funky and Fabulous Wedding Flowers
Bella Fiori is a boutique studio design specializing in the art of couture floral. Our floral designs blend cutting edges from modern to traditional with sophistication and simplistic elegance. We work with any kind of budget. Consultations only by appointment.
Details
Aisle Decorations, Centerpieces, Pedestals, Vases, Decorations + Accents, Bouquet Wraps, Bouquets, Boutonnieres, Flower Delivery + Setup, Flower Arrangements
Contact Info

12360 Owings Mills Blvd, Reisterstown, MD
Bella Fiori is the Best!
Reviewed on

4/09/2014
Tina P
After interviewing a really downright snob of a florist, we got in touch with Roberta at Bella Fiori Flowers and what a pleasure she was! From the beginning, she concerned herself on how to make this wedding about US and look like US. She incorporated centerpieces my mother... Read More made and matched the accessories exactly. She listened and met with us twice to go over our selections and each time with a smile and a hug. Our wedding coordinator even said when she sees Roberta walking through the door, she lets out a sigh of relief. If you want a personal and friendly experience, Bella Fiori is the way to go! Thank you Roberta! You made our wedding beautiful!
---
Amazing florist!
Reviewed on

12/16/2013
Suzanne R
I absolutely would recommend this place!
---
Beautiful Flowers!
Reviewed on

9/23/2013
Chelsea C
Roberta was great to work with and in constant communication throughout the planning process. We met several times and she really understood my vision for the big day. The bouquets were stunning and the use of floating candles in my reception room gave everything is a beautiful... Read More glow. She had great suggestions throughout the planning process and was very agreeable to changes in my contract. She is very affordable and does phenomenal work for being just a little florist shop in Sykesville. I believe she has just one other person who helps her create all the centerpieces and set up on the day. I was very impressed!
---
AMAZING!!!!!! EXCEEDED EXPECTATIONS!
Reviewed on

9/22/2015
Roberta from Bella Fiori was truly amazing, and everything she did completely exceeded my expectations. Prior to choosing Bella Fiori, I met with 5 other florists who wanted to charge me more than double of what Roberta quoted me. For our wedding at the Grand Historic Venue on... Read More Sept 11, 2015, Roberta provided us with beautiful full bouquets, boutonnieres, high and low centerpieces in lovely vases/containers, and the most beautiful Chuppah and aisle decorations that I have ever seen at a wedding. So many of our guests complimented me on the flowers. She really transformed our venue. We also got beautiful tablecloths from Roberta. The wedding planning process was a little stressful, but working with Roberta was a breeze. She was always responsive and patient with me, and I could not be happier that I chose to go with Bella Fiori. I cannot recommend this vendor highly enough!!
---
Nice flowers, mediocre service
Reviewed on

8/25/2015
Lauren K
We selected Roberta because we saw pictures of a beautiful alter arch she had made that we liked, and because she was very reasonably priced for all that she offered. Communication leading up to the wedding was tough. We had to follow up with her several times to get her to... Read More respond when we had questions (her follow up was not terrible, but it stood out in contrast to most of our vendors who were super responsive). Most frustrating was that she sent an incorrect invoice three different times that omitted things we had ordered - we had to review each one to send back corrections, and were nervous that we wouldn't actually receive what we ordered on the wedding day. Ultimately, we did get everything we ordered, but I felt like I had to put in extra time to always double check her work. The table arrangements were beautiful and full, and just as we planned. We got many compliments on them. And the floral arch that she made as a backdrop to the ceremony was gorgeous. However, a couple of the corsages and boutonnieres were pretty wilted, and my bouquet had visible strands of glue from where a succulent had been glued in. I would say the quality of her work was very good, but not flawless. I still feel like it was a good value for what we received. She included many things for free. I would recommend Bella Fiori flowers to anyone who is willing to spend a little more time on email follow up in exchange for a good deal on nice flowers.
---
Reviewed on

5/03/2015
Rachel I
Roberta at Bella Fiori did an absolutely amazing job for our wedding. Her work was stunning and we received so many compliments on how beautiful our flowers were- from the ceremony, to the bouquets, to the centerpieces and decor of our reception. She was easy to work with and... Read More clearly loves what she does and is GREAT at it. I came with a few ideas from pinterest and and idea of what I liked and she made it come to life- giving our event a romantic, gorgeous setting. Thank you again for all your hard work!
---
Exceeded Expectations!
Reviewed on

3/09/2015
Jen R
I can not say enough wonderful things about Roberta at Bella Fiori Flowers! I was recently married on February 21, 2015 at Pier 5 Hotel and Roberta did such an amazing job designing my floral arrangements for the ceremony and reception. I came to her with a few ideas I found on... Read More pinterest and a smaller budget and she was still able to design beautiful bouquets and table arrangements using higher quality flowers. She was also able to provide linens, vases and charger rentals to really customize the design. Having flowers and linens come from the same vendor who was willing to set up everything made the day much less stressful. I am so grateful that I found her on this site because I couldn't have been happier with her floral design. At my budget she was able to give me tall table centerpieces when other florists told me I could only afford carnations. If you are looking for an amazing florist for your wedding you should call Bella Fiori Flowers!!
---
Bella Fiori
Reviewed on

10/30/2014
Kirsten H
Roberta from Bella Fiori did a wonderful job on my wedding flowers. I brought in pictures and ideas for what I wanted and she came up with a plan for the flowers that was exactly what I was looking for. Everything was exactly as she described and I loved them. The only thing I... Read More had trouble with was getting responses to emails. On the other hand, she was very responsive to phone calls.
---
Roberta is awesome
Reviewed on

10/07/2014
Erin O
Roberta is so sweet. She worked with our budget to give us the flowers we envisioned. The flowers showed up on time and were beautiful. we got a lot of compliments. Highly recommend.
---
Stunning and Friendly
Reviewed on

8/24/2014
Carisa C
Roberta is an absolute angel. From our first visit, my then-fiance looked at me and said, "she's going to be my favorite vendor!" We had some incredible vendors, but Roberta kept that same level of service, professionalism, and artistry from start to finish. She was extremely... Read More easy to work with, despite several changes from pre-contract even until the day-of when circumstances out of my control affected number of arrangements needed. She was hands-down the most fair and flexible vendor we had, even refunding when total arrangements needed were less than planned (I never expected that, but how incredibly thoughtful of her!). The arrangements themselves... oh my god. Perfect. Simply perfect. They were everything I had imagined and more. Thank you, Roberta, for your impeccible artistry and friendly and fair demeanor. I hope there is a time in my life that I get to work with you again, but in the meantime, I will just look back at the pictures and smile.
---
Beautiful!!
Reviewed on

8/05/2013
Ogechi N
We found Roberta through our wedding planner. She listened patiently to our ideas and gave us her recommendations for both our budget and style. She was extremely professional and accommodating. Our ballroom was exquisitely done and tasteful! Thanks Roberta!!
---
5/11/13 Wedding
Reviewed on

6/02/2013
erin h
The decor for our wedding day was absolutely spectacular! From the first time I met with Roberta I knew Bella Fiori was the right choice for us. Everything from the bouquets to the centerpieces to the flowers for the cake were beautiful. And the value! Roberta made everything we... Read More wanted work within our budget at an amazing value. We couldn't have wanted anything more!
---
Stunning Flowers, Fantastic Service
Reviewed on

4/14/2013
Stephanie M
Roberta was fabulous. She was very friendly and helpful, taking my ideas and making them even better. She was very flexible when I wanted to add some large arrangements very close to the wedding, and they were beautiful. I LOVED my bright bouquet. It was perfect.
---
Best Florist Ever!
Reviewed on

11/25/2012
Rachel M
Roberta was amazing and I highly recommend using Bella Fiori for your flowers. Roberta and her crew went above and beyond to make my wedding day so special. You won't be sorry if you choose Bella!
---
Simply put - HIRE HER!!!
Reviewed on

11/07/2012
Jennifer E
Roberta and her team at Bella Fiori are top notch. I could not have been more pleased with her services. We actually met Roberta while she was showcasing her floral designs for an open house my venue was holding. I remember thinking that her flowers were some of the most... Read More beautifully displayed centerpieces I had ever seen. She took time speaking with us and even made personal recommendations for photographers that she had worked with in the past. I left thinking that she had to be ridiculously expensive. I was wrong! After reading so many wonderful reviews, many of which noted her value, I contacted her for a consultation. She was flexible and offered many suggestions. She did not even charge rental fees for the vases and candles, and even threw in a few extra items free of charge. She even worked with me on items that I had already purchased, in an earlier attempt to go the DIY route (bad idea!). She does much more than flowers and I ended up renting my linens and napkins from her as well - she offered me a much better price than the event rental company and my caterer. The ceremony flowers were incredible. My bouquet took my breath away. When I walked into the reception area, I could not beleive how she had transformed the entire space - simply stunning. The entire experience, from the initial communication and consultation, through the planning process and all the way through the flawless set up of the ceremony and reception, she execeeded our expectations at every juncture. I highly recommend Bella Fiori for your ceremony and reception.
---
overcompensated
Reviewed on

10/24/2012
robyn s
Roberta's flowers were fantastic. she did more than i could have imagined and everything was beautiful
---
AMAZINGGGGGG!!!
Reviewed on

10/18/2012
Nhu P
I LOVE LOVE LOVE ROBERTA!!! She is absolutely AMAZING!!! I am honestly saddened by the fact that my wedding is over and I can't work with her anymore! My bouquet and everything about my wedding florals e.g., ceremony decor, reception centerpieces, wishing tree, etc, EVERYTHING... Read More was FANTASTIC!!! I cannot say enough good things about her and her company and would not recommend anyone but her! I have already recommended her to everyone and anyone else planning their big day and my best friend can't wait til Roberta handles her wedding as well! I will DEFINITELY be in touch for any and every other need I might have! Thank you again Roberta!
---
Amazing!
Reviewed on

10/02/2012
Lyndsay G
Roberta and staff are awesome to work with! They did an amazing job creating the perfect floral arrangements for my wedding - as well as keeping within budget! It was great being able to use their equipment as well without rental fees - major plus! Overall - amazing service and... Read More a very satisfied bride!
---
THE BEST! BEST! BEST!
Reviewed on

9/07/2012
Priscila R
I wish I could use a million starts for Bella Fiori Couture Floral & Events Design. I always dreamed big about my wedding day and its decor. From the first time talking to Roberta on the phone I knew she was the one to make my dream to come true. I can't thank Roberta enough... Read More for the BEAUTIFUL, AMAZING, STUNNING, WONDERFUL, PERFECT decor and flowers on my wedding day. EVERY SINGLE DETAIL was just gorgeous! It was not even necessary explaining much about what I wanted - Roberta is so talented and experienced that she reads your mind!!! I only hear wonderful compliments about my wedding decor. My bouquet was gorgeous, exactly the way I wanted it to be! My bridesmaids bouquets were even more than I was expecting it to be! My arch it was absolutely a dream - also more than I always dreamed about. She has a wonderful helper called Laerte that made a beautiful work and at the end packed everything so well for me. Roberta is an amazing person! Every time I went to meet with her I just wanted to stay there talking to her forever! She is VERY TALENTED, SO SWEET, she REALLY listens to you and comes up with great ideas exactly how you have in mind. I know she did so much more than she suppose to do. She is special and a sweetheart! My husband and I feel very blessed to have had Roberta on the most special day of our lives. He repeated several times how pleased he was with Roberta's work and how perfect everything it was. I can't thank Roberta enough for everything during my Wedding Planning and especially on the day of my wedding. I HIGHLY recommend Bella Fiori! Thank you Roberta for being so important, so special and making my wedding venue look so AMAZING!!!! Thank you FOREVER!!!!
---
Absolutely fabulous!
Reviewed on

6/27/2012
Alison H
Roberta was an absolute pleasure to work with. She saw my vision, listen to my ideas, and gave us something even better than I could have imagined. She bent over backwards to make sure we were happy and well taken care of and to anyone in the Baltimore/Westminster/Frederick... Read More Maryland area, you must look into Bella Fiori.
---
Flowers
Reviewed on

5/17/2012
Christina L
My flowers were beautiful. They turned out to be everything I ever could have imagined.
---
great flowers
Reviewed on

12/07/2011
Andrea C
great service, unique flowers
---
happy!
Reviewed on

10/03/2011
Charity C
Expensive, but they were very professional. I was very happy with their flowers. GORGEOUS.
---
Fabulous Flowers!
Reviewed on

9/08/2011
Ali R
I am thrilled with the job that Roberta did with my wedding flowers. When I first met with here, I gave her a price range that I was hoping to stay within and she not only met it but went above and beyond my expectations of what I could get for my money. I was a little nervous... Read More at the beginning of our process as she didn't have many physical examples of flowers in her shop but instead just sent several proposals with inspiration pictures and descriptions of what she was thinking of doing. But she didn't disappoint! The colors and types of flowers she used in the wedding party bouquets, reception centerpieces, and ceremony flowers really complimented our wedding colors and set the mood for the whole day. She was also able to accomodate an additional request for 2 bouquets for our mothers at the last minute. She was a joy to work with and I highly recommend her- especially for any brides looking to stay within a budget.
---
Absolutely Beautiful!
Reviewed on

9/01/2011
Kimberly D
It was wonderful working with Roberta. She was always flexible and let us personalize our flowers how I envisioned them. She worked with us and our budget and gave me exactly what I wanted. The colors and designs were so brilliant and really pulled the entire evening together.
---