Home

Elite Beatz Entertainment LLC
About this Vendor
Award-Winning, Full-Service Entertainment Company
Elite Beatz Entertainment is the only full-service entertainment company on the East Coast providing disc jockey, photography & rental services. We provide you with customized services for your special day with ONE company to work with on all your unique details. Contact us & see the difference.
Details
Classical, Country, Disco, Folk, Hip-Hop, Jazz, Pop, R&B, Rock, Latin
Ceremony, Reception, Wedding
MC Services, Recorded Music, Sound Equipment, Music
Contact Info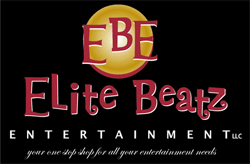 George is Fantastic!
Reviewed on

11/21/2015
Kimberli R
My husband and I found Elite Beatz at a wedding show. I worked with the owner, Jimmy, to find a DJ available for our wedding day. Jimmy introduced us to George, who we fell in love with our very first meeting...that lasted almost 2 hours! George is extremely knowledgeable... Read More about the DJ industry, cares about his clients, and wants to help educate them along the way. He taught us how important the beat per minute is, when to play the right type of music, and how to ensure that everyone will dance. Our wedding was amazing! Although we had to move venues at 9am the day of the wedding due to the hurricane, George showed up early and started early (along with the venue change, we also changed the order of the ceremony / reception). The day was seamless and none of the guests would have known the wedding was not as we had planned, other than they had to drive to another location. Our families had an absolute amazing time at the reception and will be talking for years to come on how much fun they had.
---
AMAZING Wedding DJ!!
Reviewed on

4/11/2015
Bethany R
Jimmy and Evan were our wedding DJs and they were amazing!! They were so helpful in the planning process and flexible to meet our every request. They avoided all music that we didn't like and played only what we loved. They really threw a great party! One amazing thing is they... Read More don't take advantage of their customers. I actually double booked them and classical musicians for our cocktail hour and Jimmy updated our contract to only pay for the reception!! He was so honest and fair and maybe the only vendor we had that didn't cash in on the word "wedding" in our event title. I would highly recommend this company!!! Thanks guys!!
---
Elite Beatz is def Elite!
Reviewed on

8/12/2013
Vaudeville Nights C
Jimmy Guy was super friendly, helpful and available by phone and by email during the planning process. We live in California and were planning a wedding in the Washington DC metro area, no small feat when dealing with time differences and not being able to meet in person for... Read More meetings. Jimmy helped with all questions and even sent pictures for things we were unsure about. During the day of the setup and the first time we met, Jimmy and his crew showed up on time and were very professional. They set up the tent, dance floor, stage and for a low-cost fee set up the tables and chairs (soooo thankful for that!) Everything went on without a hitch and the tent with all its fun underneath was everything we had wanted! The best part? All we had to do was make sure all the trash was out from underneath it and they came and did the rest, the breakdown and all! He even offered us a military discount bc both of our fathers are military. We would definitely use his services again. My family has used this company for other events and rentals, all have been happy! Thanks Elite Beatz for the memories!
---
Reviewed on

6/15/2017
William Y
We had Marcus as our DJ from Elite Beats. Marcus was great! He sat down with us several times to make sure we went over every aspect of the wedding. He made the entire reception go so smooth. He controlled the time and played great music. Marcus really knows how to get the crowd... Read More going and how to keep the party alive.
---
Wonderful Company!
Reviewed on

10/22/2015
Katie E
We used Elite Beatz for our DJ and for our rental company for ceremony chairs, cake table, and heaters. The DJ was a great guy, very responsive to emails, and kept the dance floor hopping with my friends and family all night long. The rentals worked well and the guys were... Read More great about the set-up of the chairs on the lawn. They had a few issues with the heaters and I don't think one of them was ever lit, but the other three definitely kept it more comfortable on the chilly October evening. The owner of the business was really nice and helpful and took all of my last minute changes in stride. He was really willing to work with me and that made the day so much better. This is a great company and I highly recommend them to any bride or event planner!
---
Reviewed on

10/06/2015
Kourtney W
SIMPLY, THE BEST! Very accommodating, excellent coordinating, very experienced. Everyone commented on how awesome the music was and how it made the wedding the best! The DJ took the time to walk through everything with the groom and I before hand so we felt comfortable and he... Read More truly wanted to make it flow and they did just that. THANK YOU ELITE BEATZ for contributing to making our day the best yet!
---
Highly Recommend
Reviewed on

10/28/2014
Jennifer R
We used Jimmy for my wedding at the Samuel Riggs Alumni Center. He and his crew were absolutely phenomenal. I keep having people come up and tell me that they wished the night had lasted way longer. The music was appealing to the older and younger crowds. Everyone was up dancing... Read More and having a blast. He was professional and helpful in every way. I could have not had a better DJ!! I hope others use him because they will not be disappointed!
---
Bond Wedding
Reviewed on

9/30/2013
Lizzie K
Jimmy was absolutely amazing!! Every request I had he went above and beyond. Everyone had so much fun and the music was exactly what we wanted. I was so excited to hear he kept the party going for a little longer than planned. He also provided cocktail tables and wine glasses... Read More and the delivery and set up were perfect. Thank you so much for everything. We couldn't have asked for a better DJ!
---
Jimmy and staff is awesome!!
Reviewed on

9/29/2013
Lauren R
We used jimmy as our dj, and used elite beatz for our photographer! Jimmy was awesome and so easy to work with. Highly recommended!!
---
Elite Beatz
Reviewed on

8/01/2013
Candice V
Elite Beatz provided two tents, tables and chairs, dance floor, and a generator for my wedding. The guys who set everything up were fantastic and really kept great attitudes when I asked them to fix things. They were also very accommodating! For what we rented I thought it was a... Read More little pricey, BUT it was still better than most other places! My only complaint would be that the dance floor is not in fantastic condition, but again, I was ecstatic with the way my wedding turned out!
---
DJ service
Reviewed on

7/31/2013
Jason Thomas did an amazing job keeping the party going on the dance floor. I have gotten so many compliments on his service. I would recommend Elite Beatz to anyone.
---
Happy Wife- Happy Life
Reviewed on

7/30/2013
I really enjoyed working with Elite Beatz! They were great to work with and did everything they could to make sure our day was as special as we had hoped. I highly recommend them!
---
Highly Recommend!!!
Reviewed on

4/28/2013
Allison G
Jimmy and Evan were absolutely amazing! They were professional, personable and very flexible. They had the dance floor moving all night long and helped made my night absolutely perfect. Prices were very reasonable and I would absolutely recommend them to any bride looking for a... Read More quality DJ.
---
Best DJ around!
Reviewed on

11/22/2012
Ashli G
Jimmy the owner of this company is amazing! He's very friendly and a lot of fun!! My guests loved him!! He came very highly recommended from multiple people especially other wedding vendors! He has great prices, and many packages to fit your needs. Give Elite Beatz a call for... Read More your wedding day!
---
Wedding dj
Reviewed on

10/02/2012
Mallory H
My wedding was perfect. Jimmy coordinated with all my vendors to ensure everything went smooth. Music was perfect. He did an amazing job. I did not have to wirry about anything. He made sure everything was going the way I wanted things to go. I will use elite beatzs again in the... Read More near future.
---
Amazing Job!!!
Reviewed on

9/08/2012
McKenzie B
Elite Beatz handled my rentals including tent, chairs, etc for my wedding as well as my D.J. service. I could not be more happy with their work! Through the wedding planning process I felt like many vendors were non- responsive but Elite Beatz was there for us whenever we needed... Read More them! They even made last minute tent changes for us! Our wedding would not have turned out to be what it was without Jimmy Guy! His D.J. service was outstanding and very professional and he was very helpful even outside of his duties. Thank you!! :)
---
Wedding review
Reviewed on

8/03/2012
Amber T
Great service!
---
amazing service
Reviewed on

7/31/2012
Amanda W
Elite Beatz did an amazing job playing all the music I wanted for my wedding, and checking with me throughout the night to make sure I was happy with everything. Loved how everything went so smoothly and this all comes from a great dj!!
---
AMAZING!
Reviewed on

10/29/2011
Jessica H
Elite Beatz is a local DJ service in our home town. They do not do just DJ services they also offer photography and blow up slides and obstacle services! They offer an online planner so you can plan your reception music before your big day which is a huge help! Everyone had a... Read More blast at our wedding no one sat down we danced the night away thanks to our amazing DJ!
---
Quality tents and tables
Reviewed on

8/13/2011
Liza G
We rented tents, tables, chairs, and a dance floor from them. Everything was delivered on time, and was good quality. Very professional
---
Loved them!!!
Reviewed on

11/24/2010
Karen B
I used Elite Beatz for both my D.J. and Photographer. Marcus was my D.J. and he was AMAZING!!!! Any e-mails or phone calls I sent got answered within a few hours and they were always friendly. My husband and I were struggling with some songs and Marcus was a great help. On... Read More the wedding day, he kept the dance floor packed and treated my guests with complete respect. I would use Elite Beatz and Marcus again.
---
Review for Elite Beatz Entertainment, LLC.
Reviewed on

5/10/2010
Jessica C
She caught some good candids.;She was very indecisive... it seemed like she didn't know what to do next. My family kept telling her what to do. Maybe this is what threw her off. Very strong-willed managerial figures in my family. lol.
---
Review for Elite Beatz Entertainment
Reviewed on

1/04/2009
Gina R
Range of music played all of our requests.
---