The 50 Best Arabic Wedding Songs
Find your perfect Arabic wedding playlist here.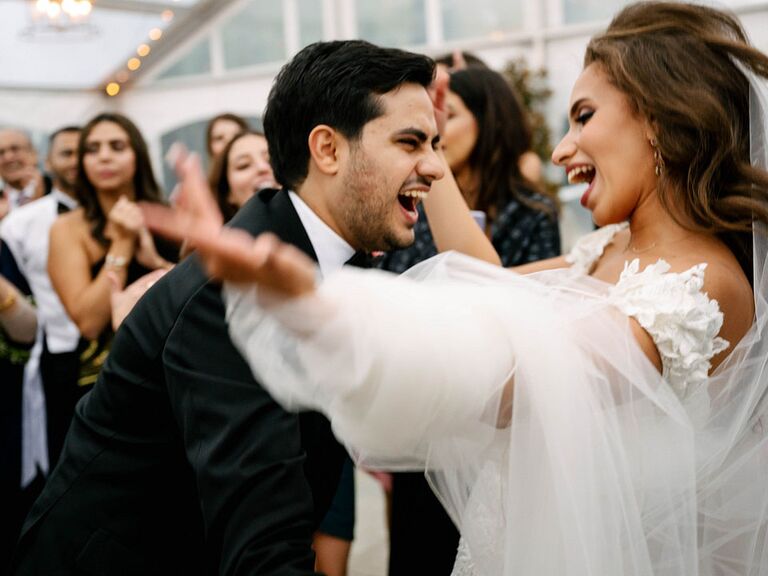 Meredith Coe Photography
Arabic is the sixth-most spoken language in the world, with over 313 million speakers worldwide. More than 25 dialects are spoken in 25 countries, from Saudi Arabia and Yemen in the Middle East, to Lebanon and the Palestine region in the Levant, extending all the way through North Africa to Morocco and Mauritania.
Arabic cultures are full of rich traditions, and with that comes an extensive collection of beautiful wedding music. We've rounded up some of the best Arabic music to include in your wedding, from when you and your spouse make your grand entrance to when your guests hit the dance floor. Take a look at our list and be sure to include your favorites in your playlist for your band or DJ.
Arabic Songs for the Wedding Entrance (Zaffe)
An essential part of many Arab weddings is an ancient tradition called the zaffe (also called zaffa or zaffet)—the couple's grand entrance to their reception. This wedding march can include drummers, bagpipe players, belly dancers and men carrying flaming swords, followed by dabke dancers, the wedding couple and finally, their guests as they all dance their way into the reception. Some couples may choose to hire performers and musicians for an instrumental zaffe, but if you're looking to use a prerecorded song, check out our list below.
Since the zaffe sets the tone for the wedding, the ideal song should be jubilant and joyous (not to mention, drum-heavy) to celebrate the occasion. Plus, there are plenty of Arabic songs that are actually all about weddings, which makes them the perfect choice for this point in the evening.
"Mabrouk," Ramy Ayach (Congratulations)
"Tallet Bil Abyad," Fares Karam (Wedding In White)

"Ahla El Ersan," Mayssam Nahas (The Sweetest Groom)

FEATURED VIDEO FROM THE KNOT

"Alef Mabrook," Husam Al Rassam (Congratulations)

"Arostna," Saif Amer (Our Bride)

"Ham Arees Ham Namshi," Hussam Al Rassam (They Are The Groom)

"Mahlaki," Hussein Al Deek (How Beautiful You Are)

"Hatgawez," Saad El Soghayar (You Will Get Married)

"Ya Baie," Najwa Karam (Oh Dad)

"Lebanese Zaffeh," Jina, Afrah Group

"Shik Shak Shok," Hassan Abou Seoud

"Set El Kel," Wael Kfoury (Lady Of All)

"Yamnana," Moustafa Hagag (Oh Minty One)

"Kol Marra," Tamer Hosny (Each Time)

"Kolo Yorkos," Hakim (All Dance!)

"Zineb," Jalal Hamdaoui
Arabic Love Songs for the First Dance
With their slow beats and passionate lyrics, these Arabic love songs are some of the most meaningful we've ever heard. It's truly hard to find love songs this passionate in other languages. You'll fall head-over-heels for these songs, so good luck choosing just one.
"Al Kawn Janni Maak," Elyanna (The World Is Heaven With You)

"Baddi Hada Hebbou," Nancy Ajram (I Want This Love)

"Rohy Wakhdany," Assala Nasri (My Soul Is Taking Me To You)

"Sadaany Khalas," Amr Diab (Believe Me)

"Enaya Bethebbak," Tamer Hosny (My Eyes Love You)

"Awal Forsa," Rabih Baroud (The First Chance)

"Aleky Eyoun," Ahmen Saad (You Have Eyes)

"Habibi Elli," Mohamed Chaker, Rima Yussef (My Love)

"Min Awel Dekika," Elissa (From The First Moment)

"Bel Ahlam," Nassif Zeytoun (In Dreams)

"Mabtekbareesh," Ramy Gamal (You Are Not Getting Old)

"Lamastak," Amr Mostafa (I Touched You)

"We Maloh," Amr Diab (So What)

"Shayfa Feek," Assala Nasri (I See In You)

"Ensaa," Majid Almohandis (Forget)
Arabic Wedding Dance Songs
We're rounding out our wedding playlist with some fun dance floor songs. Arabic wedding songs feature high-energy tempos with a wide variety of traditional Middle Eastern instruments like the oud, darbukka and qanun mixed with electric guitars and keyboards. Many of these songs are also perfect for the dancing dabke: a kind of Levantine Arabic circle dance native to Jordan, Palestine, Lebanon and Syria, that's performed at weddings.
"Mabrouk Alina," Ramy Sabry (Congratulations To Us)

"Ritanee," Fares Karam (I Wish)

"Takke," Nassif Zeytoun (One Moment)

"Boshret Kheir," Hussain Al Jassmi (Good Tiding)

"Bahebak Mn Baad Allah," Anas Kareem (Love You After Allah)

"Shou Helou, Ziad Bourji (How Pretty)

"Leena, Ra2sa," Carmen Soliman (We Have A Dance Together)

"Eyni Aleyk," Nancy Ajram (I Have My Sights Set On You)

"Aal Tayyib," Fares Karam (The Delicious)

"Fe Hatta Tanya", Mahmoud El Esseily (Completely Different)

"Khatira Khatira," Cheb Houssem (Dangerous Dangerous)

"Shou Hayda," Marwan Chami (What's This)

"Khallini Shoufak," Najwa Karam (Let Me See You)

"Ah Ya Alby," Hakim (Oh, My Heart)

"Ya Bent El Eih," Tamer Hosny (Oh Girl, What?)

"Na Fi Nom," Najwa Karam (There's No Sleep)

"Ya Rayah," Rachid Taha (Oh Traveler)

"Hala Bel Khamis," Maan Barghouth (Welcome Back Thursday)

"Dammi Falastini," Mohammad Assaf (My Blood is Palestinian)