How to Plan Your South Asian Muslim Wedding Celebration
Experts give advice for South Asian Muslim couples and families planning their own wedding events.
If you or your spouse-to-be comes from a Muslim South Asian background, you might want to host a wedding that adheres to the unique religious and regional traditions of the culture. Unsure how to approach planning your wedding celebration? It's important to turn to experts to help guide you through the planning process.
When it comes to a South Asian Muslim wedding, there are quite a few events that you will need to plan. Read ahead to get a breakdown from the pros of major events and how to arrange to host the wedding celebration of your dreams.
In this story:
What Is a Nikah Ceremony?
The Nikah or Katb Al-Kitaab is the Muslim marriage ceremony. "The basis of this ceremony is the signing of the Muslim marriage contract," explains wedding planner and religious scholar John Campbell, owner of Florida-based John Campbell Events and Design. "This contract will spell out all of the responsibilities of both parties in their married life or any responsibilities the bride and groom feel are important enough to include." Wedding planner Sarah Khan, owner of Maryland-based Sarah Khan Event Styling, explains that two witnesses from each side must be present to confirm both parties are willingly entering the marriage. There is also an exchange of a mahr, which is a gift from the groom to the bride. "It's encouraged that it is paid and due at the time of the wedding," notes Khan. The couple must say "qabool hai" three times to accept the contract. Some couples may choose to add on their own vows as well but it's not required. The Imam present may say a short prayer to finish the ceremony.
Average South Asian Muslim Wedding Cost
According to planners, the cost of a Muslim wedding varies greatly depending on the couple. "Like any wedding, the cost of Muslim weddings spans an enormous spectrum of price points," says Campbell. "You might spend hundreds of dollars for a Nikah in your living room and a Walima in a community hall where family and friends come together and provide food and entertainment, or you might spend millions on an elaborate affair with custom-built structures, celebrity entertainers, and couture fashion."
Who Traditionally Pays for a Muslim Wedding?
"The bride's family tends to pay for the Nikah and Shaadi while the groom's family pays for the Walima in South Asian weddings," says Campbell. "It's important to note that this is an extreme simplification, and traditions and expectations vary by region and individual families." Khan echoes this statement, noting that one side of the family may choose to cover all expenses to not place financial burden on the other. She also shares that the groom's family will traditionally buy the bride's outfits and vice versa.
How Long Does a Nikah Ceremony Take?
As the Nikah ceremony surrounds the signing of the marriage contract, it is not a very long event. It normally takes about 30 minutes.
Who Can Perform a Nikah Ceremony?
Usually an Imam from a mosque will perform the ceremony and add in a prayer to the event. However, Khan notes that it doesn't necessarily have to be an Imam. "It could also be a respected person in the family," she says. She suggests reaching out to your local mosque to find someone to officiate the ceremony. You can also find an officiant through The Knot Vendor Marketplace.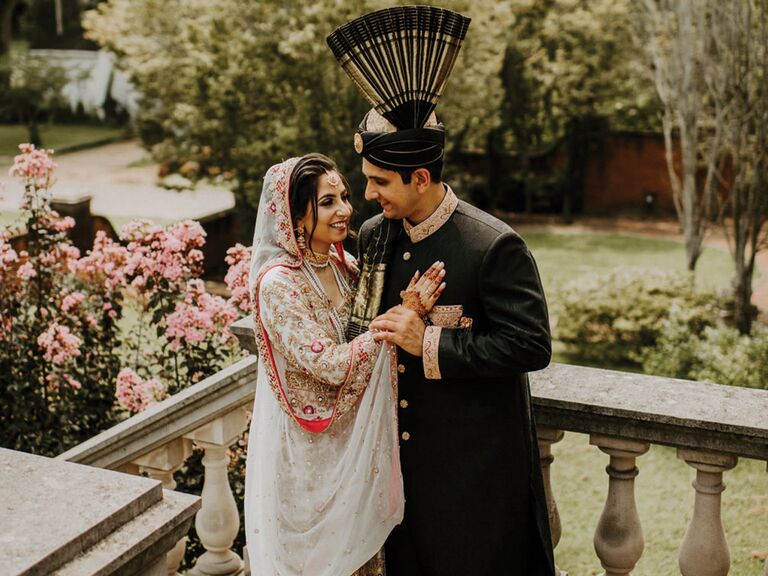 How to Plan a South Asian Muslim Wedding
Since a South Asian Muslim wedding involves multiple events, there is quite a bit of planning that goes into coordinating the celebrations. While each series of wedding events and traditions can vary by region and culture, many South Asian Muslim couples plan for the Mehndi party where the bride receives henna, the Baraat, the Nikah, the post-Nikah reception called the Shaadi thrown by the bride's family, and the Walima reception thrown by the groom's family. The couple may hire a wedding planner to help with arranging all the events and should also consider hiring a photographer well in advance to document the celebrations.
When planning a Mehndi, expect to host all guests of the wedding at this party. It will take place a few days ahead of the Nikah. "This day typically is like the most colorful of all the days," explains Kahn. "It's a kickoff to other wedding events." Mehndi is applied to the bride and the groom's family will usually bring jewelry, outfits, bags, and other gifts for the bride. "While these are often large parties with entertainment, food, and friendly dance competitions, the act of applying Mehndi is at the core of the event," says Campbell. "Hiring a professional artist is a great idea for a bride who values aesthetics, but it's not religiously or culturally required." He adds, "If you are looking to host an elaborate Mehndi party, booking a venue would likely be appropriate. For a smaller group, you may opt to host something at home."
Many South Asian Muslim weddings will include a Baraat, which is the groom's procession to the Nikah. "While every baraat is unique, there are two key elements most grooms want to put their personality into: transportation and entertainment," shares Campbell. "The traditional form of transportation is a horse, but grooms can also ride in on an elephant, a car (usually some sort of luxury convertible), or even more distinctive modes of transportation like a boat or a helicopter. The possibilities are endless, but I would advise grooms to select a mode of transportation that allows them to remain immersed in the spirit of the event—being surrounded by their community. Avoid anything that closes you off too much from your guests. For entertainment, live instrumentalists and drummers are a tried and true classic." Campbell also advises checking if city permits are required to have your procession move through the streets.
The first thing to consider when planning the Nikah ceremony is the timing. "Muslims usually like to attach everything to a prayer of the day as we're supposed to pray five times a day," says Khan. "The prayer is always used as a starting point for the break." She notes that the Nikah is typically hosted right after or before the late afternoon Asr prayer or sunset Maghrib prayer. The Nikah can also be a standalone event or followed right after by the Shaadi. If it's standalone and the Shaadi will be hosted another day, Khan advises planning either a lunch or dinner around the event. If you plan to host the Shaadi right after, Khan advises booking two separate rooms at one venue so you can prepare decor for both ahead of time.
A Nikah can take place at a mosque or any venue of your choice. For more conservative families, a wedding at a mosque may involve separating guests by gender and the bride and groom will agree to the terms of the Nikah over microphones in separate rooms. At other venues, you can have a partition in the middle of the room to create this separation. However, Khan notes that many couples will have genders mixed and both the bride and groom will be on a stage together for the ceremony. To prepare the ceremony space, she suggests getting chairs for theater-style seating so every guest can see the Nikah with an aisle at the center. "If your guest count is above 100, I would recommend having a riser for visibility purposes," she says. You should also decide how many people from your family you would like onstage with you so you can prepare adequate seating.
The ceremony space also doesn't have to remain bare. Decide if you would like to include a backdrop for your ceremony designed with florals or draped fabrics. These designs can be very elaborate or simple, depending on your preference and budget. Florals can also line the aisle for the event. Another major piece to prepare for the Nikah is the actual contract called the Nikah Nama. Khan shares that couples should look to Etsy or Instagram for artists who create beautifully designed contracts that will be signed during the ceremony and later can be framed at home. She also reminds couples to decide upon the mahr and have it paid by the time of the Nikah.
The bride's family is in charge of planning the Shaadi following the Nikah, either on the same day or at a later date. "A Shaadi tends to be the event more heavily concerned with cultural preservation, so you'll see traditional garb and more ceremonial elements," says Campbell. "The particularities of these traditions will depend on the country of origin, but it's very common to see choreographed dances from wedding parties, family members, and even the couple. It's also a common tradition for bridesmaids and the bride's family to hide the groom's shoes and demand money for their return." In addition to traditions, the family should account for catering food for all the guests, designing the reception space, and arranging for any entertainment.
The Walima is the final reception of the wedding hosted by the groom's family. "Depending on the specific culture and the religious beliefs of a given family, a Walima may be segregated by sex—either by table or putting people in different rooms," notes Campbell. "This decision will change how the event flows. If a Walima is not segregated by sex, it's common to see the bride and groom elevated on a highly decorated stage. Guests will approach the stage, give salaam and congratulations, and, at this time, give the couple a cash gift in an envelope. Traditional cultural dances are definite, as is an abundance of food."
1. Choosing Attire for Each South Asian Muslim Wedding Event
Deciding what to wear to each event is a big decision for couples. Khan notes that brides and grooms will have a different outfit for each event. "It's very fun and very complex because you need different hair for each one, different makeup for each one, and different jewelry for each one," she shares. Couples often will choose the most colorful attire for the Mehndi ceremony. If the Nikah takes place at a mosque, modesty should definitely be considered when choosing attire. Khan says she has seen more brides wearing cream, beiges, and neutral shades recently for the ceremony. However, red attire is a traditional choice for both the Nikah and Shaadi. Grooms will often wear sherwani or kurta pajamas for this celebration. At the Walima, Khan says brides like to wear "shades of greens, blues, or neutrals," while grooms may wear a Western-style suit or tuxedo.
2. Designing Invitations for a South Asian Muslim Wedding
Couples should plan to send out invitations to a South Asian Muslim wedding well in advance to give your guest list proper time to prepare for the multi-day celebration. "Muslim wedding invitations usually include religious text and symbolism," shares Campbell. "You might include an excerpt from the Quran or Hadith. Including the phrase 'In the name of Allah, the most Beneficent and most Merciful' at the top of the invitation in some variation is pretty standard—you might choose to include that in the original Arabic. It's also common to include cultural design motifs as well, but I've seen many Muslim wedding invitations that look identical to Western invitations outside of their text. Design really comes down to personal preference."
3. Arrange Spaces for Prayer at a South Asian Muslim Wedding
One thing Khan says many couples forget when planning a Muslim wedding is arranging a room for guests to pray. "If you're having a Muslim wedding, you have to consider an accommodation for the guests that are cognizant of their prayers and would like a space to pray," she shares. "You want to have some sort of indication in that room showing you which way is the Qibla—the direction of Mecca. The entire room should be covered wall-to-wall in white sheets on the floor. If you're able to, it would be nice to have shoe shelving set outside of the room so guests can take their shoes off before walking into the room. Then, the back wall or sides should be lined with chairs for the elderly so they can sit and pray."