Mother-Son Wedding Song Ideas
Similar to the father-daughter dance song, the mother-son song should have meaningful lyrics and a melody and rhythm that are easy to dance to. Below are a few ideas to get you started.
by Samantha Roberts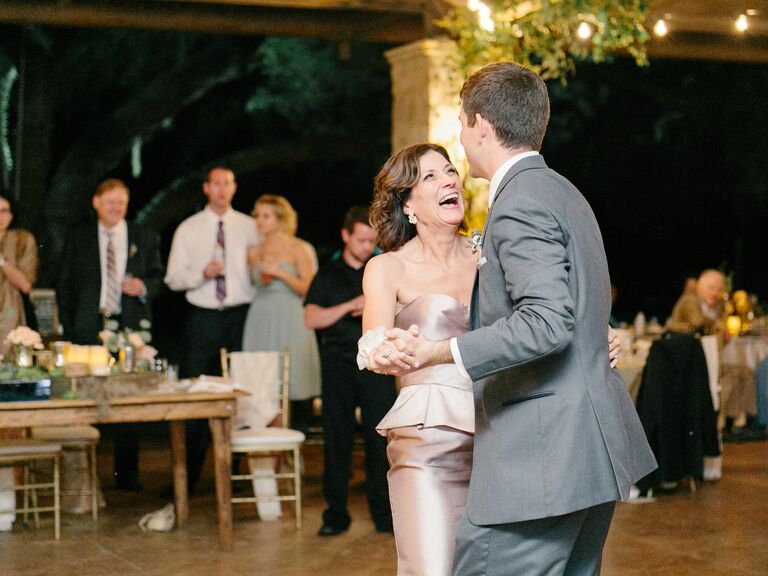 Whether these songs are played by a band or DJ, sang by a soloist or performed by other musical entertainers, they're sure to add a sentimental vibe to your mother-son wedding dance.
1. "A Song for my Son" by Mikki Viereck
2. "All to You" by Scott Keo
3. "Angels" by Randy Travis
4. "Bridge Over Troubled Water" by Simon & Garfunkel
5. "Child of Mine" by Carole King
6. "Days Like This" by Van Morrison
7. "Do I Make You Proud" by Taylor Hicks
8. "Forever Young" by Bob Dylan
9. "God Only Knows" by The Beach Boys
10. "Greatest Love of All" by Whitney Houston
11. "Hit the Road Jack" by Ray Charles
12. "How Sweet It Is (to Be Loved by You)" by James Taylor
13. "I Hope You Dance" by Lee Ann Womack
14. "In My Life" by The Beatles
15. "Loves Me Like a Rock" by Paul Simon
16. "Mama" by Boyz II Men
17. "Mama's Song" by Carrie Underwood
18. "Mother" by Danzig
19. "Mother" by Pink Floyd
20. "Mother Like Mine" by The Band Perry
21. "My Wish" by Rascal Flatts
22. "The Perfect Fan" by Backstreet Boys
23. "Rainbow Connection" by Kermit the Frog
24. "Simple Man" by Lynyrd Skynyrd
25. "Stand by Me" by Ben E. King
26. "Sunrise Sunset" from Fiddler on the Roof
27. "Sweet Child O' Mine" by Guns N' Roses
28. "Thank You Mom" by Good Charlotte
29. "The First Lady in My Life" by Paul Todd
30. "The First Time Ever I Saw Your Face" by Roberta Flack
31. "What a Wonderful World" by Louis Armstrong
Shelby + Tyler by Reel Special Productions from Love Stories TV.
Watch more sweet mother-son moments on LoveStoriesTV.com.
Not sure where to begin with your wedding planning? Take our Style Quiz and we'll pull together a custom wedding vision and vendors to match, just for you. After that, create a free, personalized wedding website to keep your guests informed (and excited!) about your plans, and a time-saving Guest List Manager to organize your attendees. Even better? You can sync your Guest List Manager and wedding website to update everything at once.