The 50 Best Song Ideas for Your Mother-Son Dance
This special parent dance should be easy to dance to, fun to watch and meaningful to the duo on the dance floor. Let some of our favorites inspire you.
by The Knot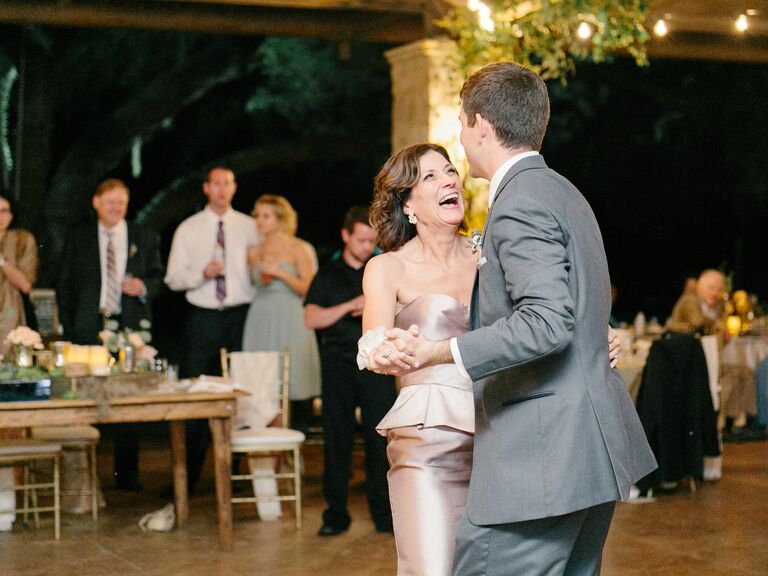 Though certainly not mandatory, parent dances—be they mother-son, mother-daughter, father-daughter or father-son—will always hold a special place in our hearts. 
The mother-son dance is a sweet, sentimental wedding tradition that lets grooms share a meaningful moment with a VIP in their life. If you're a groom getting excited to dance with your mom (or grandma, aunt or BFF) at your wedding reception, you need an awesome mother-son dance song to pair it with. That's where we (and your band or DJ) come in. Check out our official mother-son dance song playlist to get inspired (and maybe grab a few tissues first).
Slow Mother-Son Dance Songs
"A Song for My Son," Mikki Viereck
"Bridge Over Troubled Water," Simon & Garfunkel

"Do I Make You Proud,"  Taylor Hicks

"Forever Young," Bob Dylan

"God Only Knows," The Beach Boys

"Greatest Love of All," Whitney Houston

"Wind Beneath My Wings," Bette Midler

"Beautiful Boy," John Lennon

"In My Life," The Beatles

"Mother and Child Reunion," Paul Simon

"Mom," Lucero

"Mother," Pink Floyd

"My Love, My Life," ABBA

"Simple Man," Lynyrd Skynyrd

"Stand by Me," Ben E. King

"The First Lady in My Life," Paul Todd

"The First Time Ever I Saw Your Face," Roberta Flack

"What a Wonderful World," Louis Armstrong

"You'll Be in My Heart," Phil Collins

"You Raise Me Up," Josh Groban
Upbeat Mother-Son Dance Songs
"Days Like This," Van Morrison

"Child of Mine," Carole King

"Mama Said," The Shirelles 

"Hit the Road Jack," by Ray Charles

"I'll Always Love My Mama," The Intruders

"How Sweet It Is (to Be Loved by You)," James Taylor

"Loves Me Like a Rock," Paul Simon

"Mother," Danzig

"Sweet Child O' Mine," Guns N' Roses

"You Are the Sunshine of My Life," Stevie Wonder
Country Mother-Son Dance Songs
"All to You," Scott Keo

"Angels," Randy Travis

"Never Alone," Lady Antebellum

"I Hope You Dance," Lee Ann Womack

"Mama's Song," Carrie Underwood

"Mother Like Mine," The Band Perry

"My Wish," Rascal Flatts

"The Best Day," Taylor Swift

"There You'll Be," Faith Hill

"God's Been Good to Me," Keith Urban
Contemporary Mother-Son Dance Songs
"Thank You Mom," Good Charlotte

"Remedy," Adele

"A Song for Mama," Boyz II Men

"I Got You," Ciara

"Sweetest Devotion," Adele

"Home," Phillip Phillips

"Only One," Kanye West feat. Paul McCartney

"River," Leon Bridges

"Drops of Jupiter," Train

"Hey Mama," Kanye West

Shelby + Tyler by Reel Special Productions from Love Stories TV.  
Watch more sweet mother-son moments on LoveStoriesTV.com.
Not sure where to begin with your wedding planning? Take our Style Quiz and we'll pull together a custom wedding vision and vendors to match, just for you. After that, create a free, personalized wedding website to keep your guests informed (and excited!) about your plans, and a time-saving Guest List Manager to organize your attendees. Even better? You can sync your Guest List Manager and wedding website to update everything at once.