The 50 Most Memorable Mother Son Dance Songs for Your Wedding Day
This special parent dance should be easy to dance to, fun to watch and meaningful to the duo on the dance floor. Let some of our favorites inspire you.
by The Knot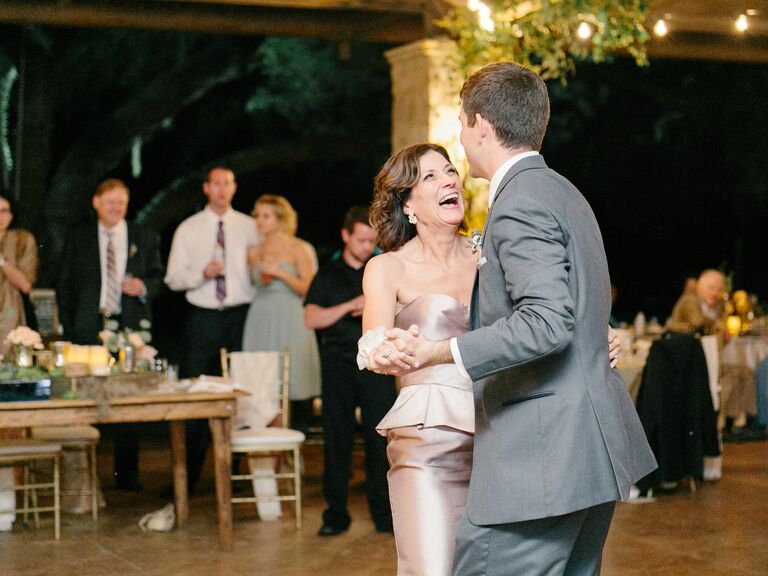 Though certainly not mandatory, parent dances—be they mother-son, mother-daughter, father-daughter or father-son—will always hold a special place in our hearts. 
The mother-son wedding dance is a sweet, sentimental tradition that lets grooms share a meaningful moment with a VIP in their life. If you're a groom getting ready to dance with your mom (or grandma, aunt or BFF) at your wedding reception, you need some awesome mother-son dance songs to inspire you. That's where we (and your band or DJ) come in. 
Let's be honest: Your mom has probably been looking forward to dancing with you at your wedding ever since you announced your engagement. Picking the right mother and son wedding songs make that moment perfect. But don't just pick any old song. Finding the right mother-son wedding songs takes some forethought. 
Do you want to make her cry, make her boogie or make her laugh? Think about what kind of music your mom likes, and what kind of mother-son wedding dance songs you've seen work at other weddings you've attended. No matter what you're looking for, we think we've got the right mother-son dance songs for you. Check out our official mother-son dance song playlist to get inspired (and maybe grab a few tissues first).
Slow Mother-Son Dance Songs
1. "A Song for My Son," Mikki Viereck
"I don't know where/ The time has gone/ Since those little boy days/ Doesn't seem that long/ Yet here you are/ It's your wedding day"

2. "Bridge Over Troubled Water," Simon & Garfunkel

"When tears are in your eyes, I will dry them all, all/ I'm on your side, oh, when times get rough"

3. "Do I Make You Proud,"  Taylor Hicks

"You were the one/ The one to guide me through/ Now I can see/ And I believe/ It's only just beginning"
4. "Forever Young," Bob Dylan

"May your heart always be joyful/ May your song always be sung/ May you stay forever young"

5. "God Only Knows," The Beach Boys

"You never need to doubt it/ I'll make you so sure about it/ God only knows what I'd be without you"

6. "Greatest Love of All," Whitney Houston

"Because the greatest/ Love of all is happening to me/ I found the greatest/ Love of all inside of me"

7. "Wind Beneath My Wings," Bette Midler

"Did you ever know that you're my hero/ And everything I would like to be/ I can fly higher than an eagle/ for you are the wind beneath my wings"

8. "Beautiful Boy," John Lennon

"Before you go to sleep/ Say a little prayer/ Every day in every way, it's getting better and better"

9. "In My Life," The Beatles

"Though I know I'll never lose affection/ For people and things that went before/ I know I'll often stop and think about them/ In my life, I'll love you more"

10. "Mother and Child Reunion," Paul Simon

"Oh, the mother and child reunion/ Is only a motion away"

11. "Mom," Lucero

"With time, all things must change/ The road, it might take its own course/ But at its end, we're still your boys"

12. "Mother," Pink Floyd

"Mama's gonna keep baby healthy and clean/ ooh baby, ooh baby, ooh baby/ You'll always be baby to me"

13. "My Love, My Life," ABBA

"You are still my love and my life/ Still my one and only"

14. "Simple Man," Lynyrd Skynyrd

"You'll find a woman and you'll find love/And don't forget, son, there is someone up above"

15. "Stand by Me," Ben E. King

"No I won't be afraid, no I won't be afraid/ Just as long as you stand, stand by me"

16. "The First Lady in My Life," Paul Todd

"You were my best friend, my inspiration/ The one I looked up to/ Hey Mom, the first lady in my life was you"

17. "The First Time Ever I Saw Your Face," Roberta Flack

"The first time ever I saw your face/ I thought the sun rose in your eyes/ And the moon and the stars were the gifts you gave/ to the dark and the endless skies"

18. "What a Wonderful World," Louis Armstrong

"I see trees of green, red roses too/ I see them bloom, for me and for you/ And I think to myself/ What a wonderful world"

19. "You'll Be in My Heart," Phil Collins

"Cause you'll be in my heart/Yes, you'll be in my heart/From this day on/ Now and forever more"

20. "You Raise Me Up," Josh Groban
"You raise me up, so I can stand on mountains/ You raise me up to walk on stormy seas/ I am strong I am on your shoulders/ You raise me up to more than I can be"

Upbeat Mother-Son Dance Songs
21. "Days Like This," Van Morrison

"When everything falls into place like the flick of a switch/ Well my mama told me there'll be days like this"

22. "Child of Mine," Carole King

"Oh yes sweet darling/ So glad you are a child of mine"

23. "Mama Said," The Shirelles 

"Mama said there'll be days like this/ There'll be days like this, my mama said"

24. "Hit the Road Jack," by Ray Charles

"Hit the road Jack and don't you come back/ No more, no more, no more, no more"

25. "I'll Always Love My Mama," The Intruders

"I'll always love my mama/ She's my favorite girl/ I'll always love my mama/ She brought me in this world"

26. "How Sweet It Is (to Be Loved by You)," James Taylor

"How sweet it is to be loved by you, feels so fine/ How sweet it is to be loved by you"

27. "Loves Me Like a Rock," Paul Simon

"Oh, my mama loves, she loves me/ She get down on her knees and hug me/ Oh she loves me like a rock/ She rock me like the rock of ages/ And loves me"

28. "Mother," Danzig

"Mother/ Tell your children not to hold my hand/ Tell your children not to understand/ Oh mother"

29. "Sweet Child O' Mine," Guns N' Roses

"She's got a smile that it seems to me/ Reminds me of childhood memories/ Where everything was as fresh as the bright blue sky"

30. "You Are the Sunshine of My Life," Stevie Wonder
"You are the sunshine of my life/ That's why I'll always be around/ You are the apple of my eye/ Forever you'll stay in my heart"

Country Mother-Son Dance Songs
31. "All to You," Scott Keo

"There's no way to thank you, for all that you have done/ No matter how old I get I will always be your son"

32. "Angels," Randy Travis

"She counted your fingers and toes and thanked god you were whole/ Son you oughta know who loved you first, that's right"

33. "Never Alone," Lady Antebellum

"Wherever you fly/ This isn't goodbye/ My love will follow you, stay with you/ Baby, you're never alone"

34. "I Hope You Dance," Lee Ann Womack

"Promise me that you'll give faith a fighting chance/ And when you get the choice to sit it out or dance/ Dance"

35. "Mama's Song," Carrie Underwood

"Mama, there's no way you'll ever lose me/ And giving me away is not goodbye/ As you watch me walk down to my future/ I hope tears of joy are in your eyes"

36. "Mother Like Mine," The Band Perry

"She's the sky that holds the clouds/she the lady of our house/ we need her, but no one more than me"

37. "My Wish," Rascal Flatts

"This is my wish (my wish for you)/ I hope you know somebody loves you (my wish for you)/ May all your dreams stay big (my wish for you)"

38. "The Best Day," Taylor Swift

"I know you were on my side/ Even when I was wrong/ And I love your giving me your eyes/ Staying back and watching me shine"

39. "There You'll Be," Faith Hill

"When I look back on these days/ I'll look and see your face/ You're right there for me"

40. "God's Been Good to Me," Keith Urban
"And every I have and everything I see/ Is just another reminder that God's been good to me"

Contemporary Mother-Son Dance Songs
41. "Thank You Mom," Good Charlotte

"I'll always thank you/ More than you would know/ Than I could ever show/ And I love you/ I'll always love you"

42. "Remedy," Adele

"Come whatever I'll be the shelter that won't let the rain come through/ Your love, it is my truth/ And I will always love you"

43. "A Song for Mama," Boyz II Men

"Mama, Mama you know I love you/ You know I love you/ Mama, Mama you're the queen of my heart"

44. "I Got You," Ciara

"Hush little baby don't you cry/ Momma's gonna love you all your life/ And if you ever need a friend/ Momma's right there till the very end"

45. "Sweetest Devotion," Adele

"The sweetest devotion/ Hitting me like an explosion/ All of my life, I've been frozen/ The sweetest devotion I've ever known"

46. "Home," Phillip Phillips

"Just know you're not alone/ 'Cause I'm gonna make this place your home"

47. "Only One," Kanye West feat. Paul McCartney

"And when you cry, I will cry/ And when you smile, I will smile/ And next time when I look in your eyes/ We'll have wings and we'll fly"

48. "River," Leon Bridges

"In my darkness I remember/ Momma's words reoccur to me/ "Surrender to the good Lord/ And he'll wipe your slate clean"

49. "Drops of Jupiter," Train

"Tell me/ Did you fall from a shooting star/ One without a permanent scar/ And did you miss me while you were/ Looking for yourself out there?"

50. "Hey Mama," Kanye West

" You know I love you so, I'll never let you go/ I wrote this song just so you know no matter where you go Imma love you"

Shelby + Tyler by Reel Special Productions from Love Stories TV.  
Watch more sweet mother-son moments on LoveStoriesTV.com.
Not sure where to begin with your wedding planning? Take our Style Quiz and we'll pull together a custom wedding vision and vendors to match, just for you. After that, create a free, personalized wedding website to keep your guests informed (and excited!) about your plans, and a time-saving Guest List Manager to organize your attendees. Even better? You can sync your Guest List Manager and wedding website to update everything at once.