The 27 Best Scottish Wedding Songs
We're here to share the top Scottish wedding songs for your special day. Yaldi!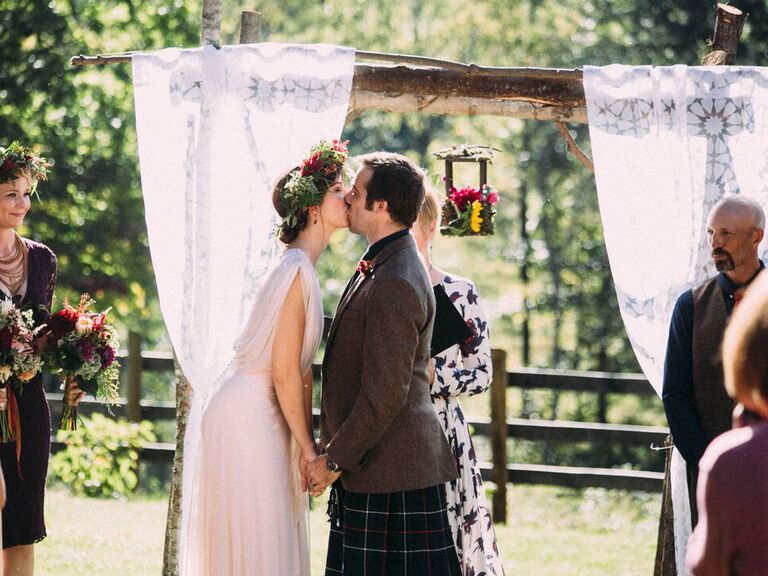 Fox & Owl Studio
Whether you're tying the knot in the States or stealing away to the lush rolling landscapes of Scotland, there is a wide range of sentimental, emotional and lively Scottish wedding songs to choose from. Traditional Scottish music includes a blend of Celtic sounds, most notably the bagpipe, fiddle and accordion, that is often performed by a ceilidh (or social gathering) band.
From Glasgow to the Highlands, we've rounded up a list of the best Scottish music. So browse our list and be sure to let your ceilidh band or DJ know of your selections. Then all that'll be left to do is break out your kilts and party!
Bagpipe-Heavy Processional Songs
These processional songs feature the bagpipe prominently, offering a distinctly Scottish sound that will be sure to command your guests' attention as you walk down the aisle. If you are hiring pipers or a full ceilidh band, these songs are the perfect opportunity for them to get involved.
"Highland Wedding," Ballycastle Players

"Flower of Scotland," The Royal Scots Dragoon

"The Rowan Tree," The Drums & Pipes & The Cape Town Highlanders

"Highland Cradle Song," The Drums & Pipes

"Highland Cathedral," The Royal Scots Dragoon

"Scotland The Brave," Cape Town Highlanders

"Braveheart Theme," Celtic Bagpipe Orchestra

"The Heights of Dargai," Pipe Major Bill Hepburn and Bill Hepburn Jr.
Scottish Instrumental Processional and Recessional Songs
If you're looking to make your entrance to something a bit more cerebral and understated, there are also plenty of Scottish wedding songs without bagpipes to choose from. Consider "Unst Bridal March" for a pretty piano ballad, or channel your inner Claire and Jamie Fraser with "Skye Boat Song," made famous by the hit series, Outlander.
"Unst Bridal March," Catherine Strutt, Julian Thompson

"Skye Boat Song (Outlander Theme Song)", Bear McCreary, Raya Yarbrough

"Will Ye Go," Lassie, Go, The Corries

"Pad The Road Wi Me," Malinky

"Marry Me Now," Fèis Fhoirt Cèilidh Trail
Scottish Unity Ceremony Songs
If you're getting married in a traditional Celtic ceremony, it may include the traditional handfasting ceremony or another ceremony symbolizing unity. In the handfasting ceremony, the couple is bound together with cords and rope, which symbolizes how they will never be separated. This is one of the most impactful parts of the wedding, and an opportunity for some gorgeous folk music with slow fiddle and beautiful harp sounds.
"Red Is The Rose," The High Kings

"Carraroe Jig," The Corrs

"The Mist Covered Mountains of Home," Maggie Sansone

"My Love Is Like a Red Red Rose," The O'Neill Brothers Group

"Ye Banks And Braes of Bonny Doom," Suzanne Weller
Scottish Reception Dance Music
One of the most iconic parts of the Scottish wedding reception is the folk dancing, which will often take place to music by the ceilidh band. Scottish ceilidh dancing is typically set to a lively eight-bar phrase of music, with dancers breaking off occasionally into couples or sets of three, four, six or eight, as they continue throughout the dance floor. These dancers are often easy to learn, since there is typically a dance-caller who explains the moves as you dance. In addition to ceilidh dancing, there are also waltzes, swings and step dancing to incorporate.
"Mairi's Wedding," The Scottish Country Dance Band

"Cutty's Wedding," Eriska

"Loch Lomond," The King's Singers

"Flying Scotsman," The Occasionals

"Gay Gordons," Kinlochard Ceilidh Band

"Canadian Barn Dance," Jim MacLeod & His Band

"The Flying Scotsman," The Glencraig Scottish Dance Band

"Strip the Willow," Kinlochard Ceilidh Band

"St. Bernard's Waltz," Gordon Pattullo's Ceilidh Band