Who Comes First: Your Spouse, Your Family or Your Kids?
Relationship experts weigh in.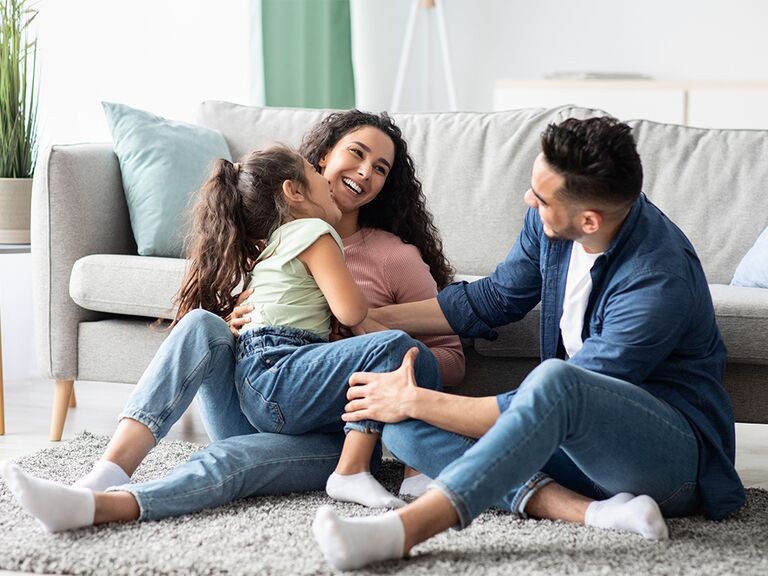 Prostock-studio / Shutterstock
We have included third party products to help you navigate and enjoy life's biggest moments. Purchases made through links on this page may earn us a commission.
Marriage is about more than just saying your "I do"s. It's also about building a life with your partner. From buying a house and planning for retirement to having children and creating traditions, having a forever partner to share life with can be truly wonderful.
But however wonderful it may be, it also requires you to readjust your priorities and your approach to certain relationships. After all, your spouse is now your family. Should they come first? Or should your kids lead the pack? What about your family of origin, such as your parents and siblings? Are there situations where you might need to choose between your children and your spouse?
We spoke with relationship experts to get the inside scoop.
In this article:
Why Your Spouse Comes First
In a marriage with children, it may seem counterintuitive to not put the kids first, says psychologist Yvonne Thomas. "However, it's actually healthier to make your spouse the first priority." This is because it benefits all of your family members. If you have an emotionally solid marriage with a good foundation, your children will feel happier, more stable and more secure, Thomas says.
"Kids can literally see what it's like to be in a loving relationship in which there is a true partnership, respect, and joy from being a couple," she says. "By experiencing this emotional stability between their parents, the kids can learn how to do this when they have their own romantic relationships, too."
When you place your spouse first and vice versa, you'll both feel more loved and appreciated. "This can make the kids feel more comfortable and happy too, since the quality of their parents' relationship—and thus the quality of their home life—can be genuinely positive," Thomas says.
By prioritizing your relationship with your spouse, you'll not only be modeling what type of relationship they should one day seek, but you'll also raise children with a strong sense of self-worth, Peer says. "Your job as a parent is to raise your child with incredibly high self-esteem," she says. "Many parents think their job is to protect their child or give their child organic foods. All of that is important, but the self-esteem of your child is the most important."
4 Ways to Prioritize Your Marriage
1. Strive for balance.
Before your spouse was a mom, dad, stepmom or stepdad, they were the love of your life. That didn't change just because you welcomed children into your lives. But all too often, Thomas says, couples lean so heavily into co-parenting that they let the intimacy of their relationship fall by the wayside.
"It's imperative to set aside time to maintain or rekindle the romantic and passionate part of your relationship," she says. "Reserve that time in each partner's calendar so that this commitment is taken as seriously as any other time."
One way to do this is by creating a priority list broken into the following sections:
Your needs

Your spouse's needs
Your children's needs
Your household's needs
2. Remember: Your priorities will fluctuate.
Although putting your partner first is important, there are times when your kids will come first. For example, more of your attention will be focused on their health and growth during the newborn and toddler phases.
"When you have a very new baby, they are by nature dependent on you," says Marisa Peer, founder and creator of Rapid Transformational Therapy. "So you must put your child first. But as your children get older, you need to change that priority back to your partner."
As with any type of rule or advice, life happens. We can't always predict when our attention will be needed elsewhere due to sudden change, a crisis or other circumstances out of our control. Some weeks, it'll be all about the kids. Others, it'll be all about work. Sometimes, it'll be all about your parents, who will need your attention as they age. Things will shift, and that's normal.
Remember to be flexible. Having a rigid belief that your children or your spouse should always come first can cause conflict. "Understanding that this fluctuates is one of the keys to having an amazing marriage," Peer says.
3. Learn each other's love languages.
Having one date night a month isn't enough to maintain the health of your marriage. Instead, Thomas suggests learning how you both prefer to give and receive love so you feel heard and valued as much as possible.
"By knowing this information, each spouse can show love to the other in those specific ways," she says. "This is very important so that the two partners are on the same wavelength and are receiving love in a way that feels best for each spouse."
4. Don't forget to prioritize your own needs.
You might feel like you're so busy putting your spouse, your children and your parents first that you no longer have time for yourself, Peer says. "Sometimes you have to do something I call honoring yourself," she says. "You are like a battery and need to recharge. Your own needs should certainly be in this group of family, spouse and children."
Whether it's a weekly yoga class, three hours on Saturday morning to relax, or something else entirely, your "me" time should also be part of the equation.