Say "I Love You" with 136 Love Quotes for Her
Dealing with writer's block when it comes to telling your honey how you feel? Draw some inspiration from our list of love quotes for her.
There's no quicker path to writer's block than to sit down and attempt to find the right words to express your true love to the woman in your life. Our hats are off to those of you writing your own wedding vows! But have no fear— finding the perfect love quotes for her can help you fill in the gaps and figure out exactly what to say to win her heart for good. Consider your lady love lucky, because here, we've gone straight to the pros to gather a list of classic and modern love quotes from acclaimed poets, authors, songwriters and screenwriters.
Whether you're looking for an inspirational love quote to include in a card to give her on a special occasion, a romantic Valentine's Day message, ideas for wedding vows or prose to pen in a love letter, we've got you covered with some of the best love quotes that are virtually guaranteed to melt the heart of the woman you love.
But don't just wait for a special occasion to profess your real love. There are so many creative ways for you to deploy these romantic quotes for her. How about slipping little notes under her pillow or writing them on a card that you put in her suitcase when she leaves for a trip? You can hide quotes around the house, write them on a napkin as you serve up a romantic dinner or simply use one as a cute text to send. We've categorized this list of love quotes to make it easy for you to find the perfect one for the moment.
Love Quotes for Her in this Article:
I Love You Quotes for Her
When you want to be direct, there's no better way than to choose an "I love you" quote. Those three little words are the best way to tell her without question that you love her—and that's exactly what she wants to hear from you!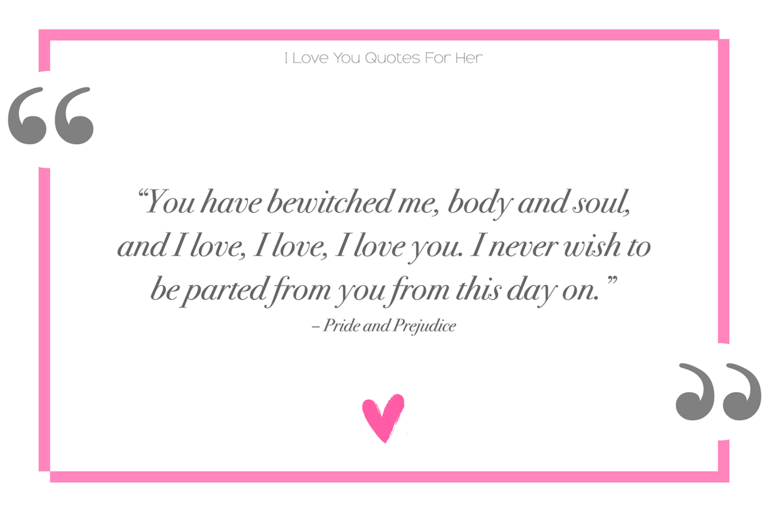 1. "Do I love you? My God, if your love were a grain of sand, mine would be a universe of beaches." – William Goldman, The Princess Bride

2. "I love you right up to the moon—and back." – Sam McBratney, Guess How Much I Love You

3. "I've never had a moment's doubt. I love you. I believe in you completely. You are my dearest one. My reason for life." – Ian McEwan, Atonement
4. "You have bewitched me, body and soul, and I love, I love, I love you. I never wish to be parted from you from this day on." – Pride and Prejudice

5. "I love you more than I have ever found a way to say to you." – Ben Folds, "The Luckiest"
6. "I do know some things. I know I love you. I know you love me." – Game of Thrones

7. "I said I love you and that's forever
And this I promise from the heart
I could not love you any better
I love you just the way you are."
– Billy Joel, "Just the Way You Are"

8. "I love you the way a drowning man loves air. And it would destroy me to have you just a little." – Rae Carson, The Crown of Embers

9. "So, I love you because the entire universe conspired to help me find you." – Paulo Coelho, The Alchemist

10. "Storm clouds may gather and stars may collide, but I love you until the end of time." – Moulin Rouge

11. "Whatever happens tomorrow, or for the rest of my life, I'm happy now…because I love you." – Groundhog Day

12. "I love you. I knew it the minute I met you. I'm sorry it took so long for me to catch up. I just got stuck." – Silver Linings Playbook
13. "I love you without knowing how, or when, or from where.
I love you straightforwardly, without complexities or pride;
so I love you because I know no other way
than this: where I does not exist, nor you,
so close that your hand on my chest is my hand,
so close that your eyes close as I fall asleep." – Pablo Neruda, "Love Sonnett XVII"

Cute Love Quotes for Her
Skip the sappy and opt for something cute and fun for your honey when you want to tell her you love her while keeping it light. Scribble a sweet note with one of these cute love quotes before you leave in the morning and she'll be all yours when you see her again.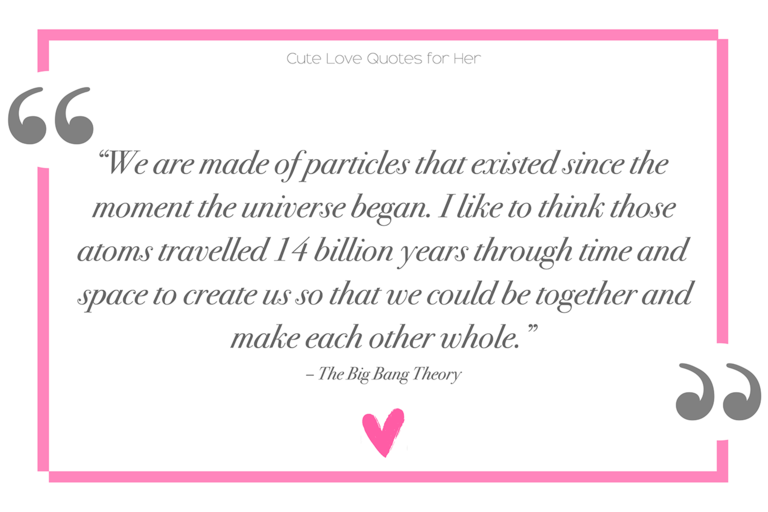 14. "For all the things my hands have held, the best by far is you." – Andrew McMahon in the Wilderness, "Cecilia and the Satellite" lyrics

15. "You should know how great things were before you. Even so, they're better still today. I can't think of who I was before you ruined everything in the nicest way." – Jonathan Coulton, "You Ruined Everything" lyrics

16. "You think you're one of millions but you're one in a million to me." – Brad Paisley, "The World" lyrics

17. "But the you who you are tonight is the same you I was in love with yesterday, the same you I'll be in love with tomorrow." – Gayle Forman, If I Stay

18. "It's a miracle
Just like the sunshine makes the flower grow
That's just the way you change my whole life show
Through the sunshine of your tender love." – Stevie Wonder, "Thank You Love" lyrics
19. "We are made of particles that existed since the moment the universe began. I like to think those atoms travelled 14 billion years through time and space to create us so that we could be together and make each other whole. – The Big Bang Theory

20. "You're the sail of my love boat,
You're the captain and crew;
You will always be my necessity—
I'd be lost without you." – Hold Everything

21. "You see, this is all we need. A couple smokes, a cup of coffee, and a little bit of conversation. You and me and five bucks." – Reality Bites

22. "You're the best thing I never knew I needed. So now it's so clear I need you here always." – Ne-Yo, "Never Knew I Needed" lyrics

23. "My dearest friend, if you don't mind
I'd like to join you by your side
Where we can gaze into the stars
And sit together, now and forever
For it is plain as anyone can see
We're simply meant to be." – The Nightmare Before Christmas

24. "If I had to dream up the perfect woman, she wouldn't even come close to you." ­– Boy Meets World
25. "We are all a little weird and life's a little weird, and when we find someone whose weirdness is compatible with ours, we join up with them and fall in mutual weirdness and call it love." – Dr. Seuss
Love Quotes for Her from the Heart
Every woman wants to know that she and her partner are in sync. Show her your hearts are in harmony with these love quotes that speak straight from the heart.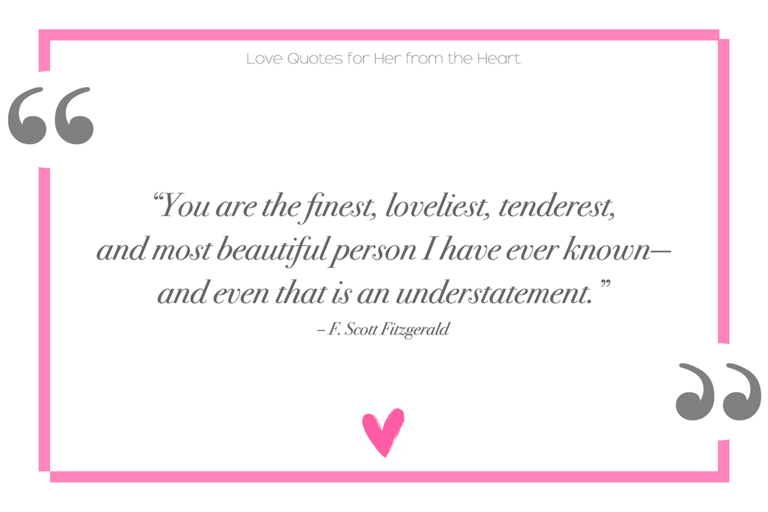 26. "Sometimes your nearness takes my breath away; and all the things I want to say can find no voice. Then, in silence, I can only hope my eyes will speak my heart." – Robert Sexton

27. "You are the one girl that made me risk everything for a future worth having." – Simone Elkeles, Perfect Chemistry

28. "You are the finest, loveliest, tenderest, and most beautiful person I have ever known—and even that is an understatement." – F. Scott Fitzgerald

29. "You and I, it's as though we have been taught to kiss in heaven and sent down to earth together, to see if we know what we were taught." – Boris Pasternak, Doctor Zhivago

30. "Because of you I can feel myself slowly but surely becoming the me I have always dreamed of being." – Tyler Knott Gregson, "Becoming"

31. "You make me happier than I ever thought I could be and if you let me, I will spend the rest of my life trying to make you feel the same way." – Friends

32. "Your words are my food, your breath is my wine. You are everything to me." – Sarah Bernhardt

33. "It's like my life isn't even real to me unless you're there and you're in it and I'm sharing it with you." – Gilmore Girls

34. "I come here with no expectations, only to profess, now that I am at liberty to do so, that my heart is and always will be...yours." – Jane Austen, Sense and Sensibility

35. "I want to tell you with my last breath that I have always loved you. I would rather be a ghost, drifting by your side as a condemned soul, than enter heaven without you. Because of your love, I will never be a lonely spirit." – Crouching Tiger, Hidden Dragon
36. "So it's not gonna be easy. It's going to be really hard; we're gonna have to work at this everyday, but I want to do that because I want you. I want all of you, forever, everyday." – Noah, The Notebook
37. "It feels good to be the one, that you want when all I want is you." – Jack Johnson, "Never Fade"
38. "In all the world, there is no heart for me like yours. In all the world, there is no love for you like mine." – Maya Angelou
Romantic Love Quotes for Her
Turn on the charm with these ultra-romantic love quotes for her, perfect for including in a Valentine's Day card or even having framed as artwork to give your wife or girlfriend all the feels.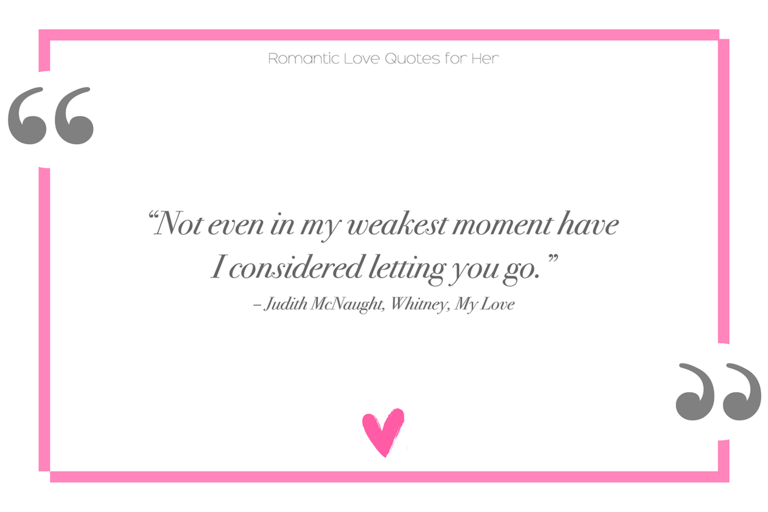 39. "I could not tell you if I loved you the first moment I saw you, or if it was the second or third or fourth. But I remember the first moment I looked at you walking toward me and realized that somehow the rest of the world seemed to vanish when I was with you." – Cassandra Clare, Clockwork Prince

40. "When they ask me what I liked the best, I'll tell them, it was you." – City of Angels

41. "Not even in my weakest moment have I considered letting you go." – Judith McNaught, Whitney, My Love

42. "It was love at first sight, at last sight, at ever and ever sight." ­– Vladimir Nabokov, Lolita

43. "If I could ask God one thing, it would be to stop the moon. Stop the moon and make this night and your beauty last forever." – A Knight's Tale

44. "If I had but an hour of love, if that be all that is given me, an hour of love upon this earth, I would give my love to thee." – Alice Sebold, The Lovely Bones

45. "I know that somehow, every step I took since the moment I could walk was a step towards finding you." – Nicholas Sparks, Message in a Bottle

46. "No measure of time with you will be long enough, but we'll start with forever." – Stephenie Meyer, Breaking Dawn
47. "If you live to be a hundred, I want to live to be a hundred minus one day so I never have to live without you." – A.A. Milne

48. "I know by experience that the poets are right: love is eternal." – E.M. Forster, A Room with a View
49. "I can hear her heartbeat for a thousand miles, and the heavens open every time she smiles." - Van Morrison, "Crazy Love" lyrics
50. "Shall I compare thee to a summer's day?
Thou art more lovely and more temperate:
Rough winds do shake the darling buds of May,
And summer's lease hath all too short a date;
Sometime too hot the eye of heaven shines,
And often is his gold complexion dimm'd;
And every fair from fair sometime declines,
By chance, or nature's changing course, untrimm'd.
But thy eternal summer shall not fade,
Not lose possession of that fair thou owest;
Nor shall death brag thou wanderest in his shade,
When in eternal lines to time thou growest;
So long as men can breathe, or eyes can see,
So long as lives this, and this gives life to thee.– William Shakespeare , "Sonnet 18"

Sweet Love Quotes for Her
If you're looking for a perfect love quote to put in a card, text or email, these sweet love quotes will let her know she's the only one for you. If you choose an excerpt from song lyrics, also include the link to the song or add it to a favorite playlist.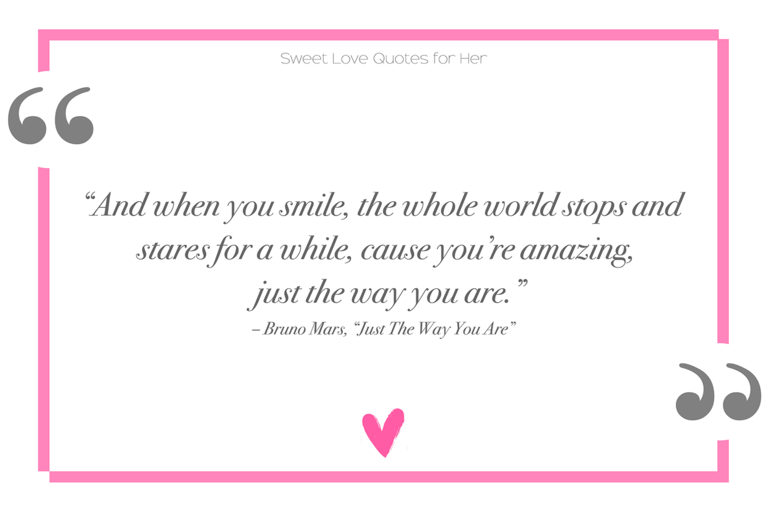 51. "If the sun refused to shine, I would still be loving you.
When mountains crumble to the sea, there will still be you and me." – Led Zeppelin, "Thank You" lyrics

52. "He stepped down, trying not to look long at her, as if she were the sun, yet he saw her, like the sun, even without looking." – Leo Tolstoy, Anna Karenina

53. "I look at you and I would rather look at you than all the portraits in the world." – Frank O'Hara, "Having a Coke with You" lyrics

54. "A magnificence that comes out of your eyes, in your voice, in the way you stand there, in the way you walk. You're lit from within." – The Philadelphia Story

55. "My days are brighter
My sky a deeper blue
My nights are sweeter
When I'm with you."
– George Strait, "Living and Living Well" lyrics

56. "My night has become a sunny dawn because of you." – Ibn Abbad

57. "I wish you to know that you have been the last dream of my soul." – Charles Dickens, A Tale of Two Cities

58. "I couldn't crack the love code, dear
'Til you made the lock on my heart explode." – Rent

59. "For the two of us, home isn't a place. It is a person. And we are finally home." – Stephanie Perkins, Anna and the French Kiss

60. "You're a beautiful woman, you deserve a beautiful life. Nothing less." – Water for Elephants

61. "Bless your soul so precious and delicate
Powerfully compassionate, your friendship
Held me together when the threat of unraveling
Had me at the brink feeling inadequate."
– Brother Ali, "My Beloved" lyrics

62. "Will I catch the moon
Like a bird in a cage
It's for you I swoon
I'm always in love."
– Wilco, "I'm Always in Love" lyrics

63. "And when you smile, the whole world stops and stares for a while, cause you're amazing, just the way you are." – Bruno Mars, "Just The Way You Are" lyrics

64. "I feel wonderful because I see
The love light in your eyes." – Eric Clapton, "Wonderful Tonight" lyrics

65. "Have I told you lately that I love you
Have I told you there's no one above you
Fill my heart with gladness
Take away my sadness
Ease my troubles, that's what you do."
– Van Morrison, "Have I Told You Lately" lyrics

66. "Whenever I'm alone with you
You make me feel like I am home again.
Whenever I'm alone with you
You make me feel like I am whole again."
- The Cure, "Lovesong" lyrics
67. "I'm in love with you, and I'm not in the business of denying myself the simple pleasure of saying true things." – John Green, "The Fault In Our Stars" lyrics
Best Love Quotes for Her
Pass the tissues! The best love quotes for her will probably cause her to shed a tear (or two!), but that's a good thing. You could even quote these words as part of a touching, super-personal toast to your new bride at your reception.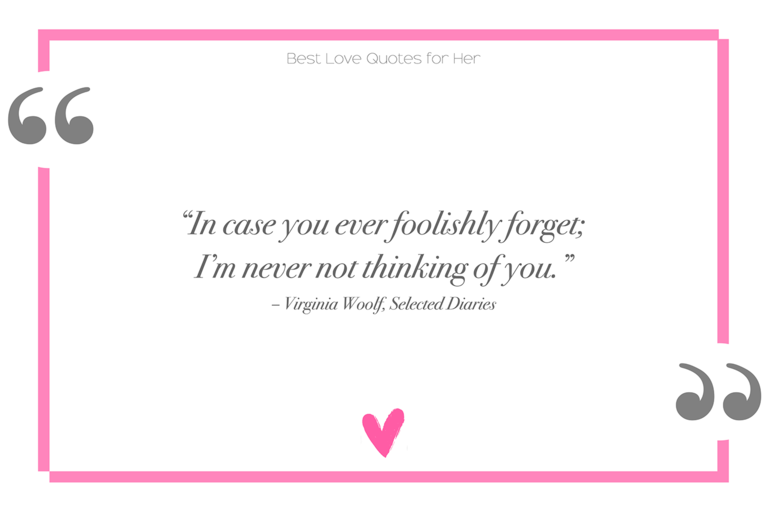 68. "For you see, each day I love you more, today more than yesterday and less than tomorrow." – Rosemonde Gerard

69. "Love is when you meet someone who tells you something new about yourself." – André Breton, Mad Love

70. "Each time you happen to me all over again." – Edith Wharton, The Age of Innocence

71. "And what do all the great words come to in the end, but that? I love you—I am at rest with you—I have come home." – Dorothy L. Sayers, Busman's Honeymoon

72. "I want you today, tomorrow, next week and for the rest of my life." – I.A. Dice, The Sound of Salvation

73. "One word frees us of all the weight and pain of life: That word is love." – Sophocles

74. "Our love cannot be measured, it just is." – John Paul Stevens

75. "The only thing we never get enough of is love; and the only thing we never give enough of is love." – Henry Miller

76. "In case you ever foolishly forget; I'm never not thinking of you." – Virginia Woolf, Selected Diaries

77. "I seem to have loved you in numberless forms, numberless times, in life after life, in age after age forever." – Rabindranath Tagore

78. "No matter where I went, I always knew my way back to you. You are my compass star." – Diana Peterfreund, For Darkness Shows the Stars

79. "You know I'd fall apart without you
I don't know how you do what you do
'Cause everything that don't make sense about me
Makes sense when I'm with you."
– Hunter Hayes, "Wanted" lyrics

80. "You are imperfect, permanently and inevitably flawed. And you are beautiful." ― Amy Bloom
Deep Love Quotes for Her
If your girl has a serious side, you may have to dig a little deeper to satisfy her. Appeal to her emotions and go for one of these deep love quotes that speak her language and let her know just how much you care.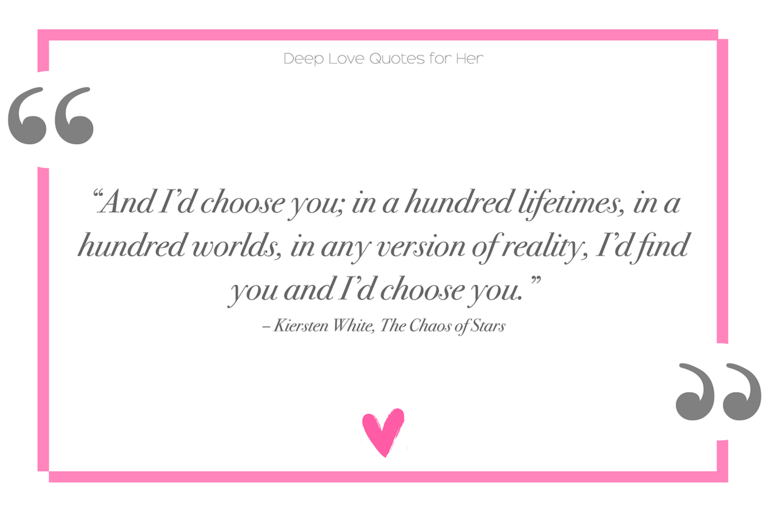 81. "I wish I could show you when you are lonely or in darkness the astonishing light of your own being." – Hafiz of Shiraz

82. "You and I
Could paint the sky together
As the world goes by
We'll go on forever."
– Kaskade, "Eyes" lyrics

83. "Yours is the light by which my spirit's born:
yours is the darkness of my soul's return
–you are my sun, my moon, and all my stars."
– E. E. Cummings, "#38"

84. "So bright, the flames burned in our hearts,
That we found each other in the dark."
– City and Colour, "We Found Each Other in the Dark" lyrics

85. "Every atom of your flesh is as dear to me as my own: in pain and sickness it would still be dear." – Charlotte Brontë, Jane Eyre

86. "How do I love thee? Let me count the ways.
I love thee to the depth and breadth and height
My soul can reach, when feeling out of sight
For the ends of being and ideal grace."
– Elizabeth Barrett Browning, "Sonnet 43"

87. "For 'twas not into my ear you whispered but into my heart. 'Twas not my lips you kissed, but my soul." – Judy Garland, "My Love Is Lost" lyrics

88. "One day you will ask me which is more important—my life or yours? I will say mine and you will walk away not knowing that you are my life." – Khalil Gibran

89. "And I'd choose you; in a hundred lifetimes, in a hundred worlds, in any version of reality, I'd find you and I'd choose you." – Kiersten White, The Chaos of Stars

90. "Soul meets soul on lovers' lips. – Percy Bysshe Shelley, Prometheus Unbound
91. "I would rather spend one lifetime with you, than face all the ages of this world alone." – J.R.R. Tolkien, "Lord of The Rings"
92. "The minute I heard my first love story I started looking for you, not knowing how blind that was. Lovers don't finally meet somewhere. They're in each other all along." - Rumi
Funny Love Quotes for Her
There's nothing better than making the woman you love laugh. For a way to say "I love you" with the perfect touch of humor, check out these funny love quotes.
93. "Remember, we're madly in love, so it's alright to kiss me anytime you feel like it." – The Hunger Games

94. "She is the only evidence of God I have seen with the exception of the mysterious force that removes one sock from the dryer every time I do my laundry." – St. Elmo's Fire

95. "Yes, I'm drunk. And you're beautiful. And tomorrow morning, I'll be sober but you'll still be beautiful." – The Dreamers

96. "You're so beautiful
You could be a waitress
You're so beautiful
You could be an air hostess in the 60s
You're so beautiful
You could be a part-time model."
– Flight of the Conchords, "The Most Beautiful Girl (In the Room)" lyrics

97. "I love you and it's getting worse." - Joseph E. Morris

98. "I never get out my leaf blower when Oprah is on
And when you're telling me about your feelings I try not to yawn
And when we're at parties I don't talk about your spastic bladder
When you're cleaning the gutters on the roof I hold the ladder
And if that isn't love…I don't know what love is."
– Weird Al Yankovic, "If That Isn't Love" lyrics

99. "Look, in my opinion, the best thing you can do is find a person who loves you for exactly what you are. Good mood, bad mood, ugly, pretty, handsome, what have you. The right person is still going to think the sun shines out of your ass. That's the kind of person that's worth sticking with." – Juno

100. "I love you so much I almost forgot to brood." – Angel

101. "When I'm around you, I kind of feel like I'm on drugs. Not that I do drugs. Unless you do drugs, in which case I do them all the time. All of them." – Scott Pilgrim vs. the World
True Love Quotes for Her
How can you tell if it's true love? It's definitely not an exact science, but we guarantee she'll be "true"ly amazed if you write out one of these true love quotes in a card or email.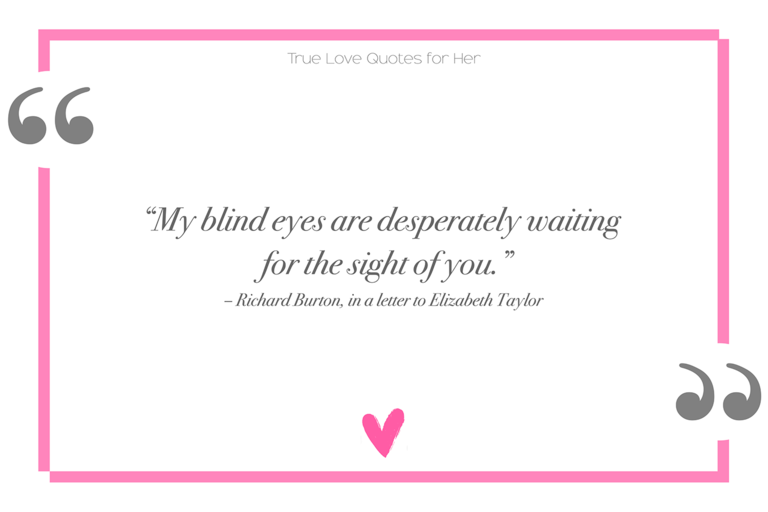 102. "So I pray everyday more than anything
Friends will stay as we begin to lay this foundation for a family
Love ain't simple—why can't it be
Anything worth having you work at annually
Granted we known each other for some time
It don't take a whole day to recognize sunshine."
– Common, "The Light" lyrics

103. "When you meet the right person, you know it. You can't stop thinking about them. They are your best friend and your soulmate. You can't wait to spend the rest of your life with them. No one and nothing else can compare." – How I Met Your Mother

104. "Make of our hands one hand,
Make of our hearts one heart,
Make of our vows one last vow:
Only death will part us now."
– West Side Story

105. "With our love, we could save the world, if they only knew." – The Beatles, "Within You Without You" lyrics

106. "I cannot exist without you—I am forgetful of everything but seeing you again—my Life seems to stop there—I see no further. You have absorb'd me." – John Keats, in a letter to Fanny Brawne

107. "The same as I love you
You'll always love me too
This love isn't good unless
It's me and you."
– Tegan and Sara, "I Know I Know I Know" lyrics

108. "Love is the ultimate outlaw. It just won't adhere to any rules. The most any of us can do is to sign on as its accomplice. Instead of vowing to honor and obey, maybe we should swear to aid and abet. That would mean that security is out of the question. The words 'make' and 'stay' become inappropriate. My love for you has no strings attached. I love you for free." – Tom Robbins, Still Life with Woodpecker

109. "I kiss your vision as it rises before my mind." – Winston Churchill, in a letter to Clementine Churchill

110. "I search your profile for a translation
I study the conversation like a map
'Cause I know there is strength
In the differences between us
And I know there is comfort
Where we overlap." – Ani Difranco, "Overlap" lyrics

111. "We get old and get used to each other. We think alike. We read each other's minds. We know what the other wants without asking. Sometimes we irritate each other a little bit. Maybe sometimes take each other for granted." – Johnny Cash, in a letter to June Carter

112. "This matter
It's something bigger
Than anything ever graced my heart." – Foo Fighters, "Dear Lover" lyrics

113. "My blind eyes are desperately waiting for the sight of you." – Richard Burton, in a letter to Elizabeth Taylor

114. "I would find you in any lifetime." – Kanye West

115. "She wasn't doing a thing that I could see, except standing there leaning on the balcony railing, holding the universe together." – J.D. Salinger, "A Girl I Knew"
116. But once in awhile, like today, I meditate on it and realize how lucky I am to share my life with the greatest woman I ever met. You still fascinate and inspire me. You influence me for the better. You're the object of my desire, the #1 Earthly reason for my existence. I love you very much." – Johnny Cash, in a letter to June Carter
Short Love Quotes for Her
Skip the epic love letter and opt for one of these short and sweet love quotes, which may perfectly capture your feelings in just a few words.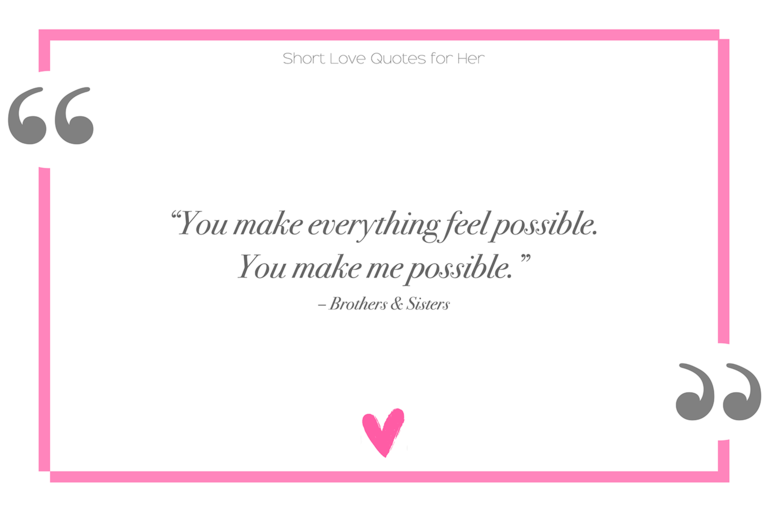 117. "As you wish." – The Princess Bride
118. "Love me and the world is mine." – David R. Reed, Jr., "Love Me and the World Is Mine"

119. "You make everything feel possible. You make me possible." – Brothers & Sisters

120. "All of me loves all of you." – John Legend, "All of Me" lyrics

121. "Kiss me. Kiss me as if it were the last time." – Casablanca

122. "To live without loving is not really to live." – Moliere

123. "There are never enough 'I love yous.'" – Lenny Bruce

124. "Come, live in my heart and pay no rent." – Samuel Lover, "Live in my Heart and Pay No Rent"

125. "Love is old, love is new. Love is all, love is you." – The Beatles, "Because" lyrics

126. "Grow old along with me! The best is yet to be." – Robert Browning, "Rabbit Ben Ezra"

127. "I need you so much closer." – Death Cab for Cutie, "Transatlanticism" lyrics

128. "My heart shall be thy garden." – Alice Meynell, "My Heart Shall Be Thy Garden"

129. "O tell her, brief is life but love is long." – Alfred, Lord Tennyson, "The Princess: O Swallow"

130. "Never above you. Never below you. Always beside you." – Walter Winchell
131. "It feels good to be the one, that you want when all I want is you." – Jack Johnson, "Never Fade"
132. "The water shines only by the sun. And it is you who are my sun." – Charles De Leusse
133. "You are all of my today and all of my tomorrows." – Leo Christopher
134. "If I know what love is, it is because of you." – Hermann Hesse
135. "If you are not too long, I will wait here for you all my life."– Oscar Wilde
136. "Ever thine. Ever mine. Ever ours." – Ludwig van Beethoven, in a letter to his "Immortal Beloved"
Diane Hall contributed to the reporting of this article.