78 Sweet & Flirty Good Morning Texts for Him
"You're my favorite reason to get up in the morning."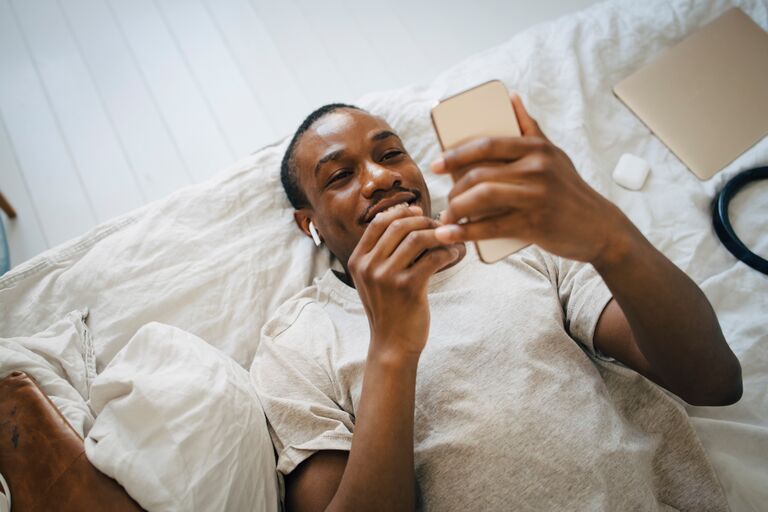 Maskot / Getty Images
The second best way to wake up—next to a cup of already-poured coffee and the one you love bedside, of course—is with a sweet message from that person lighting up your phone screen. Sending your boyfriend, fiancé or husband one of these good morning texts for him will never fail to make him smile first thing in the A.M.
And bonus points if his love language is words of affirmation: These good morning texts for him will mean just that much more.
Below, see 78 good morning text messages for him that'll have you reaching for your phone.
In this article:
Cute Good Morning Texts for Him
Want to wish your cutie a great day? Give him something to smile about first thing in the A.M. with these cute good morning texts for him.
Good morning, handsome.
Morning, babe. Wish we were waking up together.
Hey, you! Just wanted to be the first to wish you a great day.
Morning! What are you up to today?
Never thought mornings could be so good until I met you!
I'm so happy you're my guy.
Good morning! Have time for an impromptu coffee date?
NGL, kinda obsessed with you…
Good morning to my favorite person.
TBH, my blankets aren't doing their job—I just want to be curled up in your arms right now.
What are you feeling for lunch today? Delivery's on me ;)
Sending you good energy for the day.
Good morning! Just wanted to say thanks for being you.
Sweet Good Morning Texts for Him
Even the most cloying of Starbucks coffee creamers have nothing on this sugary selection of sweet good morning texts for him.
You're my favorite reason to get up in the morning.
My turn to treat you, babe. Coffee is on me this morning—check your Venmo!
You were the first thing I thought of when I woke up this morning.
Just woke up wondering how I got so lucky 🥰
Good morning, babe. Wishing you a wonderful day.
Did you have sweet dreams?
Good morning. I hope something great happens to you today, baby.
Woke up with butterflies this morning thinking of you.
Thinking of you makes this dreary morning better.
Sending you lots of love this A.M.
I started missing you before you even left this morning.
Hoping my day goes fast. Can't wait to see you.
Romantic Good Morning Messages for Him
Stereotypically speaking, men are sometimes left out on the receiving end of romance. These romantic good morning messages for him are a small way to begin remedying that.
Missing you this morning, baby. I'm always the happiest when I wake up in your arms.
You're always the first person I want to say good morning to.
I miss falling asleep beside you. I always feel so safe and loved.
Had to pinch myself this morning just to make sure you weren't a dream.
I don't know what I did to deserve you, but I'm so happy that I get to wake up knowing you're mine.
I wish we could spend the whole day doing nothing but being in each other's arms.
I always feel fluttery when I see your name pop up on my screen—I hope this text makes you feel the same way.
I hope your day is as amazing as you.
I just wish I could kiss you good morning right now.
I woke up smiling today because you were the first thing on my mind.
Flirty Good Morning Texts for Him
Get a little playful in the A.M. These flirty good morning texts for him are worthy of all the heart-eye emojis.
Hope your morning coffee is as hot as you! ☕️
Good morning. Hope you slept better than I did thinking of you all night!
Just wanted to say that I can't stop thinking about last night.
Hey. You're hot. That's it. That's the text.
Wanna hear about my dream last night? Starring you, naturally.
I can still smell your scent on my sheets from the last time you slept over 🥰
Know what's hotter than today's temp? You obviously.
Wanna call in sick tomorrow and spend the whole day in bed?
I'm sure you're looking all sexy and disheveled laying in bed RN. Wish I was there to see...
Wanna be my big spoon later?
Funny Good Morning Texts for Him
Kick off the day by making him crack a smile. These funny good morning texts for him are just the right amount of cheesy.
Did I set my alarm just to text you good morning? Quite possibly…
You are my happy place—next to this bed I'm in right now, OFC.
I miss your bedhead!
You must be tired from running through my mind all night last night. (How's that for a dad joke?)
Good morning, babe. I miss you so much—morning breath and all!
Sexy Good Morning Texts
Sure, morning sex is great and all—but when you're apart, these sexy good morning texts will just have to do.
Hurry home tonight. I have some things in mind…
If you need a little motivation to get through the day, just know I'm waiting for you at home—I may or may not be naked.
God, I can't wait to get my hands on you later.
Wanna put me on today's to-do list?
We'd definitely be hitting the snooze button right now if we were together. (If you catch my drift…)
Good morning! About to hop in the shower—wish you were coming with.
I woke up wanting you this morning.
Morning sex with you right now would be 🤤
It's going to be so hard concentrating on work today with our plans for tonight on my mind.
How would you have preferred I woke you up this morning? 😏
Last night was definitely worth how tired I am this morning!
Good Morning Love Texts for Him
Is there a better way for him to start the day than with a reminder of how much you adore him? Nope, didn't think so. Give him the sweetest of wake-up calls with these good morning love texts.
Good morning! How are you doing today, love?
Have I mentioned how much I love you lately?
Morning! I somehow fall for you a little more every day.
Just wanted to say that I adore you 🙂
Good morning, my love. You brighten my day so much.
I want to wake up by your side every day for the rest of our lives.
I couldn't let the day start without telling you how much I love you.
Encouraging Good Morning Texts for Him
Whether it's a time-consuming project at work or just a rough day, remind him that you're always in his corner with these encouraging good morning texts for him.
Have the best day at work today, my love. I know you've been working so hard lately and I'm so proud of you.
Sending good vibes for that meeting today! You've got this, babe.
I know it's going to be a rough day, so please let me know if there's anything I can do to make it better. I'm here for you.
Good Morning Texts for a Long Distance Relationship
While it's painful to be apart, these good morning texts for a long-distance relationship may help make you seem not quite so far away.
I can't wait until we're waking up in the same bed together every day.
Y/N: Miss me yet?
My bed feels so empty without you in it.
Good morning. Officially one day closer till I get to see you.
I miss waking you up with a kiss and coffee in the morning. So for now, a text will have to do.
I miss your handsome face.
Think about me all day, okay?