What the David's Bridal Bankruptcy Means for Couples and Wedding Parties
The retailer, which says it services one in four brides across the country, prompted a ripple effect of concerns with its bankruptcy filing. Here's what to consider.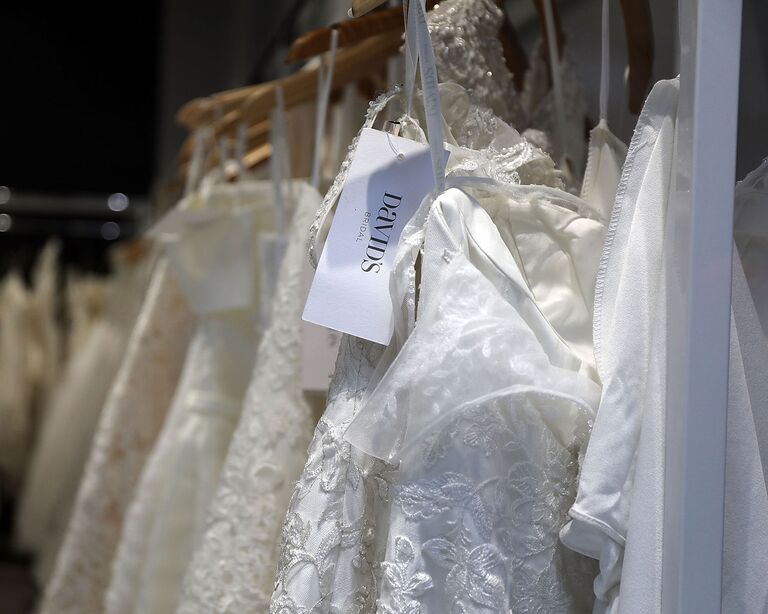 Spencer Platt / Getty Images
For the second time within five years, David's Bridal declared bankruptcy on Monday, April 17. The 73-year-old retailer—known for its affordable gowns and widespread accessibility to couples across the US, UK and Canada—filed for Chapter 11 bankruptcy involving several conditions. The business will continue operating across 300 stores, as well as its website; it also said it will fulfill orders while opening itself up to offers from potential buyers.
A big question mark remains in whether a buyer will even swoop in. According to court documents, the company currently has $4.4 million in cash along with a minimum of nearly $257 million in debt. The brand cited the evolving wedding landscape as a driving force behind its financial woes. "[A]n increasing number of brides are opting for less traditional wedding attire, including thrift wedding dresses," the company wrote in its latest filing. "Thus, the demand for formal wedding dresses, bridesmaid dresses, and related accessories has decreased substantially in the current environment." In addition, David's Bridal has cited COVID's impact across its business to be another underlying factor behind its inability to catch up with the consumer. The latest follows David's Bridal's first bankruptcy declaration in November 2018, when it sought to relieve itself of $400 million in debt.
If David's Bridal is unable to secure financial backing, the company will close its stores across the country and layoffs will affect its 9,000-plus employees. (The beleaguered retailer released a WARN notice, a legal disclaimer that informed the possibility of a mass layoff across its 300 locations, affecting more than 9,000 employees.) The business first parted ways with a number of corporate employees in line with its bankruptcy filing in mid-April.
With that, David's Bridal's bankruptcy opens up a floodgate of questions among consumers who've either purchased wedding gowns or bridesmaid dresses from the company that has yet to be fulfilled. In addition, the news is also prompting inquiries from couples who had planned to turn to their local David's Bridal for distance and accessibility reasons. The retailer, which claims it services one in four brides across the country, sent off a ripple effect of concerns with its bankruptcy filing—especially among consumers who've seen the aftermath of big retail bankruptcies. One of the biggest examples of a bridal retailer bankruptcy fiasco was Delray Beach-based retailer Alfred Angelo Bridal. In June 2017, the popular dress designer and retailer filed for Chapter 7 bankruptcy, leaving its internal team to scramble, unpaid, alongside many brides whose orders could no longer be fulfilled.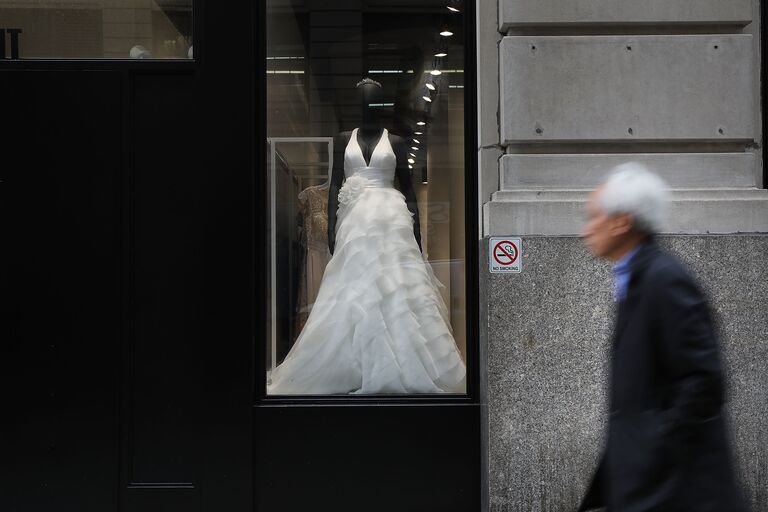 Despite possible store closings, a spokesperson for David's Bridal tells The Knot that the business is focused on completing orders and moving forward. "What we really want to underscore is that we are here continuing to serve our customers. All David's Bridal stores remain open, and we intend to fulfill orders without disruption or delay. Our customers should not expect to see any change in the unparalleled service level they have come to expect from our Dream Makers. We remain as committed as ever to delivering for our brides and customers and being part of magical moments," the rep says.
"We are determined to stay focused on our future because we believe we have an important role in ensuring that every bride, no matter her budget, can have her perfect dress," said Jim Marcum the CEO of David's Bridal. "We are grateful to the seven decades of brides and customers who have trusted us with the most special events of their lives, as well as to the dedicated associates and valued partners who make our customers' dreams come true. We remain as committed as ever to providing excellent service, delivering for our brides and customers, and being part of magical moments."
In an exclusive interview with Philadelphia's local ABC affiliate, Marcum reiterated the point. "Even though we may not have total clarity on who that owner will be at this point, it doesn't change the mission," he said. "All through COVID and that prior bankruptcy, we never missed a dress to an event… We will deliver to those brides every dress and we've made a commitment of fulfilling." In its court filing, David's Bridal also released a Bride FAQ guide to answer urgent questions.
If you're concerned about the bankruptcy news from David's Bridal and how it could impact your wedding, here are some considerations to evaluate in the interim.
Contact Your David's Bridal Location or Customer Care
Say you've placed an order and you're worried about order fulfillment. In its court filing, David's Bridal said its stores would continue to operate. "Our stores are open, and our Dream Makers are ready to help you prepare for your big event. Our alterations department is available to serve as usual," the team wrote.
For peace of mind, we encourage couples to contact David's Bridal for more information regarding the status of their order. In addition, if you have your local salon's number, reach out to see whether you're able to expedite the order or explore alternative options. The corporate email for customer care on existing orders is as follows: customercare@dbi.com for US clients. International customers are directed to internationalcustomerservice@dbi.com.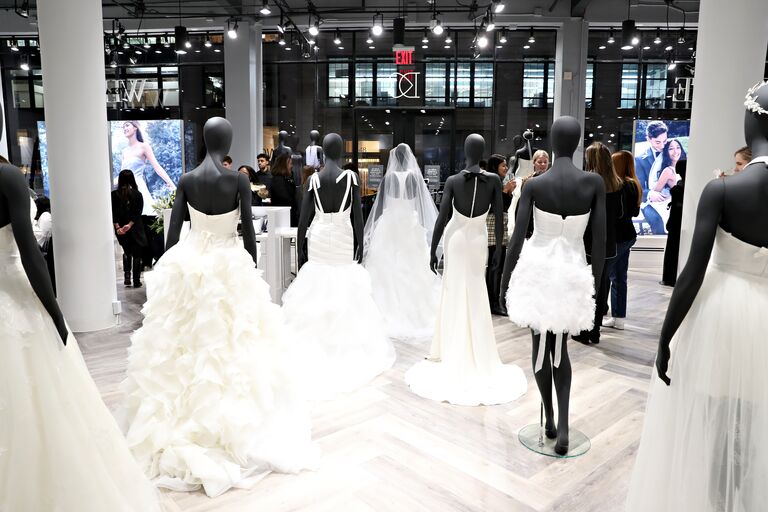 Exchange or Return Your Order
If you are truly concerned about the timeline of events and desire a refund or exchange, David's Bridal is currently honoring this policy across its 294 stores in the UK, US, and Canada. Pearl, which is also the digital platform for planning, is also still operating. "At this time, customers can continue submitting returns and exchanges for dresses in accordance with our existing policies," the team wrote in its FAQ section.
Use Your Credits and Gift Card Amounts
In addition, all gift card and store credit holders should exercise those pre-paid amounts during this time. "At this time, customers can continue using gift cards in accordance with the Company's usual policies," the team expressed in its FAQ section. "We expect store credits will continue to be honored."
Shop Local Salons
Many small businesses and local bridal salon owners are experts in fulfilling wedding attire orders for couples on the wedding day. These professionals not only have the background to give more of a comprehensive, full-service experience to couples, but they're also excellent at managing timelines and expectations for a more personalized experience that is clearly defined. Finally, as salon shopping is more of an intimate experience—especially as the industry continues to transition to a more inclusive environment that celebrates all body shapes and sizes—salon owners are quick to train their teams to help couples feel supported during the planning process.
Finally, we must debunk one myth as some perceive the salon experience is costlier than the retail route. On the contrary, some salons offer a variety of price points and designer options that cater to multiple budgeting tiers.
Get Moving on Planning
In general, the wedding timeline has extended as more couples are taking time to plan the wedding. With dress shopping, particularly, we encourage couples to kick off the process sooner to find ideal attire in an expected budget range. Adhering to a wedding dress shopping timeline is also valuable as couples and vendors will properly anticipate tailoring alterations costs, as well as appropriate timelines for fulfillment.
Call Your Credit Cards
Preemptively, it might serve you and your partner to call your credit card companies in advance to see what happens in the event a company files for Chapter 11 and is unable to fulfill orders. Check to see whether you're able to get your deposit back or if there's anything else they're able to do for you.
Inform Your Wedding Party
If your bridesmaids or loved ones are planning to wear David's Bridal for the wedding, it's best you inform the group immediately about the situation. That way, they can also explore fulfillment options proactively.