This Is the Average Cost of a Wedding Dress Today
Drumroll, please.
We have included third party products to help you navigate and enjoy life's biggest moments. Purchases made through links on this page may earn us a commission.
Your wedding dress is one of the defining details of your big day—but it can be an expensive purchase. The average wedding dress cost depends on a variety of factors. If you're wondering how much the average wedding dress costs, remember that individual customizations can affect the price. The dress style, designer, alterations and addition of "extras" to make it uniquely yours all impact the final price tag. While the average price of a wedding dress oscillates, there is a general cost to keep in mind when shopping for your dream gown. So, how much does a wedding dress cost today? We've got the answer, and ways to find your dream bridal salon at The Knot.
In this article:
Average Wedding Dress Cost
According to The Knot Real Weddings Study, which surveyed nearly 12,000 couples who got married last year, the average wedding dress cost in 2022 was $1,900. Gowns continue to be a staple of wedding fashion, as 98% of our survey respondents who identify as female wore a dress for their nuptials. Buying a new dress remains the most popular option for to-be-weds, with 93% purchasing a new design.
If you're an avid Say Yes to the Dress fan, you'll notice that the average price for a wedding dress is vastly different from brides who shop with a large (or even limitless) budget—and hopefully that news comes as a bit of a relief. Keep in mind, however, that alterations and custom additions can increase the cost of a wedding dress. Moreover, entirely custom will most likely come with a larger price tag compared to gowns purchased as-is. According to our survey, however, just 20% of 2022 brides went with a custom-made dress.
Wedding Dress Cost Factors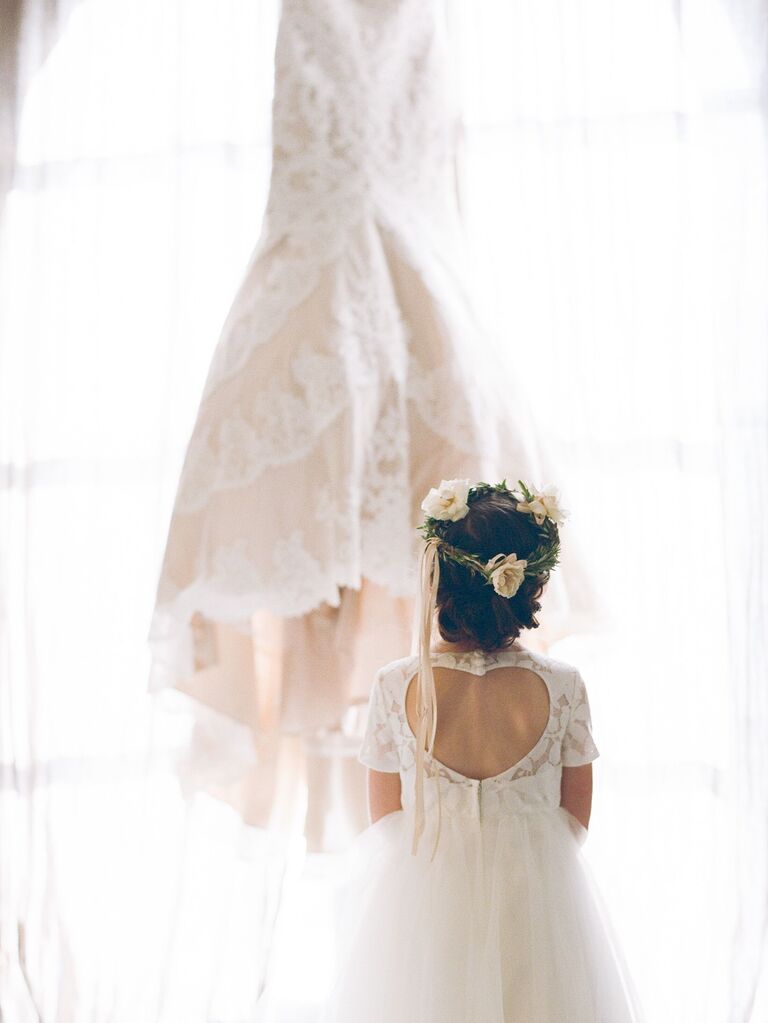 Generally, the average cost of a wedding dress hasn't changed drastically over the years. The price of a wedding dress was $1,800 in 2021 and $1,600 just a few years before that. Individual spend, though, depends on the consumer. With many to-be weds opting for custom details, wedding dress costs can fluctuate based on personal style. What matters most, though, is that you love the look you pick—because finding your dream wedding dress is priceless.
Dress Alterations
As you try on dresses, remember that any customizations, such as changing a gown's neckline or adding sleeves can increase the cost. The more extensive the wedding dress alterations, the more money you'll spend. Work with a trusted wedding dress retailer to ensure you've found the perfect dress at the best price.
There are many other factors that affect the wedding dress' price point. "As a general rule, handmade gowns are pricier than manufactured ones," says Shelley Brown, Senior Fashion & Beauty Editor at The Knot. The overall craftsmanship that goes into creating a gown also affects its price. For instance, styles with certain embellishments (think: lots of beading, appliqués, crystals or embroidery) tend to be more expensive than simpler designs, due to the time and labor it takes to make them. Some high-end fabrics may also be rarer and more difficult to source than others, which can also impact the price of a gown.
Wedding Outfit Changes
This average wedding dress cost for 2022 is also not representative of additional dresses or wedding outfits. More and more brides are opting to wear a second look for their reception, or a third look for the after party, meaning their spend on wedding attire will increase accordingly. Not only is this a great way to change up your look throughout your wedding day (à la Hailey Bieber), you can also show off multiple dress styles if you don't want to commit to just one (like Hilary Duff).
Bridal Salon Location
The average wedding dress cost varies by region. For weddings in 2022, spend in the Mid-Atlantic was over $2,200, while the average wedding dress cost in the Midwest was about $1,800. Wedding venues also contribute to the average cost of a wedding dress. Our data indicates that individuals tend to spend less on a dress for a hometown wedding, while those who hosted an international destination celebration spent over $2,100 on their look.
How to Save on Your Wedding Dress
There are definitely many ways to save money on your wedding dress budget. According to Brown, "Opt for a more streamlined style without extensive embellishments. If you have your heart set on a heavily embellished gown, shop designer trunk shows or sample sales, look into purchasing a floor sample from a bridal boutique, or check out used wedding dress sites. You may have less flexibility where sizing is concerned with these options (and dress samples can show signs of wear and tear), but you can usually snag a designer dress for a fraction of the cost."
Some wedding dress shopping services make costs more manageable. Sites like Wedding Dress Preservation by The Knot help brides clean and store their gown safely for years to come, whether for sentimental reasons or to potentially repurpose in the future. Brides can also sell their wedding dress to sites like Nearly Newlywed to earn money back after the wedding. Those who want to save on a wedding dress can shop the site for second-hand dresses if they aren't interested in buying a brand new gown. Etsy also offers great vintage wedding dresses from reputable vendors for brides who want to shop pre-owned styles.