Here's Your Complete Wedding Dress Shopping Timeline
Timing is essential when it comes to wedding dress shopping—so don't miss these deadlines along the way.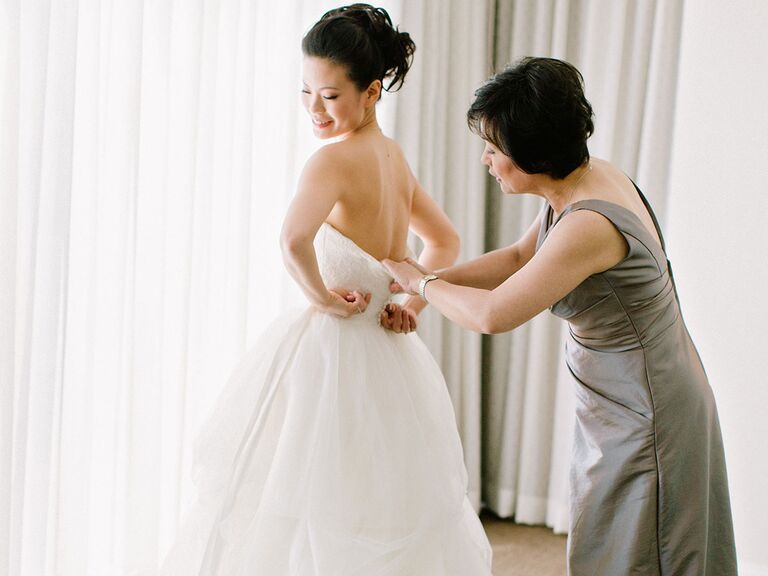 Amy Arrington Photography
Can't stop imagining yourself in an amazing wedding dress? We don't blame you. Wedding dress shopping is one of the most fun wedding planning to-dos on the docket—but it's not uncommon for to-be-weds to get a little overwhelmed by the process. It's hard to know when to start wedding dress shopping, or when to buy a wedding dress. Also, where should you go—and what happens once you're there? Well, consider all your worrying over—from the first bridal salon appointment to final dress alterations, here's everything you need to know about how and when to start wedding dress shopping.
12 Months to Go
Set Your Gown Budget
After setting the budget for your wedding, decide how much of that will be spent on your dress. In addition to the cost of the dress, add on taxes, alterations and possibly shipping. Don't forget to also set aside part of that budget (10 to 20 percent) for extras like your shoes, veil and jewelry.
Do Your Research
Before you start wedding dress shopping, figure out what style you're looking for—and we can definitely help with that. We just launched The Knot Fashion Quiz to help curate your personal wedding dress aesthetic, give you key style descriptors and recommend designers we think you'll love (it's like a dating app for wedding dresses).
Your venue can also be super-helpful in narrowing down your ideal look before you look for a wedding dress. If you're having a beachside wedding, you'll probably want a flowy, unfussy gown. Getting married at an upscale hotel? A formal ball gown could be your dress. Also find out what silhouettes best suit your body shape. Then look through pictures of wedding dresses online and in magazines, and tear out or save your favorite styles. The Wedding LookBook by The Knot app is a great place to begin—you can search thousands of gowns by style and price and find local salons that carry them. Or, browse our wedding dress marketplace for a list of salons in your area.
While plenty of research can help narrow down your options, keep an open mind. An experienced bridal consultant can help you find the right dress for your budget and body type—and the style of dress you end up loving might even surprise you.
Choose Your Shopping Mates
Bring either your mom or a trusted friend when you go wedding dress shopping, but limit your entourage to two or three people. Too many opinions can make your dress shopping experience unnecessarily confusing. Gown shopping is not one of those occasions when you want too many cooks in the kitchen.
Start Wedding Dress Shopping
There's a reason when you start wedding dress shopping matters: You're not actually buying off the rack, so your wedding dress is essentially custom made for you. This means it will take months of work to create and a series of alterations to fit your body perfectly. Schedule your appointments early since salons can get booked up fast. Before you go wedding dress shopping, find photos of dresses you like so the salesperson will be better equipped to help you when you arrive for your appointment. If you know you want to wear a specific designer, see if they're having a trunk show (a traveling show of their entire collection) at a salon near you.
8 Months to Go
Buy Your Dress
You're eight months out—this is when to buy your wedding dress. Now's the time to make a final decision and place the order. You'll know it's "the one" when you don't want to take it off. When you buy your gown, you'll have to sign a contract and put down a deposit, which is usually about 60 percent of the price of the gown. This is because your one-of-a-kind dress takes manpower to create, so designers need a down payment to start production. Before you sign the contract, make sure all the information is correct. Ask at the salon when they expect your gown to arrive—on average it's 16 to 20 weeks from the day you place your order—and confirm they'll call you when it comes in.
5 Months to Go
Shop for Your Undergarments
Get your under-the-dress essentials before your first fitting. Whether you're planning on wearing a strapless bra, slipping into a body-slimming shaper or going braless, the slightest switch in your undergarments can change the fit of your dress.
Choose Your Hair Accessories
It's also time to find your veil so you can get an idea of your entire look, from head to toe, when you have your gown fitting. For a casual dress, go with a complementary short blusher or cage veil. If you're wearing a ball gown, you might want to choose something more dramatic and grand, like a chapel- or cathedral-length veil.
Select Your Shoes
Take the height of your heel into consideration. You'll be on your feet for most of the day, so make sure your toes can handle it. If you're looking for fun alternatives to traditional wedding heels, look for classic flats or modern sneakers.
3 Months to Go
Have Your First Fitting
You'll most likely have three fittings to get your dress altered to fit you perfectly. It's important to get the timing of each alterations appointment right. Have your fittings too early and you may end up with a dress that doesn't fit properly—you may lose or gain weight after your gown is altered. Bring your gown in too late and you won't have enough time to make all the alterations. Most gowns will need at least some sort of alteration, and while some salons charge a flat fee, others charge per item. The costs can range from $200 for a simple hem to more than $1,000 for major adjustments. And remember: Don't bring just your gown—you'll need your undergarments, shoes and accessories as well. Your undergarments and shoes will help determine the fit and length of your gown, and trying on your hair accessories or veil with your dress will give you an idea of how you'll look on the actual day. If you don't have the exact shoe you'll be wearing, bring something similar in height. Remember: Your dress should just barely sweep the floor—any longer and you risk tripping on the fabric.
6 to 8 Weeks to Go
Decide on Your "Something Old, New, Borrowed and Blue"
If you want to include these sweet traditions in your ensemble, you may want to have them before your final fitting. For instance, if you're planning to sew a blue ribbon or keepsake pocket to the inside of your dress, you can ask your seamstress to do it while she's making your other alterations.
Have Your Second Fitting
Your first fitting is where the heavy lifting happens: adding sleeves, switching up the neckline and so on. By the time you're done, you'll look more like a pincushion than a bride. The second fitting is your chance to make smaller tweaks to your wedding dress, like taking in the bodice a bit or perfecting the hem length. During this fitting, you'll also want to make sure there's no obvious wrinkling, bunching or pulling anywhere. Move around the salon in your gown and practice some dance moves in your shoes. This will help you test that the fit is right and comfortable so you can easily get around (and breathe without feeling like you may split a seam). You'll be wearing your dress for 8 to 10 hours on your wedding day, so it has to feel good.
2 to 3 Weeks to Go
Practice Walking in Your Shoes
Strut around in your shoes at home to make sure they aren't too high or too stiff. This way, you'll have enough time to break them in, buy a new pair or snag a second, more comfy, pair.
Have Your Final Fitting
You may want to have a box of tissues on hand for this final trip to the seamstress. This is where you'll get to see your gown the way it'll look when you walk down the aisle. Bring at least one family member or friend to share this special moment with, and so you have someone there to learn how to create the bustle.
Pick Up Your Wedding Dress
Once your gown is ready, you'll need to find a place to store it where your fiancé can't sneak a peek—some salons will even hold a dress until just days before the wedding. Inspect the dress when you get it to make sure everything looks right. Keep it in a breathable, opaque garment bag (just in case your fiancé stumbles across it in the closet). If your veil is in the same bag, make sure it's wrapped in its own piece of plastic so it doesn't snag on any of the gown's embellishments.
1 Day to Go
Stash Your Stuff
Buy a handheld steamer and put together an emergency kit (safety pins, fashion tape)—it's better to be prepared. Make sure you have all of the parts of your ensemble in one place. Everything from your gown and veil to your jewelry and shoes should go together, especially if you're switching venues after your makeup and hair are done.
Wedding Day
Have a Blast
Happy wedding day! Just a few of to-dos left: First, give your dress a final steaming and schedule about 30 minutes to get dressed (a bridesmaid should help you). Then relax and enjoy the moment.
After the Wedding
Keep It Or Pass It On
The wedding day may be over, but the wedding dress decisions aren't. Now it's time to decide what you want to do with the gown. If you're holding onto the dress as a memento, you'll want to take care of it as best you can. While that's not as easy as hanging it up in your closet with the rest of your clothes, it is fairly easy! Try Wedding Dress Preservation by The Knot, a service that cleans and stores your gown safely in a preservation box. If you'd rather see your beautiful wedding dress make someone else's wedding dreams come true, you can opt to sell or donate it instead. For the former, we recommend Nearly Newlywed—they do most of the work for you.