When To Buy Your Wedding Dress: The Ultimate Timeline and Guide
Time to enter your wedding dress shopping era.
Photo: Golden Days Photography
We have included third party products to help you navigate and enjoy life's biggest moments. Purchases made through links on this page may earn us a commission.
Engaged besties, listen up! The venue is booked. Planning is underway. But you still find yourself asking when to buy your wedding dress. Let me be honest: wedding dress shopping is so much more than just showing up to the salon and picking a dress. It requires strategic planning and budgeting, from researching dress trends to booking appointments and leaving time for alterations. There's a lot to consider, and TBH, it's hard to remember all the to-dos. Luckily, I'm here to help you get started with a wedding dress shopping timeline that highlights all of the important fashion-related benchmarks to note while you're wedding planning. From the start of your engagement to the big day, here's everything you need to know about when to shop for your gown, including exactly when you should buy your wedding dress to ensure that it arrives on time.
In this article:
When to Buy a Wedding Dress, At a Glance
Exactly when to shop for a wedding dress depends on the length of your engagement and how quickly you're getting hitched. According to The Knot Real Weddings Study, the average engagement length is 14 months, but as an engaged girlie myself, let me tell you that time flies. So I'm going to spill the tea on your most burning questions, from when should you buy your wedding dress to how long it takes to get a wedding dress.
When should you go wedding dress shopping?
Ideally, you should start wedding dress shopping about one year before your wedding date. This is especially important if you'd like to customize your gown in any way. If you don't find your dream wedding dress during your first shopping appointment, don't panic—it's completely normal to take a few appointments to find a gown that fits your vibe. Everyone's experience is unique, so just keep in mind how long you think the process may take for you because dress production typically takes several months, which can mean limited options or rush order fees depending on how soon you're headed to the altar. Plan accordingly, and be sure to make your appointment at your local bridal salon ahead of time.
When should you buy your wedding dress?
You should plan on buying your wedding dress between eight and 10 months before the wedding. Wedding dresses require time for production and shipping, meaning your dress could take up to five months (or sometimes even longer) to arrive. This leaves enough time for your wedding dress to be made to your measurements, shipped to the bridal salon, and sent to the tailor for alterations.
How long does it take to get a wedding dress once you've found The One?
Once you've found your dream wedding dress, you'll have to account for the dressmaking process, which can take anywhere from four to six months on average, depending on the complexity of the design. (Trust me, it will be so worth the wait!) Be sure to clarify with your bridal stylist if your chosen salon does in-house alterations. If not, see if they have a seamstress they can recommend, because you'll need anywhere from one to three alterations sessions before the wedding day to make sure your dress fits you perfectly.
I need my dress faster! What are my options?
If you're having a short engagement because you just can't wait to marry your significant other (I totally get it because, same!) or you just haven't had the time, there are options! Many local bridal shops have off-the-rack dresses that can be purchased and taken home the same day. Sample sale gowns are also fab options, along with ready-to-wear elopement looks and wedding dress rentals.
You can also choose to shop online for ready-to-ship dresses at retailers like Anthropologie Weddings, ELOQUII and KYHA Studios. If you need alterations, the process can still be done in a time crunch, but be aware that there may be additional fees involved.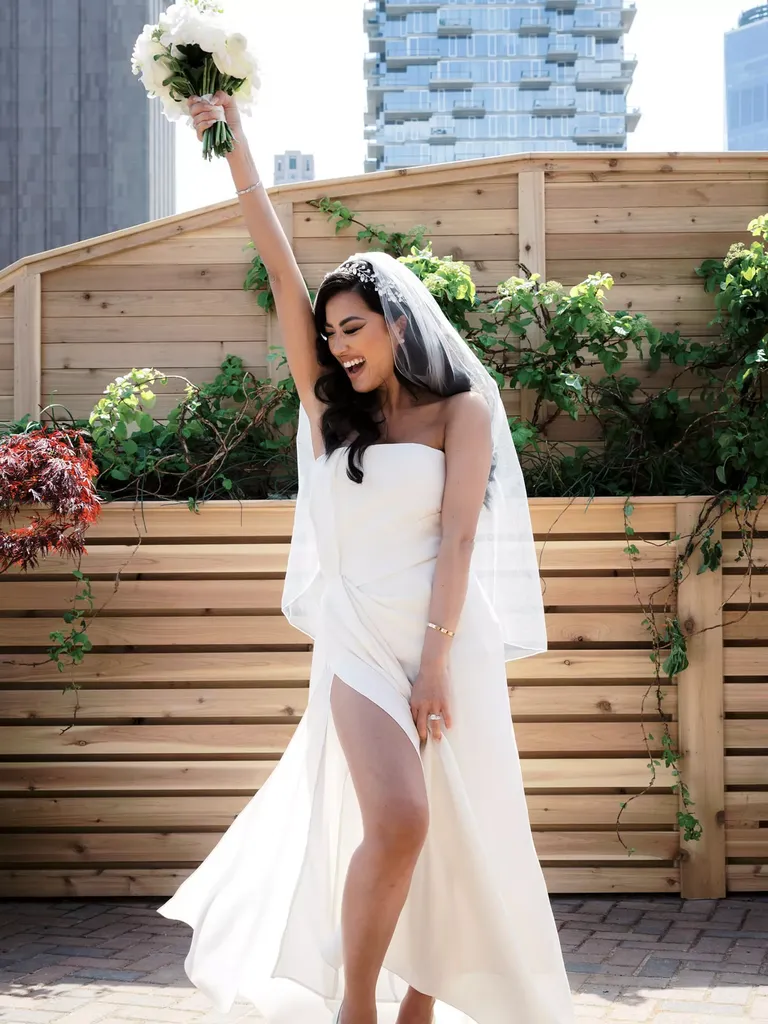 You're Engaged, You've Set a Date and You've Booked a Venue: Next Steps
You've popped the champagne and celebrated! So…now what? Here's how to get started when buying a wedding dress:
1. Set your wedding dress budget
No one loves talking about money, but this is one of the first questions your bridal stylist will ask you so they know to only pull gowns that are within that number. So, after setting your main wedding budget, decide how much of that will be spent on your dress. Our data shows that wedding attire typically accounts for 7% of the overall budget, and in 2022, the average cost of a wedding dress was $1,900. You also want to budget for extras like taxes, alterations and shipping (or rush fees, in certain cases). And of course, don't forget to set aside a budget for accessories, like your wedding shoes, veil and jewelry.
2. Research wedding dress styles
Before you start wedding dress shopping, it's a good idea to figure out what you like (or what you want to completely avoid). And while you don't need to become a wedding dress expert overnight, knowing a few basics can help you describe your ideal dress when it's time to shop. Brush up on your inspiration board and look for common themes amongst the wedding dress necklines, fabrics and dress silhouettes ahead of time so you can easily share your ideal look with a stylist.
You can also use your wedding venue as a starting point for narrowing down your dress options. If you're going for a beach wedding vibe, you'll probably want lighter fabrics that can withstand heat but also some sparkle that can easily reflect the sun. Getting married at an upscale Parisian chateau or grand estate? A fairytale-inspired ball gown may be the way to go.
TLDR; Keep an open mind. Doing your research can help narrow down your options at the start, but an experienced bridal consultant can also help you find the right dress for your budget, body type and personal style.
3. Book a wedding dress appointment
Once you've nailed down your wedding dress aesthetic, it's time to find a bridal salon that matches your personal taste and offers gowns in your price range. Often times, boutiques will post their price ranges and available sizes in their Instagram bio or on their website. Their site should also have a list of available designers as well. Nowadays, you can even find your local bridal salons on TikTok, showing off new arrivals, popular styles and designer favorites. Oh, and don't forget to read reviews for boutiques on places like The Knot Vendor Marketplace, Google and Yelp.
Making appointments at just one to three locations to start because friends don't let friends overwhelm themselves too early on. If you know you want to try a dress from a specific designer, see if they're having a trunk show (a traveling show of new and exclusive collections) at a salon near you.
4. Choose your shopping crew
After your appointments are locked, it's time to decide which loved ones and besties will be there to cheer you on as you try on dresses. Bring a small entourage of those who lift you up and support you. This can be your mom, sister, dad, maid of honor, bridesmaids, etc. There are no rules about who you bring with you. I do recommend limiting your group to around three to five people max—too many opinions can make your dress shopping experience unnecessarily confusing. And nobody's got time for that!
Hot tip: Be sure to check with the salon in advance to see if they have limits on the number of guests allowed in your party.
8-10 Months Before Your Wedding: Time to Buy!
Ready to enter your to-be-wed era? Here are the wedding dress shopping plans to have in place for eight to 10 months before the big day:
1. Buy your wedding dress
This is the moment—the sweet spot for when to buy your wedding dress. Hopefully, during this time period, you'll say yes to the dress, and the salon can place your order. Eek!
2. Put down a deposit and sign a contract
When you purchase your gown, you'll be asked to sign a contract and put down a deposit. The deposit will vary by retailer, but it's usually about 50% of the price of the dress, and the remaining balance will be due when you go to pick up your gown.
You will also sign a contract at this time. This will include all the details about your dress, including the designer, the size and when it will arrive. Before you sign your name on the dotted line, be sure to read through it thoroughly and double-check that all the information is correct. If it contains the wrong info and you sign it, the fault could be yours if you end up getting the wrong wedding dress (or the incorrect size or color). You'll also want to make sure any extras like alterations, veils, etc. are clearly listed and included in the final payment amount.
3. Find out your made-to-order timeline
Also, take this final opportunity to ask your stylist any questions you may have. Ask questions about how long it will take to order your wedding dress. On average, your dress will take 16 to 20 weeks from the day you place your order to arrive. So, you'll just want to confirm your wedding dress timeline because each store is a little different.
5-6 Months Before Your Wedding
It might feel like sitting around and watching paint dry while you're waiting for your wedding dress, but here's a few important tasks related to your wedding dress to keep you busy.
1. Shop for wedding dress undergarments
If you haven't already, now is a great time to start shopping for your wedding undergarments, bridal shapewear and other intimate essentials. Why now? Well, you need to bring exactly what you want to wear on your wedding day to your alterations fitting to ensure a flawless fit. After all, you are the main character. So whether it's a strapless bra, nude undies or shapewear, having the proper undergarments on hand can make all the difference in how your dress looks and feels on the big day.
2. Choose your wedding shoes and accessories
Who can forget the accessories? While you're anxiously waiting for your dress to come in, treat yourself and shop for your wedding day accessories like jewelry, shoes and even a clutch. Be sure to lock in your bridal accessories before your first fitting, especially your wedding shoes. The seamstress will need to know how to adjust the hem of your gown based on the height of your heels, or take the hem up even more if you're planning to wear flats or sneakers.
You don't need to wear a wedding veil on your wedding day if it's not your vibe (here are some cool alternatives!) but if you are planning to wear one, aim to have it picked out by your first alterations appointment. This will give you (and your seamstress) a better idea of your entire look, from head to toe. For casual gowns, you can opt for a short blusher or a birdcage veil. If you're wearing a ball gown, you can bring the drama with something more grand, like a chapel- or cathedral-length veil.
3. Schedule your wedding hair and makeup trial
Now that you know what you're wearing on the wedding day, you can start thinking about the rest of your look. Your hair and makeup trial should take place about five months before your wedding. Consider your wedding dress neckline and overall aesthetic to influence your hair and makeup—for example, if your gown has a show-stopping illusion lace back, you might want to show it off with an updo.
3-4 Months Before Your Wedding
Ok, you've been patient enough—your dress should be arriving around this time (insert happy dance!) Here's what to do next:
1. Your wedding dress arrives at the salon
It's finally here! After months of waiting, you finally get the call that your dress has arrived. Depending on the salon's policies, you'll be expected to pay the remaining balance on your dress when you pick it up. If you haven't already called up a professional seamstress for alterations, now is the time to do so (they can book up fast, don't wait!) Be sure to choose someone who has experience working on wedding dresses and formal wear.
2. Schedule your first alterations fitting
Now here's where the magic happens. Once the dress arrives from the designer, alterations are the next phase of your wedding dress timeline. Consider your seamstress your wedding dress fairy godmother (or father!) You'll have up to three alterations fittings to make sure that the dress fits like a glove, and it's important to get the timing of each appointment right. If your fittings are too far in advance, you may end up with a dress that doesn't fit properly—your body weight and shape could fluctuate after the gown is altered. On the other hand, waiting too long to schedule your alterations will leave you in a time crunch.
Your first alterations appointment is where the heavy lifting happens: adding sleeves, switching up the neckline, adjusting the hem or requesting customizations like beading.
By the time you're done, you might slightly resemble a pincushion, but the finished product will be totally worth it. And don't forget to bring the undergarments and accessories you bought.
Most bridal gowns will need at least some form of alterations, even if it's just some small tweaks, and while some seamstresses charge a flat fee, others charge per service. The cost can range from $200 for a basic hem to more than $1,000 for major adjustments. To avoid sticker shock, ask for a quote or estimate before agreeing to the service.
6-8 Weeks Before Your Wedding
It's crunch time, bestie. Just like how you'll be finalizing details with your other wedding vendors. You'll also be doing the same thing for your wedding dress in the last 6 to 8 weeks leading up to the wedding.
1. Schedule your second alterations fitting
Time for round two. The second fitting is your chance to make smaller tweaks to your wedding dress, like taking in the bodice or perfecting the hem length. During this fitting, you'll also want to make sure there's no obvious bunching or pulling anywhere on the dress. Move around the salon in your gown—sit down, stand up and practice some dance moves while you're at it. This will help you test that the fit is right and comfortable so you can easily get around (and breathe without feeling like you may split a seam). You'll be wearing your dress for 10 or 12 hours on your wedding day, so if something feels wrong, now is the time to speak up.
2. Choose any last minute details
We love a personalized moment. If you want to include any special details or sweet something old, something new traditions in your ensemble, it's a good idea to have them ready now. For example, if you're planning to sew a blue ribbon or other keepsake to the inside of your dress, you can ask your seamstress to do it while they're making the rest of the alterations.
2-3 Weeks Before Your Wedding
The big day is almost here. Can you believe it? Here are the last-minute wedding dress details you aren't going to want to forget about.
1. Practice walking in your wedding shoes
As the saying goes, practice makes perfect. Whether you're wearing flats or 4 inch heels on your wedding day, break in your wedding shoes at home to make sure they make you feel like the main character.
2. Schedule your final alterations fitting
OMG, it's time for your final fitting. This is where you'll get to see your gown exactly the way it will look on your wedding day—cue all the tears! Bring at least one family member or friend to share this special moment with (and so they can learn how to bustle the train or lace up the corset).
3. Pick up your wedding dress!
You've waited long enough; now it's time to pick up your wedding dress. Before you walk out the doors of the salon one final time, make sure everything looks just right. Check for snags, discolorations or other damage. If your veil is in the same bag, make sure it's stored in a protective pouch so it doesn't snag on any of the gown's embellishments.
Keep it in a breathable, opaque garment bag and store it where your partner can't sneak a peek. A spare closet where the dress won't get squished is ideal, or store it at a friend's or family member's home until the big day. If you have limited space, some salons will store gowns until just days before the wedding.
1 Week Before Your Wedding
It's the final countdown. While there will be a million things on your mind at this point, you will want to set aside some time to make sure you have the essentials and are ready for anything on the big day.
Pack your wedding day bag
A wedding day emergency kit is a must (even if you think it's not!) Pack essentials like safety pins, fashion tape and a sewing kit to have on hand just in case. Also, make sure you have your entire wedding day outfit together. Your gown, veil, jewelry and shoes should all be ready to go in one place, especially if you're having someone help you transport everything to your venue on the wedding day.
Hot tip: Buy a handheld steamer (or if you already have one, make sure it's clean and works well) for your wedding day emergency kit to smooth out any last-minute wrinkles.
Traveling for your wedding? Carry your dress onboard
Hosting a destination wedding that requires air travel? (I'm jealous!) Avoid checking your wedding dress and carry it on instead. If you check your dress, you risk potential damage, so it's best to never let it leave your sight. Confirm with your airline in advance that your garment bag will work as a carry-on (and make sure your garment bag is sturdy enough). We have an entire guide on how to travel with your wedding dress here, along with guidelines from several major airlines, to make prepping for your trip easy peasy.
The Wedding Day
Happy wedding day, bestie! This is when all of your hard work and months of preparation finally pay off. Your entire vision has come together, and now you get to spend the day getting ready with your loved ones and finally putting on your dress. Enjoy and embrace every minute in your wedding dress.
After the Wedding
Your wedding day may be over, but the wedding dress decisions aren't. Now that you've had your best day ever in your dream dress. It's time to decide what you want to do with it: store, sell or repurpose.
Store, Sell or Repurpose Your Dress
If you're holding onto the dress as a memento, you'll want to take care of it as best you can. Storing your beloved gown isn't as simple as hanging it up in the closet with the rest of your clothes, as it can lead to damage and discoloration over time. Luckily, there are plenty of ways to preserve your wedding dress. One option is Wedding Dress Preservation by The Knot, our very own service that cleans and stores your gown safely in a keepsake box. Another trusted option includes Unbox the Dress, a service that re-designs your gown into a new style you can wear every day.
If you'd rather see your beautiful wedding dress make someone else's wedding dreams come true, you can opt to sell or donate it instead. For the former, we recommend Nearly Newlywed—they do most of the legwork for you.