A Roundup of the Best December Captions for Instagram
Here's how to finish off the year right.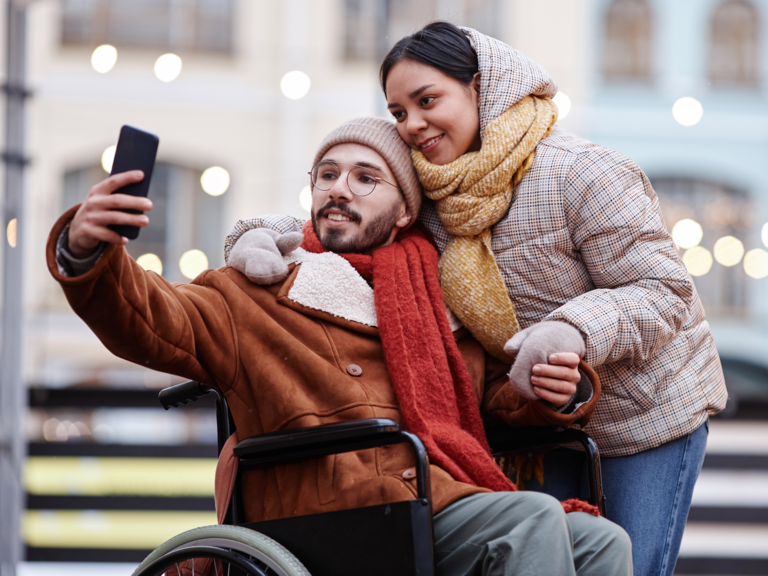 Photo: SeventyFour / Shutterstock
Cozy sweaters, twinkling lights and holiday parades. What's not to love about December? To help capture this wonderful month, we've pulled together the best December captions for Instagram as well as some last-day-of-the-year quotes to ensure you feel confident making your final post of the year.
Whether you're recapping a bridal shower or captioning a bachelorette party on social media, these December IG captions slay.
The Best December Captions for Instagram in This Story: Short | Funny | Clever | Cute | Editor's Favorites
Plus: How to Do a December Dump on Instagram
Short December Captions
If you're readying your December photo dump captions, then you already have plenty of pictures to share. Here are some short and sweet captions to go alongside them.
Keeping it LIT ✨
In my festive era.
You're toast, [year].
Santa babies 🤍❤️💚
Sleighbells ring, are you listening?
Happy Holidays 🥂
"Who is not a love seeker when December comes?" — Rod McKuen
Ending this year on a high note.
"Feliz Navidad, próspero año y felicidad." — "Feliz Navidad" by José Feliciano
December 📸 Dump
Holiday happenings
"She leaves a little sparkle wherever she goes." — Kate Spade
[Number] days until Christmas ✨🎅🏼🤶🏼🦌🎄🎁☃
Dashing through the ❄️
It's a winter wonderland. ⛄️
🫶🏼December🫶
"Some people are worth melting for." — Olaf, Frozen
Winter is coming.
Goodbye (year), thanks for the mems.
"I believe, I believe, it's silly, but I believe." — Susie Walker, Miracle on 34th Street
Let it snow. ❄️❄️❄️
All is calm, all is bright.
Serving up holiday cheer all month long.
December vibe check: 🔥
Loading: Chapter 12 of 12
Bebe, it's cold outside.
Cozy SZN is here.
🥂 *Clink Clink* 🥂
The start of this season brings an end to this year.
life lately 🫶🏼✨
Puttin' on the rizz to top of [year]
Funny December Captions
Whether you're looking for funny quotes for December or some end-of-year photo dump captions to make your followers laugh, we got you covered. From favorite holiday movie quotes to silly puns, there's something to brighten up your feed here.
"Welcome winter. Your late dawns and chilled breath make me lazy, but I love you nonetheless." – Terri Guillemets
"Nothing says holidays, like a cheese log." — Ellen DeGeneres
"SANTA! Oh my God! Santa, here?! I know him! I know him!" – Elf
Serving up Saint Nick vibes all month long.
"It is December, and nobody asked if I was ready." — Sarah Kay, "Winter Without You"
I only made a few pour decisions this year.🍸
"Well, happy birthday Jesus. Sorry your party's so lame." – Michael Scott, The Office
Single and ready to jingle.
"I love when they drop the ball in Times Square. It's a nice reminder of what I did all year." — Bridger Winegar
Now playing "Mistletoe" by Justin Bieber.
Dear 🎅, I can explain.
✨Glitter or it didn't happen.✨
"First we'll make snow angels for two hours, then we'll go ice skating, then we'll eat a whole roll of Toll House cookie dough as fast as we can, and then to finish, we'll snuggle." — Elf
Bring on the champagne.
Clever December Captions
From cold weather quotes to end-of-the-year captions, these clever phrases will hopefully make your friends chuckle when they see your December Instagram post.
(ugly) sweater weather
"You can tell a lot about a person by the way they handle three things: a rainy day, lost luggage and tangled Christmas tree lights." — Maya Angelou
Easier sled than done.
Out with the turkey, in with the snow!
All spruced up 🎄
I think we avoided Santa's side-eye this month.
Everything changes when the clock strikes 🕛
"For last year's words belong to last year's language. And next year's words await another voice." — T.S. Eliot
That's a wrap 🎁
Alexa, play 🍾 Problems by Taylor Swift.
"I'm dreaming of a white Christmas just like the ones I used to know." —
"White Christmas" by Bing Crosby
Up to ❄️snow❄️good.
Until next year! ✌️
Simmer the bitter, crank the glitter✨
We ate up [year] and left no crumbs 🍪
"A friend is a gift you give yourself." — Robert Louis Stevenson
"Wisdom comes with winters." — Oscar Wilde
"Winter is not a season; it's a celebration." — Anamika Mishra
My squad sleighs 🛷️‍🔥
I don't celebrate Christmas, Christmas celebrates me.
"What the new year brings to you will depend a great deal on what you bring to the new year." — Vern McLellan
Now booking: [year] 🗓️
Cute December Captions
Cuteness on social media can take the form of Santa quotes or New Year's Eve captions on your Instagram. Either way, these charming December Instagram caption ideas will keep your feed warm during the chilly months.
It's beginning to look a lot like Christmas🎄🎁
"What good is the warmth of summer, without the cold of winter to give it sweetness." — John Steinbeck, "Travels with Charley: In Search of America"
A merry and bright time 🎄✨🥂
💚A December to remember ❤️
"Winter is not a season, it's a celebration." — Anamika Mishra
[year] gave me life.
Although it's said many times, in many ways - MERRY CHRISTMAS TO YOU🎄❤️
"It's lovely weather for a sleigh ride together with you." – The Ronettes, "Sleigh Ride"
Bearing glad tidings of good cheer
You can't beat a ❄️White ❄️Christmas.
"I was listening for a sound I was afraid I'd never hear. The ringing bells of Santa's sleigh." – The Polar Express
"Blessed is the season which engages the whole world in a conspiracy of love." — Hamilton Wright Mabie
Best month ever. No cap.
T-minus [number] days ❄️🎅🏻🎄
"In the winter, she curls up around a good book and dreams away from the cold." — Ben Aaronovitch 📖☕
Editor's Favorite December Photo Dump Captions
From seeking December 1st quotes to finding the right snow captions for Instagram, we know it can be hard to hit "post" when your words don't feel quite right. Use one of these editor's favorite holiday photo dump captions to hit that button with confidence.
"Cheers to a new year and another chance for us to get it right." — Oprah Winfrey
🏠 for the holidays.
"I go back to December all the time." ― Taylor Swift, "Back To December" (Taylor's Version)
Out for a slay ride 💅
"A little party never killed nobody." — The Great Gatsby
[year]? I don't know her.
How to Do a December Dump on Instagram
If after perusing our list, you're still wondering, "What should I caption this December season?" we have more advice on this tricky subject. While common colors to use are red and green during the holidays, opt for jewel tones for a classier feel. Incorporate white, cream and glitter for a more universal, festive vibe. But, if you're trying to shake up your year recap Instagram captions, try using more black and gold photos for a bold and beautiful contrast.
When choosing photos, pretend you are making a highlight reel for the month. Whether you were ice skating, singing carols, attending a holiday parade or throwing down with friends, your feed only needs to see the best picture from each activity. We're always gonna be a sucker for at least one good snowy day picture too.