The Weddings and Wives of Donald Trump
Fact: Melania walked down the aisle with rosary beads.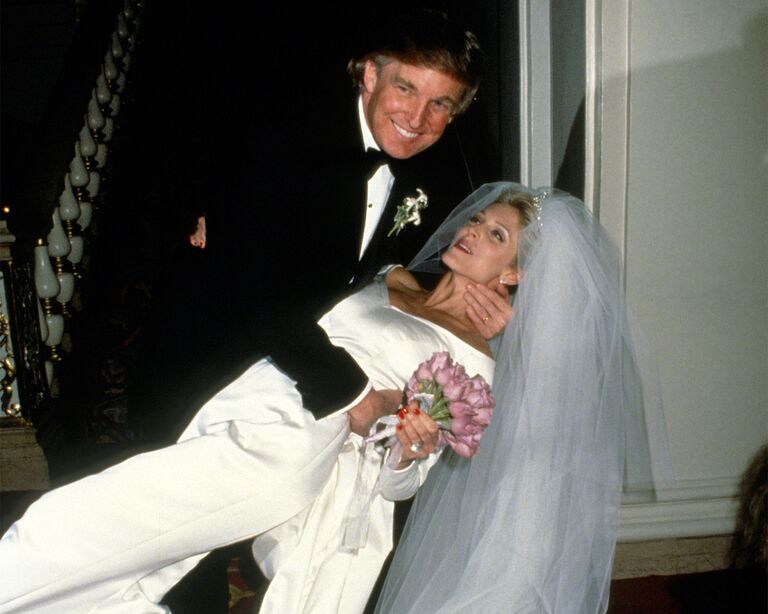 Images Press/IMAGES/Getty Images
Three weddings and three wives provide an interesting narrative for the 45th President of the United States of America Donald Trump, whose marriages to Ivana Trump, Marla Maples and Melania Trump have all been well-documented over time. While two out of the three marriages failed, much has since been revealed about the relationships—in great detail—since they've ended. Below, take a look back at Donald Trump's weddings to Ivana, Marla and Melania, plus additional marriage details.
Donald Trump Wedding to Ivana Trump
In 1977, Donald Trump and Czech native Ivana Zelnícková married in a secret ceremony. The wedding was so furtive and private that no images were released from the uber private nuptials. Together, the touted power couple welcomed three children, Donald Jr., Ivanka and Eric Trump. However, as the couple grew accustomed to the spotlight, their private lives were increasingly seen as tabloid fodder in their 14 years of marriage.
It wasn't until Trump was caught cheating in 1989 on his wife with Marla Maples, in a very public affair, that a divorce became imminent. In fact, the not-so-covert affair reached a fever pitch on the cold slopes of Aspen in a confrontation at Bonnie's. "I feel for her," Marla told Vanity Fair in 1990. "I think she must have known in her heart it wasn't about me. There would never have been any discussion of my and Donald's friendship if things had been good… I was his friend for so long and I constantly said to him, 'Stay and make it work. Don't give up the marriage—you've got your kids.'"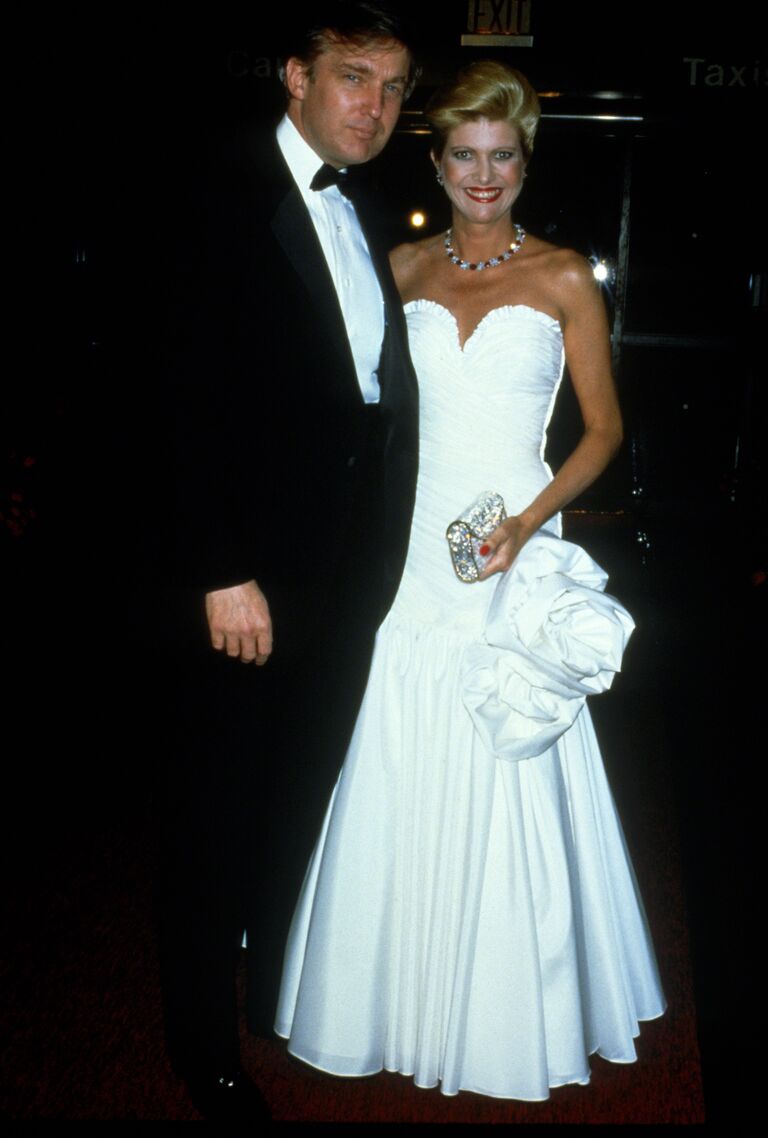 Decades later, Ivana still disapproves. "I don't talk about her," Ivana told CBS This Morning in 2017. "She's a showgirl. Never achieve anything in her life." Eventually, after much back and forth, the couple settled for $14 million, a small sum considering Trump was on the brink of bankruptcy at the time. Ultimately, Ivana agreed to the amount because she reportedly feared he would go bankrupt. ("She wants a billion, but we just don't have it," Maples once complained to VF.)
Donald Trump and Marla Maples' Wedding
Following the fallout with his first wife, Donald Trump moved onto his second marriage with his former mistress, Marla Maples. The couple first met famously after a fateful encounter on Madison Avenue. "I had seen him at different places throughout the years," Maples told VF, "and just said hello, I was just somebody he shook hands with."
In October 1993, Maples welcomed his daughter, Tiffany, and the couple was married two months later. By 1999, they were divorced. "I think you always hope in marriage to bring out the best in each other, but after many years we realized, we weren't," Maples, a former Georgia beauty queen, told Access Hollywood Live. "And then you have to move on… And you know girls in your twenties, you think you can change them in a way."
The former couple's 1993 wedding took place at the Plaza, and the bride wore a silk, sleeved gown by Carolina Herrera with an estimated $2 million tiara. Guests noshed on delicacies ranging from beef, smoked fish, caviar and lamb. The couple's seven-tier wedding cake was a lavish touch to the affair (no pun intended).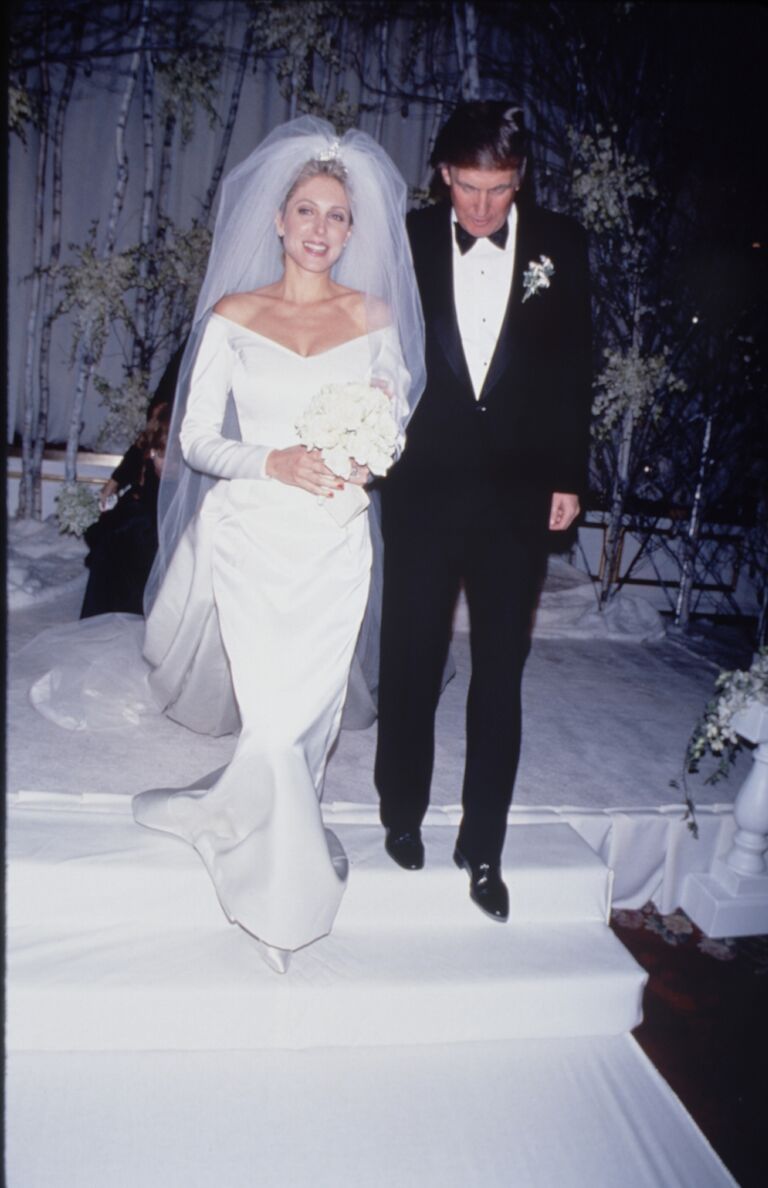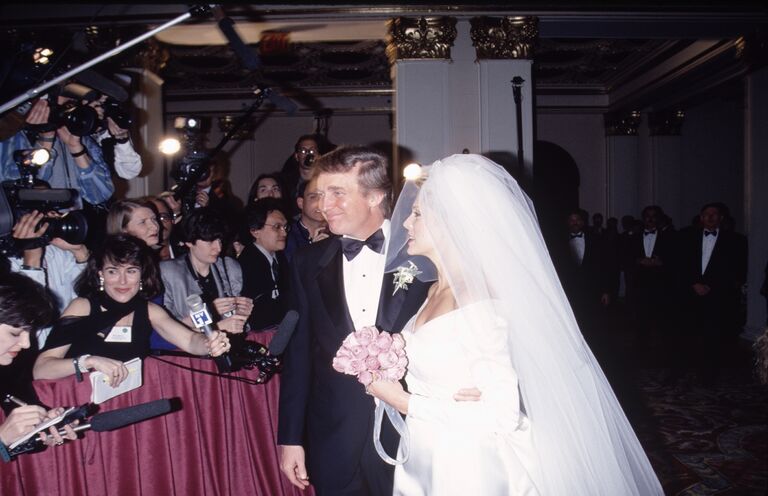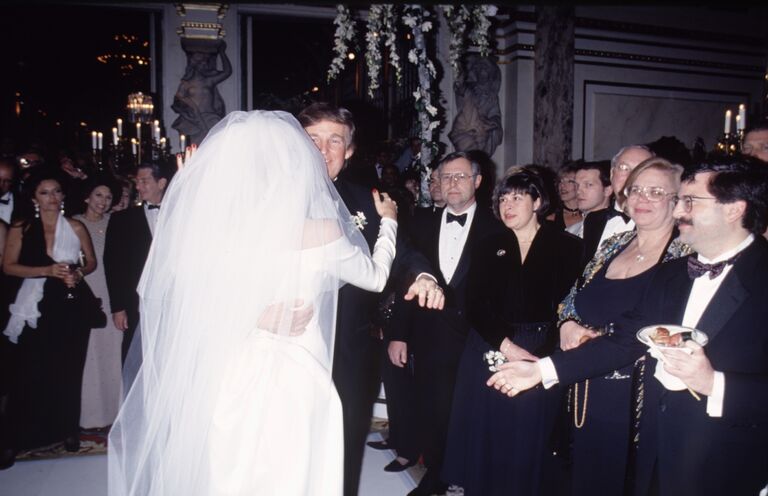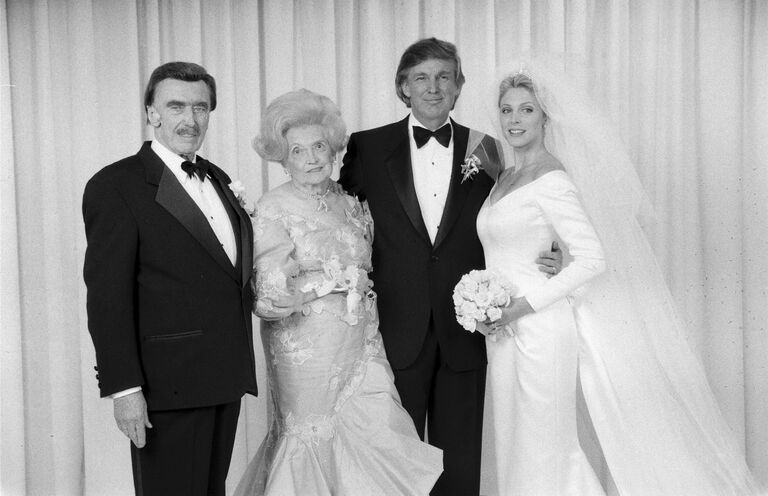 It wasn't until a shocking tabloid cover in May 1996, revealed Maples and a Trump bodyguard running on a beach that caused a rift in the marriage. Trump, however, had secured his assets with an iron-clad prenuptial agreement that he refused to budge on up until the day of their wedding, as thousands of guests were expected. ("Marla was under duress. Donald's position was: without the prenup he wasn't going to get married," a source told Vanity Fair.) Ultimately, Maples raised Tiffany in California away from the attention that surrounded Trump on the East Coast. One of Maples' biggest assets from the divorce was her $250,000 engagement ring.
Donald and Melania Trump's Wedding
In 2005, Donald Trump and Melania's wedding took place before 350 guests, including the Clintons, Simon Cowell, Billy Joel and Barbara Walters. Melania (nee Knauss) Trump and Donald married in a million-dollar event that started at the Episcopal Church of Bethesda by-the-Sea in Palm Beach, Florida, and an extravagant reception at The Mar-a-Lago Club.
The bride wore a figure-hugging, strapless Dior gown made of duchesse satin, embroidered with elaborate hand beading. It was so form-fitting that Knauss was unable to walk in the piece, so that she eventually swapped into a second dress by Vera Wang for the reception. The bride accessorized with statement jewels and a massive 16-foot veil that formed a cone shape to mimic fashion. There was no bouquet and instead, Melania Trump carried a strand of rosary beads that belonged to her family.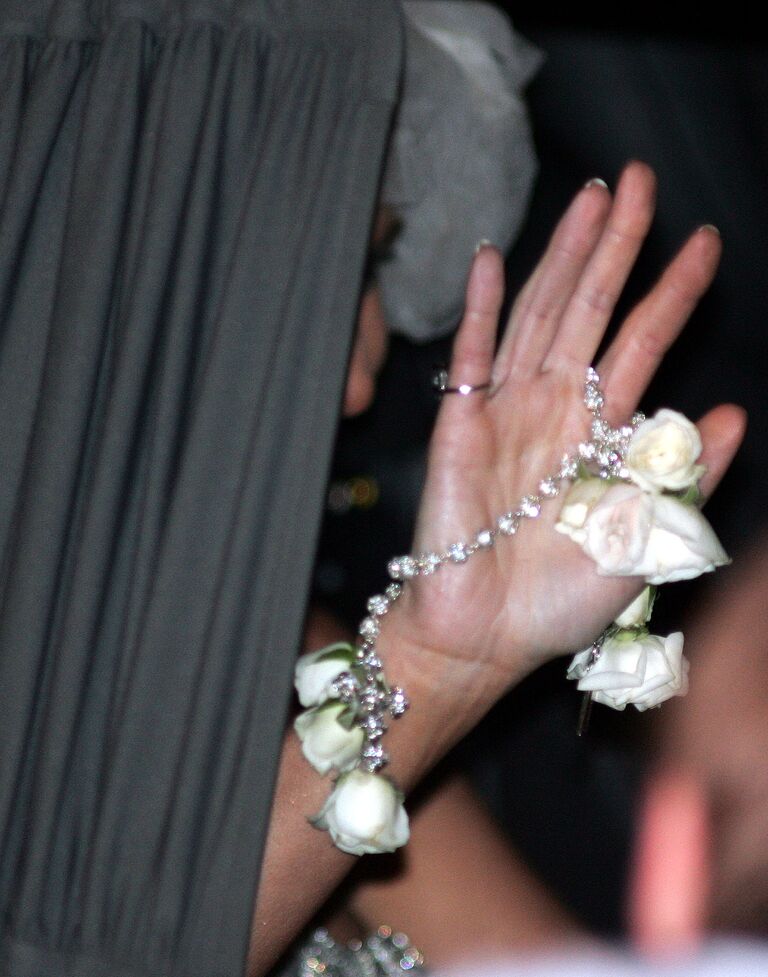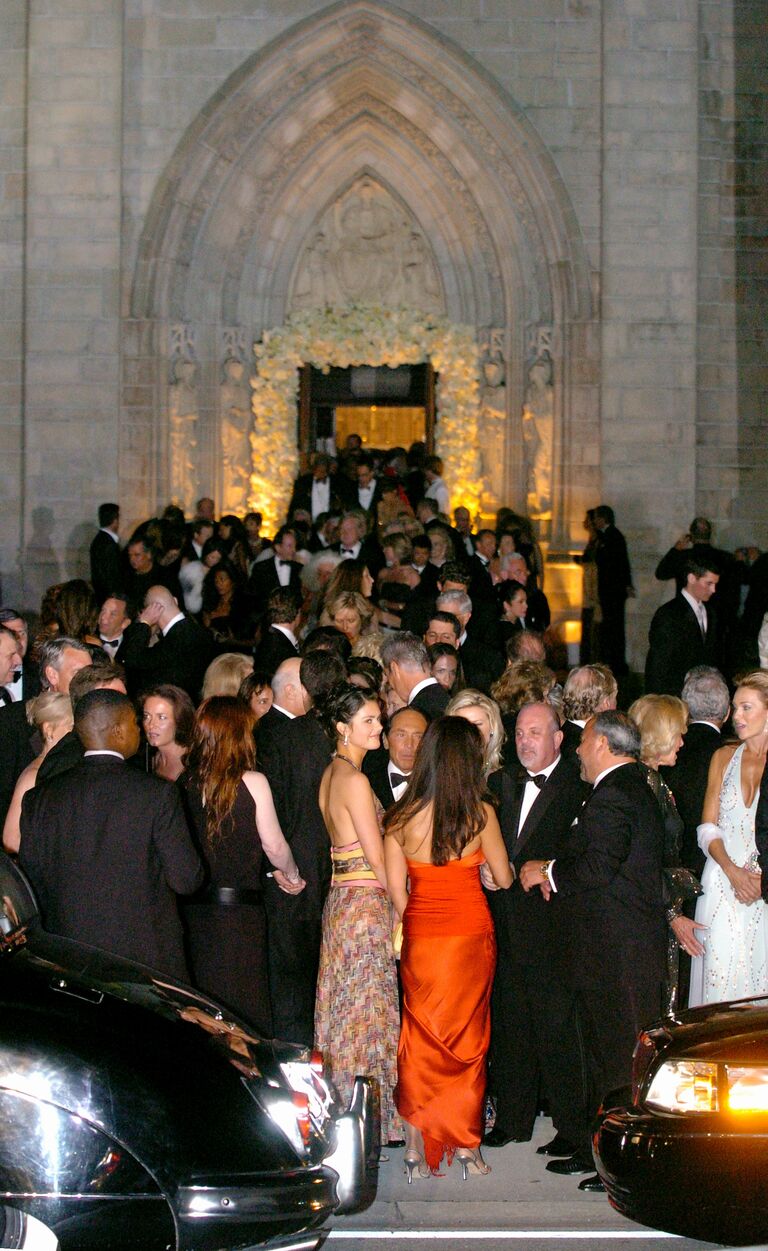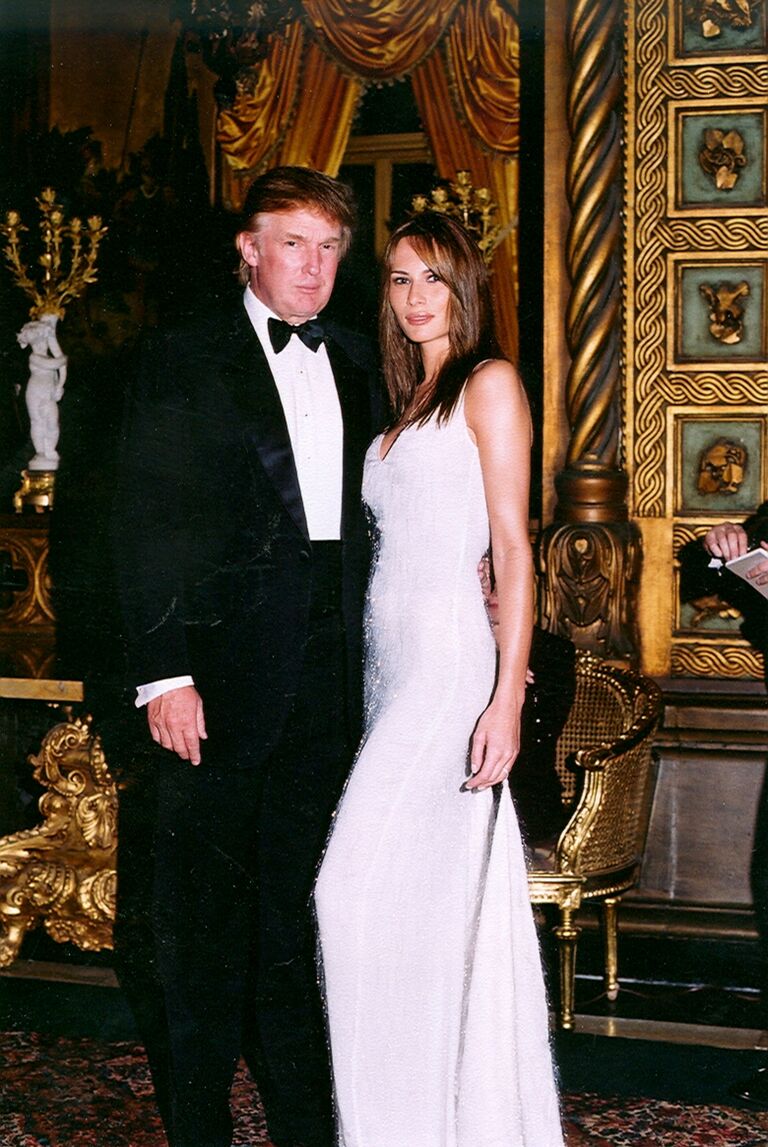 "The newlyweds looked very pleased and happy as they walked back from the altar; far was it for me, their friend, to poke a nose into what was going on in their hearts and in their brand-new, instantly opaque marriage," guest Joseph O'Neill wrote in the New Yorker in 2016. "Melania looked lovely, and the fifty-eight-year-old Donald—as a friend of the family, I was bound to call him and his wife by their Christian names, even if Donald reportedly liked being called 'Mr. Trump'—looked uncharacteristically bashful; bashful, that is, by comparison with his character on 'The Apprentice.' My impression was that he was in awe of some of the people who clapped as he made his way down the aisle, specifically those who exceeded him in the matter of net fame."
The entertainment and plated dinner was top-notch with generous portions of tenderloin and a Trump wedding staple of caviar and Cristal. The wedding cake itself was a take-home treat with each guest given a miniature cake of their own to take home. Chocolate of course.
Donald Trump's Wedding Ring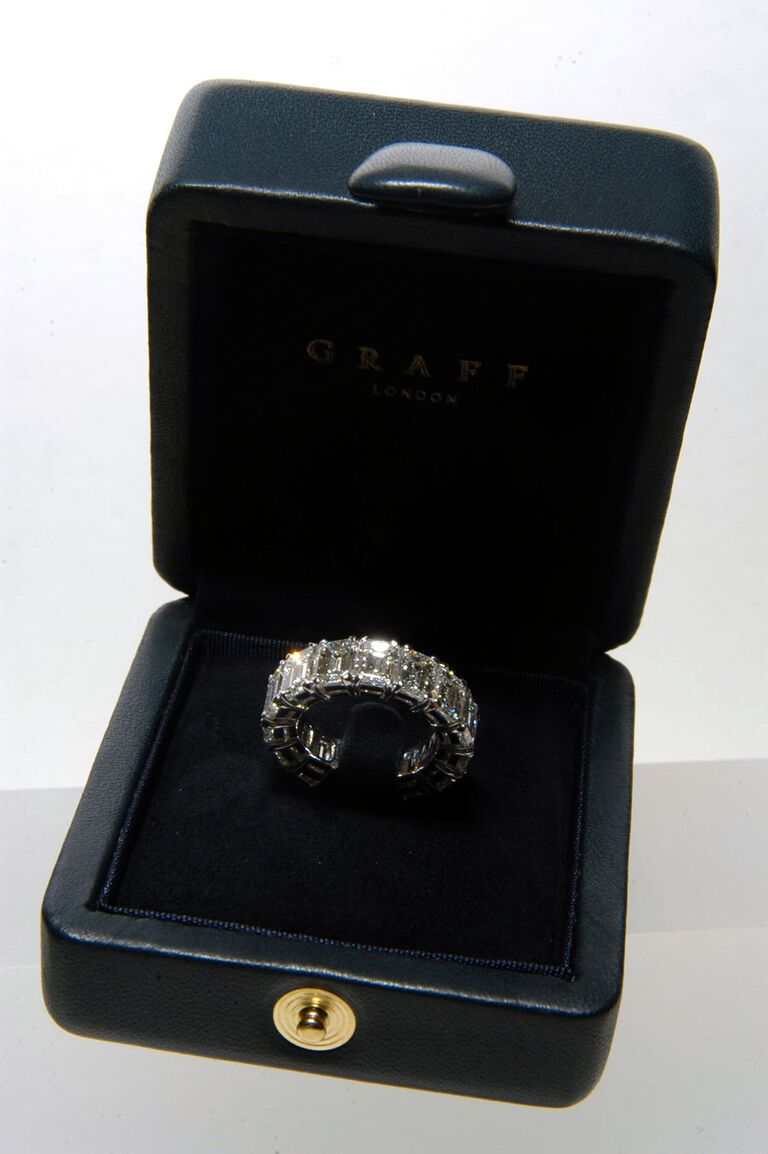 Melania Trump, ahead of her wedding to Donald Trump, secured a ring comprised of white, emerald-cut diamonds set in platinum. The total size of the ring itself was 13 carats and the piece itself was designed by London-based jeweler Graff.