7 Carolina Herrera Celebrity Wedding Dresses We Love
Yes, Bella Swan's 'Twilight' gown is one.
PL Gould/IMAGES/Getty Images,@JohannesHuebl/Instagram,Lionsgate
If you have an affinity for wedding dresses that are classically elegant and sprinkled with exquisite detail, you'll love Carolina Herrera's designs. The Venezuelan creative, born María Carolina Josefina Pacanins y Niño, began her fashion career in 1965 as a publicist for Emilio Pucci. After her own dramatic sense of style garnered her recognition in the fashion community, Diana Vreeland (then the Editor-in-Chief of Vogue) encouraged Herrera to launch her own luxury fashion line. Defined by her precise tailoring and a liking for lace and bows, she quickly became a favored designer of A-list celebrities and royals around the world—and some of her most loyal clients happened to be first ladies. In fact, it was Jackie Kennedy who asked Herrera to design a wedding dress for her daughter, Caroline, in 1986.
Here, we look back on some of the most iconic Carolina Herrera wedding dresses worn by celebrities. From Olivia Palermo to Jessica Simpson and even Bella Swan from Twilight, these famous Carolina Herrera wedding dresses are simply unforgettable.
Olivia Palermo's Wedding Dress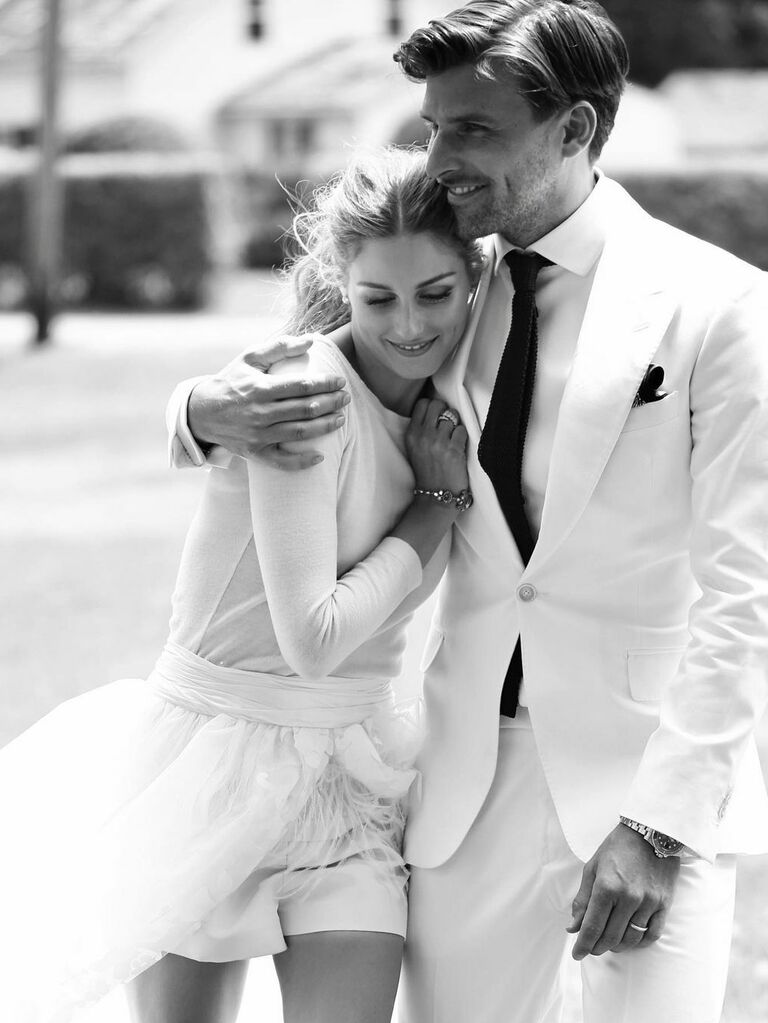 Carolina Herrera designed Olivia Palermo's wedding dress, and we'd dare to say it's one of the most iconic bridal looks ever—notably because of just how different it was. The NYC-born socialite (who was rumored to be the inspiration for Gossip Girl's Blair Waldorf) married model Johannes Huebl in 2014 in an ensemble fitting for one of the Upper East Side's most elite. She donned a three-piece Carolina Herrera look, which included a sweater, a skirt, and a pair of bridal shorts.
"It was early afternoon in mid-April when I walked into Mrs. Herrera's Seventh Avenue atelier," Palermo blogged of her dress shopping experience. "[Herrera and her team] had pulled out so many beautiful creations from floor-skimming numbers fit for royalty to tea-length dresses ideal for midday ceremonies, but it was an innocuous skirt overlay that caught my eye. I knew that paired with simple, silk-faille shorts, the resulting combo would transition from daytime ceremony to dusk reception with elegance and ease. As for the top, I always run cold, so naturally, I gravitated towards a Carolina Herrera cashmere sweater, which had tonally coordinated bejeweled feathers at the hem. For the ceremony, I kept those details tucked into the skirt, but later on, it looked party-friendly with a fun twist when worn with just the shorts." She completed her look with a pair of Carrie Bradshaw-approved blue Manolo Blahnik stilettos.
Bella Swan's Wedding Dress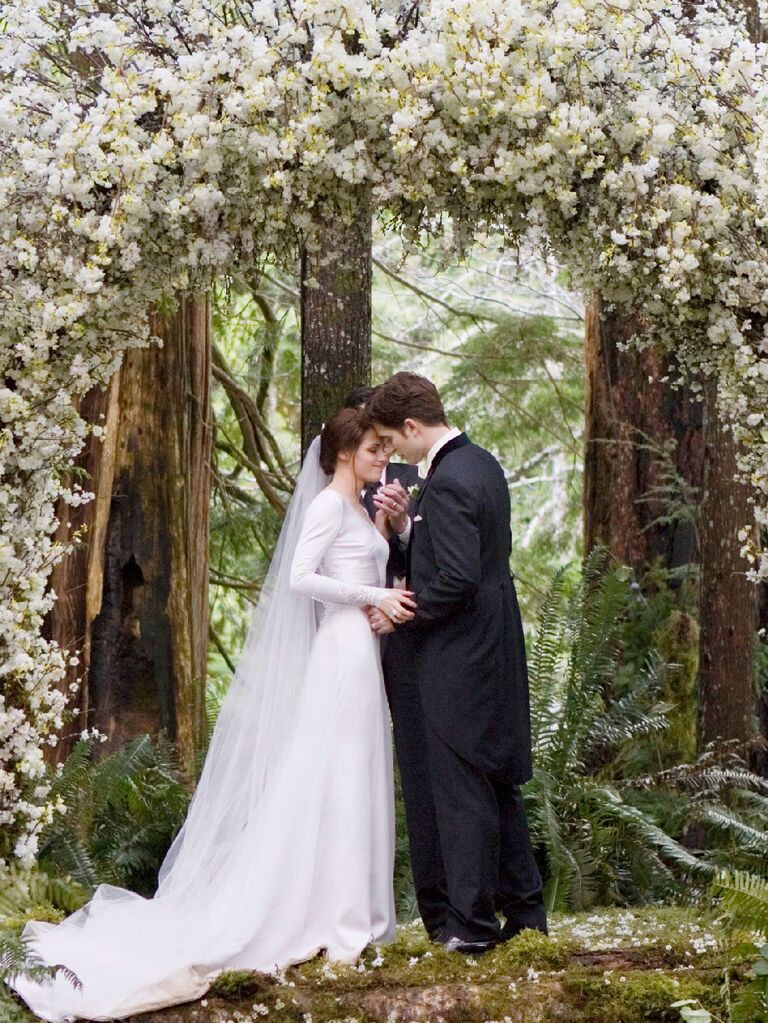 It's true: Carolina Herrera designed the Twilight wedding dress. You may recall the dreamy creation Bella Swan wore to marry Edward Cullen in the whimsical woods of Forks, Washington, which remains one of the most beloved movie weddings of all time.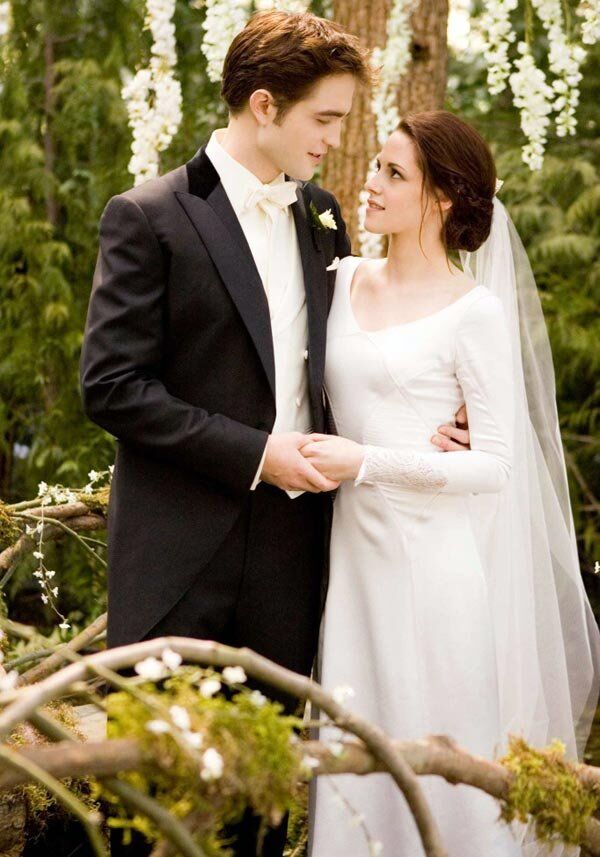 In an interview with Vogue UK, Herrera revealed that the long sleeve satin and lace design—which had 152 buttons down the back—was custom-made for actress Kristen Stewart over the span of six months. "I was of course inspired by Stephenie's description of the gown in the book, but I added the touch of Herrera and also took into consideration the personality and the style of the bride," she reflected.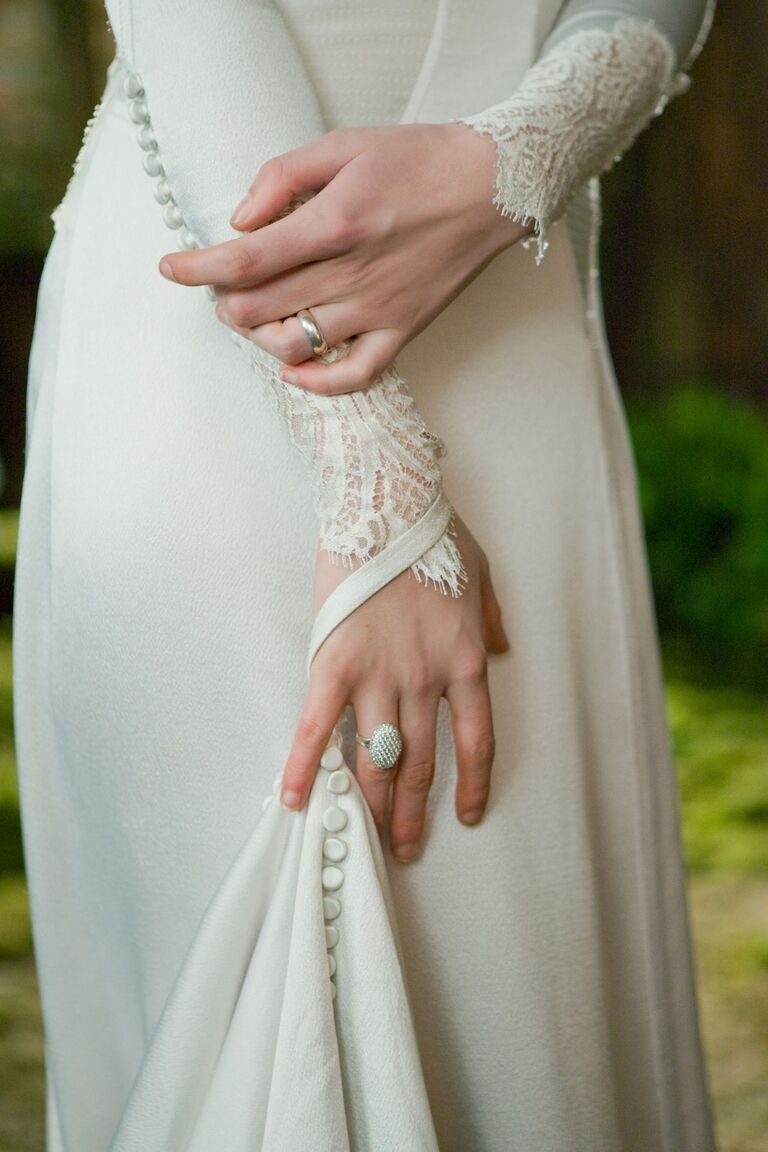 "A wedding dress is both intimate and personal for a woman—it must reflect the personality and style of the bride. Bella's dress is romantic and filled with timeless sophistication, very similar to the character. In a way, this dress served as a symbol of the character's coming of age and introduction into womanhood."
Caroline Kennedy's Wedding Dress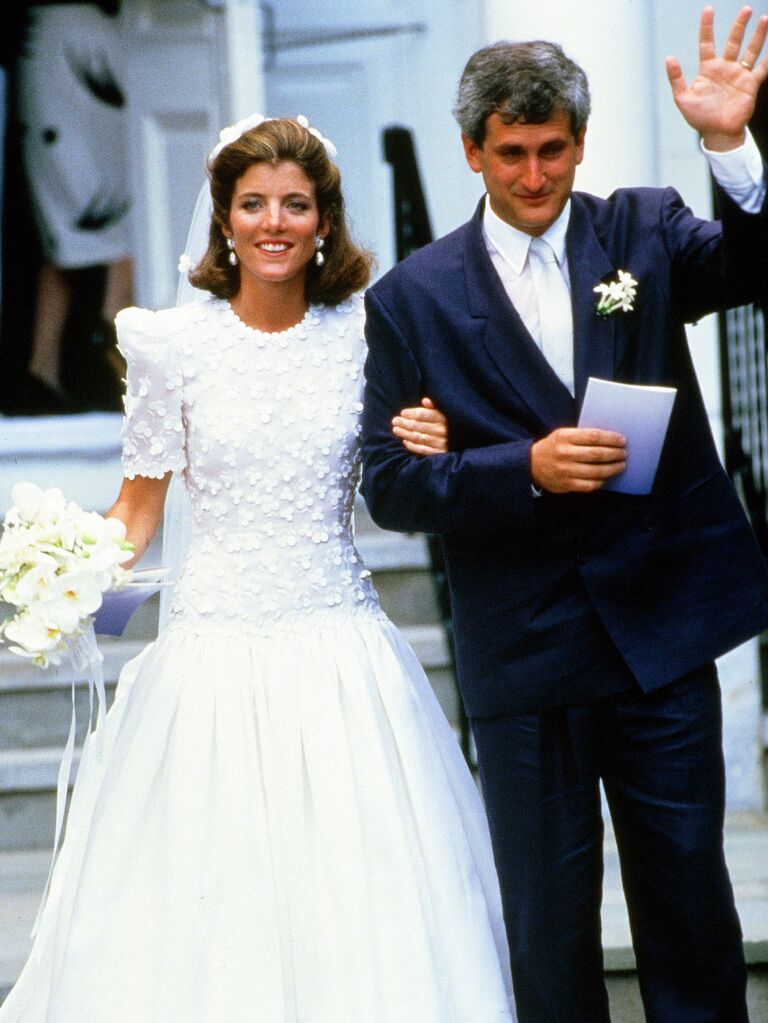 Given the close friendship between Jacqueline Kennedy and Carolina Herrera, it was no surprise that the former first lady asked the design maven to create a wedding dress for her daughter, Caroline Kennedy. The political starlet married Edwin Schlossberg in a Cape Cod, Massachusetts church in 1986 wearing a silk organza gown with puffed sleeves, floral embroidery and a rounded neckline.
Jessica Simpson's Wedding Dress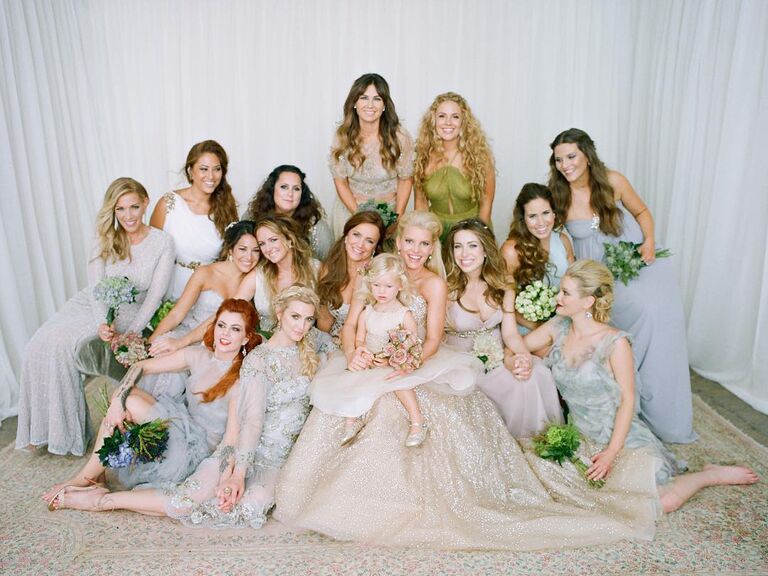 Jessica Simpson's gold Carolina Herrera wedding dress is one we won't soon forget. The singer married former NFL tight end Eric Johnson in 2014 and chose to forgo a white look, instead wearing a stunning champagne-hued strapless ball gown. At the time, she told People magazine that her delicately-embroidered gown was "romantic, ethereal and chic," adding, "I can't help but want a princess dress! I'm a Southern girl at heart. I like everything big!"
Emmy Rossum's Wedding Dress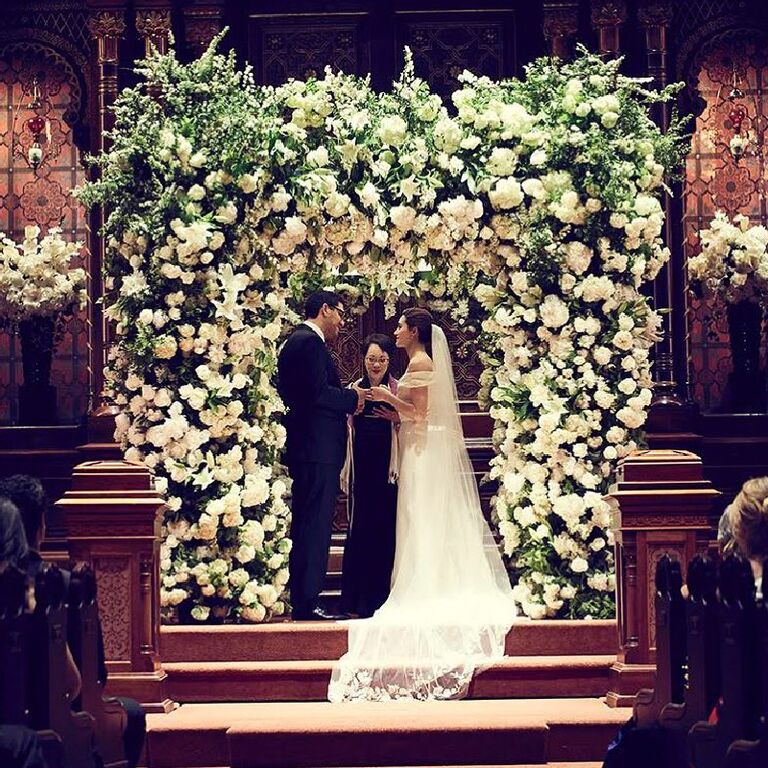 In May 2017, Shameless star Emmy Rossum swapped vows with Mr. Robot creator Sam Esmail at Central Synagogue in New York City wearing, of course, Carolina Herrera. "As soon as I got engaged, I immediately knew that I wanted Mrs. Herrera to make my wedding dress," the bride told Vogue at the time. "I went in, and [she] and I talked about silhouettes she'd done for bridal and silhouettes I'd worn before. I knew I'd be getting married at the temple, which is quite grand, and that the reception would be at the Guggenheim, so we knew that it needed to be a dress that could hold up to that. And it was Mrs. Herrera's idea to make it quite modern and fresh, and kind of use the shape of the Guggenheim on the bodice."
The final look was nothing short of spectacular. Rossum walked down the aisle in a custom off-the-shoulder dress with a ruched overlayed bodice that was, indeed, reminiscent of the museum. She completed her look with a dramatic lace veil.
Idina Menzel's Wedding Dress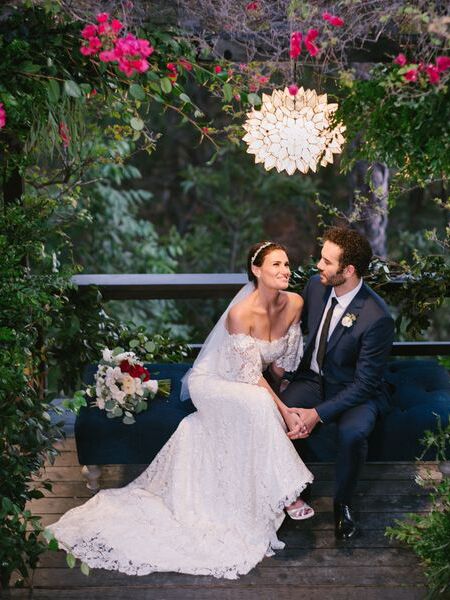 Renowned songstress Idina Menzel, known for starring in Wicked and Frozen, was a vision in lace when she married Aaron Lohr in 2017. She selected an off-the-shoulder three-quarter flutter sleeve dress by Carolina Herrera, which was covered in an ethereal lace pattern. She styled her romantic bridal look with Jimmy Choo heels and a sparkling Jennifer Behr headpiece.
Christina Hendricks' Wedding Dress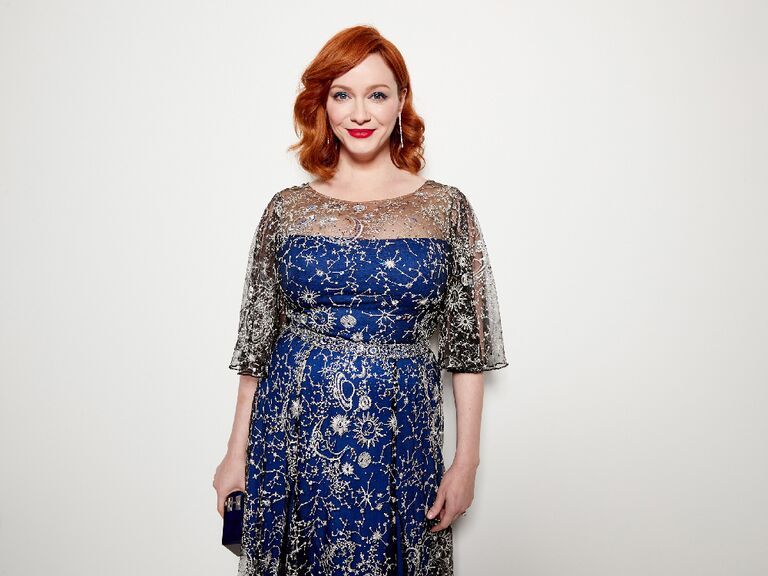 Ahead of Christina Hendricks' NYC wedding in October 2009, she teased a few details in an interview with TV Guide Magazine, saying, "It's exciting…I'm wearing a beautiful Carolina Herrera dream gown." While photos of her wedding dress are hard to come by, a few paparazzi snaps show the Mad Men actress wearing a strapless column gown with a vintage bustier-style bodice to marry Geoffrey Arend at Il Buco restaurant. She later told Cosmopolitan that she discovered her wedding dress while shopping for an award show look at Herrera's atelier: "I'd been to get a dress for the Golden Globes and, while I was there, they said, 'Why don't you try this?' It was perfect."