Inside Details About Emma Stone's Pearl Engagement Ring
Plus, shop the exact ring here.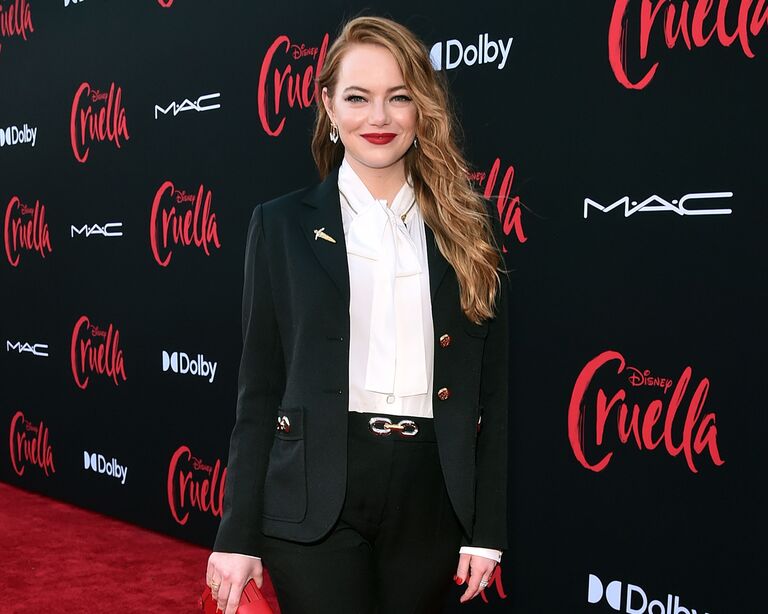 Alberto E. Rodriguez / Getty Images for Disney
We have included third party products to help you navigate and enjoy life's biggest moments. Purchases made through links on this page may earn us a commission.
In December 2019, Oscar-winning actress Emma Stone and then-fiancé Dave McCary confirmed their engagement. McCary, a segment director for Saturday Night Live, posted a loved-up ring selfie in an Instagram post that quickly went viral. Months later, the private couple quietly exchanged vows during COVID and have reportedly welcomed their first child together.
Stone's engagement ring from McCary is a notable standout among celebrity engagement rings for its vintage appeal. The star's engagement ring was designed by Tokyo-based master jeweler Yoshinobu Kataoka, and it features a radiant, 8 mm center pearl. The precious pearl is nestled within Kataoka's signature snowflake motif comprised of 0.37 carats of diamonds, all set on an 18-karat gold band.
"The center stone is an untreated Akoya pearl," says Nicole Wegman, founder and CEO of Ring Concierge. "With pearls, it's most important that they produce an intense, deep shine called 'luster.' They are graded A through AAA quality, the latter having the highest luster and making them the most valuable pearls in the world."
"Emma Stone's vintage-inspired engagement ring features a lustrous white center stone," affirms Ritani gemologist Ryan Kelsie. "The pearl would appear to be approximately seven to eight millimeters with a floral [or snowflake] diamond halo and a delicate diamond band."
The exact story behind Stone's ring is still unknown—specifically why McCary selected a pearl. However, pearls represent wisdom, something Stone and McCary may believe their love to reflect. The La La Land lead has since stacked her ring with several pieces, at least according to her recent red carpet outing for Cruella.
How Much Is Emma Stone's Engagement Ring Worth?
Jewelers agree: demand for pearls is rising. Stone's exact ring is specifically carried by Kataoka and Catbird, where it's currently sold for $4,780. "The average industry price has increased for pearls," notes Kelsie. "Non-diamond engagement rings have surged in popularity in recent years as many couples prefer the price point of alternative stones. Vintage engagement rings are also trending for their classic charm." Other alternatives to pearls, which are significantly more delicate than diamonds and therefore, must maintain diligent care, including sapphires, emeralds and morganite.
Stone's engagement ring stunner, particularly, points to a distinctive time period and includes brushes of luxury. Kataoka's pearl snowflake ring-supreme glitters from its 0.35-carat diamonds. "The antique-inspired details give the ring Old World charm," Wegman notes. "While its unexpected features, like the untreated Ayoka pearl as its center stone and its romantic sunken floral halo setting, make it a distinctive design."
Dave McCary and Emma Stone's Engagement
The rumor mill first honed in on a suspicious bauble on Stone's ring finger in May, after the actress had stepped out in early April sporting the unknown piece. It's unclear how long the couple had kept the engagement a secret.
Stone and McCary first met in December 2016 back when Stone hosted SNL and McCary was a segment director for the show. The two were first linked together in June 2017 at the premiere of McCary's film, Brigsby Bear. McCary and Stone took their relationship to a public-facing level in early 2019, especially after he had accompanied the actress to the Oscars in February. While Stone presented Best Supporting Actress, her proud boyfriend beamed, in turn, expressing his support. The couple attended the 2019 Met Gala together shortly after.
Shop Emma Stone's Engagement Ring Style
Stone's engagement ring isn't for the masses. In fact, it speaks to a unique type of couple. "The design is perfect for the modern bride looking for a non-traditional engagement ring that—while far from classic—is still inarguably timeless," notes Wegman.
Fans of Stone are able to purchase the exact same Kataoka Winter Pearl Ring, as it's offered by New York jeweler Catbird. Celebs like Meghan Markle and Rihanna have all professed their love for Catbird's dainty aesthetic, while it's one of the trendier jewelry options in the city. Along with Stone, Grande's bling has also contributed to the growing interest in this piece. "While diamonds are still the most popular, we do anticipate more requests for pearls in the coming months," adds Wegman.
Those who want to replicate the exact look of Stone's engagement ring can turn to Catbird. The retailer carries Kataoka's Akoya pearl ring on an 18k gold band.
Kataoka Winter pearl ring, $4,780, Catbird.com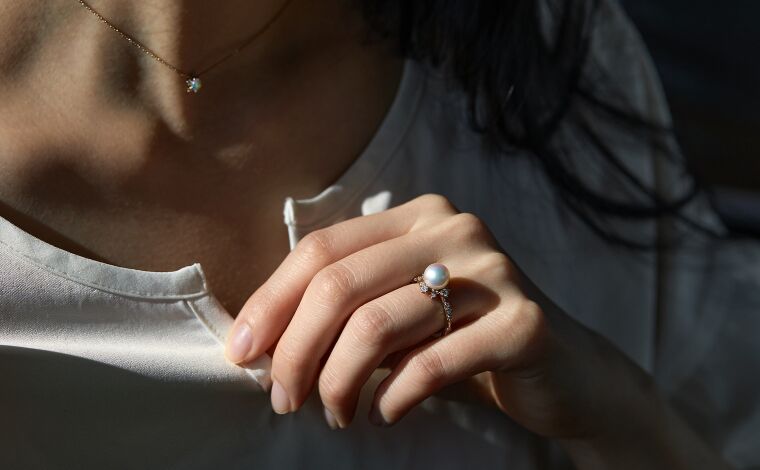 Fans are also able to purchase Stone's exact same piece directly from the jeweler and retailer, Kataoka.
Kataoka Pearl snowflake ring-supreme, $4,780, Kataoka.com
A modern departure from Stone's engagement ring, this piece from Blue Nile exudes confidence and subtle sophistication. The ring's 14-karat gold band showcases a bar of six diamonds juxtaposed against a freshwater pearl.
Blue Nile Freshwater cultured pearl and diamond bar fashion ring, $600, BlueNile.com