25 Perfect Quotes for the Maid of Honor Speech
Need speech inspo? Borrow these words of wisdom from famous ladies.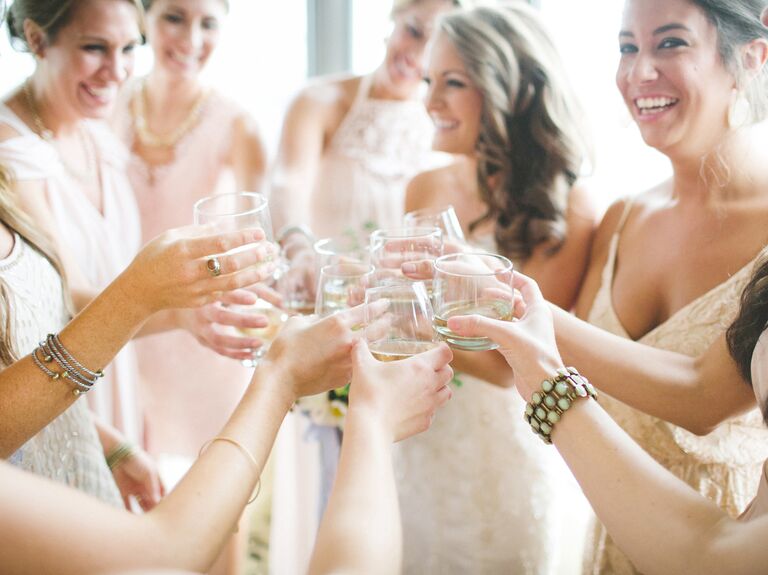 The Schultzes
Giving the maid of honor toast is just that: an honor. Even though the MOH will be standing up in front of the whole reception, it's also a special moment shared between the bride and one of her closest loved ones. The maid of honor is by no means required to use a quote in the reception toast, but if you're looking to include a few words of wisdom, comedy, poetry or inspiration from famous ladies, we've got you. Since they always seem to say it best, here are a few toast-appropriate quotes on love, marriage and friendship perfect for a maid of honor toast.
1. "The capacity to love is tied to being able to be awake, to being able to move out of yourself and be with someone else in a manner that is not about your desire to possess them, but to be with them, to be in union and communion." —Gloria Jean Watkins (aka bell hooks), American author, feminist and social activist
2. "One of the best things about love is just recognizing a man's steps when he climbs the stairs." —Colette, Frenchnovelist, journalist and actress, nominated for the Nobel Prize in Literature in 1948
3. "It was just enough to sit there without words." —Louise Erdrich, American, novelist, poet and children's book author
4. "Where there is great love, there are always miracles." —Willa Cather, American writer and novelist
5. "Love is the sum of our choices, the strength of our commitments, the ties that bind us together." —from Love the One You're With by Emily Giffin, American author
6. "When you love someone all your saved-up wishes start coming out." —Elizabeth Bowen, Irish novelist and short story writer
7. "Love is everything it's cracked up to be. That's why people are so cynical about it. It really is worth fighting for, being brave for, risking everything for. And the trouble is, if you don't risk anything, you risk even more." —Erica Jong, American novelist, feminist, satirist and poet
8. "We love because it's the only true adventure." —Nikki Giovanni, American poet, writer and activist
9. "Love has nothing to do with what you are expecting to get—only with what you are expecting to give—which is everything." —Katherine Hepburn, American actress
10. "Everyone admits that love is wonderful and necessary, yet no one agrees on just what it is." —Diane Ackerman, American poet and essayist
11. "We are each other's harvest; we are each other's business; we are each other's magnitude and bond." —Gwendolyn Brooks, American poet, author and teacher
12. "Anyone can be passionate, but it takes real lovers to be silly." —Rose Franken, American author and playwright
13. "What greater thing is there for two human souls than to feel that they are joined... to strengthen each other... to be at one with each other in silent unspeakable memories." —George Eliot, English novelist, poet and journalist
14. "One's life has value so long as one attributes value to the life of others, by means of love, friendship and compassion." ―Simone de Beauvoir, French writer, intellectual, philosopher and feminist
15. "The best marriages, like the best lives, were both happy and unhappy. There was even a kind of necessary tension, a certain tautness between the partners that gave the marriage strength, like the tautness of a full sail." —from Dearly Beloved by Anne Morrow Lindbergh, American author
16. "Love makes your soul crawl out from its hiding place." —Zora Neale Hurston, African-American author and anthropologist
17. "Love is the lifespring of our existence. The more love you give, the happier you feel and the more love you will have within you to give." —Susan L. Taylor, American editor, writer and journalist
18. "The best thing to hold onto in life is each other." —Audrey Hepburn, British actress, model and dancer
19. "Chains do not hold a marriage together. It is threads, hundreds of tiny threads which sew people together through the years. That is what makes a marriage last." —Simone Signoret, French actress
20. "A successful marriage requires falling in love many times, always with the same person." —Mignon McLaughlin, American journalist
21. "I love being married. It's so great to find one special person you want to annoy for the rest of your life." —Rita Rudner, American comedian
22. "People who love to eat are always the best people." —Julia Child, American chef, author and TV personality
23. "The real act of marriage takes place in the heart, not in the ballroom or church or synagogue. It's a choice you make not just on your wedding day, but over and over again and that choice is reflected in the way you treat your husband or wife." —Barbara De Angelis, American relationship consultant, lecturer and author and TV personality
24. "The greatest thing you'll ever learn is to love and be loved in return." —Natalie Cole, American singer, songwriter and actress
25. "There is one friend in the life of each of us who seems not a separate person, however dear and beloved, but an expansion, an interpretation, of one's self, the very meaning of one's soul." ―Edith Wharton, American novelist, short story writer and playwright
Find your dream wedding aesthetic and top vendors by taking our fun Style Quiz.