Gwen Stefani and Blake Shelton Are Engaged: See Their Wedding Predictions
"I love you. I heard a YES!"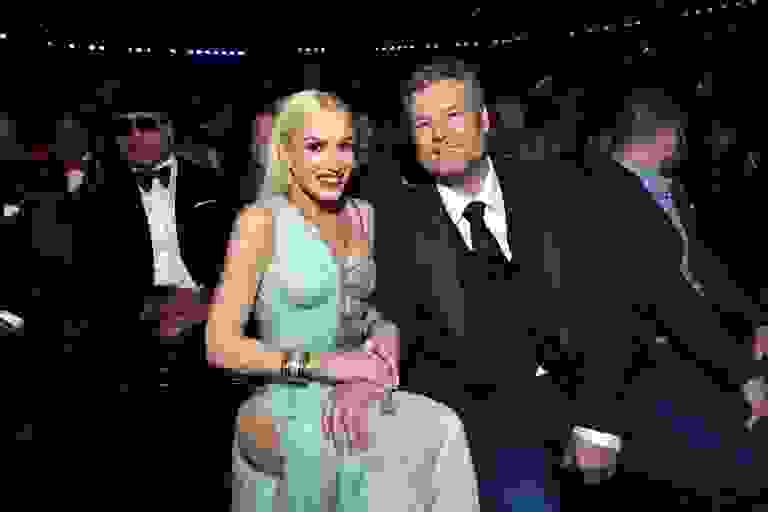 Emma McIntyre/Getty Images for The Recording Academy

We have included third party products to help you navigate and enjoy life's biggest moments. Purchases made through links on this page may earn us a commission.
Gwen Stefani and Blake Shelton are getting married. The singers confirmed October 27, that they're engaged after nearly five years of dating. "Yes please!" Stefani wrote on Instagram, alongside a snap of herself kissing Shelton with her new engagement ring on display. Country superstar Shelton, like his fiancée, had equally adorable sentiments on social media. "Hey @gwenstefani thanks for saving my 2020... And the rest of my life.." the "God Gave Me You" crooner wrote. "I love you. I heard a YES!"
The ring appears to be a large round brilliant or oval diamond of at least seven carats, though exact specifics of the piece are still unknown. Currently, experts believe the piece could be close to a million dollars in value. "With the center stone nearly reaching Gwen's middle knuckle, I estimate the total weight of her engagement ring to be approximately 8-10 carats at a value of $700k-$800k, depending on the color and clarity of the diamonds," says Katie Zimmerman, chief merchandising officer of Blue Nile. 
Gwen Stefani and Blake Shelton's Love Story
It will be the second marriage for Stefani, who was married to rocker Gavin Rossdale from 2002 to 2016, and the third for Shelton, who was formerly married to Kaynette Williams and Miranda Lambert. The couple bonded after the fallouts from their marriages to Lambert and Rossdale, who particularly was embroiled in a public nanny scandal at the tail end of his relationship.  

"I won't forget that day. I looked over at Gwen—who I didn't really know—and she had these huge tears in her eyes. I thought, 'Wow, she feels super bad for me!' . . . I thought it was going to be another one of those things-are-going-to-be-OK talks," Shelton recalled to Billboard in a July 2016 cover story. "She didn't tell me much, because we didn't know each other at the time, but she said, 'I'm going through something very similar to what you're going through. I understand. And I hate it.'"

As both Stefani, now 51, and Shelton, 44, were mending from their failed marriages, their friendship blossomed before viewers on NBC's The Voice, where they were coaches. "That's kind of how our friendship and bond started, that day," Shelton added in the same interview. "It went from that, to checking in on each other once a week through email—'This sh-- happened to me, what happened to you?'—to maybe three times a week, then every day, to 'Hey, here's my phone number if you ever want to text.' Next thing I know, I wake up and she's all I care about, and I'm wondering if she feels the same about me."
In November 2015, they confirmed they were dating. Since then, fans have persistently hoped for the couple's relationship to turn to an engagement. Still, they repeatedly described their love as easy-going given the many factors they had encountered throughout their previous marriages. "There is zero pressure … when there's trauma, the way that we had trauma back in the day," Stefani told NBC News in 2018. "Going through all these hard times, [you] get to a place where you find somebody that's like your best friend, that you know you can depend on and trust and go through life — we're just trying to be in the moment as much as we can."
Gwen Stefani and Blake Shelton Wedding Predictions
While Stefani and Shelton just got engaged, the power couple's wedding is a big highlight considering all the personalization details that could happen with this particular event. As with any wedding, the couple's love story should be represented throughout the details of the day. Below, we predict what to expect from Stefani and Shelton's upcoming nuptials.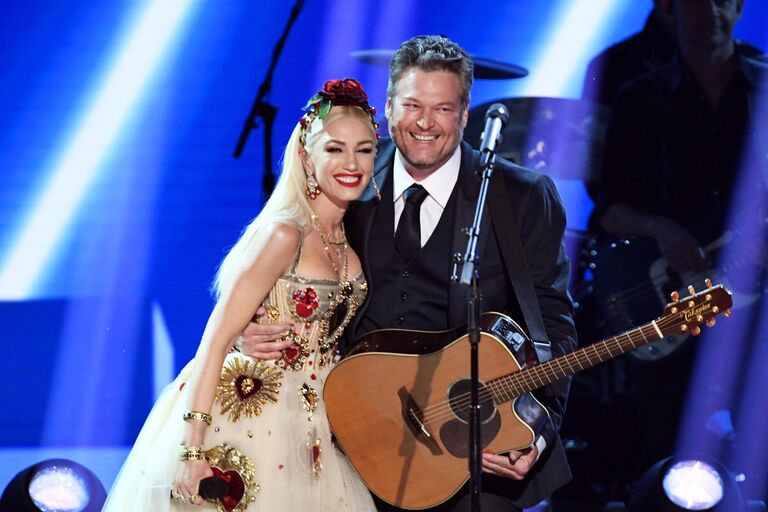 The Venue Will Be Sentimental

As with most star-studded, A-list weddings, Stefani and Shelton's nuptials will likely be held at a a sentimental location that's near and dear to their hearts. Often, the couple has spent an extended period of time at Shelton's ranch in Tishomingo, Oklahoma, a place far away from the hullabaloo of Nashville, New York or L.A., with plenty of land and opportunities for beautifully inventive wedding design. 
It's possible they could end up choosing his ranch for their wedding venue, considering the privacy of a backyard wedding (a celeb favorite). The couple would also hire the best-in-class wedding vendors, who are known for innovation, top service and an intense focus on creating beautiful events that feel wonderfully intimate. 
Gwen Stefani's Dress Will Include a Twist on Fashion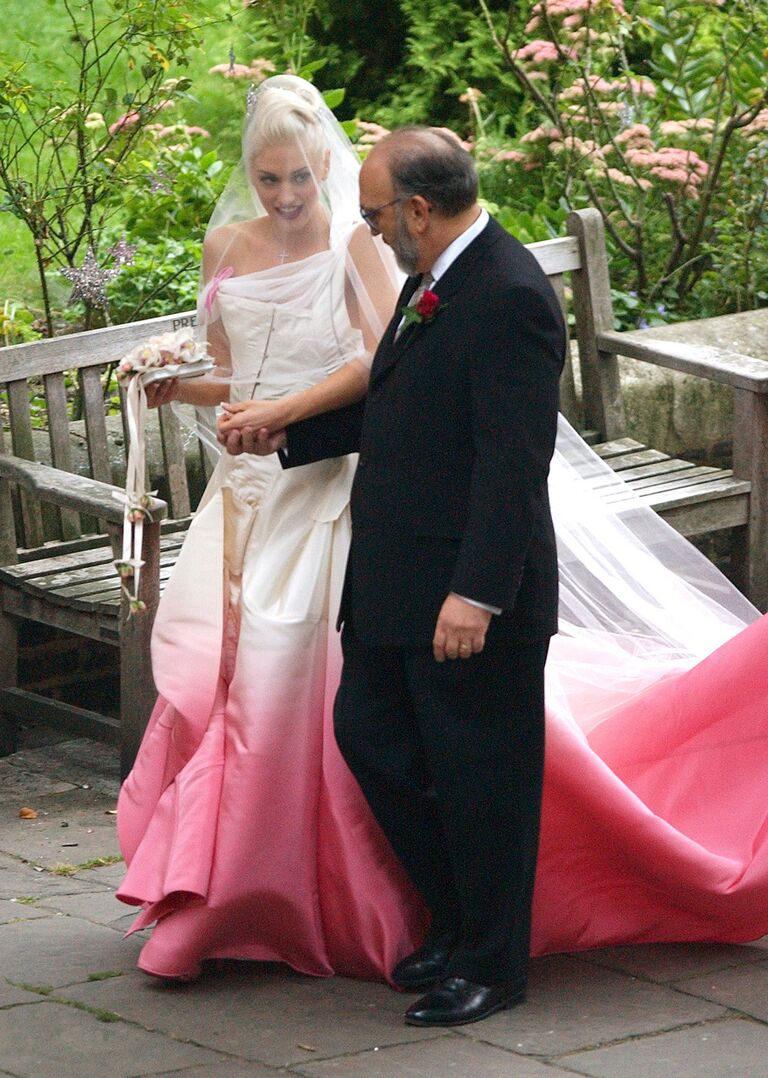 As recalled, Stefani married ex-husband Gavin Rossdale in a hand-painted and dip-dyed, vanilla-color crepe dress that included derivatives of rose and cherry hues on the skirt. The iconic piece was designed in 2002 by John Galliano for Christian Dior, and a similar style gown was recreated in 2017 for Stefani by Christian Siriano. 

We imagine the bride will choose an ensemble that's equal parts celebratory and edgy for her wedding to Blake Shelton--and it likely won't be solely white for Gwen. According to our data, 60% of those who marry for the second time report they or their partner wore white compared to 90% of first marriages. Already, with Stefani's style stature, she's likely to work closely with a top-tier designer on a breathtaking custom piece, certain to set trends for decades to come. 
The Food Will Be Catered By Ole Red
Fun fact: Shelton has diversified his portfolio not only as an artist, but as a restaurateur. The country superstar's Ole Red restaurant, which was inspired by his hit song of the same name, "Ol' Red," could play a role in his nuptials. 
The bar, restaurant, live music venue and retail brand is now in two locations, one in Tishomingo, Oklahoma, and the other in Nashville, Tennessee, and the menu is rather simple. Bites and offerings range from sandwiches and burgers, to common combination salads. Why not keep it in house? Guests could enjoy mouthwatering starters like nachos and giant pretzels with queso, which could double as delicious late-night snacks. 
There Will Be a Pie Station or Take-Home Mini Pies
That's not the only treat involved. On the Ole Red menu are numerous types of pies, which could indicate a must-have dessert on the couple's wedding day. Shelton's team touts a Mason Jar Blueberry Cobbler and a Bourbon Pecan Pie under the dessert section. It's possible the couple will task the team with custom pie recipes for their wedding too.
It Will Be Hyper Private
As with most celeb weddings, this couple will be hush-hush about their actual wedding date and location to preserve the privacy of the day. Not much will be revealed about the wedding day itself except tidbits about the planning process and any challenges they face amid COVID-19. The couple will likely announce their nuptials on social media with the first look photo from the occasion, editorializing the moment on their own.
The Bride's Kids Will Be Involved Somehow
Stefani shares three children with her ex-husband: sons Kingston, 14, Zuma, 12, and Apollo, 6, all of whom are reportedly on excellent terms with Shelton. It's likely the couple will involve the children in the ceremony in a special way given the sweet dynamics of their modern family. Stefani and Shelton have certainly worked on integrating her kids into the relationship for the five years they've dated. Likely, all three boys will play a role on the wedding day. 
There Will Be a Musical Performance (Multiple, Likely)
When two of the biggest artists of our time marry, the entertainment at the wedding is likely to rival that of stadium performances, though for a more exclusive and intimate audience. It's likely custom wedding music and accompanying performances will be prepared by both the bride and the groom, or they'll task their network to participate in the reception. Part of the couple's wedding playlist could involve their own love songs penned for each other, or they'll tap their A-list roster of musician friends to help out in some way at their nuptials. Imagine a solo serenade by Adam Levine.
There Will Be Humor
Those closest to the couple, and those who've witnessed the pair interact on NBC's The Voice, know both Shelton and Stefani are big on humor. Whether it's incorporated through their vows or through the officiant's message, the couple will infuse their wedding day with lots of laughter--and likely, some tears too. Rather than toasts the weekend of the wedding, we imagine Shelton and Stefani's wedding will include plenty of roasts.