The Top 2023 Engagement Ring Trends to Obsess Over
Take a sneak peek at the hottest engagement ring trends for 2023 you can shop now—including the new "it" setting.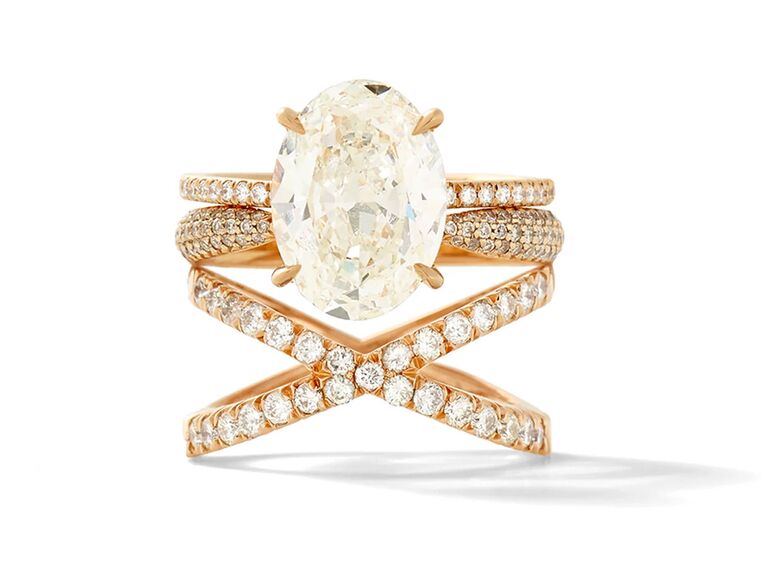 We have included third party products to help you navigate and enjoy life's biggest moments. Purchases made through links on this page may earn us a commission.
Fact: Your engagement ring should be a reflection of your personal style. If you want a standout sparkler or prefer totally nontraditional bling, you're in luck. There's no shortage of fabulous engagement ring trends for 2023 for every personal style. From colorful center stones to vintage-inspired designs to trendy toi et moi settings, we've got the scoop on the bling you'll be seeing on ring fingers everywhere this year.
In this article:
While a simple solitaire engagement ring may be a classic choice, you're probably going to want to step out of the ring box once you see the one-of-a-kind engagement ring trends 2023 has in store. Check out popular engagement ring trends you can shop now, below.
Toi Et Moi Engagement Rings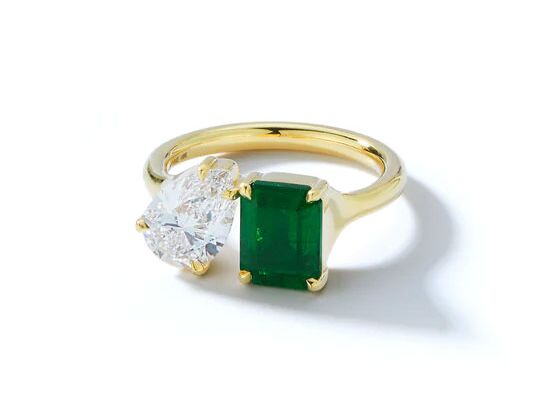 Jemma Wynne Emerald and Diamond Kissing Ring, Price upon request, JemmaWynne.com
We are saying oui to this 2023 engagement ring trend, which originated in France. Toi et moi rings (that's French for you and me) are also called two stone rings. This unique ring style is exactly what you'd think: two center stones instead of the more traditional one. Why do we love this unexpected look? An engagement ring with two stones stands out from the crowd and offers twice the bling. They also make customization easy, since they give you the option of mixing and matching different gemstone shapes and colors. Besides the megawatt shine and variety of options they offer, toi et moi engagement rings have a special meaning: The two gems that sit side by side or close to each other symbolize two souls becoming one.

While this style is one of our favorite 2023 engagement ring trends, it's actually nothing new. Napoleon Bonaparte famously put them on the map when he proposed to Josephine de Beauharnais in 1796 with a sapphire and diamond ring toi et moi ring. More recently, celebrities like Ariana Grande and Megan Fox brought this setting into the mainstream.
Colorful Engagement Rings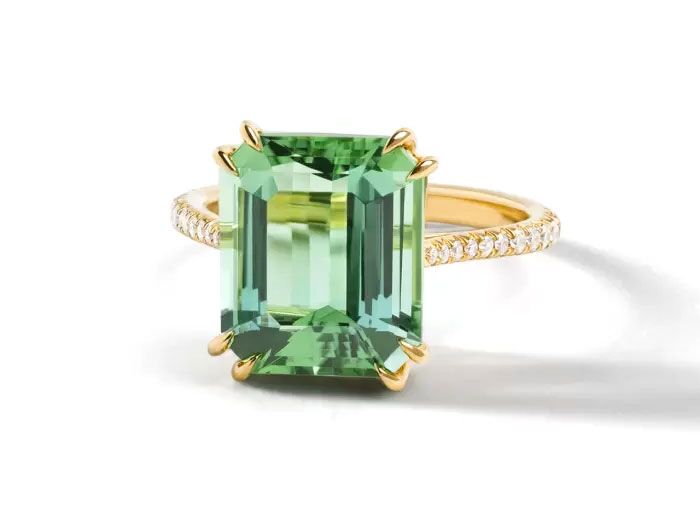 Hamilton Jewelers Green Tourmaline and Diamond Ring, $9,150, HamiltonJewelers.com
Infusing color into your wedding aesthetic is a gorgeous way to showcase your personality. In fact, colorful wedding dresses were all over the runaways of the most recent New York Bridal Fashion Week. Unsurprisingly, this vibrant trend also applies to the engagement rings of 2023. While white diamonds are still the norm (according to The Knot's 2022 Engagement study, which surveyed over 5,000 couples, 85% of engagement rings have white diamonds), colorful center stones are on the rise.

To put your own spin on a colorful center stone, consider choosing a ring with your birthstone or your partner's. Another thought? Opt for a gem with special meaning that resonates with your unique love story (think: rubies symbolize passion and sapphires symbolize fidelity). If you don't want to fully commit to color, consider a ring with a splashy halo or side stones—it's a more subtle way to give your bling some unexpected flair
Statement Wedding Bands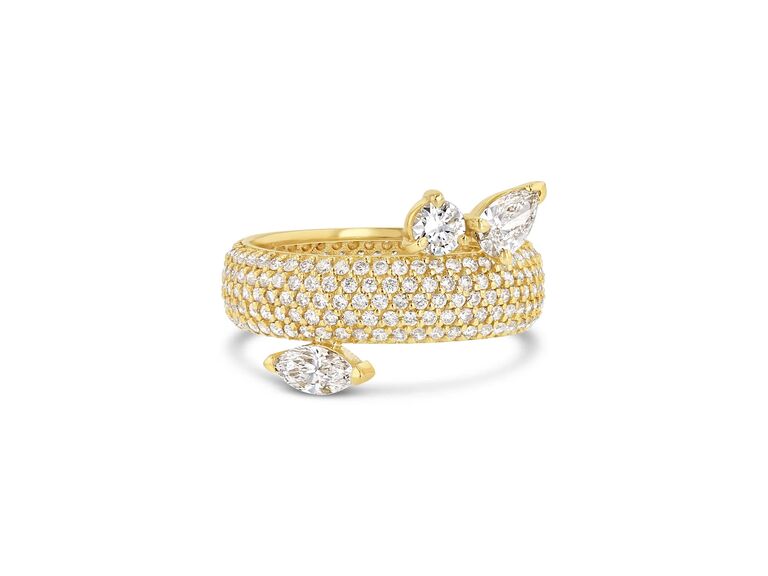 Grace Lee 5mm Full-Pavé Band with Oval, Marquise and Pear Diamonds, $7,880, GraceLee.com
We're predicting standalone bands will be a hot 2023 engagement ring trend for a few reasons: They're gender neutral, they tend to be more affordable than classic bridal sets (depending on the style) and in these post-pandemic times, they're easy to sanitize. The newest bands are bolder than ever, with diamond-encrusted, maximalist cigar bands, luxe signet rings and sparkly eternity bands that give the standard solid metal band a serious fashion upgrade.
And, if you have your heart set on an elaborate band but also don't want to forgo an engagement ring with a center stone—you've still got options. We love the idea of wearing your engagement ring and wedding band on separate hands or fingers, or wearing your engagement ring on certain days and your statement band on others. TLDR; You don't have to stick to a traditional engagement ring and band combo if you're feeling a statement piece.
Vintage Engagement Rings
Ashley Zhang Edith Asscher engagement ring, price upon request, AshleyZhang.com
Just as period dramas Bridgerton and The Gilded Age have taken over screens everywhere, vintage and vintage-inspired engagement rings are having an equally big moment. What's the appeal of throwback jewelry? It offers a certain romantic nostalgia you just won't find in more modern designs.
When it comes to vintage settings, it's all in the special details. Intricate touches like milgrain (a beaded metal pattern), filigree (metal wire flourishes) and elaborate floral or geometric halos give Old World bling a one-of-a-kind feel. Whether you're repurposing a family piece, shopping for estate jewelry or opting for a new design with a vintage-inspired setting, you can't go wrong with an engagement ring with heirloom quality—it's both glamorous and timeless.
Chunky Engagement Ring Settings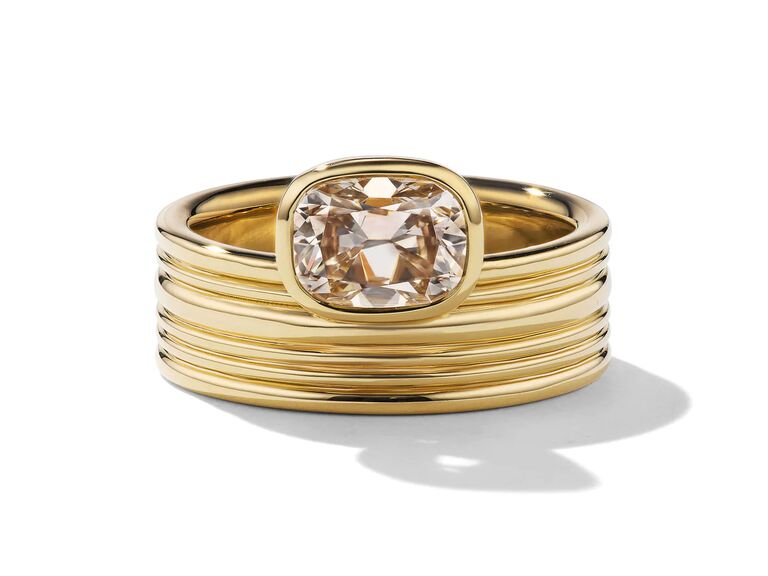 Aaryah Mika engagement ring, $19,000, Aaryah.com
One word: Thicc. While dainty settings and super-thin bands are always elegant, maximalist settings are the new "it" look. You can pull off this trend IRL in a few ways, by adding several rings to one stack for a high impact effect, opting for one chunky statement band or choosing an engagement ring with a more substantial setting.
A huge pro of this trend? Chunky bands are less fragile and therefore less likely to crack or bend than thin ones. If you're worried about the effects of wear and tear on your bling, this could be the engagement ring trend for you.
Three Stone Engagement Rings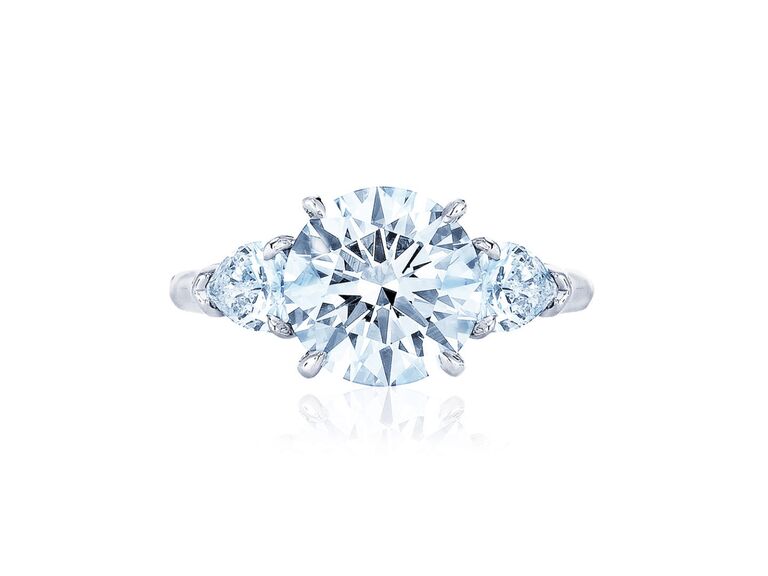 Kwiat Engagement Ring with a Round Diamond and Side Stones, price upon request, Kwiat.com
Call it the Meghan Markle effect. Ever since the Duchess of Sussex debuted her cushion-cut diamond flanked by two round diamonds, the classic three-stone engagement ring setting has become a mainstay and still tops the list of our 2023 engagement ring trends. Similar to two stone rings, this über-sparkly option is rich with symbolism. Also called a trilogy setting or a side stone setting, the three stones historically represent friendship, love and fidelity, or a couple's past, present and future, making it a sentimental engagement ring choice. Another plus: It's easy to put a custom twist on this style by mixing up the combination of stone shapes and colors.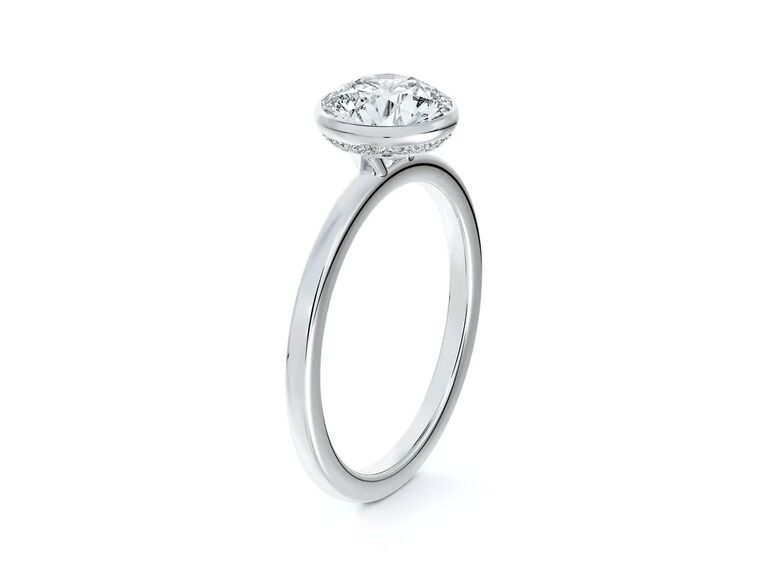 Forevermark Micaela's Hidden Halo Bezel Engagement Ring from $6,450, Forevermark.com
Halo settings and even double halo settings were all the rage for several years. Now, there's a new take on this extra-sparkly style for the engagement ring trends of 2023. Enter: the hidden halo. Perfect for those who want all of the sparkle without committing to a traditional halo, a hidden halo (sometimes called a secret halo) is a band of pavé diamonds that sits below the center stone on the ring's setting. While you can't see it from the top, this surprise diamond setting shines from all sides. Similar to traditional halos, hidden halos come in all shapes and styles. You can opt for a double hidden halo, a mixed metal hidden halo or even floral-inspired designs to make your "secret" bling feel more personalized.
Oval Diamond Engagement Rings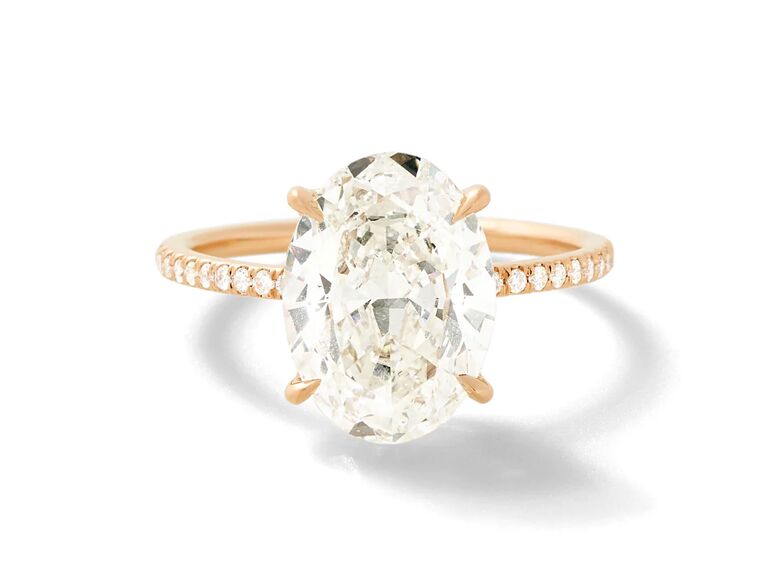 Eva Fehren The Oval Muse Diamond Engagement Ring, price upon request, EvaFehren.com
Move over round cut diamonds—there's a new coveted center stone on the scene. According to The Knot 2021 Jewelry & Engagement Study, which surveyed over 5,000 recently-engaged couples, oval engagement rings are growing in popularity faster than any other diamond shape. According to The Knot 2022 Engagement Study, oval diamond engagement rings have increased from just 2% of rings in 2015 to 21% in 2022.
This elongated diamond shape feels as timeless as a round cut diamond but slightly more unexpected. And, it elongates the fingers for a flattering effect. Oval center stones are currently so trendy that they aren't just taking over social media feeds but also celebrity fingers. Although Blake Lively tends to get credit for starting the oval diamond engagement ring trend with her iconic 12-carat oval pink diamond, this style is the go-to diamond shape choice of numerous celebrities. From Kate Middleton's iconic sapphire and Katy Perry's ruby engagement ring to Hailey Baldwin and Kourtney Kardashian's megawatt white diamond sparklers, oval-cut engagement rings are dominating wishlists everywhere.
Lab-Grown Diamond Engagement Rings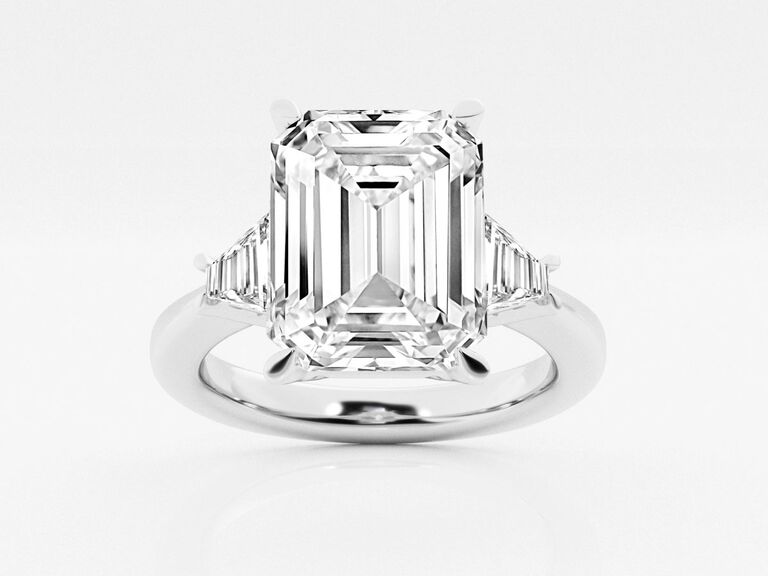 Grown Brilliance Badgley Mischka Emerald Lab Grown Diamond Engagement Ring, $11,350, GrownBrilliance.com
Since their introduction, lab-grown diamonds have disrupted the engagement ring business. Today, there are more lab grown engagement rings available than ever before. The Knot 2022 Engagement Study found nearly 40% of couples surveyed purchased an engagement ring with a lab-grown center stone.
What's all the buzz about? Lab grown stones are up to 50% less expensive than their natural counterparts, meaning you can pocket a solid chunk of change or opt for a larger center stone. These high tech stones also appeal to couples searching for eco-friendly and ethical jewelry. As the name implies, lab-grown diamonds are created by scientists and not mined from the earth, meaning they are always 100% ethically sourced and can have a smaller carbon footprint than natural stones.
Did you know personal jewelry insurance protects your ring from loss, damage and theft and during worldwide travel and mysterious disappearances? Insure it. Wear it. Learn more at JewelersMutual.com.