7 Engagement Ring Trends You'll See in 2021
Take a sneak peek at the hottest engagement ring trends for 2021 you can shop now—including the new "it" gemstone.
We have included third party products to help you navigate and enjoy life's biggest moments. Purchases made through links on this page may earn us a commission.
Your engagement ring should be a reflection of your personal style. If you prefer a nontraditional ring or just want a standout sparkler, there's no shortage of fab engagement ring trends for 2021. From fashion-forward two-stone rings to vintage-inspired designs to the gemstone colors you'll be seeing on fingers everywhere, we got the scoop on what's hot right now. And, while a simple solitaire engagement ring may be a classic choice, you're probably going to want to step out of the box (ring box, that is!) once you see the one-of-a-kind engagement ring trends 2021 has in store. Check out popular engagement ring trends you can shop now, below.

Statement Wedding Bands
We're predicting standalone bands will be hot in 2021 for a few reasons: They have a cool unisex vibe, tend to be more affordable than classic bridal sets (depending on the style) and in these post-COVID times, they're easy to sanitize. The newest bands are bolder than ever, with diamond-encrusted, maximalist cigar bands, luxe signet rings and sparkly eternity bands that give the standard solid metal band a serious fashion upgrade. And, if you have your heart set on an elaborate band but also don't want to forgo an engagement ring with a center stone—you've still got options. We love the idea of wearing your engagement ring and wedding band on separate hands or fingers, or wearing your engagement ring on certain days and your band on others. TLDR; You don't have to stick to a traditional bridal set if you're feeling a statement band.
Carbon and Hyde Mamba ring, $4,600, CarbonandHyde.com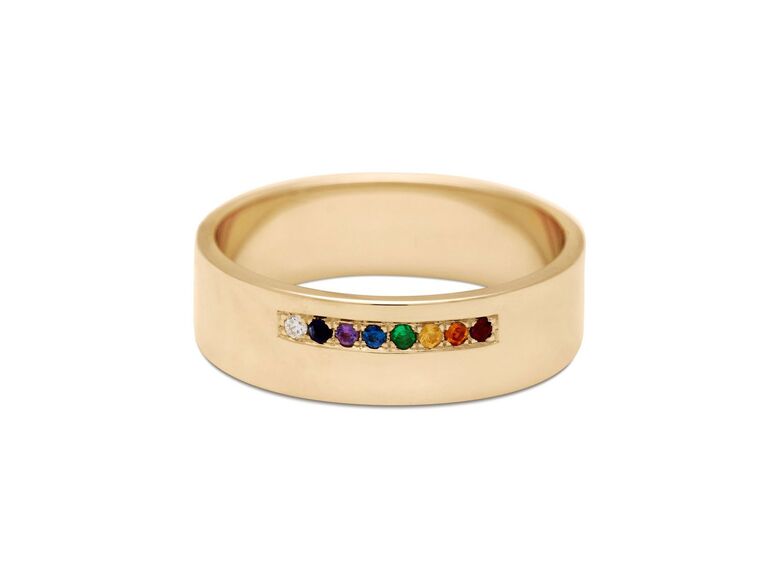 Anna Sheffield Meridian Rainbow band, $1,300, AnnaSheffield.com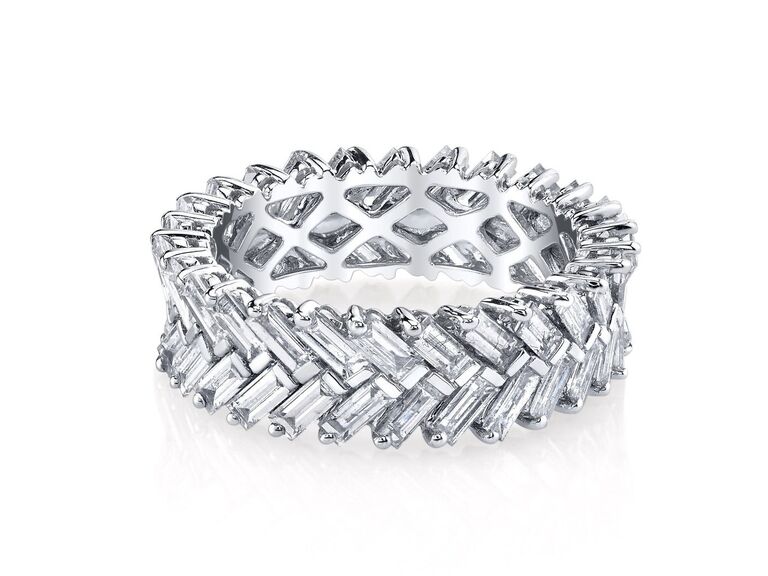 Anita Ko Zipper ring, $11,825, AnitaKo.com

Jade Trau Alchemy Maverick signet ring, $3,200, JadeTrau.com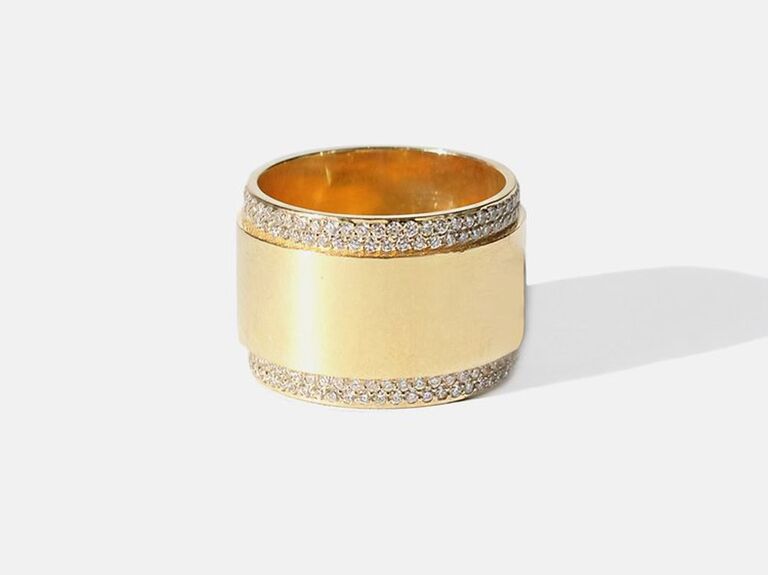 KATKIM Grande promise band, $7,700, KATKIMFineJewelry.com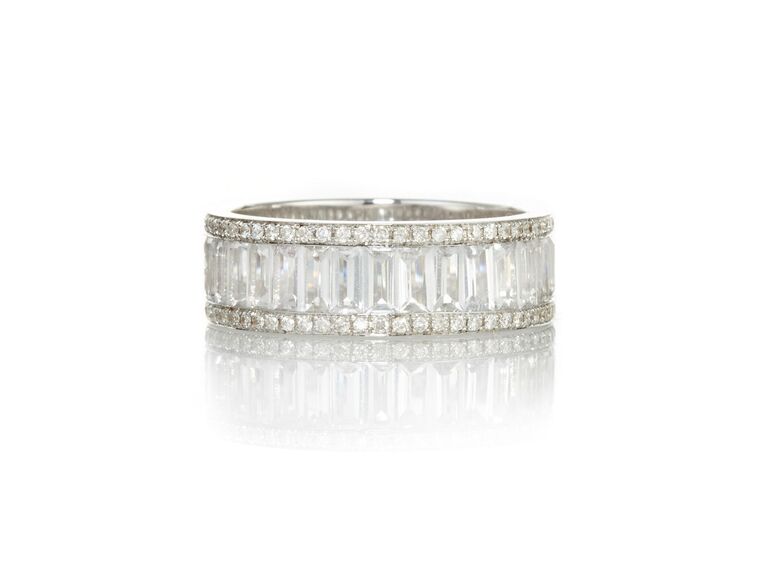 NAM CHO White Gold & Diamond Baguette band, Inquire for Price, MitchellStores.com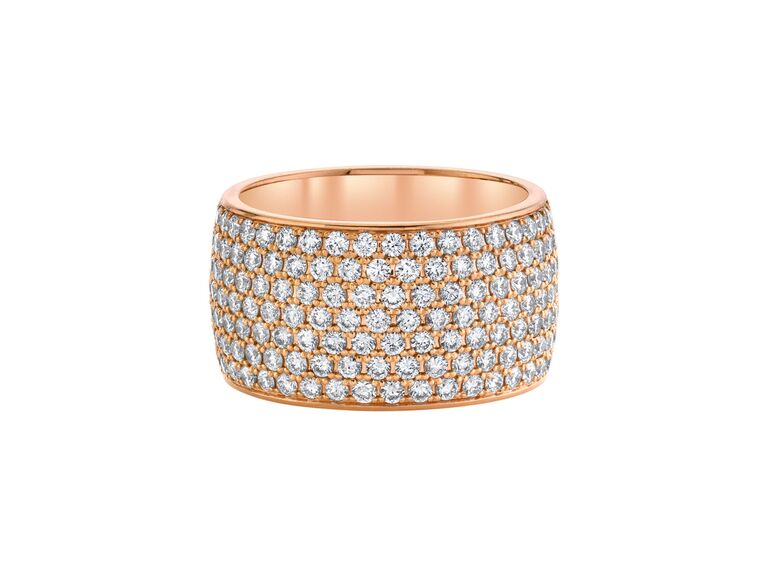 Emily P. Wheeler Cigar ring, $11,000, EmilyPWheeler.com

Blue Engagement Rings
While pink and yellow engagement rings have been hot for a while now, engagement rings in 2021 will be all about putting your own spin on "Something Blue." From aqua gemstones to rich royal blue ones, this trend gives us serious mermaid vibes and is surprisingly versatile. To make this "It" color work for you, choose a shade of blue and setting that speaks to your personal style—the choices are endless.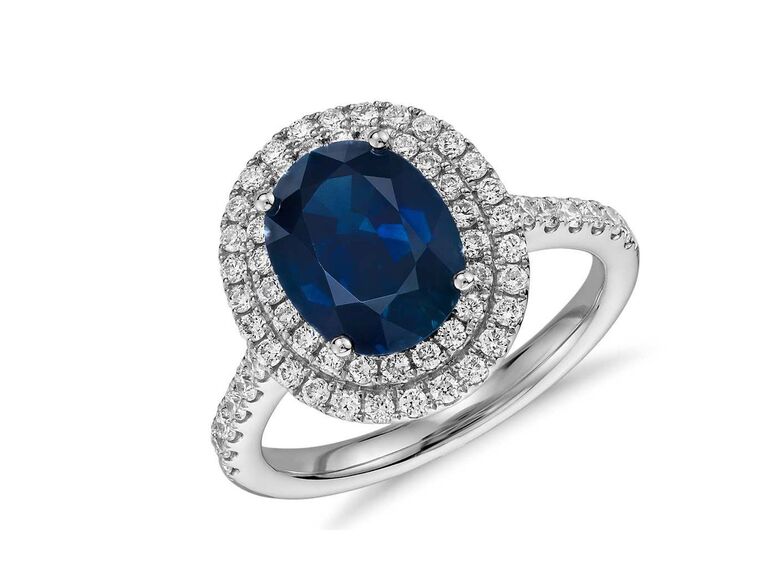 Blue Nile Oval sapphire and diamond double halo ring, $4,081, BlueNile.com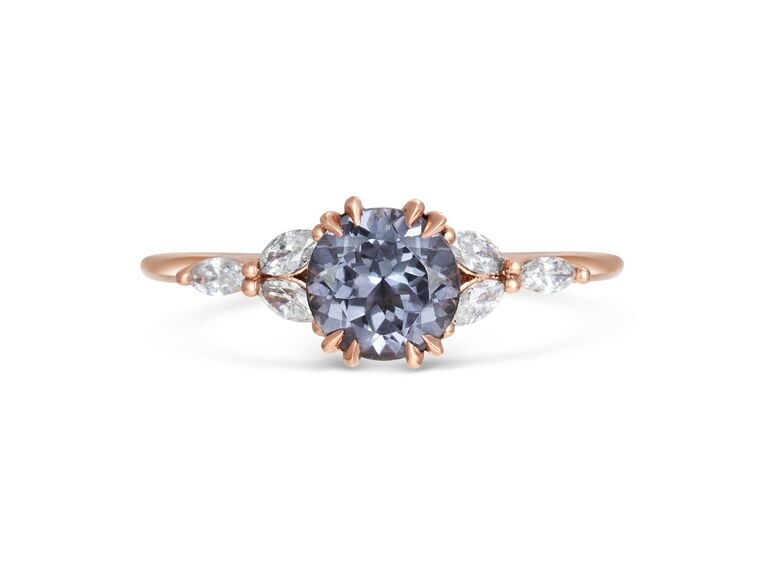 Michelle Oh Sonya light blue sapphire ring, Inquire for Details, Michelle-Oh.com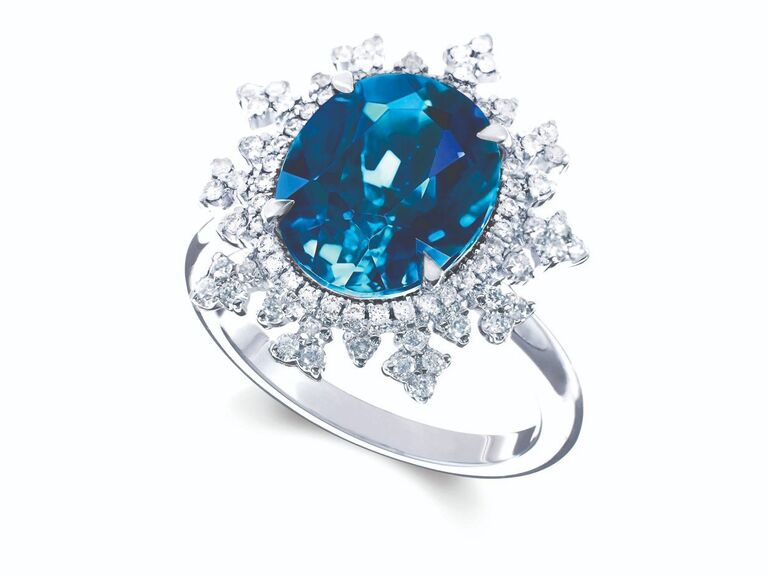 Nadine Aysoy Tsarina sky blue flake ring, $5,320, NadineAysoy.com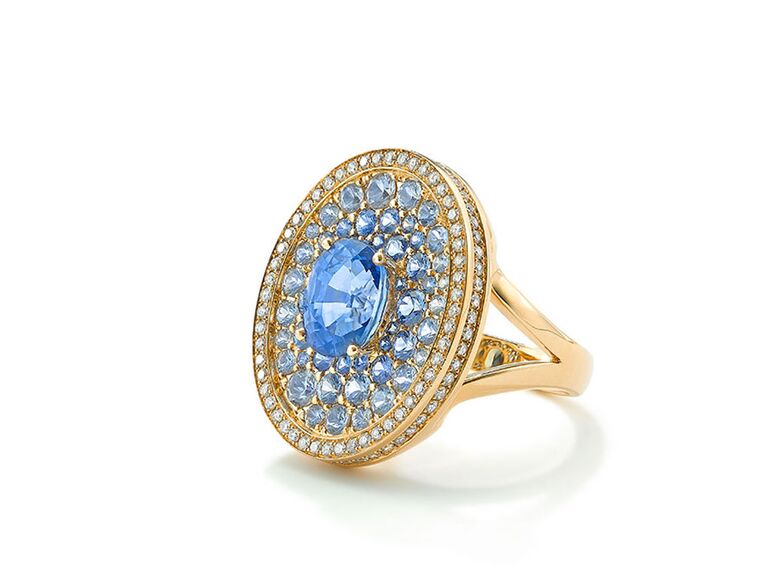 Robinson Pelham Asteroid sapphire ring, Inquire for Details, RobinsonPelham.com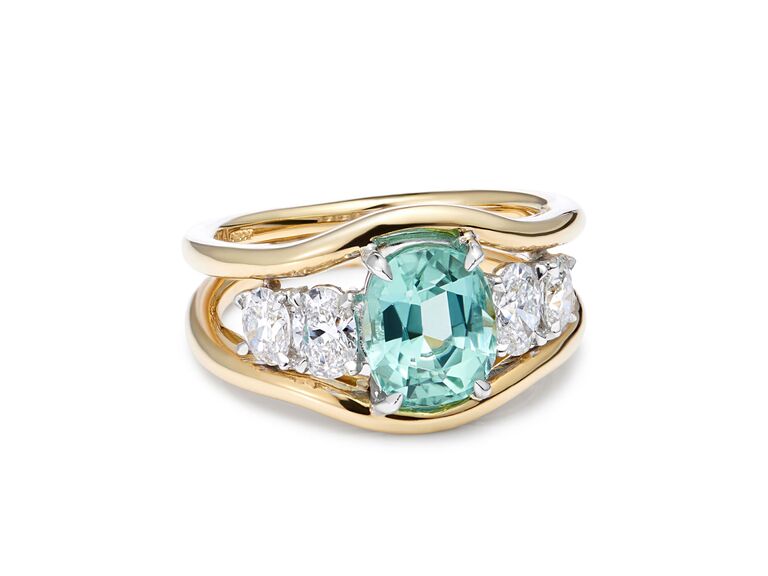 Minka Jewels Mermaid tourmaline ring, Inquire for Details, MinkaJewels.com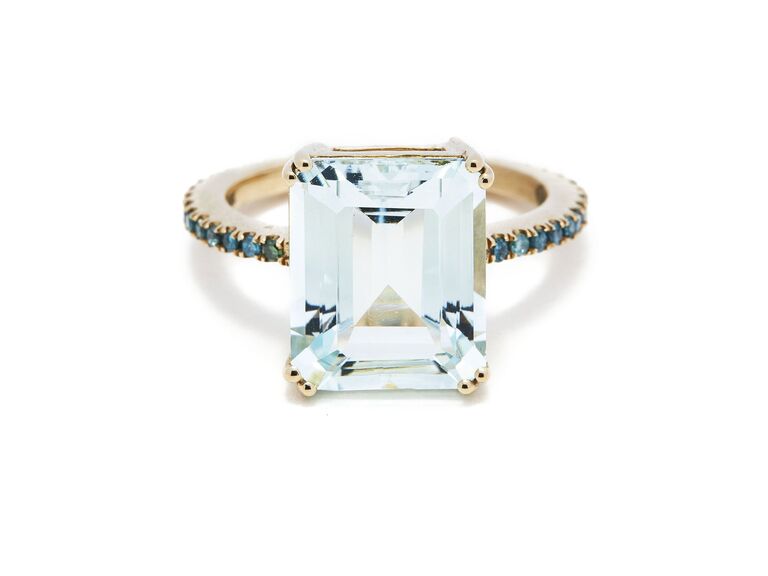 Yi Collection Aquamarine and diamond ring, $3,595, YiCollection.com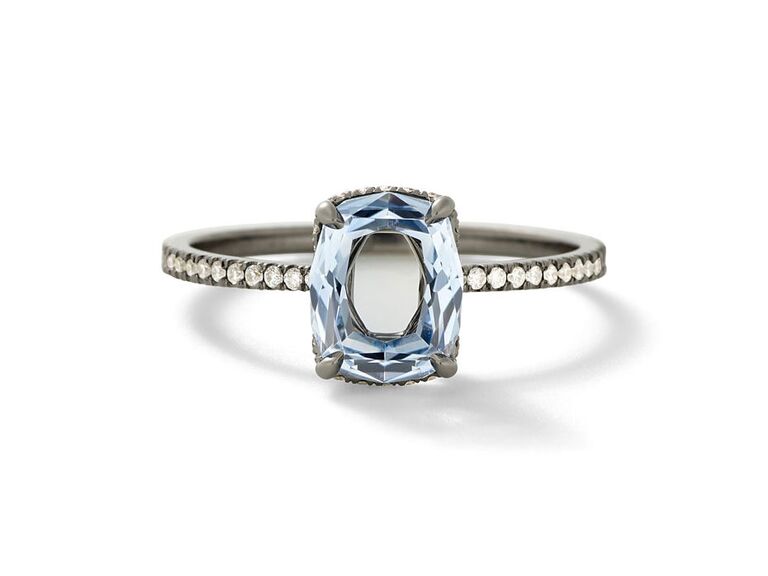 Eva Fehren The Infinity Ring, Inquire for details, EvaFehren.com

Emerald Engagement Rings
If blue isn't your thing but you're on the hunt for a colorful bling, consider going green with an emerald engagement ring. These vibrant green gemstones are associated with serenity and new beginnings—and are also just undeniably gorgeous. If that isn't enough to get you hooked on the "it" stone of 2021, here's another reason: There is a shade of emerald for almost every skin tone. If you have fair skin, a darker emerald hue makes your complexion look even milkier. If your coloring is olive, try a vibrant green emerald to brighten and bring out the golden undertones of your skin.
Editor's note: Since emeralds are softer than diamonds and generally have more inclusions (read: internal flaws), they also have more breaking points compared with other gemstones. But don't let that deter you from wearing your emerald engagement ring on a daily basis. Just make sure to treat it with care, clean it regularly and avoid knocking it against hard surfaces. And, how you store and care for your pretty green sparkler is key. Keep it in a separate case from your other jewelry, and never use commercial cleaners or chemicals to polish it.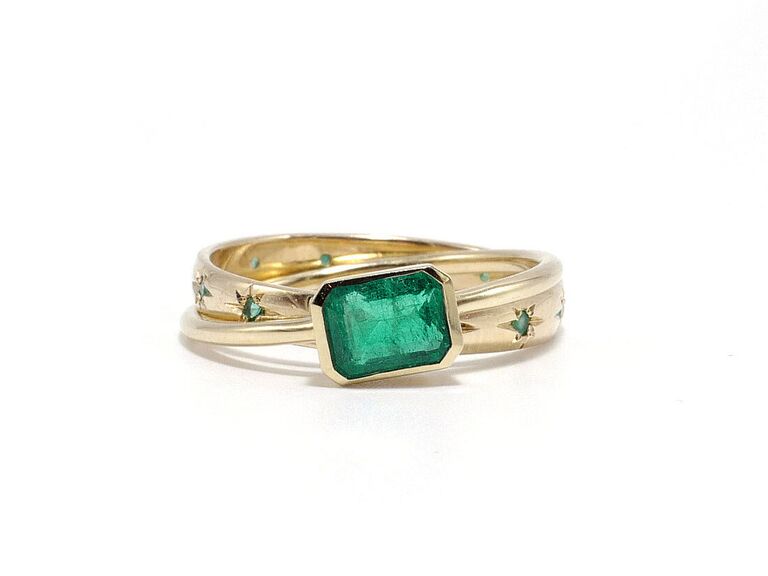 Ashley Zhang Green Light emerald rolling ring, $3,060, AshleyZhangJewelry.com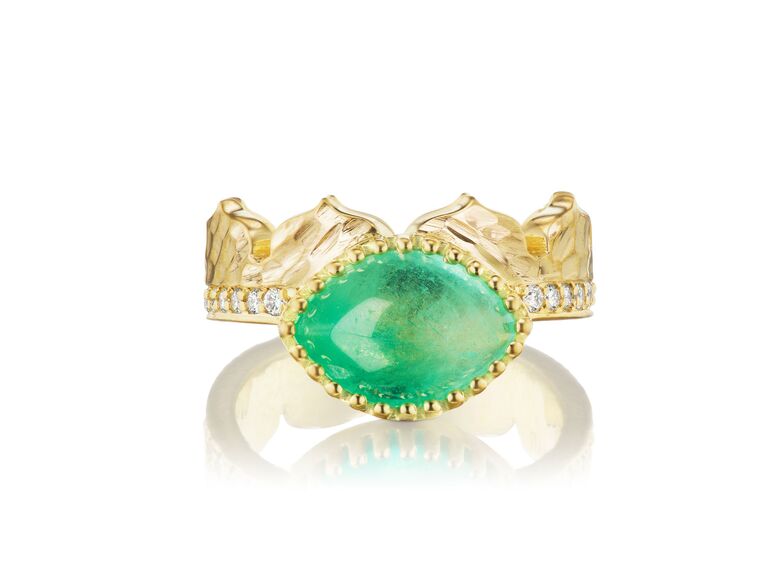 Dana Bronfman X Muzo Emeralds East-West Marquise Agra Crown ring, $4,700, DanaBronfman.com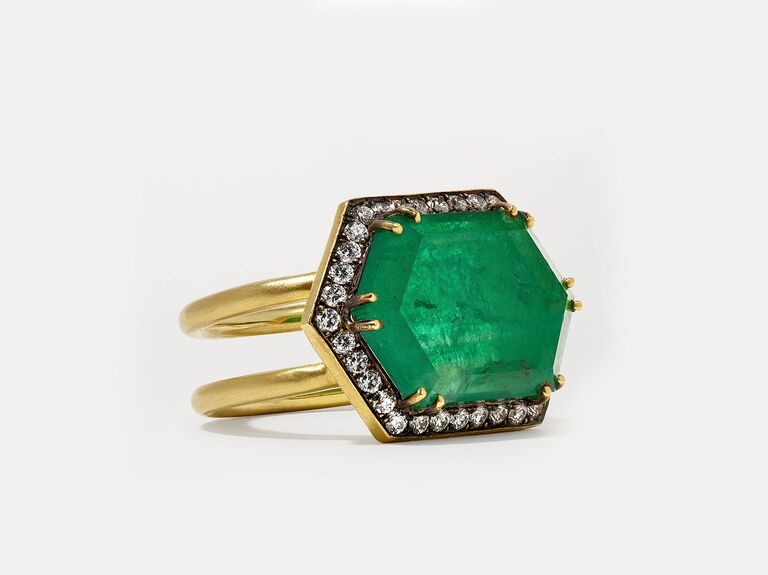 Sylva & Cie 18-karat gold, emerald and diamond ring, $18,125, Net-a-Porter.com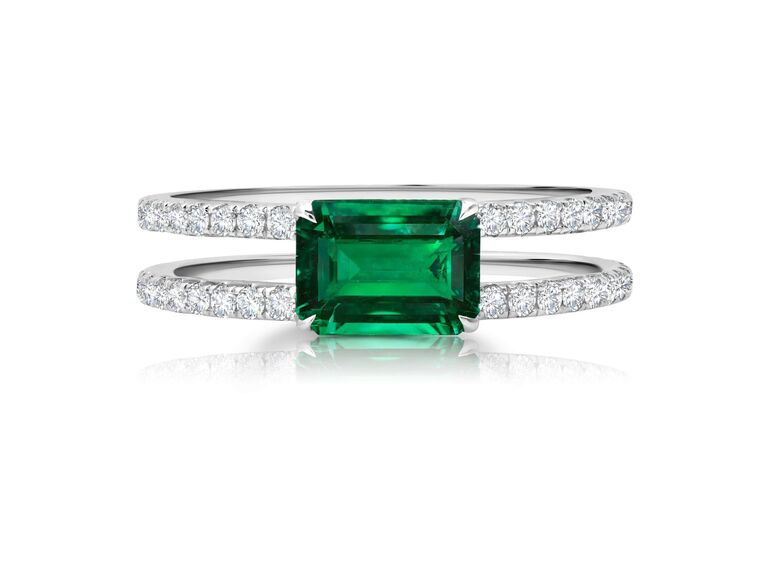 Graziela emerald and diamond double band ring, $5,900, GrazielaGems.com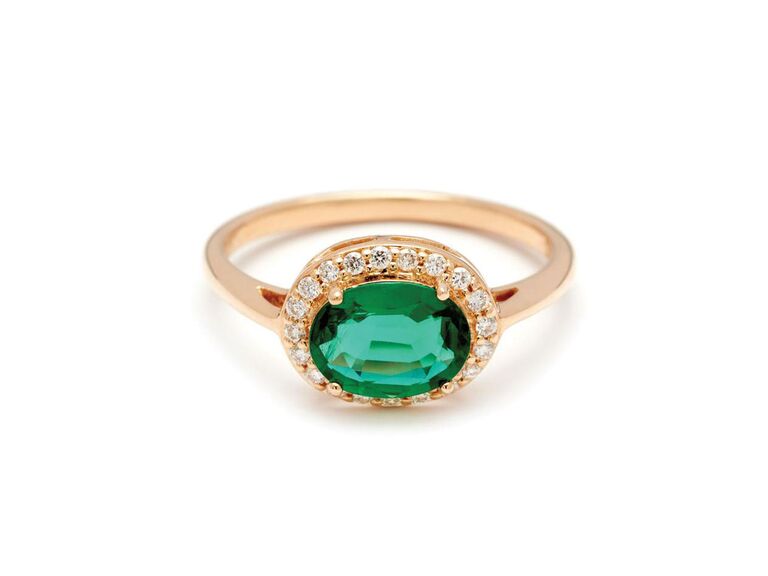 Anna Sheffield Oval Rosette emerald ring, $7,000, AnnaSheffield.com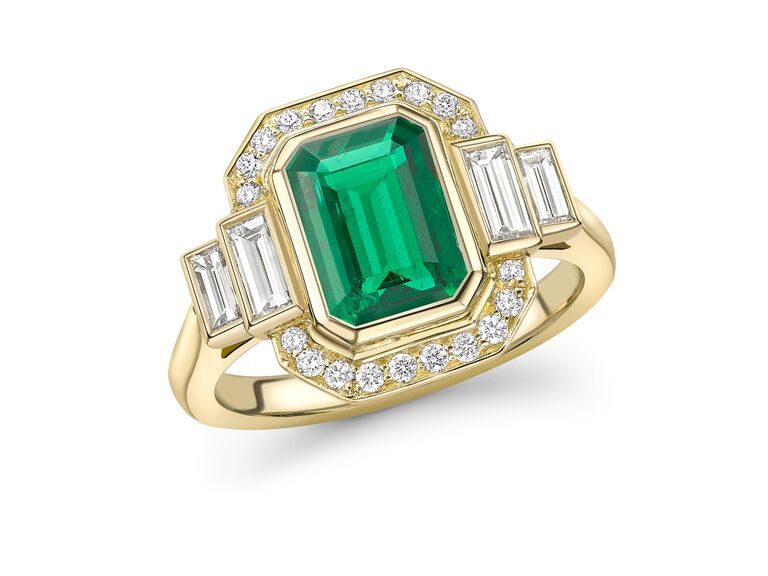 Emma Clarkson Webb Marigold emerald engagement ring, Inquire for Details, EmmaCWebb.com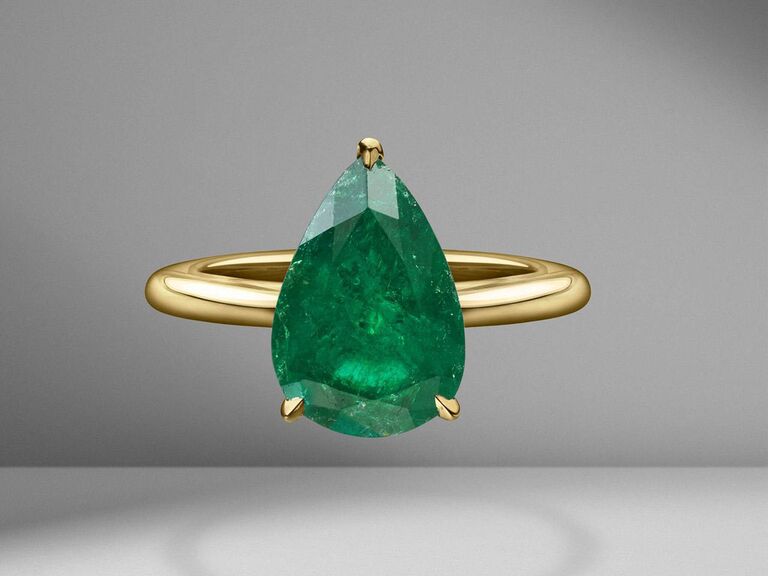 Material Good Pear shape emerald ring, $7,700, MaterialGood.com
Vintage Engagement Rings

Take a cue from the engagement ring trends of bygone eras and consider a sparkler with Victorian or art deco flair. What sets these rings apart? It's all in the details. Intricate touches like milgrain (a beaded metal pattern), filigree (metal wire details) and elaborate halos give this bling an antique feel. Whether you're repurposing a family piece, shopping estate jewelry or opting for a new design with a vintage-inspired setting, you can't go wrong with an engagement ring with heirloom quality—it's both glamorous and timeless.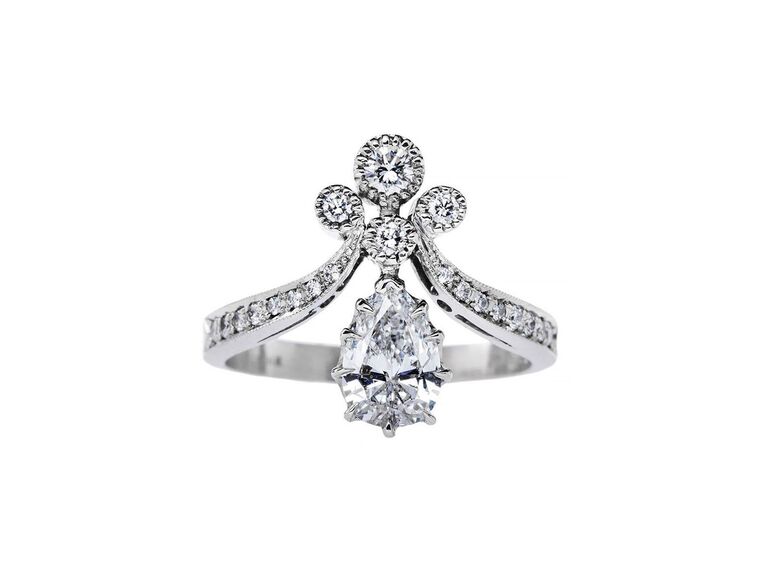 Trumpet & Horn Tiara engagement ring, $6,200, TrumpetandHorn.com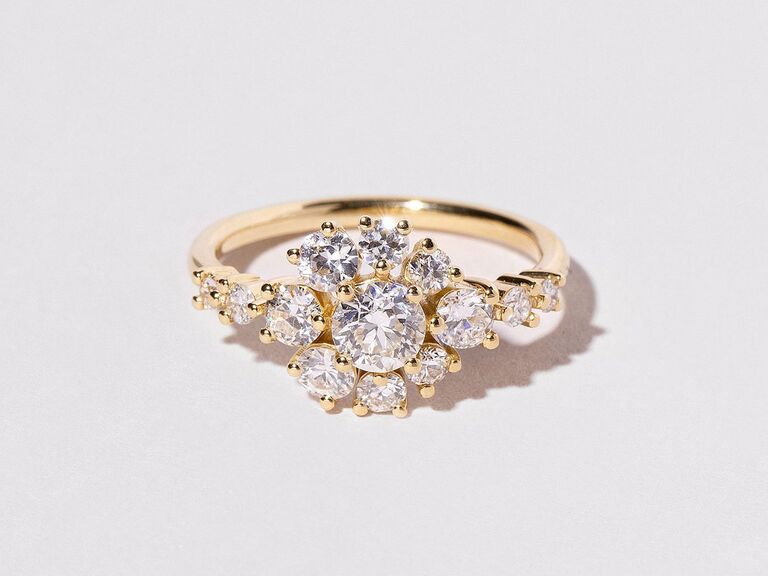 Mociun Taiga ring, $7,150, Mociun.com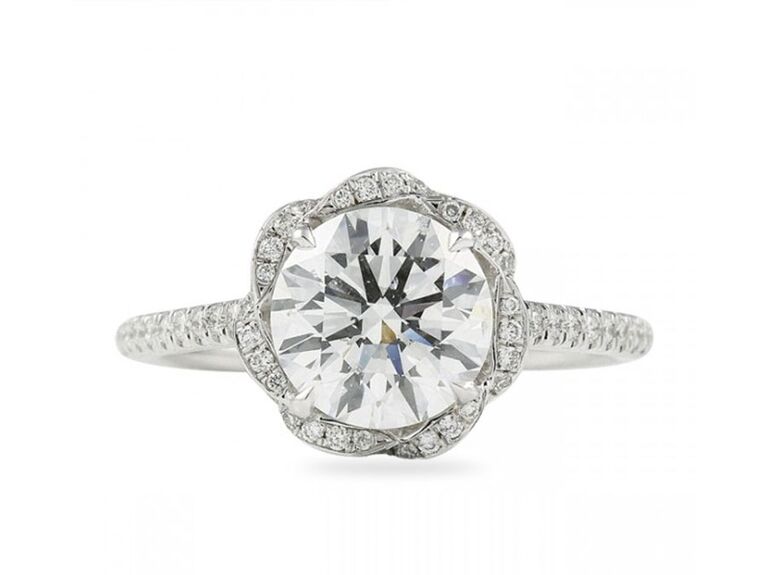 Lauren B Round diamond with twisted halo engagement ring, Inquire for Details, LaurenBJewelry.com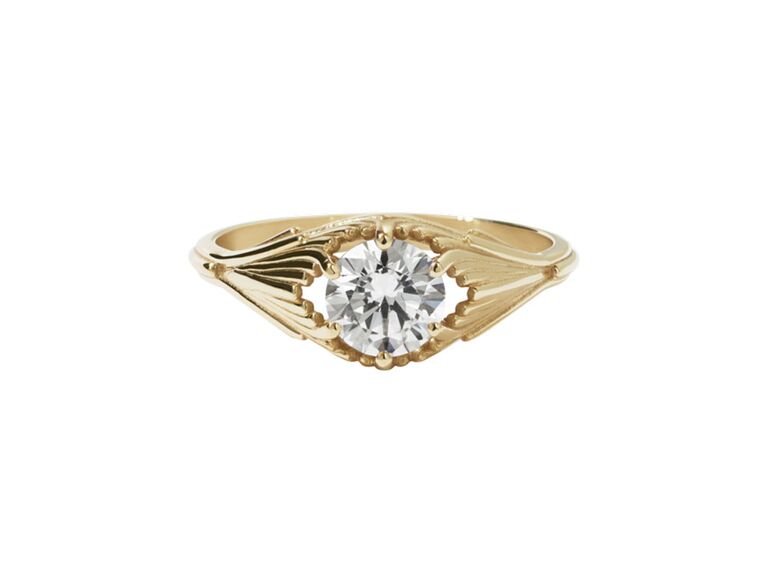 Meadowlark Aphrodite ring, $11,095, MeadowlarkJewellery.com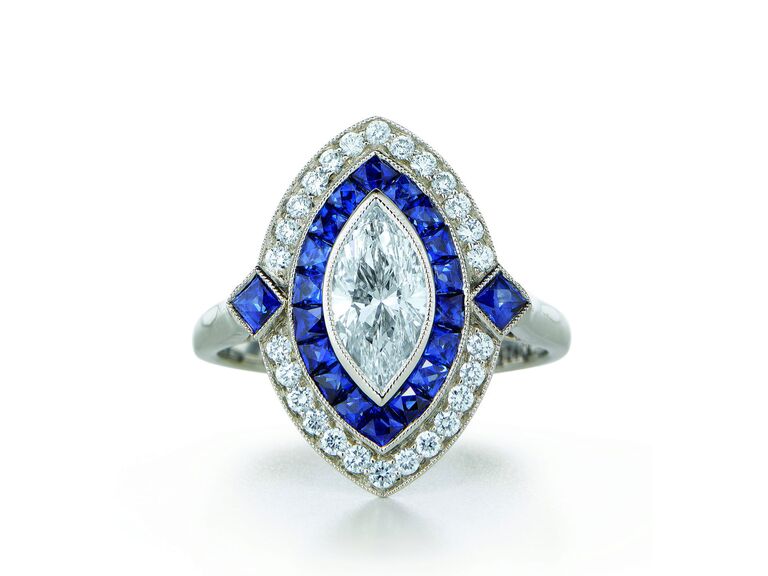 Kwiat Marquise diamond engagement ring with sapphire halo, from $3,750, Kwiat.com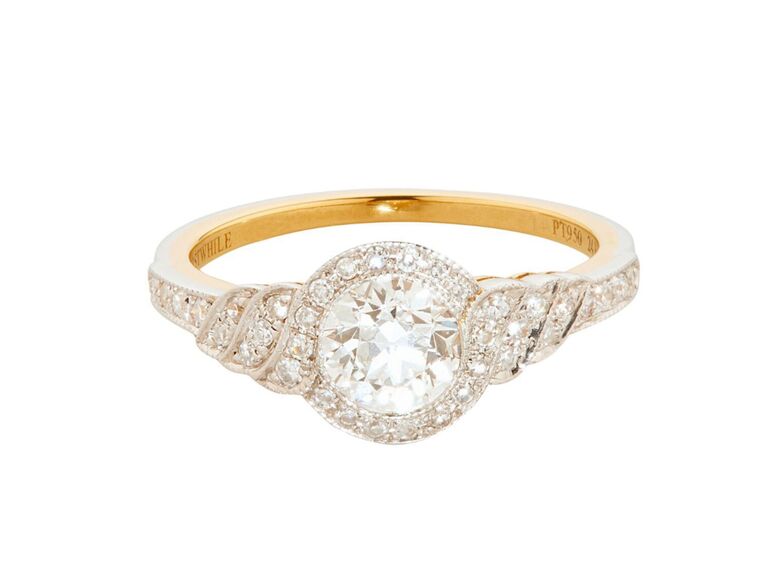 Erstwhile Ever engagement ring, $9,645, CatbirdNYC.com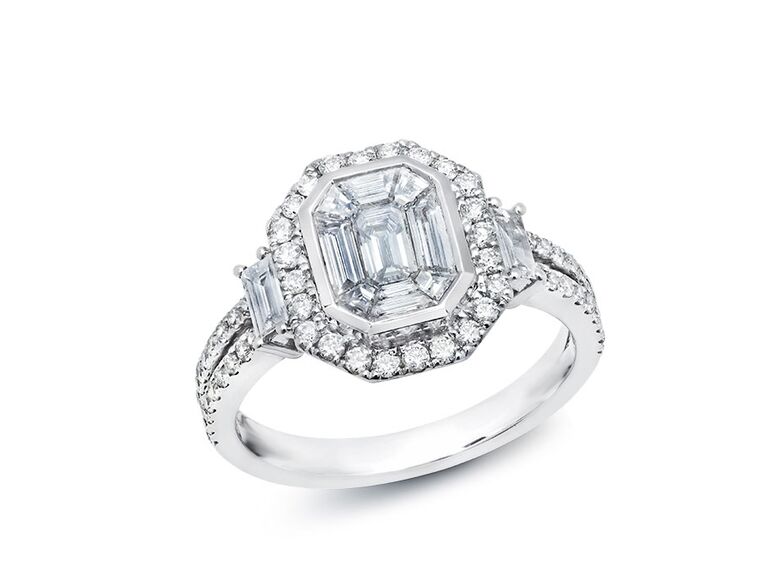 Graziela Ascension Dream ngagement ring, $13,150, GrazielaGems.com
Rose Cut Diamond Engagement Rings
Calling all old souls: This engagement ring trend is a true throwback. Popular in the 1500s, rose cut diamonds have a flat bottom and a domed top and resemble the shape of a rose bud. Since these antique diamonds are less faceted and lack the pavillion (read: the pointy bottom) of more complex cuts, their sparkle tends to look glassy and less brilliant than more modern options. Fun fact: Lily Collins recently got engaged with one. Another fun fact? Besides the obvious sentimental value of these old world sparklers, rose cut diamonds also look larger than their actual carat weights due to their flat bottoms, meaning you get more bang for your buck.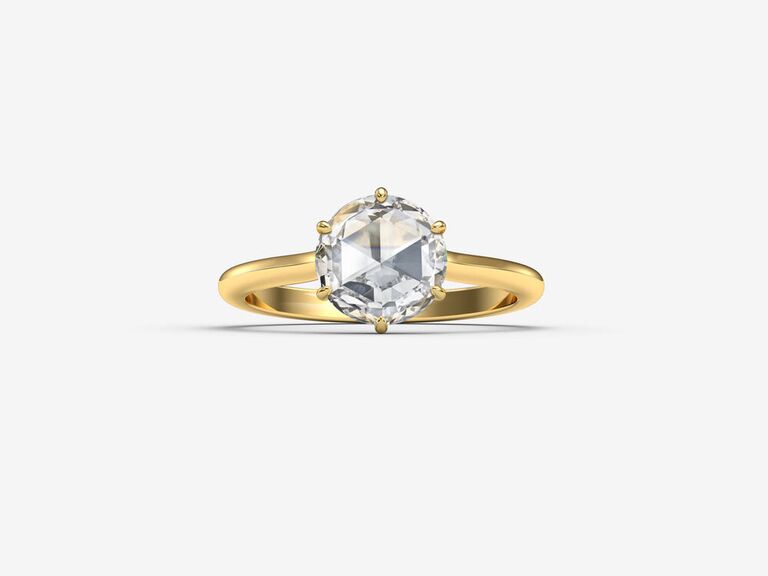 Harvey Owen Kew rose-cut diamond engagement ring, Inquire for Details, HarveyOwen.com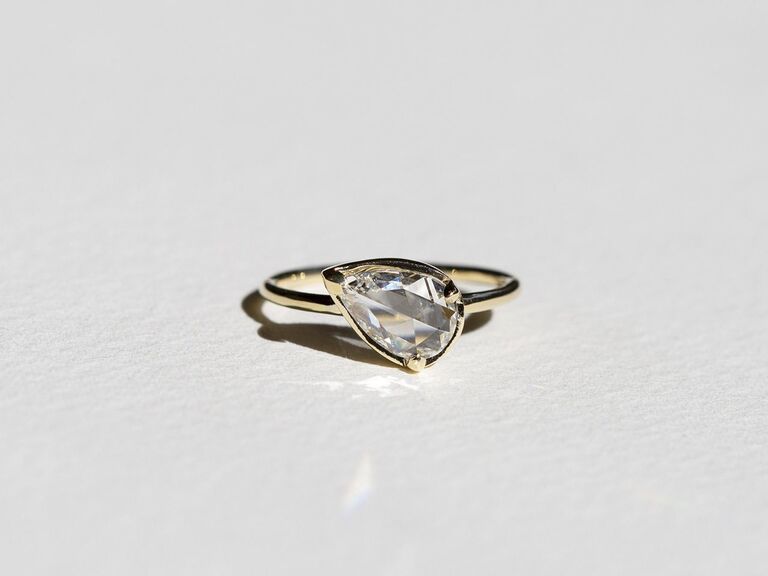 Grace Lee pear rose cut ring, $5,880, GraceLee.com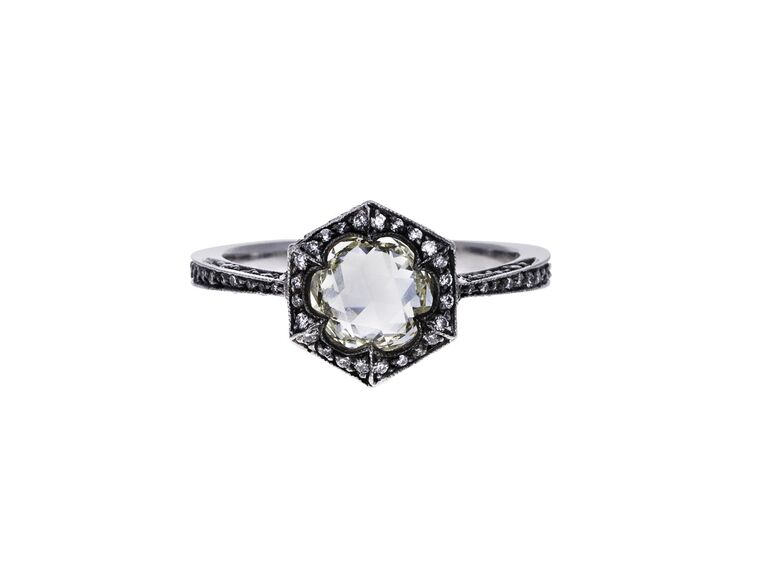 Cathy Waterman Diamond Waves engagement ring, $14,680, TwistOnline.com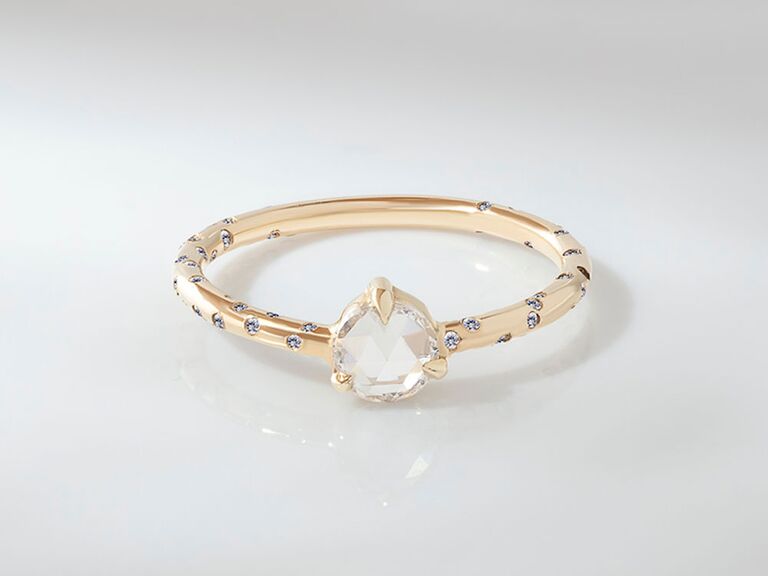 Rosey West Dew Drop Rose Cut Diamond Solitaire engagement ring, from $3,925, RoseyWest.com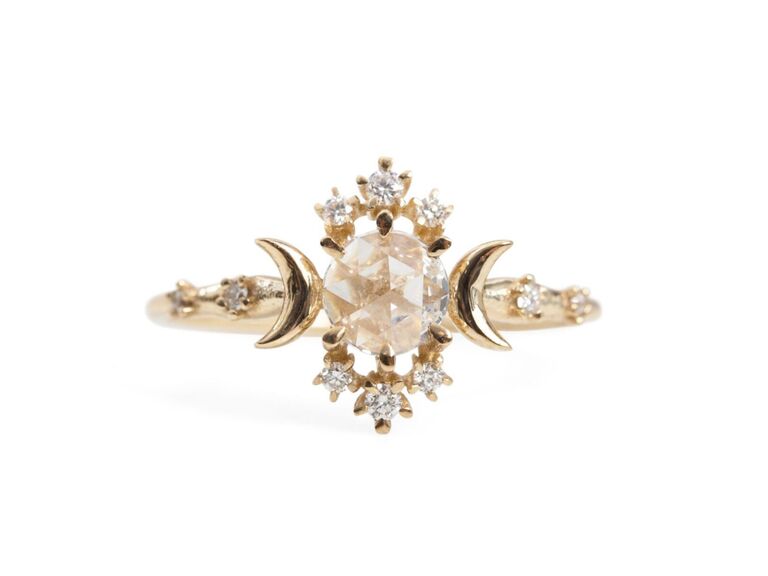 Sofia Zakia Wandering Star rose cut diamond engagement ring, $2,850, CatbirdNYC.com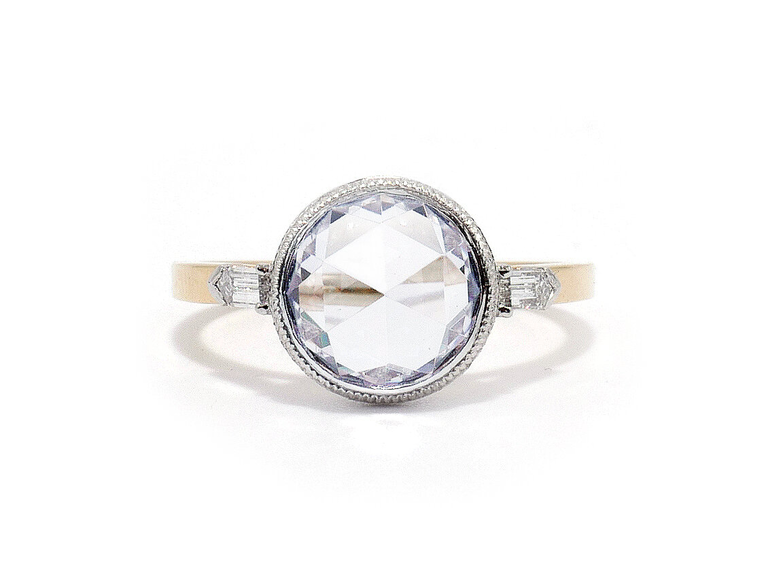 Ashley Zhang Josephine rose cut diamond engagement ring, $7,200, AshleyZhangJewelry.com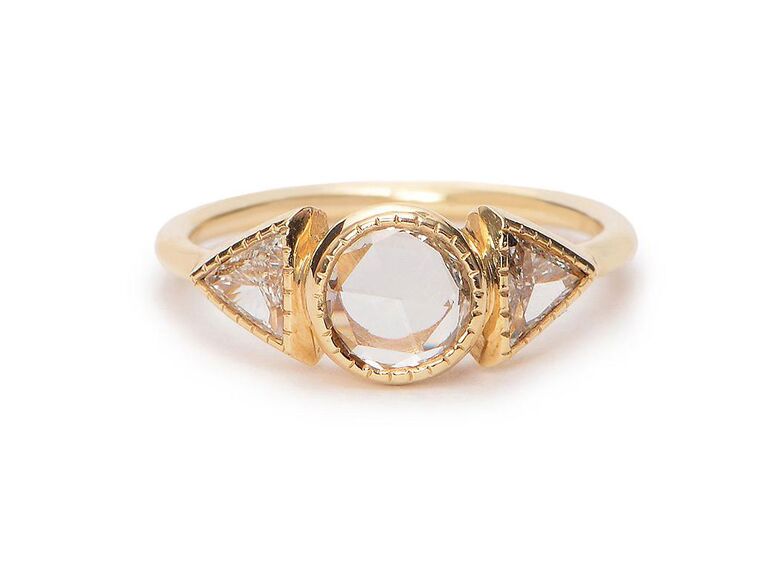 Jennie Kwon Rose Cut Diamond Spear ring, $7,100, GreenwichJewelers.com
Two Stone Engagement Rings
Also called Toi et Moi rings (that's French for you and me), an engagement ring with two stones stands out from the crowd and and offers twice the bling—what's not to love about that? Besides the megawatt shine they offer, Toi et Moi engagement rings also have a special meaning: The two gems that sit side by side or close to each other symbolize two souls becoming one. And while this style is one of our favorite 2021 engagement ring trends, it's actually nothing new. Napoleon Bonaparte famously put them on the map when he proposed to Josephine de Beauharnais in 1796 with a sapphire and diamond ring. More recently, Sebastian Bear-Mcclard popped the question to Emily Ratajkowski with a princess-cut and pear-shaped Toi et Moi ring.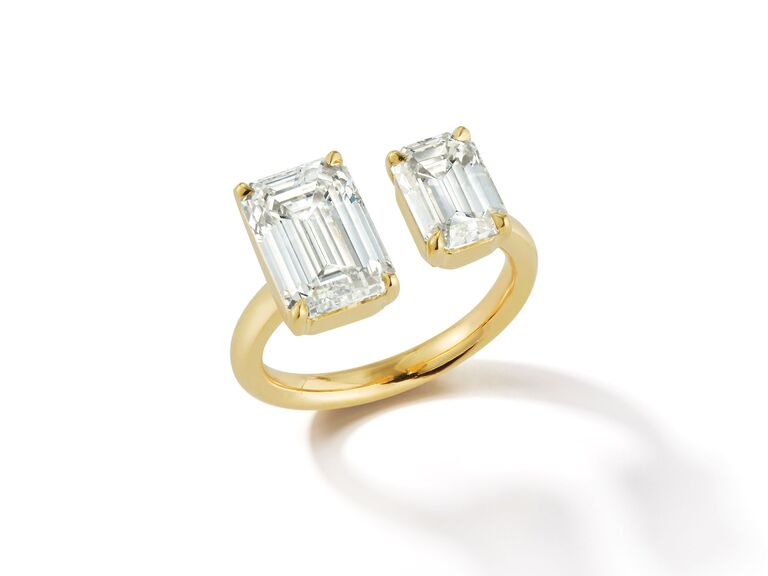 Jemma Wynne bespoke emerald cut open diamond ring, Inquire for Details, JemmaWynne.com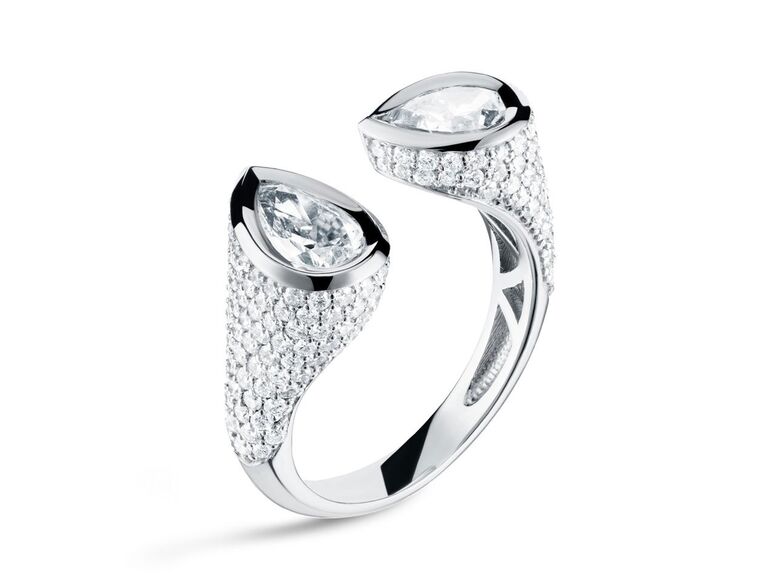 Carbon and Hyde XL Twin ring, $16,000, CarbonandHyde.com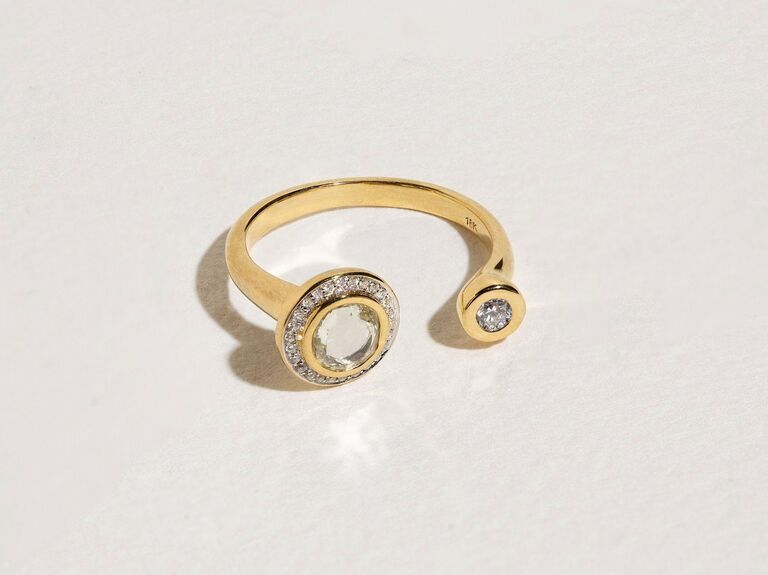 Pamela Love Gravitation ring, $3,040, PamelaLove.com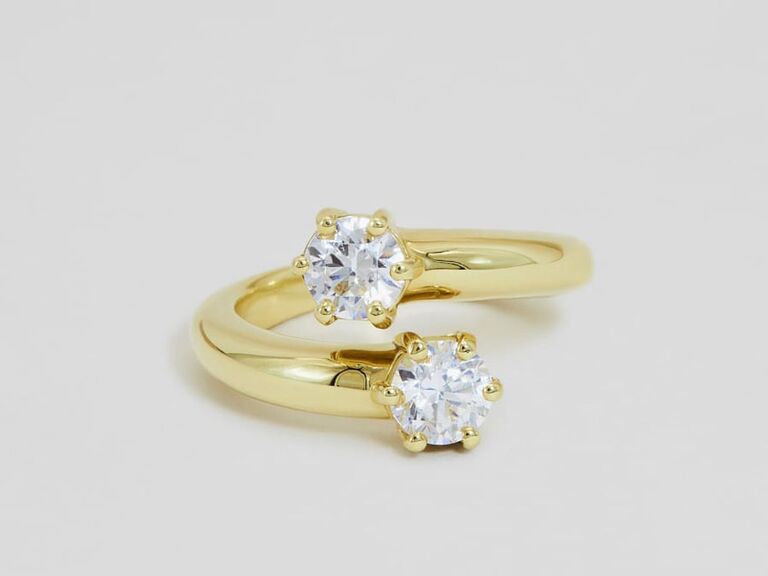 Ceremony Yasmin ring, from $4,900, Ceremony.us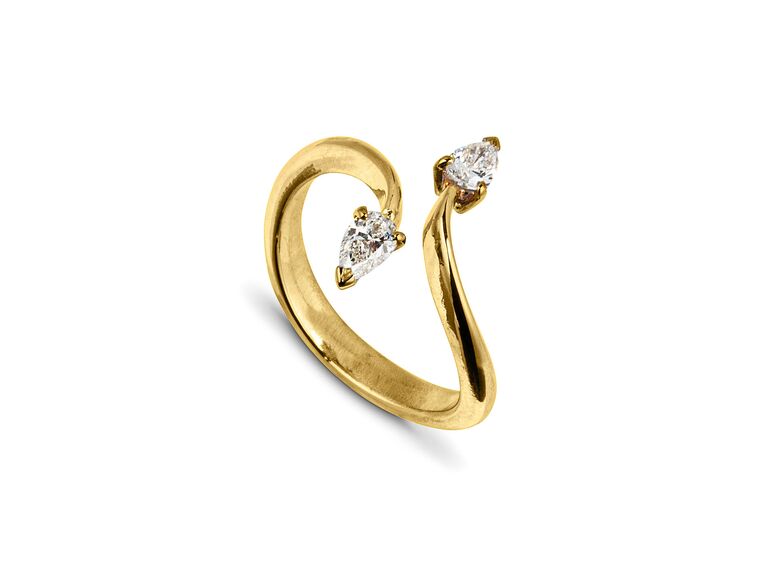 Jessie Thomas Gold Sculptural ring with two pear diamonds, Inquire for Details, JessieThomasJewellery.com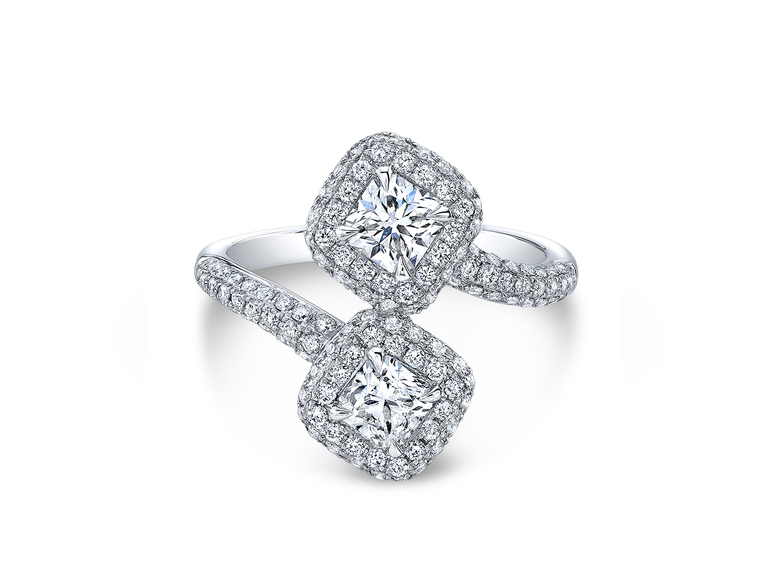 Natalie K for Forevermark Two-stone bypass halo ring, from $7,620, Forevermark.com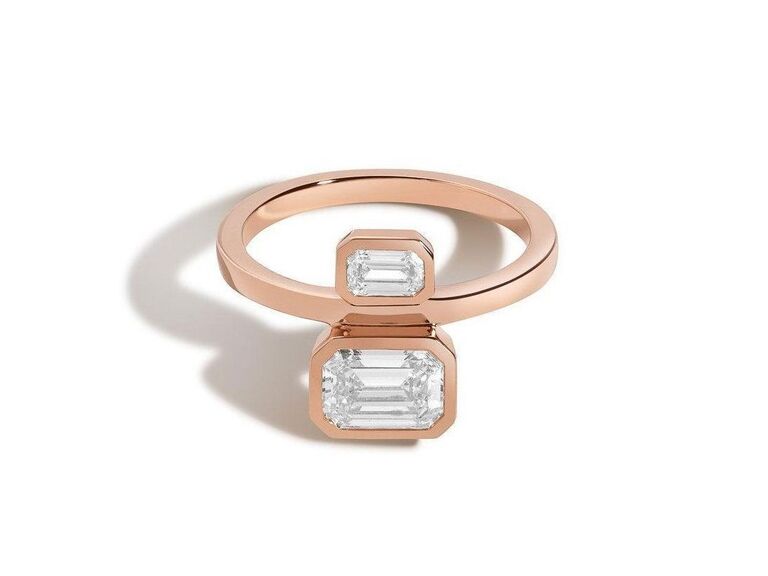 Shahla Karimi Emerald Belt ring, $4690, ShahlaKarimi.com
Three Stone Engagement Rings
Call it the Meghan Markle effect. Ever since the Duchess of Sussex debuted her cushion-cut diamond flanked by two round diamonds, this classic setting has been popping up everywhere. Similar to two stone rings, this uber-sparkly option is rich with symbolism. Also called a trilogy setting, the three stones historically represent friendship, love and fidelity, or, a couple's past, present and future. Another plus: It's easy to put a custom twist on this setting by mixing up the combination of stone shapes and colors.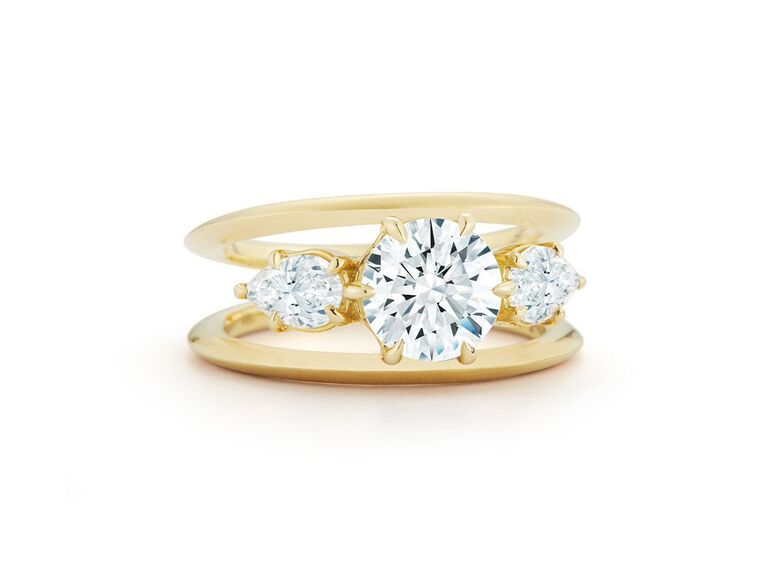 Jade Trau Sadie three stone ring, $4,000, JadeTrau.com
Forevermark Journey Three Stone Ring, from $4,995, Forevermark.com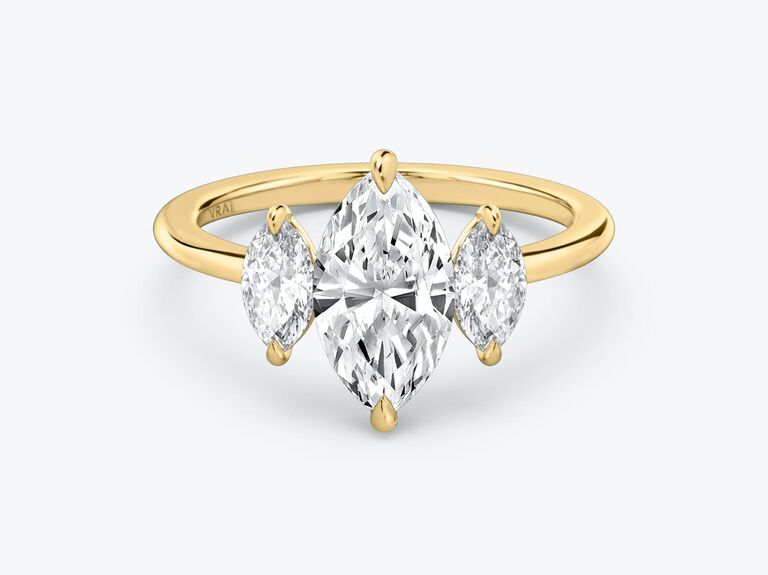 VRAI Trio engagement ring, from $2,734, Vrai.com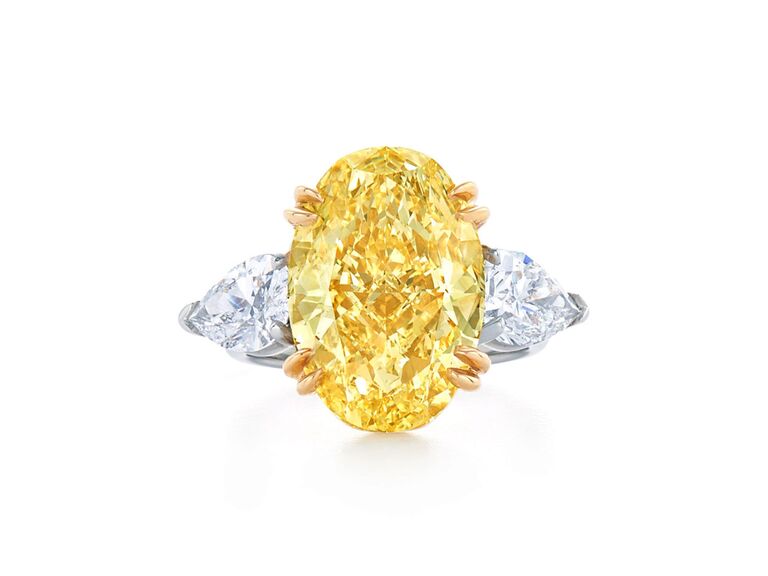 Kwiat Yellow diamond three stone engagement ring, Inquire for Details, Kwiat.com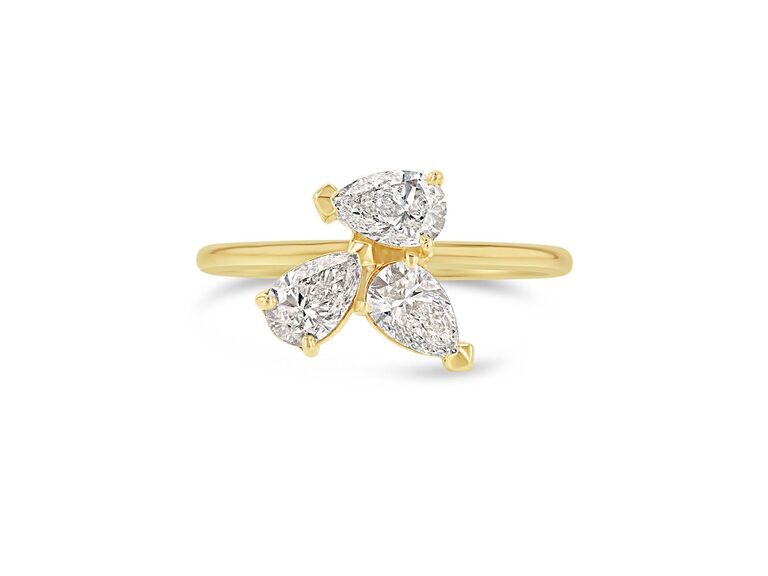 Grace Lee Triple pear ring, $3,780, GraceLee.com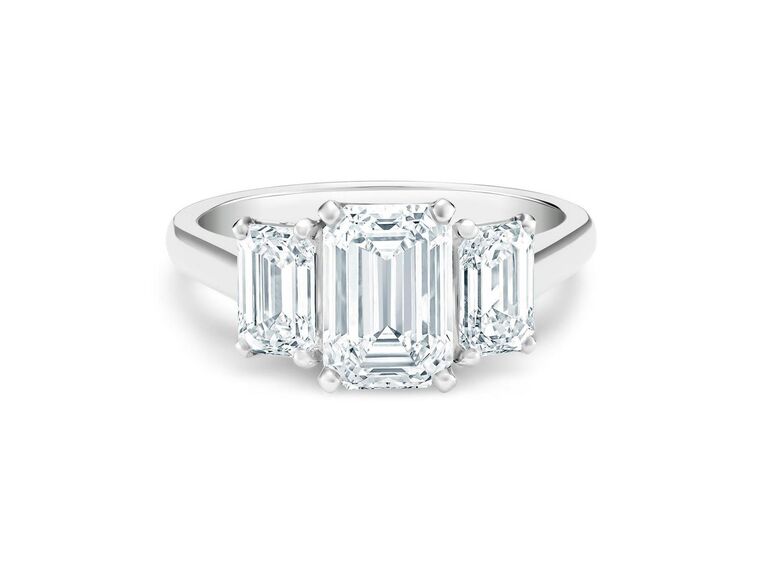 De Beers DB Classic trio emerald-cut diamond ring, from $24,300, DeBeers.com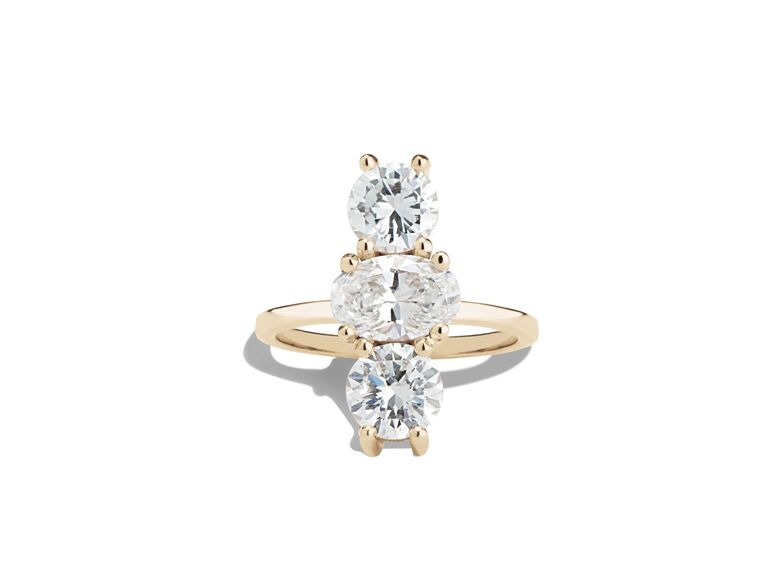 Bario Neal Custom Heirloom Diamond Vertical Cluster ring, $2,950, BarioNeal.com