14 Photos From Designer Hayley Paige's Magical Wedding Weekend That You Can't Miss
Wedding dress designer extraordinaire and our friend Hayley Paige basically had the most enchanting wedding weekend ever -- with 5 different dresses!
by Ivy Jacobson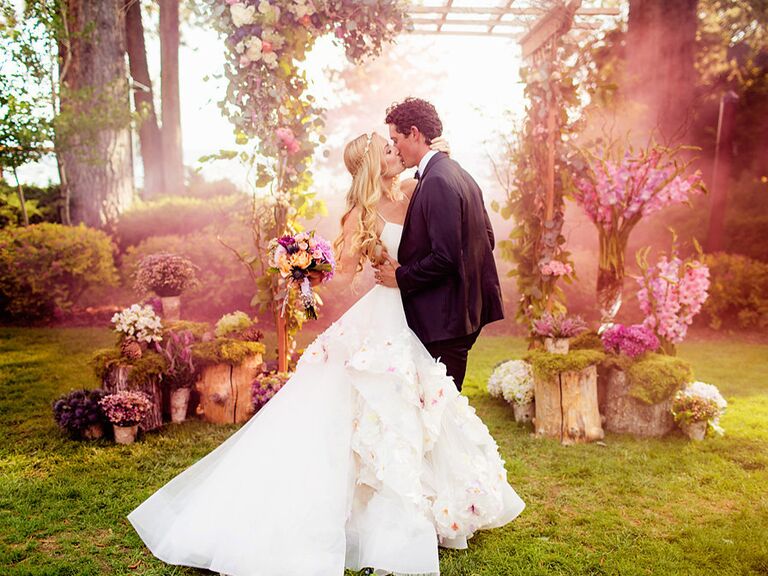 photo by
Chard Photographer
If you thought that wedding dress wizard Hayley Paige would have a quiet, sensible affair for her own nuptials, you clearly haven't been introduced to her fantastical, fashion-forward and ridiculously romantic bridal style. Paige told us when she got engaged to her now-husband Danny Wallis, she was planning a "unique-chic wedding -- one that might include, but not be limited to, live animals, wild lights and a whole lot of fusing."
And true to her word, when Paige and Wallis wed on July 11 at Lake Tahoe at the Saint Francis Church of Assisi, she dazzled in not one, not two, but five spectacular dresses throughout the weekend that she made -- and there may have been a blue unicorn on hand to help celebrate, naturally!
Keep scrolling to sneak a peek of a few photos by Chard Photographer from the enchantingly ethereal wedding, and you can also follow along on Instagram with their hashtag: #thankheavenforseveneleven.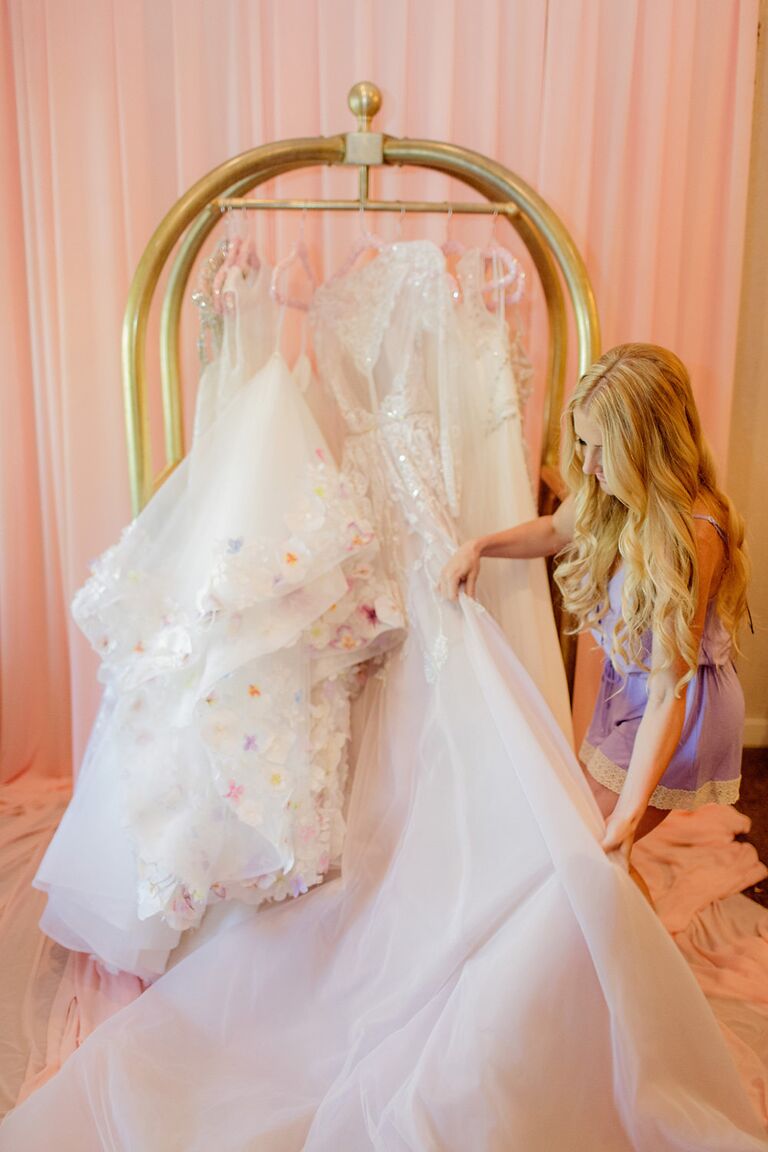 photo by
Chard Photographer
So, which one of these gorgeous gowns did the bride wear first?
photo by
Chard Photographer
Her glam velvet rehearsal dinner dress that was inspired by chain mail armor and The Velveteen Rabbit, of course.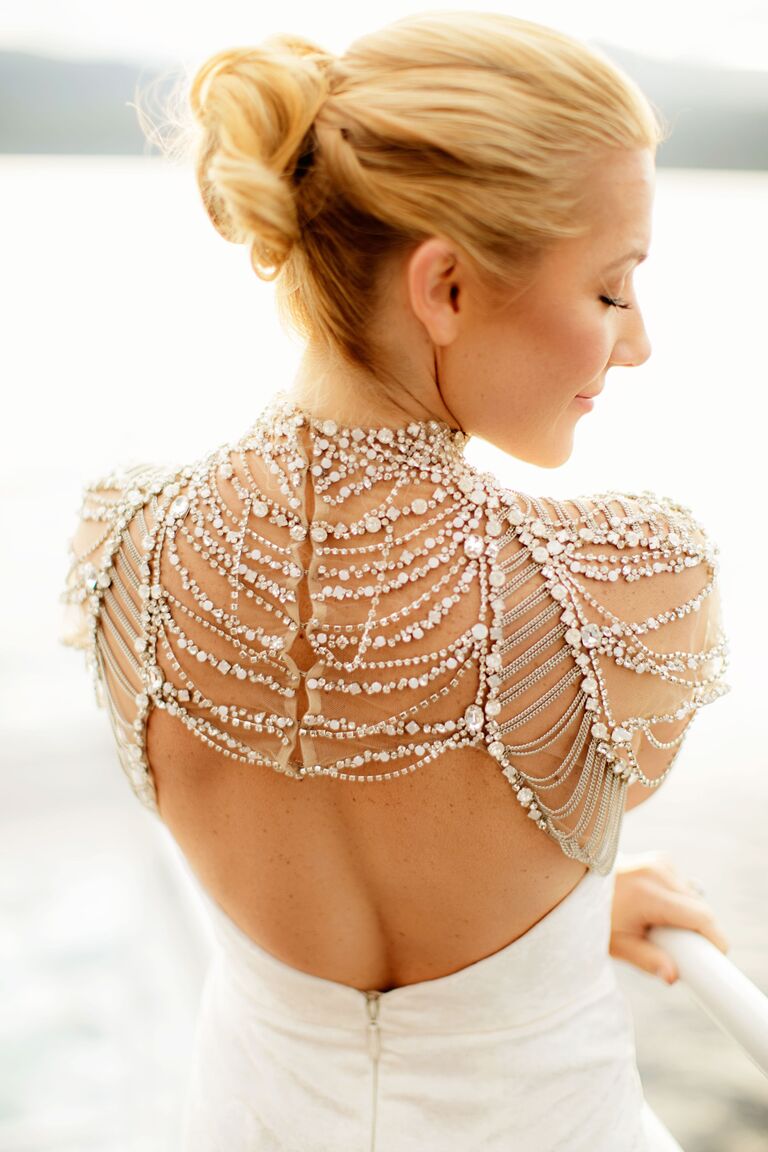 photo by
Chard Photographer
Okay, this diamond and chain bolero is everything.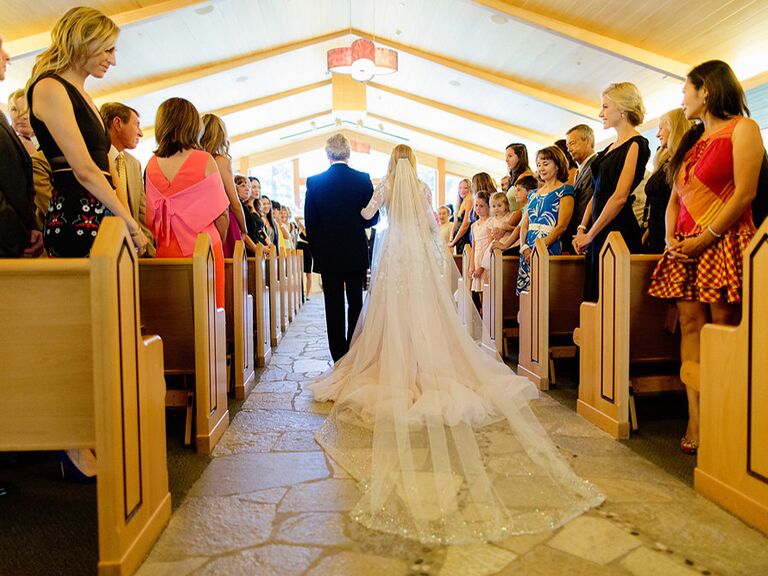 photo by
Chard Photographer
And for ceremony number one, Paige was every bit the modern-day princess with a long-sleeved illusion gown and sparkling veil...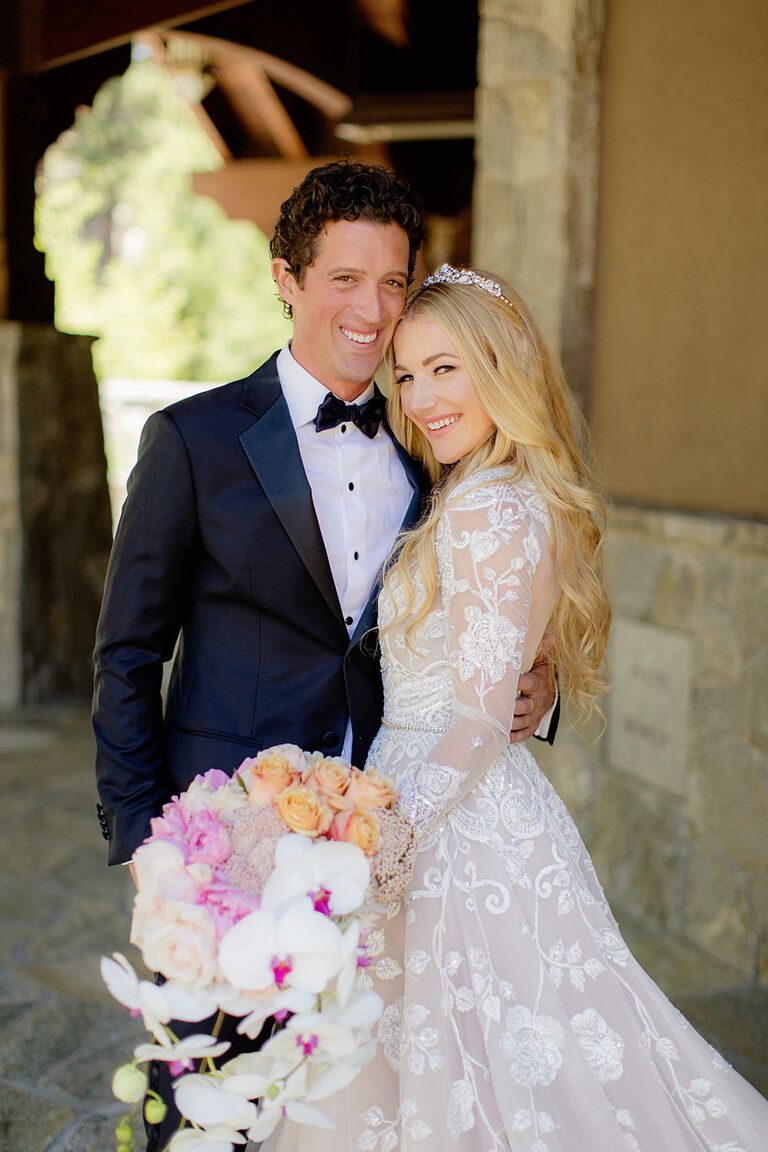 photo by
Chard Photographer
... and a fabulous tiara made by Lindsie Jones of Haute Bride, who also created all of the custom-made bridal accessories for Paige and her entire bridal party!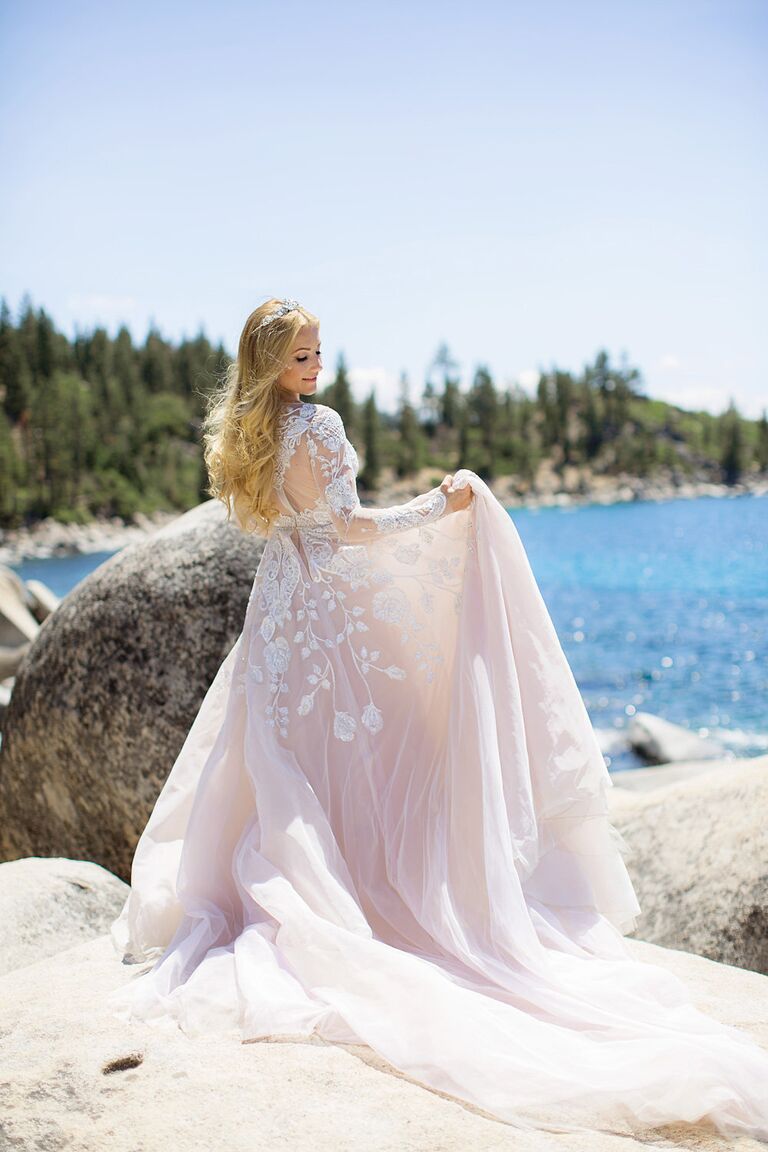 photo by
Chard Photographer
But if you thought this was her only ceremony dress, prepare to be obsessed with the most boho forest-fairytale creation ever for their second ceremony...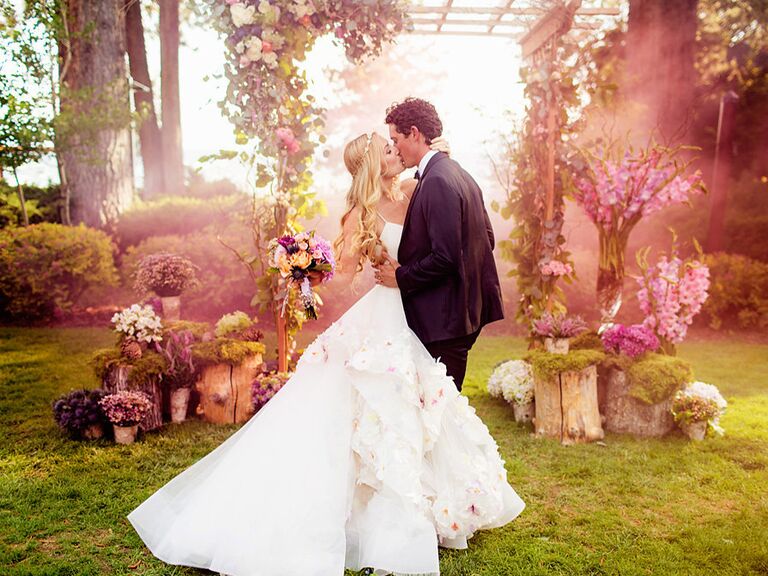 photo by
Chard Photographer
... a crop-top floral ball gown set against a pink fairy dust backdrop made by the bride's production company, Red Carpet Events and Design!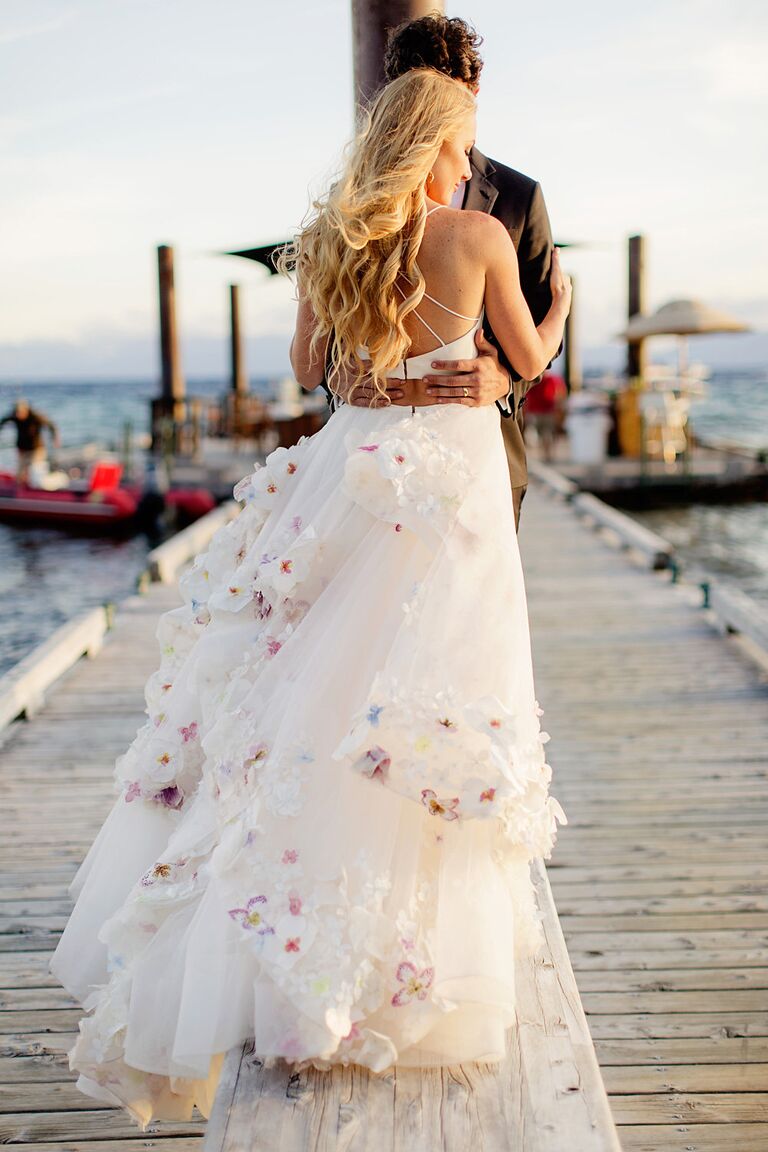 photo by
Chard Photographer
And just when you thought she couldn't possibly have any more surprises up her sleeve...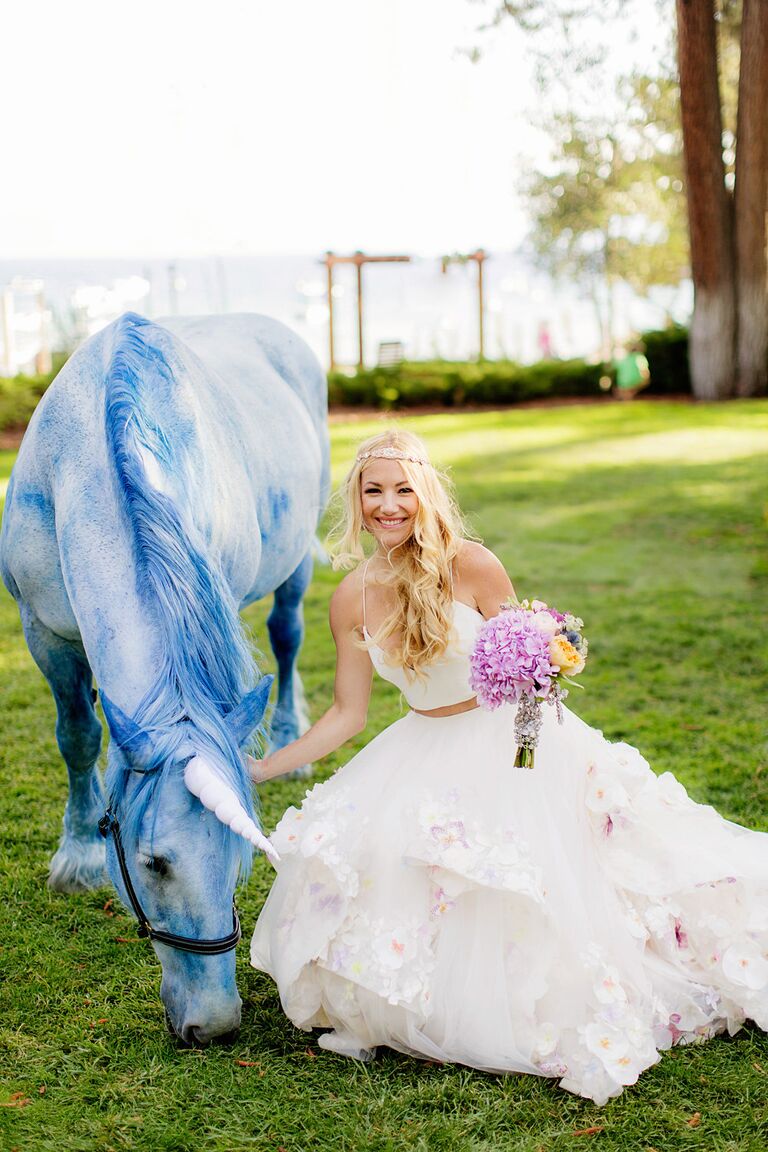 photo by
Chard Photographer
... a blue unicorn appeared.
(Queen Bee, the "unicorn," was a rescue horse from Reno Riding. She was rescued in poor health but was cared for and brought back to good health by the Reno Riding team, who is passionate about animals. Reno Riding used a non-toxic and safe temporary color made specifically for horses by Top Performance Pet Products for Hayley's wedding day. Hayley is an animal lover and her family gave a donation to the children's hospital where this horse frequently visits to cheer up the resident patients. Queen Bee was pampered throughout the day, and treated like the Queen she is!)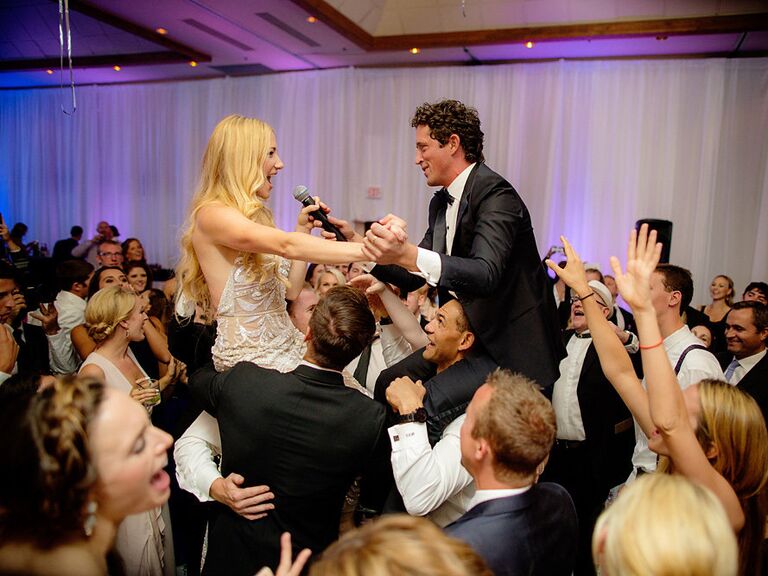 photo by
Chard Photographer
She kept the party going at the reception (held at the Hyatt Regency Lake Tahoe Resort, Spa And Casino) with a sexy beaded illusion gown that was inspired by an iridescent teacup and Fenton glassware.
And what better dress to say goodbye to your guests in than this fun lace dress with a Chiquita Banana-inspired headpiece?
Her bridesmaids went for the all-white dress trend too, and looked super-stylish from the front...
... and from the back.
The bride also wore four different gorgeous garters made by La Gartier, including a special "Hayley" garter that will be on sale starting August 1.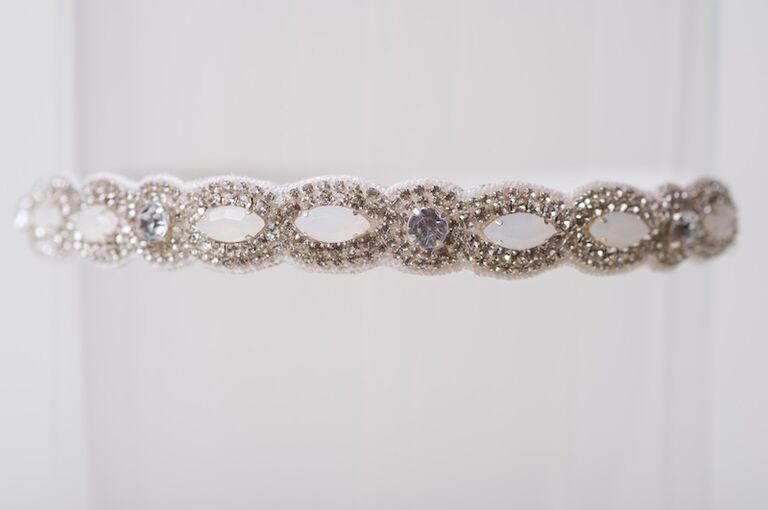 Congratulations, Hayley and Danny!