How to Make Your Wedding Invitations Stand Out
Calligraphy, brushstroke script, finding the right stationer—we break it all down for you.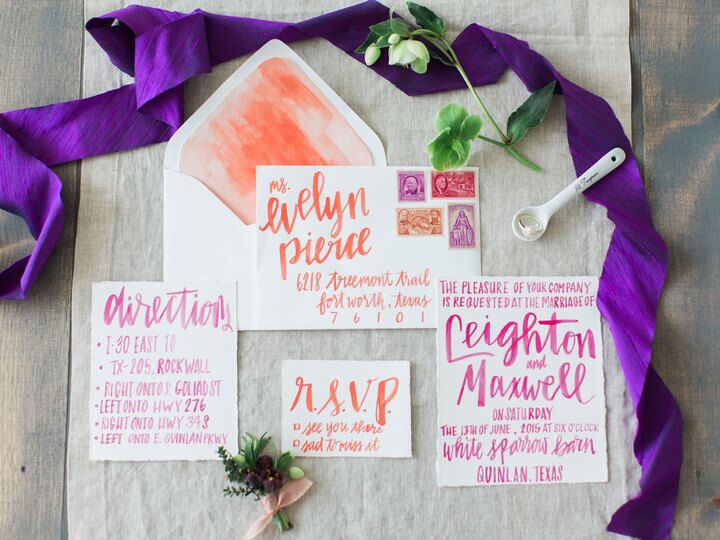 Jess Barfield Photography
Your wedding invitations serve two main purposes. First, and most importantly, they inform family and friends of the details so they can be there on time to celebrate. But they're also your guests' first glimpse of your wedding style. They can hint at the formality of the party, the color palette and even set the tone for every piece of printed paper that will follow (menus, escort cards and so on). So how do you pick the right invitation and make sure it stands out in the sea of wedding invites tacked to your friends' fridges? Couples are turning to hand-lettering to make their wedding paper totally unique and reflective of their day. Read on for some of the most popular types of modern calligraphy and why you may want letterforms to help set the tone for your day.
Hand Calligraphy
Calligraphers are passionate about the work they do and are dedicated to the craft, which came long before fonts and type. The technology hasn't changed much—most calligraphers work with a nib (the part of a quill or dip pen that soaks up the ink and transfers it to paper) and a pot of ink, just like they did centuries ago. But what has changed are the styles of lettering. Today's applications are so diverse, ranging from classic copperplate (think: the Declaration of Independence) to more modern applications that feel like fancy handwriting, complete with flourishes and swirls. Most calligraphers have a few of their own hybrid styles of script, and some may even be willing to create a new version that combines characteristics of a couple of styles.
Why you would want it: If you're looking for classic wedding lettering, this is the option for you. Traditionally, calligraphy was used for the invitation and for addressing guests' envelopes. If you can't afford a totally custom invitation, consider having your first names or initials penned in script—this can also serve as a logo or motif for other elements of your wedding day. Hand-calligraphed envelopes are a nice finishing touch, especially for formal or ornate invitations. When hiring a calligrapher, pay close attention to their unique styles and choose someone that's a match for your wedding's vibe or look.
Brushstroke Lettering
This style of lettering has its roots in sign painting. The shapes and designs of the letters are determined by the thickness of the brush and the artist's hand, so every letter looks totally unique. A combination of serif and sans serif styles give brush lettering a handwritten feel, making it the perfect casual script. Watercolor brushstrokes have a romantic vibe, while inky variations are more modern and artsy.
Why you would want it: Brushstroke lettering isn't as formal as calligraphy and has a more artistic look—it's custom, but with a hint of casual. The letters have a whimsy about them, perfect for laid-back celebrations or a more relaxed couple. If you're looking for a twist, mix brush lettering with a classic font for contrast.
Hand-Style Fonts
Modern day technology has brought about a slew of fonts that mimic calligraphy, right down to the flourishes and linked letters. Classic styles take cues from copperplate calligraphy, giving the script a very formal look. More casual interpretations are proper but not perfect, like cursive or your grandmother's handwriting. Most of these fonts are affordable and all look beautiful on a wedding invitation.
Why you would want it: These type styles are perfect for couples who don't want to invest in a hand-letterer but still want a textual look for their invites. Some fonts are so good you have to squint to tell the difference. You'll miss out on special flourishes or hand-drawn illustrations, but the text will definitely set a tone.
Hand-Lettering
This hybrid style of lettering is done completely by hand, combining illustration and mixed type styles (think: monogram logo with a flourish motif) for a custom look. Like brushstroke and calligraphy, hand-lettering styles vary greatly, from relaxed script to tight, serif, all-cap letter forms. Each letter and word is arranged in a unique way, resulting in a work of art. Most hand-letterers are trained in calligraphy but enjoy the creative freedom of drawing each letterform in an original way. Some have their own styles ranging in formality, while others treat each project as a new design endeavor.
Why you would want it: If you're looking to have an invite as unique as the wedding you're planning, hand-lettering is for you. Similar to an artfully drawn sign, your invitation will be a total work of art with flourishes and mixed typefaces. Most hand-letterers can easily create small illustrations and custom logo designs too, which make for a perfect wedding keepsake. If you can't afford a totally custom invitation, consider having your initials penned in an artful way—this can also serve as a logo or motif for other elements of your wedding or double as your stationery for postwedding thank-you notes.
Hire the Right Pro
Letterers are artists, so they should have a portfolio of their work for you to review (also check their website or Instagram feed) and be able to produce a list of references. This will give you an idea of their design capabilities and breadth of styles, which will help you determine if their "hand" is a good fit for your wedding style. The essence of lettering is consistency: shape, stroke, weight, spacing and rhythm are all important factors. Quality usually comes with experience, so ask how long they've been at it. A younger calligrapher may not have as steady of a hand but they may be able to offer you more competitive pricing. Reach out to your favorite artists and share the details of your project, be it a custom wedding invitation or unique monogram. Provide as much information as possible so they can come back with an accurate quote and timeline, since calligraphy is done by hand and takes time. Don't forget to ask about their policies (like cost for revisions) and how to reserve a space in their calendar—some require a signed contract, while most will ask for a deposit.
Find your stationery designer here.
Find a calligrapher here.