How to Mail Wedding Invitations to Your Guests Without a Hitch
Here's everything you need to know, from preparation to the post office.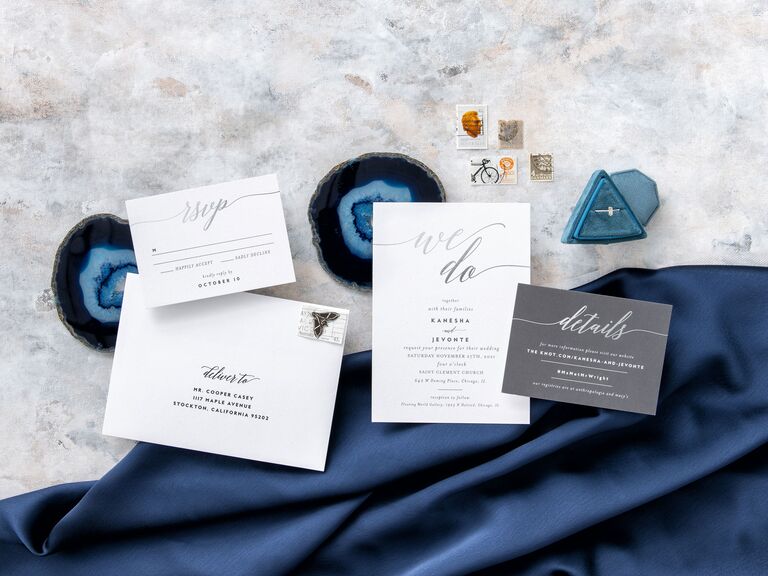 Have questions about how to mail your wedding invitations? You've come to the right place. We're breaking down the biggest FAQs for sending out invites through the United States Postal Service, from the preparation right through to handing them to a postal worker. If you're ordering your stationery from The Knot Invitations, you can save time by taking advantage of our guest-addressing service. That way, your envelopes are already printed with guests' addresses when they arrive. Otherwise, organizing your invitation suite and addressing envelopes is step one to preparing your invitations for mailing. Want to know where to go from there? Keep reading for our top tips.
How do you prepare your wedding invitations for mailing?
If you don't know exactly how to prepare your wedding invitations for mailing, don't worry—it's pretty straightforward. First, organize your stationery so that it's properly stowed inside each envelope. (Psst, if you're not sure what order to follow, just check out our guide to assembling wedding invitations.)
Once you've completed this for everyone on your guest list, the next step is figuring out postage. Before you go crazy buying a ton of wedding stamps, there's a clever hack that'll help you determine the exact amount of postage required, which could be more than the $0.58 needed for a basic Forever stamp. Take one fully assembled invitation to the post office and have it weighed by a postal clerk. The price for mailing one invitation should be the same for the others.
Finally, double-check all of the details before taking your invitations to the post office. Proofreading addresses might not sound like a super-fun way to spend your Saturday night, but it's an essential part of prepping your wedding invitations for mailing. If anything, it will give you and your future spouse peace of mind once your invites start their journey to guests' mailboxes.
How do you make sure your envelopes are secure?
For many, licking the adhesive liner on an envelope is the go-to way of sealing the deal. But when it comes to your wedding invitations, licking a huge stack of envelopes sounds, at best, tiring, and at worst, hazardous and unhygienic. No one wants to run the risk of a paper cut that many times. Instead, moisten the envelope adhesive with a cotton swab or paintbrush. This makes it easier to cover the entire adhesive strip on the envelope.
If your invitations are particularly bulky or your envelope adhesive isn't working as it should, there are a couple of other ways to help secure the goods. After moistening and sticking the adhesive, place your invitations under a heavy book or paperweight to reinforce closure. As a last resort if your envelopes just aren't staying shut, try using an additional adhesive such as a glue stick or double-sided tape. Just keep in mind that this might be a bit messy and will make it more difficult for guests to open their invitations.
Do you need to add stamps before going to the post office?
It's a good idea to add sufficient postage before dropping your wedding invitations off at the post office. If you arrive hoping to stamp and mail your invites on the same day, you run the risk of not getting your desired stamps. This could mean compromising the aesthetic of your outer envelopes as well as paying more for postage if stamps in smaller denominations aren't available. Having your invitations ready to mail will also make your interaction with the postal clerk quicker and easier for both of you.
Where should you mail your wedding invitations from?
When deciding where to drop off your wedding invitations, there's only one tried-and-true option if you're going through the USPS. No matter how straightforward you think mailing your wedding invitations will be, bring them to the post office and hand them to a member of staff. Putting together your invites is no easy feat, so it's completely understandable if you just want to drop them in a mailbox and be done with them, but it's worth making the extra effort to ensure that everything is in order and your guests receive their invitations.
What do you need to ask about at the post office?
You might still have some questions about how to send your wedding invitations through the mail even after you've done all of the prep work. In fact, there's one question in particular you should ask the post office clerk on the day: if they can hand-cancel your invites. Having your invitations canceled (i.e. when the stamp is marked or crossed out to prevent reuse) by hand means they won't be put through a machine, which can cause wear and tear. If your invitations are on the bulky side or contain embellishments on the outer envelope (think: ribbon, twine or wax seals), you should definitely ask for this service.
One thing to note: Depending on the post office, there's often a small additional fee per envelope for hand-canceling. It also takes more time for this service to be carried out manually, so prepare for a longer wait at the post office. If possible, you should always make your visit during "slow" times (no matter how you're having your postage canceled). Early weekday mornings are a great time to drop off your invitations—avoid the lunchtime rush at all costs.
How do you send wedding invitations internationally?
Plan on shipping wedding invitations to guests internationally? There are a few additional steps to take before safely sending out your invites. The first item on your agenda should be to double-check postage. The cost of mailing wedding invitations internationally is more expensive than mailing to guests in the US. For country-specific guidelines on postage requirements and restrictions, your best bet is to check the USPS website. Make sure to check it again right before you mail your invitations in case anything has changed. For example, the USPS may no longer ship to the country you are mailing to, in which case you will have to enlist an international courier, such as FedEx or DHL.
It's also a good idea to leave a little extra time for your invitations to reach their destination. Send international invitations 8–10 weeks out to allow time for customs clearance and shipping delays. Your guests will also need more time to mail back their RSVPs. Alternatively, consider providing a digital RSVP option for international guests. That way, they can submit their response ASAP without having to buy a stamp or go to the post office.