Is It Rude to Put Your Registry Information on Your Wedding Invitations?
Here's everything you should mention (and skip) on your invite.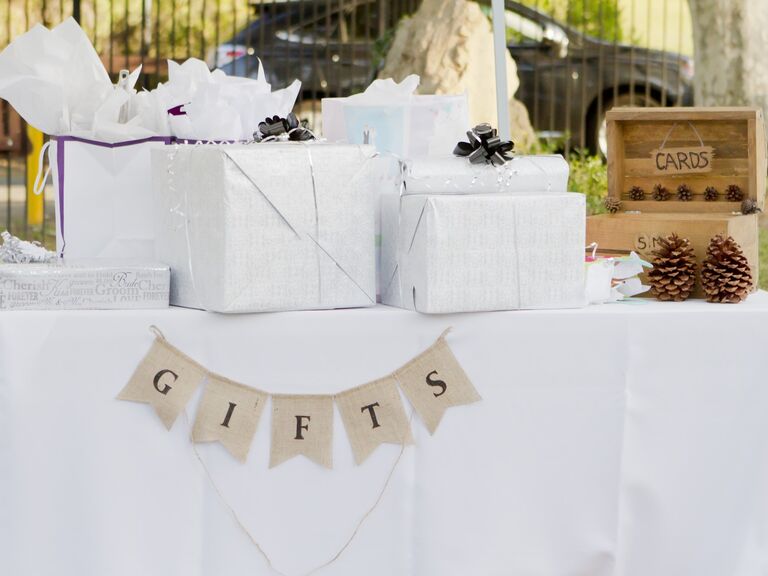 Jayme Burrows / Shutterstock
One area of wedding planning that garners a lot of questions is your wedding invitation and what to include on it. Specifically, how to let guests know about your wedding registry. Is it considered presumptuous or aggressive to include information about your registry on wedding invitations? And if so, how else do you direct guests to it? We understand your concerns. Writing up wedding invitations can be a confusing scenario to navigate. That's why we're answering your most frequently asked questions regarding exactly where to put your wish list in your wedding invitation suite. Before you order your stationery, check out our advice below to ensure you're following standard etiquette leading up to your special day.
In this article:
Does your registry information go on your wedding invitations?
In short, no, your registry information doesn't go on your wedding invitations. Why? Friends and family may interpret this to mean getting gifts is just as important to you, or even more important to you, as sharing your big day with loved ones. Of course, that's not the case, but your guests may assume as much if you're directing them to your wish list before even receiving their RSVP.
If you don't add your registry to your invites, where do you put it?
While your formal invitation isn't the right spot to ask for gifts or money, that doesn't mean you shouldn't inform guests about your registry elsewhere. Include an informational insert in the envelope with a link to your wedding website. Your wedding website is a one-stop shop for guests to access all of your wedding information easily, so they'll expect to find your wedding registry there. This is a much more subtle approach when it comes to asking for gifts from guests. It's already common to include RSVP cards, reception cards (if the party is held at a different venue than the ceremony) and wedding programs in the same envelope as your wedding invitation, so the additional stationery won't be questioned.
Should wedding invitations mention gifts at all?
Wedding invitations shouldn't mention anything about gifts, even if you're requesting no gifts at all. Simply put, your invites are about building excitement for your upcoming celebration. You want your guests to feel honored and delighted to be included in your special day and not worry about the gifting aspect until later.
How else can you tell your guests about your gift registry?
The best way to tell guests about your registry is by including a link to your wedding website as an information card in your wedding invitation suite. That said, word of mouth is acceptable too. Have your close family members and best friends spread the word to whoever asks about it—it may seem unpredictable, but this is how couples did it before there were wedding websites. And trust that if guests want to get you a gift, they'll have no problem asking you directly if you have a wedding registry and where they can find it.