30 Black Wedding Invitations That'll Leave Your Guests Speechless
Timeless, elegant *and* trendy styles? Say more.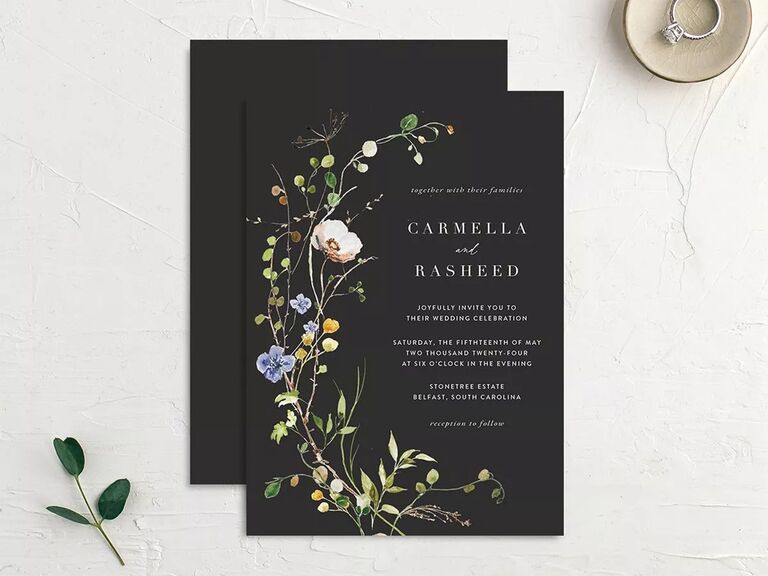 We have included third party products to help you navigate and enjoy life's biggest moments. Purchases made through links on this page may earn us a commission.
Black is a stylish and timeless color option when it comes to wedding stationery. Black wedding invitations can cater to many different wedding vibes, from the most elegant black-tie affairs to dark and moody celebrations. Maybe you're planning to keep things traditional with classic wedding invites, or perhaps you're craving a festive, out-of-the-box design that'll surprise and delight your guests. Whatever style you're going for, we've pulled modern and unique black invitation designs to help you find the right fit. Keep scrolling to see our favorite black wedding invites that are available to shop online—including plenty of celebratory options from The Knot Invitations, our dedicated stationery store.
1. The Knot Modern Minimalist Wedding Invitations by Vera Wang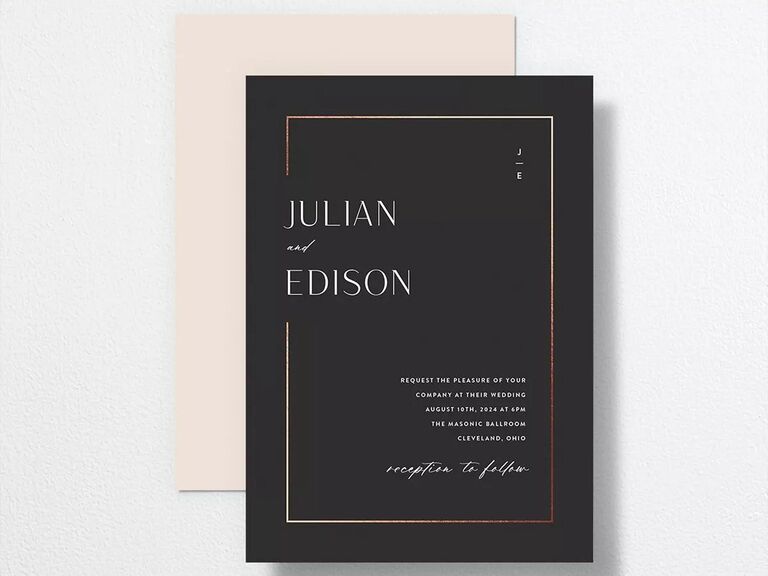 We love the understated elegance of this black and rose gold wedding invitation from our Vera Wang x The Knot collection. A refined sparkling foil border beautifully surrounds the details of your celebration. Displayed in the top left corner are your names opposite your initials, which are presented in a modern couple's monogram worthy of the occasion.
2. The Knot Eucalyptus Frame Wedding Invitations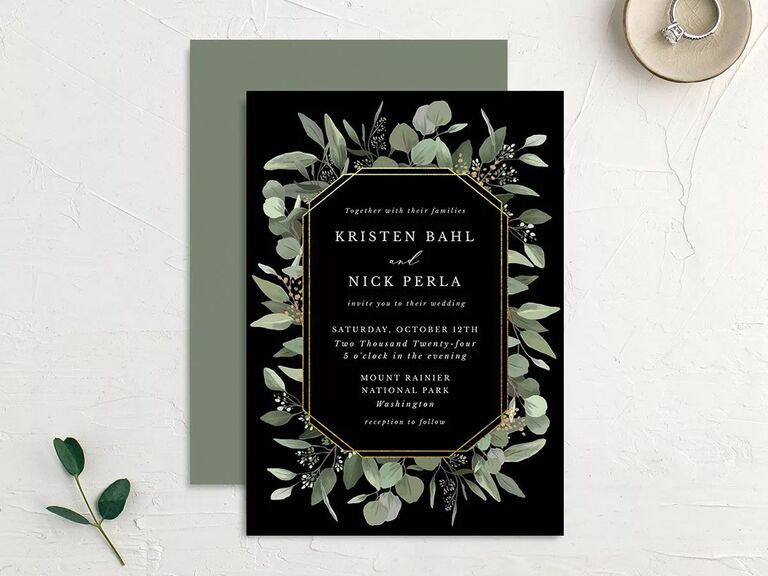 The Knot has a robust collection of black wedding invitations, including this botanical invite. The black and green design is decorated with eucalyptus leaves around a geometric gold frame. All The Knot wedding invitations come in three paper choices: Signature, Pearlescent and Recycled.
3. The Knot Modern Lens Wedding Invitations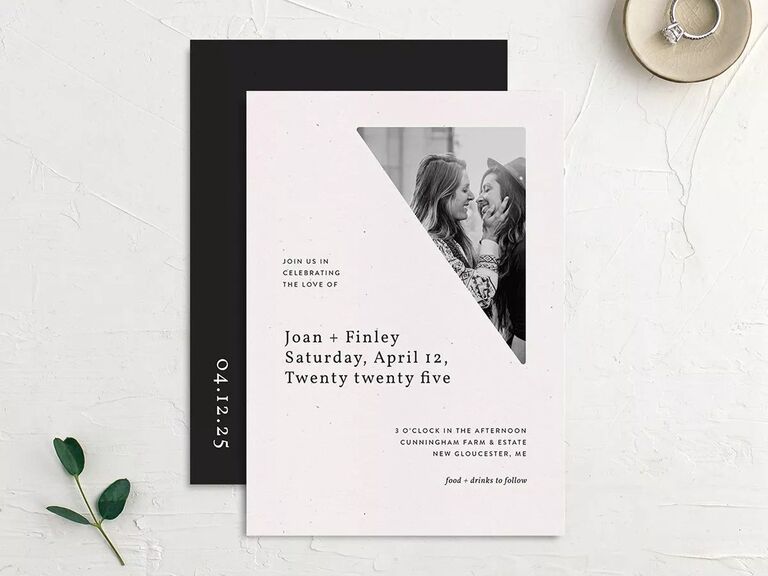 Your guests will be ecstatic to receive these modern wedding invites. A sweet photo of you and your future spouse gets placed in the top right corner, while your wedding details are adjacently displayed in a mix of stylish fonts. On the rear of the card, there's a chic surprise: your wedding date printed on a bold black background.
4. The Knot Vintage Gothic Wedding Invitations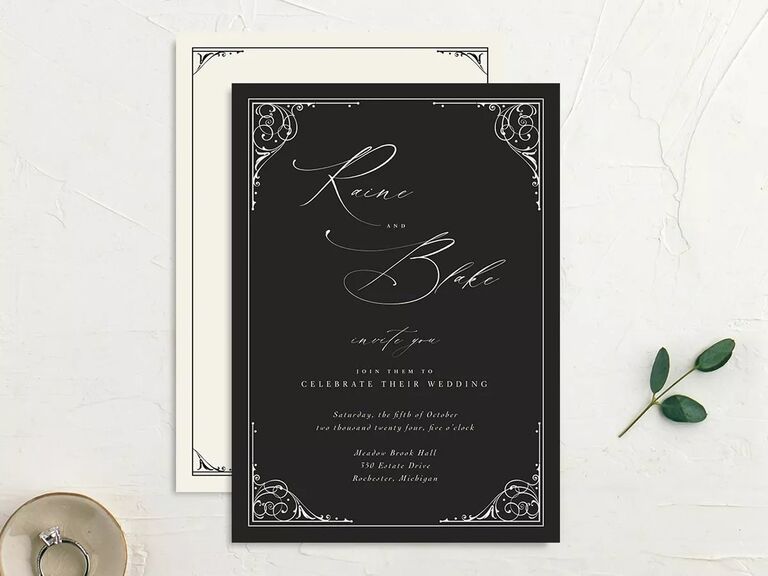 Inspired by gothic architecture, these black wedding invites are undeniably unique. Your names and event details—written in vintage-inspired typography—lie within an ornate frame. On the back, there's a decorative border that plays into the gothic theme.
5. The Knot I Do Wedding Invitations by Vera Wang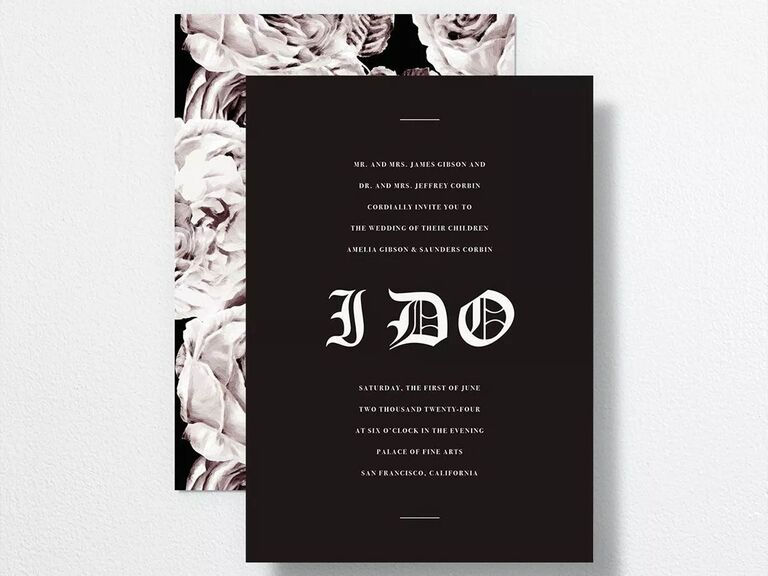 If you're throwing a dark and moody celebration, this black gothic-inspired wedding invitation is a perfect complement. The words "I Do" are outlined in bold white lettering against a contrasting black backdrop. On the back of the card, you'll find a captivating rose print that'll seriously enchant your guests.
6. The Knot Delicate Wildflower Wedding Invitations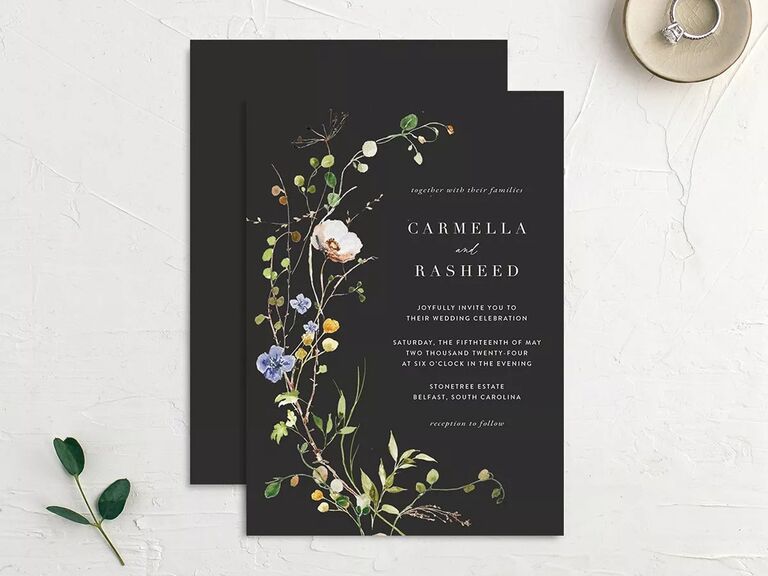 Wildflowers add a romantic touch to these whimsical wedding invitations. The delicate botanicals perfectly contrast the dark black backdrop, while your wedding details shine in classic white. These affordable wedding invitations only look expensive.
7. My Print Man Acrylic Pocket Wedding Invitations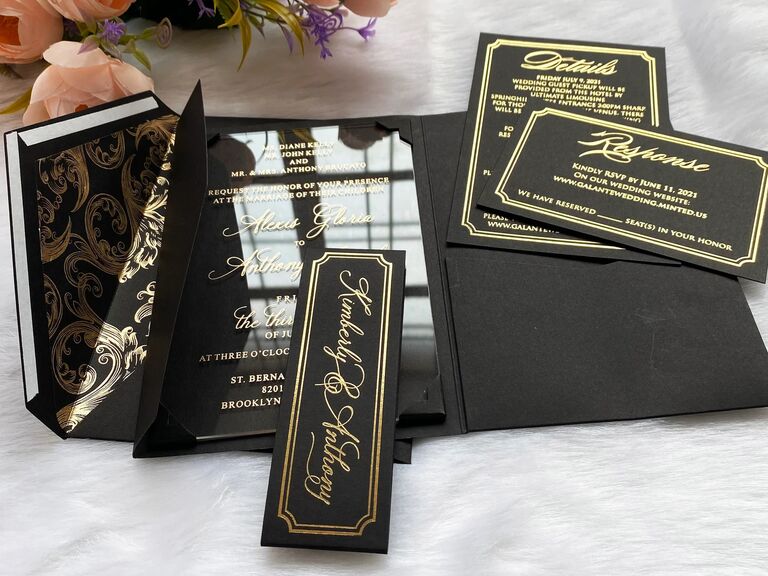 How mesmerizing are these black acrylic wedding invitations? The elegant black and gold foil packaging—combined with the fancy script—makes us feel like we're in the Roaring '20s. This high-end set includes a black envelope, a personalized belly band and a response card.
8. The Knot Leafy Floral Wedding Invitations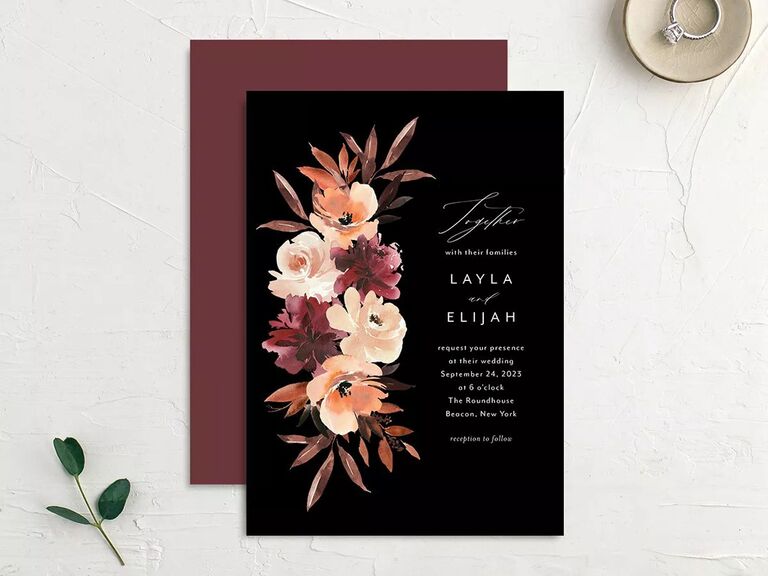 Kick off your autumn wedding with these black and red wedding invitations. The fall-worthy design features a beautiful arrangement of watercolor botanicals against a dark backdrop. Alongside the flowery motif, the word "Together" is displayed in a lovely script-style font, while your names and wedding details are presented elegantly underneath.
9. The Knot Opulent Garden Wedding Invitations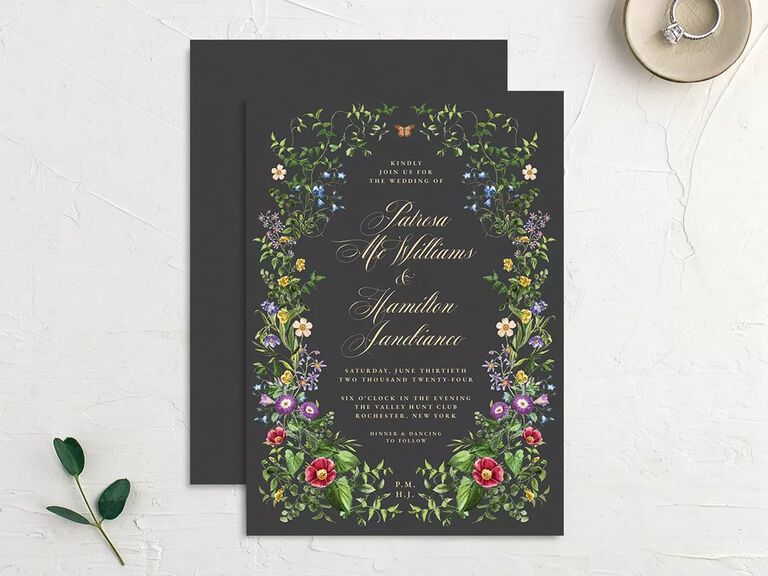 If you're hosting garden nuptials, these black floral wedding invitations are a whimsical choice. The dreamy design features an opulent botanical frame that's filled with colorful blooms and lush greenery, which beautifully complement the looping script and serif font. It's safe to say these invites will enchant your guests.
10. The Knot Love Love Wedding Invitations by Vera Wang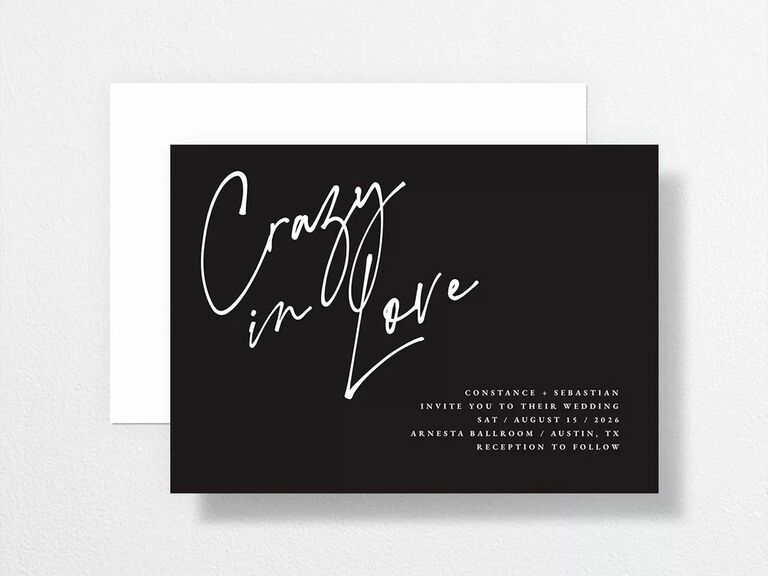 We adore the handwriting-style script that graces the front of this simple black wedding invite. The fitting phrase "Crazy in Love" is bestowed in the top left corner opposite your anticipated wedding details, set forth in a classic serif font. The full invitation suite features the same romantic handwritten type that we love so much.
11. The Knot Modern Palm Wedding Invitations by Reyna Noriega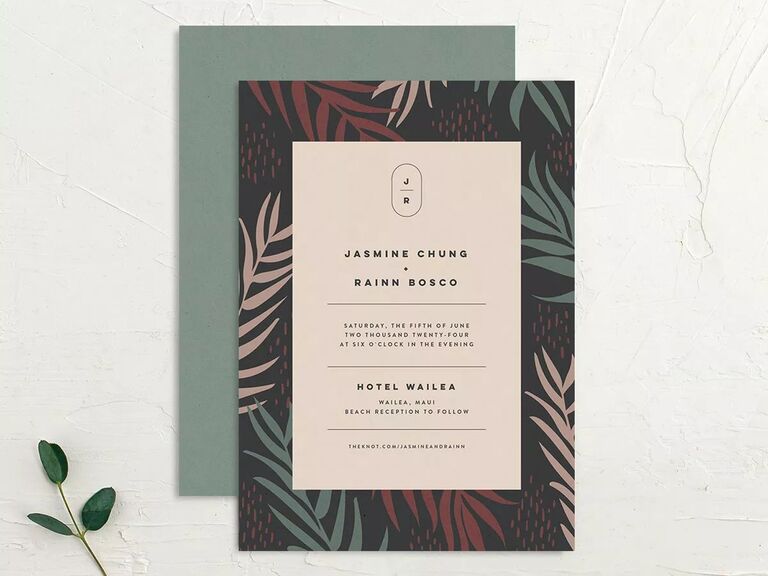 Destination wedding? No problem. Here's a tropical black beach wedding invitation with a colorful modern twist. Your names and wedding details are surrounded by vibrant palm leaves that pop against the dark background. For a cute addition, your initials are displayed together in a bold monogram at the top.
12. Hooray Creative for Minted Beaded Edge Foil-Pressed Wedding Invitations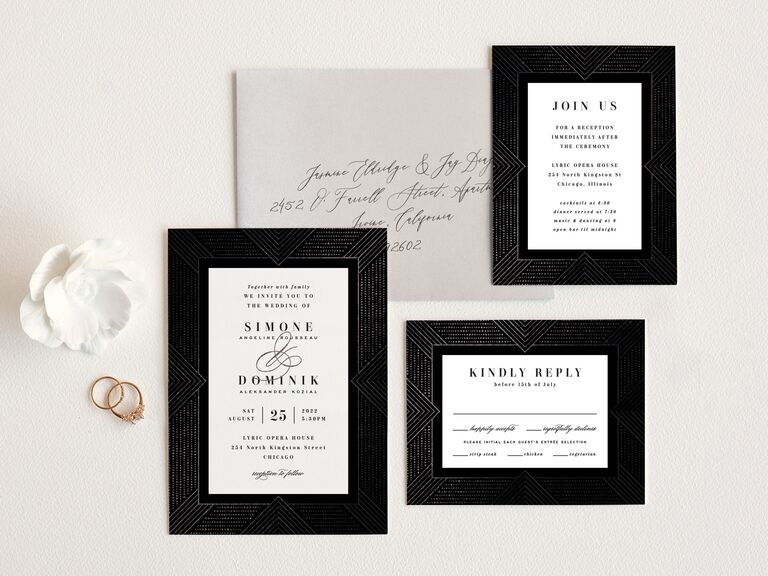 Pressed foil creates a geometric border on these black wedding invitations. Not only can you customize the card's shape, but you can also choose the foil color. If you're throwing a fancy fete, these cards will certainly live up to the occasion.
13. The Knot Natural Palette Wedding Invitations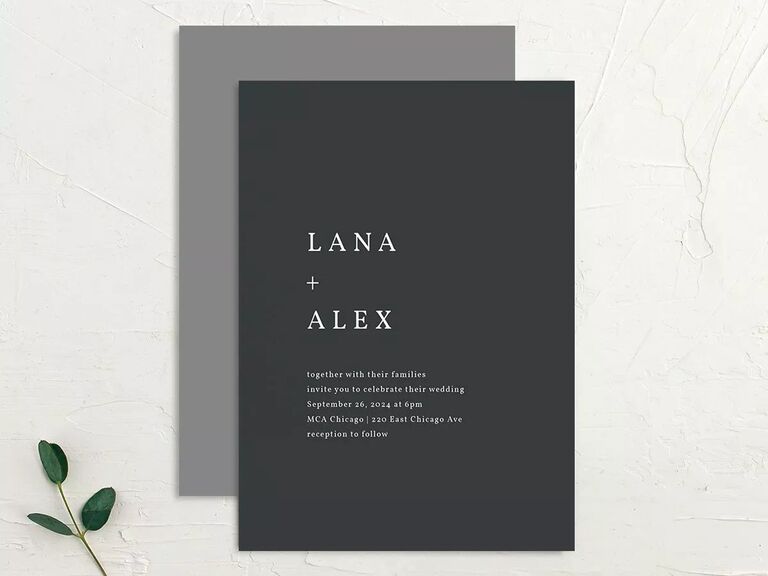 Calling all minimalist couples: These simple wedding invitations make a statement without feeling over the top. Your names are presented in a bold, modern font, while your event details are displayed below in beautiful typography that's straightforward and elegant.
14. Wedding Paper Nest for Zazzle Budget Purple Gold Agate Dark Wedding Invitation
These black and purple wedding invites are proof that you don't have to stick to tradition. The left edge—decorated with a purple watercolor agate and lined with faux gold glitter—has a magical 3D effect. Combined with the gold writing, whimsical fonts and dark charcoal background, we simply can't look away.
15. The Knot Botanical Olive Wedding Invitations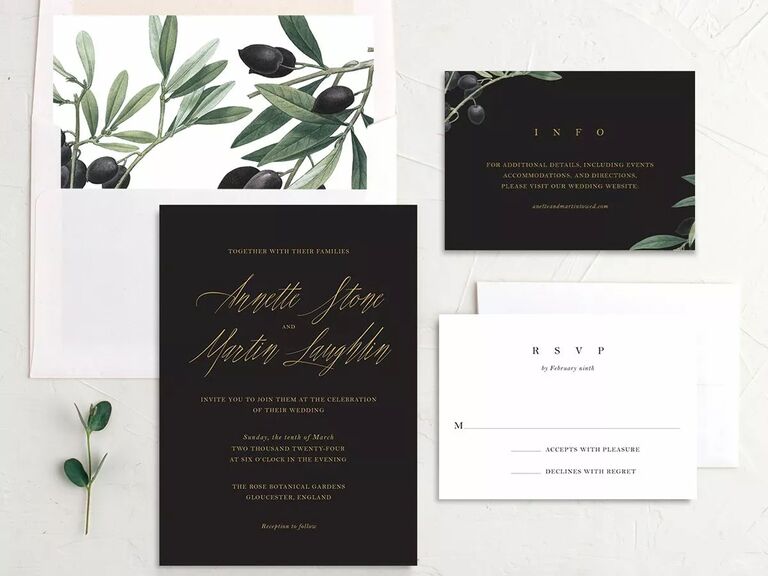 We love this black and gold stationery for a Mediterranean wedding. The classic invitation features your details on the front and an olive branch motif on the back. The olive theme is emphasized throughout the rest of the stationery suite, which includes an optional envelope liner and an add-on enclosure card—both printed with beautiful, hand-painted olive branches.
16. YellowFeb PAPERIE for Zazzle Black Pink Blush Watercolor Floral Wedding Invitations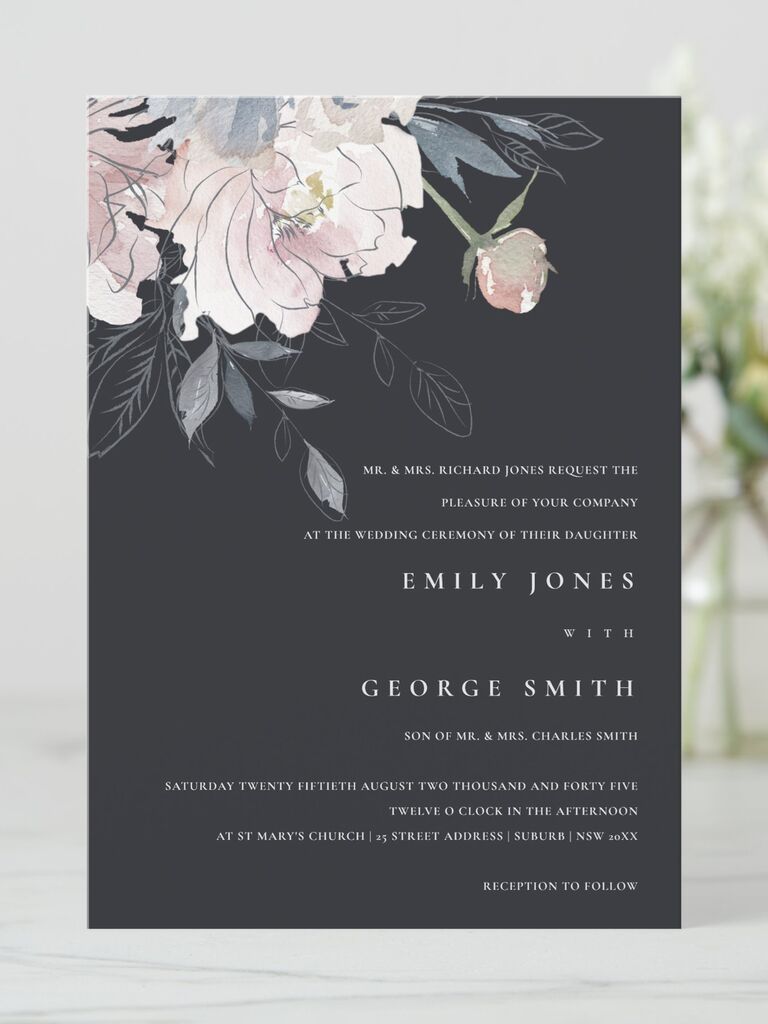 If you couldn't tell already, we're big fans of floral wedding stationery—and these black and blush wedding invitations are no exception. The softly painted watercolor florals add an artistic edge. Select your favorite card shape from six different options, including rounded and scalloped.
17. The Knot Exquisite Calligraphy Wedding Invitations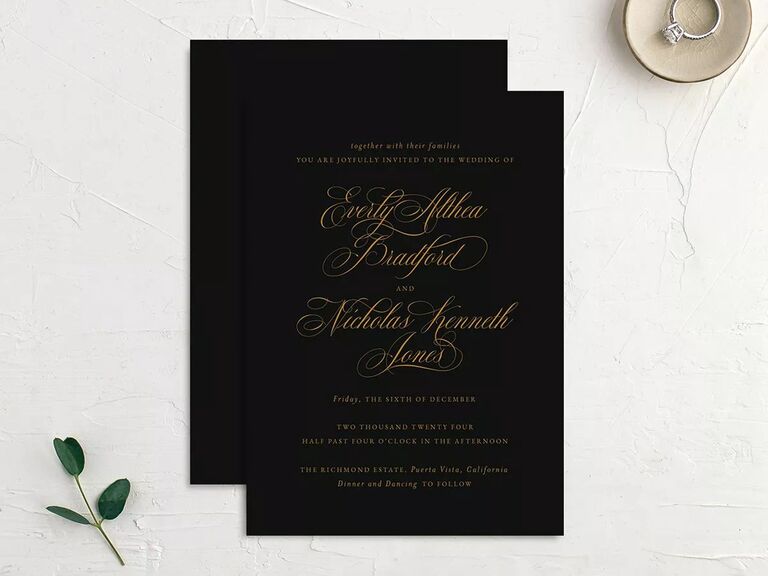 If you're throwing a black-tie event, then you need exquisite invites. That's where these black and gold wedding invitations come in. Your wedding details are displayed in a distinguished calligraphy-style font paired with a classic serif type.
18. The Knot Mountain Escape Wedding Invitations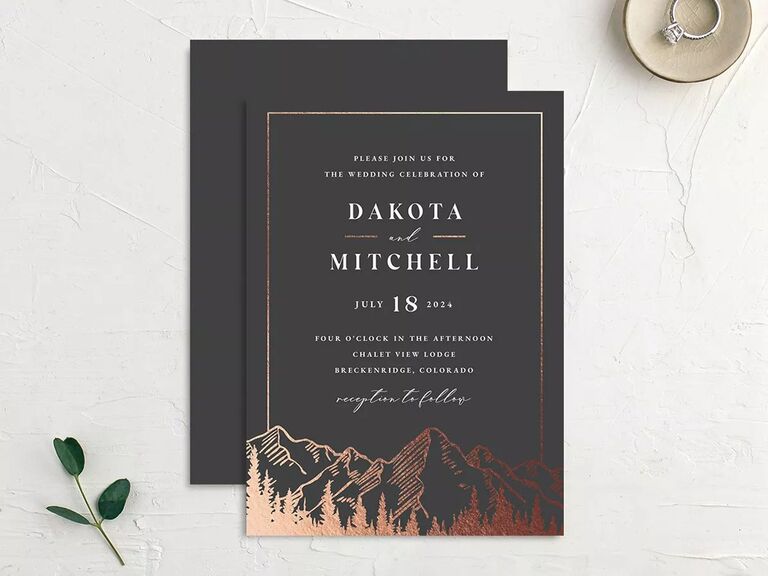 Escape to the hills with these adventurous black mountain wedding invitations. The rustic design depicts a foil-covered mountain scene in gold, silver or rose gold. Meanwhile, your names and wedding details are displayed above the illustration in a matching foil frame.
19. Carte Blanche Art for Zazzle Till Death Wedding Invitations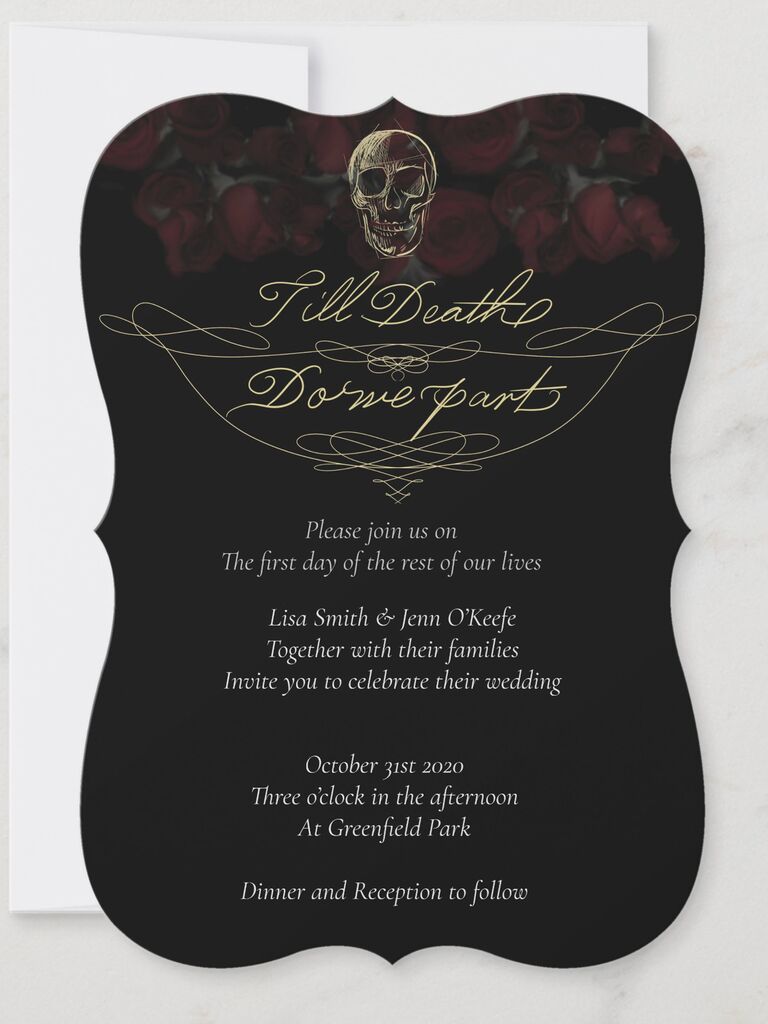 In honor of the goth aesthetic's recent resurgence, we had to throw in these epic black wedding invites. Your guests will enjoy the "Till Death Do We Part" card, complete with a skull and dark roses up top. Your event details are displayed in an eerie, elegant type to correspond with the dark aesthetic.
20. The Knot Elegant Eclipse Wedding Invitations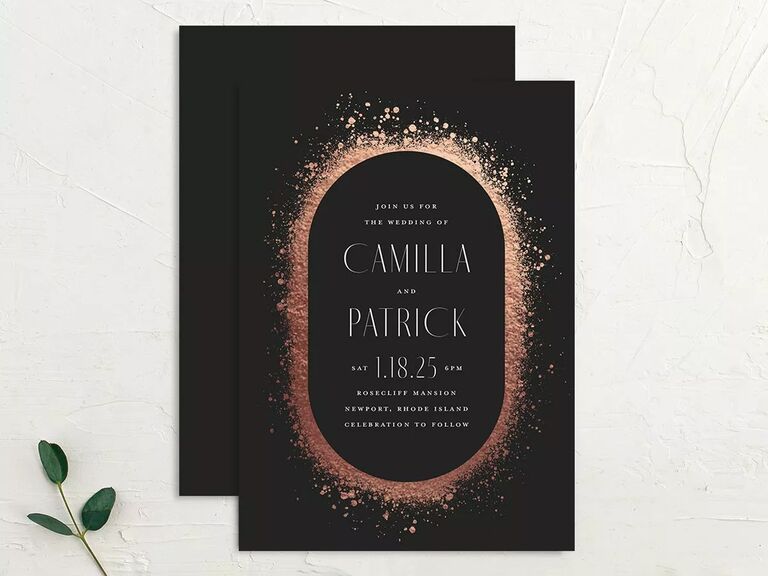 This elegant black wedding invitation certainly won't disappoint. The stationery boasts a dramatic metallic-speckled design that's inspired by a solar eclipse. Your wedding details take center stage in a mix of moody fonts.
21. The Knot Painted Magnolia Wedding Invitations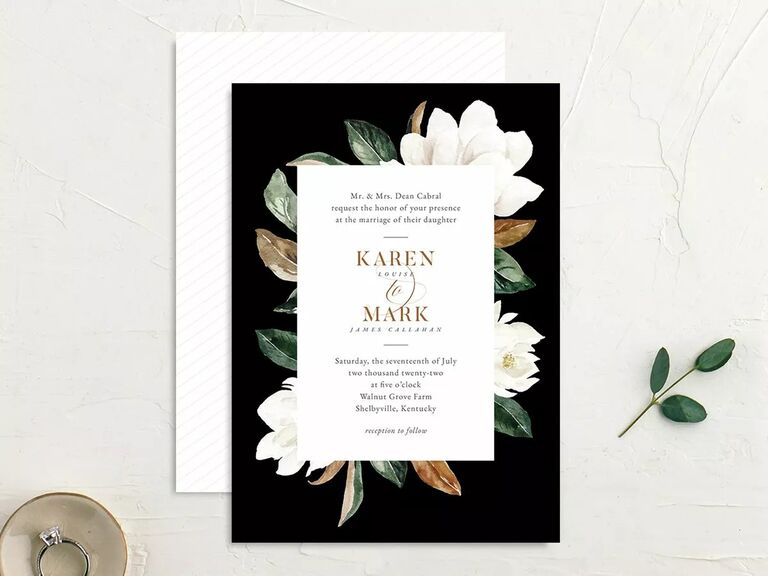 Blooming magnolia flowers and luscious greenery define this romantic black wedding invitation design. The charming floral border encases your event details, while the back of the card is decorated with elegant diagonal lines.
22. The Knot Classic Ampersand Wedding Invitations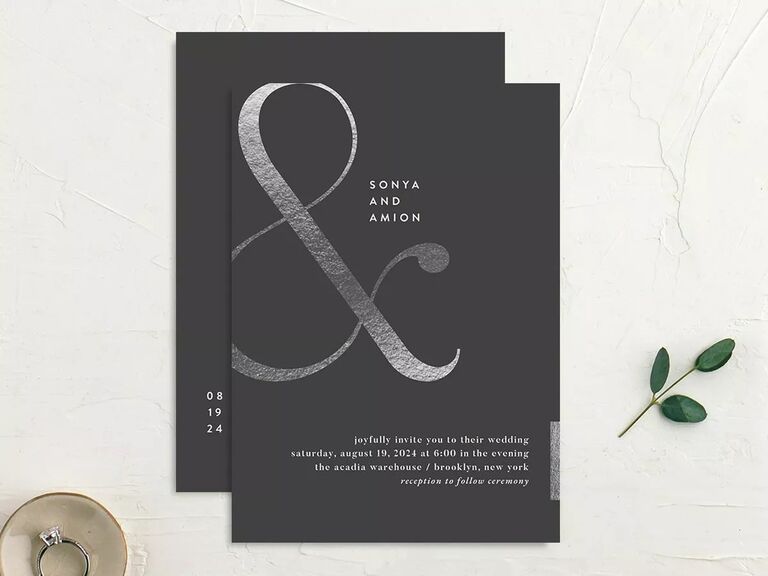 Cool yet classic, you can't go wrong with these timeless all-black wedding invitations. A glistening foil ampersand represents your union, while your details are displayed in a classy serif font. You can use these simple black wedding invitations for almost any type of celebration, from a black-tie ball to a modern loft wedding.
23. The Knot Rustic Arch Wedding Invitations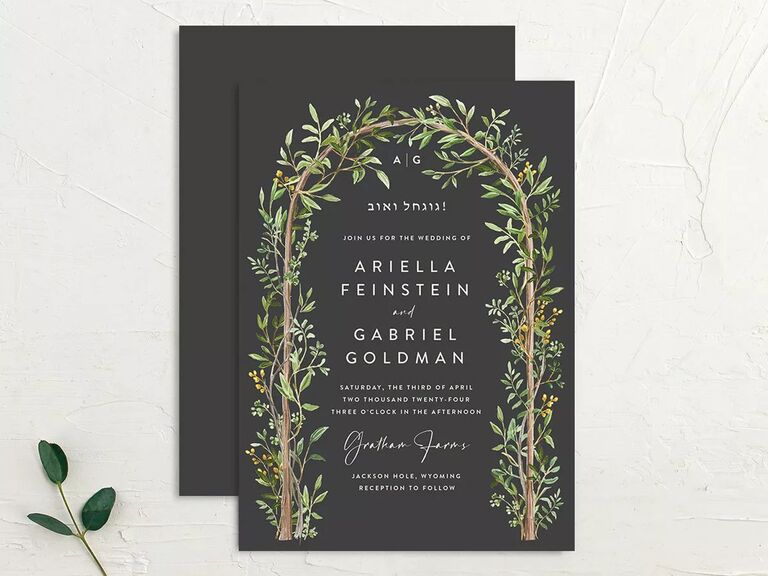 Rustic wedding stationery is an ever-popular choice for couples, and we can surely see why. This black wedding invite has a romantic leafy arch surrounding your initials and event details. Best of all, the back of the card has your wedding date within a bountiful wreath.
24. The Knot Vintage Black and Gold Wedding Invitations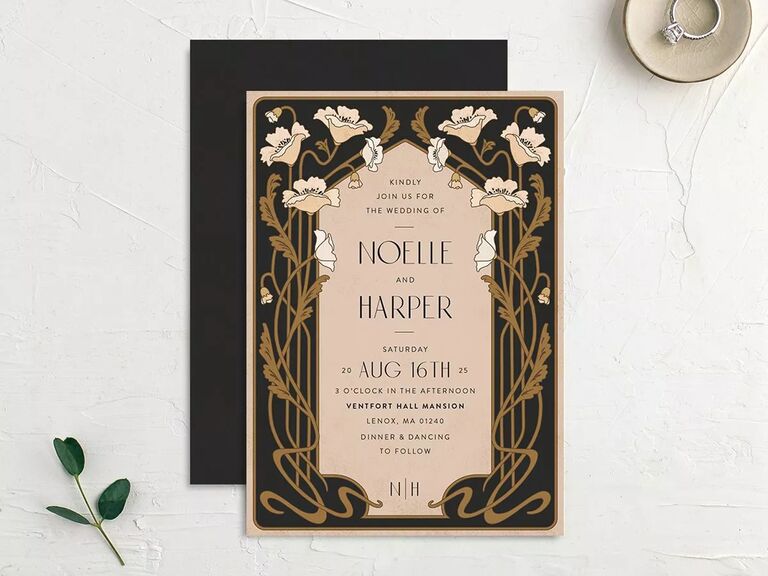 To celebrate your everlasting love, these vintage black-themed wedding invitations fit the bill. The Art Nouveau design features all your wedding details surrounded by an ornate floral frame. Turn the card around for a special surprise: your wedding date turned into elegant art.
25. Lori Wemple for Minted Autumne Savvy Wedding Invitations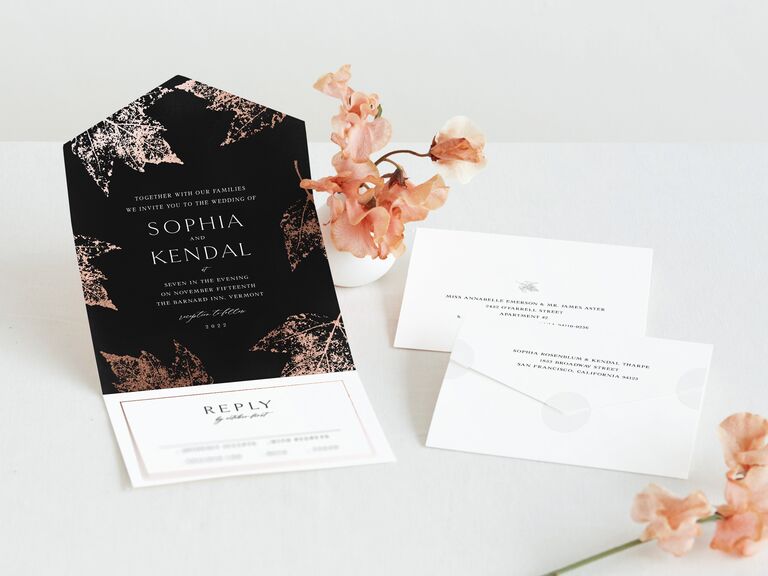 Autumn weddings are absolutely magical—and these fall wedding invitations are proof. Foil-pressed leaves, available in an array of metallic shades, cover these gorgeous black invites. Simply choose your colors and personalize your event details.
26. The Knot We've Waited Wedding Invitations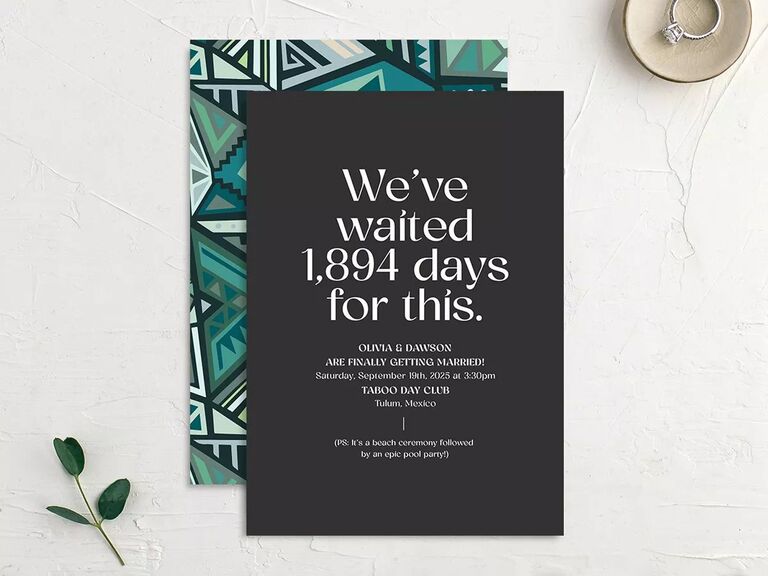 If your wedding day has been in the making for quite some time, you'll appreciate this lighthearted design. Show your guests how long you've waited with these countdown wedding invites. We love the retro-inspired font and geometric green print on the back of the card.
27. The Knot Lush Greenery Wedding Invitations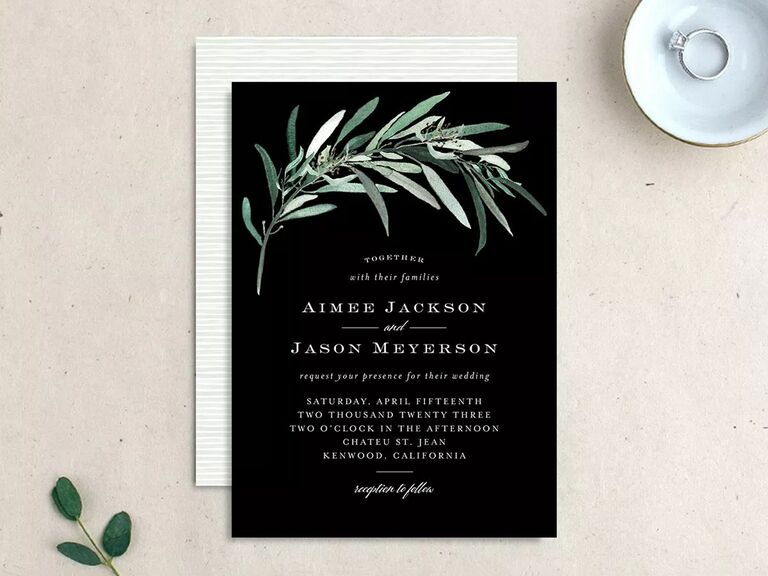 Looking for a touch of greenery? Try these delightful black wedding invites with a watercolor eucalyptus branch. Beneath the botanical design, your names and wedding info are presented in an elegant font. The back of the card reveals decorative horizontal lines.
28. World of Jay Design for Zazzle Celestial Midnight Black Stars Moon Wedding Invitations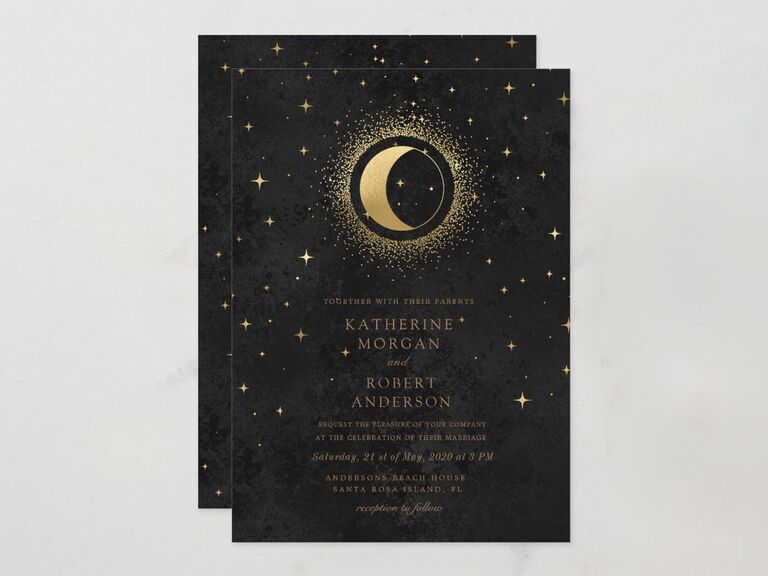 Celebrate your out-of-this-world love with celestial wedding invitations. This starry night wedding invitation is a clever way to invite your guests to a wedding under the stars. The stellar design is the backdrop for your wedding details, which are portrayed in fitting gold font.
29. The Knot Vintage Deco Wedding Invitations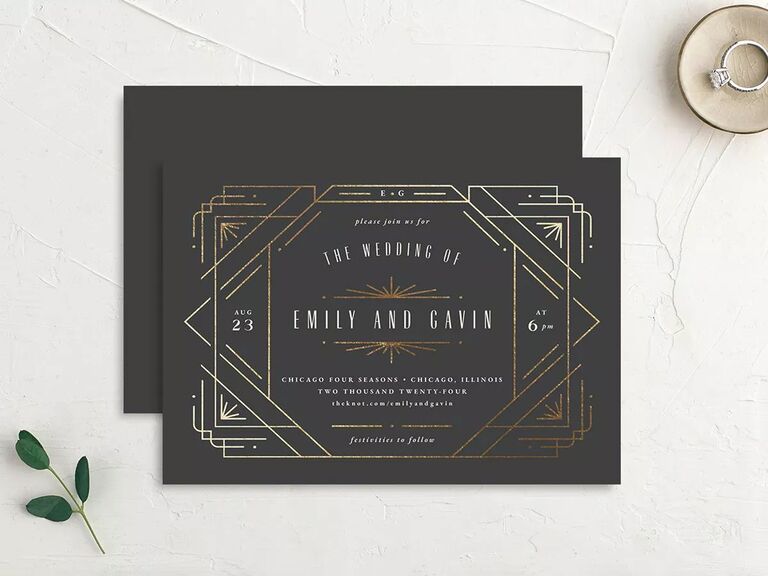 This Great Gatsby-inspired wedding invitation will show your guests that you're ready for a party. The intricate Art Deco lines—filled with gold, silver or rose gold foil—set the mood for a grand celebration. Your wedding details are presented in vintage-style fonts that pay tribute to the Roaring '20s theme.
30. Customize My Wedding for Zazzle Modern Rose Gold and Black Overlay Photo Wedding Invitations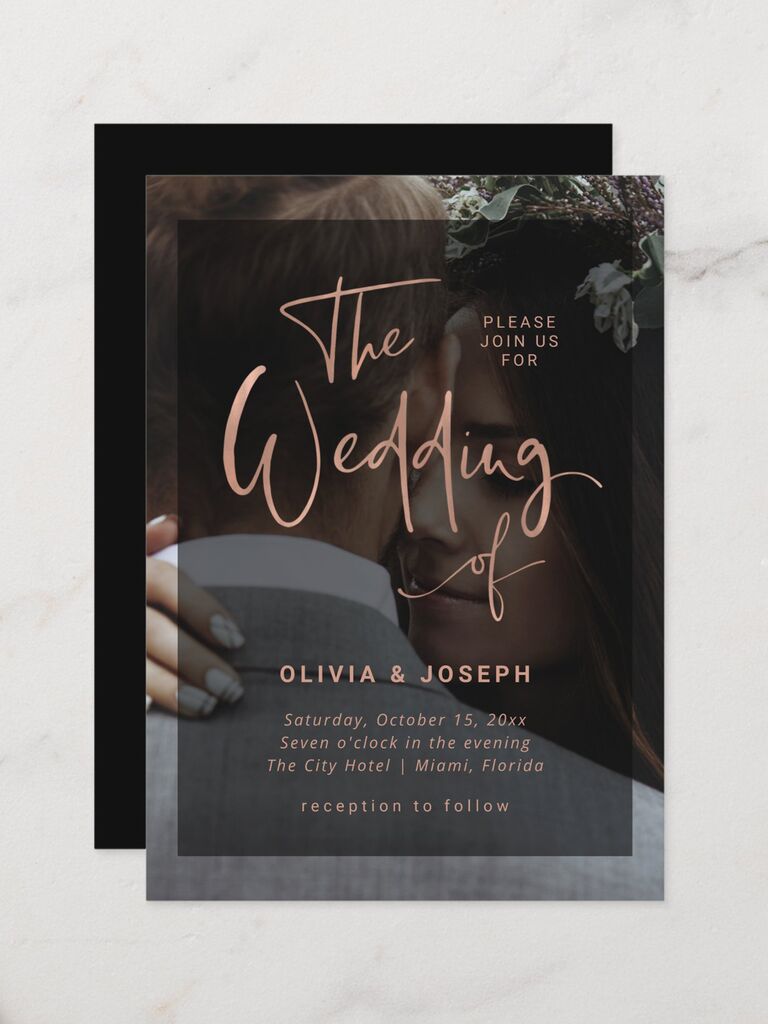 You and your partner are the focus of these elegant black wedding photo invitations. A couple's portrait becomes the background of the card, which gets covered with a sheer black overlay and your event details. It's a memorable and personal black wedding invite your guests will never forget.