20 Elegant Wedding Invitations That Set the Tone for a Stylish Big Day
These invites will have your guests counting down the days to your sophisticated event.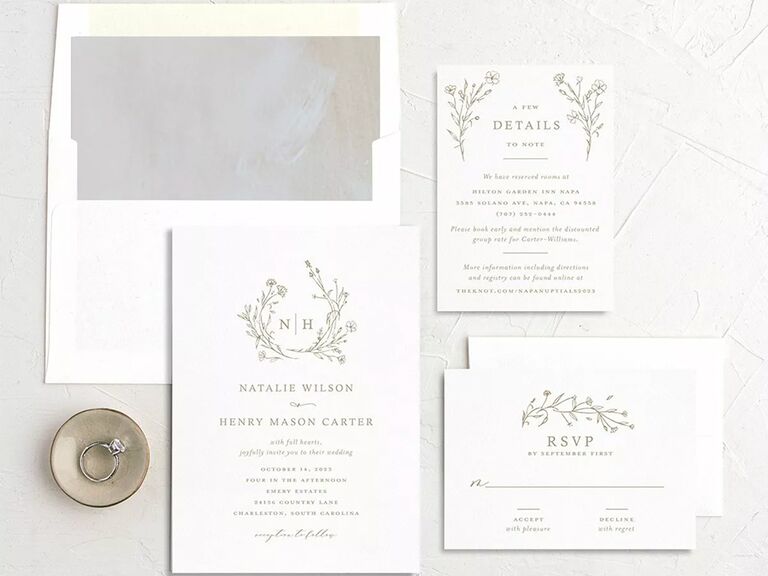 We have included third party products to help you navigate and enjoy life's biggest moments. Purchases made through links on this page may earn us a commission.
A classic wedding will never go out of style. Whether you're planning a black-tie soiree or a refined brunch, you'll want your invitations to reflect the event. For many engaged couples, an elegant wedding invitation means going above and beyond with more traditional details like using a backer, wax seal or vellum overlay. In addition to touches like gold foil and a belly band, however, you can also include more modern touches like laser-cut wrap, acrylic or wood while still maintaining an elevated feel. But you can also go simple—not to mention affordable—with a nice font and cardstock.
These 20 wedding invites are perfect for establishing the mood of your elegant wedding day. For even more options, check out The Knot Invitations for hundreds of examples of sophisticated wedding stationery.
The Knot Invitations Exquisite Calligraphy Wedding Invitations

Sometimes less is more when it comes to planning an elegant wedding. The simple design of these text-only wedding invitations is sumptuous with rich flourishes of calligraphy. White feels the most traditional, but you can also go with a deeper blue or green color theme for a modern feel.

The Knot Invitations Vintage Flourish Wedding Invitations
Perfect for formal weddings, these vintage wedding invitations are understated and classic with their mix of fonts and scripted names. Plus, you can match your wedding colors with these invitations' four different color themes.

The Knot Invitations Love in New York Wedding Invitations

These wedding invitations, which feature a charming sketch of the New York City skyline, are a lovely way to invite guests to your wedding day in the Big Apple. The simplicity of the charcoal color scheme means that these invitations fit a variety of NYC wedding aesthetics.

The Knot Invitations Elegant Garden Wedding Invitations

Planning a garden wedding? These wedding invitations, with their watercolor renderings of flowers and greenery, announce a polished outdoor affair.

The Knot Invitations Elegant Geranium Wedding Invitations

For fall weddings, the burgundy color scheme of these simple invitations is a fitting choice. Wedding guests get a surprise when they see the interior of the envelopes, which can be adorned with a gorgeous painting of a geranium bloom.

The Knot Invitations Painted Magnolia Wedding Invitations

Magnolia trees, and their striking blooms, are synonymous with the American South. The lush blooms and greenery get a modern update on a stark black background and feel both genteel and contemporary. This fresh take on a beloved flower can also be selected in more subdued, but no less distinct, colorways.

Sarah Brown Traditional Twist Wedding Invitations

Gold foil gives wedding invites a touch of shimmer, adding to the excitement of your coming big day. These gold foil wedding invitations incorporate shine in a stylish double frame. Both the foil and the invitation color can be personalized based on your wedding colors.

Pixel and Hank Trio Wedding Invitations

Letterpress lends gravitas to a wedding invitation suite. These invitations are definitely a statement piece with their bold but elegant initials and gorgeous ampersand.

The Knot Invitations Natural Monogram Wedding Invitations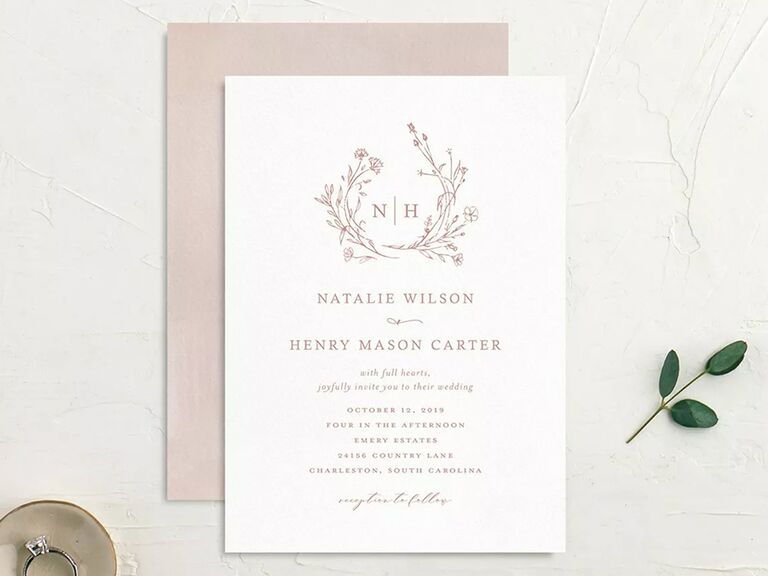 With their clean design and modern fonts on the front and watercolor on the back, these wedding invites feel sweet and elegant at the same time. The delicate floral sketch coordinates with a variety of wedding themes, as do the four different color combinations.

The Knot Invitations We Do Wedding Invitations

A simple design of calligraphy "We do" accompanied by a mix of refined fonts gives these minimalist wedding invitations an elegant feel. Plus, 10 different color themes mean you'll be able to find a combination that coordinates well with your big day.

Cricket Printing Rustic Wood Wedding Invitation

A rustic wedding can still feel formal with the right details. Start with these wooden invitations that mix a more laid-back aesthetic with a contemporary font and design. Printed on cherry wood paper, the invitations can be further customized with twine, vellum inserts, overlays and more.

The Knot Invitations Ethereal Wreath Wedding Invitations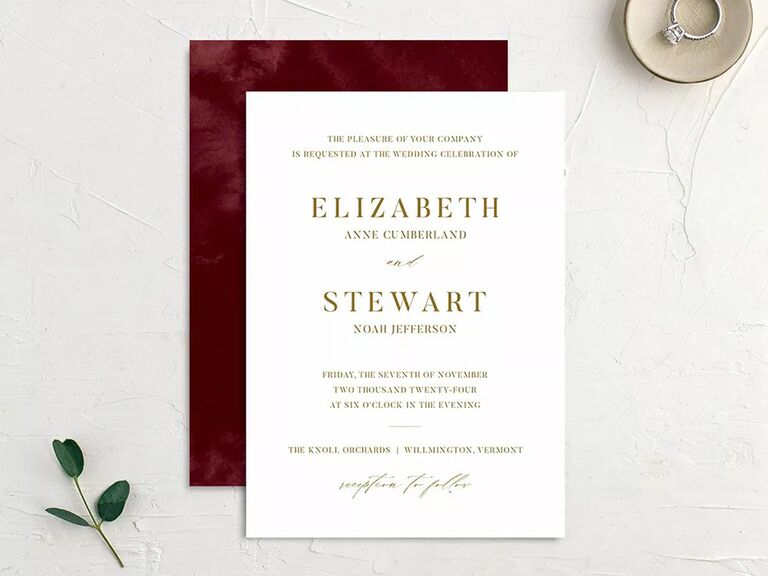 If you're planning a winter wedding day, these burgundy invitations have golden text on the front and a wreath with your initials on the reverse. They're a tasteful way to nod to the holiday season.

levimoli Simple Elegant Script White Black Wedding Invitation

These affordable wedding invitations prove that elegant doesn't have to be expensive. Simple invitation wording with an elegant font create an announcement that looks formal and elevated.

Mel's House of Design Concepts Foil and Vellum Invitation Set

Vellum, as well as other more traditional invitation details like belly bands, reminds us of a time when getting an invitation was a true event. These modern wedding invitations bring the tradition into the present day with a vellum invitation with custom gold foil. Choose an envelope and response envelope to match your wedding colors.

The Knot Invitations Minimal Chic Wedding Invitations

Although traditional wedding invitations often have an elegant feel, modern wedding invitations are classy too. The invitation design on these wedding cards is minimalist and chic.

Martin and Rose Navy Laser Cut Wedding Invitations

With their intricate lacy flourishes, laser-cut wedding invitations are sure to wow wedding invitees. These navy blue wedding invitations come in a gorgeous laser-cut pocket that also holds an RSVP card and details card.

Wax by Lydia Clear Acrylic Invitation

These acrylic wedding invitations with gold text are substantial and delicate at the same time. For an extra-special touch, add matching wax seals with your invitations.

Cartalia Laser Cut Pocket Wedding Invitation

These laser-cut pocket wedding invitations have a rose gold sheen, ideal for a romantic couple looking for a timeless feel for both their invitations and the big day.

The Knot Invitations Classic Cascade Wedding Invitations

The fonts and colors of these elegant wedding invites announce a wedding day that feels contemporary and fresh. These invitations also feature a cascade of faux metallic elements, which add just the right amount of shimmer.

Dream Day Paperie Dainty Minimalist Wedding Invitations

The raw edge and wax seal give this invitation an antique, almost fairytale feel. Optional gold foil adds another enchanting touch. Choose from 12 custom monograms and even use it for the wax seal.