23 Elegant Wedding Invitations for Your Sophisticated Celebration
You'll love the traditional and modern touches.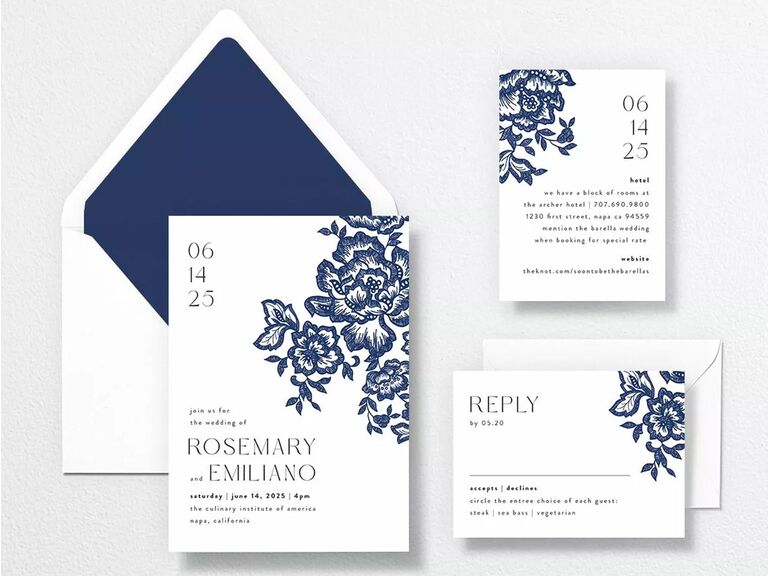 We have included third party products to help you navigate and enjoy life's biggest moments. Purchases made through links on this page may earn us a commission.
Whether you're planning a black-tie ballroom soiree or a formal seaside celebration, you'll want elegant wedding invitations to reflect the sophistication of your event. For some engaged couples, elegant stationery means going above and beyond with more traditional details like wax seals, gold foil and belly bands. However, you can also include more modern touches (think: laser-cut wraps or acrylic elements) while still maintaining an elevated vibe. But oftentimes, all you need is a beautiful font and luxe card stock to set the stage for an upscale party.
Here, we've gathered some of our favorite elegant invites that are perfect for setting the mood of your wedding day. For even more effortlessly elegant options, check out The Knot Invitations for hundreds of examples of sophisticated wedding stationery.
1. The Knot Delicacy Wedding Invitations by Vera Wang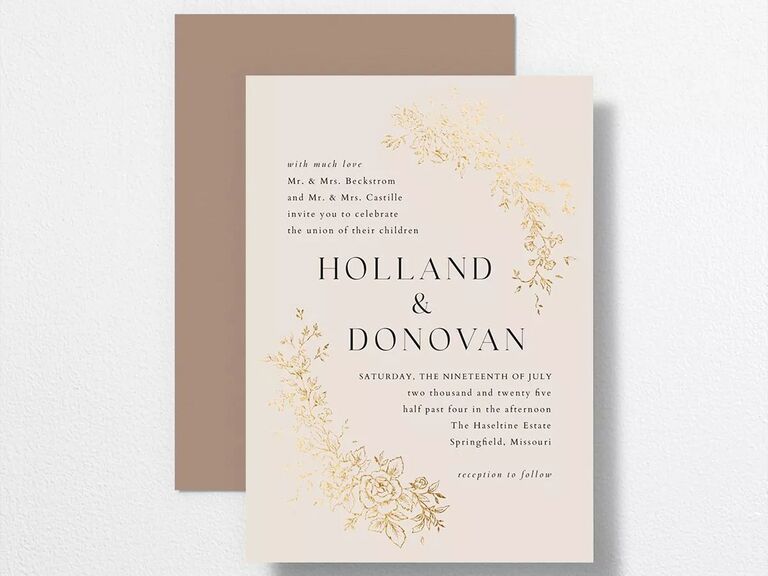 These elegant wedding invitations, designed by Vera Wang exclusively for The Knot, exude utter luxury. In between glittering floral garlands of foil, your names and event details are presented in sophisticated serif type. The combination of soft brown and sparkly gold is a stylish choice.
2. The Knot Exquisite Calligraphy Wedding Invitations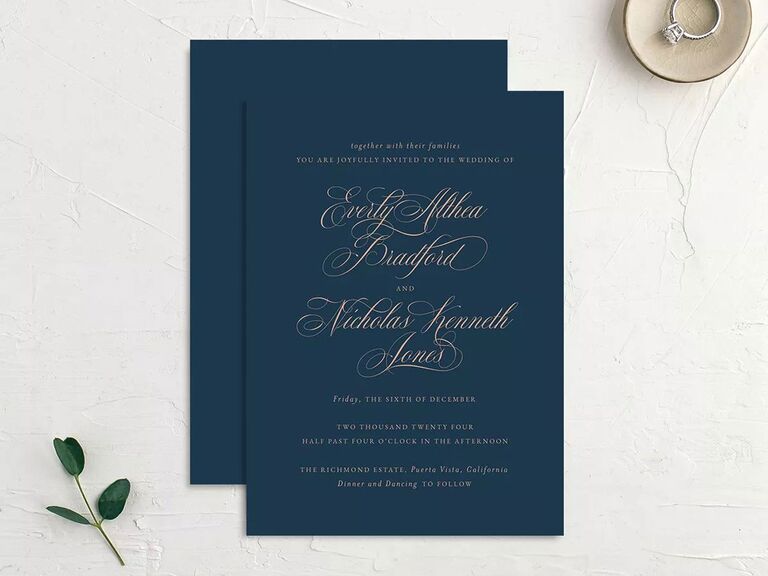 Sometimes less is more when it comes to planning a sophisticated wedding. This elegant wedding invitation is simple but sumptuous, all thanks to the swirling calligraphy font that's used to display your names. When it comes to the color of your cards, you have options. White and cream are the most traditional, but you can also choose from navy blue, forest green and black.
3. The Knot Painted Magnolia Wedding Invitations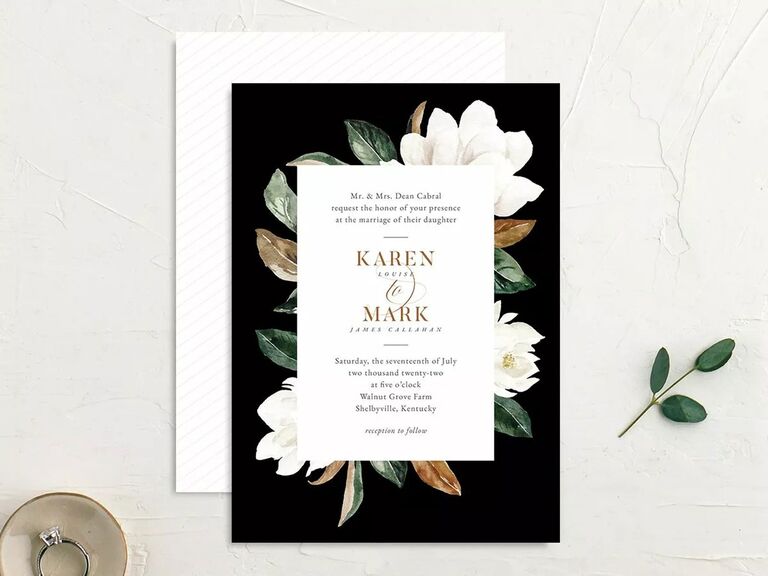 Lush magnolia artwork against a bold black background feels both classic and contemporary. As for your names and event details, they're placed in the center in a formal font for a truly elegant wedding invite. The romantic botanicals continue throughout the entire stationery suite, complete with an RSVP card, enclosure card and envelope liner.
4. The Knot Elegant Lighthouse Wedding Invitations
If you're hosting a preppy, nautical-themed wedding, these elegant wedding invitations are the perfect match. The seaside design features an illustrated lighthouse looking down on your gathering's information. We love the inclusion of classic typography—cursive script alternates with a classic serif font.
5. The Knot Etched Florals Wedding Invitations by Vera Wang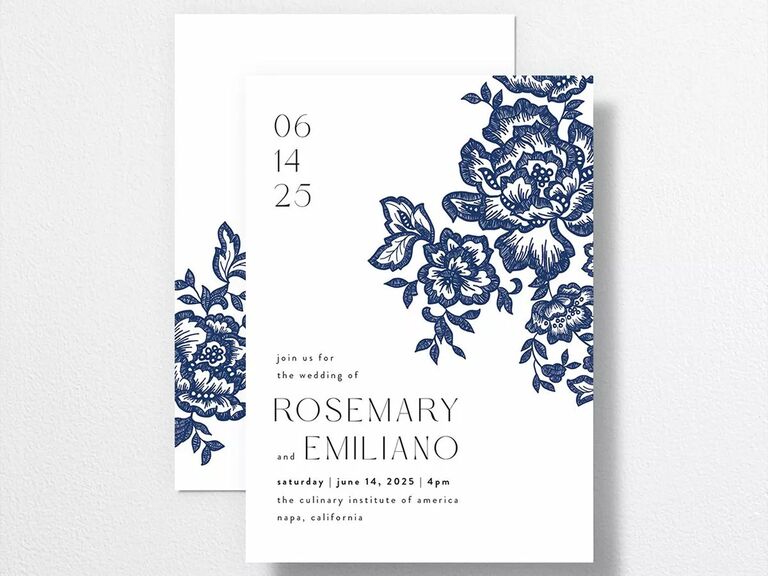 Illustrated flowers create a romantic backdrop for your wedding details on this simple elegant wedding invitation by Vera Wang. Your names and event information are gracefully put forth in the bottom left corner in a classic font. Choose from six lovely colorways, including blue, purple and burgundy.
6. The Knot Cherry Blossoms Wedding Invitations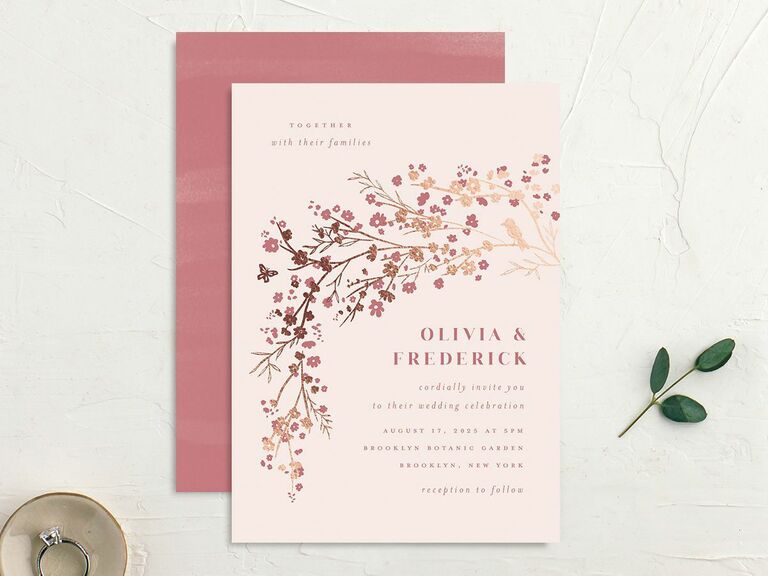 To celebrate your forthcoming spring nuptials, here's a beautiful cherry blossom wedding invitation that exudes elegance. A luscious garland of cherry blossoms—with rose gold, gold or silver foil accents—hovers over your names and event details, which are displayed in a graceful serif font.
7. The Knot We Do Foil Wedding Invitations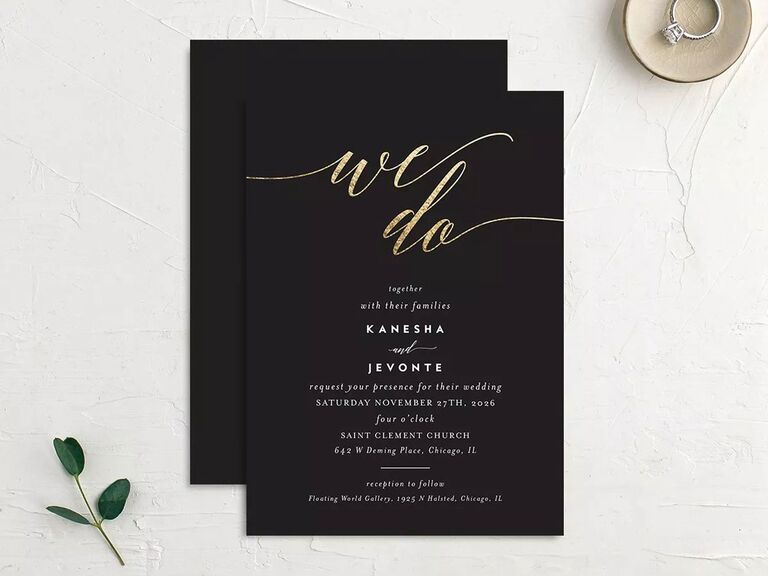 The fitting words "we do," accompanied by a mix of refined fonts, define these classic elegant wedding invitations. With 10 different color themes to choose from, pick a combination that coordinates with your big day. (We personally love the black card with shimmering gold foil.)
8. Peak Ornaments Acrylic Navy Blue Wedding Invitations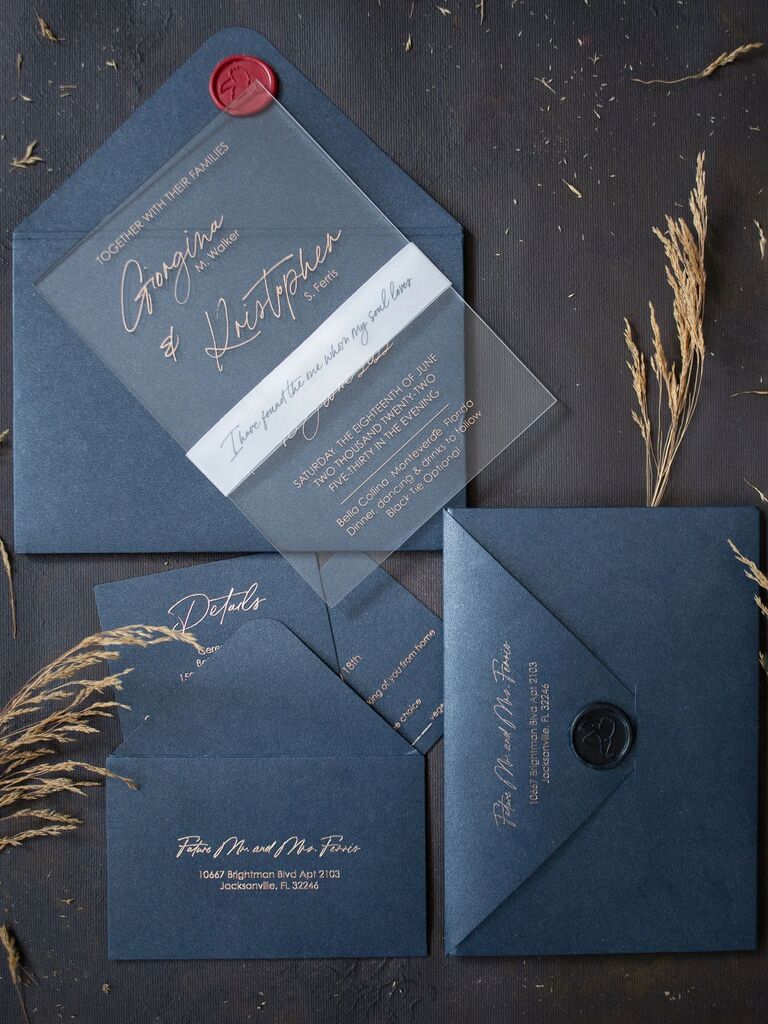 These elegant acrylic wedding invitations are handmade and simply gorgeous. The full wedding stationery suite comes with an invitation card, envelope and customizable liner, as well as a detail card, belly band, RSVP card and RSVP envelope. For an additional cost, you can request wax seals and envelope addressing for extra formality.
9. The Knot Opulences Wedding Invitations by Vera Wang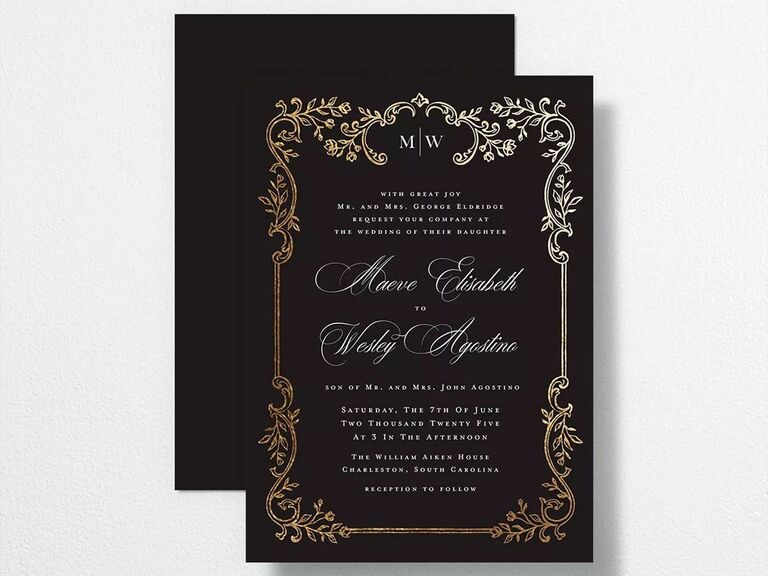 For your upscale affair, you'll need the most formal elegant wedding invitations. A glittering ornamental frame (available in gold, silver or rose gold foil) acts as a sophisticated border for your wedding details, which are outlined in a distinguished type fit for royalty. For a sweet addition, your initials are portrayed in union at the top of the card.
10. The Knot Floral Arc Wedding Invitations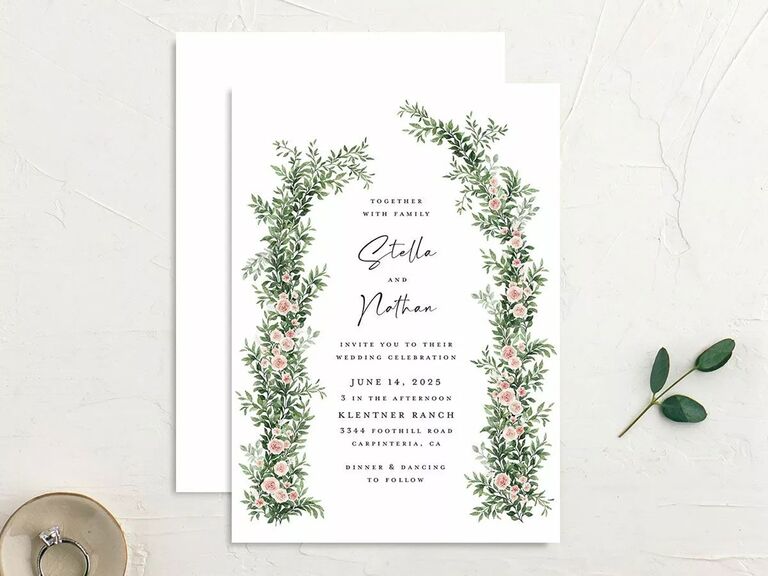 You'll fall in love with this rustic elegant wedding invitation for your outdoor nuptials. The blossoming illustrated arch, filled with lush greenery and your chosen flower color, looks utterly romantic against the simple white background. Beneath the design, your names and anticipated wedding details are outlined in modern script and an uppercase serif font.
11. The Knot Romantic Setting Wedding Invitations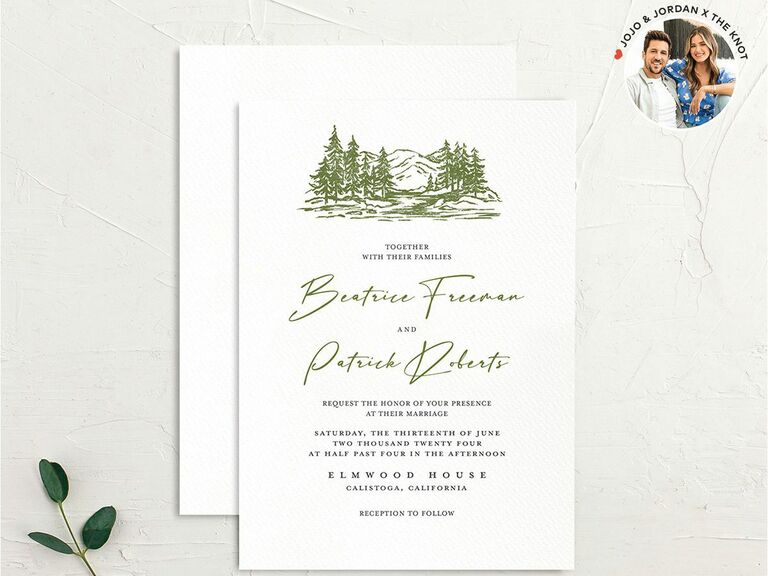 This elegant mountain wedding invitation is perfect for your scenic affair. Designed by The Bachelorette's JoJo Fletcher and Jordan Rodgers exclusively for The Knot, the earthy print depicts a mountain landscape that's so picturesque. Beneath the illustration sits your wedding information, presented in sophisticated serif type.
12. The Knot Elegant Geranium Wedding Invitations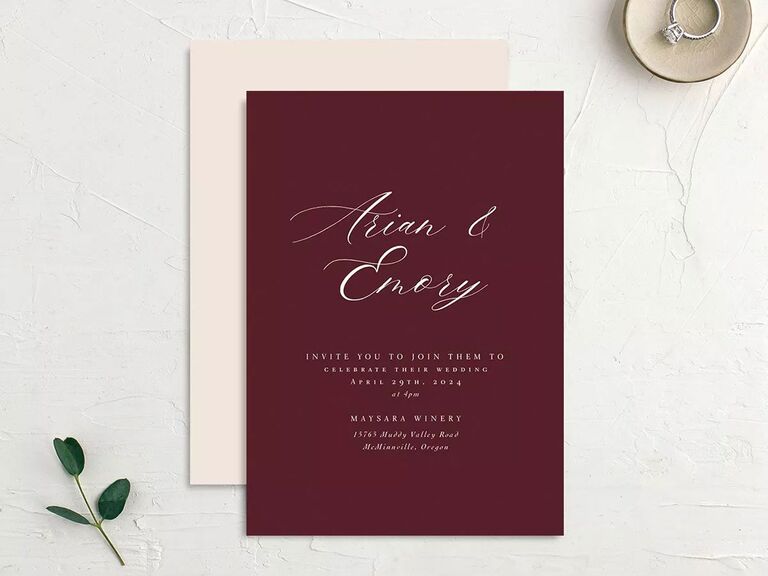 For autumn weddings, the burgundy color scheme of these modern and elegant wedding invites is a fitting choice. Your names are put forth in a calligraphy-style script above your wedding information. Guests will get a surprise when they discover the interior of the envelopes, which can be lined with a vivid painting of a geranium bloom.
13. The Knot Abstract Beach Wedding Invitations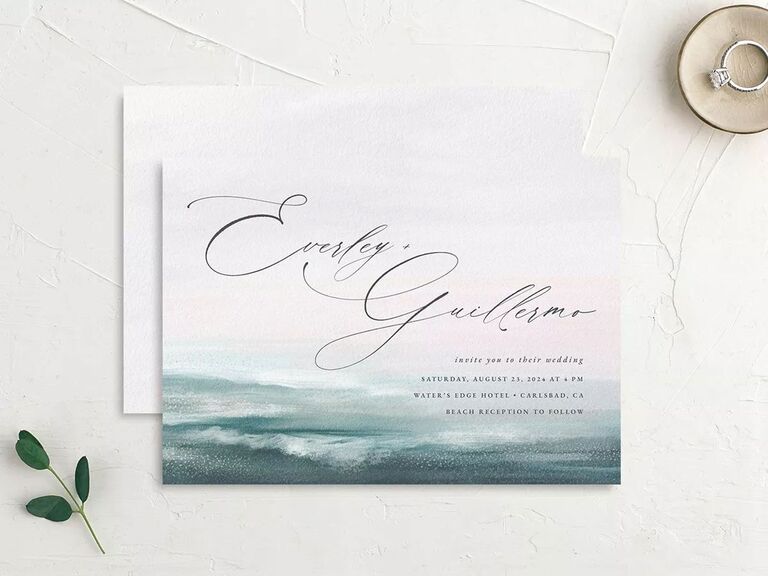 Pay tribute to your forthcoming coastal wedding with elegant beach wedding invitations. An abstract beach scene depicting serene ocean waves is the backdrop for your awaited wedding details. Your names flow peacefully across the card in a lovely script-style font that's so elegant.
14. The Knot Natural Monogram Wedding Invitations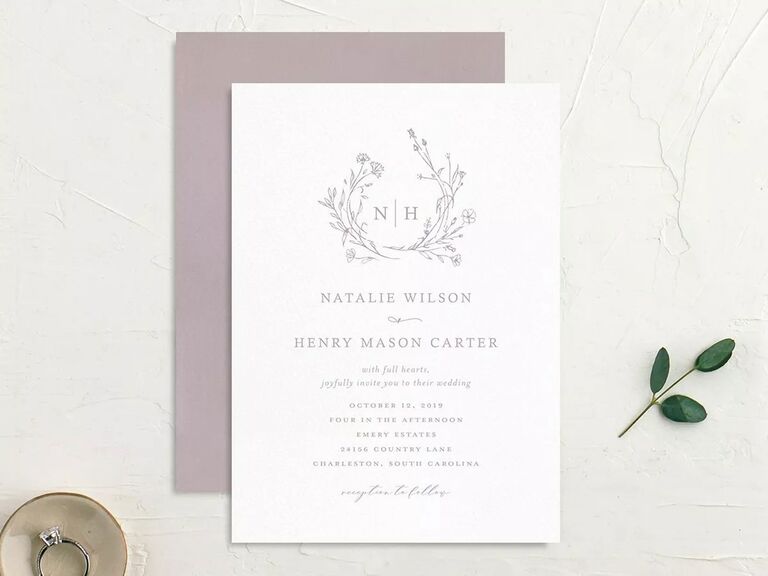 Featuring your couples monogram nestled within a delicate floral motif, this simple elegant wedding invitation feels sweet and formal at the same time. Choose from four romantic color combinations, then your chosen shade will be displayed on the back of the card in a textured print of paint strokes.
15. Cartalia Laser-Cut Pocket Wedding Invitations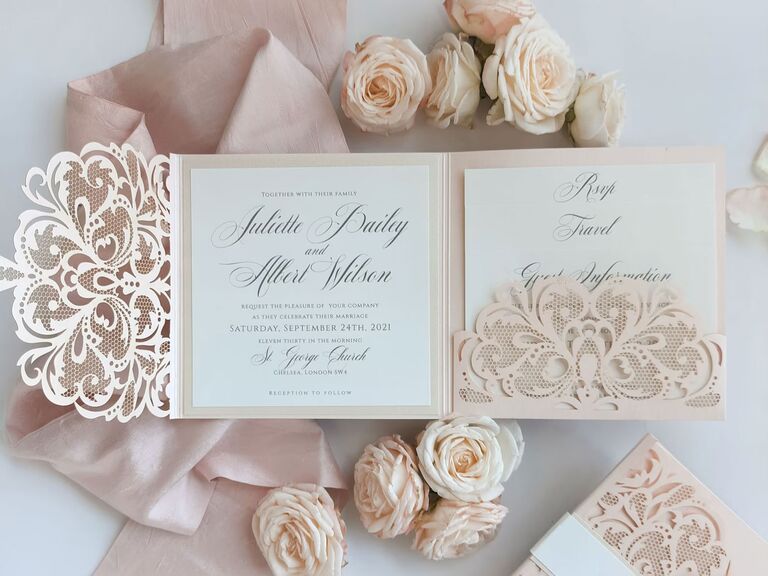 These elegant lace-like wedding invitations have a slight sheen, ideal for a romantic couple looking for a luxurious feel for both their invites and the big day. Each folding invitation card comes with three additional inserts—a guest information card, a travel card and an RSVP card—which fit inside the laser-cut pocket. The pink, champagne and gold color options are all quite sumptuous.
16. The Knot Intricate Vintage Wedding Invitations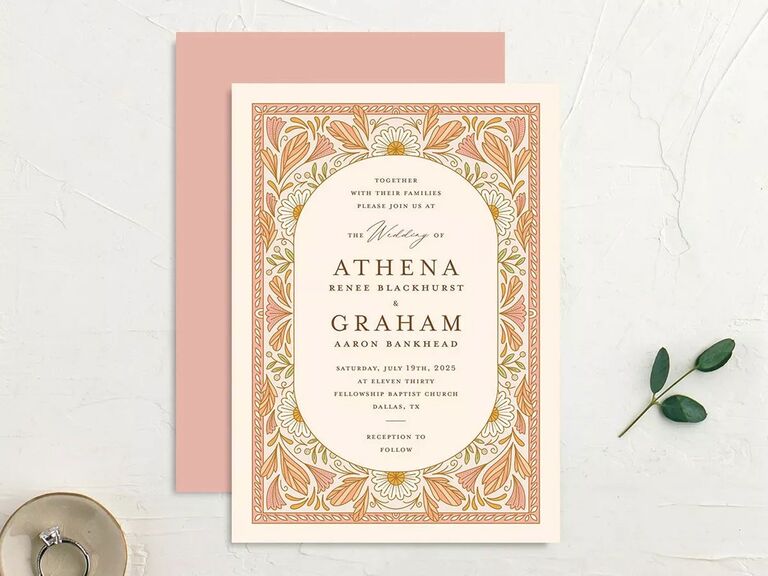 What about a timeless print, like this vintage-inspired pattern with illustrated leaves and blossoms? Your guests will get lost in all the intricate details on this elegant wedding invite. Your names and gathering information, outlined in formal typography, lie within the eye-catching floral border.
17. The Knot Gilded Sprigs Foil Wedding Invitations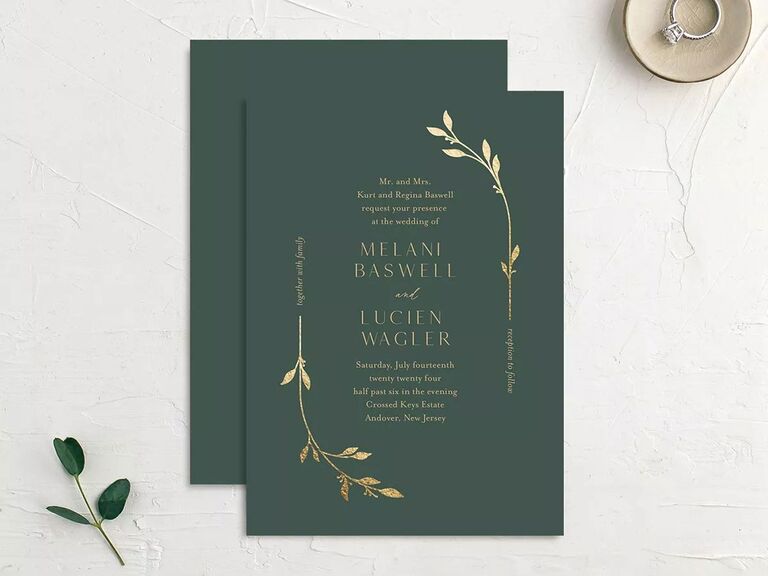 Here's a unique and elegant wedding invitation that quickly captured our attention. Gilded sprigs of leaves, in the foil color of your choice, add a touch of refinement to this tasteful invite. Within the shimmering illustrations, your event information is presented in serif type that's beautifully distinguished.
18. The Knot Romantic Minimal Wedding Invitations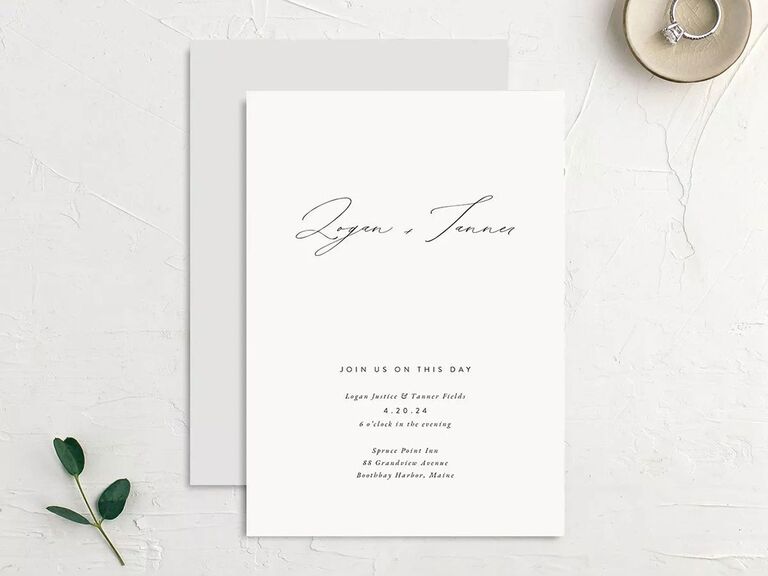 These affordable wedding invitations prove that elegance doesn't have to be expensive. Minimalist invitation wording in a few luxurious fonts creates an announcement that looks formal and elevated. Your wedding date and day-of details take center stage on the light-colored background, available in white, cream, subdued green or soft pink.
19. The Knot Beloved Floral Foil Wedding Invitations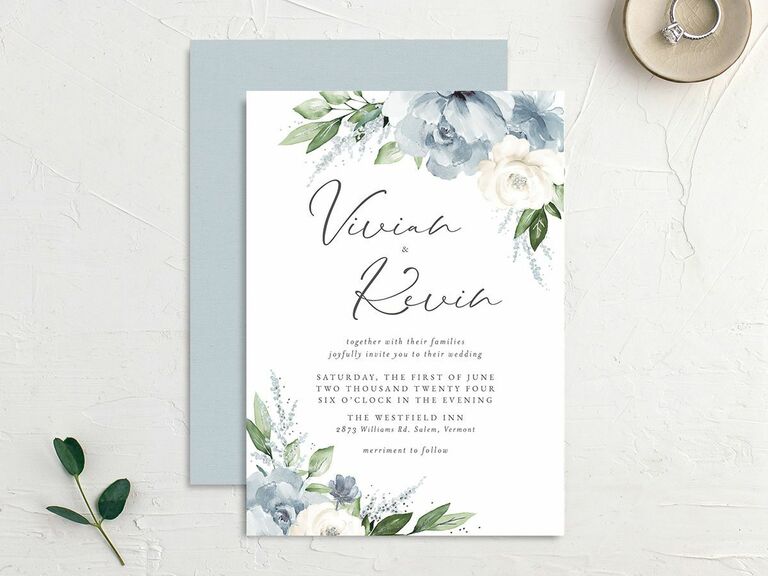 Planning a garden wedding? These modern elegant wedding invitations, with their watercolor renderings of flowers and greenery with glittering foil accents, announce a polished outdoor affair. For a sophisticated addition, your names are showcased in script-style type above your event information. Select from seven lustrous colorways, including teal, purple and pink.
20. Papier Watercolor Navy Foiled Wedding Invitations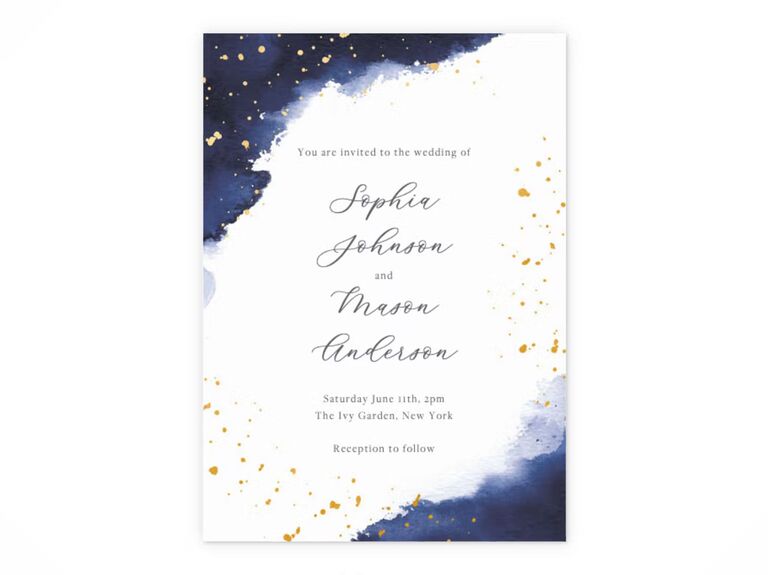 The fonts and colors on these elegant wedding invites announce a wedding day that feels contemporary and fresh. The design features beautiful navy watercolor accents mixed with sparkling specks of gold or rose gold foil. These invites are printed on high-quality paper using traditional pressing techniques.
21. The Knot Geometric Patterns Wedding Invitations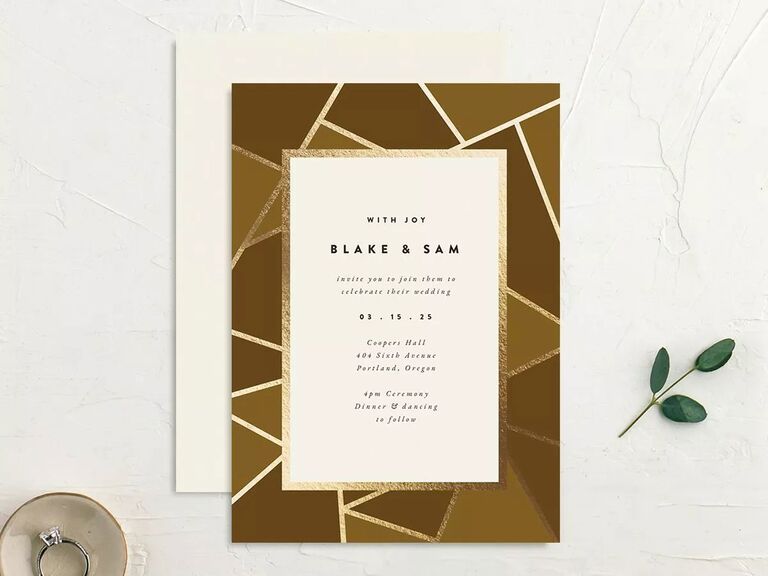 We love the uniqueness of these elegant gold wedding invitations. A geometric pattern accented with shimmering foil lines adds a lavish element that's so celebratory. Your names are placed within the border in a bold sans-serif type, which chicly contrasts the classic font that displays your wedding details.
22. The Knot Vintage Hollywood Wedding Invitations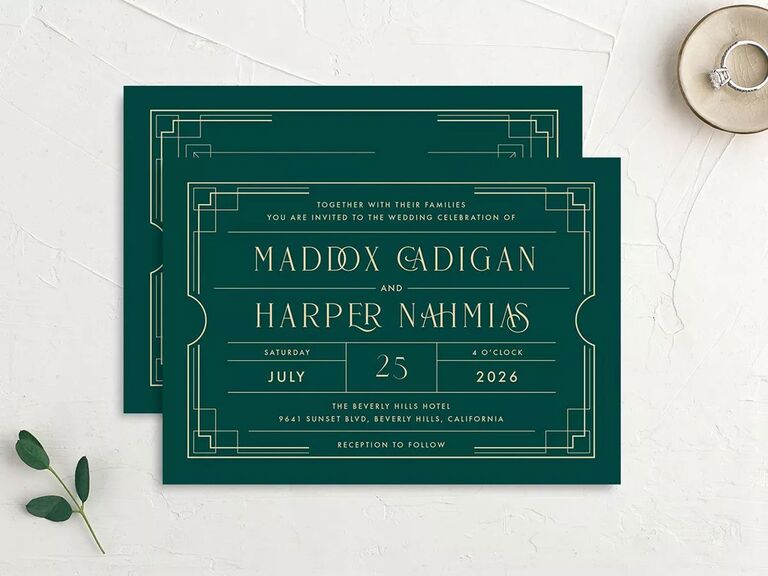 This elegant emerald wedding invite takes us back to Old Hollywood's spectacular parties. If you're throwing a wedding full of glitz and glam, look no further than this stylish card. Within a Golden Age-inspired geometric frame, your names and anticipated event details are set forth in timeless typography. On the flip side, the card unveils a sophisticated announcement: "You are cordially invited."
23. Kaydi Bishop for Minted The Wedding Foil-Pressed Wedding Invitations
A photo of you and your partner acts as the centerpiece of this picture-perfect elegant wedding invite. Choose your color theme, card shape and other details, then upload one of your favorite engagement portraits. It'll sit neatly beneath the phrase "The wedding of" in metallic foil. Your friends and family will be ecstatic to receive these thoughtfully crafted invites.