Exclusive: The Bachelorette's JJ Lane and Wife Kayla Hughes Reveal Their Wedding Album & Video
Plus, personalization moments from the couple.
We have included third party products to help you navigate and enjoy life's biggest moments. Purchases made through links on this page may earn us a commission.
JJ Lane's search for love was partially documented on national television, thanks to Kaitlyn Bristowe's season of The Bachelorette, but the 37-year-old investment banker's true love turned out to be waiting for him in an unlikely place: LinkedIn.
"JJ sent me a message on LinkedIn," his wife, Kayla Hughes, tells The Knot. The pair met back in August 2017, and their love story unfurled in a rather romantic way. After a year and a half of dating, they got engaged in January 2019, at sunset in Kauai, Hawaii. "He had his family there and, of course, his daughter Gemma," Hughes recalls. Lane proposed with a lab-grown diamond,with a 2.8-carat solitaire with small diamonds set on a rose gold band, which he designed with New World Diamonds. "I said yes to the man of my dreams and can't wait to spend the rest of my life with my best friend," she captioned a post to Instagram at the time.
After a 13-month engagement, the pair finally exchanged vows in a ceremony at Ironworks, an event venue in Denver, on February 29. "Didn't have to win a reality show to find the woman of my dreams," Lane said on his wedding day. Here, we break down the ways the happy couple made their nuptials their own.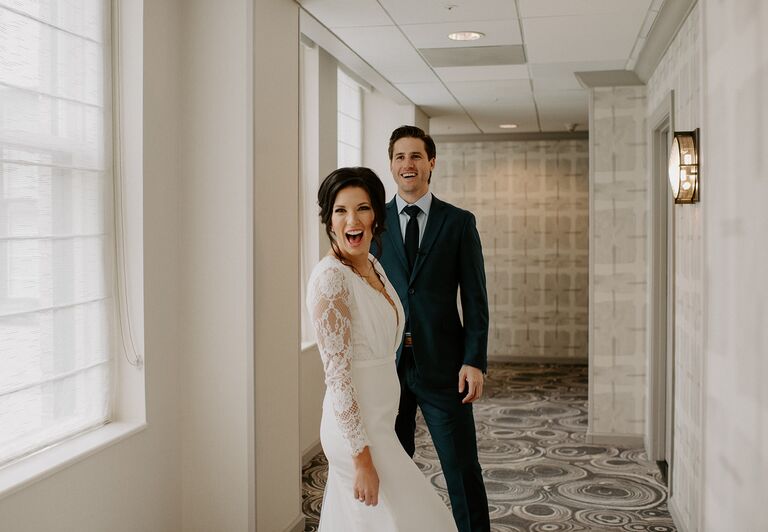 They customized their looks.
For her ceremony look, Hughes (whom with Lane were part of The Knot's Most Influential Weddings of 2019) wanted to amp up the drama by making a few customizations to a Mindi Linscombe gown. "I chose a beautiful lace bodice with long sleeves and a breathtaking deep V," she says. "The skirt was comprised of a form-fitting silk chiffon. There were scalloped edges along the neckline throughout, with a custom illusion across the back."
To add even more said "oomph" to the gown, Hughes opted to extend the train even longer than a cathedral length, and added an overlay with beaded appliqué. She paired her gown with Bella Belle shoes. "The train had the most stunning effect," Hughes says. For her reception look, Hughes went with a gown by Madi Lane, an Australian designer who dabbles with a bohemian aesthetic.
The groom, meanwhile, chose a two-button, French Blue slim fit suit by Giorgio Fiorelli, which he paired with a Bonobos tie. According to the couple, it had "a fun texture to it."
The bride walked herself halfway down the aisle.
In a break from tradition, Hughes opted to walk herself halfway down the aisle to her future husband, a decision that carried a lot of emotional weight and meaning for the couple. "I've had quite the childhood, and unfortunately, I did not have a dad to walk me down [the aisle]," she says. "I wanted this to be a special moment for myself and just a symbol of my struggle, my successes, and life lessons learned on my own."
Symbolically, though, Hughes completed the rest of the walk down the aisle with Lane's father. "JJ's dad met me halfway as a sign that he will fulfill that empty piece of my life when I marry into the family," Hughes says. And at the end of it, of course, was Lane, ready to receive Hughes at the altar to exchange their vows.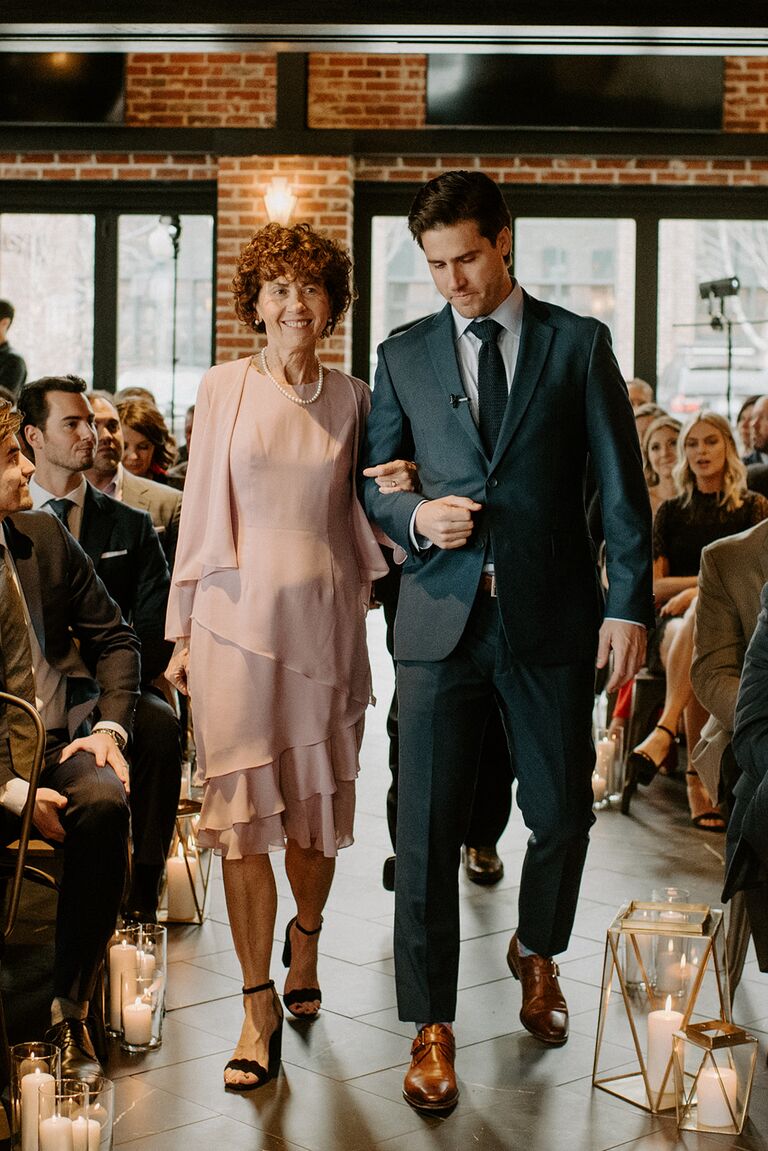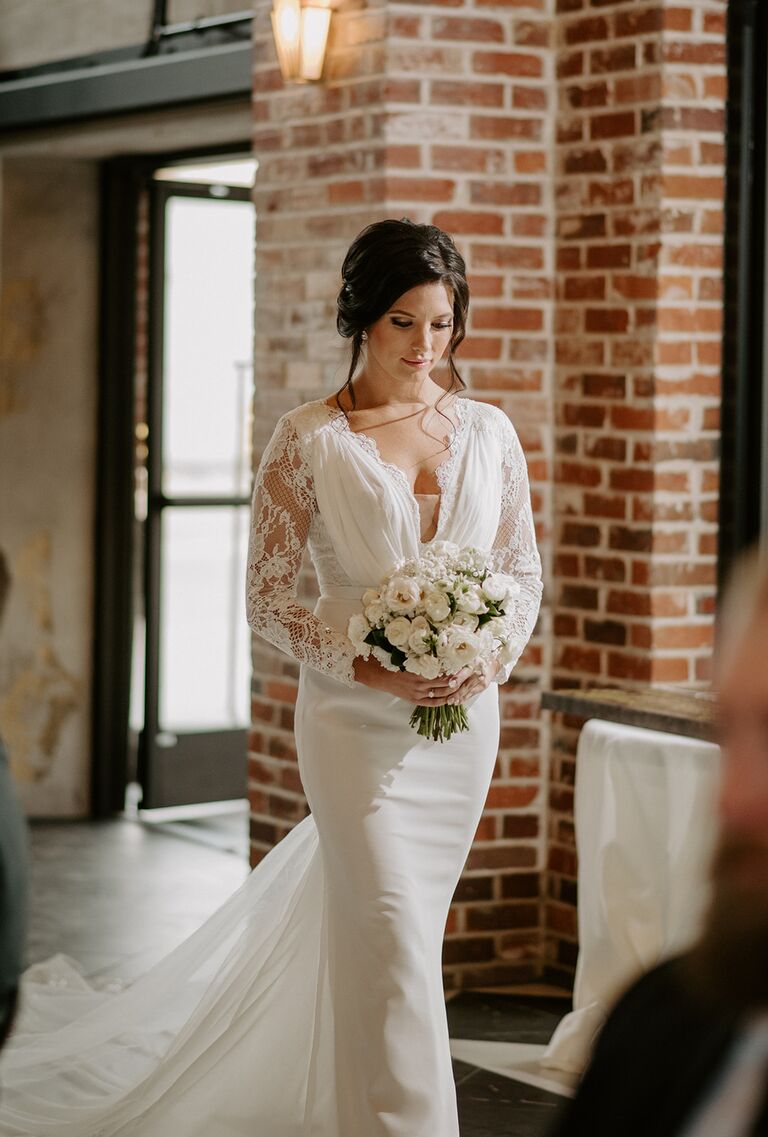 The bride read vows to her stepdaughter.
Both Lane and Hughes wanted to make sure that Gemma, Lane's 8-year-old daughter from a previous relationship, felt loved and included in the wedding. One sweet way they did so was by having Gemma join the wedding party as a junior bridesmaid. Another, even more special way that the couple made Gemma an integral part of their big day was by having Hughes read a separate set of vows to her now-stepdaughter.
"I wanted to make sure she felt the love on this special day, and wanted to show her not only am I making a commitment to her dad, but to her as well," Hughes says.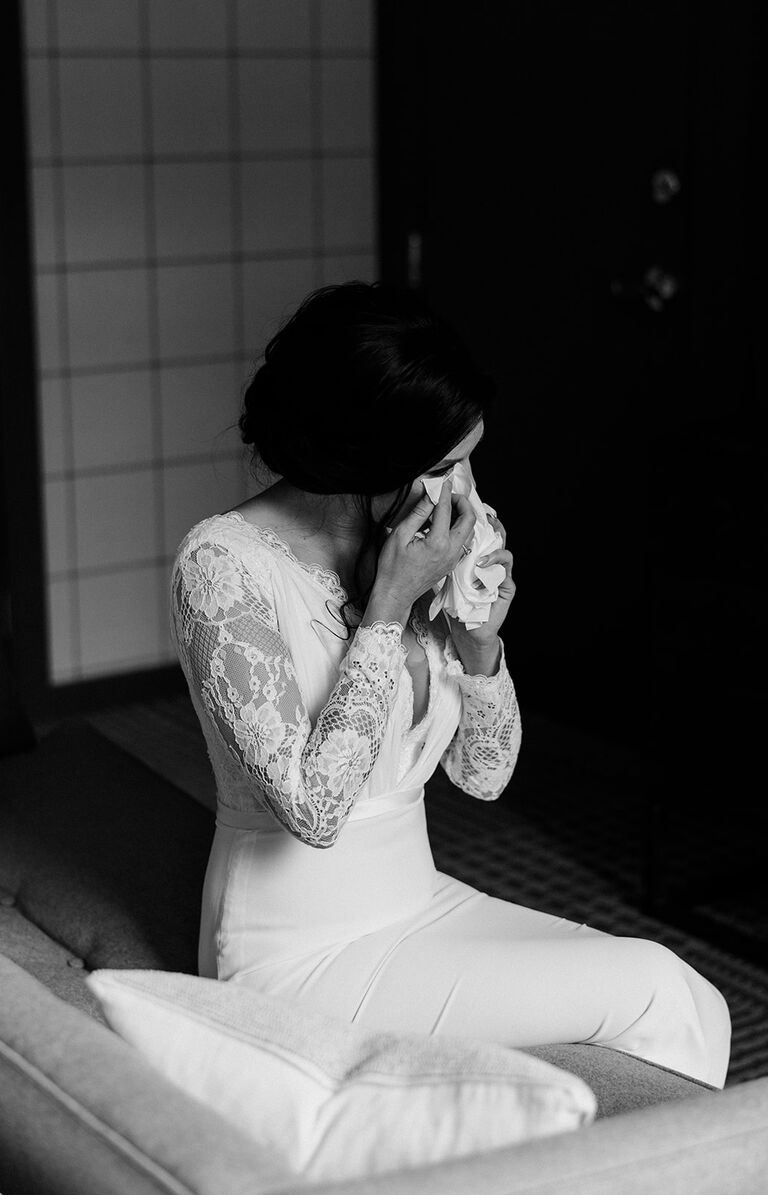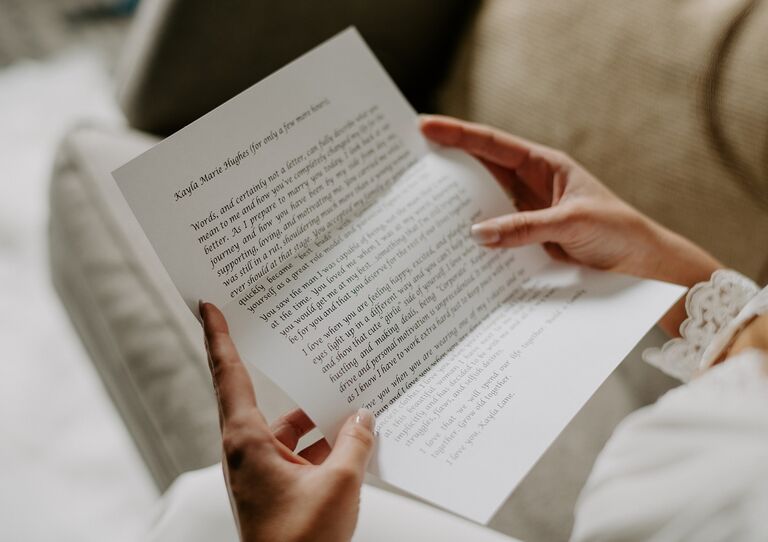 They wanted to showcase the venue.
In thinking about how to smartly allocate their budget for wedding décor, the couple decided to opt out of boutonnieres and instead put that money toward centerpiece flowers and ceremony candles. Similarly, they assessed their venue and decided that it would be just fine to do without a ceremony arbor as well, instead opting to show off the venue's unique aesthetics.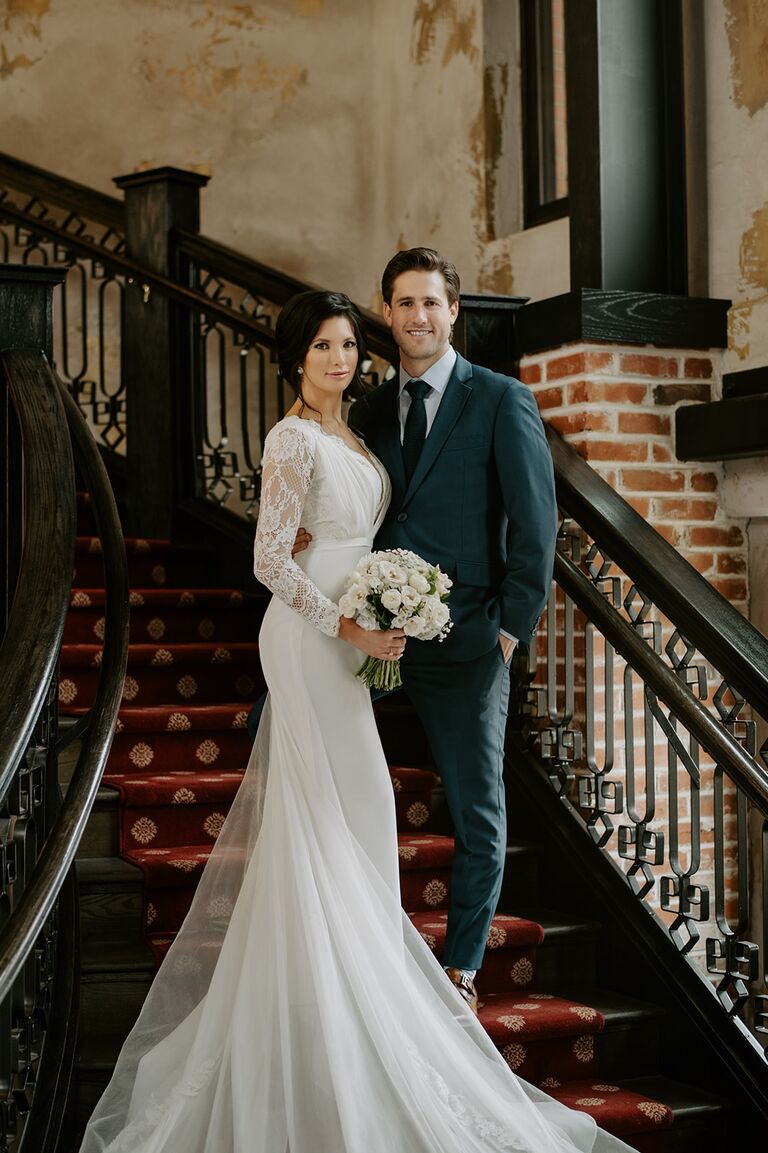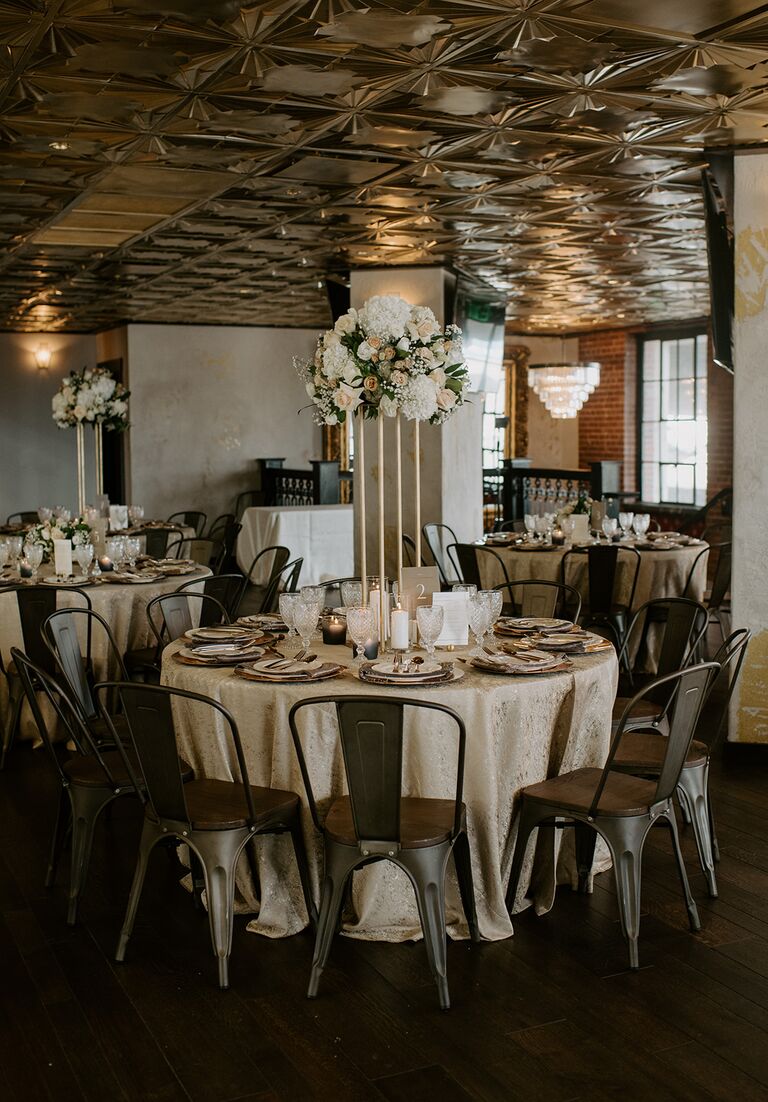 "We chose [Ironworks] because of the details of the venue," Hughes says. "We knew going in we wouldn't have to do much decorating with this historic building. It is surrounded by gorgeous chandeliers [and has] gold accents around the entire venue … There was this class about the venue that we found charming."
(Lane and his groomsmen, who all wore Giorgio Fiorelli suits, likely didn't look any less sharp without boutonnieres anyway.)
Bachelor Nation was present.
Guests included fellow Bachelor Nation alums like Jade and Tanner Tolbert (Tolbert was one of six groomsmen who stood by Lane's side). Other guests included Ashley Iaconetti and Jared Haibon, and former Bachelor Chris Soules. (Hughes, 26, is a sales executive who was previously a cheerleader for the Kansas City Chiefs.)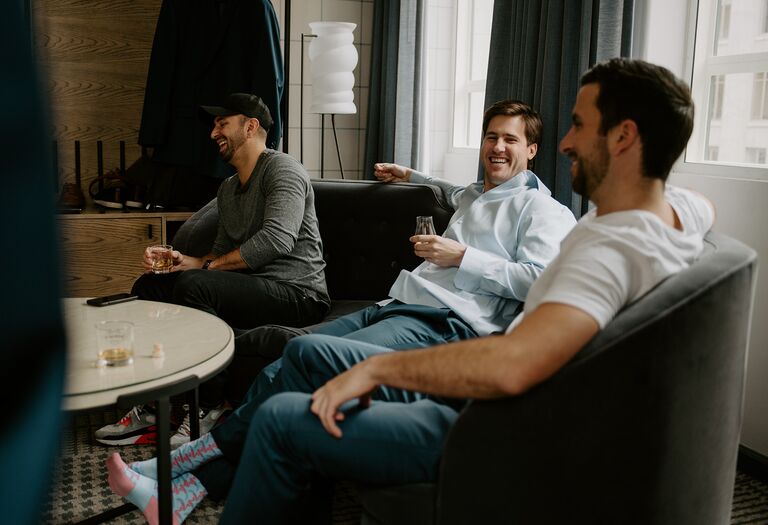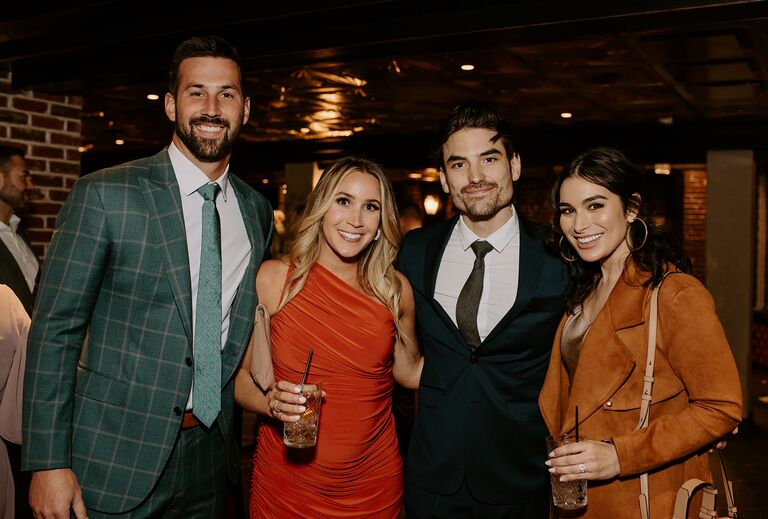 The escort card display and registry went together.
Lane and Hughes got creative when it came to directing their guests toward dinner and the reception. "We used our champagne at cocktail hour as our escort card display," Hughes says.
Escort cards are a fun way to show off a couple's collective personality, whether it's a shared love for the outdoors and nature or a particular love for, say, hot sauce. The couple's decision to use their champagne glasses as escort cards was a nod to both their color palette (champagne, nudes, golds and off-whites), and their love of a good glass of something celebratory.
"We actually got a wet bar for our apartment," Hughes says of the best wedding gift they received. "We are super into bourbon hunting and we were running out of cabinet space to store all [Lane's] whiskeys [so] this was a great gift to display his favorite bottles and clear some space for me in the kitchen."
Lobster everything was a must.
Why settle for one dinner when you can have three? Lane and Hughes opted for a unique food station idea instead of a more traditional plated dinner so that their guests could try a little bit of everything. "Our must-have was the lobster dishes," the couple says. "Our signature dish was lobster rolls and lobster mac and cheese, one of our favorites!"
In addition to the lobster-related dishes, there was also a taco station and a greens, vegetable and hummus station. "We were super picky with our choice and knew we were in great hands with Juan Pedro, a local restaurant owner in Denver" who also happened to be a good friend of Lanes, they explain. For dessert, too, the couple wanted to give their guests plenty of options to satisfy their sweet tooths.
Desserts included dipped chocolate-covered strawberries and chocolate-covered Oreos, cake pops, brownies, cheesecake, chocolate mousse, donuts, and cupcakes. Oh, and of course, a beautiful three-tiered wedding cake with champagne and crisp white colored marbling with gold hand-painted details and textures that cascaded down the cake.
Photographer: Alyssa Reinhold | Videographer: RP Productions | Planner: A Touch of Bliss | Venue: Ironworks Denver | Stationery: Minted Weddings | Dress: Mindi Linscombe at Something New Boutique | Caterer: The Culinary Creative | Cake: Midwest Cookie Co. | DJ: Epic Functions | Florist: Blush and Bay | Rentals: Hazel Grove Rentals | Linens: Linen Hero | Hair: Elle B Salon | Makeup: Sedrique Olison, Sarah Koeper | Shoes: Bella Belle Shoes | Reception Gown: Luv Bridal | Bridal Robes: Le Laurier Bridal | Registry: The Knot