You Won't Believe the Cost and Carat Size of These Celebrity Engagement Rings
These world-renowned sparklers put the "ice" in price.
by Maggie Seaver and Sarah Hanlon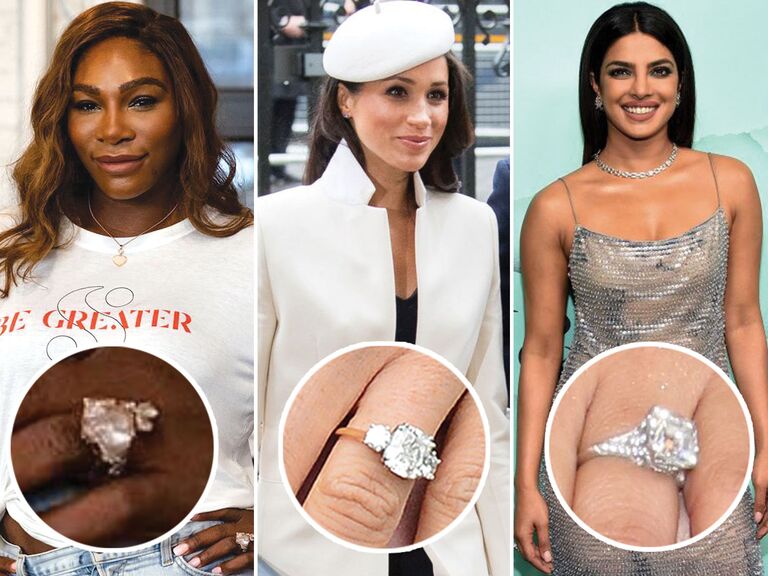 @serenawilliams/instagram; Dominic Lipinski/PA Images/Getty Images; Shutterstock
When it comes to celebrity engagement rings, it's hard not to get jealous (like, really jealous) of their eye-catching bling. There's no denying how fun it is to stare at the big, expensive rings of the rich and famous. Just admit it—you've probably wondered exactly how much Jennifer Lopez's ring costs or how many carats sit on Beyoncé's ring finger. 
If you've always found yourself wondering just how expensive their baubles are, you're in luck. We've rounded up the most iconic celebrity engagement rings, along with their price tag and carat size, so you can ogle your favorite rocks some more. (We won't judge!)  
Jennifer Lopez's Engagement Ring

Meghan Markle's Engagement Ring

Dominic Lipinski/PA Images/Getty Images

Cardi B's Engagement Ring

Kim Kardashian West's Engagement Ring

Beyoncé's Engagement Ring

Kate Middleton's Engagement Ring

Max Mumby/Indigo/Getty Images

Serena Williams's Engagement Ring

@serenawilliams/instagram

Katy Perry's Engagement Ring

Hailey Baldwin's Engagement Ring

Ariana Grande's Engagement Ring

Blake Lively's Engagement Ring

Pippa Middleton's Engagement Ring

Peter Jordan/ The Sun / News Syndication

Priyanka Chopra's Engagement Ring

Elizabeth Taylor's Engagement Ring

Julianne Hough's Engagement Ring

Jennifer Aniston's Engagement Ring

Kate Upton's Engagement Ring

Amal Clooney's Engagement Ring

Jon Kopaloff Getty Images

Lea Michele's Engagement Ring

Carrie Underwood's Engagement Ring

@carrieunderwood/Instagram

Caroline Wozniacki's Engagement Ring

@carolinewozniacki/Instagram

David Becker/Getty Images

Jessica Biel's Engagement Ring

Gabrielle Union's Engagement Ring

Paris Hilton's Engagement Ring

Photo courtesy Greene and Co.

Sophie Turner's Engagement Ring